This website uses cookies to ensure you get the best experience while browsing it. By clicking 'Got It' you're accepting these terms.


The best of EcoWatch, right in your inbox. Sign up for our email newsletter!
Vertical Farms: The Future of Agriculture?
Sep. 02, 2015 09:16AM EST
The PBS series The Good Stuff looked into eating bugs as part of their series on the "Future of Food." As part of that series, they also investigated vertical farming, which has gained much attention in the U.S., including the news that the world's largest vertical farm recently broke ground in Newark, New Jersey.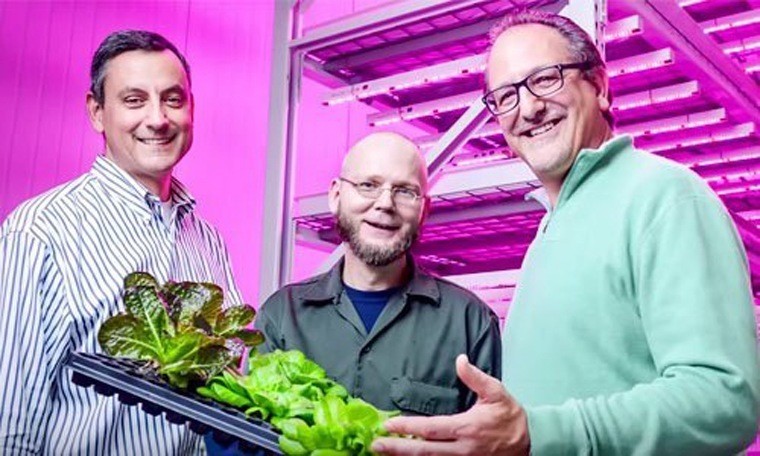 "The world requires an area of farmland the size of South America to feed itself," says The Good Stuff. With the global population expected to reach a staggering 10 billion by 2056 and only so much arable land available, many are wondering how we will feed future generations.
And climate change is only confounding the problem.
"What we're seeing is a climate change issue that's severely affecting agriculture outdoors. We're seeing urbanization like crazy and we're seeing an increase in human population," Dickson Despommier, emeritus professor at Columbia University, says in the video. "You put those three things together and you've got another—I hate to use this cliché because everyone is using it now—but it's a perfect storm for disaster."
Despommier explains how he and one of his classes in 1999 came up with the idea, which eventually came to be known as vertical farming. Since then, the idea has been made into a reality (and a profitable one at that).
In this series, the hosts of The Good Stuff head to Green Sense Farms in Indiana to witness firsthand how the indoor farm works and to see if it's really a feasible solution for growing the world's food.
YOU MIGHT ALSO LIKE
5 Ways Vertical Farms Are Changing the Way We Grow Food
Bill McKibben: The Turning Point Towards a Low-Carbon Future
12 Universities Leading the Charge in Serving Locally-Sourced Food
EcoWatch Daily Newsletter
A metal fence marked with the U.S. Border Patrol sign prevents people to get close to the barbed/concertina wire covering the U.S./Mexico border fence, in Nogales, Arizona, on Feb. 9. ARIANA DREHSLER / AFP / Getty Images
D'Bone Collector Museum head Darrell Blatchley shows plastic found inside the stomach of a Cuvier's beaked whale in the Philippines this weekend. - / AFP / Getty Images
Yet another whale has died after ingesting plastic bags. A young male Cuvier's beaked whale was found washed up in Mabini, Compostela Valley in the Philippines Friday, CNN reported. When scientists from the D' Bone Collector Museum in Davao investigated the dead whale, they found it had died of "dehydration and starvation" after swallowing plastic bags―40 kilograms (approximately 88 pounds) worth of them!
Pexels
By Jeff Turrentine
"Be careful what you wish for; you just might get it." This is something that everybody has to learn at some point. Lately, the lesson has hit home for a group of American automakers.
Art direction: Georgie Johnson. Illustrations: Freya Morgan
By Joe Sandler Clarke
"Don't expect us to continue buying European products," Malaysia's former plantations minister Mah Siew Keong told reporters in January last year. His comments came just after he had accused the EU of "practising a form of crop apartheid."

A few months later Luhut Pandjaitan, an Indonesian government minister close to President Joko 'Jokowi' Widodo, warned his country would retaliate if it was "cornered" by the EU.
Torres and his parents walk along the Rio Grande. Luis Torres / Earthjustice
By Luis Torres
For some people who live along the U.S.-Mexico border, President Trump's attempt to declare a national emergency and extend the border wall is worse than a wasteful, unconstitutional stunt. It's an attack on their way of life that threatens to desecrate their loved ones' graves.
Flooding caused by last week's bomb cyclone storm has broken records in 17 places across the state of Nebraska, CNN reported Sunday. Around nine million people in 14 states along the Mississippi and Missouri Rivers were under a flood watch, CNN meteorologist Karen Maginnis said.
A car destroyed by Cyclone Idai in Beira, Mozambique. ADRIEN BARBIER / AFP / Getty Images
At least 150 people have died in a cyclone that devastated parts of Mozambique, Zimbabwe and Malawi over the weekend, The Associated Press reported Sunday. Cyclone Idai has affected more than 1.5 million people since it hit Mozambique's port city of Beira late Thursday, then traveled west to Zimbabwe and Malawi. Hundreds are still missing and tens of thousands are without access to roads or telephones.
"I think this is the biggest natural disaster Mozambique has ever faced. Everything is destroyed. Our priority now is to save human lives," Mozambique's Environment Minister Celso Correia said, as AFP reported.