This website uses cookies to ensure you get the best experience while browsing it. By clicking 'Got It' you're accepting these terms.
Vermont Sued Over GMO Labeling Law
Jun. 13, 2014 10:22AM EST
Food
Much fanfare met the May 8 historic achievement in Vermont, in which the state passed the first no-strings-attached bill requiring labeling of genetically engineered (GE) foods. Fanfare from individuals and organizations who care to know what's in the food they eat each day, that is.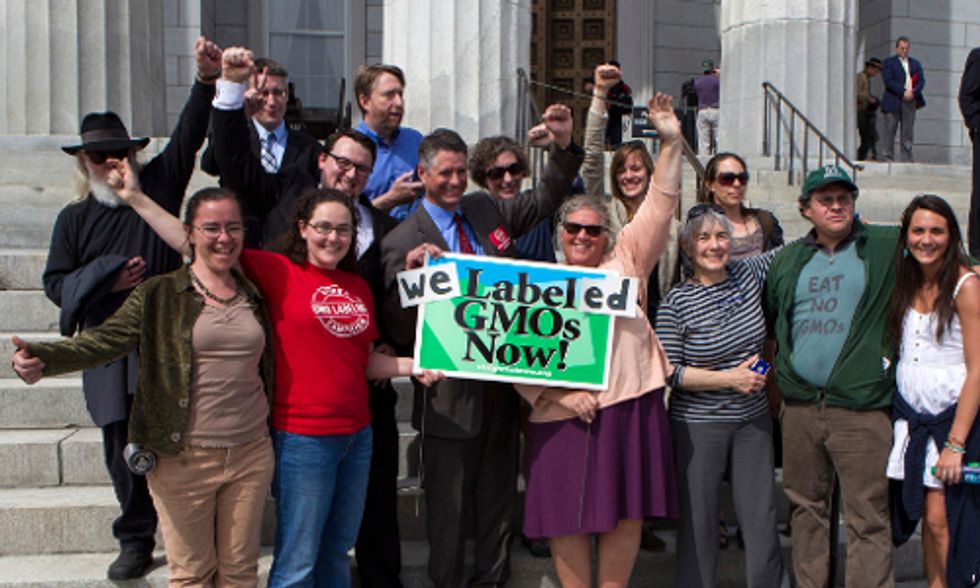 Photo credit: Vermont Right to Know GMOs
The Grocery Manufacturers Association (GMA) and other trade associations? Now that's a different story. The GMA, the International Dairy Foods Association, the National Association of Manufacturers and the Snack Food Association filed a lawsuit yesterday in federal court challenging the constitutionality of the law.
The same day that Gov. Peter Shumlin (D) signed the bill into law, the GMA issued a statement vouching for the safety of GMO (genetically modified organisms) crops and promising a lawsuit, stating, "The government ... has no compelling interest in warning consumers about foods containing GM ingredients, making this law's legality suspect at best."
Many groups pushing for GMO labeling beg to differ, and, meanwhile, 64 countries have passed labeling laws and more than 60 state bills were introduced over the past year. Connecticut and Maine both successfully passed GE labeling laws, though they are contingent on other states in the region passing laws before they would go into effect. The Vermont GE labeling law is the first to pass without such a trigger.
"After years of good old-fashioned work, and playing by the rules, the grassroots labeling movement achieved its first real victory this year," said Organic Consumers Association Founder and Director Ronnie Cummins of the Vermont labeling law.
Why is the battle to label GMO foods so important to so many people?
As explained by the plaintiffs in the GMA lawsuit factual background:
If a person lives in the Unites States for any period of time and does not restrict all of her food purchases to organic food, she is almost certainly consuming ingredients from GE plants on a daily basis … The vast majority of foods sold in grocery stores in the United States today contain some amount of at least one ingredient that is connected to a GE plant.
That's right, on a daily basis. Andrew Kimbrell, executive director for Center for Food Safety, which has been active in the push for GE labeling, succinctly sums it up: "Transparency in a sector that is integral to our lives every single day is absolutely essential."
Many are confident that Vermont will prevail in a legal battle with the trade groups—and promise to continue the fight. "This battle is about your health, and the health of your environment," said Cummins. "This battle is about the rights of states to pass laws to protect their citizens."
EcoWatch Daily Newsletter
Participants of the climate demonstration Fridays for Future walk through Hamburg, Germany on Feb. 21, 2020. Axel Heimken / picture alliance via Getty Images
Blue whale (Balaenoptera musculus) surfacing, showing the remains of a blow and its mottled appearance near South Georgia Island in the Polar Regions. Mick Baines & Maren / Getty Images
The largest animal on Earth is proving that wildlife protections work.
More than 300 people were forced to evacuate and 46 were sent to the hospital after a gas pipeline ruptured in Mississippi Saturday.

Pexels
By Tim Lydon
Climate-related disasters are on the rise, and carbon emissions are soaring. Parents today face the unprecedented challenge of raising children somehow prepared for a planetary emergency that may last their lifetimes. Few guidebooks are on the shelves for this one, yet, but experts do have advice. And in a bit of happy news, it includes strategies already widely recognized as good for kids.
Pexels
Be it Nina Simone and James Brown for civil rights, Joni Mitchell and Marvin Gaye for the environment, or Jackson Browne and Buffalo Springfield for nuclear disarmament, musicians have long helped push social movements into the limelight.