This website uses cookies to ensure you get the best experience while browsing it. By clicking 'Got It' you're accepting these terms.
Vermiculture: An Easy Alternative to Outdoor Composting
Oct. 16, 2013 08:32AM EST
If you've always wanted to compost but think it's impossible because you live in an apartment or a house with a small yard, consider composting with worms.
Using worms in composting is called vermiculture. It involves keeping special red worms—either Red Wigglers and Red Earthworms—in bins with organic matter in order to break it down into a high-value compost called castings, which is the fecal matter the worms produce.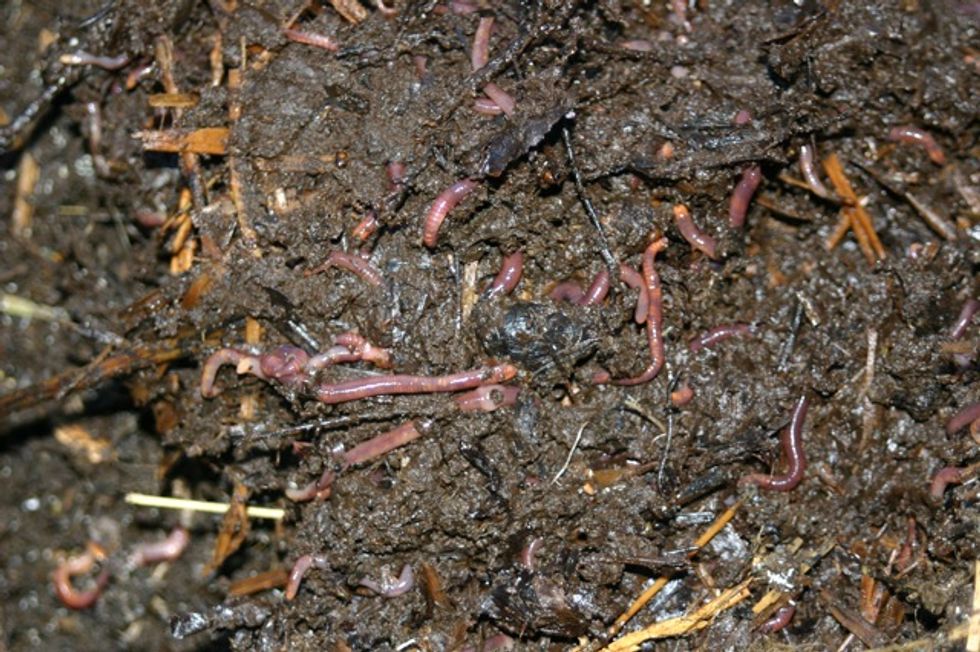 Worm castings makes a nutrient-dense, highly concentrated fertilizer that you can use in your garden or on your house plants.
Vermicomposting has only a few basic requirements, among them: worms (not the nightcrawlers or field worms found in gardens), worm bedding and a bin to contain the worms and organic matter such as food scraps. Maintenance includes preparing bedding, burying compostables and separating worms from their castings.
Vermicomposting has some distinct advantages over regular composting:
It's faster—the fertilizer can be ready as soon as two months rather than two years.
It's richer —worm castings contain five to 11 times more nitrogen, phosphorus and potassium.
It has more beneficial micro-organisms and plant growth hormones—so it is better for your garden and indoor plants.
It takes less effort—you feed the worms and forget about them.
It can be done indoors or outdoors—this allows apartment dwellers and people with small yards to compost.
Worm bins can be easy and inexpensive to build.They are also commercially available at sites such as Clean Air Gardening, WormWoman.com, GREENCulture and Worms4Earth.com.
Worms will eat almost anything you would put in a typical compost pile such as food scraps, paper or plants.
To get the right kind of worms, check out CityFarmer.org, which maintains a list of worm suppliers for vermiculture throughout Canada and the U.S. Or consider online vendors such as WormWoman.com or Worms4Earth.com.
CityFarmer has a step-by-step photo gallery of how to put a worm compost together.

EcoWatch Daily Newsletter
California Gov. Gavin Newsom speaking with attendees at the 2019 California Democratic Party State Convention at the George R. Moscone Convention Center in San Francisco.
Gage Skidmore
/ Flickr /
CC BY-SA 2.0
California Gov. Gavin Newsom imposed new restrictions on oil exploration in his state yesterday by putting a moratorium on hundreds hydraulic fracturing permits until the projects are reviewed by independent scientists, as the AP reported.
The endangered Houston toad. Courtesy of U.S. Fish and Wildlife Service
While the planet continues to heat up, almost every single one of the 459 species listed as endangered in the U.S. will struggle as the climate crisis intensifies, according to new research published in the journal Nature Climate Change.
"This singular scientific achievement was accomplished at Heliogen's commercial facility in Lancaster, California."
Heliogen
A startup backed by Bill Gates unveiled a breakthrough solar technology Tuesday that could free heavy industry from fossil fuels.
Rhodiola rosea is an adaptogenic herb that can help with chronic fatigue and stress-related burnout. Tero Laakso / Flickr
By Gavin Van De Walle, MS, RD
While everyone has specific life stressors, factors related to job pressure, money, health, and relationships tend to be the most common.
Stress can be acute or chronic and lead to fatigue, headaches, upset stomach, nervousness, and irritability or anger.
A video shows a woman rescuing a koala from Australia's wildfires.
VOA News / YouTube screenshot
More than 350 koalas may have died in the wildfires raging near the Australian town of Port Macquarie in New South Wales, but one got a chance at survival after a woman risked her life to carry him to safety.