This website uses cookies to ensure you get the best experience while browsing it. By clicking 'Got It' you're accepting these terms.
Vermiculture: An Easy Alternative to Outdoor Composting
Oct. 16, 2013 09:32AM EST
If you've always wanted to compost but think it's impossible because you live in an apartment or a house with a small yard, consider composting with worms.
Using worms in composting is called vermiculture. It involves keeping special red worms—either Red Wigglers and Red Earthworms—in bins with organic matter in order to break it down into a high-value compost called castings, which is the fecal matter the worms produce.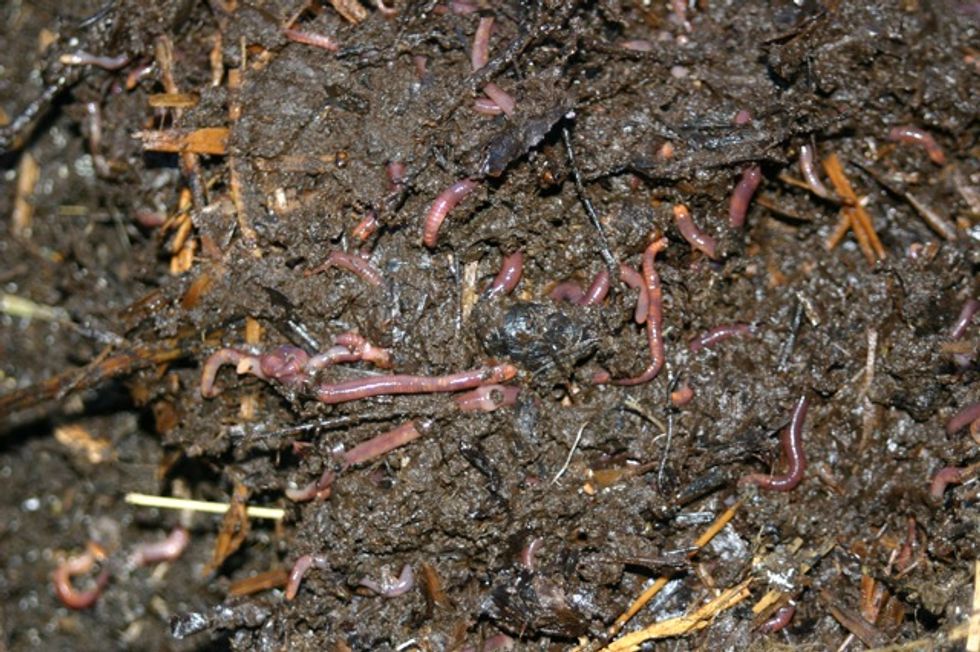 Worm castings makes a nutrient-dense, highly concentrated fertilizer that you can use in your garden or on your house plants.
Vermicomposting has only a few basic requirements, among them: worms (not the nightcrawlers or field worms found in gardens), worm bedding and a bin to contain the worms and organic matter such as food scraps. Maintenance includes preparing bedding, burying compostables and separating worms from their castings.
Vermicomposting has some distinct advantages over regular composting:
It's faster—the fertilizer can be ready as soon as two months rather than two years.
It's richer —worm castings contain five to 11 times more nitrogen, phosphorus and potassium.
It has more beneficial micro-organisms and plant growth hormones—so it is better for your garden and indoor plants.
It takes less effort—you feed the worms and forget about them.
It can be done indoors or outdoors—this allows apartment dwellers and people with small yards to compost.
Worm bins can be easy and inexpensive to build.They are also commercially available at sites such as Clean Air Gardening, WormWoman.com, GREENCulture and Worms4Earth.com.
Worms will eat almost anything you would put in a typical compost pile such as food scraps, paper or plants.
To get the right kind of worms, check out CityFarmer.org, which maintains a list of worm suppliers for vermiculture throughout Canada and the U.S. Or consider online vendors such as WormWoman.com or Worms4Earth.com.
CityFarmer has a step-by-step photo gallery of how to put a worm compost together.

EcoWatch Daily Newsletter
Aerial shot top view Garbage trucks unload garbage to a recycle in the vicinity of the city of Bangkok, Thailand. bugto / Moment / Getty Images
German researchers have identified a strain of bacterium that not only breaks down toxic plastic, but also uses it as food to fuel the process, according to The Guardian.
The Environmental Protection Agency (EPA) issued a policy memo yesterday that is an expansive relaxation of legally mandated regulations on polluting industries, saying that industries may have trouble adhering to the regulations while they are short-staffed during the coronavirus global pandemic, according to the AP.
Hurricane Dorian was one of the 2019 Atlantic hurricane season's most devastating storms. NASA
2019 marked the fourth year in a row that the Atlantic hurricane season saw above-average activity, and it doesn't look like 2020 will provide any relief.
The deep, open ocean may seem like an inhospitable environment, but many species like human-sized Humboldt squids are well-adapted to the harsh conditions. 1,500 feet below the ocean's surface, these voracious predators could be having complex conversations by glowing and changing patterns on their skin that researchers are just beginning to decipher.
A worker distributes disinfection wipes at a farmers market at Richard Tucker Park in New York City on March 21, 2020. Lev Radin / Pacific Press / LightRocket via Getty Images
Not many restaurants will be able to survive coronavirus, and this is a personal, social and national tragedy.
I'm worried about farmers markets too.