This website uses cookies to ensure you get the best experience while browsing it. By clicking 'Got It' you're accepting these terms.
Vegan Butcher Shop Makes Carnivores Drool
Apr. 13, 2016 11:53AM EST
By Alex Janin
Walk into the Herbivorous Butcher and you'll see deli cases stacked with Italian sausage, piles of pepperoni and mounds of Hawaiian ribs—all created without slaughtering an animal. But unlike other meat substitutes that may be frozen or contain hard-to-pronounce ingredients, the Minneapolis-based shop's handmade products skip the additives.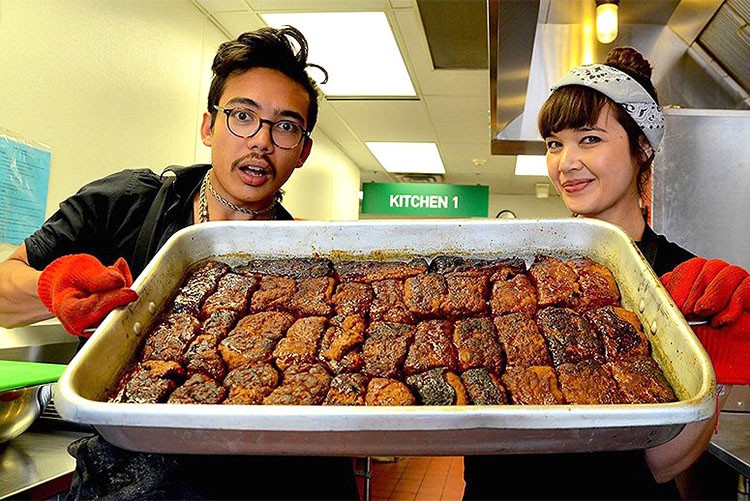 "You can get all the ingredients for our products at any natural food store," store owner Kale Walch, who started the Herbivorous Butcher with his sister, Aubry, told TakePart. "The base of the meats is a high-protein wheat flour ... we found that by mixing various bean flours and vinegars you can create any texture or any flavor."
The siblings were tired of meatless options with long, confusing lists of ingredients at their local grocery store, so they started making their own. In June 2014, the pair opened a farmers market stand in Minneapolis with five meat-substitute products, which proved popular. In late January, they opened their brick-and-mortar store, with 60 items for sale in a bustling neighborhood northeast of the city's downtown.
But the shop's creation wasn't born simply from a hunger for better-tasting vegetarian options, "although we were hungry that day," noted Kale. The two hope that giving more options to meat lovers and meat shunners alike will help spark a conversation on the many environmental and health risks associated with the meat industry.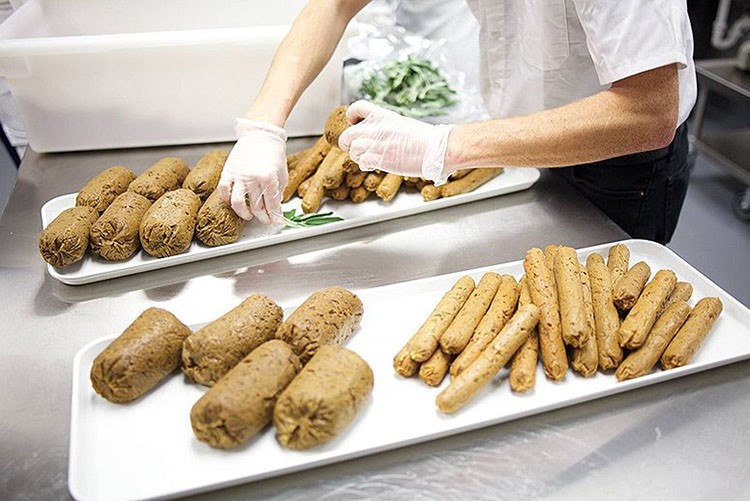 The duo estimates that 60 to 70 percent of the Herbivorous Butcher's customers are omnivores, many of whom are looking to cut down on their meat consumption for environmental or health reasons. The pair swears that their products, which they call "meat improvements" rather than "meat alternatives," are delicious enough to turn even meat eaters into temporary vegans.
"We have one guy who always comes in and says, 'I love meat, but I really love this pastrami' ... We're trying to bridge the gap between people who do eat meat and cheese to meet us halfway and hopefully switch over," said Aubry.
Studies show that meat consumption contributes significantly to water shortages; about one-third of world water consumption is used for the production of animal products. Additionally, large meat producers such as Tyson have released hundreds of millions of pounds of toxic chemicals in waste to surface water over the last five years, which can choke waterways and kill huge numbers of fish, as well as be harmful to humans.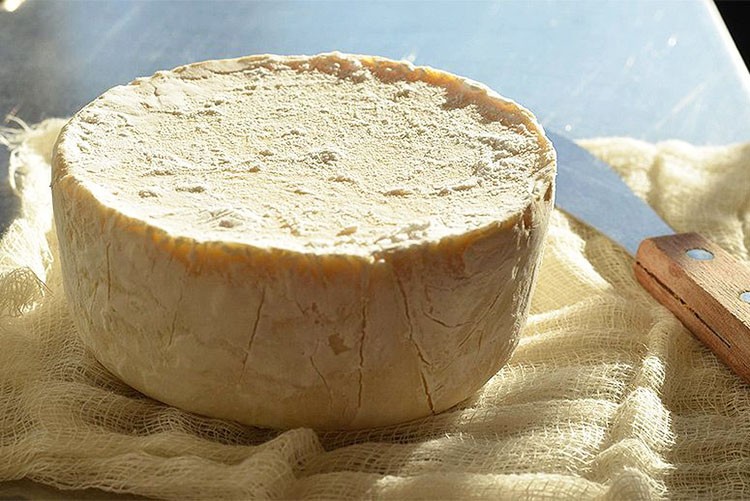 Research has also repeatedly linked meat consumption to higher risks for certain types of cancer and shown that removing meat from your diet can cut your carbon footprint in half.
Wheat flour and vinegar flavors may not exactly replicate the smoky taste of a rack of ribs, but they won't bore your taste buds, said Kale. The siblings are constantly experimenting with new flavors, like using lime zest or orange juice, to add a new kick to their fake meats and cheeses. Along with items such as meat-free Maple Glazed Bacon or a Sriracha Brat, the shop also has 13 types of vegan cheese for sale. Preparation suggestions to encourage customers to craft creative vegan meals are offered too.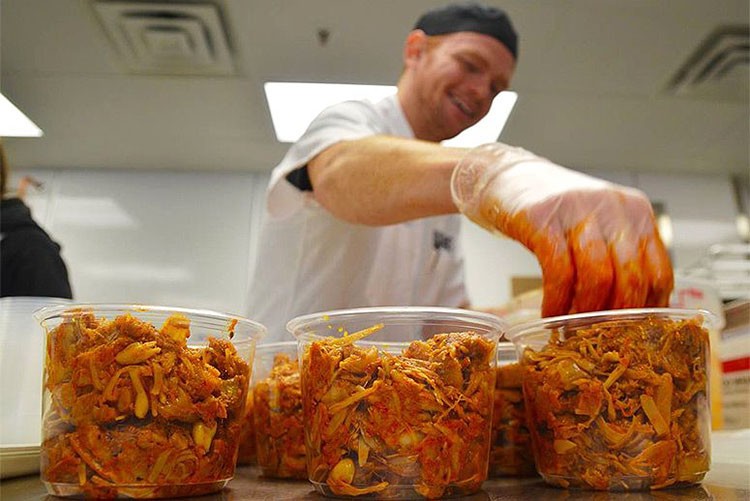 Kale and Aubry plan to expand into Denver or Los Angeles. In the meantime, they continue trying out recipes like hamachi-style fried rice with chicken and vegan mac and cheese to help get Midwesterners on board with a meatless lifestyle. For those not quite ready to commit, the Butcher offers a vegan starter kit online for $135.
"I don't understand why you would choose something that's so harmful for the environment," said Aubry about consumers who eat meat. "But people are getting better. Every day we see people that are trying to make a difference. One by one, that's what it's going to take."
This article was reposted with permission from our media associate TakePart.

YOU MIGHT ALSO LIKE
12 Fruits and Veggies You Should Always Buy Organic
Organic Food, Not Just for Hippies Anymore: How the U.S. Is Dealing With Growing Demand
What Will Happen When Genetically Engineered Salmon Escape Into the Wild?
Elena Pueyo / Moment / Getty Images
Opinions on coffee vary greatly—some consider it healthy and energizing, while others claim it's addictive and harmful.
Morning fog over a boreal forest in Alaska. Alan Majchrowicz / Stockbyte / Getty Images
By Jennifer Skene and Shelley Vinyard
For most people, toilet paper only becomes an issue when it unexpectedly runs out. Otherwise, it's cheap and it's convenient, something we don't need to think twice about. But toilet paper's ubiquity and low sticker price belie a much, much higher cost: it is taking a dramatic and irreversible toll on the Canadian boreal forest, and our global climate. As a new report from NRDC and Stand.earth outlines, when you flush that toilet paper, chances are you are flushing away part of a majestic, old-growth tree ripped from the ground, and destined for the drain. This is why NRDC is calling on Procter & Gamble, the manufacturer of Charmin, to end this wasteful and destructive practice by changing the way it makes its toilet paper through solutions that other companies have already embraced.
Cycling advocates set up "ghost bikes," like this one in Brooklyn, in memory of bikers killed in traffic.
Nick Gray
/
CC BY-SA
By John Rennie Short
As cities strive to improve the quality of life for their residents, many are working to promote walking and biking. Such policies make sense, since they can, in the long run, lead to less traffic, cleaner air and healthier people. But the results aren't all positive, especially in the short to medium term.
smodj / iStock / Getty Images Plus
By Pete Stauffer
For those of us who love the coast, the negative impacts of offshore oil drilling are obvious. Offshore drilling has a proven track record of polluting the ocean, damaging coastal economies and threatening a way of life enjoyed by millions of people. Yet, the oil and gas industry—and the elected officials who prioritize them over the public interest—would like you to believe that offshore drilling is somehow a safe and necessary practice.
An indigenous environmental activist was killed in Morelos, Mexico Wednesday, three days before a referendum on the construction of a gas pipeline and two thermoelectric plants that he had organized to oppose, the Associated Press reported.
Samir Flores Soberanes had challenged the words of government representatives at a forum about the so-called Morelos Comprehensive Project a day before his murder, The Peoples in Defense of Land and Water Front (FPDTA), the group Soberanes organized with, said in a statement.