This website uses cookies to ensure you get the best experience while browsing it. By clicking 'Got It' you're accepting these terms.
By Alex Janin
Walk into the Herbivorous Butcher and you'll see deli cases stacked with Italian sausage, piles of pepperoni and mounds of Hawaiian ribs—all created without slaughtering an animal. But unlike other meat substitutes that may be frozen or contain hard-to-pronounce ingredients, the Minneapolis-based shop's handmade products skip the additives.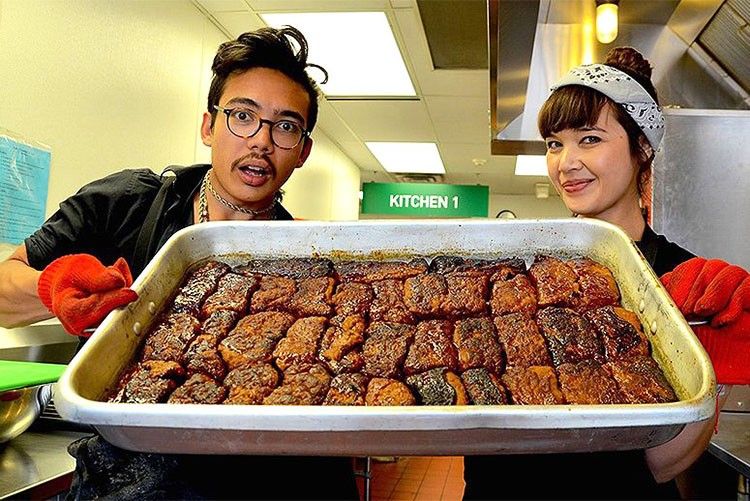 "You can get all the ingredients for our products at any natural food store," store owner Kale Walch, who started the Herbivorous Butcher with his sister, Aubry, told TakePart. "The base of the meats is a high-protein wheat flour ... we found that by mixing various bean flours and vinegars you can create any texture or any flavor."
The siblings were tired of meatless options with long, confusing lists of ingredients at their local grocery store, so they started making their own. In June 2014, the pair opened a farmers market stand in Minneapolis with five meat-substitute products, which proved popular. In late January, they opened their brick-and-mortar store, with 60 items for sale in a bustling neighborhood northeast of the city's downtown.
But the shop's creation wasn't born simply from a hunger for better-tasting vegetarian options, "although we were hungry that day," noted Kale. The two hope that giving more options to meat lovers and meat shunners alike will help spark a conversation on the many environmental and health risks associated with the meat industry.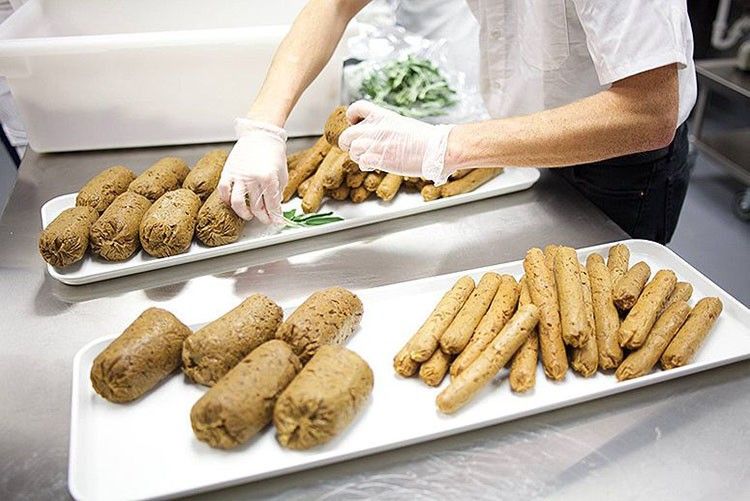 The duo estimates that 60 to 70 percent of the Herbivorous Butcher's customers are omnivores, many of whom are looking to cut down on their meat consumption for environmental or health reasons. The pair swears that their products, which they call "meat improvements" rather than "meat alternatives," are delicious enough to turn even meat eaters into temporary vegans.
"We have one guy who always comes in and says, 'I love meat, but I really love this pastrami' ... We're trying to bridge the gap between people who do eat meat and cheese to meet us halfway and hopefully switch over," said Aubry.
Studies show that meat consumption contributes significantly to water shortages; about one-third of world water consumption is used for the production of animal products. Additionally, large meat producers such as Tyson have released hundreds of millions of pounds of toxic chemicals in waste to surface water over the last five years, which can choke waterways and kill huge numbers of fish, as well as be harmful to humans.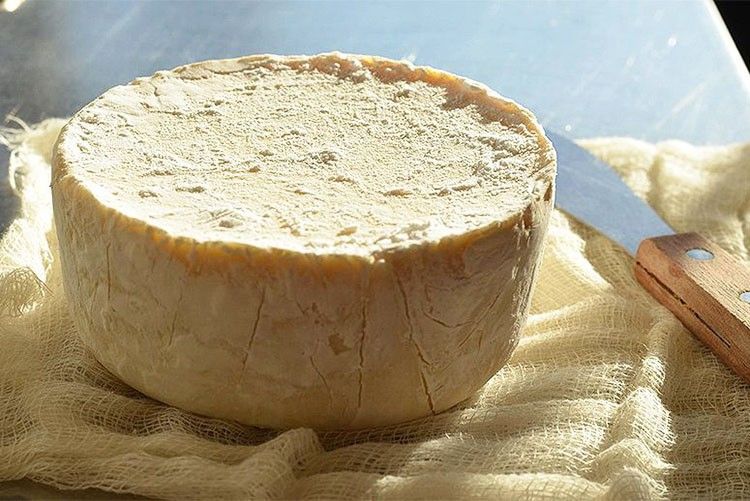 Research has also repeatedly linked meat consumption to higher risks for certain types of cancer and shown that removing meat from your diet can cut your carbon footprint in half.
Wheat flour and vinegar flavors may not exactly replicate the smoky taste of a rack of ribs, but they won't bore your taste buds, said Kale. The siblings are constantly experimenting with new flavors, like using lime zest or orange juice, to add a new kick to their fake meats and cheeses. Along with items such as meat-free Maple Glazed Bacon or a Sriracha Brat, the shop also has 13 types of vegan cheese for sale. Preparation suggestions to encourage customers to craft creative vegan meals are offered too.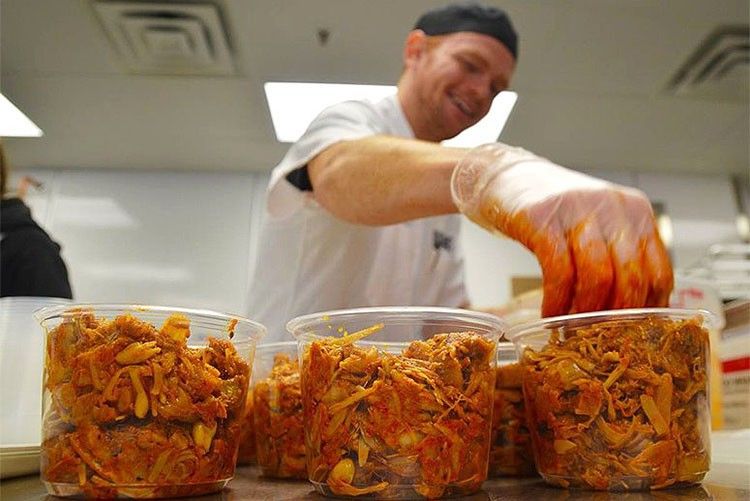 Kale and Aubry plan to expand into Denver or Los Angeles. In the meantime, they continue trying out recipes like hamachi-style fried rice with chicken and vegan mac and cheese to help get Midwesterners on board with a meatless lifestyle. For those not quite ready to commit, the Butcher offers a vegan starter kit online for $135.
"I don't understand why you would choose something that's so harmful for the environment," said Aubry about consumers who eat meat. "But people are getting better. Every day we see people that are trying to make a difference. One by one, that's what it's going to take."
This article was reposted with permission from our media associate TakePart.

YOU MIGHT ALSO LIKE
12 Fruits and Veggies You Should Always Buy Organic
Organic Food, Not Just for Hippies Anymore: How the U.S. Is Dealing With Growing Demand
What Will Happen When Genetically Engineered Salmon Escape Into the Wild?
EcoWatch Daily Newsletter
Cigarette butts are the most-littered item found at beach clean ups. John R. Platt
By Tara Lohan
By now it's no secret that plastic waste in our oceans is a global epidemic. When some of it washes ashore — plastic bottles, plastic bags, food wrappers — we get a stark reminder. And lately one part of this problem has been most glaring to volunteers who comb beaches picking up trash: cigarette butts.

Andrea Rodgers, second from the right, takes notes during a hearing in the Juliana v. U.S. case before the 9th Circuit Court of Appeals in Portland, Oregon on June 4. Colleague Elizabeth Brown sits to her left, while colleague Julia Olson sits on her right, with co-council Philip Gregory on Julia's right. Robin Loznak / Our Children's Trust
By Fran Korten
On June 4, Andrea Rodgers was in the front row of attorneys sitting before a three-judge panel of the 9th Circuit Court. The court session, held in Portland, Oregon, was to determine whether the climate change lawsuit (Juliana v. United States) brought by 21 young plaintiffs should be dismissed, as requested by the U.S. government, or go on to trial.
Seventy Extinction Rebellion protesters were arrested outside The New York Times building Saturday.
SCOOTERCASTER / YouTube screenshot
Explosions and a blaze at the Philadelphia Energy Solutions Refining Complex on June 21.
VOA News / YouTube screenshot
A fire broke out at a Philadelphia oil refinery Friday morning, starting with an explosion so massive it was felt as far away as South Jersey and Delaware County, Pennsylvania, CNN reported.
Asian elephants in Bandipur National Park, India. Mike Prince / CC BY 2.0
By John R. Platt
Some of the tiniest creatures in Myanmar benefit from living near the largest species in the area.
Eucador's Waorani indigenous people celebrated a court ruling against oil extraction on their ancestral lands.