This website uses cookies to ensure you get the best experience while browsing it. By clicking 'Got It' you're accepting these terms.
Vast Gap Seen in Climate Adaption Spending Across 10 of the World's Biggest Cities
Mar. 01, 2016 09:45AM EST
Climate
The amount of money going towards adapting to climate change in 10 of the world's biggest cities has increased by a quarter in recent years, according to new research.
Against a backdrop of a global recession, this might seem like good news. But representing at most 0.33 percent of a city's wealth, resilience-building is still a small fraction of total spending.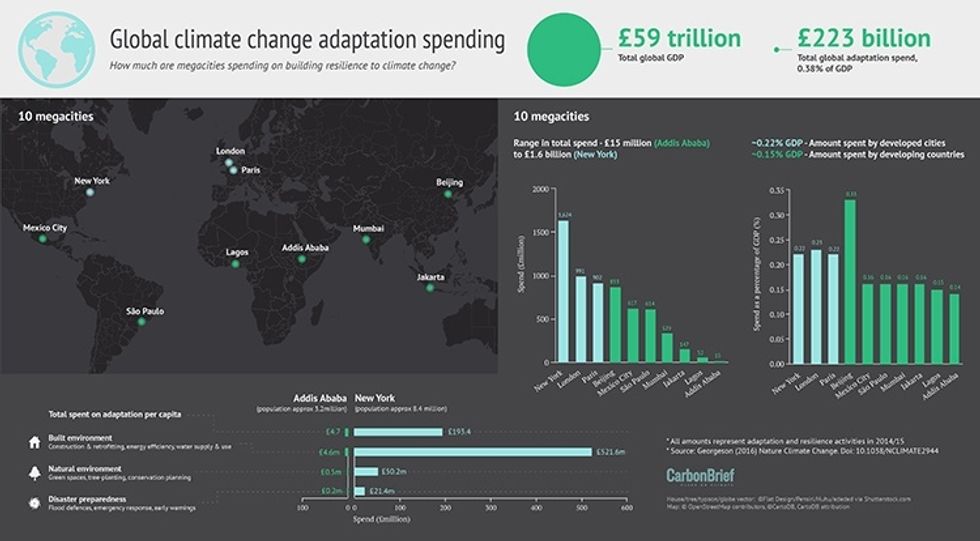 The new study, published Monday in Nature Climate Change, also highlights the "staggering" difference between adaptation spending in developed and developing countries, with the city of New York spending 35 times more per person to protect its residents than Lagos.
The disparity is "proof of concept" that money is being spent preferentially to protect physical capital over people, say the authors.
Building Resilience
More than half of the world's population are classified as living in cities. That figure is projected to rise to 66 percent by 2050. Cities face a wide range of climate change risks, from heat waves and flooding in densely packed cities to sea level rise in coastal cities.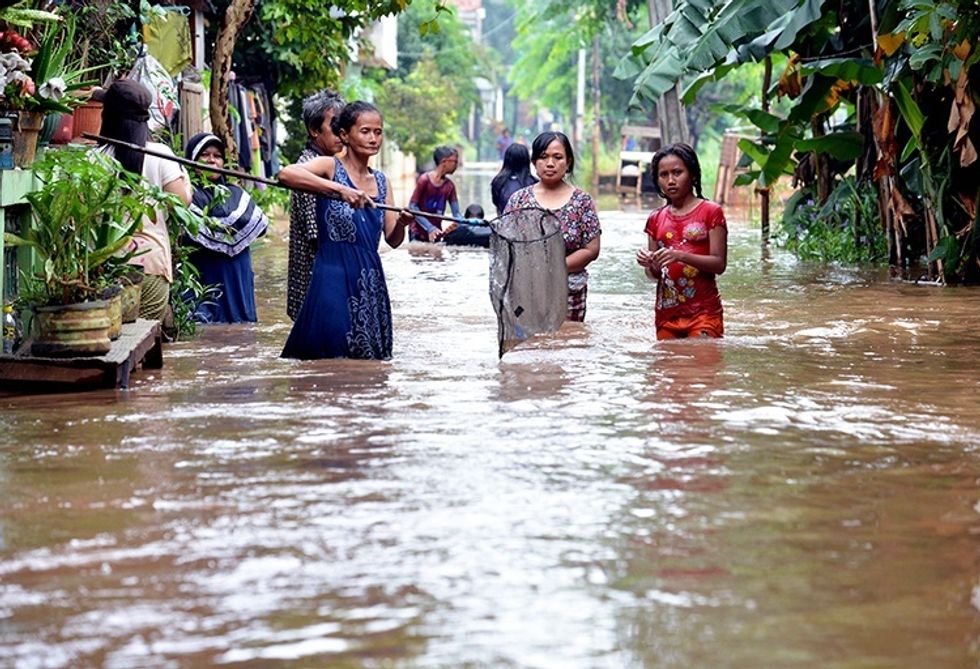 Exactly how much cities around the world are doing to make themselves more resilient is hard to establish. Even more difficult to pinpoint is how those efforts are changing over time.
The authors of today's study built a database from more than 1,000 sources of information about how much money is being spent on activities related to climate change adaptation. This covers everything from building coastal defenses to urban drainage to planting trees.
Lead author on the study, Dr. Lucien Georgeson from University College London, explained to Carbon Brief:
"We started with an overall definition including all economic activities related to adaptation across the ten economic sectors in the study. From there, we isolated the activities that could be directly related to climate change."
Take the example of the Thames Barrier, says Prof. Mark Maslin, professor of climatology at University College London and co-author on the new study. He tells Carbon Brief:
"Building the Thames Barrier was to protect against weather events, particularly storm surges … That cost would not be counted as an adaptation to climate change. However, the Environment Agency has planned to retrofit it to increase the actual gate height by an extra meter. This is a clear adaptation to increased sea level rise in the future."
Importantly, the researchers looked at spending in both the public and private sectors in order to build up a complete picture from the bottom up. As Georgeson tells Carbon Brief:
"The underlying thing that we wanted to achieve was to create a baseline for measuring whether action to adapt to climate change in different cities around the world is improving or not and whether there are any disparities between cities."
Huge Disparity
First, the study takes a global view, estimating that a total of £223bn is being spent on climate change adaptation around the world. This is equivalent to 0.38 percent of global gross domestic product (GDP).
To see how adaptation spending varies in different regions, the authors focused on 10 "megacities," defined here as cities with populations of more than three million or a GDP within the top 25 of cities or both.
The authors selected New York, London, Paris, Beijing, Mexico City, São Paulo, Mumbai, Jakarta, Lagos and Addis Ababa to represent a range of regions, socioeconomic states and climates.
On first glance, the picture appears encouraging. Total adaptation spending across the 10 cities has risen by around 27 percent in the last seven years, from £4.86bn in 2008/9 to £6.15bn in 2014/15. Almost all cities show growth despite the economic recession, Georgeson tells Carbon Brief:
"In a nutshell, there has been a broadly positive trend in adaptation to climate change … Most cities have fairly stable growth, so that's a positive sign."
But within lies a much more complex picture. Adaptation spending varied enormously across the cities, the paper explains. In 2014/15, total spend ranged from £15m in Addis Ababa to £1.6bn in New York, as the chart below on the left shows.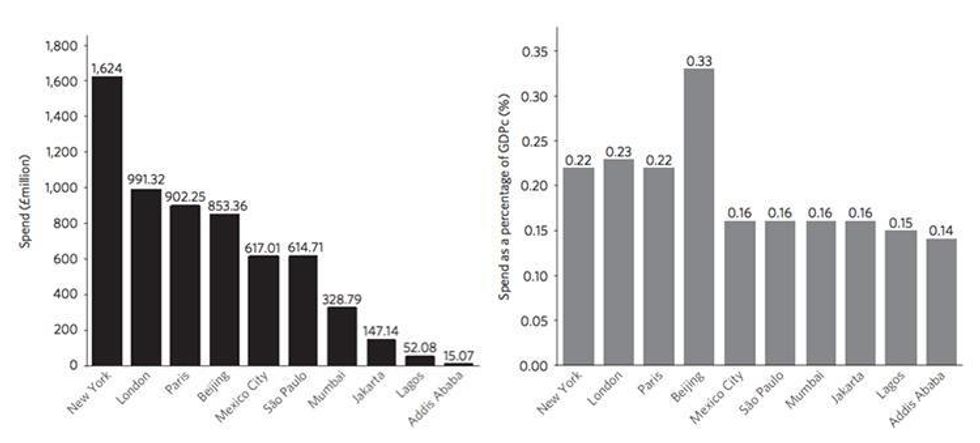 Expressed as a proportion of wealth, a huge disparity exists between cities at different stages of economic development. Megacities in developed countries spend around 0.22 percent of their GDP on building resilience to climate change, compared to 0.15 percent for cities in developing countries.
The one stark outlier to this pattern is Beijing, the paper notes.
Spending 0.33 percent of its GDP on climate change adaptation and resilience, this is far more than any other developing or developed city. The authors attribute this to strong centralized policy frameworks in China, with a national plan in place since 2007 covering adaptation in both urban and rural areas.
Per Capita
The authors break down the total figures further to take into account the relative sizes of each megacity's population. Again, the differences in adaptation spending across the cities are stark.
In 2014/15, New York spent the equivalent of £193.38 protecting each of its residents, compared to £4.71 in Addis Ababa. Maslin tells Carbon Brief:
"We were expecting there to be disparity between developing, emerging and developed countries. However, what we weren't expecting was for the difference between, say, Lagos and New York to be a 35-times increase in spend to protect the population against climate change."
The disparity is particularly concerning given that the the majority of population growth out to 2050 is likely to occur in China, India, Nigeria and Indonesia, say the authors.
While developing cities have greater competition for their expenditure, the huge scale of the disparity suggests protecting infrastructure not vulnerable populations is the biggest priority for adaptation spending, Georgeson tells Carbon Brief:
"You might expect that cities like New York are spending a lot more on climate change adaptation. But the fact that they're spending more as a percentage of their GDP and much more per capita shows you that adaptation spend now is not necessarily always to protect people that are at risk. It might be to protect the infrastructure and the insurance risks."
While adaptation spending may be on the rise globally, this should serve as an early warning sign that some countries are getting left behind, explains Georgeson in the video below.
Break Down
As well as how much each of the 10 megacities spends on adaptation activities, the new study looks at what exactly the money is being spent on. Again, strong differences emerge.
Developed countries spend proportionately more than developing countries on water infrastructure (~16 percent compared to ~13 percent), energy infrastructure (~9 percent compared to ~6 percent) and professional services, such as banking and insurance (~15 percent compared to ~12 percent).
On the other hand, the priority in megacities in developing and emerging countries is building resilience in the agriculture and forestry sectors (~4 percent compared to ~1 percent).
All cities allocate a similar proportion of resources to the built environment (~32 percent). This includes construction and retrofitting as well as energy efficiency, water supply and water use in buildings. The exception is Beijing, where the built environment accounts for nearly 50 percent of the total adaptation spend. The paper explains:
"The greater spend on agriculture and forestry, the natural environment and in some cases health demonstrates the very different profile of needs in developing country cities compared with established global financial centers, where professional services, built environment, energy and water dominate."
While each city spends a similar proportion of its adaptation resources on "disaster preparedness," the difference in absolute terms is "staggering," say the authors in the paper.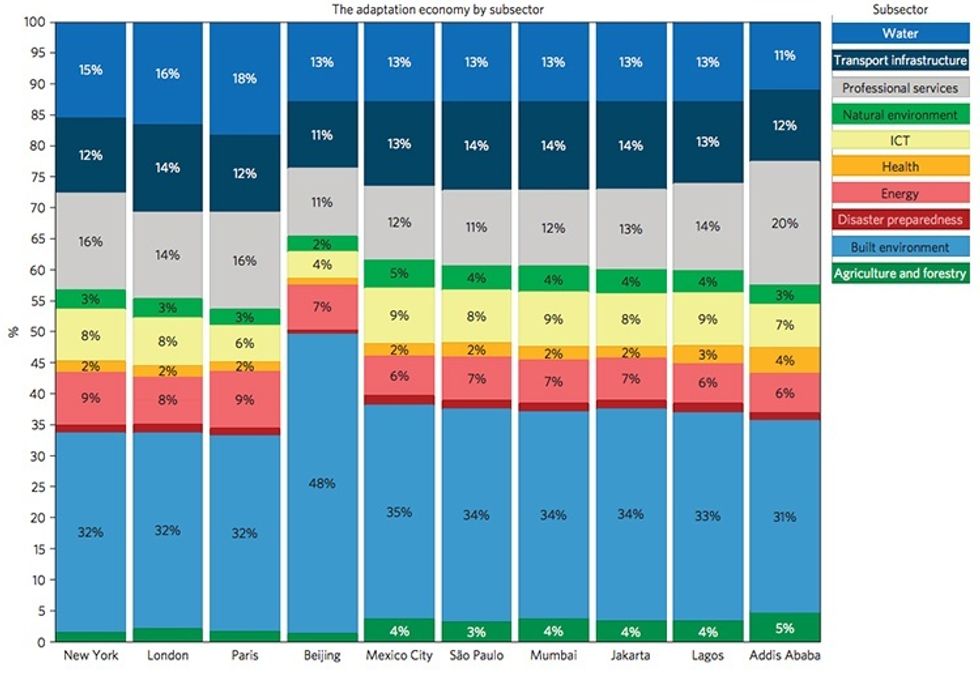 In 2014/5, Addis Ababa spent £0.2m on disaster preparedness compared to £21.36m in New York. This includes activities such as building coastal defenses, developing early warning systems, relocating vulnerable residents and advanced risk modeling.
Leverage
The finding that adaptation spending reflects capital interests rather than human lives is perhaps not unsurprising, says Maslin. But the scale of the difference probably is, he says:
"I think that policymakers are going to be quite surprised by the disparity in the spend between cities … This will help them adapt their policies to enhance that spend and leverage greater spend from the private sector."
A major strength of the study is the sheer wealth of data and level of scrutiny in the method, say the authors. They confirmed each adaptation activity in at least seven different sources before being counted in a city's total spend.
This means you get a feel for what is really happening in each city as opposed to what people want you to think is happening, says Maslin. He is optimistic that having this level of data available to city mayors and decision makers will spur change, adding:
"One of the lessons that we learned from the Millennium Development Goals is if you start measuring things and you give policymakers the data, things do improve."
While it may be a small part of the global economy now, we should expect the level of commitment to climate change adaptation visible within the public and private sector in the world's most heavily populated regions to rise in line with the risks, say the authors.
YOU MIGHT ALSO LIKE
5 Years Later Fukushima Still Spills Toxic Nuclear Waste Into Sea, Top Execs Face Criminal Charges
China's Coal Use and Carbon Emissions Fall as Renewables Have Record-Breaking Year
2015 Was Record-Breaking Year for Investment in Renewable Energy
Trade Rules Trump Climate Action: U.S. Blocks India's Ambitious Solar Plans
EcoWatch Daily Newsletter
A timelapse video shows synthetic material and baby fish collected from a plankton sample from a surface slick taken off Hawaii island.
Honolulu Star-Advertiser / YouTube screenshot
Two silver-backed chevrotain caught on camera trap. The species has only recently been rediscovered after being last seen in 1990. GWC / Mongabay
By Jeremy Hance
VIETNAM, July 2019 – I'm chasing a ghost, I think not for the first time, as night falls and I gather up my gear in a hotel in a village in southern Vietnam. I pack my camera, a bottle of water, and a poncho; outside the window I can see a light rain.

Flooding in New Orleans from Hurricane Katrina on Sept. 11, 2005.
NOAA Photo Library / Lieut. Commander Mark Moran
The most destructive hurricanes are three times more frequent than they were a century ago, new research has found, and this can be "unequivocally" linked to the climate crisis.
By George Citroner
The Office of Disease Prevention and Health Promotion and the World Health Organization currently recommend either 150 minutes of moderate intensity exercise (walking, gardening, doing household chores) or 75 minutes of vigorous aerobic exercise (running, cycling, swimming) every week.
But there's little research looking at the benefits, if any, of exercising less than the 75 minute minimum.
Mary Daly, president of the San Francisco Federal Reserve Bank, poses for a photograph. Nick Otto / Washington Post / Getty Images
It seems the reality of the climate crisis is too much for the Federal Reserve to ignore anymore.
Passengers trying to reach Berlin's Tegel Airport on Sunday were hit with delays after police blocked roads and enacted tighter security controls in response to a climate protest.
A military police officer in Charlotte, North Carolina, pets Rosco, a post-traumatic stress disorder companion animal certified to accompany him, on Jan. 11, 2014.
North Carolina National Guard
For 21 years, Doug Distaso served his country in the United States Air Force.
He commanded joint aviation, maintenance, and support personnel globally and served as a primary legislative affairs lead for two U.S. Special Operations Command leaders.
But after an Air Force plane accident left him with a traumatic brain injury, post-traumatic stress disorder (PTSD), and chronic pain, Distaso was placed on more than a dozen prescription medications by doctors at the U.S. Department of Veterans Affairs (VA).
(L) Selma Three Stone Engagement Ring. (R) The Greener Diamond Farm Project. MiaDonna
By Bailey Hopp
If you had to choose a diamond for your engagement ring from below or above the ground, which would you pick … and why would you pick it? This is the main question consumers are facing when picking out their diamond engagement ring today. With a dramatic increase in demand for conflict-free lab-grown diamonds, the diamond industry is shifting right before our eyes.