This website uses cookies to ensure you get the best experience while browsing it. By clicking 'Got It' you're accepting these terms.
Van Jones: 'When You Cut Carbon, You Should Cut Poverty Too'
Dec. 23, 2015 11:21AM EST
Business
Van Jones is no mere mortal when it comes to fighting for climate change and social justice. He's got a staggering list of accomplishments for a man that is not quite at that midlife mark. From working with Presidents Bush and Obama (and getting a recent shoutout from Obama) to starting many organizations like Green For All that are working to expedite renewable energy as well as bringing awareness to civil rights and social issues. Most importantly, Jones is brilliant at tying it all together in a way that makes sense and ensures that everyone is included in the process.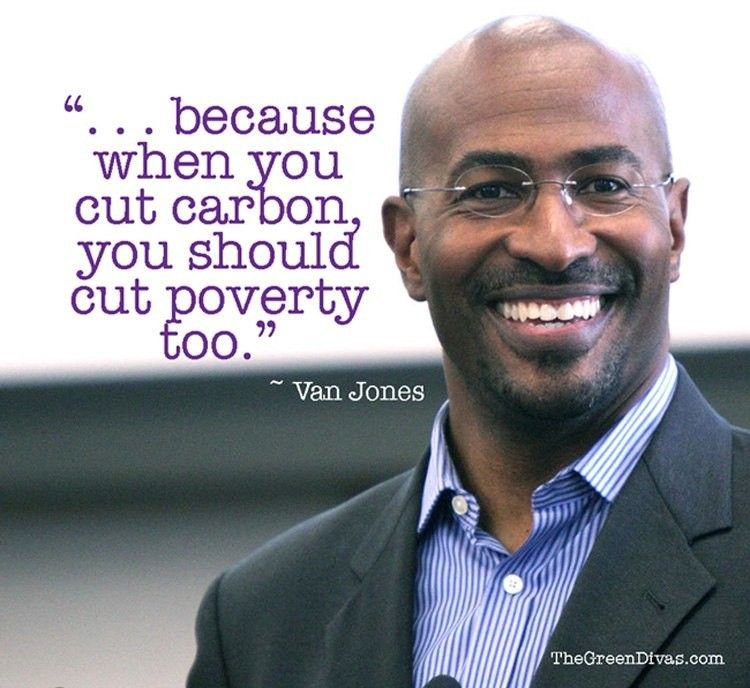 In my recent interview, he applauded President Obama's Clean Power Plan and the many ways it can help advance renewable energy and boost the economy through new infrastructure development.
We talked about how those of lower income tend to be disproportionately impacted by pollution, and how manufacturers in this country have to step up and take some responsibility for their carbon output.
Jones says in the interview, "If you paid a $25 fine for littering, you've just paid more than any big polluter in the United States has ever had to pay at the federal level for dumping out mega-tons of carbon."
Listen to this special Green Divas feature interview with Van Jones:
YOU MIGHT ALSO LIKE
2015: A Banner Year for Solar Energy
World's First Solar-Hydrogen Residential Development Is 100% Self-Sustaining
'Climatarian' Makes New York Times List of Top New Food Words for 2015
World's First Off-Grid EcoCapsule Runs Entirely on Renewable Energy
EcoWatch Daily Newsletter
Assorted plastic bottles. mali maeder / Pexels
People carry children on a flooded street in Almoradi, Spain on Sept. 13. JOSE JORDAN / AFP / Getty Images
Large food companies are following in the footsteps of fast-food restaurants such as Burger King and KFC by offering meat alternatives. Getty Images
By Elizabeth Pratt
Hormel, Kellogg's, and Kroger are among the large companies now planning to offer "fake meat" products at grocery stores.
Experts say the trend toward plant-based meats coincides with consumers' desires to eat less meat.
However, experts urge consumers to closely check package labels as a product isn't necessarily healthy just because it's described as plant-based.
In grocery stores and fast-food outlets around the U.S., a revolution is taking place.
Colombia rainforest. Marcel Oosterwijk / CC BY-SA 2.0
Many of us think of the Amazon as an untouched wilderness, but people have been thriving in these diverse environments for millennia. Due to this long history, the knowledge that Indigenous and forest communities pass between generations about plants, animals and forest ecology is incredibly rich and detailed and easily dwarfs that of any expert.
picture-alliance / Newscom / R. Ben Ari
By Wesley Rahn
Plastic byproducts were found in 97 percent of blood and urine samples from 2,500 children tested between 2014 and 2017, according to a study by the German Environment Ministry and the Robert Koch Institute.

Pexels
Medically reviewed by Daniel Bubnis, MS, NASM-CPT, NASE Level II-CSS
Hot yoga has become a popular exercise in recent years. It offers many of the same benefits as traditional yoga, such as stress reduction, improved strength, and flexibility.
Lara Hata / iStock / Getty Images
By SaVanna Shoemaker, MS, RDN, LD
Rice is a staple in many people's diets. It's filling, inexpensive, and a great mild-tasting addition to flavorful dishes.