This website uses cookies to ensure you get the best experience while browsing it. By clicking 'Got It' you're accepting these terms.
Russia Approves World's First Coronavirus Vaccine After Less Than Two Months of Testing
Aug. 11, 2020 08:49AM EST
Health + Wellness
President Vladimir Putin is seen enjoying the Opening Ceremony of the Sochi 2014 Winter Olympics in Sochi, Russia. Pascal Le Segretain / Getty Images
Russia's Health Ministry has given regulatory approval for the world's first COVID-19 vaccine after less than two months of human testing, President Vladimir Putin said on Tuesday.
---
"This morning, for the first time in the world, a vaccine against the new coronavirus was registered" in Russia, Putin said during a televised video conference call with government ministers.
Putin added that the vaccine, developed by Moscow's Gamaleya Institute, has proven efficient during tests and promises to offer "sustainable immunity" against the coronavirus.
"I would like to repeat that it has passed all the necessary tests," Putin said. "The most important thing is to ensure full safety of using the vaccine and its efficiency."
Putin's Daughter Among Vaccinated
The Russian leader also said that one of his daughters has already been inoculated and is feeling well.
"One of my daughters got vaccinated, so in this sense, she took part in the testing," Putin said.
After the first vaccine shot, his daughter experienced a slight fever, 38 degrees Celsius (100.4°F). Her temperature came down to just slightly above normal the next day.
"After the second shot, she had a slight fever again, and then everything was fine. She is feeling well and has a high antibody count," Putin said.
He didn't specify which of his two daughters, Maria or Katerina, received the vaccine.
Russian health authorities have said that medical workers, teachers and other risk groups will be the first to receive shots of the vaccine.
Years of Work Reduced to Weeks
Russia is the first country to register a COVID-19 vaccine. As countries worldwide race to produce the first vaccine, health experts warn that speed and national pride could compromise safety.
Scientists in Russia and abroad have questioned Moscow's decision to register the vaccine before Phase 3 trials that normally last for months and involve thousands of people, but Putin emphasized that the vaccine underwent the necessary trials and that vaccination will be voluntary.
Russian officials have said that large-scale production of the vaccine will begin in September, and mass vaccination may start as early as October.
Philippine President Rodrigo Duterte, meanwhile, has lauded Russia's efforts in developing the vaccine and said that the Philippines is ready to work with Moscow on vaccine trials, supply and production. Duterte volunteered to "be the first they can experiment on."
"I will tell President Putin that I have huge trust in your studies in combating COVID and I believe that the vaccine that you have produced is really good for humanity," Duterte said, adding that he thinks Russia's vaccine will be ready for the Philippines by December.
Reposted with permission from Deutsche Welle.
EcoWatch Daily Newsletter
EcoWatch joins Fabien Cousteau to remove marine debris in the Florida Keys and talk about the future of the oceans. Tiffany Duong / Ocean Rebels
Much of what we've been able to learn about the underwater world has built on the legacy of underwater explorer and pioneer Jacques Yves Cousteau. In 1943, Cousteau invented the aqua-lung, which completed his self-contained underwater breathing apparatus (SCUBA). This technology forever changed how humans interact with the blue world and remains the precursor of modern-day scuba diving equipment.
Cousteau's eldest grandson, Fabien, was born to continue his grandfather's legacy. Fabien learned to scuba dive on his fourth birthday and joined his famous grandfather on his legendary ships, the Calypso and Alcyone. Now, the younger Cousteau is following in his grandfather's footsteps and bubbles, taking the ocean exploration and conservation he grew up with and giving it a modern, technology-driven, community-focused revamp.
EcoWatch recently joined Fabien and members of his team at the Fabien Cousteau Ocean Learning Center (FCOLC) on marine debris cleanup dives in the Florida Keys. Funded and organized by the "Goal: Clean Seas Florida Keys" program, the program is a partnership between the Florida Keys National Marine Sanctuary, the National Marine Sanctuary Foundation and Blue Star Diving Operators, who are trained in the best practices for marine debris removal. The community-led collaboration grew out of the devastating aftermath from Hurricane Irma in Sept. 2017, which displaced approximately 154,000 lobster traps, many of which were dragged across sensitive ocean habitats for up to 15 miles. In its first year alone, trained operators helped remove more than 10,000 pounds of marine debris from sanctuary waters. Now in its third year, the program teamed up with locals from the Florida Keys and the FCOLC team to spread ocean awareness and remove traps from local coral reefs.
During a clean-up dive, Fabien Cousteau and Jesus Gudino use lift bags to bring derelict lobster traps up from the seafloor. Tiffany Duong / Ocean Rebels
While helping the environment, EcoWatch took the opportunity to interview aquanaut and ocean conservationist Fabien about all things ocean.
EcoWatch reporter Tiffany Duong (far right) joins Fabien Cousteau and FCOLC members Martín Molina Castellnon and Pamela Fletcher for a marine debris clean-up. Tiffany Duong / Ocean Rebels
Tiffany Duong (EcoWatch): First, how much debris did we take off the reefs today?
Fabien Cousteau: 664.8 pounds — we smashed the old record!
Fabien Cousteau removes rope tangled around a coral reef in the Florida Keys. Tiffany Duong / Ocean Rebels
EW: Why oceans? What's the appeal?
FC: When one has experienced the ocean world, it's impossible to turn your back on it. It's a privilege and a responsibility to share the adventure and the passion with other... And, I love it. I'm addicted to oceans.
EW: What is your favorite thing about the oceans?
FC: The sense of being, the sense of community. The sense of tranquility that it gives. The fact that it gives us everything that we require as well as the things that make us — the intangibles that give us our humanity.
EW: How do you remember your grandfather?

FC: I had the luck of spending the first 30 years of my life with my grandfather around. For years, maybe the first decade and a half, I just saw him as my grandfather. We would see him in family gatherings, whether in the field or at home. He would tell us stories. He would be how I imagine most grandparents are — very interested in their grandchildren and spending time with them. It wasn't until we were in a Japanese restaurant in New York City one day and people kept coming up to our table to interrupt our family time asking for him to sign things that I realized our grandfather wasn't just for us. We were sharing him with the world. And that's when I realized — very naïve of me — what an iconic public figure he was, especially for the ocean world.
Fabien Cousteau is pictured with his pioneering grandfather, Jacques Yves Cousteau. Fabien Cousteau
EW: Why should others care about the oceans?
FC: Without the oceans, we're a brown rock in space like all the others. The oceans set our planet apart and allow us to survive and thrive. We share the planet with all kinds of sentient beings. To envision a better future, we have to live in symbiosis with all of them.
EW: What's the current state of the planet?
FC: We're facing a terminal illness if we don't do something. It's not trite to say that... As a species, we are directly responsible for our very own future. We're the only species that can do that, that can determine its own future. And that's the most fundamentally important thing everyone needs to understand.
Fabien Cousteau is an aquanaut, ocean advocate and conservationist. Carrie Vonderhaar
EW: You're not just taking this sitting down. Tell us about the Fabien Cousteau Ocean Learning Center and what you're trying to do.
FC: The mission is to educate, empower and engage. It's based on a quote my grandpa told me as a kid: People protect what they love, they love what they understand, and they understand what they're taught. The only way we're getting out of this is if we fill the proverbial bucket together one drop at a time — one action at a time. We're all responsible for what we see today, so the solution isn't from one source like myself or an individual doing their best, it's all of us pitching in.
EW: What does that look like for you and FCOLC?
FC: We all need to do our part and invest in ocean protection, conservation and science. Our Nicaragua program is a great example of all three.
(Editorial Note: Per FCLOC Nicaragua Program Manager Pamela Fletcher and Operations Manager Martín Molina Castellnon, the Nicaragua program addressed three phases, and involves mangrove restoration and sea turtle conservation.)
Phase 1 involved the local and indigenous communities in mangrove restoration. As a critical blue carbon sink, mangroves sequester more carbon than any other plant or tree, Fabien noted.
Phase 2 evolved into the current sea turtle conservation project. Nesting beaches of several species are patrolled, and nests are protected from poachers. Eggs are then relocated to guarded hatcheries, and the community and local university students are empowered to create a future in conservation and science.
Phase 3, which has already started, will grow to include the empowerment of local women and girls. In transitioning the conservation program management to them, they take on the responsibility of protecting sea turtles and spreading awareness to their local communities. This builds the foundation for girls to envision a future in conservation and STEM. Girls and women also learn the tools for making conservation a viable business that can sustain them and their families.
Pamela Fletcher: Our biggest success is the shift we're seeing in how [the girls helping with the sea turtle program] value themselves in the community and value protecting these amazing species.
Martín Molina Castellnon: In Nicaragua, these things are all managed by men, and we transitioned them to be women. It's taken off like a rocket. One little girl who's only eight years old has been in the program for two years, and she collects plastics, brings them to school and tells her friends about what's happening in the oceans. She's our future pioneer.
FC: She's a trailblazer.
MMC: Women empowerment has really changed their lives. And, it's made a big difference in the community.
Proteus is a new prototype underwater research station that could revolutionize how research is conducted and what it can uncover. Yves Béhar / Fuseproject
EW: Now, tell me about Proteus.
(Editorial Note: Proteus is a conceptual underwater research station that Fabien hopes will change how underwater research is tackled. It will be the world's largest and most advanced underwater habitat located 60 feet below the surface in Curaçao. The goal is for it to be completely modular and customizable, run by renewable energy and filled with cutting-edge technology.)
FC: This is a very large project. Proteus will be like the International Space Station of the sea. That was by design, and it's meant to give people that image because a lot of science will be coming out of it. Educational components and broadcasting will be for the social good, for the benefit of humanity and the planet. Underwater habitats are the missing tool in underwater exploration. It doesn't take away from ships, ROVs, probes, scuba, etc. — it's something that fills a big gap we currently have.
EW: What gives you hope?
FC: What's exciting to me is that we know so little about the oceans. We've explored only five percent. That's a huge opportunity. But, we also need to understand we're having a huge impact on our oceans, too. We're treating it as a garbage can, but really, it's a closed-loop system that we're banking on. Now, that bank account is going bankrupt, so we need to fill it back up.
EW: Any advice to those reading?
FC: Protect the ocean as if your life depended on it — because it does.
Locals joined Fabien Cousteau and his team from the FCOLC for a marine debris cleanup dive in the Florida Keys. Tiffany Duong / Ocean Rebels
A humpback whale, one of the species affected by the Pacific marine heat wave, breaches in Kenai Fjords National Park in the Gulf of Alaska. Kaitlin Thoreson / National Park Service
By Hannah Thomasy
From 2014 to 2016, the Gulf of Alaska experienced the worst marine heat wave of the decade. From single-celled organisms to top predators, practically no level of the ecosystem was left unscathed. During the Pacific marine heat wave, tens of thousands of dead seabirds washed up on beaches, unusually low numbers of humpback whales arrived in their summer habitats, and toxic algal blooms spread along the West Coast of North America.
Now, a new study in Scientific Reports casts doubt on whether Gulf ecosystems will be able to return to their pre–heat wave conditions. This study—a collaborative effort between researchers at NOAA and several other government and research organizations—combined dozens of data sets to build a detailed picture of how many heat wave–induced changes have persisted. Thanks in part to long-term monitoring efforts by Gulf Watch Alaska, a program established in 2012 to assess the ongoing effects from the 1989 Exxon Valdez oil spill, scientists were able to compare pre–heat wave and present conditions in several different sections of the ecosystem.
"We were able to show these impacts—from the intertidal out to the pelagic [open ocean] ecosystem, and from algae and phytoplankton on up to whales and commercial fisheries, and a lot of different species in between," said Robert Suryan, a NOAA marine biologist and lead author of the study.
Shannon Atkinson, a professor in the College of Fisheries and Ocean Sciences at the University of Alaska Fairbanks who was not involved in this study, said it's very important that we understand the changes taking place in the Gulf of Alaska. "The ecological significance is huge," she said. "We've seen such dramatic changes in the Far North…it really has made Alaska like a ground zero for climate change."
In addition to impacts on the animals that make their homes in the Gulf of Alaska, changes in the Gulf ecosystem could have major implications for the livelihoods of many Alaskans as well. This region supports subsistence fisheries, commercial fisheries, and a major tourism industry.
Changing Ecosystems
For some animals, the heat wave was devastating. Most metrics showed a decline in sea stars, herring, and Pacific cod; their populations today generally remain lower than pre–heat wave measures. Numbers of sea lion pups trended downward, and some areas had fewer nesting seabirds like common murres and kittiwakes.
But, Suryan pointed out, as some species suffered, others thrived. For example, researchers saw a major decrease in the amount of brown algae in the intertidal zone. That's bad news for species like herring, which lay their eggs on the algae. But as algae cover decreased, "that opened up space" for other organisms in the intertidal zone, explained Suryan. "In tidal communities, there's a lot of competition for space, so there was an increase in barnacles and mussels.… So that's a benefit to communities that rely more on those particular species."
Similarly, there have been positive and negative effects on different fisheries in the region. Although the Pacific cod fishery has suffered in the years during and since the heat wave, Suryan said that juvenile sablefish have been surviving and growing at greater rates than usual, so sablefish fisheries will likely do well in the coming years.
As ecosystems change, we as humans need to change how we interact with and manage them, researchers said. "With these types of studies, we're hopeful that we can really benefit the management of natural resources," said Suryan. "[We're] thinking about the communities in the region and the industries in the region—how can we help inform their adaptation to this change?"
An Uncertain Future
This study is just the beginning. Suryan looks forward to more focused research on the mechanisms by which these changes are occurring. Why do some species do better than others? Even within the same species, why do some age groups thrive while others decline? By understanding such mechanisms, he said, we will be better able to predict how the changing climate will affect the future of these important ecosystems.
In addition to measuring the number of animals in the population, Atkinson said that measuring things like reproductive rates and biomarkers of stress can also be valuable indicators of how well a group of animals is faring in a changing environment.
Unfortunately, climate change may not be the only threat these animals face. Atkinson said it's important to determine how animals will respond to cumulative stressors (including climate change, disease, and pollution) to predict how well populations will survive in the coming years.
This story originally appeared in Eos and is republished here as part of Covering Climate Now, a global journalism collaboration strengthening coverage of the climate story.
From Your Site Articles
Related Articles Around the Web
Fire in one part of a community can contaminate the water system used by other residents, as Santa Rosa, California, discovered after the Tubbs Fire.
Justin Sullivan / Getty Images
By Andrew J. Whelton
More than 58,000 fires scorched the United States last year, and 2021 is on track to be even drier. What many people don't realize is that these wildfires can do lasting damage beyond the reach of the flames – they can contaminate entire drinking water systems with carcinogens that last for months after the blaze. That water flows to homes, contaminating the plumbing, too.

Over the past four years, wildfires have contaminated drinking water distribution networks and building plumbing for more than 240,000 people.
Small water systems serving housing developments, mobile home parks, businesses and small towns have been particularly hard-hit. Most didn't realize their water was unsafe until weeks to months after the fire.
The problem starts when wildfire smoke gets into the system or plastic in water systems heats up. Heating can cause plastics to release harmful chemicals, like benzene, which can contaminate drinking water and permeate the system.
As an environmental engineer, I and my colleagues work with communities recovering from wildfires and other natural disasters. Last year, at least seven water systems were found to be contaminated, suggesting drinking water contamination may be a more widespread problem than people realize.
Our new study identifies critical issues that households and businesses should consider after a wildfire. Failing to address them can harm people's health – mental, physical and financial.
Wildfires Make Drinking Water Unsafe
When wildfires damage water distribution pipes, wells and the plumbing in homes and other buildings, they can create immediate health risks. A building's plumbing can become contaminated by smoke getting sucked into water systems, by heat damaging plastic pipes – or contamination penetrating into the plumbing and leaching out slowly over time.
Since 2017, multiple fires have rendered drinking water systems unsafe, including the Echo Mountain, Lionshead and Almeda fires in Oregon, and the CZU Lightning Complex, Camp and Tubbs fires in California. Thousands of private wells have been affected too.
Being exposed to contaminated water can cause immediate harm, such as headaches, nausea, dizziness and vomiting. Short-term exposure to 26 parts per billion or more of benzene, a carcinogen, may cause a decrease in white blood cells that protect the body from infectious disease. Multiple fires have caused drinking water to exceed this level. A variety of other chemicals can exceed safe drinking water exposure limits too in the absence of benzene.
Households Are Not Being Adequately Warned
In a survey of 233 households affected by water contamination, we found people reported high levels of anxiety and stress linked to the water problems. Nearly half had installed in-home water treatment because of uncertainty about the water. Eighty-five percent had looked for other water sources, such as bottled water.
In some cases, we found that advice from government agencies placed households at greater risk of harm. It has sometimes left people exposed to chemicals, caused them to needlessly spend money and given them a false sense of security. Certified in-home water treatment devices, for example, are tested only to bring down 15 parts per billion of benzene to less than 5 parts per billion, the federal standard. These devices are not tested to treat hazardous waste-scale contaminated water that's been found after wildfires.
Following the 2020 CZU Lightning Complex Fire near Santa Cruz, California, a local health department correctly warned private well owners not to use their water and to test it, but a nearby damaged water system and the state did not warn 17,000 people against bathing in the contaminated water. It was only after test results proved the water had been unsafe all along that the system owner and state advised against bathing in it.
In Oregon, some damaged systems encouraged people to boil their drinking water, later finding that the water had benzene in it.
After the 2018 Camp Fire that devastated Paradise, California, the local health department correctly warned the entire county not to use or try to treat the drinking water, which had contamination above EPA's hazardous waste limit. But one water system and the state encouraged 13,000 people to try to treat it themselves.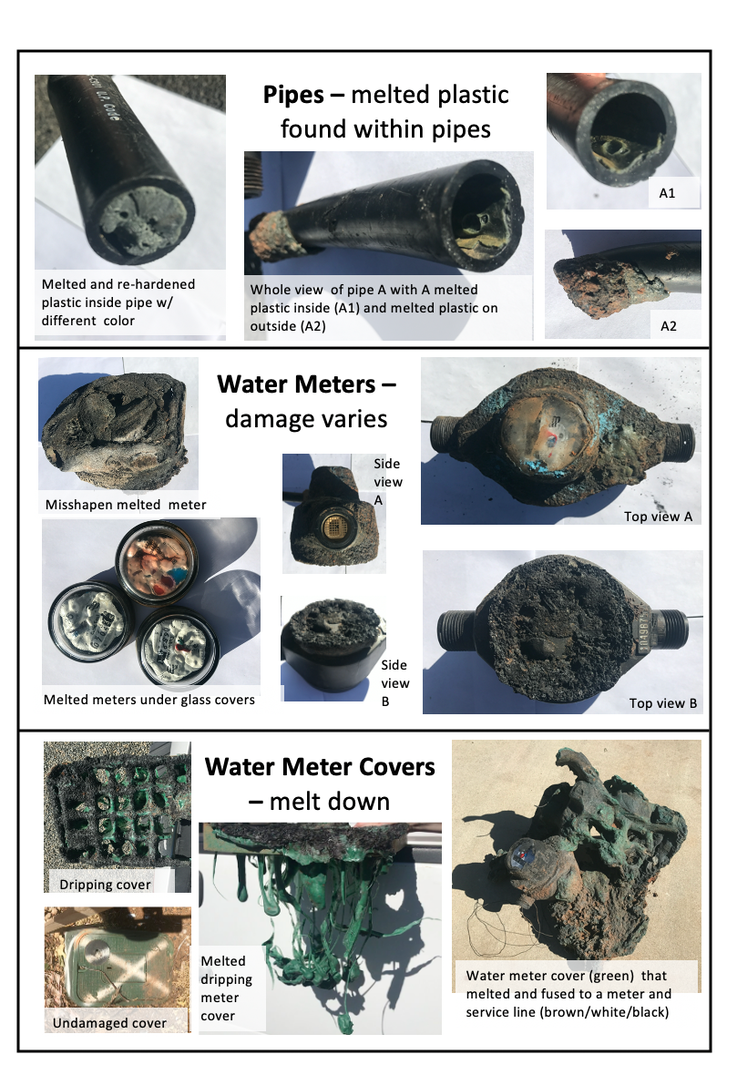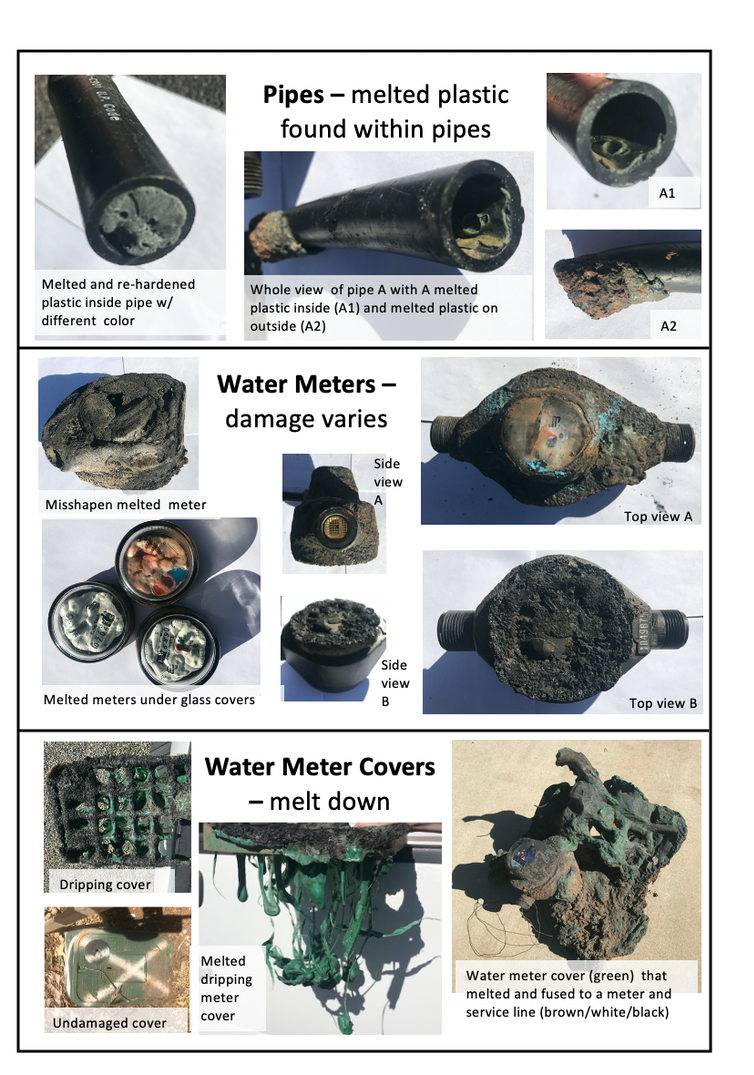 In all of these cases, the U.S. Environmental Protection Agency chose not to compel water utilities to explicitly notify customers about the water contamination and its risk.
Communities have received other bad information:
Commercial labs and government officials recommended flushing faucets for 5 to 15 minutes before collecting a water sample, thereby dumping out the contaminated plumbing water meant for testing.
Homeowners were led to believe a single cold water sample at the kitchen sink would determine if the hot water system and property service line was contaminated. It cannot.
People were led to believe that benzene water testing would determine if any other chemicals were present above safe limits. This is not possible.
What to look for after a nearby fire
Signs of potential contamination after a nearby wildfire could be loss of water pressure, discolored water, heat damage to water systems inside and outside buildings, and broken and leaking pipes, valves and hydrants.
Drinking water should be assumed to be chemically unsafe until proven otherwise.
Once a system is contaminated, cleanup can take months. The water system will have to be flushed and tested regularly to track down contamination. Health departments should also issue guidance on how to test private wells and plumbing.
When testing plumbing, include the property service line as well as the hot and cold water lines. Before collecting a water sample, the water must sit long enough in the plumbing so contamination can be found – 72 hours was the Tubbs Fire and Camp Fire standard. Tests should look for more than benzene.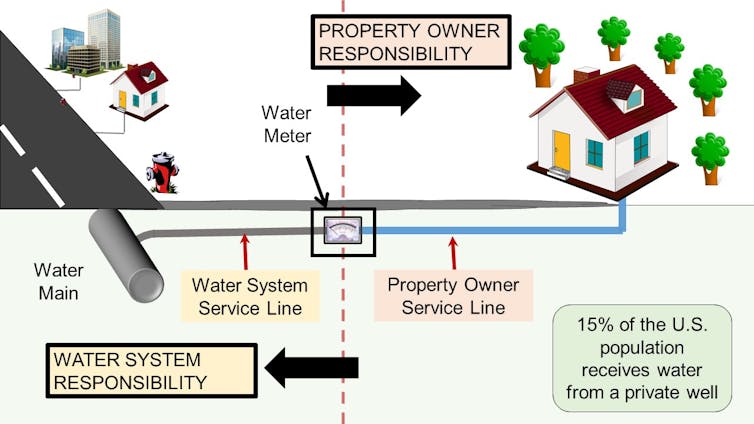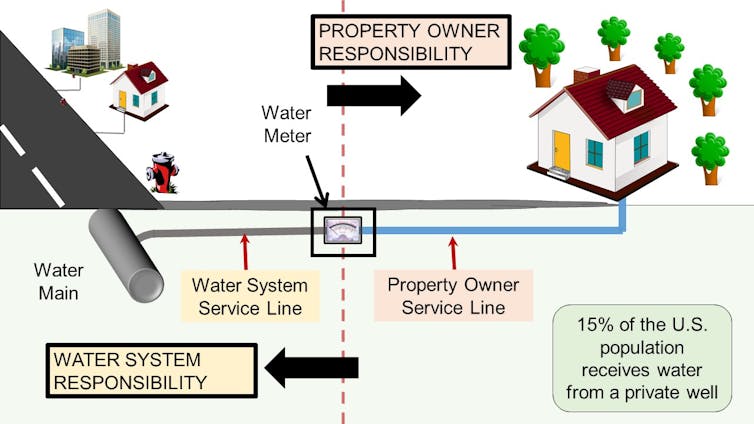 Who can help?
Many of the critical public health risks identified in our new study can be addressed by public health departments with financial support from state and local agencies.
Public health departments often have experience responding to water problems, such as legionella outbreaks, and can provide technical advice about both chemical exposures, building plumbing and private drinking water wells.
Andrew J. Whelton, Associate Professor of Civil, Environmental & Ecological Engineering, Director of the Healthy Plumbing Consortium and Center for Plumbing Safety, Purdue University

Disclosure statement: Andrew J. Whelton received funding from the U.S. National Science Foundation, Paradise Irrigation District, U.S. Environmental Protection Agency, Paradise Rotary Foundation, and Water Research Foundation.
Reposted with permission from The Conversation.
The new greenhouse will accelerate Lufa's mission to grow food. Lufa
By Sean Fleming
The world's largest rooftop greenhouse is in Montreal, Canada.
It measures more than 15,000m2 and produces more than 11,000kg of food per week.
The company behind it had to hire 200 new employees due to pandemic-driven demand.
Can you grow enough produce for an entire city in rooftop greenhouses? Two entrepreneurs in Montreal, Canada, believe it might be possible.
Lauren Rathmell and Mohamed Hage cofounded Lufa in 2009. The company has four urban gardens in the Canadian city, all in rooftop greenhouses. Lufa's most recent sits on top of a former warehouse and measures more than 15,000m2 – larger than the other three greenhouses combined. Its main crops are tomatoes and aubergines, producing more than 11,000kg of food per week. It is, the company says, the largest rooftop greenhouse in the world.
An Ambitious Goal
​Rathmell says the new greenhouse will accelerate Lufa's mission to grow food where people live and help it to meet an "ever-growing demand for fresh, local, and responsible foods".
The company – which says it's not trying to replace local farms and food makers, acknowledging that not everything can be grown on rooftops – follows what it calls 'responsible agriculture' practices. These include capturing and recirculating rainwater, energy-saving glass panels, and an absence of synthetic pesticides. Any waste is composted and reused, and food is sold directly to customers on the day it is harvested. Lufa also has a fleet of electric vehicles to make those deliveries.
"Our objective at Lufa is to get to the point where we're feeding everyone in the city," Hage said in an interview in Fortune. Lufa's fifth greenhouse is due to open later in 2021.
At the moment, Lufa grows food for around 2% of the city's population. While that might sound like a modest proportion, interest in urban agriculture is on the rise. Presently, agriculture in urban areas tends to be more common in developing countries. But the UN Food and Agriculture Organization (FAO) favors an increase in urban agriculture, saying it can have "important benefits for food security."
Urban farming is often more common among poorer members of society. UN FAO
A Growing Global Trend
Lufa produces more than 11,000kg of food per week, including tomatoes and aubergines. Lufa
Urban agriculture has been taking off in other parts of the world in recent years, too – from shipping containers in Brooklyn, New York City, to allotments in unused spaces in Brussels, Belgium.
And at 14,000 m2, there's Nature Urbaine in Paris – which claims to be the world's largest urban rooftop farm. Nature Urbaine rents out growing space to Parisians who want to grow their own crops. Tenant farmers pay around $450 per year per 1m2 sized plot. They get a welcome pack with everything they need to start growing, as well as regular access to the Nature Urbine gardening team who are on hand to offer advice and support.
Lufa's first greenhouse was opened in 2011, in Montreal's Ahuntsic-Cartierville borough, to grow herbs, microgreens, cucumbers and peppers. Two more were added in 2013 and 2017, with the fourth joining last year. It sits on top of a former Sears warehouse in the Saint-Laurent area of the city.
In addition to its own produce, Lufa also sells a selection of other locally made or grown food, including bread, cheese and drinks to its customers. Rising demand for its service, in the wake of the pandemic, led to the company hiring an additional 200 people, and partnering with 35 new farmers and food makers.
Lufa
Reposted with permission from the World Economic Forum.
Environmental activists carry a large snake pipeline as they protest against the Enbridge Line 3 oil pipeline on May 7, 2021 in Washington, DC. Drew Angerer / Getty Images
By Jessica Corbett
From fake oil spills in Washington, D.C. and New York City to a "people mural" in Seattle spelling out "Defund Line 3," climate and Indigenous protesters in 50 U.S. cities and across seven other countries spanning four continents took to the streets on Friday for a day of action pushing 20 banks to ditch the controversial tar sands pipeline.
"Against the backdrop of rising climate chaos, the continued bankrolling of Line 3 and similar oil and gas infrastructure worldwide is fueling gross and systemic violations of human rights and Indigenous peoples' rights at a global scale," said Carroll Muffett, president of the Center for International Environmental Law.
"It's time for the big banks to recognize that they can and will be held accountable for their complicity in those violations," Muffett added. His organization is part of the Stop the Money Pipeline coalition, more than 150 groups that urge asset managers, banks, and insurers to stop funding climate destruction.