This website uses cookies to ensure you get the best experience while browsing it. By clicking 'Got It' you're accepting these terms.
Utah Oil Boomtown Hostile to Midwife's Concern Over Skyrocketing Infant Deaths
Jan. 12, 2015 11:02AM EST
When a polluting industry creates jobs and economic activity, especially in the very poor areas where these industries often land, there's a tendency of citizens to want to deny any impact on its health or environment. Such a clash of interests has reached a sad impasse in a Utah oil boom town where some citizens are scapegoating a midwife who is raising questions about a spate of infant deaths.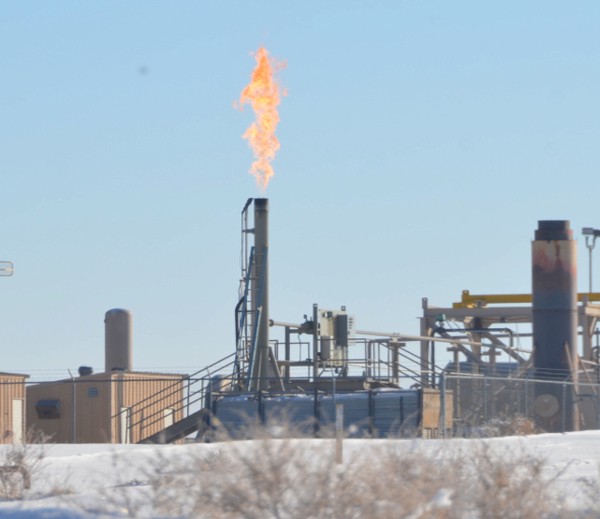 A heartbreaking story in the Los Angeles Times tells about 20-year midwife Donna Young, who noticed what she thought was an exceptional number of gravestones for infants at the local cemetery in Vernal, Utah. She wondered if there could be a connection to the oil industry, which underpins the area's economy and provides about half the town's annual budget.
A state investigation is underway, but in the meantime, area residents—even mothers of some of the deceased infants—are already angrily denying the connection and demonizing Young for asking questions, reports the L.A. Times. She's gotten threatening calls, been attacked on local talk radio and online, and even found rat poison in the animal feed on her ranch, exposing the fear, anger and denial some people feel when fossil fuel industries are the linchpin of an economy. As Vernal's Mayor Sonya Norton aptly told the paper, "People get very protective of what we have here. If you challenge our livelihood, it's considered personal. Without oil, this town would be a couple of storefronts and a gas station."
After spotting the graves, Young dug into obituaries and cemetery records and found that the number of graves for an infant skyrocketed from one in 95 in 2010 to one in 14 in 2013. That concern led her to contact the TriCounty Healthy Department. When its director Joseph Shaffer called a public meeting and Young's involvement in raising concerns was revealed, blowback began. And as the matter was referred up to the state, it intensified with Shaffer taking heat as well as Young. Even area doctors were angry with her. Digging around for anything that could deflect blame from the oil industry, some citizens are blaming drug use or poor nutritional habits among oil field workers.
Vernal is located in the Uintah Basin, where a recent study by the National Oceanic and Atmospheric Administration (NOAA) revealed elevated levels of winter ozone pollution caused by the widespread oil and gas exploration and extraction activities in the region. That was alarming because ozone pollution generally spikes in warmer weather. "Chemicals released into the air by oil and gas activities can spark reactions that lead to high levels of ozone in wintertime, high enough to exceed federal health standards," said NOAA. Ozone pollution in the Uintah Basin has been measured at levels as high as the Los Angeles basin. And ozone is known to cause respiratory problems which are most acute in the old and the very young, including infants.
Meanwhile, the number of infant deaths in 2014 dropped to just two, after 13 died in 2013, which is likely to only fuel blowback and the depiction of Young as an anti-oil demon. The Los Angeles Times quoted the George Burnett, owner of a local smoothie and juice bar, saying "Drilling brings the Earth's energy to life" and accusing Young of "alarmist thinking that has gotten ahead of good science."
YOU MIGHT ALSO LIKE
How 11,000 Oil and Gas Wells Gave Utah Community More Ozone Pollution Than Los Angeles
Exxon: Destroying Planet Necessary to Relieve Global Poverty
Asthma Cases Increase as Cities Continue to Ignore Federal Ozone Standards
KarinaKnyspel / iStock / Getty Images
2018 saw a number of studies pointing to the outsized climate impact of meat consumption. Beef has long been singled out as particularly unsustainable: Cows both release the greenhouse gas methane into the atmosphere because of their digestive processes and require a lot of land area to raise. But for those unwilling to give up the taste and texture of a steak or burger, could lab-grown meat be a climate-friendly alternative? In a first-of-its-kind study, researchers from the Oxford Martin School set out to answer that question.
Three scissor-tailed flycatcher fledglings in a mesquite tree in Texas. Texas Eagle / CC BY-NC 2.0
By Gary Paul Nabhan
President Trump has declared a national emergency to fund a wall along our nation's southern border. The border wall issue has bitterly divided people across the U.S., becoming a vivid symbol of political deadlock.
PeopleImages / E+ / Getty Images
By Daniel Ross
Hurricane Florence, which battered the U.S. East Coast last September, left a trail of ruin and destruction estimated to cost between $17 billion and $22 billion. Some of the damage was all too visible—smashed homes and livelihoods. But other damage was less so, like the long-term environmental impacts in North Carolina from hog waste that spilled out over large open-air lagoons saturated in the rains.
Hog waste can contain potentially dangerous pathogens, pharmaceuticals and chemicals. According to the state's Department of Environmental Quality, as of early October nearly 100 such lagoons were damaged, breached or were very close to being so, the effluent from which can seep into waterways and drinking water supplies.
This picture taken on May 21, 2018 shows discarded climbing equipment and rubbish scattered around Camp 4 of Mount Everest. Decades of commercial mountaineering have turned Mount Everest into the world's highest rubbish dump as an increasing number of big-spending climbers pay little attention to the ugly footprint they leave behind. DOMA SHERPA / AFP / Getty Images
China has closed its Everest base camp to tourists because of a buildup of trash on the world's tallest mountain.