USEC Bailout Dies Yet Again
Mar. 30, 2012 11:16AM EST
Energy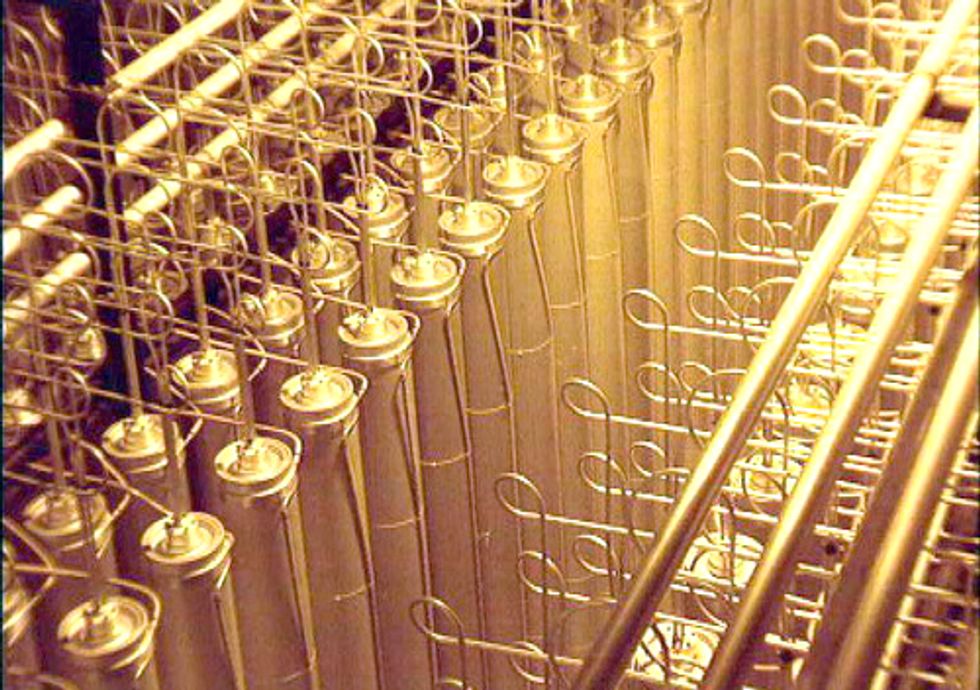 Setting some sort of record for the number of botched attempts to enact bad legislation, the U.S. Congress has now struck out a fourth time in as many months, failing to bail out the desperately dysfunctional uranium enrichment company, USEC Inc. USEC and the U.S. Department of Energy (DOE) issued fresh threats that the company would terminate its long-dying "American Centrifuge" uranium enrichment project, if not go belly up, without a new federal cash infusion by March 31. But the Senate and the House ignored those threats and left for two-week recess on March 29, after passing a 90-day Transportation holdover bill absent any USEC provision.
In reaction, USEC stock hit a low of $1.00 per share on March 29, eight cents below its previous all-time low. That represents a loss of 96 percent of equity value from the high of nearly $24 per share reached in 2007, after USEC was awarded a construction and operating license for a centrifuge plant by the Nuclear Regulatory Commission (NRC). NRC awarded the license for a commercial-scale plant near Piketon, Ohio, even though USEC had failed to even initiate a supposedly-mandatory testing program called the Lead Cascade, and even though USEC had no financing plan for building a commercial plant.
This week's developments demonstrate that an elaborate stock speculation swindle has been conducted, supported by DOE, NRC and those members of Congress who took large amounts of campaign cash from USEC and then proposed federal payouts to the privatized company. Accusations of corruption involving USEC campaign contributions also emerged from congressional candidates this week, explaining the otherwise-mysterious retreat of the USEC caucus in Congress.
USEC's empty belly began to growl when the company was denied a $2 billion loan guarantee by the Department of Energy for a second time in October of 2011. Secretary of Energy Steven Chu then requested of Congress two annual installments of $150 million each for an ill-defined and unjustified "Research, Development and Demonstration" program (RD&D), to accomplish the Lead Cascade viability test that USEC had failed to perform on its own, despite contractual obligations and thirteen years of heavy federal subsidy.
The Chu-Chu Train
But something was very strange about the Chu request, something revealing the RD&D project as a phantom, something glaringly obvious but not publicly discussed until now. In Chu's October 2011 letters to the Senate and the House, he requested funds for the construction of "one train of centrifuges (720 centrifuges)" and that number was never publicly altered or retracted.
However, in February of 2012, in writing off the costs of 38 centrifuges damaged in the 6-11-11 crash event at Piketon, USEC placed the cost of the centrifuges at $120 million, or $3.16 million per centrifuge. At that price, 720 centrifuges would cost almost $2.3 billion, not including R&D, far more money than what was being requested of Congress by Chu.
After the tax write-off, USEC and DOE began discussing the proposed RD&D project as involving 120 centrifuges, not 720. Apparently, the 720 figure had been a misprint, but the misprint in an official funding request to Congress was never corrected, and Congress was left for the duration of the bailout effort believing that it could buy 720 centrifuges for an investment of only $300 million in federal money.
No fuss was made about the huge disparity in numbers, because the inside players understood that the RD&D program was an imaginary device from the get-go. In actuality, funds were being requested to pay USEC corporate expenses and keep the company out of bankruptcy court, where court-appointed accountants might reveal the full odoriferous history of under-the-table federal funding for USEC.
No "train of centrifuges" ever would materialize, for the very same reason that USEC never completed the Lead Cascade on its own. In the words of Piketon workers, the USEC forty-foot centrifuges based on forty-year-old technology are big "hunks o' junk." There's nothing worth testing, if the machines could survive operational performance at all. The number of phantom centrifuges that Congress would be buying is therefore like the number of proverbial angels on the head of a pin. So Secretary of Energy Chu did not labor over the nonsensical number he included in his official request to Congress.
These kinds of smelly considerations certainly came into play when congressional leaders axed USEC bailout money from the Omnibus appropriations bill passed in December. Strike 1.
Before Christmas, Congresswoman Jean Schmidt, representing the Ohio district that includes Piketon, submitted a stand-alone bill that would have permitted DOE to transfer $150 million to USEC in 2012 without specific congressional oversight or accounting controls. This was considered "too stupid" for committee consideration, in the words of a congressional staffer, so the planned January hearing on the measure was canceled without ceremony. Just as unceremoniously, Ms. Schmidt was then dumped by the voters in the Ohio Republican primary. Strike 2.
Kentucky congressman Ed Whitfield attempted a different kind of USEC bailout by mandating that DOE should "re-enrich" depleted uranium from government stockpiles at USEC's decrepit gaseous diffusion plant at Paducah, Kentucky. USEC itself put a stop to that one, declaring that extended operation of the plant is just too expensive, and so it intends to shut Paducah down. Announcement of the closure date as soon as this May is expected shortly. Strike 3.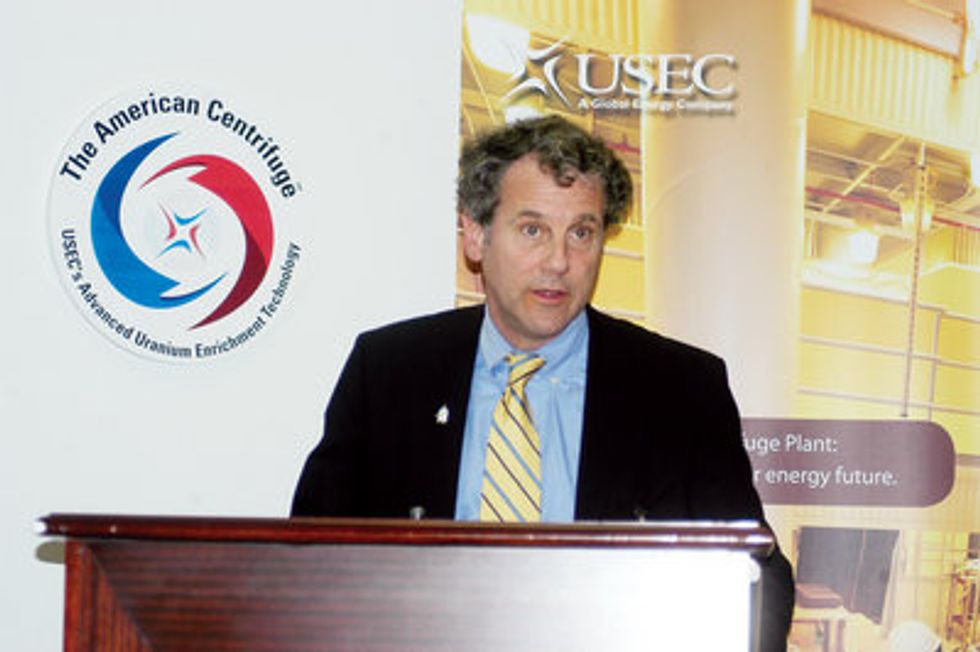 USEC then should have been called out. But the two U.S. Senators from Ohio—Rob Portman and Sherrod Wannabe-Portman Brown, both recipients of large amounts of campaign contributions from USEC and other Piketon contractors—collaborated on a Schmidt-like USEC bailout amendment, snuck into the Senate Transportation bill that appeared to be headed to passage. But then House Republicans revolted as has become their fashion, opting instead for another 90-day extension, minus any USEC provision. That extension, which runs until July 1, is far too long to suit USEC, which has been operating on extended financing deadlines of its own since June 30, 2011.
Chu's Alternative Universe
By July 1, there won't be enough of USEC left to bail out. The total market valuation of the company now is only $130 million, meaning that USEC could not afford its 50-50 cost-share for a proposed RD&D program for which the government kicks in $300 million. USEC has about $500 million in debt due to bondholders coming due in 2014, long before any new commercial plant could be completed. And USEC is operating at a loss, which has been running at an average of $135 million per quarter. By July 1, two more loss quarters in 2012 will have elapsed. At current valuation, USEC's net worth is less than half of the proposed federal bailout of $300 million. That doesn't cut the mustard, much less atoms, in the Age of Solyndra where Tea Party rules apply.
Plus there are timing problems. In 2011, Chu proposed a two-year RD&D program, which on paper could have been completed before USEC goes to the hock shop in 2014. If the start of the RD&D program is now delayed, as it must be, until the third quarter of 2012, at the earliest, then there isn't enough time to complete the program, even in theory. That's assuming the proposed project were real, in some alternative universe within Steven Chu's brain.
And the administration has requested $150 million for the second year of USEC RD&D in 2013, bizarrely taken, without explanation, from the "nuclear nonproliferation" budget. That request is premised on completion of the first year in 2012, which now cannot happen. Congress will be asked to consider funding the second year of a two-year program before the first year is funded.
Simply put, the PR logic of the RD&D program proposed slap-dash last October has defeated itself by virtue of the congressional delay. Republican Portman and his Democratic sidekick Brown could yet preempt their own amendment by introducing the measure as a stand-alone, or by trying yet another slip-in circumvention. The former strategy, however, would necessitate committee hearings, which would do to a USEC bailout what sunlight does to vampires. And further slushing around in the USEC stock swindle pits might do unsavory things to Brown's 2012 reelection campaign, ranked as one of the most competitive Senate contests this year. November is approaching and Schmidt's primary loss forewarns.
All of which is highlighted by the emergence of USEC corruption as a major issue in Tennessee's fourth congressional district race. Eric Stewart, the Democratic challenger, is charging that incumbent Republican Scott DesJarlais timed his support for a USEC bailout to a $1,000 contribution to DesJarlais from the USEC PAC, an example of crony capitalism at work, according to Stewart.
That's small potatoes compared to the suspicious timing of federally-subsidized USEC politicking in Ohio, where then-Governor Ted Strickland had to return one USEC contribution (but kept many others) because that contribution was timed too closely to a 2010 meeting at which Strickland and Brown together lobbied Chu to circumvent Congress in giving funds to USEC. In early 2011, Sherrod Brown publicly called on the Department of Energy to forgo further testing of USEC centrifuges and simply award the company a $2 billion loan guarantee. Up to the third quarter of 2011, according to FEC records, Brown received $58,500 from USEC and related corporate PACs including USEC nuclear utility customers and Piketon site contractors.
Republican Rob Portman may also find some aspirations dashed upon the USEC shoals. He has been considered a top contender for Romney's running-mate. But Portman is nearing the two-decade mark as a USEC shill, and continued allegiance to the Enron of 2012 might see more vocal protest from the slap-happy anti-Solyndra GOP base.
Therefore, we may not see more clandestine Portman-Brown maneuvers. They say that USEC and its "American Centrifuge Plant" have nine lives. Excuse the mixed metaphor, but now it's the bottom of the tenth, USEC is down, and even the fans are weary of the game.
Re-posted on the Southern Ohio Neighbors Group blog.

—————
Geoffrey Sea is a writer and historian who has studied the uranium enrichment industry for thirty years. In the early 1980s, he served as a consultant to the labor unions at both the Piketon, Ohio, and Paducah, Kentucky, plants. He now lives on the southwest fence-line of the Piketon site and is a co-founder of Southern Ohio Neighbors Group.
EcoWatch Daily Newsletter