This website uses cookies to ensure you get the best experience while browsing it. By clicking 'Got It' you're accepting these terms.
USDA Releases Final Rule to Privatize Poultry Inspection
Jul. 31, 2014 04:16PM EST
Food
Today, the U.S. Department of Agriculture (USDA) released the final rule on a new inspection system for poultry products. The system will transfer a majority of poultry inspections from government inspectors to self-policing by the companies themselves.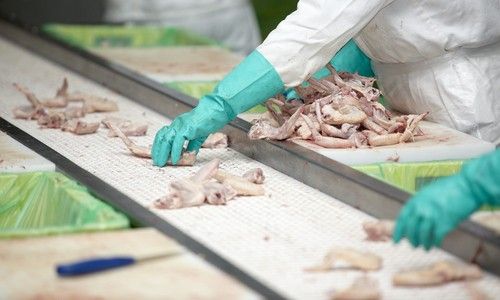 Poultry processing plant. Photo courtesy of Shutterstock
While Agriculture Secretary Tom Vilsack said the new system "places our trained inspectors where they can better ensure food is being processed safely," Food & Water Watch Executive Director Wenonah Hauter counters that "the one USDA inspector left on the slaughter line under this new rule will still have to inspect 2.33 birds every second–an impossible task that leaves consumers at risk."
The new regulations were first proposed in January 2012 but delayed after receiving strong opposition from animal welfare groups, consumer organizations and worker safety advocates. In 2013 the Government Accountability Office released a scathing analysis, questioning whether USDA had sufficient data to make such radical changes.
USDA received more than 175,000 public comments, mostly opposed to the proposal. There have also been petitions and several congressional letters sent to USDA and the White House urging the withdrawal of the rule.
"The fast turnaround on this rule does a disservice to consumers and workers in poultry plants," said Hauter. "Rather than making the contents of a revised rule public and creating a new comment period, the USDA and the White House are making a dramatic change to how poultry is inspected based on incomplete data and limited public review."
Groups express concern that the deregulation of poultry processing will lead to the dismantling of the meat inspection system as we know.
You Might Also Like
Playing Chicken With Our Health
Salmonella Outbreaks Could Worsen with Decreased Poultry Inspections
Court Rules Rampant Misuse of Antibiotics on Factory Farms Can Continue
EcoWatch Daily Newsletter
BruceBlock / iStock / Getty Images
Thanks to their high concentration of powerful plant compounds, foods with a natural purple hue offer a wide array of health benefits.
Environmental Investigation Agency
Last week, the Peruvian Palm Oil Producers' Association (JUNPALMA) promised to enter into an agreement for sustainable and deforestation-free palm oil production. The promise was secured by the U.S. based National Wildlife Federation (NWF) in collaboration with the local government, growers and the independent conservation organization Sociedad Peruana de Ecodesarrollo.
Pixabay
Leaked documents show that Jair Bolsonaro's government intends to use the Brazilian president's hate speech to isolate minorities living in the Amazon region. The PowerPoint slides, which democraciaAbierta has seen, also reveal plans to implement predatory projects that could have a devastating environmental impact.
XL CATLIN SEAVIEW SURVEY / THE OCEAN AGENCY
Hope may be on the horizon for the world's depleted coral reefs thanks to scientists who successfully reproduced endangered corals in a laboratory setting for the first time, according to Reuters.
Last week we received positive news on the border wall's imminent construction in an Arizona wildlife refuge. The Trump administration delayed construction of the wall through about 60 miles of federal wildlife preserves.
PhotoAlto / Frederic Cirou / Getty Images
Drinking water treated with fluoride during pregnancy may lead to lower IQs in children, a controversial new study has found.
National Institude of Allergy and Infectious Disease