This website uses cookies to ensure you get the best experience while browsing it. By clicking 'Got It' you're accepting these terms.
USDA Quarantines Second California Farm in Mad Cow Disease Investigation
May. 07, 2012 08:30AM EST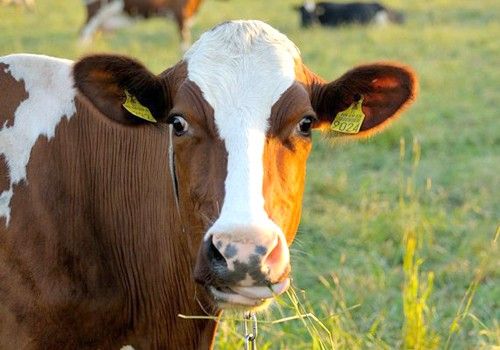 The U.S. Department of Agriculture (USDA) has quarantined a second California farm as part of its ongoing investigation into a confirmed incidence of Bovine Spongiform Encephalopathy (BSE), first reported on April 24. USDA quarantined the second farm because it is operated in close association with the dairy that housed the BSE-infected cow before its condition was detected. Additionally, USDA is investigating the ranch where the BSE-infected cow was raised 10 years ago. USDA also announced that of the two progeny known to have been born to the BSE-infected cow in the past two years, one was stillborn and the second, after being humanely euthanized, tested negative for BSE.
The origin and transmission of BSE to hundreds of thousands of cattle has been widely attributed to using cattle rendered protein produced from the carcasses of scrapie-infected sheep or cattle with a previously unidentified form of transmissible spongiform encephalopathy as livestock feed. This widespread practice of feeding substances derived from animals to other animals (even of the same species) was sharply curtailed following the BSE epidemic in the U.S. and Europe, but never fully eliminated. For example, livestock feed regulations in the U.S. continue to allow the feeding of certain mammalian slaughter by-products to calves as well as the inter-species feeding of rendered animal proteins, such as feeding poultry waste and litter to ruminants. USDA also announced that since the discovery of the infected cow, they have identified 10 different feed suppliers that delivered animal feed to the farm. Determining if the cow became sick from feed is an area where investigators are focusing close attention.
The producer of an organic livestock operation must provide livestock with a total feed ration composed of agricultural products, including pasture and forage that are organically produced and handled by operations certified to the National Organic Program (NOP). The only exceptions to these requirements are synthetic feed additives and supplements, which have been approved after review by the National Organic Standards Board (NOSB). For example, synthetic trace minerals and vitamins are allowed as synthetic feed additives in organically managed livestock. The organic livestock feed standards also prohibit the feeding of mammalian or poultry slaughter by-products to mammals or poultry. Additionally, USDA has implemented the comprehensive NOSB recommendation that requires organically managed ruminants to receive a substantial portion of their feed ration from pasture.
BSE, sometimes referred to as "mad cow disease" because of the uncontrollable trembling that cattle suffer in its latter stages, is a chronic degenerative disease affecting the central nervous system. The disease belongs to the group of transmissible brain illnesses which also includes scrapie of sheep and goats and chronic wasting disease of elk and deer. According to the Centers for Disease Control and Prevention (CDC), BSE was first diagnosed in 1986 in Great Britain. Since that time, more than 190,000 cases have been confirmed in the Great Britain alone with tens of thousands more across Europe. The number of cases peaked in 1992, and has declined continuously since that time, with 29 cases worldwide in 2011. The recent case in California, which was detected when the 10-year old cow was tested at a rendering facility, was the fourth ever confirmed in the U.S., following earlier confirmed detections in 2003, 2005, and 2006.
In 1996, a variant of a spongiform encephalopathy known to occur in humans called Creutzfeldt- Jakob Disease (vCJD) was first reported in Europe. CDC subsequently determined that, "There is now strong scientific evidence that the agent responsible for the outbreak of prion disease in cows, BSE, is the same agent responsible for the outbreak of vCJD in humans" and that the consumption of BSE-contaminated beef was responsible for the transmission of the disease. Health authorities in Europe attribute more than 100 human cases of vCJD, which is inevitably fatal, to consumption of BSE-contaminated beef. There are different scientific hypotheses concerning the origins of BSE.
Mark Purdey, a courageous British dairy farmer, advanced an alternative theory that BSE was attributable to the drenching of cattle with certain organophosphate pesticides that entered the animal's bloodstream to kill parasites. Mr. Purdey was not able to scientifically validate his theory, but he was successful in bringing an end to the drenching requirement that has previously been mandated for all ruminants. Mr. Purdey passed away in 2006.
For more information, click here.
EcoWatch Daily Newsletter
Pixabay
By Lisa Wartenberg, MFA, RD, LD
Pears are sweet, bell-shaped fruits that have been enjoyed since ancient times. They can be eaten crisp or soft.
Photon-Photos / iStock / Getty Images Plus
The desert of Australia's Northern Territory has the iconic Ayers Rock, but not much else. Soon, it may be known as home to the world's largest solar farm, according to the Guardian.
Golde Wallingford submitted this photo of "Pure Joy" to EcoWatch's first photo contest. Golde Wallingford
EcoWatch is pleased to announce our third photo contest!

A Boeing 737-800 BCF (Boeing Converted Freighter) is marked "Prime Air" as part of Amazon Prime's freight aircraft during the 53rd International Paris Air Show at Le Bourget Airport near Paris, France on June 22. Mustafa Yalcin / Anadolu Agency / Getty Images
It's Prime Day! The day when thousands of increasingly absurd items are discounted so deeply that you suddenly need items you never knew existed. Yes, I do need a hotdog shaped toaster next to me while I watch this Fast & Furious seven movie box set! And I need it in my house today!
By Peter Sinclair
The weather in many areas across the U.S. has been – and certainly throughout America's heartland was for much of the past winter and spring – frightful.
There's a short window between when a tick bites and when it passes on bacteria or virus.
MSU Ag Communications, Courtesy Dr. Tina Nations, CC BY-ND
By Jerome Goddard
When it comes to problems caused by ticks, Lyme disease hogs a lot of the limelight. But various tick species carry and transmit a collection of other pathogens, some of which cause serious, even fatal, conditions.

tomosang / Moment / Getty Images
By Jessica A. Knoblauch
Say goodbye to one of the dreamiest things about childhood. In the Midwest, fireflies are dying off.
A new Climate Emergency Fund contains more than $625,000 which will go to grassroots climate action groups like Extinction Rebellion and students who have organized weekly climate strikes all over the world. @ExtinctionR / Twitter
By Julia Conley
Heeding the call of grassroots campaigners, several wealthy philanthropists announced Friday a new fund that will raise money for climate action groups around the world.