This website uses cookies to ensure you get the best experience while browsing it. By clicking 'Got It' you're accepting these terms.
USDA Policy Fails to Address GMO Contamination of Organic Crops
Feb. 24, 2014 10:29AM EST
Food
At a time when consumers are demanding greater access to organic and non-genetically engineered (GE) foods, the U.S. Department of Agriculture's (USDA) latest, "coexistence" policy threatens the ability and right of consumers to make that shift.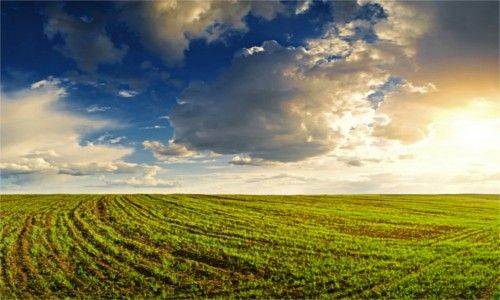 The public has until March 4 to challenge the USDA's coexistence policy. Photo courtesy of Shutterstock
The USDA coined the term "coexistence" to refer to the idea that organic and
GE crops
can both be grown in this country without either adversely affecting the other. But the agency's approach does not take into account the fact that non-GE crops can become contaminated by GE pollen and seeds that can drift many miles at a time.
The USDA argues this can be mitigated through informal neighbor-farmer agreements and by taking out insurance to pay for damages resulting from contamination. But, since GE agriculture remains completely unregulated, this so-called coexistence policy allows the biotech industry to escape liability. Instead, it puts exclusive responsibility to protect against contamination on organic and other non-GE farmers. 
Organic farmers know all too well that their crops can become contaminated by GE crops as pollen and seeds drift miles away from their original planting location. The 
recent case
 of an Australian organic farmer, who sued his neighbor after he found GE canola growing on his field, demonstrates the seriousness of the problem and the tip of the iceberg. Without mandatory GE contamination prevention measures in place, organic and non-GE farmers face real risks but have little recourse to protect their businesses. Prospects of GE contamination threaten livelihoods, trading partnerships and the ability of farmers and food producers to confidently supply non-GE markets. Even the 
USDA admits
 that's the case. 
In August 2011, USDA Secretary Vilsack charged his newly appointed 
Advisory Committee
 with addressing the problem of GE contamination by identifying ways to compensate farmers after-the-fact, rather than protect them from contamination in the first place. The Committee was charged with assuming that GE contamination was an inevitable and acceptable cost of doing business, as long as the affected farmers were compensated. This is what coexistence in action looks like to the USDA. But, GE contamination is completely unacceptable to those farmers who reject the use of GE technology and who sell their crops to organic and non-GE markets. Meanwhile, many GE foods continue seeping into our food supply until there may be no turning back.
To directly address the problem, 
organic advocates
 are demanding the USDA identify and mandate the adoption of proven GE contamination measures by GE farmers and patent holders. And, they are calling upon the USDA to institute an immediate moratorium on all new GE crop approvals, until such measures can be put into place nationwide.
Until March 4, the public has a unique opportunity to challenge the USDA's coexistence policy. The agency has issued a Federal Register Notice and 
opened a docket
 to receive public feedback on the policy, which pivots around two primary recommendations: the creation of non-binding farmer-neighbor "coexistence agreements," and organic and other non-GE farmers taking out insurance to recoup losses from GE contamination.  
In the first instance, the USDA recommends that GE and non-GE farmers voluntarily negotiate non-binding "coexistence agreements" as a way to preemptively resolve inevitable GE contamination issues. But that is unlikely, as it would pit farmer against farmer, which is neither a viable nor a long-lasting solution to conflicts in farm communities.
Instead, organic farmers will likely opt out of growing certain crops altogether rather than risk contamination. Clear losers under this option are organic and other non-GE farmers because threats of contamination preclude them from growing the crops of their choice. Moreover, the proposal ignores the real-life issues that farmers face such as short planting windows that make it difficult to stagger GE and non-GE crop plantings, absentee landlords and scenarios where contamination originates from farms located well beyond the next door neighbors' field.
In the second instance, the USDA recommends that organic and non-GE farmers take out insurance policies to pay for damage resulting from GE contamination. This allows the biotech industry to abdicate responsibility for any harm caused to non-GE growers, making the polluted victim, not the polluter, pay compensation. 
In both cases, the USDA takes responsibility for GE contamination prevention out of the hands of both the agency and the biotech industry and puts it squarely on the shoulders of organic and non-GE farmers, their families and their communities. Coexistence is not GE contamination prevention and never can be. Instead, what's truly needed is for the USDA to develop mandatory prevention practices that protect organic and non-GE markets and consumer choice.
Visit EcoWatch's GE FOOD
 page for more related news on this topic.

EcoWatch Daily Newsletter
Brown bear fishing for salmon in creek at Pavlof Harbor in Tongass National Forest, Alaska. Wolfgang Kaehler / LightRocket / Getty Images
The Trump administration has moved one step closer to opening Earth's largest intact temperate rainforest to logging.
The Democratic primary candidates take the stage during Tuesday's debate. SAUL LOEB / AFP via Getty Images
On Tuesday night, the Democratic presidential candidates gathered for what The Guardian said was the largest primary debate in U.S. history, and they weren't asked a single question about the climate crisis.
A. Battenburg / Technical University of Munich
By Sarah Kennedy
Algae in a pond may look flimsy. But scientists are using algae to develop industrial-strength material that's as hard as steel but only a fraction of the weight.
Variety of fermented food korean traditional kimchi cabbage and radish salad. white and red sauerkraut in ceramic plates over grey spotted background. Natasha Breen / REDA&CO / Universal Images Group / Getty Image
Even if you've never taken probiotics, you've probably heard of them.
These supplements provide numerous benefits because they contain live microorganisms, such as bacteria or yeast, which support the healthy bacteria in your gut (1, 2, 3, 4).
Pexels
Singapore will become the first country in the world to place a ban on advertisements for carbonated drinks and juices with high sugar contents, its health ministry announced last week. The law is intended to curb sugar consumption since the country has some of the world's highest diabetes rates per capita, as Reuters reported.
A typical adult takes around 20,000 breaths per day. If you live in a megacity like Beijing, with many of those lungfuls you're likely to inhale a noxious mixture of chemicals and pollutants.
Fred Stone holds his brown swiss cow Lida Rose at his Arundel dairy farm on March 18 after a press conference where he spoke about PFAS chemical contamination in his fields. Gregory Rec / Portland Portland Press Herald via Getty Images
By Susan Cosier
First there was Fred Stone, the third-generation dairy farmer in Maine who discovered that the milk from his cows contained harmful chemicals. Then came Art Schaap, a second-generation dairy farmer in New Mexico, who had to dump 15,000 gallons of contaminated milk a day.
Protesters attend the 32nd annual Fur-Free Friday demonstration on Nov. 23, 2018 in Beverly Hills, California. Ella DeGea / Getty Images
California Governor Gavin Newsom signed into law a bill that that bans the sale and manufacture of fur products in the state. The fur ban, which he signed into law on Saturday, prohibits Californians from selling or making clothing, shoes or handbags with fur starting in 2023, according to the AP.