This website uses cookies to ensure you get the best experience while browsing it. By clicking 'Got It' you're accepting these terms.
USDA Plans to Bake Chickens Alive
Sep. 23, 2015 11:22AM EST
Food
When a vandal shut off the ventilation at a Pilgrim's Pride mega farm earlier this year, essentially baking the chickens alive, the poultry giant offered a $50,000 reward, lamenting that "these heinous acts resulted in a cruel death for several thousand chickens." Yet strangely, the U.S. Department of Agriculture (USDA) is now recommending the same cruel fate for millions more birds impacted by the bird flu outbreak in Iowa and elsewhere.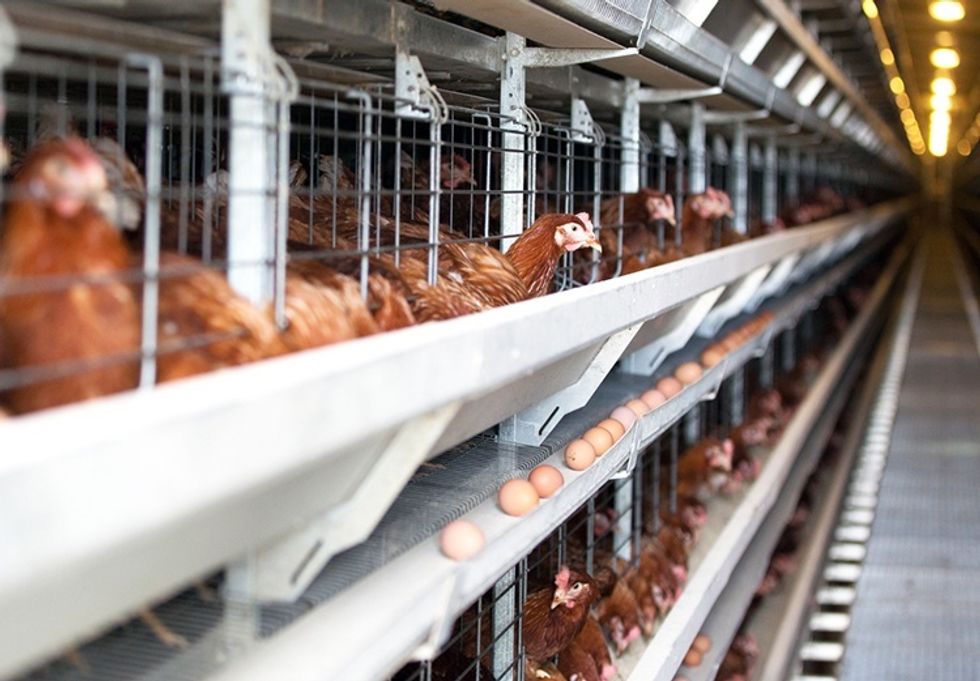 Confined wing-to-wing in these cages, each animal is given less space than an iPad on which to live for her entire life. Photo credit: Shutterstock
USDA Chief Veterinarian John Clifford recently proposed, before a congressional committee, ending the lives of infected flocks by simply closing off the ventilation and "heating up the houses."
Such an inhumane end would be adding insult to injury—or really, injury to injury; many egg-laying hens already are locked in cages so small they can't even spread their wings. Confined wing-to-wing in these cages, each animal is given less space than an iPad on which to live for her entire life. It's hard to imagine a more miserable life and now the USDA is suggesting we make their deaths more heinous, too.
The American Veterinary Medical Association doesn't consider ventilation shutdown an acceptable method of euthanasia. Nor does the gruesome method meet the World Animal Health Organization's guidelines. In fact, even the USDA says ventilation shutdown presents "compelling welfare concerns," including "concerns that prolonged suffering may occur."
That's because it can take as long as 35 minutes to result in mass death and some animals may survive more than three hours. During that time, the hens experience intense and protracted suffering, as blood pressure plummets and fatal organ failure sets in.
In addition to the fact that less inhumane methods of mass "depopulation" already exist, overheating birds to death probably violates state anti-cruelty laws. It's routine for people to be charged with cruelty for leaving dogs in hot cars, for example. Though some states excuse inhumane treatment of farm animals if it's deemed a standard farming practice, cooking conscious birds to death has never been standard. That means this needless cruelty likely would merit criminal animal cruelty charges.
USDA found itself in hot water earlier this year when the New York Times revealed, in a front-page exposé, ghastly experiments the agency conducted on behalf of the meat industry, at its U.S. Meat Animal Research Center in Nebraska. Still on the heels of that controversy, the USDA would be wise to demonstrate a commitment to improving animal welfare, not further undermining it.
One way the agency and industry could do that would be to phase out the very conditions that make today's poultry factories such ripe incubators for public health threats, including bird flu. As Michael Greger, M.D., writes in his book, Bird Flu: A Virus of Our Own Hatching, "humanity must shift toward raising poultry in smaller flocks, under less stressful, less crowded and more hygienic conditions with outdoor access."
In other words, what would be better for the hens' welfare would also be better for us. The overcrowded and unsanitary conditions on today's factory farms create ideal breeding grounds for high-pathogenic illness. These systems cause animals to live in states of stress and frustration, weakening their immunity and making them particularly vulnerable to disease. Consequently, what enters a poultry factory as a low-grade virus is allowed to flourish and mutate, possibly turning into a high-risk strain with pandemic potential.
USDA has an opportunity to lead on animal welfare. Promoting cruel and possibly illegal responses to bird flu outbreaks isn't the way to do that; promoting better treatment of farm animals to reduce their suffering and better protect public health is.
Paul Shapiro is the vice president of farm animal protection at The Humane Society of the United States. Follow him on Twitter at @pshapiro.
YOU MIGHT ALSO LIKE
#BearSelfies Force Colorado Park to Close
Marine Species on 'Brink of Collapse,' Says WWF Report
Bees Win Big in Court, EPA's Approval of Toxic Pesticide Overturned
Shocking Polar Bear Photos Show Stark Reality of Climate Change
EcoWatch Daily Newsletter
A view of a washed out road near Utuado, Puerto Rico, after a Coast Guard Air Station Borinquen MH-65 Dolphin helicopter crew dropped relief supplies to residents Tuesday, Oct. 3, 2017. The locals were stranded after Hurricane Maria by washed out roads and mudslides. U.S. Coast Guard photo by Petty Officer 3rd Class Eric D. Woodall /
CC BY-NC-ND 2.0
By Coral Natalie Negrón Almodóvar
The Earth began to shake as Tamar Hernández drove to visit her mother in Yauco, Puerto Rico, on Dec. 28, 2019. She did not feel that first tremor — she felt only the ensuing aftershocks — but she worried because her mother had an ankle injury and could not walk. Then Hernández thought, "What if something worse is coming our way?"
Flooded battery park tunnel is seen after Hurricane Sandy in 2012.
CC BY 2.0
President Trump has long touted the efficacy of walls, funneling billions of Defense Department dollars to build a wall on the southern border. However, when the U.S. Army Corps of Engineers (USACE) released a study that included plans for a sea wall to protect New Yorkers from sea-level rise and catastrophic storms like Hurricane Sandy, Trump mocked it as ineffective and unsightly.
A general view of fire damaged country in the The Greater Blue Mountains World Heritage Area near the town of Blackheath on Feb. 21, 2020 in Blackheath, Australia. Brook Mitchell / Getty Images
In a post-mortem of the Australian bushfires, which raged for five months, scientists have concluded that their intensity and duration far surpassed what climate models had predicted, according to a study published yesterday in Nature Climate Change.
Sea level rise causes water to spill over from the Lafayette River onto Llewellyn Ave in Norfolk, Virginia just after high tide on Aug. 5, 2017. This road floods often, even when there is no rain.
Skyler Ballard / Chesapeake Bay Program
By Tim Radford
The Texan city of Houston is about to grow in unexpected ways, thanks to the rising tides. So will Dallas. Real estate agents in Atlanta, Georgia; Denver, Colorado; and Las Vegas, Nevada could expect to do roaring business.
Malala Yousafzai (left) and Greta Thunberg (right) met in Oxford University Tuesday. Wikimedia Commons /
CC BY 2.0
What happens when a famous school striker meets a renowned campaigner for education rights?