This website uses cookies to ensure you get the best experience while browsing it. By clicking 'Got It' you're accepting these terms.
USDA Plans to Bake Chickens Alive
Sep. 23, 2015 11:22AM EST
Food
When a vandal shut off the ventilation at a Pilgrim's Pride mega farm earlier this year, essentially baking the chickens alive, the poultry giant offered a $50,000 reward, lamenting that "these heinous acts resulted in a cruel death for several thousand chickens." Yet strangely, the U.S. Department of Agriculture (USDA) is now recommending the same cruel fate for millions more birds impacted by the bird flu outbreak in Iowa and elsewhere.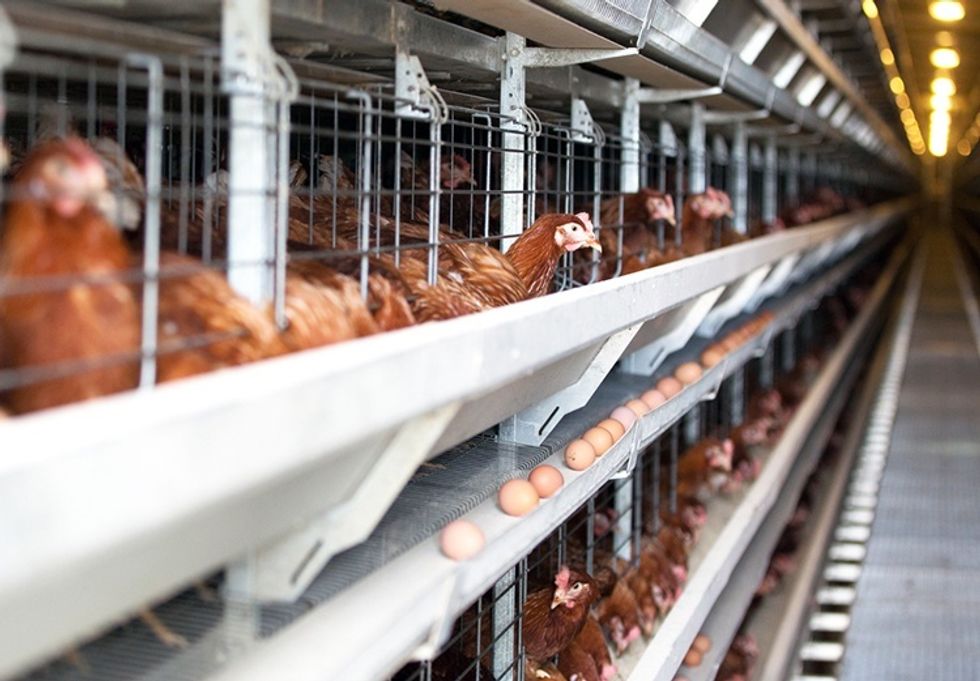 Confined wing-to-wing in these cages, each animal is given less space than an iPad on which to live for her entire life. Photo credit: Shutterstock
USDA Chief Veterinarian John Clifford recently proposed, before a congressional committee, ending the lives of infected flocks by simply closing off the ventilation and "heating up the houses."
Such an inhumane end would be adding insult to injury—or really, injury to injury; many egg-laying hens already are locked in cages so small they can't even spread their wings. Confined wing-to-wing in these cages, each animal is given less space than an iPad on which to live for her entire life. It's hard to imagine a more miserable life and now the USDA is suggesting we make their deaths more heinous, too.
The American Veterinary Medical Association doesn't consider ventilation shutdown an acceptable method of euthanasia. Nor does the gruesome method meet the World Animal Health Organization's guidelines. In fact, even the USDA says ventilation shutdown presents "compelling welfare concerns," including "concerns that prolonged suffering may occur."
That's because it can take as long as 35 minutes to result in mass death and some animals may survive more than three hours. During that time, the hens experience intense and protracted suffering, as blood pressure plummets and fatal organ failure sets in.
In addition to the fact that less inhumane methods of mass "depopulation" already exist, overheating birds to death probably violates state anti-cruelty laws. It's routine for people to be charged with cruelty for leaving dogs in hot cars, for example. Though some states excuse inhumane treatment of farm animals if it's deemed a standard farming practice, cooking conscious birds to death has never been standard. That means this needless cruelty likely would merit criminal animal cruelty charges.
USDA found itself in hot water earlier this year when the New York Times revealed, in a front-page exposé, ghastly experiments the agency conducted on behalf of the meat industry, at its U.S. Meat Animal Research Center in Nebraska. Still on the heels of that controversy, the USDA would be wise to demonstrate a commitment to improving animal welfare, not further undermining it.
One way the agency and industry could do that would be to phase out the very conditions that make today's poultry factories such ripe incubators for public health threats, including bird flu. As Michael Greger, M.D., writes in his book, Bird Flu: A Virus of Our Own Hatching, "humanity must shift toward raising poultry in smaller flocks, under less stressful, less crowded and more hygienic conditions with outdoor access."
In other words, what would be better for the hens' welfare would also be better for us. The overcrowded and unsanitary conditions on today's factory farms create ideal breeding grounds for high-pathogenic illness. These systems cause animals to live in states of stress and frustration, weakening their immunity and making them particularly vulnerable to disease. Consequently, what enters a poultry factory as a low-grade virus is allowed to flourish and mutate, possibly turning into a high-risk strain with pandemic potential.
USDA has an opportunity to lead on animal welfare. Promoting cruel and possibly illegal responses to bird flu outbreaks isn't the way to do that; promoting better treatment of farm animals to reduce their suffering and better protect public health is.
Paul Shapiro is the vice president of farm animal protection at The Humane Society of the United States. Follow him on Twitter at @pshapiro.
YOU MIGHT ALSO LIKE
#BearSelfies Force Colorado Park to Close
Marine Species on 'Brink of Collapse,' Says WWF Report
Bees Win Big in Court, EPA's Approval of Toxic Pesticide Overturned
Shocking Polar Bear Photos Show Stark Reality of Climate Change
EcoWatch Daily Newsletter
A new report spotlights a U.N. estimate that at least 275 million people rely on healthy coral reefs. A sea turtle near the Heron Island in the Great Barrier Reef is seen above. THE OCEAN AGENCY / XL CATLIN SEAVIEW SURVEY
In a new report about how the world's coral reefs face "the combined threats of climate change, pollution, and overfishing" — endangering the future of marine biodiversity — a London-based nonprofit calls for greater global efforts to end the climate crisis and ensure the survival of these vital underwater ecosystems.
Half of the extracted resources used were sand, clay, gravel and cement, seen above, for building, along with the other minerals that produce fertilizer. Cavan Images / Cavan / Getty Images
The world is using up more and more resources and global recycling is falling. That's the grim takeaway from a new report by the Circle Economy think tank, which found that the world used up more than 110 billion tons, or 100.6 billion metric tons, of natural resources, as Agence France-Presse (AFP) reported.
By Gero Rueter
Heating with coal, oil and natural gas accounts for around a quarter of global greenhouse gas emissions. But that's something we can change, says Wolfgang Feist, founder of the Passive House Institute in the western German city of Darmstadt.

By George Citroner
Recent research finds that official government figures may be underestimating drug deaths by half.
Researchers estimate that 142,000 people died due to drug use in 2016.
Drug use decreases life expectancy after age 15 by 1.4 years for men and by just under 1 year for women, on average.
Government records may be severely underreporting how many Americans die from drug use, according to a new study by researchers from the University of Pennsylvania and Georgetown University.
Water coolers in front of shut-off water fountains at Center School in Stow, MA on Sept. 4, 2019 after elevated levels of PFAS were found in the water. David L. Ryan / The Boston Globe via Getty Images
In a new nationwide assessment of drinking water systems, the Environmental Working Group found that toxic fluorinated chemicals known as PFAS are far more prevalent than previously thought.