This website uses cookies to ensure you get the best experience while browsing it. By clicking 'Got It' you're accepting these terms.


The best of EcoWatch, right in your inbox. Sign up for our email newsletter!
USDA Invests $7 Million to Research Small Farm Challenges
Apr. 30, 2014 10:05AM EST
Food
Yesterday, the U.S. Department of Agriculture (USDA) Secretary Tom Vilsack announced more than seven million dollars in funding to support research on the profitability of small and medium-sized family farms, including their potential role in building local and regional systems. This announcement came amidst a flurry of other USDA news and program announcements in support of small farmers.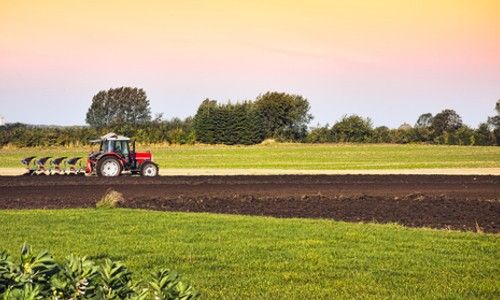 Oklahoma State University will evaluate the role of small and mid-size farms and their impact in local and regional food systems. Photo courtesy of Shutterstock
These grants were awarded through the Agriculture and Food Research Initiative (AFRI), which is administered by the National Institute of Food and Agriculture (NIFA)—USDA's intramural grant-making agency related to agricultural research, education and extension. The small and medium-sized family farm subprogram within AFRI was added over a decade ago following a campaign by National Sustainable Agriculture Coalition (NSAC) backed by a variety of members of Congress.
AFRI is USDA's largest competitive research grants program, with an annual budget of $274 million in Fiscal Year (FY) 2013 and $316 million for FY14. And while the awards announced this week are a small portion of AFRI's total program funding levels, the research funded by these grants will nonetheless have significant impact on our understanding of how small and medium-sized farms can remain economically viable amidst the changes in our current agricultural landscape.
For 2013, AFRI's Small and Medium-Sized Farm program focuses on research, education and extension projects that develop new ideas on how to increase the viability and competitiveness of small and medium-sized dairy, poultry, livestock, crop and commodity operations. This includes developing strategies to increase market access; developing efficient local and regional food systems; and assessing the impacts of changes in input costs, markets and credit on farm entry, transition and the economic viability of small farms.
In total, 10 research grants were awarded for FY13, including several grants that focus on how small and mid-scale farms can contribute to local and regional food systems and increase profitability through more environmentally sustainable production systems. Some projects funded in these areas include:
Michigan State University's Center for Regional Food Systems (an NSAC member) will lead a project focusing on the development of profitable Michigan-based meat and livestock value chains supplying local and regional markets. This research will expand the Center's Livestock Work Group, as will another research project funded on the production and supply side strategies for a local, Michigan grass-finished beef production system. Another MSU grant will examine business networks for food hubs in Michigan and Missouri and is tied to the Center's Michigan Food Hub Network.
In Idaho, researchers at the University of Idaho will investigate ways to overcome constraints in serving local and regional markets in the Intermountain West, given its vast geography and often large distances between producers and consumers. Research will focus on identifying strategies for aggregation, storage, processing and distribution for small and medium-sized farmers to access local and regional vegetable and livestock markets.
Researchers at the University of Illinois in Urbana-Champaign will support research, education and outreach for designing and implementing more sustainable agroecosystems in the Upper Sangamon River Watershed (a typical region of the Midwest primarily dominated by corn and soybeans) by focusing on local food and biomass production for small farmers in the region.
Oklahoma State University will evaluate the role of small and mid-size farms and their impact in local and regional food systems. Specifically, this project will assess the economic development benefits that can be derived from more localized food systems.
Researchers at the University of Wisconsin will work with small and mid-sized diversified vegetable farms in Wisconsin who are selling into multiple local and regional food markets in order to develop strategies to help them identify better balances between diversification and specialization in the crops grown on their farms.
In Vermont, researchers at the University of Vermont will assist decision-making by rural farm families to increase the sustainability and competitiveness of small and medium-sized farms, to strengthen the local economy with sustainable food production through the adoption of innovative and environmentally sustainable farming practices.
Kentucky State University researchers and extension agents will work with small, limited resources, socially disadvantaged, beginner and women farmers through workshops, meetings, one-on-one education and Extension Agent training in order to increase the efficiency and utilization of these farmers across the state.
Applications for the next round of funding for FY 2014 were due earlier this week, and awards are not expected to be announced until later this year.
To see a list of complete projects for 2013, click here.
——–
YOU MIGHT ALSO LIKE
5 Dangerous Substances Big Ag Pumps Into Your Meat
Saving the World One Farm at a Time
How Buying Local Food Grows Local Economies
——–
EcoWatch Daily Newsletter
arinahabich / Stock / Getty Images
By Sydney Swanson
With April hopping along and Easter just around the corner, it's time for dyeing eggs (and inadvertently, dyeing hands.) It's easy to grab an egg-dyeing kit at the local supermarket or drug store, but those dye ingredients are not pretty.
Aerial of farmland and mountains near Seaward Kaikoura Range in New Zealand. David Wall Photo / Lonely Planet Images / Getty Images Plus
By Jordan Davidson
New Zealand's pristine image as a haven of untouched forests and landscapes was tarnished this week by a brand new government report. The Environment Aotearoa 2019 painted a bleak image of the island nation's environment and its future prospects.
heshphoto / Image Source / Getty Images
Mike Taube / Getty Images
A new EPA rule on asbestos does not say anything about the asbestos currently in the environment. Bob Allen / Getty Images
A mountain woodland caribou bull in the Muskwa-Kechika Wilderness area in northern British Columbia, Canada. John E Marriott / All Canada Photos / Getty Images
It's heartening, in the midst of the human-caused sixth mass extinction, to find good wildlife recovery news. As plant and animal species disappear faster than they have for millions of years, Russia's Siberian, or Amur, tigers are making a comeback. After falling to a low of just a few dozen in the mid-20th century, the tigers now number around 500, with close to 100 cubs — thanks to conservation measures that include habitat restoration and an illegal hunting crackdown.