USDA Extends 'Agent Orange' Corn Comment Period through April 27th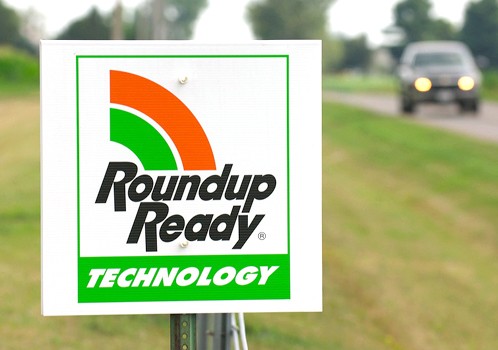 The U.S. Department of Agriculture (USDA) is currently deciding whether or not to approve an application by Dow Chemical for its controversial genetically engineered (GE) corn crop that is resistant to the highly toxic herbicide 2,4-D—one of the main ingredients in Agent Orange.
On Feb. 22, just five days before the close of the comment period, the USDA extended the public comment period on this issue until the end of April 2012. The Center for Food Safety (CFS), the nation's leading organization in the fight against GE crops, was one of the groups that requested this extension from USDA, and we are pleased the agency responded accordingly. If approved, CFS has vowed to challenge USDA's decision in court, as this novel GE crop provides no public benefit and will only cause serious harm to human health, the environment, and threaten American farms.
"Dow's 'Agent Orange' corn will trigger a large increase in 2,4-D use—and our exposure to this toxic herbicide—yet USDA has not assessed how much, nor analyzed the serious harm to human health, the environment, or neighboring farms," said Andrew Kimbrell, executive director of the Center for Food Safety. "This novel corn will foster resistant weeds that require more toxic pesticides to kill, followed by more resistance and more pesticides—a chemical arms race in which the only winners are pesticide/biotechnology firms."
If approved, millions of acres of "Agent Orange" corn could be planted as early as next year, raising concern for its adverse health impacts. 2,4-D was one of the main ingredients in Agent Orange, the chemical defoliant used by the U.S. in the Vietnam War. Agent Orange was contaminated with dioxins, a group of highly toxic chemical compounds, which are responsible for a host of serious medical conditions—from diabetes to cancer to birth defects—in Vietnam veterans as well as Vietnamese and their children. Industry's own tests show that 2,4-D is still contaminated with dioxins.
"Many studies show that 2,4 D exposure is associated with various forms of cancer, Parkinson's Disease, nerve damage, hormone disruption and birth defects," said Dr. Amy Dean, an internal medicine physician and president-elect of the American Academy of Environmental Medicine. "Because it poses significant health risk, exposure should not be increased, but significantly reduced to protect the public's health."
2,4-D drift and runoff also pose serious risk for environmental harm. Because it is such a potent plant-killer, 2,4-D can harm animals by killing the plants they depend on for habitat and food. The U.S. Environmental Protection Agency and the National Marine Fisheries Service have found that 2,4-D is likely having adverse impacts on several endangered species, even now. 2,4-D is currently used to control weeds primarily in cereal grains and lawns. Its use in corn has been extremely limited. USDA's approval of 2,4-D resistant GE corn will increase the overall use of this toxic herbicide, worsening these impacts and likely placing many other species at risk.
American farmers are also rightly concerned that the introduction of 2,4-D resistant corn will threaten their crops—2,4-D drift is responsible for more episodes of crop injury than any other herbicide. "In my experience, 2,4-D is an herbicide that can and does drift considerable distances to damage neighboring crops," said Indiana farmer Troy Roush. "We can expect greatly increased use of 2,4-D with Dow's new corn, and that could wreak havoc with soybeans, tomatoes, and other crops my neighbors and I grow."
The advent of Dow's 2,4-D resistant corn is a clear indication that first-generation genetically engineered, herbicide-resistant crops—Monsanto's Roundup Ready (RR) varieties—are rapidly failing. RR crops, which comprise 84 percent of world biotech plantings, have triggered massive use of glyphosate (Roundup's active ingredient) and an epidemic of glyphosate-resistant weeds. These resistant "superweeds" are regarded as one of the major challenges facing American agriculture.
Dow now falsely suggests that 2,4-D crops (2,4-D soybeans and cotton are also under development) are the solution to weed resistance. Far from solving the problem, however, a peer-reviewed study recently published in the prestigious journal Bioscience, entitled Navigating a Critical Juncture for Sustainable Weed Management, suggests that these new GE crops will pour oil on the fire, triggering an outbreak of still more intractable weeds resistant to both glyphosate and 2,4-D.
USDA's public comment period on 2,4-D resistant corn is open until April 27th. Comments may be submitted to the agency through CFS's action link by clicking here.
For more information on 2,4-D corn, see CFS's two-page fact sheet and more extensive Food Safety Review.
For more information, click here.
—————
The Center for Food Safety is a national, nonprofit, membership organization founded in 1997 to protect human health and the environment by curbing the use of harmful food production technologies and by promoting organic and other forms of sustainable agriculture.
Disturbing footage of a snake in Goa, India vomiting an empty soft drink bottle highlights the world's mounting plastic pollution crisis.
Keep reading...
Show less
By Melissa Hellmann
When her eldest son was in elementary school in the Oakland Unified School District, Ruth Woodruff became alarmed by the meals he was being served at school. A lot of it was frozen, processed foods, packed with preservatives. At home, she was feeding her children locally sourced, organic foods.
Keep reading...
Show less
May. 28, 2017 01:33PM EST
Laurie Woolever
By James O'Hare
There are 20 million people in the world facing famine in South Sudan, Somalia, Nigeria and Yemen. In developed nations, too, people go hungry. Venezuela, for instance, is enduring food insecurity on a national level as a result of economic crisis and political corruption. In the U.S., the land of supposed excess, 12.7 percent of households were food insecure in 2015, meaning they didn't know where their next meal would come from.
Keep reading...
Show less
May. 28, 2017 01:22PM EST
Melwater, Greenland ice sheet. Diane Tuft
Artists are taking the climate crisis into frame and the results are emotional, beautiful and stirring.
So you've seen the best climate change cartoons and shared them with your friends. You've showed your family the infographics on climate change and health, infographics on how the grid works and infographics about clean, renewable energy. You've even forwarded these official National Oceanic and Atmospheric Administration graphs that explain the 10 clear indicators of climate change to your colleagues at the office.
Keep reading...
Show less
May. 27, 2017 01:11PM EST
As the Trump administration moves full speed ahead on boosting the oil and fossil fuel industry, opposition to increased pipeline construction is cropping up in different communities around the country.
Keep reading...
Show less
May. 27, 2017 01:02PM EST
Minke whale stranding near Havergate Island in Suffolk. MCGA.
By Simon Evans
Last Saturday, two dead whales washed up on the coast of Suffolk, in eastern England, and a third was spotted floating at sea.
What happened next illustrates how news can spread and evolve into misinformation, when reported by journalists rushing to publish before confirming basic facts or sourcing their own quotes.
Keep reading...
Show less
May. 27, 2017 01:22PM EST
By Monica Amarelo and Paul Pestano
Sun safety is a crucial part of any outdoor activity for kids, and sunscreen can help protect children's skin from harmful ultraviolet rays. Kids often get sunburned when they're outside unprotected for longer than expected. Parents need to plan ahead and keep sun protection handy in their cars or bags.
Keep reading...
Show less
May. 27, 2017 01:02PM EST
By Joe McCarthy
A lot of people take part in community clean-up efforts—spending a Saturday morning picking up litter in a park, mowing an overgrown field or painting a fence.
Keep reading...
Show less