This website uses cookies to ensure you get the best experience while browsing it. By clicking 'Got It' you're accepting these terms.
USDA Deception on Meat Inspections Continues
Apr. 17, 2014 01:08PM EST
Food
Further evidence that the U.S. Department of Agriculture (USDA) is dismantling the meat inspection system as we know it came in an email last night.
At 9:22 p.m. on April 16, I received an email from the Freedom of Information Act (FOIA) Office at USDA's Food Safety and Inspection Service (FSIS) containing a spreadsheet with the number of temporary inspectors the agency has hired and the locations where these temporary inspectors are currently working.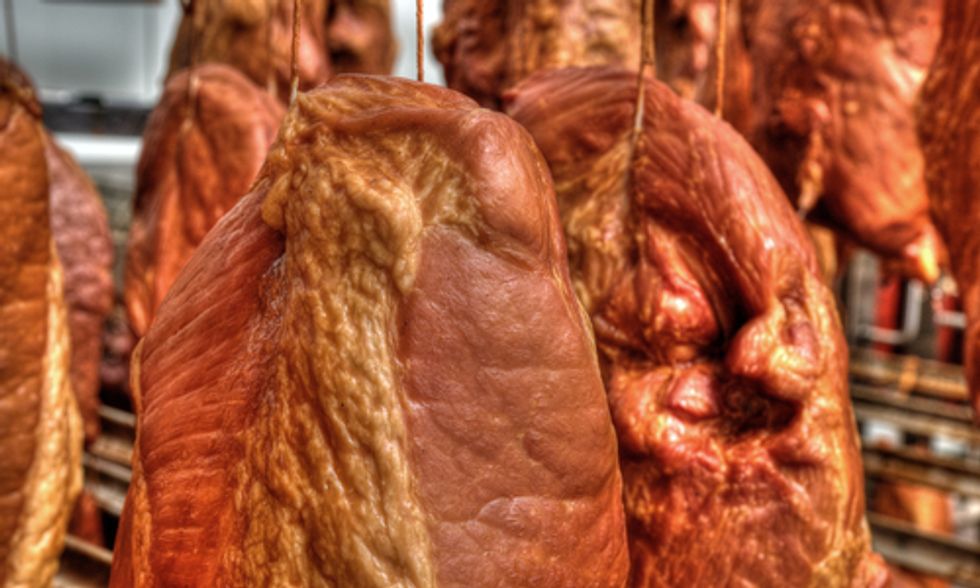 Photo courtesy of Shutterstock
The chart was a partial response to a FOIA request we filed on Dec. 23, 2013 to learn where the temporary inspectors were being assigned in response to a job announcement that FSIS had posted, saying: "As the Food Safety and Inspection Service (FSIS) looks to transition through modernization and implementation of the New Poultry Slaughter Inspection System, the Agency is announcing temporary Food Inspector positions to facilitate the transition and to help ensure seamless implementation should the Agency decide to proceed with implementation of the new system."
No one can remember the last time FSIS had advertised for temporary inspector positions, so we became curious as to how the agency was assigning these personnel.
Much to our surprise, the spreadsheet reveals that not only are temporary inspectors working in poultry slaughter facilities, but 35 percent of them are working in red meat slaughter facilities. (See column C, Establishment Number—all numbers followed by an "M" indicate a meat plant, and all numbers followed by a "P" indicate poultry.)
In recent letters to both USDA Secretary Tom Vilsack and Congressman Robert Aderholt, chair of the House Subcommittee on Agriculture, Rural Development, Food and Drug Administration, and Related Agency Appropriations, Food & Water Watch pointed out that we were hearing that the temporary inspector hiring program was not meeting its goals and in fact exacerbating an already critical inspector shortage problem across the country.
The information we received last night confirms that the policy of not filling inspector vacancies with permanent employees is causing a distortion in the hiring practices at FSIS. Today, I am finding out that the scope of the temporary hiring is broader than what the spreadsheet is showing as I have received information identifying other meat and poultry plants where temporary inspectors have been hired that were not included in what I received last night.
We already know that the FSIS staff in Washington has problems distinguishing between animal species. They have granted equivalency status to privatized inspection systems in Canada and Australia for beef slaughter based on an unevaluated privatized hog slaughter pilot project being run in five hog slaughter facilities in the U.S. that has been roundly criticized by both USDA's own Office of the Inspector General and the U.S. Government Accountability Office.
The agency's Washington staff issued a directive last year to its inspectors assigned to horse slaughter facilities to code their inspection activities as if they were working in goat slaughter facilities. Now, we find that temporary inspectors being hired under the guise of a privatized poultry inspection rule that has not been finalized are actually being assigned to beef and hog slaughter facilities.
The implication is clear: it's not about phasing out permanent inspectors because of pending plans to implement the rule; it's about cutting the food safety inspection budget by essentially contracting out what were previously paid, professional career positions with low-paid temps. But we can ill afford the consequences of weakened food safety inspections.
This important public health agency is out of control. Someone needs to bring order to it because the current FSIS leadership has failed.
——–
YOU MIGHT ALSO LIKE
Even the FDA Doesn't Know What Chemicals Are in Your Food
Federal Court Rules in Favor of Country of Origin Meat Labels
USDA to Allow Chickens From U.S. to Be Shipped to China for Processing and Back to U.S. for Consumption, Just Like Seafood
——–
EcoWatch Daily Newsletter
A new report spotlights a U.N. estimate that at least 275 million people rely on healthy coral reefs. A sea turtle near the Heron Island in the Great Barrier Reef is seen above. THE OCEAN AGENCY / XL CATLIN SEAVIEW SURVEY
In a new report about how the world's coral reefs face "the combined threats of climate change, pollution, and overfishing" — endangering the future of marine biodiversity — a London-based nonprofit calls for greater global efforts to end the climate crisis and ensure the survival of these vital underwater ecosystems.
Half of the extracted resources used were sand, clay, gravel and cement, seen above, for building, along with the other minerals that produce fertilizer. Cavan Images / Cavan / Getty Images
The world is using up more and more resources and global recycling is falling. That's the grim takeaway from a new report by the Circle Economy think tank, which found that the world used up more than 110 billion tons, or 100.6 billion metric tons, of natural resources, as Agence France-Presse (AFP) reported.
By Gero Rueter
Heating with coal, oil and natural gas accounts for around a quarter of global greenhouse gas emissions. But that's something we can change, says Wolfgang Feist, founder of the Passive House Institute in the western German city of Darmstadt.

By George Citroner
Recent research finds that official government figures may be underestimating drug deaths by half.
Researchers estimate that 142,000 people died due to drug use in 2016.
Drug use decreases life expectancy after age 15 by 1.4 years for men and by just under 1 year for women, on average.
Government records may be severely underreporting how many Americans die from drug use, according to a new study by researchers from the University of Pennsylvania and Georgetown University.
Water coolers in front of shut-off water fountains at Center School in Stow, MA on Sept. 4, 2019 after elevated levels of PFAS were found in the water. David L. Ryan / The Boston Globe via Getty Images
In a new nationwide assessment of drinking water systems, the Environmental Working Group found that toxic fluorinated chemicals known as PFAS are far more prevalent than previously thought.