USDA: Beekeepers Lost 44% of Honey Bee Colonies Last Year
On Tuesday the Bee Informed Partnership, in collaboration with the Apiary Inspectors of America and the U.S. Department of Agriculture (USDA), released its annual report on honey bee losses in the U.S. Beekeepers reported losing 44 percent of their total number of colonies managed over the last year—close to the highest annual loss in the past six years. These losses are considered too high to be sustainable for U.S. agriculture and the beekeeping industry.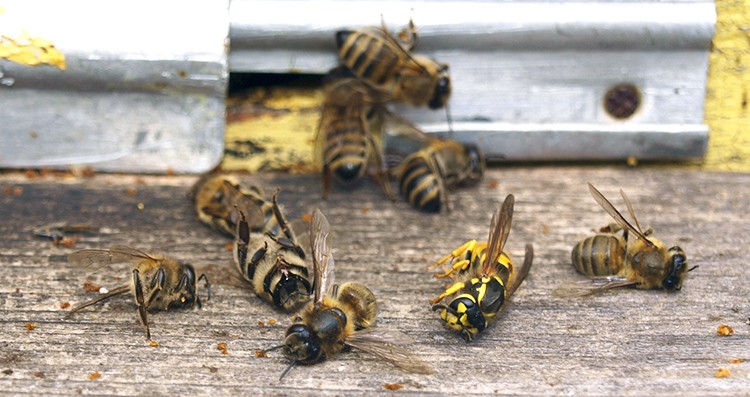 "These honey bee losses reinforce what sciences continues to tell us; we must take immediate action to restrict pesticides contributing to bee declines," Tiffany Finck-Haynes, food futures campaigner with Friends of the Earth, said. "The longer we wait, the worse the situation becomes. If we do not suspend neonicotinoid pesticides immediately, we risk losing our beekeepers and harming important ecosystem functions upon which our food supply depends."
A large and growing body of science has attributed alarming bee declines to several key factors, including exposure to the world's most widely used class of insecticides, neonicotinoids. States, cities, universities, businesses and federal agencies in the U.S. have passed measures to restrict the use of these pesticides due to delay by the U.S. Environmental Protection Agency (EPA). However, these pesticides are still widely used despite mounting evidence that they kill bees outright and make them more vulnerable to pests, pathogens and other stressors.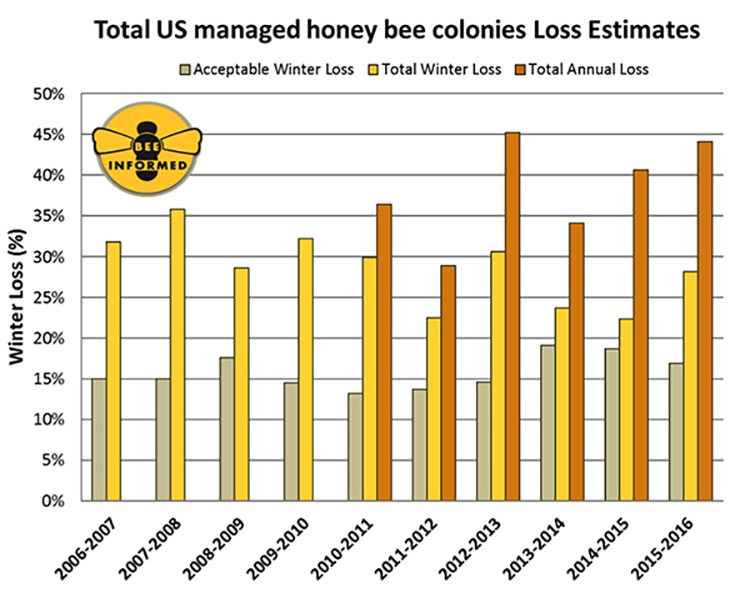 In April 2015, the EPA announced a moratorium on new or expanded uses of neonicotinoids while it evaluates the risks posed to pollinators. In January 2016, the EPA released its preliminary pollinator risk assessment for the neonicotinoid imidacloprid and found it poses risks to honey bees.
The EPA is primarily relying on states and tribes to develop pollinator protection plans to address pesticide use, which was an initiative started by the Pollinator Health Task Force, a group established by President Obama's Presidential Memorandum on pollinators.
This past year, the USDA, a co-chair of the Pollinator Health Task Force, was reported to suppress and silence its own scientists for speaking to the harms of neonicotinoids and glyphosate—an herbicide that is a leading contributor to monarch decline.
"The EPA is passing the buck to states and our regulatory agencies are letting the pesticide industry pull the wool over their eyes instead of seeking solutions," Finck-Haynes said. "The EPA, USDA and Congress must adopt a federal, unified plan that eliminates the use of systemic pesticides to protect bees and beekeepers."
YOU MIGHT ALSO LIKE
Monsanto Faces Rejection in U.S. Over GMO Soybean
Marion Nestle: 8 Books on Farming and Food That Deserve More Attention
Huge Win for the Oregon Spotted Frog
Greater Sage Grouse. Bureau of Land Management
The Center for Biological Diversity and the Sierra Club lodged formal comments with the federal government Monday opposing a massive gas fracking project that spans 220 square miles of public land in Wyoming south of Yellowstone National Park.
The Normally Pressured Lance gas field would destroy wildlife habitat and worsen ozone pollution, a major cause of childhood asthma, in areas already suffering from extreme air pollution.
Keep reading...
Show less
College of the Atlantic / Flickr
Sierra magazine, the national magazine of the Sierra Club, released on Tuesday its eleventh annual "Cool Schools" ranking of North America's greenest colleges and universities.
Sierra received complete surveys from a record-breaking 227 schools—in 36 states, the District of Columbia, and for the first time ever, Canada.
Keep reading...
Show less
Oil in the Niger Delta. Amnesty International Canada
By Andy Rowell
The decades-long struggle for social and environmental justice in the Niger Delta continues, largely unseen by the wider world.
On Aug. 11, hundreds of people from the Niger Delta stormed the Belema flow station gas plant owned by Shell in the Rivers State region of the Delta. The plant transports crude oil to the Bonny Light export terminal, from where it is shipped overseas.
Keep reading...
Show less
Rainforest Action Network / Flickr

The National Academy of Sciences, Engineering and Medicine said in a statement the Interior Department has directed it to cease its study on the potential health risks for people living near surface coal mines in Central Appalachia.
The Interior Department, which committed more than $1 million to the study last year, has begun an agency-wide review of grants over $100,000 because of the "Department's changing budget situation."
Keep reading...
Show less
California Energy Commission
California and North Carolina's electricity grids faced no disruptions during Monday's solar eclipse, which many saw as a test for the future when solar power will command a greater share of the energy mix.
"It bodes well for renewable energy on the grid during an event like this," said Eric Schmitt, a vice-president at California Independent System Operator that delivers most of the state's electricity.
Keep reading...
Show less
Bob Wick / Bureau of Land Management
Keep reading...
Show less
www.youtube.com
Are you ready to watch the Great American Eclipse of 2017? Will you be in the path of totality? Do you have your safety glasses ready?
Well, however you decide to watch the solar eclipse today, NASA TV will be showing the "Eclipse Across America" with live video of the celestial event. The feed is already live with lots of handy information about today's unprecedented eclipse. So be sure to watch above.
Enjoy!
Energy
Aug. 21, 2017 08:43AM EST
www.youtube.com
"One out of three Americans lives within 50 miles of high-level nuclear waste, some of which, like Plutonium, is lethally dangerous and will be around for an incredible longtime," John Oliver explained last night on Last Week Tonight.
According to the Nuclear Energy Institute, there is more than 71,000 tons of nuclear waste stranded at 104 reactors. "It was a problem we should have solved in the 1980s," Oliver said, "much like a Rubik's Cube."
Despite years of using nuclear energy, the country still doesn't have a permanent facility for its storage, the comedian said. Oliver proposed what the U.S. really needs is some kind of "nuclear toilet."
Watch above.