This website uses cookies to ensure you get the best experience while browsing it. By clicking 'Got It' you're accepting these terms.


The best of EcoWatch, right in your inbox. Sign up for our email newsletter!
Urgent Request to Stop Southern Leg of Keystone XL Pipeline Ignored by White House
Jan. 10, 2014 09:14PM EST
Energy

The following letter was sent to the White House on Dec. 10 at the invitation of President Obama's Senior Advisor, Valerie Jarrett. This urgent request from embattled Texas landowners for a face-to-face meeting with the president has so far been ignored. TransCanada has announced plans to bring the
southern leg of Keystone XL pipeline commercially on line
 Jan. 22.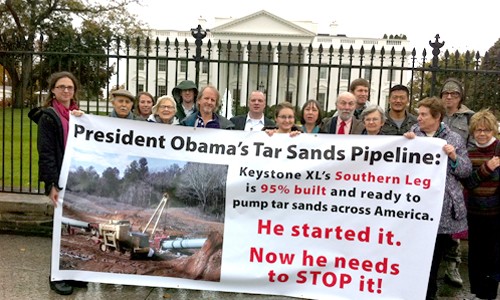 Valerie Jarrett 
Senior Advisor to President Obama
The White House
Washington, DC 20500
Dear Ms. Jarrett,
Thank you for your recent visit to the Fast4Families tent on the National Mall. I appreciate you taking the time to hear the stories of those of us fasting for immigration reform, and the role you undoubtedly played in the President's subsequent visit to the fasting tent, where he thanked fasters for our collective "sacrifice and dedication."
I especially want to thank you for speaking with me afterwards to hear my request for a face-to-face meeting with President Obama to discuss stopping Keystone XL in its entirety—starting with shutting down the pipeline's 485-mile southern leg in Texas and Oklahoma. I voiced similar requests to Vice President Biden, Denis McDonough, Cecilia Muñoz and Tom Perez when they visited the fasting tent, each of whom is copied on this correspondence. You invited me to send you a letter requesting a meeting, and outlining our objections to Keystone XL, which you offered to share with the President.
In light of the fact that TransCanada began injecting oil into Keystone XL's southern leg on Saturday, with plans to bring the pipeline commercially on line by January 3, it is urgent that we meet with President Obama before the end of the year to identify immediate actions the administration can take to prevent this project from delivering tar sands oil to Gulf Coast refineries.
This letter is co-signed by several east Texas landowners whose rights have been violated by construction of the pipeline's southern leg; a matriarch of the Great Sioux Nation whose treaty rights stand to be violated by construction of the pipeline's northern leg; two prominent faith leaders; and two national environmental leaders. Given the urgency of this matter, your help in arranging a sit-down with President Obama before the end of the year would be most appreciated.
Michael Bishop, Julia Trigg Crawford and Eleanor Fairchild are three of numerous landowners in Texas and Oklahoma who currently have sections of Keystone XL pipeline buried beneath their property against their will. 
Mr. Bishop is a Marine veteran who has several lawsuits filed to stop the pipeline's southern leg, including one to revoke Army Corps water-crossing permits that were issued without public hearings, as required by law. His response to those who says it's too late to stop the project is: "The pipe is in there illegally. That's like arguing that if a burglar is already in your house, well, now they have a right to be there."
Ms. Crawford, a Texas farmer who describes the pipeline as "all risk and no reward," is challenging TransCanada in court for abusing eminent domain laws to take her family's property for private use and private economic gain. Despite the late hour, she also maintains, "It is not too late for President Obama to right this great wrong."
Mrs. Fairchild is a 78-year-old great-grandmother who refused to play ball with TransCanada and was subsequently arrested for "trespassing" on her own land and labeled an "eco-terrorist" by the company. She has since traveled to Michigan to see for herself the devastating effects of the three-year old Kalamazoo River tar sands spill (the largest onshore oil spill in U.S. history) and says, "Texans do not want this pipeline forced through their homes."
All three of these Texas landowners have vitally important information to share with the President about TransCanada's abusive, deceitful and unjust treatment of U.S. citizens.
Lakota matriarch Debra White Plume will share with the President the unshakable determination of the Great Sioux Nation to nonviolently resist any attempt by TransCanada to build the northern leg of Keystone XL across their treaty territory. Such construction would violate the Fort Laramie Treaty of 1868, which was ratified by Congress. The pipeline would also endanger the Oglala Lakota's sole source of drinking water, putting the lives and health of their people at risk. A series of well-attended "Moccasins on the Ground" nonviolent direct action trainings have already been held to ensure that the pipeline does not cross treaty territory.
Earth Policy Institute President Lester Brown will share with the President why America needs to be shooting for the moon with renewable energy, not drilling our way deeper into the climate hole with extreme fossil fuel projects like Keystone XL's southern leg. A green energy "moon shot" will reinvigorate America's economy and generate many more jobs than our nation's current energy policies. The urgency of the climate crisis demands an emergency mobilization - similar to how the U.S. in 1942 restructured our industrial economy in a matter of months—to cut U.S. carbon emissions 80 percent by 2020. 
Friends of the Earth President Erich Pica will share with the President the myriad of risks posed by Keystone XL's southern leg, including the potential for this continental carbon bomb to ignite catastrophic climate change. By evading a transparent and thorough review of the pipeline's likely impacts, TransCanada has not only jeopardized the American people's rights to clean air and clean water, but is also putting U.S. taxpayers at serious financial risk from tar sands oil spills.
Father Jacek Orzechowski and Franciscan Action Network Executive Director Patrick Carolan, who embrace the teachings of St. Francis of Assisi and his call for the protection of creation, will share with the President the perspective of Franciscans and other faith leaders who object to Keystone XL in its entirety on moral grounds.
There is a better way. 
In June, the President pledged during his televised climate action speech, "I am willing to work with anybody—Republicans, Democrats, Independents, Libertarians, Greens—anybody—to combat this threat on behalf of our kids. I am open to all sorts of new ideas, maybe better ideas, to make sure that we deal with climate change in a way that promotes jobs and growth."
Our idea is to refrain from taking actions that will make matters worse. Knowing that the southern leg of Keystone XL will exacerbate the climate threat, by allowing more than half a million barrels of climate-destroying tar sands to flow daily from Alberta to Gulf Coast refineries, it is indefensible, from a climate perspective, for the Obama administration to allow this project to go commercially on line. The President himself stated during a July 24, 2013 interview with The New York Times: I'm going to evaluate this [Keystone pipeline] based on whether or not this is going to significantly contribute to carbon in our atmosphere."
As documented in a recent Sierra Club report, FAIL: How the Keystone XL Tar Sands Pipeline Flunks the Climate Test, the Keystone pipeline is a linchpin to more tar sands development, and increased tar sands development will significantly contribute to carbon in our atmosphere.
The staggering reality is that Canada's tar sands contain twice the amount of carbon dioxide emitted by global oil use in our entire history, with new tar sands mining techniques allowing up to 70 percent of that tar sands to be removed and burned. Climate scientists warn that fully exploiting this fuel source—which completion of Keystone XL's southern leg would help facilitate—could trigger an uncontrollable over-heating of our planet, threatening civilization as we know it.
The President also acknowledged during this same interview with The New York Times that this export pipeline is likely to raise U.S. gas prices and will generate very few jobs.
President Obama: "That oil is going to be piped down to the Gulf to be sold on the world oil markets, so it does not bring down gas prices here in the United States. In fact, it might actually cause some gas prices in the Midwest to go up where currently they can't ship some of that oil to world markets."
President Obama: "My hope would be that any reporter who is looking at the facts would take the time to confirm that the most realistic estimates are this might create maybe 2,000 jobs during the construction of the pipeline—which might take a year or two—and then after that we're talking about somewhere between 50 and 100 [chuckles] jobs in a economy of 150 million working people."
Then there is the issue of pubic health and safety. TransCanada's Keystone I pipeline, built in 2010, leaked twelve times in its first twelve months of operation. Just as the President said about immigration reform that "it is not a question of whether immigration reform will pass, but how soon," so do we assert that it is not a question of whether the southern leg of Keystone XL will spill, but how soon it will contaminate any one of the hundreds of rivers and streams it crosses, or the Carrizo-Wilcox Aquifer, which supplies water to more than 10 million Texans.
Alarm bells are ringing. Even before the installation of the pipeline's 485-mile southern leg was completed, there were 125 excavations of Keystone XL pipe along a 250-mile stretch in Texas due to "anomalies," including dents, sags and faulty welds. These weak spots in the pipeline pose the very real danger of leaks and spills. From a safety perspective, it would be the height of irresponsibility for federal regulators to allow this project to go commercially on line absent new inspections and a thorough investigation of TransCanada's highly questionable construction and safety practices.
Again, our request is for a face-to-face meeting with the President before the end of the year to identify actions the administration can take to prevent this project from going commercially on line. 
We look forward to the President's response. I plan to remain in Washington, DC for the express purpose of this meeting. 
Thank you for giving this most urgent matter your personal attention.
Sincerely, 
Tom Weis, President
Climate Crisis Solutions
Michael Bishop, Landowner
Douglass, Texas
Julia Trigg Crawford, Landowner
Direct, Texas
Eleanor Fairchild, Landowner
Winnsboro, Texas
Debra White Plume
Oglala Lakota Nation
Lester Brown, President
Earth Policy Institute 
Erich Pica, President
Friends of the Earth
Patrick Carolan, Executive Director
Franciscan Action Network
Father Jacek Orzechowski, OFM & Chair,
Justice, Peace, and Integrity of Creation Directorate for the Franciscans of the Holy Name Province
Cc:
Vice President Joe Biden
Chief of Staff Denis McDonough
Director of Domestic Policy Council Cecilia Muñoz
Secretary of Labor Tom Perez
Visit EcoWatch's KEYSTONE XL and TAR SANDS  pages for more related news on this topic.

EcoWatch Daily Newsletter
Aerial view of the explosion site of a chemical factory on March 22 in Yancheng, Jiangsu Province of China. Caixin Media / VCG / Getty Images)
At least 47 people have died in an explosion at a plant in Yancheng, China Thursday run by a chemical company with a history of environmental violations, Sky News reported.
A fishmonger in Elmina, a fishing port in the Central Region of Ghana. Environmental Justice Foundation
By Daisy Brickhill
Each morning, men living in fishing communities along Ghana's coastline push off in search of the day's catch. But when the boats come back to shore, it's the women who take over.
Pexels
By Sam Nickerson
Links between excess sugar in your diet and disease have been well-documented, but new research by Harvard's School of Public Health might make you even more wary of that next soda: it could increase your risk of an early death.
The study, published this week in the American Heart Association's journal Circulation, found that drinking one or two sugar-sweetened beverages (SSBs) each day — like sodas or sports drinks — increases risk of an early death by 14 percent.
Tyson Foods is recalling approximately 69,093 pounds of frozen chicken strips because they may have been contaminated with pieces of metal, the U.S. Department of Agriculture (USDA) Food Safety and Inspection Service (FSIS) announced Thursday.
The affected products were fully-cooked "Buffalo Style" and "Crispy" chicken strips with a "use by" date of Nov. 30, 2019 and an establishment number of "P-7221" on the back of the package.
"FSIS is concerned that some product may be in consumers' freezers," the recall notice said. "Consumers who have purchased these products are urged not to consume them. These products should be thrown away or returned to the place of purchase."
Environmental exposure to pesticides, both before birth and during the first year of life, has been linked to an increased risk of developing autism spectrum disorder, according to the largest epidemiological study to date on the connection.
The study, published Wednesday in BMJ, found that pregnant women who lived within 2,000 meters (approximately 1.2 miles) of a highly-sprayed agricultural area in California had children who were 10 to 16 percent more likely to develop autism and 30 percent more likely to develop severe autism that impacted their intellectual ability. If the children were exposed to pesticides during their first year of life, the risk they would develop autism went up to 50 percent.
The ExxonMobil Torrance Refinery in Torrance, California.
waltarrrr / Flickr
ExxonMobil could be the second company after Monsanto to lose lobbying access to members of European Parliament after it failed to turn up to a hearing Thursday into whether or not the oil giant knowingly spread false information about climate change.
The call to ban the company was submitted by Green Member of European Parliament (MEP) Molly Scott Cato and should be decided in a vote in late April, The Guardian reported.
Bernie Sanders holds his first presidential campaign rally at Brooklyn College on March 02 in Brooklyn, New York. Kena Betancur / VIEWpress / Corbis. Getty Images
Bernie Sanders has become the first contender in the crowded 2020 Democratic presidential primary field to pledge to offset all of the greenhouse gas emissions released by campaign travel, The Huffington Post reported Thursday.