This website uses cookies to ensure you get the best experience while browsing it. By clicking 'Got It' you're accepting these terms.
Urban Farming Hits Major League Baseball Stadiums
Jul. 16, 2015 07:54AM EST
As fans sitting on the third baseline streamed into Boston's Fenway Park for the Red Sox home opener, they were greeted with the sight of 1,800 square feet of raised beds on a formerly unused 5,000-square-foot rooftop. "Fenway Farms" initially will grow fresh vegetables not typically found in baseball stadiums—arugula, Swiss chard and broccoli rabe, for instance—for use by the chefs at the EMC Club kitchen, just 25 feet away.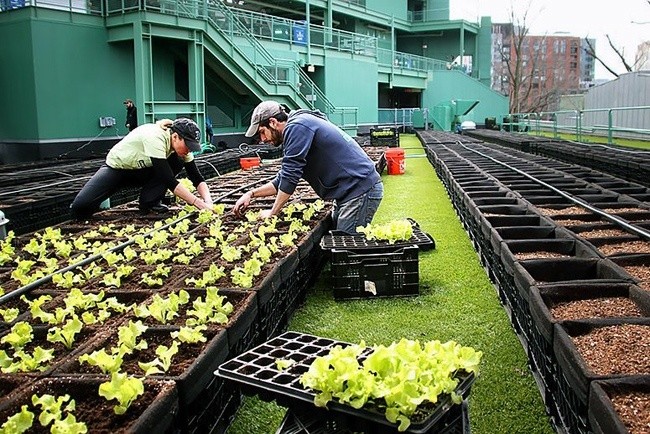 The ballpark may not conjure images of health and sustainability—and certainly not innovation in urban agriculture—but a handful of Major League clubs just may change that, and in the process give new meaning to "farm teams." This season, the Red Sox join the Colorado Rockies, the San Diego Padres and the San Francisco Giants in starting to grow a portion of their stadium concessions in on-site farms and gardens.
The farm's location is highly visible to many of the roughly 37,000 fans who fill the ballpark for the team's 81 home games and the handful of concerts and other events to which Fenway plays host—a potential influence that is not lost on Chris Knight, the team's manager of facility planning and services.
"We have such a platform here at this level of sports and at Fenway Park—this is one way we can make an impact for the environment and nutrition," he said.
When the first vegetables and herbs were harvested in early May, Fenway Farms contributed its part to a long-term push at the ballpark to operate more sustainably—and a more recent emphasis on integrating healthy food into concessions. Knight said the idea for the farm came from Linda Pizzuti Henry, wife of Sox co-owner John Henry. Last summer, the founders of Green City Growers—a company converting unused space into farms and gardens—met with Henry to pitch ideas for turning that dream into a reality.
The process "picked up quickly" from there, said Green City Growers founder, Jessie Banhazl, with the team picking out a site on the front-office roof and growers meeting with chefs at the seasonally inspired EMC Club to come up with a lineup of veggies to grow. Recover Green Roofs began construction and farm installation in mid-March, and plants went into the newly poured soil last week—just in time for the first home game of the season.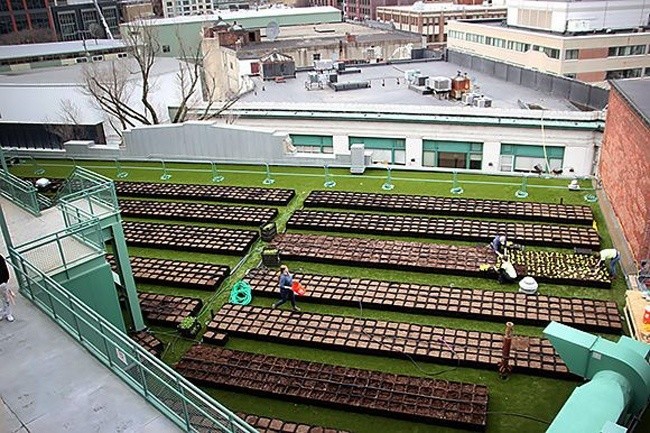 "It's wild. We're really, really, really excited about this," said Banhazl, whose company will maintain the farm. "This particular project is the coolest and most widespread reach that we've ever seen with an urban agriculture project."
The foray by the Red Sox into urban agriculture is unusual among modern professional baseball teams—but the team is not the first to catch the grow-your-own bug. In 2012, at the stadium chef's request, San Diego Padres head groundskeeper Luke Yoder planted more than a dozen hot pepper and tomato plants in the Petco Park bullpen. In 2013, the Colorado Rockies, working with their catering contractor, Aramark, installed a 600-square-foot kitchen garden near Gate A at Coors Field, which sprouts an assortment of flowers, herbs, and other vegetables. Much of the food harvested from "The GaRden" is found in dishes at the stadium's premier Mountain Ranch Club.
Last season, the San Francisco Giants and Bon Appétit Management built The Garden at AT&T Park, a 4,320-square-foot dining pavilion serving produce grown in several nearby gardens and a high-yield vertical farm. (There was even a bit of controversy when the Padres took issue with Giants' marketing claiming to have the majors' first farm, claims that were later retracted). The Garden pavilion contains two food concepts: The Hearth Table uses only gluten-free ingredients, while The Garden Table serves vegetarian offerings. Bartenders even integrate fresh-grown herbs into the cocktails. Don't worry, you can still get your all-beef hot dog at The Garden, but Laura Braley, spokesperson for Bon Appétit Management, said the ballpark simply wants to provide alternatives for fans seeking a more nutritious meal and sees the on-site farm as a way to inspire fans to think about the source of their food.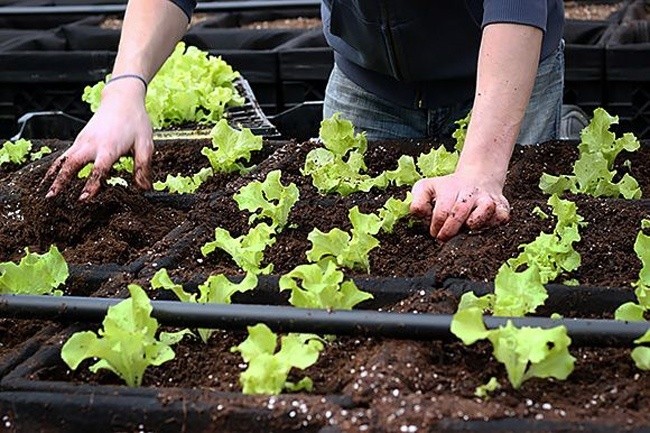 "It's fun to get a salad or a flatbread and literally see the ingredients growing right there," she said, adding that prices in The Garden have remained consistent with other offerings at AT&T Park.
While the Sox, Rockies, Padres and Giants lead the majors in progressive food and nutrition policies, other clubs appear to be competing for the most outrageous offerings on the other end of the health spectrum. At Rangers Stadium in Texas, for instance, fans this season will be able to dine on a deep-fried "S'mOreo" (exactly what it sounds like), chicken-fried corn on the cob, and bacon-flavored cotton candy. The Arizona Diamondbacks this season introduced the Churro Dog: a churro inside a chocolate-frosted long-john doughnut, topped with ice cream, whipped cream, and both chocolate and caramel syrups.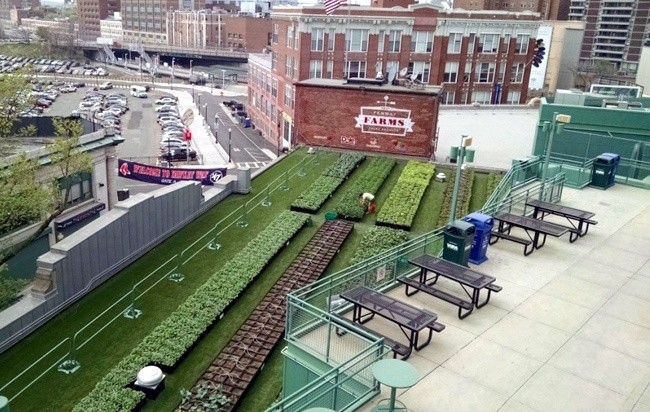 Make no mistake: Sox and Giants fans still have their pick of less-than-nutritious stadium foods. Neither club would provide data on how well their healthier offerings have been selling, but a 2014 study of a healthy-food overhaul of a concession stand at a high-school athletics facility found that the changes had no negative effect on concessions sales and even improved overall satisfaction among parents. Varsity football is a world away from Major League Baseball, sure, but with dining trends tend toward healthier food nationally, there is both interest and demand that these programs could tap into.
Besides nutritional and environmental goals for their farms, the Giants and Red Sox have strong educational outreach programs. The Giants earlier this year unveiled plans to use The Garden at AT&T Park as an outdoor nutrition and agricultural classroom for children on non–game days, giving kids a chance to learn the importance of healthy eating. Boston has similar plans for youth enrichment—and even dreams of farming in other parts of the ballpark—as soon as farm operations are streamlined and crops are coming up.
While the first veggies won't be ready to harvest for a few more weeks, Banhazl said she caught glimpses of the the farm's potential influence on opening day. As she watched child after child run up to the railing and see the new beds for the first time, she saw something come alive in them.
"They'd say, 'Oh my God, the Red Sox have a farm?'" she recalled. "We should do this, Mom!"
YOU MIGHT ALSO LIKE 
Vegan Ultramarathoner Breaks Record for Fastest Race Up Appalachian Trail
3 Creative Solutions Emerging in Urban Farming
World's Largest Indoor Vertical Farm Breaks Ground in Newark, New Jersey
Prince William and British naturalist David Attenborough attend converse during the World Economic Forum annual meeting, on January 22 in Davos, Switzerland. Fabrice Cofferini /AFP / Getty Images
Britain's Prince William interviewed famed broadcaster David Attenborough on Tuesday at the World Economic Forum's annual meeting in Switzerland.
During the sit-down, the 92-year-old naturalist advised the world leaders and business elite gathered in Davos this week that we must respect and protect the natural world, adding that the future of its survival—as well as humanity's survival—is in our hands.
Electric vehicle sales took off in 2018, with a record two million units sold around the world, according to a new Deloitte analysis.
What's more, the accounting firm predicts that another 21 million electric cars will be on the road globally over the next decade due to growing market demand for clean transportation, government subsidies, as well as bans on fossil fuel cars.
Teenager Alex Weber and friends collected nearly 40,000 golf balls hit into the ocean from a handful of California golf courses.
Alex Weber /
CC BY-ND
Southwest Greenland had the most consistent ice loss from 2003 to 2012. Eqalugaarsuit, Ostgronland, Greenland on Aug. 1, 2018.
Rob Oo / CC BY 2.0
Greenland is melting about four times faster than it was in 2003, a new study published Monday in the Proceedings of the National Academy of Sciences found, a discovery with frightening implications for the pace and extent of future sea level rise.
"We're going to see faster and faster sea level rise for the foreseeable future," study lead author and Ohio State University geodynamics professor Dr. Michael Bevis said in a press release. "Once you hit that tipping point, the only question is: How severe does it get?"
Finally, some good news about the otherwise terrible partial government shutdown. A federal judge ruled that the Trump administration cannot issue permits to conduct seismic testing during the government impasse.
The Justice Department sought to delay—or stay—a motion filed by a range of coastal cities, businesses and conservation organizations that are suing the Trump administration over offshore oil drilling, Reuters reported. The department argued that it did not have the resources it needed to work on the case due to the shutdown.
Most people have heard of the Amazon, South America's famed rainforest and hub of biological diversity. Less well known, though no less critical, is the Pantanal, the world's largest tropical wetland.
Like the Amazon, the Pantanal is ecologically important and imperiled. Located primarily in Brazil, it also stretches into neighboring Bolivia and Paraguay. Covering an area larger than England at more than 70,000 square miles, the massive wetland provides irreplaceable ecosystem services that include the regulation of floodwaters, nutrient renewal, river flow for navigability, groundwater recharge and carbon sequestration. The wetland also supports the economies of the four South American states it covers.
Demonstrators participate in a protest march over agricultural policy on Jan. 19 in Berlin, Germany. Carsten Koall / Getty Images Europe
By Andrea Germanos
Organizers said 35,000 people marched through the streets of the German capital on Saturday to say they're "fed up" with industrial agriculture and call for a transformation to a system that instead supports the welfare of the environment, animals and rural farmers.

The fire that erupted after a pipeline explosion in Mexico Friday. FRANCISCO VILLEDA / AFP / Getty Images
By Patrick Rogers
If you have ever considered making the switch to an environmentally friendly electric vehicle, don't drag your feet. Though EV prices are falling, and states are unveiling more and more public charging stations and plug-in-ready parking spots, the federal government is doing everything it can to slam the brakes on our progress away from gas-burning internal combustion engines. President Trump, likely pressured by his allies in the fossil fuel industry, has threatened to end the federal tax credits that have already helped put hundreds of thousands of EVs on the road—a move bound to harm not only our environment but our economy, too. After all, the manufacturing and sale of EVs, hybrids, and plug-in hybrids supported 197,000 jobs in 2017, according to the most recent U.S. Energy and Employment Report.