Food
Jul. 16, 2015 07:54AM EST
Urban Farming Hits Major League Baseball Stadiums
As fans sitting on the third baseline streamed into Boston's Fenway Park for the Red Sox home opener, they were greeted with the sight of 1,800 square feet of raised beds on a formerly unused 5,000-square-foot rooftop. "Fenway Farms" initially will grow fresh vegetables not typically found in baseball stadiums—arugula, Swiss chard and broccoli rabe, for instance—for use by the chefs at the EMC Club kitchen, just 25 feet away.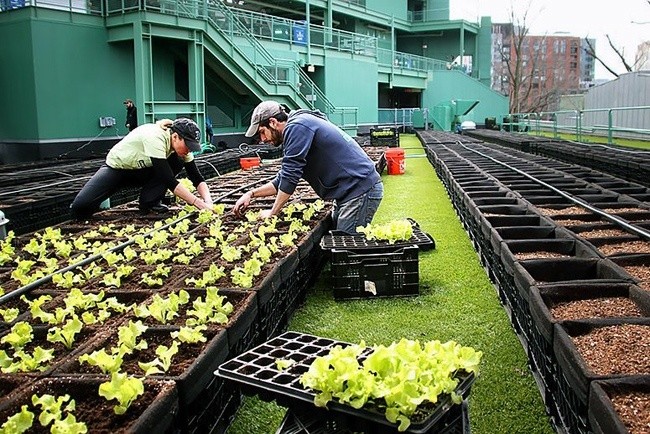 The ballpark may not conjure images of health and sustainability—and certainly not innovation in urban agriculture—but a handful of Major League clubs just may change that, and in the process give new meaning to "farm teams." This season, the Red Sox join the Colorado Rockies, the San Diego Padres and the San Francisco Giants in starting to grow a portion of their stadium concessions in on-site farms and gardens.
The farm's location is highly visible to many of the roughly 37,000 fans who fill the ballpark for the team's 81 home games and the handful of concerts and other events to which Fenway plays host—a potential influence that is not lost on Chris Knight, the team's manager of facility planning and services.
"We have such a platform here at this level of sports and at Fenway Park—this is one way we can make an impact for the environment and nutrition," he said.
When the first vegetables and herbs were harvested in early May, Fenway Farms contributed its part to a long-term push at the ballpark to operate more sustainably—and a more recent emphasis on integrating healthy food into concessions. Knight said the idea for the farm came from Linda Pizzuti Henry, wife of Sox co-owner John Henry. Last summer, the founders of Green City Growers—a company converting unused space into farms and gardens—met with Henry to pitch ideas for turning that dream into a reality.
The process "picked up quickly" from there, said Green City Growers founder, Jessie Banhazl, with the team picking out a site on the front-office roof and growers meeting with chefs at the seasonally inspired EMC Club to come up with a lineup of veggies to grow. Recover Green Roofs began construction and farm installation in mid-March, and plants went into the newly poured soil last week—just in time for the first home game of the season.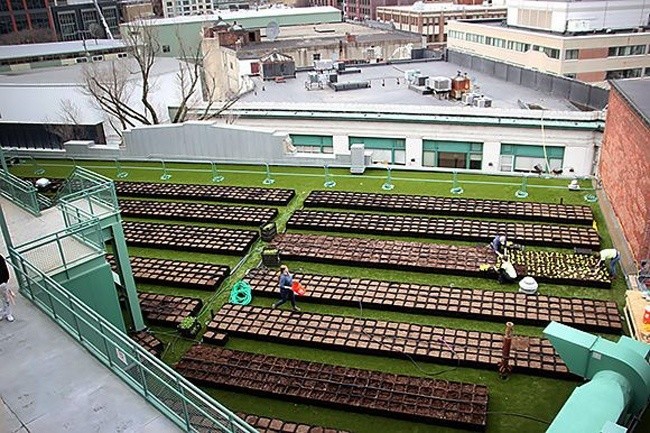 "It's wild. We're really, really, really excited about this," said Banhazl, whose company will maintain the farm. "This particular project is the coolest and most widespread reach that we've ever seen with an urban agriculture project."
The foray by the Red Sox into urban agriculture is unusual among modern professional baseball teams—but the team is not the first to catch the grow-your-own bug. In 2012, at the stadium chef's request, San Diego Padres head groundskeeper Luke Yoder planted more than a dozen hot pepper and tomato plants in the Petco Park bullpen. In 2013, the Colorado Rockies, working with their catering contractor, Aramark, installed a 600-square-foot kitchen garden near Gate A at Coors Field, which sprouts an assortment of flowers, herbs, and other vegetables. Much of the food harvested from "The GaRden" is found in dishes at the stadium's premier Mountain Ranch Club.
Last season, the San Francisco Giants and Bon Appétit Management built The Garden at AT&T Park, a 4,320-square-foot dining pavilion serving produce grown in several nearby gardens and a high-yield vertical farm. (There was even a bit of controversy when the Padres took issue with Giants' marketing claiming to have the majors' first farm, claims that were later retracted). The Garden pavilion contains two food concepts: The Hearth Table uses only gluten-free ingredients, while The Garden Table serves vegetarian offerings. Bartenders even integrate fresh-grown herbs into the cocktails. Don't worry, you can still get your all-beef hot dog at The Garden, but Laura Braley, spokesperson for Bon Appétit Management, said the ballpark simply wants to provide alternatives for fans seeking a more nutritious meal and sees the on-site farm as a way to inspire fans to think about the source of their food.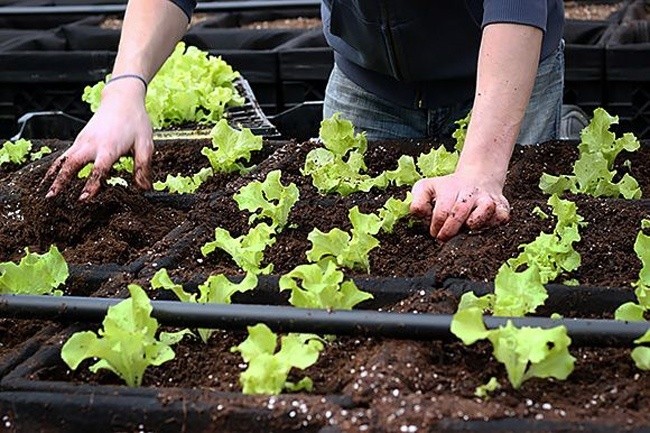 "It's fun to get a salad or a flatbread and literally see the ingredients growing right there," she said, adding that prices in The Garden have remained consistent with other offerings at AT&T Park.
While the Sox, Rockies, Padres and Giants lead the majors in progressive food and nutrition policies, other clubs appear to be competing for the most outrageous offerings on the other end of the health spectrum. At Rangers Stadium in Texas, for instance, fans this season will be able to dine on a deep-fried "S'mOreo" (exactly what it sounds like), chicken-fried corn on the cob, and bacon-flavored cotton candy. The Arizona Diamondbacks this season introduced the Churro Dog: a churro inside a chocolate-frosted long-john doughnut, topped with ice cream, whipped cream, and both chocolate and caramel syrups.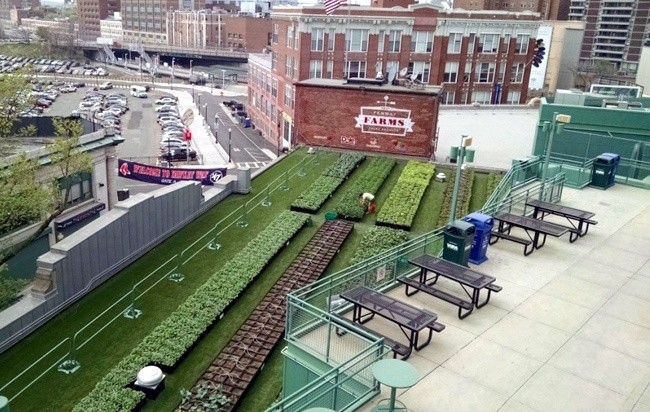 Make no mistake: Sox and Giants fans still have their pick of less-than-nutritious stadium foods. Neither club would provide data on how well their healthier offerings have been selling, but a 2014 study of a healthy-food overhaul of a concession stand at a high-school athletics facility found that the changes had no negative effect on concessions sales and even improved overall satisfaction among parents. Varsity football is a world away from Major League Baseball, sure, but with dining trends tend toward healthier food nationally, there is both interest and demand that these programs could tap into.
Besides nutritional and environmental goals for their farms, the Giants and Red Sox have strong educational outreach programs. The Giants earlier this year unveiled plans to use The Garden at AT&T Park as an outdoor nutrition and agricultural classroom for children on non–game days, giving kids a chance to learn the importance of healthy eating. Boston has similar plans for youth enrichment—and even dreams of farming in other parts of the ballpark—as soon as farm operations are streamlined and crops are coming up.
While the first veggies won't be ready to harvest for a few more weeks, Banhazl said she caught glimpses of the the farm's potential influence on opening day. As she watched child after child run up to the railing and see the new beds for the first time, she saw something come alive in them.
"They'd say, 'Oh my God, the Red Sox have a farm?'" she recalled. "We should do this, Mom!"
YOU MIGHT ALSO LIKE 
Vegan Ultramarathoner Breaks Record for Fastest Race Up Appalachian Trail
3 Creative Solutions Emerging in Urban Farming
World's Largest Indoor Vertical Farm Breaks Ground in Newark, New Jersey
Will Rose / Greenpeace
Eleven peaceful activists from the Greenpeace ship Arctic Sunrise have taken to the water in inflatable boats with handheld banners to oppose the Statoil Songa Enabler oil rig, 275 km North off the Norwegian coast, in the Arctic Barents sea.
The banners say: "People Vs. Arctic Oil" and are directed at Statoil and the Norwegian government, which has opened a new, aggressive search for oil in the waters of the Barents Sea.
Keep reading...
Show less
Jul. 21, 2017 10:34AM EST
Dominion Pipeline Monitoring Coalition
The Federal Energy Regulatory Commission (FERC) paved the way Friday for the 600-mile, 42-inch fracked gas Atlantic Coast Pipeline to proceed when it issued the final environmental impact statement (FEIS). A joint project of utility giants Duke Energy and Dominion Energy, the Atlantic Coast Pipeline would move fracked gas from West Virginia into Virginia and North Carolina.
In April, the Sierra Club submitted more than 500 pages of legal and technical comments on FERC's draft EIS, which were joined by more than 18,000 individual comments detailing opposition to the project. The pipeline has been met with widespread opposition, with more than 1,000 people participating in public hearings across the three affected states. The Sierra Club recently requested that FERC issue a new environmental review document analyzing information that came in after or late in, the public comment process.
Keep reading...
Show less
Jul. 21, 2017 08:25AM EST
Greenpeace / PolluterWatch
By Jessica Corbett
"It's time Rex Tillerson step down or be removed," said Gigi Kellett of Corporate Accountability International, following an announcement on Thursday that ExxonMobil will pay $2 million for violating U.S. sanctions against Russian officials while the now-secretary of state was the company's CEO.
"ExxonMobil demonstrated reckless disregard for U.S. sanction requirements," according to enforcement filing released by the Treasury Department's Office of Foreign Assets Control (OFAC), which issued the penalty. Though the fine is reportedly the maximum penalty allowed, it's pittance to one of the world's most profitable and powerful corporations, which last year reported a profit of $7.8 billion.
Keep reading...
Show less
Jul. 21, 2017 11:15AM EST
New analysis from Amory B. Lovins debunks the notion that highly unprofitable, economically distressed nuclear plants should be further subsi­dized to meet financial, security, reliability and climate goals. The analysis, which will appear shortly in The Electricity Journal, shows that closing costly-to-run nuclear plants and reinvesting their saved operating costs in energy efficiency provides cheaper elec­tricity, increases grid reliability and security, reduces more carbon, and preserves (not distorts) market integrity—all without subsidies.

Keep reading...
Show less
Jul. 21, 2017 08:44AM EST
Oil Change International / Twitter
By Christian Detisch and Seth Gladstone
In the wake of Senate Republicans' ever-deepening debacle over their flailing attempts to strip health insurance from 22 million people, Majority Leader Mitch McConnell is desperate to do something—anything—to show that he can get legislation passed. To this end, he's bypassing the standard committee review process to push a complex 850+ page energy bill straight to the full Senate floor. Perhaps not surprisingly, this legislation, the Energy and Natural Resources Act of 2017, would be a disaster for public health and our climate.
Keep reading...
Show less
Jul. 21, 2017 08:11AM EST
Rooftop solar panels on a beach house in southern Florida. TAI VIINIKKA / CC BY-NC-ND 2.0
A new law passed this week in South Miami will require all new homes built in the city to install solar panels. The measure, which was inspired by a proposal from a teenage climate activist, will go into effect in September.
The text of the ordinance details the climate impacts facing South Miami.
Keep reading...
Show less
Jul. 21, 2017 10:27AM EST
www.youtube.com
Keep reading...
Show less
Jul. 21, 2017 08:49AM EST
iStock
By Katherine Paul and Ronnie Cummins
A recent series of articles by a Washington Post reporter could have some consumers questioning the value of the U.S. Department of Agriculture's (USDA) organic seal. But are a few bad eggs representative of an entire industry?
Consumers are all for cracking down on the fraudulent few who, with the help of Big Food, big retail chains and questionable certifiers give organics a bad name. But they also want stronger standards, and better enforcement—not a plan to weaken standards to accommodate "Factory Farm Organic."
Keep reading...
Show less