This website uses cookies to ensure you get the best experience while browsing it. By clicking 'Got It' you're accepting these terms.
Urban Agriculture Study Highlights National Best Practices
Dec. 05, 2011 10:55AM EST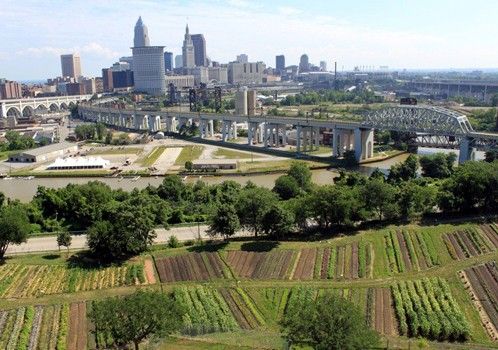 The Turner Environmental Law Clinic at the Emory University School of Law, in partnership with Georgia Organics, has released one of the most comprehensive looks at urban agriculture policy in the U.S. The study provides a look at urban agriculture policies implemented by many of Sustain Lane's top ranking sustainable cities.
Urban agriculture has become a national phenomenon as vacant lots and downsizing cities struggle to make efficient use of abandoned land, generate jobs, boost property values, promote community engagement and expand access to fresh, locally grown food. Urban agriculture can take many forms—from a community garden where multiple neighbors grow on land they share to full-scale farms that provide robust production of crops as well as educational opportunities and jobs for residents.
This report represents one of the most comprehensive, objective presentations of current urban agriculture policies being implemented across the country. Some cities have reacted in a nimble manner, creating conditions that have allowed urban food production to thrive. Other cities are struggling to identify the best mechanisms to spur urban agriculture. What is evident is that there is no one-size fits all policy to address urban agriculture. Each community needs its own nuanced approach to balance the land it has available with the needs of its residents.
Mindy Goldstein, acting director of the Turner Environmental Law Clinic, was overwhelmed at her student's interest in this topic. "We prepared this report to highlight some of the best practices being employed across the country. Our goal is to build upon these practices and prepare recommendations that will work best for the city of Atlanta and other urban areas in the state. The clinic's students dove right into this work. They were eager to lend their legal expertise to this exciting social re-innovation."
Alice Rolls, executive director of Georgia Organics and member of the Atlanta Local Food Initiative, is excited about using the report to inform the organization's work on urban agriculture issues. "It will greatly inform Georgia Organics' advocacy efforts. Land use policy can be a powerful tool to expand agricultural activity and increase access to locally grown food. With so much momentum and innovation happening to address food deserts and improve public health, food policy is a critical piece of the puzzle in solving our food security and access issues."
Both Ms. Rolls and Ms. Goldstein stated that the analysis will be shared with the city of Atlanta, among others, to inform the policy discussions currently happening. In 2010, the city of Atlanta announced an aggressive goal that 75 percent of residents would have access to fresh, locally grown food within 10 minutes of their homes by 2020.
For a full copy of the report, click here.
For more information, click here.
—————
The Turner Environmental Law Clinic provides free legal assistance to individuals, community groups, and non-profit organizations seeking to protect and restore the natural environment for the benefit of the public. Through its work, the Clinic offers students an intense, hands-on introduction to sophisticated environmental law and regulatory practice.
An outgrowth of a grower's association established in the 1970s, Georgia Organics is a member-supported not-for-profit organization devoted to promoting sustainable foods and local farms in Georgia. A sustainable local food system is critical to the future of Georgia's health, environment, and economy. Recognizing this vital need, Georgia Organics builds and strengthens a sustainable local food system that cultivates healthier Georgians, a cleaner environment, and stronger local economies. Georgia Organics builds supply through comprehensive grower education and outreach programs, and catalyzes demand on the consumer and business end by fostering market opportunities for local food. This combination creates powerful relationships that lead the state's communities toward local, sustainably grown food.
EcoWatch Daily Newsletter
Artist's conception of solar islands in the open ocean. PNAS
Millions of solar panels clustered together to form an island could convert carbon dioxide in seawater into methanol, which can fuel airplanes and trucks, according to new research from Norway and Switzerland and published in the Proceedings of the National Academy of Sciences journal, PNAS, as NBC News reported. The floating islands could drastically reduce greenhouse gas emissions and dependence on fossil fuels.
Marcos Alves / Moment Open / Getty Images
More than 40 percent of insects could go extinct globally in the next few decades. So why did the U.S. Environmental Protection Agency (EPA) last week ok the 'emergency' use of the bee-killing pesticide sulfoxaflor on 13.9 million acres?
EcoWatch teamed up with Center for Biological Diversity via EcoWatch Live on Facebook to find out why. Environmental Health Director and Senior Attorney Lori Ann Burd explained how there is a loophole in the The Federal Insecticide, Fungicide, and Rodenticide Act under section 18, "that allows for entities and states to request emergency exemptions to spraying pesticides where they otherwise wouldn't be allowed to spray."
Simple swaps that cut down on kitchen trash.
Sponsored
By Kayla Robbins
Along with the bathroom, the kitchen is one of the most daunting areas to try and make zero waste.
View of downtown Miami, Florida from Hobie Island on Feb. 2, 2019.
Michael Muraz / Flickr
The Democratic candidates for president descended upon Miami for a two-night debate on Wednesday and Thursday. Any candidate hoping to carry the state will have to make the climate crisis central to their campaign, as The New York Times reported.
By Sharon Kelly
On Monday, the Wall Street Journal featured a profile of Scott Sheffield, CEO of Pioneer Natural Resources, whose company is known among investors for its emphasis on drawing oil and gas from the Permian basin in Texas using horizontal drilling and hydraulic fracturing, or fracking.
Pexels
By Craig K. Chandler
The federal government has available to it, should it choose to use them, a wide range of potential climate change management tools, going well beyond the traditional pollution control regulatory options. And, in some cases (not all), without new legislative authorization.
Denis Poroy / Getty Images
By Dan Gray
Processed foods, in their many delicious forms, are an American favorite.
But new research shows that despite increasing evidence on just how unhealthy processed foods are, Americans have continued to eat the products at the same rate.
By Sarah Steffen
With a profound understanding of their environmental surroundings, indigenous communities around the world are often cited as being pivotal to tackling climate change.