Unprecedented Video Campaign: Scientists Talk About Why Climate Change Matters to Them Personally
Mar. 16, 2015 08:53AM EST
Climate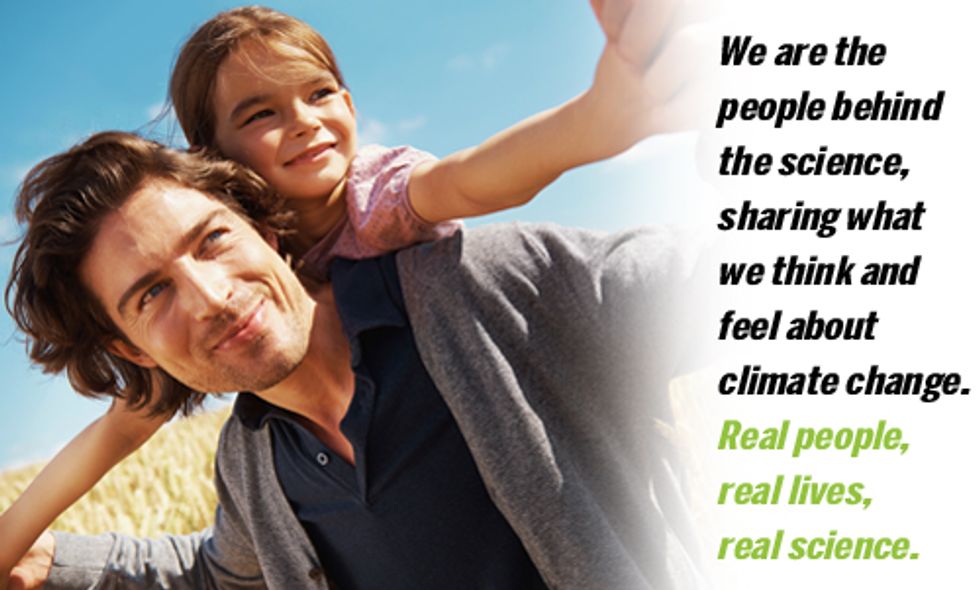 Scientists can be a dry bunch, making listeners yawn as they unspool their facts and figures. They're usually not schooled in the art of slick PR, which often makes their reality-based research a harder sell than the beguiling fantasies of those who want to deny it.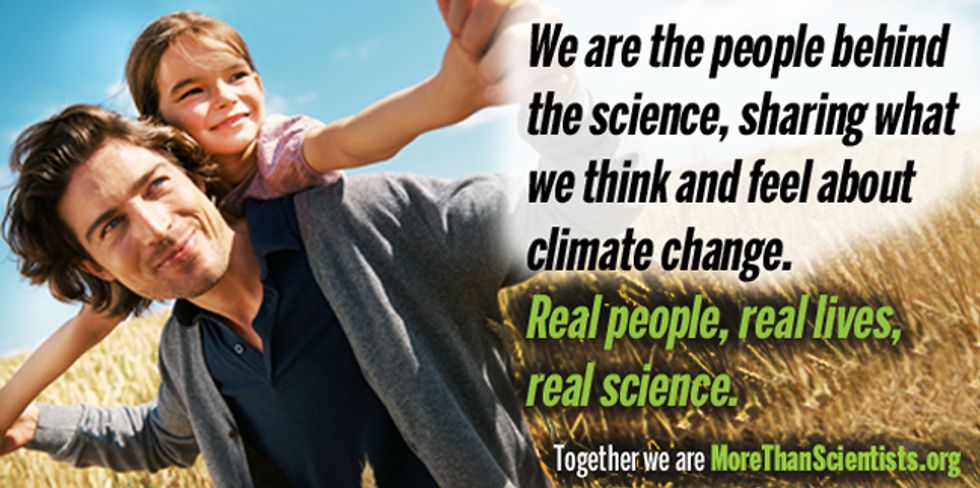 Nowhere is this more true than in the field of climate research. We know that 97 percent of scientists agree: climate change is real and it's driven by human activity. But well-funded climate deniers and their smooth-talking frontmen often manage to get the media to frame climate change as a "two equal sides" issue.
In an unprecedented collaboration between climate scientists, advocacy organizations and the public, More Than Scientists, which launched today, sources the real life stories and personal views of scientists on the frontlines of climate research. In a series of short videos, scientists who work in climate-related disciplines don't spew facts and figures, but rather the personal concerns that those facts and figures have led them to. They talk about the potential impact of climate change on their families, their communities and the environment, with the hope that this will spur people into taking action.
"We created More Than Scientists to make a better connection between the scientists and the people that need to hear their message," says campaign director Eric Michelman, founder of the Climate Change Education Project which created More Than Scientists. "We want the public to meet the people behind the science and understand why they care about the world we're leaving to our kids and grandkids."
The campaign launch includes more than 200 videos created by dozens of climate scientists from around the world. The videos invite viewers to meet scientists as ordinary people who could be your neighbors, people like LuAnne Thompson, professor of oceanography at the University of Washington, who says, "I do have hope for the future. And that is because I work with undergraduates and graduate students all the time. I see my daughter and her friends and they have immense energy for making positive changes in the future. We have to make changes now that will allow them to bring their ingenuity, their talent and their drive to build a better future. I am making this video as a mother and as someone who has hope for the future."
It doesn't get much more personal than the video testimony of the University of Washington associate professor of atmospheric sciences Dargan Frierson, who is also a musician and brings his mandolin into the classroom and regales his students with songs about climate science.
"My wife and I just recently had a daughter, Eleanor," he says in one of his videos, smiling warmly. "She's really the light of our lives. My wife Julie and I are just so enjoying watching her as a baby, watching her grow up a bit. And when you have a child you naturally think a lot about the future. You want a better future for them. We're making preparations for her future, to ensure she'll have a safe environment to grow up in. And I think we need to be making these same decisions about our climate future. We want all of our children around the world to grow up with a safe climate."
The campaign includes videos from climate scientists at leading universities such as MIT, the University of Washington and Harvard, but it's also inviting scientists from all over the world to contribute their own videos, offering a tool for scientists to upload them.
"Scientists, please join in!" it urges. "Help the public understand that climate change is real, that it is happening, and we do need to act. Help them also get to know you—that you're not an academic in an ivory tower, but a fellow concerned citizen, a parent, a member of the community who is concerned for the future we'll leave our children and grandchildren. Yours is the most powerful voice to rebuff the misinformation about climate change."
The campaign also invites non-scientist viewers to take action.
"There are a lot of ways you can join the community working to tackle climate change, from taking personal actions that limit your greenhouse gas emissions to the way you vote to signing petitions to speaking with your elected officials," the website says. "We believe in an all-of-the-above approach."
To make it easier for people to take those steps, its "get involved" page provides links to 16 environmental groups working on climate change, as well as organizations such as NASA, Woods Hole Oceanographic Institute and the Intergovernmental Panel on Climate Change (IPCC) that offer additional information about environmental issues.
"I'm very excited about this new campaign," says climate scientist Michael E. Mann, director of Penn State's Earth System Science Center and advisory board member of More Than Scientists. "Too few people have seen the lighter and more personal side of climate scientists. Many of us are science nerds. But we are ordinary people too, and like anyone else, we care about our children and grandchildren, and the health of the world we leave behind for them. So I'm very excited about this new campaign and the promise it holds for communicating that message to the public."
David McGee, assistant professor of Paleoclimate at MIT, sums it up perfectly. "The big picture is very clear. The climate is changing, humans are doing things that are causing the climate to change and we have the power to stop that."
YOU MIGHT ALSO LIKE
Meet the 'Merchants of Doubt': Spin Doctors Obscuring the Truth on Climate Change
Scientist Finds Remarkable Way to Connect People Emotionally with Climate Change
Researchers say there's a growing epidemic of tap water distrust and disuse in the U.S. Teresa Short / Moment Open / Getty Images
By Asher Rosinger
Imagine seeing a news report about lead contamination in drinking water in a community that looks like yours. It might make you think twice about whether to drink your tap water or serve it to your kids – especially if you also have experienced tap water problems in the past.
Why tap wins every time.
Asher Rosinger is an assistant professor of biobehavioral health, anthropology, and demography and director of the Water, Health, and Nutrition Laboratory at Penn State University.

Disclosure statement: Asher Rosinger receives funding from the National Science Foundation on an unrelated project. This work was supported by the Ann Atherton Hertzler Early Career Professorship funds, and the Penn State Population Research Institute (NICHD P2CHD041025). The funders had no role in the research or interpretation of results.
Reposted with permission from The Conversation.
EcoWatch Daily Newsletter
A new report urges immediate climate action to control global warming. John W Banagan / Getty Images
A new report promoting urgent climate action in Australia has stirred debate for claiming that global temperatures will rise past 1.5 degrees Celsius in the next decade.
Winegrowers check vines during the burning of anti-frost candles in the Luneau-Papin wine vineyard in Le Landreau, near Nantes, western France, on April 12, 2021. SEBASTIEN SALOM-GOMIS / AFP via Getty Images
French winemakers are facing devastating grape loss from the worst frost in decades, preceded by unusually warm temperatures, highlighting the dangers to the sector posed by climate change.
"An important share of the harvest has been lost. It's too early to give a percentage estimate, but in any case it's a tragedy for the winegrowers who have been hit," said Christophe Chateau, director of communications at the Bordeaux Wine Council, told CNN.
Climate change, caused by the extraction and combustion of fossil fuels, has pushed winegrowing seasons earlier, putting crops at higher risk of cold — and wildfires supercharged by climate change also threaten American vignerons and farmworkers as well.
"I think it's good for people to understand that this is nature, climate change is real, and to be conscious of the effort that goes into making wine and the heartbreak that is the loss of a crop," Jeremy Seysses of Domaine Dujac in Burgundy's Côte de Nuits told Wine Enthusiast.
As reported by Wine Enthusiast:
Last week, images of candlelit French vineyards flooded social media. Across the country, winemakers installed bougies, or large wax-filled metal pots, among the vines to prevent cold air from settling in during an especially late frost.

With temperatures in early April as low as 22°F, and following an unseasonably warm March, this year's frost damage may be the worst in history for French winegrowers. Every corner of France reports considerable losses, from Champagne to Provence, and Côtes de Gascogne to Alsace. As a result, there will likely be very little French wine from the 2021 vintage reaching U.S. shores.
For a deeper dive:

CNN, Wine Enthusiast, France24, Eater
For more climate change and clean energy news, you can follow Climate Nexus on Twitter and Facebook, sign up for daily Hot News, and visit their news site, Nexus Media News.
From Your Site Articles
Related Articles Around the Web
A recent study focused on regions in Ethiopia, Africa's largest coffee-producing nation. Edwin Remsberg / Getty Images
Climate change could make it harder to find a good cup of coffee, new research finds. A changing climate might shrink suitable areas for specialty coffee production without adaptation, making coffee taste blander and impacting the livelihoods of small farms in the Global South.
In "Weather," Jenny Offill tells the story of a librarian named Lizzie who prepares for a climate apocalypse. Andrew Merry / Getty Images
By Suzanne Cords
One day Lizzie, the first-person narrator of the novel, receives an old book as a gift, with a dedication wishing the reader to be among the survivors. Like the preppers who build bunkers and stockpile supplies in remote areas to be ready for the end of the world, Lizzie is convinced that the end of the world is definitely near in times of a threatening climate disaster.
Lizzie, who lives in New York with her husband and son, is a university campus librarian. She worries about almost everything: her brother, an ex-junkie, or her dental insurance and the future in the face of the apocalypse. She is obsessed with reading reference books and articles about climate change.
She also devours words of wisdom, including about Buddhist spirituality: "A visitor once asked the old monks on Mount Athos what they did all day, and was told: We have died and we are in love with everything." But nothing can lift her spirits.
'Lizzie Is Just Like Us'
Lizzie observes rich New Yorkers plan their move to regions that are less threatened by climate change, something she simply cannot afford. Sometimes she watches disaster movies, which lead her to worry even more.
Above all, she is a gifted observer of her fellow human beings. "Young person worry: What if nothing I do matters? Old person worry: What if everything I do, does?"
Lizzie, the U.S. author told DW, is a bit like the rest of us — well aware of the climate crisis, but because she cares and worries about so many other things, that awareness falls by the wayside. That's how she felt herself, Jenny Offill said, but the more she looked into the issue, the more she saw a need for action on her part, too.

"I also was trying to see if there was a way to make it funny, because, you know, so much of the world of prepping and imagining disaster is actually sort of strangely funny."
The novel was shortlisted for the 2020 UK's Women's Prize for Fiction and has now been released in German translation.
Climate Activist With a Vision
But then, there is also this serious, scientifically based concern about what climate change means. In the past, says Offill, artists were the ones who would predict disasters; today it's the experts, as well as the students she teaches. In the end, their fears and their justified anger motivated her to take a closer look at the issue. Today, she is a climate activist herself, and is involved in initiatives along with many other artists.
Lizzie, the heroine of Weather, hasn't gotten that far. But she voices her fears, and that's a start. "Of course, the world continues to end," says Sylvia, a mentor of Lizzie's, at one point — and commences to water her garden. There is hope after all.
Reposted with permission from Deutsche Welle.