This website uses cookies to ensure you get the best experience while browsing it. By clicking 'Got It' you're accepting these terms.
Unprecedented Video Campaign: Scientists Talk About Why Climate Change Matters to Them Personally
Mar. 16, 2015 07:53AM EST
Climate
Scientists can be a dry bunch, making listeners yawn as they unspool their facts and figures. They're usually not schooled in the art of slick PR, which often makes their reality-based research a harder sell than the beguiling fantasies of those who want to deny it.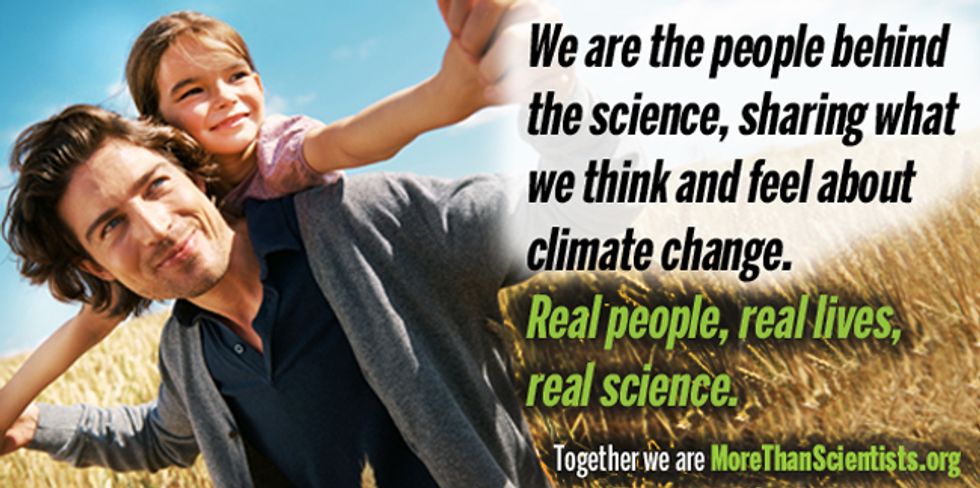 Nowhere is this more true than in the field of climate research. We know that 97 percent of scientists agree: climate change is real and it's driven by human activity. But well-funded climate deniers and their smooth-talking frontmen often manage to get the media to frame climate change as a "two equal sides" issue.
In an unprecedented collaboration between climate scientists, advocacy organizations and the public, More Than Scientists, which launched today, sources the real life stories and personal views of scientists on the frontlines of climate research. In a series of short videos, scientists who work in climate-related disciplines don't spew facts and figures, but rather the personal concerns that those facts and figures have led them to. They talk about the potential impact of climate change on their families, their communities and the environment, with the hope that this will spur people into taking action.
"We created More Than Scientists to make a better connection between the scientists and the people that need to hear their message," says campaign director Eric Michelman, founder of the Climate Change Education Project which created More Than Scientists. "We want the public to meet the people behind the science and understand why they care about the world we're leaving to our kids and grandkids."
The campaign launch includes more than 200 videos created by dozens of climate scientists from around the world. The videos invite viewers to meet scientists as ordinary people who could be your neighbors, people like LuAnne Thompson, professor of oceanography at the University of Washington, who says, "I do have hope for the future. And that is because I work with undergraduates and graduate students all the time. I see my daughter and her friends and they have immense energy for making positive changes in the future. We have to make changes now that will allow them to bring their ingenuity, their talent and their drive to build a better future. I am making this video as a mother and as someone who has hope for the future."
It doesn't get much more personal than the video testimony of the University of Washington associate professor of atmospheric sciences Dargan Frierson, who is also a musician and brings his mandolin into the classroom and regales his students with songs about climate science.
"My wife and I just recently had a daughter, Eleanor," he says in one of his videos, smiling warmly. "She's really the light of our lives. My wife Julie and I are just so enjoying watching her as a baby, watching her grow up a bit. And when you have a child you naturally think a lot about the future. You want a better future for them. We're making preparations for her future, to ensure she'll have a safe environment to grow up in. And I think we need to be making these same decisions about our climate future. We want all of our children around the world to grow up with a safe climate."
The campaign includes videos from climate scientists at leading universities such as MIT, the University of Washington and Harvard, but it's also inviting scientists from all over the world to contribute their own videos, offering a tool for scientists to upload them.
"Scientists, please join in!" it urges. "Help the public understand that climate change is real, that it is happening, and we do need to act. Help them also get to know you—that you're not an academic in an ivory tower, but a fellow concerned citizen, a parent, a member of the community who is concerned for the future we'll leave our children and grandchildren. Yours is the most powerful voice to rebuff the misinformation about climate change."
The campaign also invites non-scientist viewers to take action.
"There are a lot of ways you can join the community working to tackle climate change, from taking personal actions that limit your greenhouse gas emissions to the way you vote to signing petitions to speaking with your elected officials," the website says. "We believe in an all-of-the-above approach."
To make it easier for people to take those steps, its "get involved" page provides links to 16 environmental groups working on climate change, as well as organizations such as NASA, Woods Hole Oceanographic Institute and the Intergovernmental Panel on Climate Change (IPCC) that offer additional information about environmental issues.
"I'm very excited about this new campaign," says climate scientist Michael E. Mann, director of Penn State's Earth System Science Center and advisory board member of More Than Scientists. "Too few people have seen the lighter and more personal side of climate scientists. Many of us are science nerds. But we are ordinary people too, and like anyone else, we care about our children and grandchildren, and the health of the world we leave behind for them. So I'm very excited about this new campaign and the promise it holds for communicating that message to the public."
David McGee, assistant professor of Paleoclimate at MIT, sums it up perfectly. "The big picture is very clear. The climate is changing, humans are doing things that are causing the climate to change and we have the power to stop that."
YOU MIGHT ALSO LIKE
Meet the 'Merchants of Doubt': Spin Doctors Obscuring the Truth on Climate Change
Scientist Finds Remarkable Way to Connect People Emotionally with Climate Change
EcoWatch Daily Newsletter
At least 1,688 dams across the U.S. are in such a hazardous condition that, if they fail, could force life-threatening floods on nearby homes, businesses, infrastructure or entire communities, according to an in-depth analysis of public records conducted by the the Associated Press.
By Sabrina Kessler
Far-reaching allegations about how a climate-sinning American multinational could shamelessly lie to the public about its wrongdoing mobilized a small group of New York students on a cold November morning. They stood in front of New York's Supreme Court last week to follow the unprecedented lawsuit against ExxonMobil.
By Alex Robinson
Leah Garcés used to hate poultry farmers.
The animal rights activist, who opposes factory farming, had an adversarial relationship with chicken farmers until around five years ago, when she sat down to listen to one. She met a poultry farmer called Craig Watts in rural North Carolina and learned that the problems stemming from factory farming extended beyond animal cruelty.
People navigate snow-covered sidewalks in the Humboldt Park neighborhood on Nov. 11 in Chicago. Scott Olson / Getty Images
Temperatures plunged rapidly across the U.S. this week and around 70 percent of the population is expected to experience temperatures around freezing Wednesday.
A general view of the flooded St. Mark's Square after an exceptional overnight "Alta Acqua" high tide water level, on Nov. 13 in Venice. MARCO BERTORELLO / AFP / Getty Images
President Donald Trump doesn't like wind turbines.
In April, he claimed they caused cancer, and he sued to stop an offshore wind farm that was scheduled to go up near land he had purchased for a golf course in Aberdeenshire in Scotland. He lost that fight, and now the Trump Organization has agreed to pay the Scottish government $290,000 to cover its legal fees, The Washington Post reported Tuesday.
A verdant and productive urban garden in Havana. Susanne Bollinger / Wikimedia Commons
By Paul Brown
When countries run short of food, they need to find solutions fast, and one answer can be urban farming.
Trevor Noah appears on set during a taping of "The Daily Show with Trevor Noah" in New York on Nov. 26, 2018.
The Daily Show With Trevor Noah / YouTube screenshot