This website uses cookies to ensure you get the best experience while browsing it. By clicking 'Got It' you're accepting these terms.


The best of EcoWatch, right in your inbox. Sign up for our email newsletter!
University of Michigan and Muhlenberg College Study: Most Americans Support Carbon Tax if Revenue Supports Renewable Energy
Jul. 21, 2014 09:54AM EST
While some U.S. are lukewarm on the idea of taxing fossil fuel companies for emitting carbon, more are willing to support a tax if the funds support cleaner energy.
According to the University of Michigan and Muhlenberg College's Spring 2014 National Surveys on Energy and Environment (NSEE), most Americans—56 percent—support a revenue-neutral carbon tax, in which all tax revenue would be returned to the public as a rebate check. However, that amount rises to 60 percent if revenues would be used to fund research and development for renewable energy programs.
The study, authored by professors from Michigan's Gerald R. Ford School of Public Policy and Muhlenberg's College of Political Science and its Accounting, Business & Economics department, shows that the carbon tax support spreads across all political parties.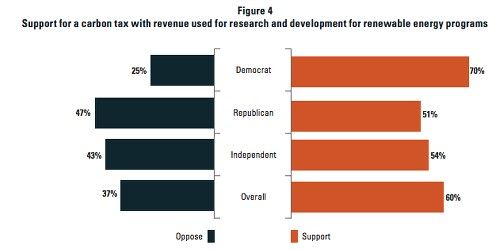 The carbon tax coupled with renewable energy research earns majority support across all political categories, including a little more than half of Republicans.
If a carbon tax's revenues were used to reduce the federal budget deficit, only 38 percent of Americans would support it, the study suggests. A tax with unspecified revenue direction would receive the least support, with 34 percent.
The study's authors believe harsh winters, reports like the most recent round from the Intergovernmental Panel on Climate Change and the work of environmentalists have combined to shift the public's thoughts on climate change.
"Climate change is a highly politicized issue, and we find strong evidence of a partisan divide. Democrats express more support for all the policies in our survey than Republicans do, with Independents generally clustering more closely to Democrats," the report reads. "However, respondents across all parties express considerably more support for a carbon tax when a use of revenue is attached."
The study also followed up with respondents by asking which use of revenue they would prefer for a carbon tax. Renewable energy edged out tax rebate checks.

"The cold winters of 2013 and 2014 have eroded the public's beliefs in the existence of global warming, and the recent political landscape has not favored legislative action on climate change at the federal level," the report concludes. "Nonetheless, several states and many other countries are moving ahead with market-based climate change mitigation policies and recent regulatory steps by the U.S. Environmental Protection Agency may reopen this discussion in many states.
"Conventional wisdom holds that a carbon tax, while attractive on economic grounds, is a political non-starter. The survey results reported here suggest that this conclusion may be premature."
EcoWatch Daily Newsletter
jenifoto / iStock / Getty Images
Many people consider granola bars a convenient and healthy snack and enjoy their flavor and versatility.
A common green darners (Anax junius). Judy Gallagher / Flickr
By Jason Bittel
It's that time of year again: Right now, monarch butterflies are taking wing in the mountains of northwestern Mexico and starting to flap their way across the United States.
fstop123 / iStock / Getty Images Plus
At EcoWatch, our team knows that changing personal habits and taking actions that contribute to a better planet is an ongoing journey. Earth Day, happening on April 22, is a great reminder for all of us to learn more about the environmental costs of our behaviors like food waste or fast fashion.
To offer readers some inspiration this Earth Day, our team rounded up their top picks for films to watch. So, sit back and take in one of these documentary films this Earth Day. Maybe it will spark a small change you can make in your own life.
Denali national park. Domen Jakus / Flickr / CC BY-NC 2.0
By Stephanie Gagnon
Happy National Parks Week! This year, between April 20 and 28, escape to the beautiful national parks — either in person or in your imagination — and celebrate the amazing wildlife that calls these spaces home.
Sesame, three months old, at Seal Rescue Irleand.
Screenshot / Seal Rescue Ireland Instagram
On Friday, Seal Rescue Ireland released Sesame the seal into the ocean after five months of rehabilitation at the Seal Rescue Ireland facility. Watch the release on EcoWatch's Facebook.

Beer packs of Guinness will now come in a cardboard box. Diageo

By Jordan Davidson
Guinness is joining the fight against single use plastic. The brewer has seen enough hapless turtles and marine life suffering from the scourge of plastic.
Maskot / Getty Images
People of all ages are spending more of their day looking at their phones, computers and television screens, but parents now have another reason for limiting how much screen time their children get — it could lead to behavioral problems.