This website uses cookies to ensure you get the best experience while browsing it. By clicking 'Got It' you're accepting these terms.
University of Michigan and Muhlenberg College Study: Most Americans Support Carbon Tax if Revenue Supports Renewable Energy
Jul. 21, 2014 09:54AM EST
While some U.S. are lukewarm on the idea of taxing fossil fuel companies for emitting carbon, more are willing to support a tax if the funds support cleaner energy.
According to the University of Michigan and Muhlenberg College's Spring 2014 National Surveys on Energy and Environment (NSEE), most Americans—56 percent—support a revenue-neutral carbon tax, in which all tax revenue would be returned to the public as a rebate check. However, that amount rises to 60 percent if revenues would be used to fund research and development for renewable energy programs.
The study, authored by professors from Michigan's Gerald R. Ford School of Public Policy and Muhlenberg's College of Political Science and its Accounting, Business & Economics department, shows that the carbon tax support spreads across all political parties.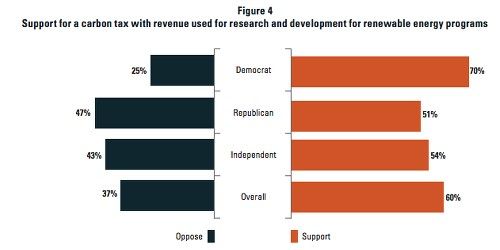 The carbon tax coupled with renewable energy research earns majority support across all political categories, including a little more than half of Republicans.
If a carbon tax's revenues were used to reduce the federal budget deficit, only 38 percent of Americans would support it, the study suggests. A tax with unspecified revenue direction would receive the least support, with 34 percent.
The study's authors believe harsh winters, reports like the most recent round from the Intergovernmental Panel on Climate Change and the work of environmentalists have combined to shift the public's thoughts on climate change.
"Climate change is a highly politicized issue, and we find strong evidence of a partisan divide. Democrats express more support for all the policies in our survey than Republicans do, with Independents generally clustering more closely to Democrats," the report reads. "However, respondents across all parties express considerably more support for a carbon tax when a use of revenue is attached."
The study also followed up with respondents by asking which use of revenue they would prefer for a carbon tax. Renewable energy edged out tax rebate checks.

"The cold winters of 2013 and 2014 have eroded the public's beliefs in the existence of global warming, and the recent political landscape has not favored legislative action on climate change at the federal level," the report concludes. "Nonetheless, several states and many other countries are moving ahead with market-based climate change mitigation policies and recent regulatory steps by the U.S. Environmental Protection Agency may reopen this discussion in many states.
"Conventional wisdom holds that a carbon tax, while attractive on economic grounds, is a political non-starter. The survey results reported here suggest that this conclusion may be premature."
EcoWatch Daily Newsletter
Fabian Krause / EyeEm / Getty Images
Water protectors of all persuasions gathered in talking circles at Borderland Ranch in Pe'Sla, the heart of the sacred Black Hills, during the first Sovereign Sisters Gathering. At the center are Cheryl Angel in red and white and on her left, Lyla June. Tracy Barnett
By Tracy L. Barnett
Sources reviewed this article for accuracy.
For Sicangu Lakota water protector Cheryl Angel, Standing Rock helped her define what she stands against: an economy rooted in extraction of resources and exploitation of people and planet. It wasn't until she'd had some distance that the vision of what she stands for came into focus.
Hedges, 2019 © Hugh Hayden. All photos courtesy of Lisson Gallery
By Patrick Rogers
"I'm really into trees," said the sculptor Hugh Hayden. "I'm drawn to plants."
BruceBlock / iStock / Getty Images
Thanks to their high concentration of powerful plant compounds, foods with a natural purple hue offer a wide array of health benefits.
Environmental Investigation Agency
Last week, the Peruvian Palm Oil Producers' Association (JUNPALMA) promised to enter into an agreement for sustainable and deforestation-free palm oil production. The promise was secured by the U.S. based National Wildlife Federation (NWF) in collaboration with the local government, growers and the independent conservation organization Sociedad Peruana de Ecodesarrollo.
Pixabay
Leaked documents show that Jair Bolsonaro's government intends to use the Brazilian president's hate speech to isolate minorities living in the Amazon region. The PowerPoint slides, which democraciaAbierta has seen, also reveal plans to implement predatory projects that could have a devastating environmental impact.
XL CATLIN SEAVIEW SURVEY / THE OCEAN AGENCY
Hope may be on the horizon for the world's depleted coral reefs thanks to scientists who successfully reproduced endangered corals in a laboratory setting for the first time, according to Reuters.