This website uses cookies to ensure you get the best experience while browsing it. By clicking 'Got It' you're accepting these terms.
University of Michigan and Muhlenberg College Study: Most Americans Support Carbon Tax if Revenue Supports Renewable Energy
Jul. 21, 2014 09:54AM EST
While some U.S. are lukewarm on the idea of taxing fossil fuel companies for emitting carbon, more are willing to support a tax if the funds support cleaner energy.
According to the University of Michigan and Muhlenberg College's Spring 2014 National Surveys on Energy and Environment (NSEE), most Americans—56 percent—support a revenue-neutral carbon tax, in which all tax revenue would be returned to the public as a rebate check. However, that amount rises to 60 percent if revenues would be used to fund research and development for renewable energy programs.
The study, authored by professors from Michigan's Gerald R. Ford School of Public Policy and Muhlenberg's College of Political Science and its Accounting, Business & Economics department, shows that the carbon tax support spreads across all political parties.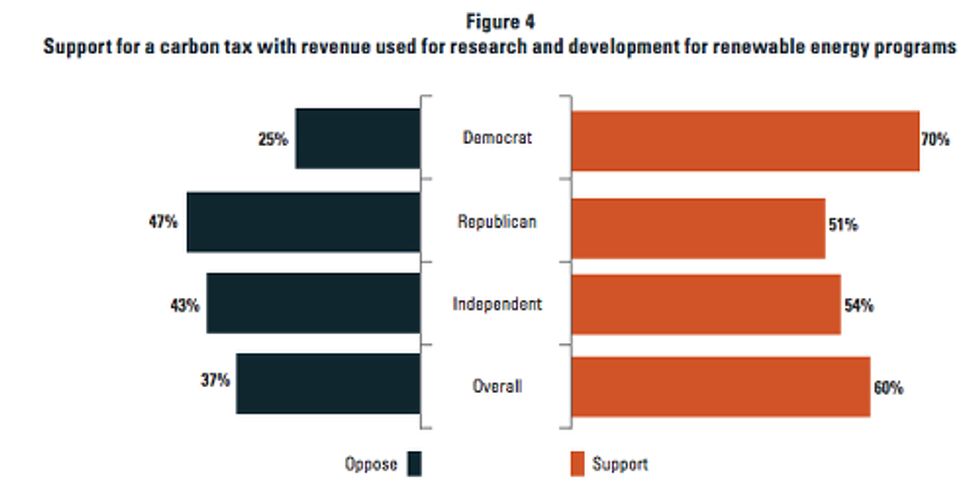 The carbon tax coupled with renewable energy research earns majority support across all political categories, including a little more than half of Republicans.
If a carbon tax's revenues were used to reduce the federal budget deficit, only 38 percent of Americans would support it, the study suggests. A tax with unspecified revenue direction would receive the least support, with 34 percent.
The study's authors believe harsh winters, reports like the most recent round from the Intergovernmental Panel on Climate Change and the work of environmentalists have combined to shift the public's thoughts on climate change.
"Climate change is a highly politicized issue, and we find strong evidence of a partisan divide. Democrats express more support for all the policies in our survey than Republicans do, with Independents generally clustering more closely to Democrats," the report reads. "However, respondents across all parties express considerably more support for a carbon tax when a use of revenue is attached."
The study also followed up with respondents by asking which use of revenue they would prefer for a carbon tax. Renewable energy edged out tax rebate checks.

"The cold winters of 2013 and 2014 have eroded the public's beliefs in the existence of global warming, and the recent political landscape has not favored legislative action on climate change at the federal level," the report concludes. "Nonetheless, several states and many other countries are moving ahead with market-based climate change mitigation policies and recent regulatory steps by the U.S. Environmental Protection Agency may reopen this discussion in many states.
"Conventional wisdom holds that a carbon tax, while attractive on economic grounds, is a political non-starter. The survey results reported here suggest that this conclusion may be premature."
EcoWatch Daily Newsletter
The icebreaker Polar Star in Antarctica. Ville Miettinen / The Revelator / CC BY-NC 2.0
By Tara Lohan
Part of Joellen Russell's job is to help illuminate the deep darkness — to shine a light on what's happening beneath the surface of the ocean. And it's one of the most important jobs in the world right now.
Psychedelic mushrooms are currently classified as a Schedule I drug by the FDA, and possession is a felony nationwide. juriskraulis / iStock / Getty Images
Democratic presidential candidate, former Vice President Joe Biden speaks during a campaign town hall meeting at Vista Grande Jan. 28 in Clinton, Iowa. The Iowa caucuses are February 3. Chip Somodevilla / Getty Images
Joe Biden put his hand on the chest of an Iowa voter and told the man to vote for someone else when the voter asked the former vice president about his plans to replace gas pipelines, The Independent reported.
Greening the barren mountain has helped recharge groundwater levels in the villages. Photo by Gurvinder Singh. Mongabay India
Jamini Mohan Mahanty is out for a morning walk every day. At 91, he is hale and hearty. A resident of Jharbagda village in Purulia district, West Bengal, Mahanty thanks the "green mountain" in his village for having added some extra years to his life.

A wild Woodland Bison walks in the Arctic wilderness. RyersonClark / iStock / Getty Images Plus