This website uses cookies to ensure you get the best experience while browsing it. By clicking 'Got It' you're accepting these terms.
Unity College Students Are Putting Biodiversity Loss and Global Warming Into Focus
Apr. 30, 2015 12:45PM EST
Alison Vilag of Berrien Springs, Michigan, is a junior majoring in environmental writing and media studies at Unity College in Unity, Maine.
Just a microscopic invertebrate, tardigrades are death-defying organisms that sound like Sci-Fi fodder.
"They're extremely hardy little creatures," says Kyle Pisano, a sophomore studying marine biology at Unity College. "They're resistant to radiation, dehydration, they can survive the vacuum of space. They can survive boiling water … they can basically become indestructible."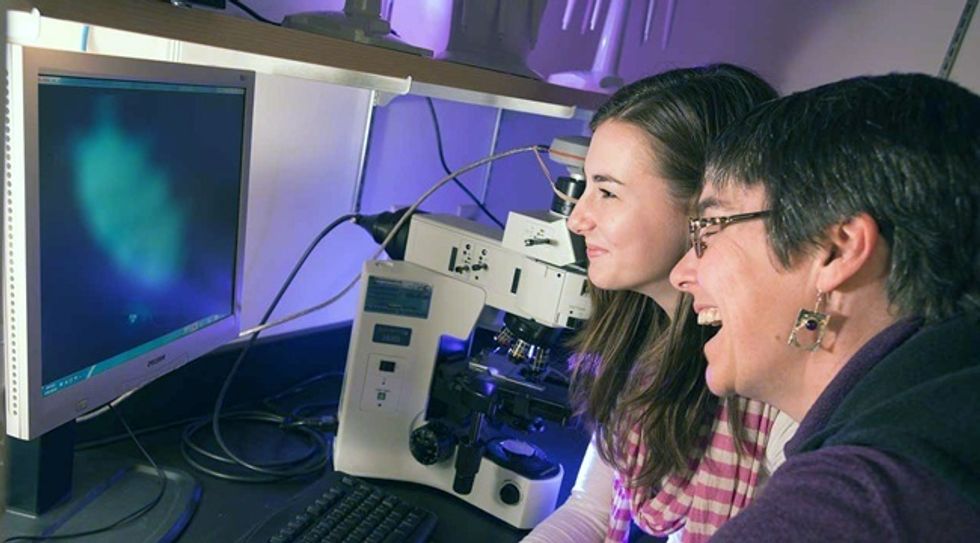 Tardigrades' invisibility trumps their invincibility, though. Few of us are familiar with the animal, and Pisano says they're woefully under-researched.
So, tardigrade fans are excited that the organisms are getting their turn in the spotlight. Rather than starring in science fiction, tardigrades are featured at Life at the Limits, an ongoing exhibit at the American Museum of Natural History in New York.
The display reveals animals that thrive in extreme conditions. 
A 12-foot tardigrade model graces the exhibit as a mascot of sorts but, as tardigrade identification can be quite complicated, somewhere in the construction, a discrepancy occurred in the mascot model's claw composition. Unity College students noticed the claw error, and it was corrected by museum officials.
Why are tardigrades—not to mention accurately portrayed tardigrades—important?
"Loss of biodiversity is one of the most obvious and critical issues that is occurring on our planet right now," said Emma Perry, associate professor of Marine Biology who spearheads tardigrade research at Unity College—"America's environmental college," where she teaches a course in invertebrate zoology. 
"We really need to know what we have," Perry said. "We can't document a loss if we don't know how to identify it, so there's an international need for people with the skills to identify organisms."
Students in Unity's program get those skills as Perry's class gives them the opportunity to regularly collect, mount, and identify tardigrades.
When they caught wind of Life at the Limits through a Buzzfeed article, they were delighted.
Naturally, Perry and her students wanted the exhibit to be accurate, so when they noticed the claw discrepancy, they decided to contact the museum.
"If the public's seeing it, we want it to be right. And as a natural history museum, they want it to be right too," said Natalie Ameral, also a marine biology student at Unity.
Perry contacted Dr. Mark Siddall, one of the exhibit's curators. She conveyed her excitement that tardigrades were finally getting some museum-quality love, then asked Siddall if there was any chance the model could be corrected before the exhibit opened.
"Museums are a critical player in our study of biodiversity," says Perry. "Any way we can work with them is all for the greater good."
The class got an "an awesome response" from the museum, Ameral said. "They were really open to our critiques and wanted to make changes so that it would be correct. It was really cool."
The museum re-created the tardigrade claws in light of Perry's suggestions. As an unexpected bonus, Siddall also invited the class down for a private tour of the exhibit.
Ameral describes tardigrades as microscopic organisms that "people never really think about and never really have to think about."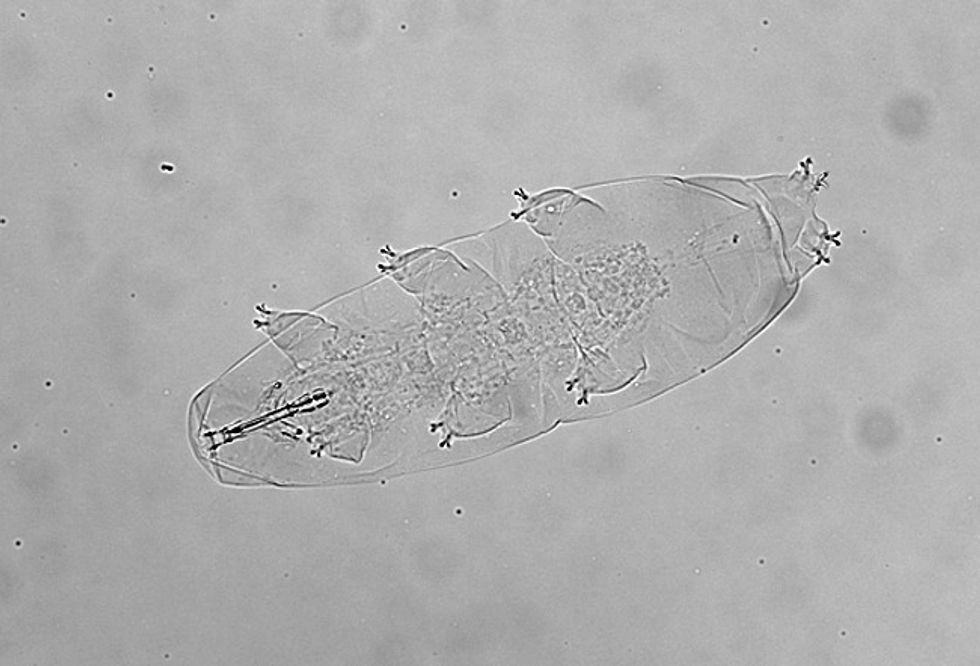 Like most students, she knew little about tardigrades before she enrolled at Unity.
That changed quickly, though. Ameral currently assists Perry as they create an identification key for a specific group of tardigrades. Perry's passion for tardigrades is legendary on campus, and apparent from the moment you enter her office and witness cases upon cases of tardigrade slides.
Tardigrades are tiny (.039 of an inch on average) invertebrate organisms and, despite their small size, are big enough to be seen using a low-power microscope.
More than 1,000 species of tardigrades exist globally and occupy all of earth's major ecosystems. They are found all across the globe and can thrive in some of the most hostile conditions on Earth, from the deepest Maine lakes to the vacuum of outer space.
Scientific tardigrade research is important because, according to the Consortium of European Taxonomy Facilities (CETAF), "biodiversity loss, global warming and other environmental issues need natural history collections and related expertise as sources of knowledge and for reference."
One might think that an animal this resilient and widespread would be well-studied and widely-known. Actually, they're shrouded in enigma.
Why is there still so much to learn about tardigrades?
Ameral and Pisano say it's not just the Lilliputian size that renders tardigrades easily-overlooked; the mystery of where humans and tardigrades intersect also factors.
Until enough evidence accumulates to demonstrate how tardigrades affect human life, it's hard to get research money, says Pisano: "Unfortunately, people don't tend to care about what doesn't affect them."
Under Perry's tutelage, Unity students are well equipped for fundamental scientific research on the species. They have specific objectives and a sound understanding of techniques for researching tarigrades which include observing, measuring, sorting, codifying and discovering.
Currently, students are looking at tardigrades that live on the apple trees at different distances from the central Maine campus, as well as working on samples from the Hemlock Ecosystem Management Study plots.
"This is a really unique project that I would not have gotten at a bigger school or probably wouldn't have learned about anywhere else," says Ameral. "It's a very special opportunity that we have here."
YOU MIGHT ALSO LIKE
See Stunning Photos of What Rob Greenfield Finds After Dumpster Diving Across America
Net Zero Carbon Emissions: An Idea Whose Time Has Come
Watch John Oliver Send 'Suspiciously Cheap' Food to Fashion CEOs Selling 'Shockingly Cheap' Clothing
EcoWatch Daily Newsletter
Pexels
By Charli Shield
At unsettling times like the coronavirus outbreak, it might feel like things are very much out of your control. Most routines have been thrown into disarray and the future, as far as the experts tell us, is far from certain.
Pie Ranch in San Mateo, California, is a highly diverse farm that has both organic and food justice certification. Katie Greaney
By Elizabeth Henderson
Farmworkers, farmers and their organizations around the country have been singing the same tune for years on the urgent need for immigration reform. That harmony turns to discord as soon as you get down to details on how to get it done, what to include and what compromises you are willing to make. Case in point: the Farm Workforce Modernization Act (H.R. 5038), which passed in the House of Representatives on Dec. 11, 2019, by a vote of 260-165. The Senate received the bill the next day and referred it to the Committee on the Judiciary, where it remains. Two hundred and fifty agriculture and labor groups signed on to the United Farm Workers' (UFW) call for support for H.R. 5038. UFW President Arturo Rodriguez rejoiced:
A woman walks to her train in Grand Central Terminal as New York City attempts to slow down the spread of coronavirus through social distancing on March 27. John Lamparski / Getty Images
By Julia Conley
A council representing more than 800,000 doctors across the U.S. signed a letter Friday imploring President Donald Trump to reverse his call for businesses to reopen by April 12, warning that the president's flouting of the guidance of public health experts could jeopardize the health of millions of Americans and throw hospitals into even more chaos as they fight the coronavirus pandemic.
polaristest / Flickr / CC BY-NC-ND 2.0
By Melissa Kravitz Hoeffner
Over six gallons of water are required to produce one gallon of wine. "Irrigation, sprays, and frost protection all [used in winemaking] require a lot of water," explained winemaker and sommelier Keith Wallace, who's also a professor and the founder of the Wine School of Philadelphia, the largest independent wine school in the U.S. And water waste is just the start of the climate-ruining inefficiencies commonplace in the wine industry. Sustainably speaking, climate change could be problematic for your favorite glass of wine.
Pixabay
Spinach is a true nutritional powerhouse, as it's rich in vitamins, minerals, and antioxidants.