United on the Road to Paris—and Beyond
2015 is shaping up to be the year when the world takes action on the global climate crisis. Business leaders, non-profit organizations, NGOs, national governments and citizens all over the world are mobilizing in the lead-up to December's United Nations Framework Convention on Climate Change 21st Conference of the Parties in Paris (COP21), where we hope national leaders will sign a strong emissions reductions agreement.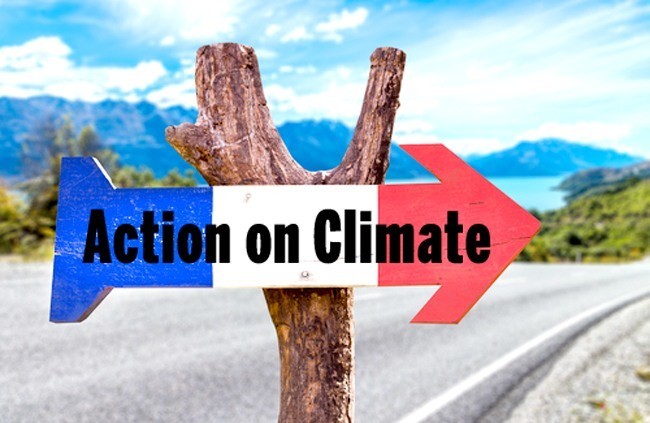 The Paris negotiations represent a critical opportunity for the international community to take a bold step forward to halt climate change. At The Climate Reality Project we believe COP21 is our best chance yet to secure a strong international agreement that includes meaningful emissions reductions commitments based on national circumstances, a system of periodic review for these commitments and a long-term goal of net zero carbon emissions.
To harness this global momentum towards COP21, The Climate Reality Project recently launched its Road to Paris campaign. The campaign focuses on garnering public support from the international community and citizens in eight key countries that are strategically significant for COP21: Australia, Brazil, Canada, China, India, Philippines, South Africa and the U.S.
In each of these countries, The Climate Reality Project's Road to Paris campaign will build on the work we've already undertaken, including training new members of the Climate Reality Leadership Corps and activating local branches, which will employ social/digital earned media tactics to educate and mobilize communities, hold events, and offer practical suggestions for grassroots action people can take to support and strengthen the commitments their national governments have made. Our partnership with Live Earth: Road to Paris will also play a significant role in the campaign and serve as a rallying point for in-country programs this summer.
So what does the Road to Paris look like on the ground?
In the U.S., our Road to Paris campaign will foster public support for the climate efforts already underway—most notably the United States' initial commitment for the COP21 negotiations and the U.S. Environmental Protection Agency's Clean Power Plan—and train a new cadre of Climate Reality Leaders.
To take a step back, the United Nations has called for each country to submit an initial commitment—officially called an intended nationally determined contribution (INDC)—for reducing carbon emissions domestically. Countries around the world have waited to see if the United States would make good on President Obama's own calls for climate action. At the end of March, the country did just that, committing for the first time to reducing carbon pollution based on real world targets with real world policies, by announcing an INDC that would reduce national greenhouse gas emissions 26-28 percent below 2005 levels by 2025.
The U.S. plans to accomplish this largely through existing policies like fuel economy standards for vehicles and the Clean Power Plan, the first-ever national standard that would limit emissions from existing power plants. This proposed rule is significant for the United States because 40 percent of the U.S. carbon pollution that drives climate disruption comes from power plants—the rule would cut emissions by 30 percent below 2005 levels by 2030, making it the largest single action that the United States has taken to address climate change.
Our goal with the Road to Paris campaign is to help provide the political and social support for the commitment the U.S. has already announced, helping to provide a bold example to encourage other countries around the world to commit to their own strong national plans. Through these efforts, we can build a powerful movement for change at COP21.
And while this year is meaningful in the context of the year-end negotiations, the Road to Paris won't end at the conclusion of COP21. Beyond December, climate change will continue to be a critical issue for countries all over the world. Particularly in the U.S., it is increasingly something that voters care about—a recent national poll of registered voters in the U.S. showed that a majority of voters favor candidates who will take action to fight climate change.
For exactly this reason, the Road to Paris campaign in the U.S. includes a Climate Reality Leadership Corps training in Cedar Rapids, Iowa, this May. The training will not only help to empower the great work of community leaders on the ground there, but will also capture Iowa's unique political significance—as the first caucus state, Iowa's voters will help determine the issues and candidates that will feature in the presidential race for the next 18 months.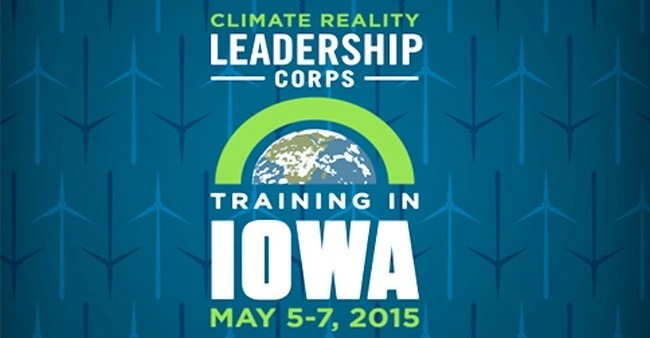 The Iowa training—which will take community leaders and equip them with the knowledge and tools to communicate effectively around climate change—is one of two trainings in the U.S. this year—the other will take place in Miami, Florida in September.
As we look ahead to COP21 and beyond, we must hold leaders of all political parties and at all levels accountable for taking action to combat the largest threat the world has ever faced. We have the solutions to solve the climate crisis and—as the Road to Paris campaign shows—the international community is beginning to take action. Now we must work together to mobilize individuals, organizations and leaders to build the momentum we need to stop global climate change altogether.
Note that a version of this article appears in the May issue of Formiche.
YOU MIGHT ALSO LIKE
250,000 People Call for Action on Climate Change and an End to Extreme Poverty
Must-See: John Oliver and Martin Sheen Make Hilarious Doomsday Video
World Premiere of Chloe & Theo and Its Extraordinary Behind-the-Scenes Story
iStock
By Robert Coleman
The Environmental Working Group's (EWG) just-released Tap Water Database shows that a startling number of cancer-causing chemicals contaminate the nation's drinking water. Of 250 different contaminants detected in tests by local utilities, 93 are linked to an increased risk of developing cancer.
Keep reading...
Show less
Aaron Teasdale
By Aaron Teasdale
"How much moon do we have tonight?" I yelled to my friend Greg, trying to make myself heard over the sounds of wind and surging water. The sun was sinking toward the mountains all too quickly and our float-in campsite lay somewhere down the river's bends in darkening forest.
Greg shrugged. He had no clue of the moon's cycle either, which showed just how tragically pasty and over-civilized we'd turned. Our days had become filled with computer screens, not forest scenes; our nights capped with ceilings, not stars. All of which made this journey on standup paddleboards so sweet—or at least we hoped it would be sweet, if the pesky headwind would let up before we had to risk disfiguring ourselves while navigating boulder-strewn waters by headlamp and whatever light the moon might spare.
Keep reading...
Show less
By Rebekah Wilce
The world of independent chemical testing has a shiny veneer. The public is reassured that chemicals they're exposed to on a daily basis are certified by technicians in spotless white lab coats who carefully conduct scientific studies, including on animals in neat rows of cages.
But a federal grand jury investigation that ended with convictions in the early 1980s discovered that Industrial Bio-Test Laboratories (IBT), the largest such lab in the U.S., conducted trials with mice that regularly drowned in their feeding troughs. The dead animals would decompose so quickly that "their bodies oozed through wire cage bottoms and lay in purple puddles on the dropping trays." IBT even invented an acronym "TBD/TDA" for its raw safety data, later discovered to mean "too badly decomposed."
Keep reading...
Show less
iStock
Roman officials are considering shutting off the water supply to one-third of the city's residents for eight hours per day as early as this weekend, according to reports.
Keep reading...
Show less
Ararat Rock Solar farm in Mount Airy, North Carolina. NARENCO
North Carolina Gov. Roy Cooper signed a bill into law Thursday that will boost solar production but curb wind energy in the state.
House Bill 589, the result of months of arduous negotiations between utilities and the solar industry, is intended to encourage the continued growth of solar in the state, but it includes a moratorium on new wind projects for the next 18 months.
Keep reading...
Show less
Algal blooms in Lake St. Clair and in western Lake Erie in 2015. NASA Earth Observatory
Heavier rainfall linked to rising temperatures could substantially increase the volume of agricultural runoff flowing into waterways, triggering toxic algal blooms, according to new research.
A study published Thursday in the journal Science finds that heavier rainfall could increase nitrogen runoff in U.S. lakes, rivers and streams by 19 percent by the end of this century.
Keep reading...
Show less
iStock
By Jen Sawada
Sharks have been around for 400 million years, before the time of the dinosaurs, but there's much more to them than big teeth and summer blockbusters. Consider these facts, which will change what you think about sharks.
Keep reading...
Show less
Felix Kramer / Wikimedia
By Jason Mathers
The high level of confidence that automotive industry leaders have in the future of electric vehicles (EVs) has been on full display recently.
Keep reading...
Show less


Get EcoWatch in your inbox