Unitarian Universalists: 'Climate Justice Is a Moral Issue ... It Is Our Obligation to Act'
Apr. 10, 2015 10:55AM EST
Climate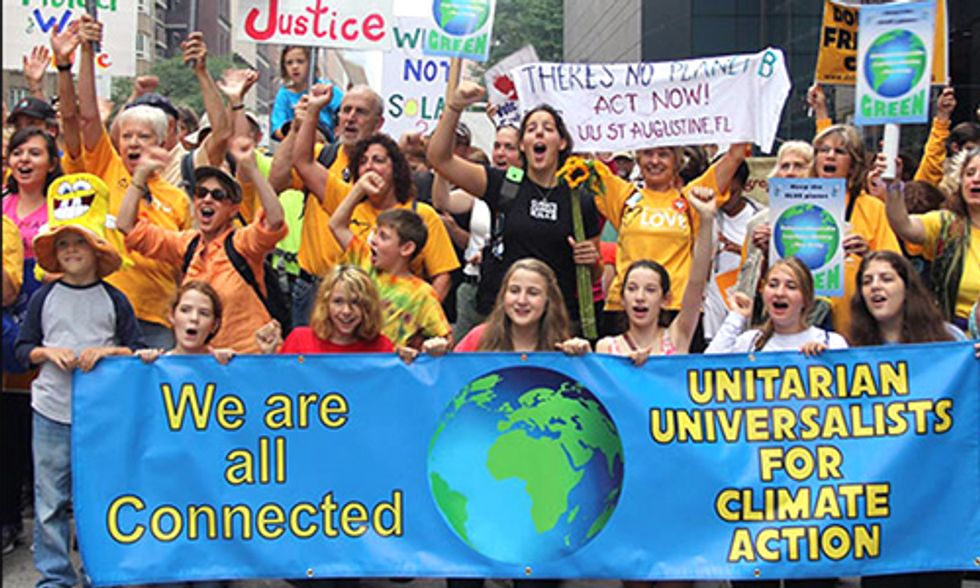 In a call for spiritual action in the fight against climate change, Unitarian Universalists and other faith groups have joined together to participate in Climate Justice Month. This time of reflection and spiritual grounding started on World Water Day March 22 and will culminate with the worldwide celebration of Earth Day on April 22.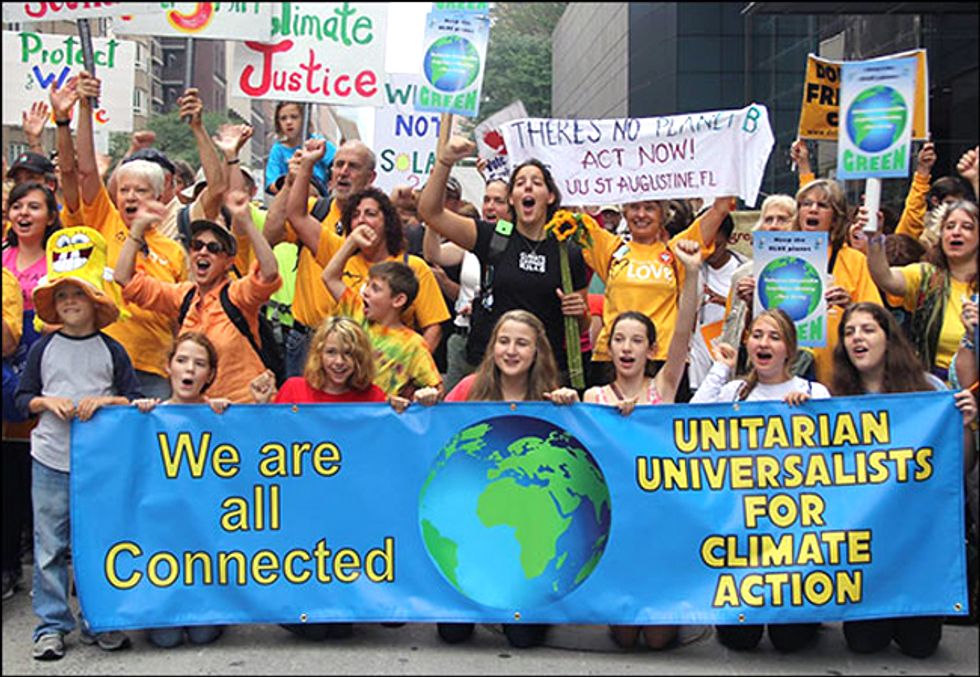 The faith groups hope that Climate Justice Month will inspire meaningful action on climate change. They hope the month of reflection gives participants a chance to consider concrete solutions for a low carbon future and advancing the human rights of those most impacted by climate change. During the first week, the focus was on water and rejoicing in connection with the natural world and its gifts. The second week concentrated on fire while providing an opportunity to consider the impacts of climate change while exploring where our energy comes from.
Now in its third week, participants are reflecting on air while reconnecting with hope through relationship and exploring who is impacted by our energy sources. During the fourth and final week, participants will concentrate on the Earth while committing to long-term actions that shift energy, advance human rights and grow the movement.
"Climate justice is a moral issue. Climate change is all too real, and affects disadvantaged people disproportionately," says Terasa Cooley, program and strategy officer of the Unitarian Universalist Association. "Our Earth and all its people require us to come together across faith lines and political parties to make the changes needed now," said Cooley. "We cannot afford to feel hopeless. It is our obligation to act."
The faith group encourages people of all religions to honor interconnectedness while deepening partnerships among different groups to work for positive change. They emphasize that the solutions to climate change must take into account those most marginalized in our society.
"We sacrifice people on the margins of society—generally people of color, immigrants and people who live with great financial instability—to maintain the industrial growth economy," said Rev. Peggy Clarke. "This economic system assumes ecosystems, communities, cultures and non-human beings are all externalities that are expendable in the pursuit of maximizing profit."
Climate Justice Month is organized by Commit2Respond, the new climate justice initiative led by Unitarian Universalist groups. The initiative was formed out of the People's Climate March in September 2014 and Climate Justice Month is its first action.
"The goal of Commit2Respond is to help us move ourselves from being overwhelmed to feeling empowered," says Rev. Brock Leach, vice president of mission, strategy and innovation for the Unitarian Universalist Service Committee.
"We can honor our fundamental interdependence and we can remind ourselves of those deeper human values we all hold sacred, like ensuring a life of dignity and opportunity for our own children and the generations to come."
YOU MIGHT ALSO LIKE
A Zero Emissions Manifesto for the Climate Justice Movement
Catholics Fast for Lent in Support of Pope Francis' Call for Climate Action
8 Reasons to Be Optimistic About The Climate Movement in 2015
EcoWatch Daily Newsletter
Related Articles from EcoWatch
Recent Stories from EcoWatch