This website uses cookies to ensure you get the best experience while browsing it. By clicking 'Got It' you're accepting these terms.
Underwater Vertical Seaweed Farm Restores Our Oceans While Providing Food and Fuel Source
Nov. 11, 2015 10:03AM EST
Business
Bren Smith has set up what he calls "3D ocean farms," which "utilize the entire ocean column" to grow "restorative species," including scallops, clams, oysters and kelp. Smith says this makes the oceans cleaner, healthier and more habitable, while providing jobs and food.
---
He hasn't always been fishing that way. His story is one of "ecological redemption," Smith said in a TEDx Talk (see below) in 2013. He dropped out of high school when he was 14 to work on fishing boats, working "at the height of the industrialization of the oceans. We were ripping up entire ecosystems with our trawls. We were using evermore efficient technology to chase fewer and fewer fish deeper and deeper into the ocean. And I've personally thrown tens of thousands of pounds of dead bycatch back into the sea," he said.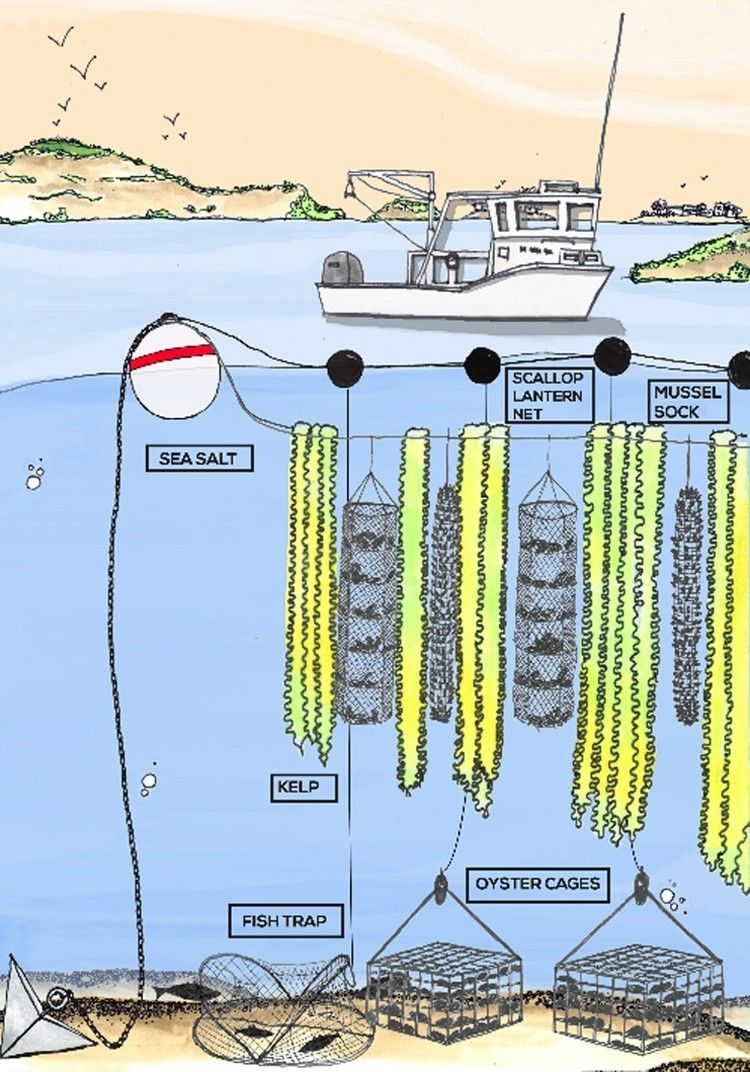 But that all changed about 15 years ago when he started growing seaweed in the Long Island Sound, where he now grows 30 to 60 tons of it per year. Seaweed has been described as a superfood, but it's also really beneficial to the ecosystem.
"Seaweed farms also help clean the water from pollution like carbon dioxide and nitrogen," explains FastCoExist. "They help with storm protection. And they provide a way for fishermen to do something other than fishing at sea: creating new forms of manmade coastal ecosystem—farms centered around seaweed."
"Globally, the potential scale of seaweed farming is 600 times greater than any other method of cultivating algae," says Quartz. "Seaweed is finding many uses beyond food, from medicine to fuels, and it may be that seaweed farms will offer refuges for marine species under threat from increasing acidification." And scientists recently worked out how to cultivate green algae for biofuel in huge quantities at $50 a barrel, which is about the cost of crude oil.
It's hard to understate the value kelp has as a food source and a fuel source, as well as the role it can play in restoring ecosystems. Smith's kelp is even being used by Yale University's farm as a fertilizer, serving as a "bridge," as Smith puts it, between "land-based farming" and "sea-based farming."
Smith's Thimble Island Ocean Farm was created out of his project GreenWave, which just received a huge endorsement because it won the prestigious $100,000 2015 Fuller Challenge Prize from the Buckminster Fuller Institute.
Buckminster Fuller Insitute explains why Smith's project is so groundbreaking:
GreenWave's integrated model shifts the practice of aquaculture from growing vulnerable monocultures to creating vibrant ecosystems, which produce higher yields. The infrastructure is simple: seaweed, scallops and mussels grow on floating ropes, stacked above oyster and clam cages below. From these crops ocean farmers can produce food, fertilizers, animal feeds, pharmaceuticals, cosmetics, biofuels and much more.
This video courtesy of Patrick Mustain at Scientific American provides an excellent explanation of Smith's work:
Watch Smith's TEDx Talk here:
EcoWatch Daily Newsletter
People carry children on a flooded street in Almoradi, Spain on Sept. 13. JOSE JORDAN / AFP / Getty Images
Large food companies are following in the footsteps of fast-food restaurants such as Burger King and KFC by offering meat alternatives. Getty Images
By Elizabeth Pratt
Hormel, Kellogg's, and Kroger are among the large companies now planning to offer "fake meat" products at grocery stores.
Experts say the trend toward plant-based meats coincides with consumers' desires to eat less meat.
However, experts urge consumers to closely check package labels as a product isn't necessarily healthy just because it's described as plant-based.
In grocery stores and fast-food outlets around the U.S., a revolution is taking place.
Colombia rainforest. Marcel Oosterwijk / CC BY-SA 2.0
Many of us think of the Amazon as an untouched wilderness, but people have been thriving in these diverse environments for millennia. Due to this long history, the knowledge that Indigenous and forest communities pass between generations about plants, animals and forest ecology is incredibly rich and detailed and easily dwarfs that of any expert.
picture-alliance / Newscom / R. Ben Ari
By Wesley Rahn
Plastic byproducts were found in 97 percent of blood and urine samples from 2,500 children tested between 2014 and 2017, according to a study by the German Environment Ministry and the Robert Koch Institute.

Pexels
Medically reviewed by Daniel Bubnis, MS, NASM-CPT, NASE Level II-CSS
Hot yoga has become a popular exercise in recent years. It offers many of the same benefits as traditional yoga, such as stress reduction, improved strength, and flexibility.
Lara Hata / iStock / Getty Images
By SaVanna Shoemaker, MS, RDN, LD
Rice is a staple in many people's diets. It's filling, inexpensive, and a great mild-tasting addition to flavorful dishes.
An image of the trans-alaskan oil pipeline that carries oil from the northern part of Alaska all the way to valdez. This shot is right near the arctic national wildlife refuge. kyletperry / iStock / Getty Images Plus
The Trump administration has initialized the final steps to open up nearly 1.6 million acres of the protected Alaskan National Wildlife Refuge to allow oil and gas drilling.