This website uses cookies to ensure you get the best experience while browsing it. By clicking 'Got It' you're accepting these terms.
Underwater Vertical Seaweed Farm Restores Our Oceans While Providing Food and Fuel Source
Nov. 11, 2015 10:03AM EST
Business
Bren Smith has set up what he calls "3D ocean farms," which "utilize the entire ocean column" to grow "restorative species," including scallops, clams, oysters and kelp. Smith says this makes the oceans cleaner, healthier and more habitable, while providing jobs and food.
---
He hasn't always been fishing that way. His story is one of "ecological redemption," Smith said in a TEDx Talk (see below) in 2013. He dropped out of high school when he was 14 to work on fishing boats, working "at the height of the industrialization of the oceans. We were ripping up entire ecosystems with our trawls. We were using evermore efficient technology to chase fewer and fewer fish deeper and deeper into the ocean. And I've personally thrown tens of thousands of pounds of dead bycatch back into the sea," he said.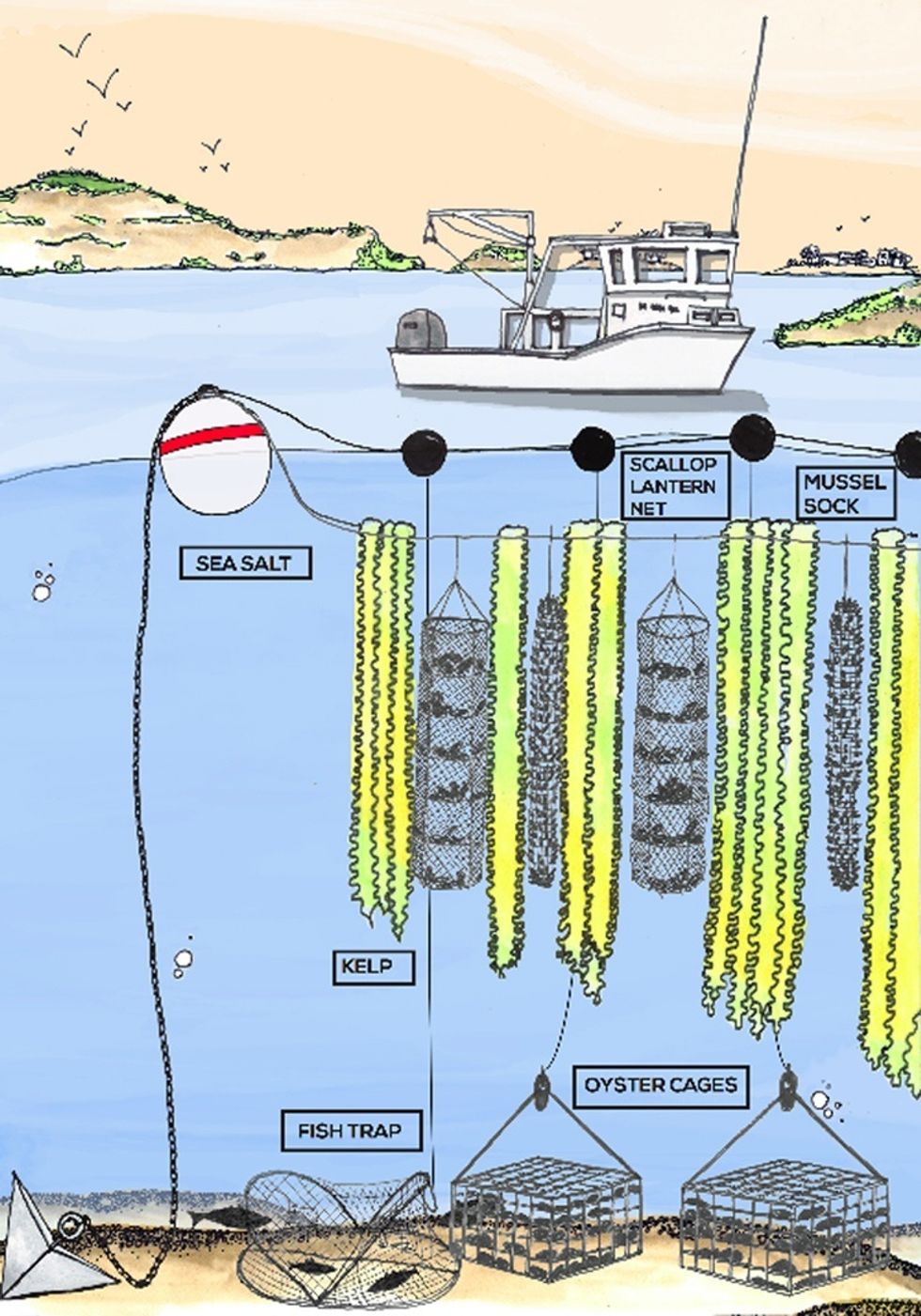 But that all changed about 15 years ago when he started growing seaweed in the Long Island Sound, where he now grows 30 to 60 tons of it per year. Seaweed has been described as a superfood, but it's also really beneficial to the ecosystem.
"Seaweed farms also help clean the water from pollution like carbon dioxide and nitrogen," explains FastCoExist. "They help with storm protection. And they provide a way for fishermen to do something other than fishing at sea: creating new forms of manmade coastal ecosystem—farms centered around seaweed."
"Globally, the potential scale of seaweed farming is 600 times greater than any other method of cultivating algae," says Quartz. "Seaweed is finding many uses beyond food, from medicine to fuels, and it may be that seaweed farms will offer refuges for marine species under threat from increasing acidification." And scientists recently worked out how to cultivate green algae for biofuel in huge quantities at $50 a barrel, which is about the cost of crude oil.
It's hard to understate the value kelp has as a food source and a fuel source, as well as the role it can play in restoring ecosystems. Smith's kelp is even being used by Yale University's farm as a fertilizer, serving as a "bridge," as Smith puts it, between "land-based farming" and "sea-based farming."
Smith's Thimble Island Ocean Farm was created out of his project GreenWave, which just received a huge endorsement because it won the prestigious $100,000 2015 Fuller Challenge Prize from the Buckminster Fuller Institute.
Buckminster Fuller Insitute explains why Smith's project is so groundbreaking:
GreenWave's integrated model shifts the practice of aquaculture from growing vulnerable monocultures to creating vibrant ecosystems, which produce higher yields. The infrastructure is simple: seaweed, scallops and mussels grow on floating ropes, stacked above oyster and clam cages below. From these crops ocean farmers can produce food, fertilizers, animal feeds, pharmaceuticals, cosmetics, biofuels and much more.
This video courtesy of Patrick Mustain at Scientific American provides an excellent explanation of Smith's work:
Watch Smith's TEDx Talk here:
EcoWatch Daily Newsletter
In this view from an airplane rivers of meltwater carve into the Greenland ice sheet near Sermeq Avangnardleq glacier on Aug. 4 near Ilulissat, Greenland. Climate change is having a profound effect in Greenland, where over the last several decades summers have become longer and the rate that glaciers and the Greenland ice cap are retreating has accelerated. Sean Gallup / Getty Images
The rate that Greenland's ice sheet is melting surpassed scientists' expectations and has raised concerns that their worst-case scenario predictions are coming true, Business Insider reported.
An Alagoas curassow in captivity. Luís Fábio Silveira / Agência Alagoas / Mongabay
By Pedro Biondi
Extinct in its habitat for at least three decades, the Alagoas curassow (Pauxi mitu) is now back in the jungle and facing a test of survival, thanks to the joint efforts of more than a dozen institutions to pull this pheasant-like bird back from the brink.

Elizabeth Warren's Blue New Deal aims to expand offshore renewable energy projects, like the Block Island Wind Farm in Rhode Island.
Luke H. Gordon / Flickr
By Julia Conley
Sen. Elizabeth Warren expanded her vision for combating the climate crisis on Tuesday with the release of her Blue New Deal — a new component of the Green New Deal focusing on protecting and restoring the world's oceans after decades of pollution and industry-caused warming.
Former U.S. Secretary of State Rex Tillerson leaves the courthouse after testifying in the Exxon Mobil trial on Oct. 30, 2019 in New York. DON EMMERT / AFP via Getty Images
A judge in New York's Supreme Court sided with Exxon in a case that accused the fossil fuel giant of lying to investors about the true cost of the climate crisis. The judge did not absolve Exxon from its contribution to the climate crisis, but insisted that New York State failed to prove that the company intentionally defrauded investors, as NPR reported.
By Sharon Elber
You may have heard that giving a pet for Christmas is just a bad idea. Although many people believe this myth, according to the ASPCA, 86 percent of adopted pets given as gifts stay in their new homes. These success rates are actually slightly higher than average adoption/rehoming rates. So, if done well, giving an adopted pet as a Christmas gift can work out.