This website uses cookies to ensure you get the best experience while browsing it. By clicking 'Got It' you're accepting these terms.
Undersea Superheroes Save Imperiled Marine Life
Feb. 15, 2015 10:01AM EST
Marine life is threatened on so many fronts, including ocean acidification, warming temperatures, plastic pollution, overfishing and bycatch.
Another major problem is fishing nets. When fishing nets are lost in the sea, either by careless fishing companies or when ships sink, sea animals, including dolphins, sea lions and seals, get tangled in these nets and die.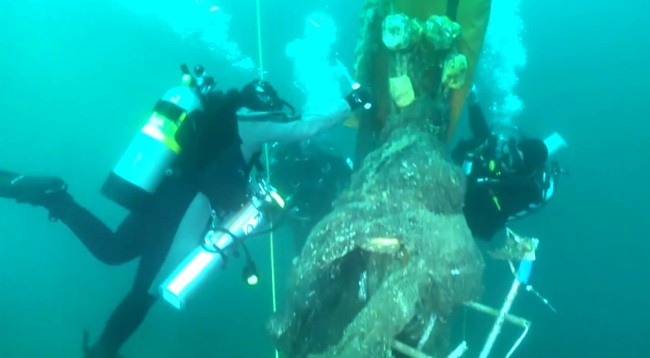 KCET correspondent, Angie Crouch, visits the Ocean Defenders Alliance (ODA) on a recent mission to free trapped marine life and remove abandoned fishing gear.
ODA has been removing abandoned fishing gear on the ocean floor or attached to shipwrecks for the last 12 years. Crouch joins them as they free trapped sharks and sea lions from the fishing nets left behind on the 70-foot Infidel, which capsized in 2006 about a mile off the coast of Catalina Island with a full load of squid.
"The ship is shrouded in the 9,000-pound netting it was dragging when it sank" to the ocean floor, reports Crouch. Since the ship sunk, the net has become a "death trap" for marine life. "We're talking about millions of lives potentially in a large net like this," said Dr. Bill Bushing, a marine biologist who dives with ODA. "Each one plays a role in the ecological dynamics of the system."
Because the Infidel is so deep (150 feet down), the mission to extract the netting requires expert divers. Don Robarge, one of the scuba divers, says this will be his deepest dive yet. Crouch says, "It's a dangerous dive. Why do you risk your life for this?"
"We love animals and we love scuba diving," Robarge responds. "This gives us a chance to fine tune our skills, but we're here for the environment and the animals that are needlessly killed from this derelict fishing gear that's left in the ocean continuously. I'm disgusted with it frankly."
When the divers reach the shipwreck, they free any aquatic life that is tangled in the net and they attach inflatable bags to the cut sections of the net so they float to the surface.
The Ocean Defenders only had nine minutes at that depth to free as much of the net as they could. Watch to see if they were successful:
YOU MIGHT ALSO LIKE
Thousands to Rally Today Against Taiji Dolphin Slaughter for "World Love for Dolphins Day"
Why Cuba-U.S. Collaboration Is More Important Than Ever
Plus, learn if there's one that's best for your health.
Catherine Falls Commercial / Moment / Getty Images
An invasive Amynthas worm, also known as a crazy snake worm, Asian jumping worm and Alabama jumper Tom Potterfield / Flickr
By Jason Bittel
My wife and I built a house two years ago on a few acres of woodland outside of Pittsburgh. The backyard is full of maples, poplars, briars and common spicebush. Two-lined salamanders and grumpy-looking crayfish wade among the rocks in the small stream that runs down the edge of the property. Deer, raccoon and opossum tracks appear regularly in the snow and mud. Sometimes, my trail-cam even catches a pair of gray foxes as they slink through the night.
AleksandarNakic / Getty Images
By Kate Murphy
No matter the time of year, there's always a point in each season when my skin decides to cause me issues. While these skin issues can vary, I find the most common issues to be dryness, acne and redness.

David Woodfall / The Image Bank / Getty Images
By Sam Nickerson
The U.S. Environmental Protection Agency (EPA) in April 2018 proposed relaxing standards related to how it assesses the effects of exposure to low levels of toxic chemicals on public health.
Now, correspondence obtained by the LA Times revealed just how deeply involved industry lobbyists and a controversial, industry-funded toxicologist were in drafting the federal agency's proposal to scrap its current, protective approach to regulating toxin exposure.
Steve Irwin poses with a three foot long alligator at the San Francisco Zoo on June 26, 2002. Justin Sullivan / Getty Images
February 22 is the birthday of conservationist and beloved TV personality "Crocodile Hunter" Steve Irwin, who would have been 57 years old today.
Irwin's life was tragically cut short when the barb from a stingray went through his chest while he was filming in 2006, but his legacy of loving and protecting wildlife lives on, most recently in a Google Doodle today honoring his birthday.