Undersea Superheroes Save Imperiled Marine Life
Marine life is threatened on so many fronts, including ocean acidification, warming temperatures, plastic pollution, overfishing and bycatch.
Another major problem is fishing nets. When fishing nets are lost in the sea, either by careless fishing companies or when ships sink, sea animals, including dolphins, sea lions and seals, get tangled in these nets and die.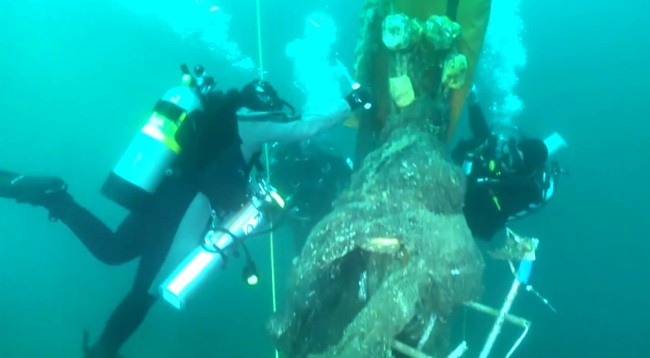 KCET correspondent, Angie Crouch, visits the Ocean Defenders Alliance (ODA) on a recent mission to free trapped marine life and remove abandoned fishing gear.
ODA has been removing abandoned fishing gear on the ocean floor or attached to shipwrecks for the last 12 years. Crouch joins them as they free trapped sharks and sea lions from the fishing nets left behind on the 70-foot Infidel, which capsized in 2006 about a mile off the coast of Catalina Island with a full load of squid.
"The ship is shrouded in the 9,000-pound netting it was dragging when it sank" to the ocean floor, reports Crouch. Since the ship sunk, the net has become a "death trap" for marine life. "We're talking about millions of lives potentially in a large net like this," said Dr. Bill Bushing, a marine biologist who dives with ODA. "Each one plays a role in the ecological dynamics of the system."
Because the Infidel is so deep (150 feet down), the mission to extract the netting requires expert divers. Don Robarge, one of the scuba divers, says this will be his deepest dive yet. Crouch says, "It's a dangerous dive. Why do you risk your life for this?"
"We love animals and we love scuba diving," Robarge responds. "This gives us a chance to fine tune our skills, but we're here for the environment and the animals that are needlessly killed from this derelict fishing gear that's left in the ocean continuously. I'm disgusted with it frankly."
When the divers reach the shipwreck, they free any aquatic life that is tangled in the net and they attach inflatable bags to the cut sections of the net so they float to the surface.
The Ocean Defenders only had nine minutes at that depth to free as much of the net as they could. Watch to see if they were successful:
YOU MIGHT ALSO LIKE
Thousands to Rally Today Against Taiji Dolphin Slaughter for "World Love for Dolphins Day"
Why Cuba-U.S. Collaboration Is More Important Than Ever
www.facebook.com
Keep reading...
Show less
Scott Pruitt testifies during his Senate confirmation hearing for EPA administrator, January 2017.
The U.S. Environmental Protection Agency's (EPA) chief of staff pressured the leader of its Board of Scientific Counselors to change her congressional testimony to downplay the impact of the agency's mass dismissal of scientists from the board, the New York Times reports.
Keep reading...
Show less
By Jason Mark
Sequoiadendron giganteum. That's the scientific name for the giant sequoia: the mammoth trees found in California's Sierra Nevada that are the largest organisms on Earth, and among the longest-lived. Biologists estimate that about half of all sequoias live in Giant Sequoia National Monument, a 328,000-acre preserve in the Southern Sierra Nevada established by President Clinton in 2000.
Now that national monument is in jeopardy.
Keep reading...
Show less
By Andy Rowell
Donald Trump this week is launching an "energy week," pushing the argument that the U.S. will become a net exporter of oil and gas.
The president and his cronies are talking about a new era of "U.S. energy dominance," which could stretch for decades to come. However, no one believes the president anymore.
Keep reading...
Show less
UN
By Colleen Curry
The United Nations has designated 23 new sites around the world to its World Network of Biosphere reserves—stunning natural landscapes that balance environmental and human concerns and strive for sustainability.
The forests, beaches and waterways were added to the list this year at the International Coordinating Council of the Man and the Biosphere Programme meeting in Paris earlier this month.
Keep reading...
Show less
Jun. 26, 2017 01:48PM EST
www.elysee.fr
By Andy Rowell
There is a growing feeling within European capitals that a quiet, but deeply positive, revolution is happening under Emmanuel Macron in France.
Macron's opinion poll rating is high, especially boosted in how the young French president has reacted to Donald Trump on the international stage.
Keep reading...
Show less
Jun. 26, 2017 12:32PM EST
www.facebook.com
Keep reading...
Show less
Jun. 26, 2017 02:46PM EST
Keep reading...
Show less
Jun. 26, 2017 03:34PM EST
www.youtube.com
According to Bloomberg, "SeaWorld Entertainment Inc. received a subpoena earlier this month from regulators investigating disclosures and public statements by executives, including comments about the Blackfish documentary that caused a public backlash against the confinement of orcas.
Keep reading...
Show less


Get EcoWatch in your inbox