This website uses cookies to ensure you get the best experience while browsing it. By clicking 'Got It' you're accepting these terms.
Undercover Investigation Exposes Shocking Neglect at Third Largest Pig Farm in U.S.
May. 25, 2016 01:22PM EST
Food
By Stephen Wells
"Progressive Farming. Family Style." It sounds like the slogan of a brand you could trust to adopt a forward thinking business style and embrace the public's growing consideration of animal welfare in animal agriculture, but a new undercover investigation blows that idyllic family farm image out of the water.
---
The tagline belongs to The Maschhoffs, which is the third largest pig producer in the U.S. and enjoys business from Hormel Foods, one of its largest customers. One of the company's Nebraska big breeding facilities is at the center of newly released undercover footage from the Animal Legal Defense Fund, the nation's leading legal animal protection organization. The footage is sickening.
Mother pigs and piglets alike are shown suffering and dying from a wide array of gruesome ailments. Undercover investigators documented pigs suffering for days or weeks with extreme prolapsed rectums, intestinal ruptures, large open wounds and huge, bloody ruptured cysts. The investigation also revealed that the pigs are left to go long stretches of time—up to three days—without food as the result of a failure of the electronic feeding mechanism. The footage reveals that The Maschhoffs workers were aware of the malfunction but still did not pursue alternate ways to feed the pigs.
The footage includes particularly haunting images of "thumping," a practice considered to be industry standard. Thumping is a method of killing piglets deemed sickly or too small. Their skulls are "thumped," i.e., smashed against the floor. It's a brutal act to watch and it's even more difficult to watch the aftermath—many piglets don't die immediately. The footage shows piglets conscious and looking around frantically or moving and convulsing—dying slowly.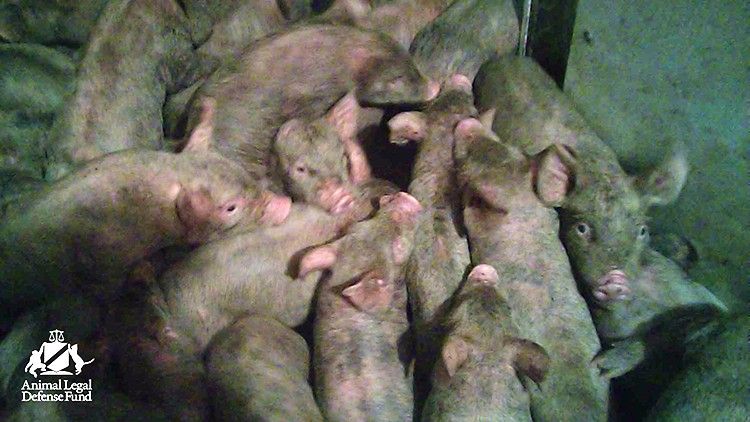 Watching the footage, it starts to seem that slow, painful deaths are also standard at the facility. Pigs are marked with green paint to signify that they need to be killed, but many are left to languish for days, weeks, even months before they are "euthanized." Some of the pigs die on their own, but those who are still alive when their time comes are shot in the head, but it doesn't always work. The Animal Legal Defense Fund's footage shows a mother pig still alive after the first shot. It took multiple shots and many minutes of suffering before she finally died.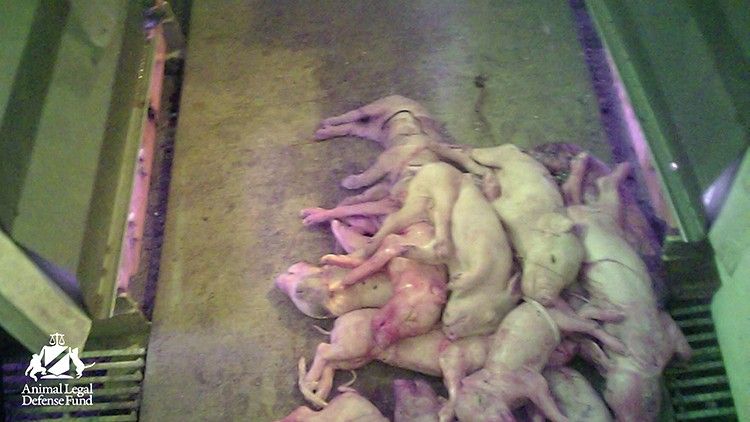 All this hardly seems like "the highest level of animal care" that The Maschhoffs claim on the Animal Welfare tab of their website. That means that when consumers consider their options at the grocery store and choose a product from The Maschhoffs or one of their customers, they are not getting what they paid for. The Maschhoffs work hard to promote the image of a friendly family farm because more and more Americans are thinking about animal welfare when they make their food choices. Customers simply would not be interested in the product if the company were honest about their practices, which seem to put profit over animal welfare and the law.
The Animal Legal Defense Fund is using the results of its undercover investigation to educate the public about what happens behind closed doors and to urge real change through the legal system. The organization has filed complaints with the Attorneys General of Nebraska and Illinois, where The Maschhoffs headquarters is located. The complaints allege that the company's business practices are unfair due to the apparent neglect of denying food and proper veterinary care, and deceptive due to the company's own advertising that it is committed to "humane animal handling" and providing the "best possible environment" for the animals.
Watch the uncover investigation video here:
For more information about the Animal Legal Defense Fund's investigation, visit www.aldf.org/protectpigs.
YOU MIGHT ALSO LIKE
Ground-Breaking Agreement Marks First Voluntarily Limits to Industrial Fishing in Arctic
How Carbon Farming Can Reverse Climate Change
How Changing Livestock Feed Can Mitigate Climate Change
EcoWatch Daily Newsletter
The 16-year-old Swede Greta Thunberg speaks during her protest action for more climate protection with a reporter. Steffen Trumpf / picture alliance / Getty Images
By Mark Hertsgaard and Kyle Pope
It's been 30 years since Bill McKibben rang the warning bells about the threat of man-made climate change — first in a piece in The New Yorker, and then in his book, The End of Nature.
Thousands of protestors marched in front of Frankfurt's International Motor Show (IAA) on Saturday to show their disgust with the auto industry's role in the climate crisis. The protestors demanded an end to combustion engines and a shift to more environmentally friendly emissions-free vehicles, as Reuters reported.
Setting and testing the line protections for Siemens SF6 gas insulated switchgear in 2007.
Xaf / Flickr /
CC BY-NC 2.0
Ella Olsson / Pexels
By Elizabeth Streit, MS, RDN, LD
Sweet and regular potatoes are both tuberous root vegetables, but they differ in appearance and taste.
They come from separate plant families, offer different nutrients, and affect your blood sugar differently.
Scientists in Saskatchewan found that consuming small amounts of neonicotinoids led white-crowned sparrows to lose significant amounts of weight and delay migration, threatening their ability to reproduce. Jen Goellnitz / Flickr
By Julia Conley
In addition to devastating effects on bee populations and the pollination needed to feed humans and other species, widely-used pesticides chemically related to nicotine may be deadly to birds and linked to some species' declines, according to a new study.

German Chancellor Angela Merkel's government is set to unveil a package of measures on Friday, Sept. 20, to ensure that the country cuts its greenhouse gas emissions 55% by 2030, compared with the 1990 levels.
Assorted plastic bottles. mali maeder / Pexels
People carry children on a flooded street in Almoradi, Spain on Sept. 13. JOSE JORDAN / AFP / Getty Images