This website uses cookies to ensure you get the best experience while browsing it. By clicking 'Got It' you're accepting these terms.
Undercover Investigation Exposes Shocking Neglect at Third Largest Pig Farm in U.S.
May. 25, 2016 02:22PM EST
Food
By Stephen Wells
"Progressive Farming. Family Style." It sounds like the slogan of a brand you could trust to adopt a forward thinking business style and embrace the public's growing consideration of animal welfare in animal agriculture, but a new undercover investigation blows that idyllic family farm image out of the water.
---
The tagline belongs to The Maschhoffs, which is the third largest pig producer in the U.S. and enjoys business from Hormel Foods, one of its largest customers. One of the company's Nebraska big breeding facilities is at the center of newly released undercover footage from the Animal Legal Defense Fund, the nation's leading legal animal protection organization. The footage is sickening.
Mother pigs and piglets alike are shown suffering and dying from a wide array of gruesome ailments. Undercover investigators documented pigs suffering for days or weeks with extreme prolapsed rectums, intestinal ruptures, large open wounds and huge, bloody ruptured cysts. The investigation also revealed that the pigs are left to go long stretches of time—up to three days—without food as the result of a failure of the electronic feeding mechanism. The footage reveals that The Maschhoffs workers were aware of the malfunction but still did not pursue alternate ways to feed the pigs.
The footage includes particularly haunting images of "thumping," a practice considered to be industry standard. Thumping is a method of killing piglets deemed sickly or too small. Their skulls are "thumped," i.e., smashed against the floor. It's a brutal act to watch and it's even more difficult to watch the aftermath—many piglets don't die immediately. The footage shows piglets conscious and looking around frantically or moving and convulsing—dying slowly.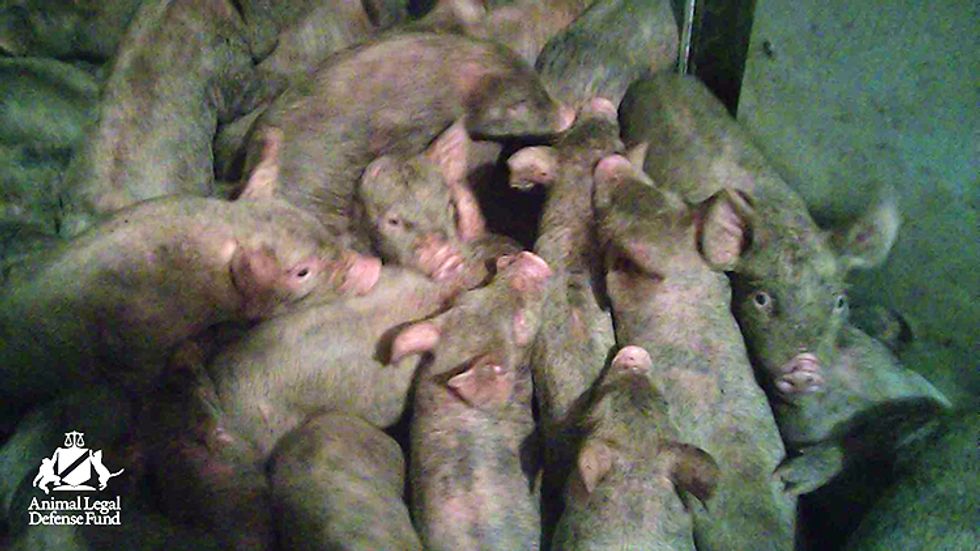 Watching the footage, it starts to seem that slow, painful deaths are also standard at the facility. Pigs are marked with green paint to signify that they need to be killed, but many are left to languish for days, weeks, even months before they are "euthanized." Some of the pigs die on their own, but those who are still alive when their time comes are shot in the head, but it doesn't always work. The Animal Legal Defense Fund's footage shows a mother pig still alive after the first shot. It took multiple shots and many minutes of suffering before she finally died.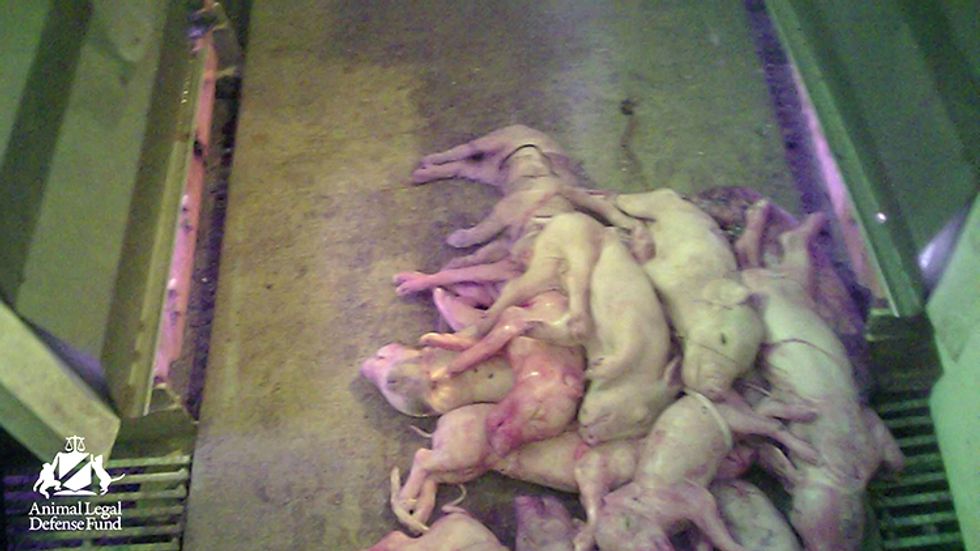 All this hardly seems like "the highest level of animal care" that The Maschhoffs claim on the Animal Welfare tab of their website. That means that when consumers consider their options at the grocery store and choose a product from The Maschhoffs or one of their customers, they are not getting what they paid for. The Maschhoffs work hard to promote the image of a friendly family farm because more and more Americans are thinking about animal welfare when they make their food choices. Customers simply would not be interested in the product if the company were honest about their practices, which seem to put profit over animal welfare and the law.
The Animal Legal Defense Fund is using the results of its undercover investigation to educate the public about what happens behind closed doors and to urge real change through the legal system. The organization has filed complaints with the Attorneys General of Nebraska and Illinois, where The Maschhoffs headquarters is located. The complaints allege that the company's business practices are unfair due to the apparent neglect of denying food and proper veterinary care, and deceptive due to the company's own advertising that it is committed to "humane animal handling" and providing the "best possible environment" for the animals.
Watch the uncover investigation video here:
For more information about the Animal Legal Defense Fund's investigation, visit www.aldf.org/protectpigs.
YOU MIGHT ALSO LIKE
Ground-Breaking Agreement Marks First Voluntarily Limits to Industrial Fishing in Arctic
How Carbon Farming Can Reverse Climate Change
How Changing Livestock Feed Can Mitigate Climate Change
EcoWatch Daily Newsletter
Aerial shot top view Garbage trucks unload garbage to a recycle in the vicinity of the city of Bangkok, Thailand. bugto / Moment / Getty Images
German researchers have identified a strain of bacterium that not only breaks down toxic plastic, but also uses it as food to fuel the process, according to The Guardian.
The Environmental Protection Agency (EPA) issued a policy memo yesterday that is an expansive relaxation of legally mandated regulations on polluting industries, saying that industries may have trouble adhering to the regulations while they are short-staffed during the coronavirus global pandemic, according to the AP.
Hurricane Dorian was one of the 2019 Atlantic hurricane season's most devastating storms. NASA
2019 marked the fourth year in a row that the Atlantic hurricane season saw above-average activity, and it doesn't look like 2020 will provide any relief.
The deep, open ocean may seem like an inhospitable environment, but many species like human-sized Humboldt squids are well-adapted to the harsh conditions. 1,500 feet below the ocean's surface, these voracious predators could be having complex conversations by glowing and changing patterns on their skin that researchers are just beginning to decipher.
A worker distributes disinfection wipes at a farmers market at Richard Tucker Park in New York City on March 21, 2020. Lev Radin / Pacific Press / LightRocket via Getty Images
Not many restaurants will be able to survive coronavirus, and this is a personal, social and national tragedy.
I'm worried about farmers markets too.