This website uses cookies to ensure you get the best experience while browsing it. By clicking 'Got It' you're accepting these terms.
Under the Surface—Fracking, Fortunes and the Fate of the Marcellus Shale
Sep. 04, 2012 05:07AM EST
Energy
Running from southern West Virginia through eastern Ohio, across central and northeast Pennsylvania, and into New York through the Southern Tier and the Catskills, the Marcellus Shale formation underlies a sparsely populated region that features striking landscapes, critical watersheds and a struggling economic base. It also contains one of the world's largest supplies of natural gas, a resource that has been dismissed as inaccessible—until recently.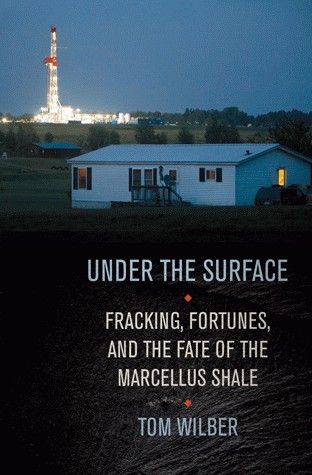 Technological developments that combine horizontal drilling with hydraulic fracturing have removed physical and economic barriers to extracting hundreds of trillions of cubic feet of gas from bedrock deep below the Appalachian basin. Beginning in 2006, the first successful Marcellus gas wells by Range Resources, combined with a spike in the value of natural gas, spurred a modern-day gold rush—a "gas rush"—with profound ramifications for environmental policy, energy markets, political dynamics and the lives of the people living in the Marcellus region. Under the Surface is the first book-length journalistic overview of shale gas development and the controversies surrounding it.
Control over drilling rights is at stake in the heart of Marcellus country—northeast Pennsylvania and central New York. The decisions by landowners to work with or against the companies—and the resulting environmental and economic consequences—are scrutinized by neighbors faced with similar decisions, by residents of cities whose water supply originates in the exploration area, and by those living across state lines with differing attitudes and policies concerning extraction industries.
Wilber's evenhanded treatment gives a voice to all constituencies, including farmers and landowners tempted by the prospects of wealth but wary of the consequences, policymakers struggling with divisive issues, and activists coordinating campaigns based on their respective visions of economic salvation and environmental ruin. Wilber describes a landscape in which the battle over the Marcellus ranges from the very local—yard signs proclaiming landowners' allegiances for or against shale gas development—to often conflicting municipal, state and federal legislation intended to accelerate, delay or discourage exploration.
For millions of people with a direct stake in shale gas exploration in the Marcellus or any number of other emerging shale resources in the U.S. and worldwide, or for those concerned about the global energy outlook, Under the Surface offers a worthwhile and engaging look at the issues.
Visit EcoWatch's FRACKING page for more related news on this topic.
EcoWatch Daily Newsletter
Artist's conception of solar islands in the open ocean. PNAS
Millions of solar panels clustered together to form an island could convert carbon dioxide in seawater into methanol, which can fuel airplanes and trucks, according to new research from Norway and Switzerland and published in the Proceedings of the National Academy of Sciences journal, PNAS, as NBC News reported. The floating islands could drastically reduce greenhouse gas emissions and dependence on fossil fuels.
Marcos Alves / Moment Open / Getty Images
More than 40 percent of insects could go extinct globally in the next few decades. So why did the U.S. Environmental Protection Agency (EPA) last week ok the 'emergency' use of the bee-killing pesticide sulfoxaflor on 13.9 million acres?
EcoWatch teamed up with Center for Biological Diversity via EcoWatch Live on Facebook to find out why. Environmental Health Director and Senior Attorney Lori Ann Burd explained how there is a loophole in the The Federal Insecticide, Fungicide, and Rodenticide Act under section 18, "that allows for entities and states to request emergency exemptions to spraying pesticides where they otherwise wouldn't be allowed to spray."
Simple swaps that cut down on kitchen trash.
Sponsored
By Kayla Robbins
Along with the bathroom, the kitchen is one of the most daunting areas to try and make zero waste.
View of downtown Miami, Florida from Hobie Island on Feb. 2, 2019.
Michael Muraz / Flickr
The Democratic candidates for president descended upon Miami for a two-night debate on Wednesday and Thursday. Any candidate hoping to carry the state will have to make the climate crisis central to their campaign, as The New York Times reported.
By Sharon Kelly
On Monday, the Wall Street Journal featured a profile of Scott Sheffield, CEO of Pioneer Natural Resources, whose company is known among investors for its emphasis on drawing oil and gas from the Permian basin in Texas using horizontal drilling and hydraulic fracturing, or fracking.
Pexels
By Craig K. Chandler
The federal government has available to it, should it choose to use them, a wide range of potential climate change management tools, going well beyond the traditional pollution control regulatory options. And, in some cases (not all), without new legislative authorization.
Denis Poroy / Getty Images
By Dan Gray
Processed foods, in their many delicious forms, are an American favorite.
But new research shows that despite increasing evidence on just how unhealthy processed foods are, Americans have continued to eat the products at the same rate.
By Sarah Steffen
With a profound understanding of their environmental surroundings, indigenous communities around the world are often cited as being pivotal to tackling climate change.