This website uses cookies to ensure you get the best experience while browsing it. By clicking 'Got It' you're accepting these terms.
Uncovering South Korea's Illegal Whaling Industry
Sep. 20, 2012 06:27AM EST
By Monica Tan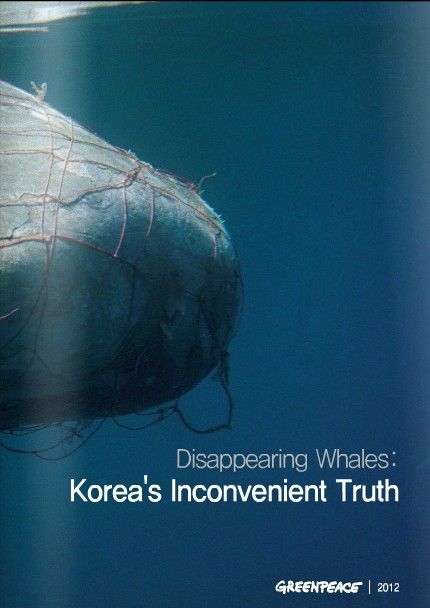 As a party to the International Whaling Commission (IWC), South Korea has banned whaling since 1986 and neither scientific whaling nor subsistence whaling is practiced. Domestic sales of whale products, however, are allowed if the whale is accidentally caught and killed in a fishing gear (bycatch) and Korea reports about 80 whales a year taken as bycatch.
Korea and Japan have the highest bycatch of whales in the world, almost 10 times larger than the bycatch of countries like Australia, U.S. and South Africa. There is a substantial illegal whaling industry and the IWC estimates that the number of whales being sold annually in Korea is double the number that could be accounted for by bycatch.
In July 2012, the Korean government announced at an IWC meeting that it would start scientific whaling and this aroused fierce opposition within the meeting and from the around the world. Korea's announcement was particularly controversial because research on whales and other cetaceans around the world is done by non-lethal means. The only current exception to this is Japan and their research program in the Antarctic has been characterized by the IWC with the words 'not required for management'.
Only whaling nations have ever undertaken lethal research and it is widely seen as commercial whaling in disguise. The information that the IWC needs in order to set quotas, should a decision to set quotas be made, can all be obtained by non-lethal methods. The basic method used is a vessel survey. A ship sails though ocean and observers log whales seen. This leads to a population estimate which is the basis for a quota.
At the 2012 IWC, the Korean government claimed that the minke whale population in the north Pacific has recovered and needs to be hunted, but there is no scientific evidence for such a claim. No agreed estimate for this population exists because not enough sightings data has yet been collected. Data collected so far by Korean government scientists indicates a decline of 5 - 7 percent a year and although this data does not show the population is actually declining, because there is not yet enough data for a firm population estimate, it undermines claims the population has recovered.
Although whales eat fish they are not the cause of decreases in fish sizes or stocks, after all whales and fish have existed in the oceans at high levels of abundance for millions of years. The decline of fisheries is due to human activities and overfishing by industrial fleets. We need to reduce fishing to sustainable levels and reduce fishing capacity.
For more information, read the Greenpeace report Disappearing Whales: Korea's Inconvenient Truth.
Visit EcoWatch's BIODIVERSITY page for more related news on this topic.
EcoWatch Daily Newsletter
A vegan diet can improve your health, but experts say it's important to keep track of nutrients and protein. Getty Images
By Dan Gray
Research shows that 16 weeks of a vegan diet can boost the gut microbiome, helping with weight loss and overall health.
A healthy microbiome is a diverse microbiome. A plant-based diet is the best way to achieve this.
It isn't necessary to opt for a strictly vegan diet, but it's beneficial to limit meat intake.
New research shows that following a vegan diet for about 4 months can boost your gut microbiome. In turn, that can lead to improvements in body weight and blood sugar management.
Students gathered at the National Mall in Washington DC, Sept. 20. NRDC
By Jeff Turrentine
Nearly 20 years have passed since the journalist Malcolm Gladwell popularized the term tipping point, in his best-selling book of the same name. The phrase denotes the moment that a certain idea, behavior, or practice catches on exponentially and gains widespread currency throughout a culture. Having transcended its roots in sociological theory, the tipping point is now part of our everyday vernacular. We use it in scientific contexts to describe, for instance, the climatological point of no return that we'll hit if we allow average global temperatures to rise more than 2 degrees Celsius above preindustrial levels. But we also use it to describe everything from resistance movements to the disenchantment of hockey fans when their team is on a losing streak.
samael334 / iStock / Getty Images
Berries are small, soft, round fruit of various colors — mainly blue, red, or purple.
A glacier is seen in the Kenai Mountains on Sept. 6, near Primrose, Alaska. Scientists from the U.S. Geological Survey have been studying the glaciers in the area since 1966 and their studies show that the warming climate has resulted in sustained glacial mass loss as melting outpaced the accumulation of new snow and ice. Joe Raedle / Getty Images
By Mark Mancini
On Aug. 18, Iceland held a funeral for the first glacier lost to climate change. The deceased party was Okjökull, a historic body of ice that covered 14.6 square miles (38 square kilometers) in the Icelandic Highlands at the turn of the 20th century. But its glory days are long gone. In 2014, having dwindled to less than 1/15 its former size, Okjökull lost its status as an official glacier.
Members of Chicago Democratic Socialists of America table at the Logan Square Farmers Market on Aug. 18. Alex Schwartz
By Alex Schwartz
Among the many vendors at the Logan Square Farmers Market on Aug. 18 sat three young people peddling neither organic vegetables, gourmet cheese nor handmade crafts. Instead, they offered liberation from capitalism.
Hackney primary school students went to the Town Hall on May 24 in London after school to protest about the climate emergency. Jenny Matthews / In Pictures / Getty Images
Bird watching in the U.S. may be a lot harder than it once was, since bird populations are dropping off in droves, according to a new study.