This website uses cookies to ensure you get the best experience while browsing it. By clicking 'Got It' you're accepting these terms.
UN Scientists Call for Action on Marine Microplastics as New York Assembly Passes Microbeads Ban
Apr. 30, 2015 08:49AM EST
New York may become the next state to ban microbeads. Last week, the New York Assembly passed a bill, the Microbeads-Free Waters Act, which would "prohibit the sale of personal cosmetic products containing microbeads." The bill passed by an overwhelming majority of 139 to 1.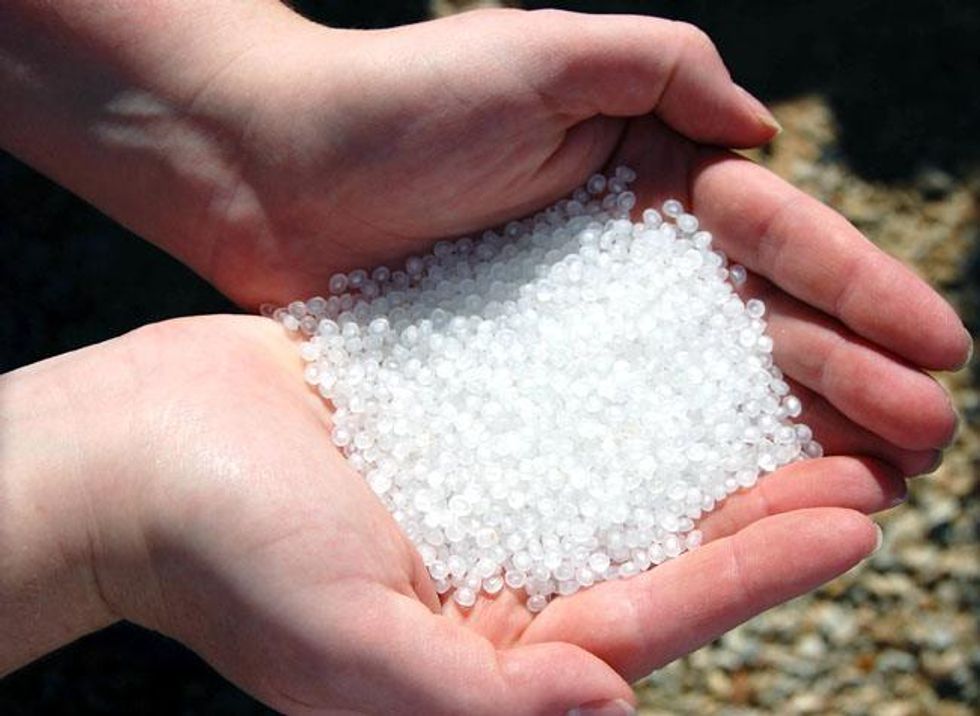 The bill would prohibit the sale of personal cosmetic products containing synthetic plastic microbeads after January 1, 2016, according to the Natural Resources Defense Council (NRDC). Over-the-counter drugs that fall under the definition of personal cosmetic products would receive an additional year to comply and prescription drugs are exempt.
The bill has now moved to the state Senate, but it has stalled there. The Senate bill's sponsor, Sen. Thomas O'Mara, advanced a different bill in committee "that fundamentally fails to address the microbeads problem," says the NRDC. Not only would the Senate bill's version take longer to go into effect, but it exempts some types of plastic and "biodegradable" microbeads, which aren't truly biodegradable. The bill also forbids municipalities, counties and local governments from taking further action to stop this form of water pollution, says the NRDC.
Dr. Marcus Eriksen of 5 Gyres agrees. "When we found microbeads in the Great Lakes, we knew that this had to change and that we couldn't replace plastic microbeads with the so called 'biodegradable' microbeads, which is exactly what the Personal Care Products Council is pushing the New York Senate to do. It will not solve the problem."
"Instead any alternative biodegradable plastic must degrade before it enters an aquatic environment. The best is to use a natural biodegradable material or any material that is benign to the environment, like salt, sand, cocoa beans or apricot husks, which are already successfully used in products. So the switch is easy."
As New York's state legislature waivers on addressing the problem, a group of scientists that advise the UN are calling for action on marine microplastics, according to The Guardian. The Joint Group of Experts on the Scientific Aspects of Marine Environmental Protection (GESAMP) recently released their report, Sources, Fates and Effects of Microplastics in the Marine Environment: A Global Assessment.
"Even tiny particles, such as those used in cosmetic products or abrasives, could potentially harm marine life if ingested. We need to work globally to ensure that plastics do not end up in the oceans," Dr. Micallef, director of Marine Environment Division, at the International Maritime Organization, the Administrative Secretary of GESAMP told Marine Technology News.
The report recommends "better control of the sources of plastic waste, through applying the principles of the '3 Rs' (Reduce, Re-use, Recycle), and improving the overall management of plastics as the most efficient and cost-effective way of reducing the quantity of plastic objects and microplastic particles accumulating in the ocean," says Marine Technology News.
YOU MIGHT ALSO LIKE
4 States Working to Ban Microbeads
EcoWatch Daily Newsletter
Aerial view of Ruropolis, Para state, northen Brazil, on Sept. 6, 2019. Tthe world's biggest rainforest is under threat from wildfires and rampant deforestation. JOHANNES MYBURGH / AFP via Getty Images
By Kate Martyr
Deforestation in Brazil's Amazon rainforest last month jumped to the highest level since records began in 2015, according to government data.
A total of 563 square kilometers (217.38 square miles) of the world's largest rainforest was destroyed in November, 103% more than in the same month last year, according to Brazil's space research agency.
From January to November this year an area almost the size of the Caribbean island of Puerto Rico was destroyed — an 83% overall increase in destruction when compared with the same period last year.
The figures were released on Friday by the National Institute for Space Research (INPE), and collected through the DETER database, which uses satellite images to monitor forest fires, forest destruction and other developments affecting the rainforest.
What's Behind the Rise?
Overall, deforestation in 2019 has jumped 30% compared to last year — 9,762 square kilometers (approximately 3769 square miles) have been destroyed, despite deforestation usually slowing during November and December.
Environmental groups, researchers and activists blamed the policies of Brazil's president Jair Bolsonaro for the increase.
They say that Bolosonaro's calls for the Amazon to be developed and his weakening support for Ibama, the government's environmental agency, have led to loggers and ranchers feeling safer and braver in destroying the expansive rainforest.
His government hit back at these claims, pointing out that previous governments also cut budgets to environment agencies such as Ibama.
The report comes as Brazil came to loggerheads with the Association of Small Island States (AOSIS) over climate goals during the UN climate conference in Madrid.
AOSIS blasted Brazil, among other nations, for "a lack of ambition that also undermines ours."
Last month, a group of Brazilian lawyers called for Bolsonaro to be investigated by the International Criminal Court over his environmental policies.
Reposted with permission from DW.
The Carolina parakeet went extinct in 1918. James St. John /
CC BY 2.0
The Carolina parakeet, the only parrot species native to the U.S., went extinct in 1918 when the last bird died at the Cincinnati Zoo. Now, a little more than 100 years later, researchers have determined that humans were entirely to blame.
Pexels
Vitamin C is a very important nutrient that's abundant in many fruits and vegetables.
BLM drill seeders work to restore native grasses after wildfire on the Bowden Hills Wilderness Study Area in southeast Oregon, Dec. 14, 2018. Marcus Johnson / BLM / CC BY 2.0
By Tara Lohan
In 2017 the Thomas fire raged through 281,893 acres in Ventura and Santa Barbara counties, California, leaving in its wake a blackened expanse of land, burned vegetation, and more than 1,000 destroyed buildings.