UN Report Measures Significant Progress Ahead of Paris Climate Talks
Nov. 04, 2015 03:26PM EST
Climate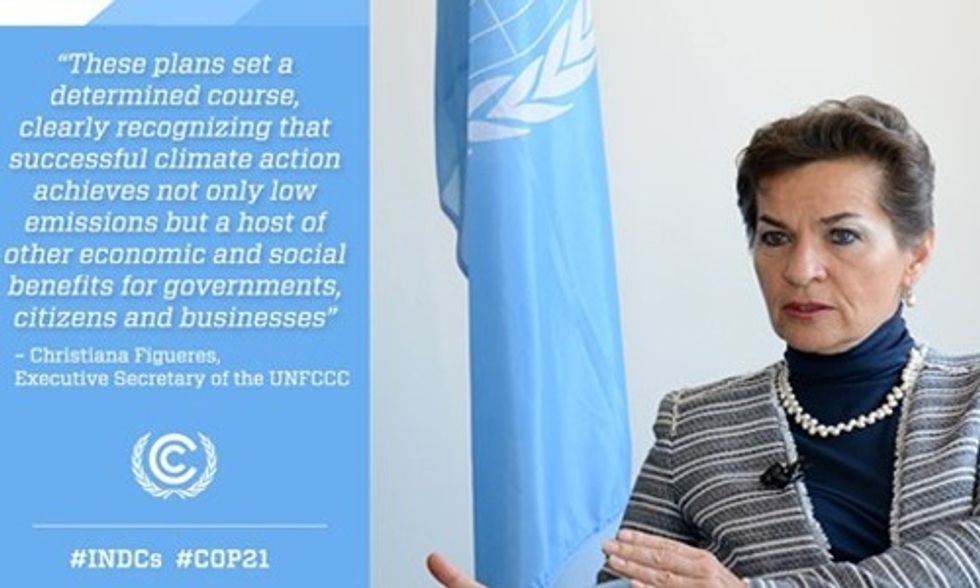 The United Nations Framework Convention on Climate Change (UNFCCC) released its official analysis of the 146 climate action offers (Intended Nationally Determined Contributions or INDCs) on Oct. 30.
Like recent independent analyses of the INDCs, the UNFCCC report shows that these offers represent a substantial step forward in the effort to combat climate change and further accelerate the transformation of the global energy system already underway.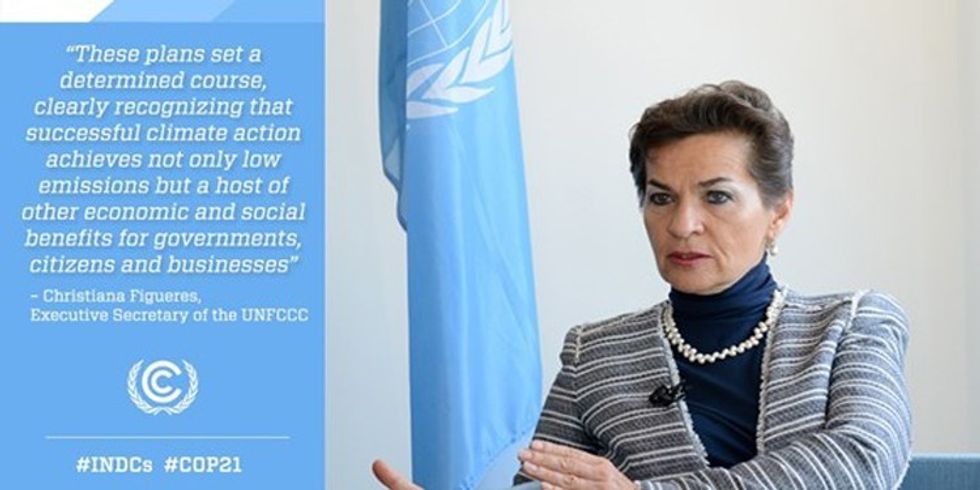 The report indicates that the submitted INDCs—from countries representing more than 86 percent of global emissions—will not be enough to avoid the worst impacts of warming alone, but they provide a significant foundation to build on. Commenting on the report's findings, the Executive Secretary of UNFCCC Christiana Figueres said, "Fully implemented these plans together make a significant dent in the growth of greenhouse gas emissions: as a floor they provide a foundation upon which ever higher ambition can be built."
Recognizing the need for building on current commitments, French President Francois Hollande and Chinese President Xi Jinping struck a bilateral agreement in support of including a regular re-visitation and update of INDCs in the Paris agreement text. In their statement, the leaders made it clear that they are jointly working to ensure that the Paris agreement includes a mechanism to ratchet up ambition for a swift, strong move towards a global renewable energy economy.
One of the key findings from the UNFCCC report is that the INDCs countries have submitted will bring global average emissions by up to 8 percent in 2025 and as much as 9 percent by 2030. Climate Action Tracker (CAT) completed a similar analysis earlier this month, finding that the submitted INDCs will likely reduce projected warming in 2100 by 0.9°C (limiting warming to 2.7°C) above pre-industrial temperatures compared to a business-as-usual track.
Major emitters like India and China have put forth substantial offers, with encouragement from the U.S. Their INDCs put the countries on track to install twice the current global capacity of wind and solar in the next 15 years. Collectively INDCs and other country actions to combat climate change, are transforming the global energy sector, permitting cheaper, steeper and deeper pollution reductions in the future.
YOU MIGHT ALSO LIKE
16 Terms You Need to Know to Understand Climate Change
Hydropower Will Undermine COP21 as 'False Solution' to Climate Change
Prince Charles Urges Investors to Divest From Fossil Fuels
Snowball-Throwing, Climate-Denying Senator May Crash Paris Climate Talks
EcoWatch Daily Newsletter