This website uses cookies to ensure you get the best experience while browsing it. By clicking 'Got It' you're accepting these terms.


The best of EcoWatch, right in your inbox. Sign up for our email newsletter!
UN Climate Chief: Carbon Bubble Is Now a Reality
Jan. 20, 2015 10:05AM EST
Climate
The so-called "carbon bubble" is no longer a concept, it's a reality, according to UN climate chief Christiana Figueres, who will oversee the crucial UN climate conference in Paris in December.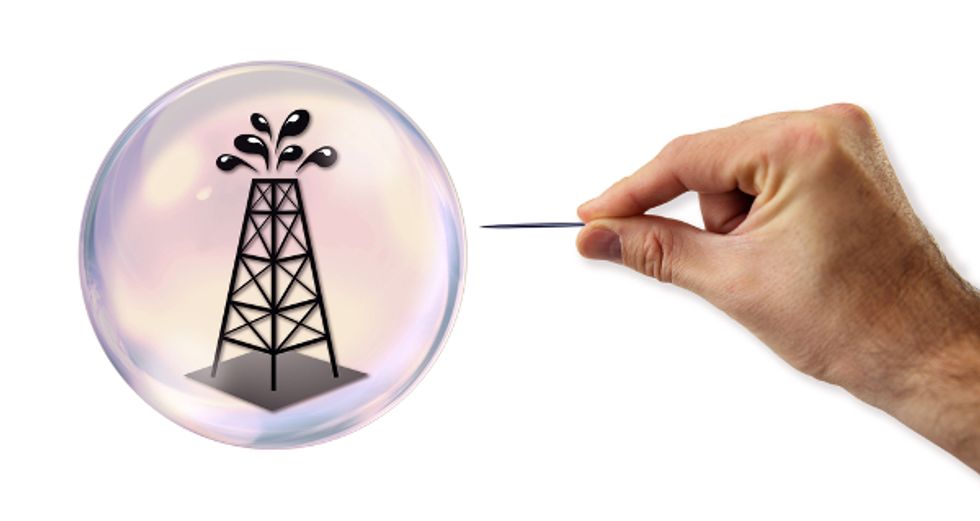 Photo credit: Shutterstock
Investors who sunk their money into the fossil fuel sector are going to come up losers, she suggested, as plummeting oil prices have made new extraction projects too costly to continue to pursue and concerns about global warming have made them too risky.
"A lot of the stranded asset conversations we've been having for a long time are now coming true," she told RTCC, speaking from the World Future Energy Summit in Abu Dhabi. "Those expensive oil projects—deep sea, Arctic, tar sands—those are actually beginning to be taken off the table because of the low oil prices."
That's good news for the environmental groups that have long warned about "stranded assets"—coal, oil and gas that would have to be left in the ground to slow climate change—and how that was leading to an overvaluation of these reserves.
RTCC cited a number of expensive exploration and extraction projects that have already been cancelled. Chevron has delayed plans to drill in the Canadian Arctic. Norway's Statoil has returned three licenses to explore for oil off the Greenland coast. And Shell and Qatar Petroleum announced last week they were scrapping a planned $6.5 billion petrochemical project in Qatar, saying it was "commercially unfeasible, particularly in the current economic climate prevailing in the energy industry." Qatar's state-controlled petrochemical company Industries Qatar abandoned plans for another $6 billion plant last September. Many of these projects were planned when oil was $100 a barrel. It's now under $50.
In the U.S., Texas is feeling the brunt of the oil bust, as extraction companies lay off workers. The New York Times reported yesterday, "With oil prices plummeting by more than 50 percent since June, the gleeful mood of recent years has turned glum here in West Texas as the frenzy of shale oil drilling has come to a screeching halt. Every day, oil companies are decommissioning rigs and announcing layoffs. Small companies that lease equipment have fallen behind in their payments." And the once seemingly unstoppable growing of fracking in North Dakota's Bakken shale region has also come to a screeching halt.
Carbon Tracker Initiative, a independent nonprofit think tank that analyzes energy from both an environmental and financial standpoint, coined the term "carbon bubble" and has continuously warned investors about the risks of sinking money into fossil fuel-related businesses, due to the 2c target of limiting global warming to 2 degrees to stave off the worst impacts of climate change.
"If the 2C target is rigorously applied, then up to 80 percent of declared reserves owned by the world's largest listed coal, oil and gas companies and their investors would be subject to impairment as these assets become stranded," the group said in its report Unburnable Carbon.
Figueres told RTCC she believed investors and investment firms would be taking notice, opening up the possibility that investment assets might begin to shift more decisively to renewables.
"When you begin to see very specific examples of a concept that was previously only a concept, I do think it's going to be taken much more seriously on the part of investors," she said. "That volatility in prices is one that incrementally and gradually makes investment in oil and gas more risky than investment in renewables, where it is very predictable what the upfront cost of infrastructure is, and then the price of fuel from then on is very predictable and certain."
YOU MIGHT ALSO LIKE
Plunging Oil Prices Trigger Economic Downturn in Fracking Boom Town
OPEC Decision Likely to Crash U.S. Fracking Industry
EcoWatch Daily Newsletter
BLM drill seeders work to restore native grasses after wildfire on the Bowden Hills Wilderness Study Area in southeast Oregon, Dec. 14, 2018. Marcus Johnson / BLM / CC BY 2.0
By Tara Lohan
In 2017 the Thomas fire raged through 281,893 acres in Ventura and Santa Barbara counties, California, leaving in its wake a blackened expanse of land, burned vegetation, and more than 1,000 destroyed buildings.
Brogues Cozens-Mcneelance / EyeEm / Getty Images
Fruit juice is generally perceived as healthy and far superior to sugary soda.
Pexels
By Danielle Nierenberg and Katherine Walla
As the holiday season ramps up for many across the world, Food Tank is highlighting 15 children's books that will introduce young eaters, growers and innovators to the world of food and agriculture. Authors and organizations are working to show children the importance — and fun — of eating healthy, nutritious and delicious food, growing their own produce, and giving food to others in need.
Pixabay
Purple cabbage, also referred to as red cabbage, belongs to the Brassica genus of plants. This group includes nutrient-dense vegetables, such as broccoli, Brussels sprouts, and kale.
Pexels
By Lauren Wolahan
For the first time ever, the UN is building out a roadmap for curbing carbon pollution from agriculture. To take part in that process, a coalition of U.S. farmers traveled to the UN climate conference in Madrid, Spain this month to make the case for the role that large-scale farming operations, long criticized for their outsized emissions, can play in addressing climate change.