UL Is Dedicated to Helping Ensure the Safe Use of Lithium-ion Batteries for Generations to Come
Mar. 05, 2014 09:44AM EST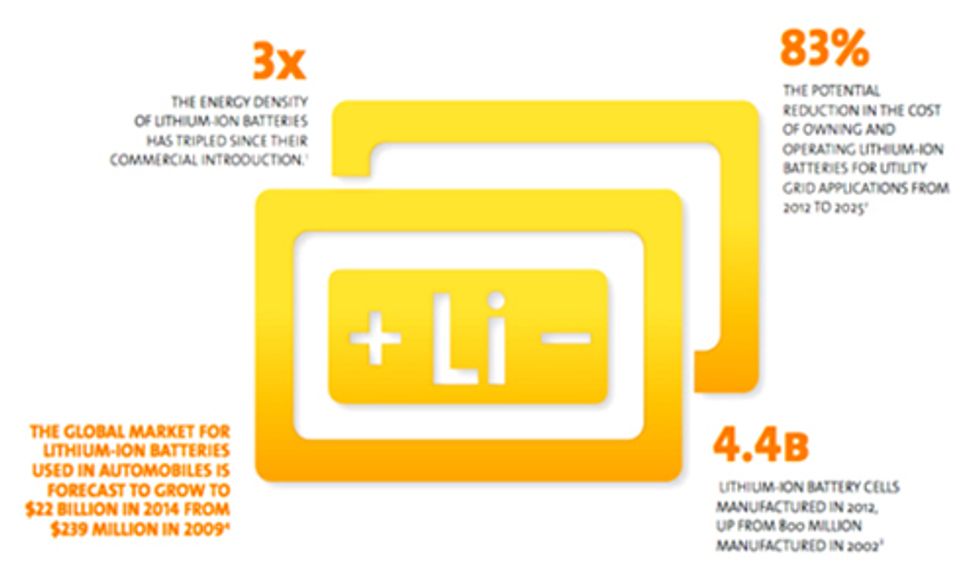 From smartphones to electric vehicles, lithium-ion batteries impact our lives in some way each and every day.  
That fact will continue to ring true in the coming decades as we march toward powering our planet with as much renewable energy as possible. That's why lithium-ion batteries are part of UL's New Science research—which is dedicated to mitigate emerging risks and safeguarding innovation.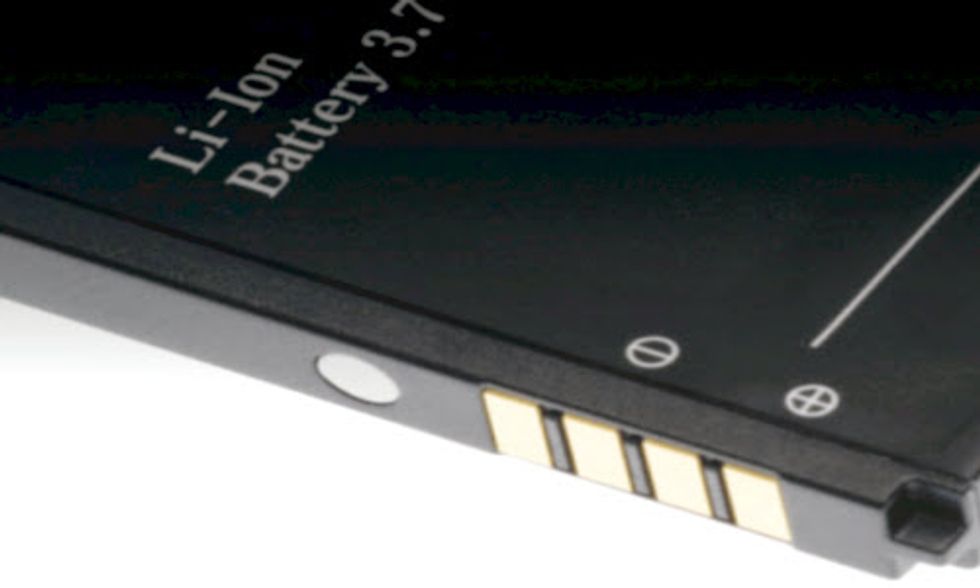 UL recognizes that maintaining and enhancing lithium-ion batteries is essential for work, play and most importantly—safety. That's why UL has released its New Science Lithium-ion Batteries Journal, a 19-page compendium detailing thevariety of processes its global researchers, scientists and engineers underwent to help ensure the safe use of sustainable lithium-ion batteries for generations to come.
UL continues to spearhead research, conduct experiments and update standards that guarantee the safe commercialization of lithium-ion batteries. As new technologies continue to transform the energy sector, UL is charged with the task of continuing to study the safety issues related to lithium-ion batteries—a market that is expected to double from 2012 to 2016.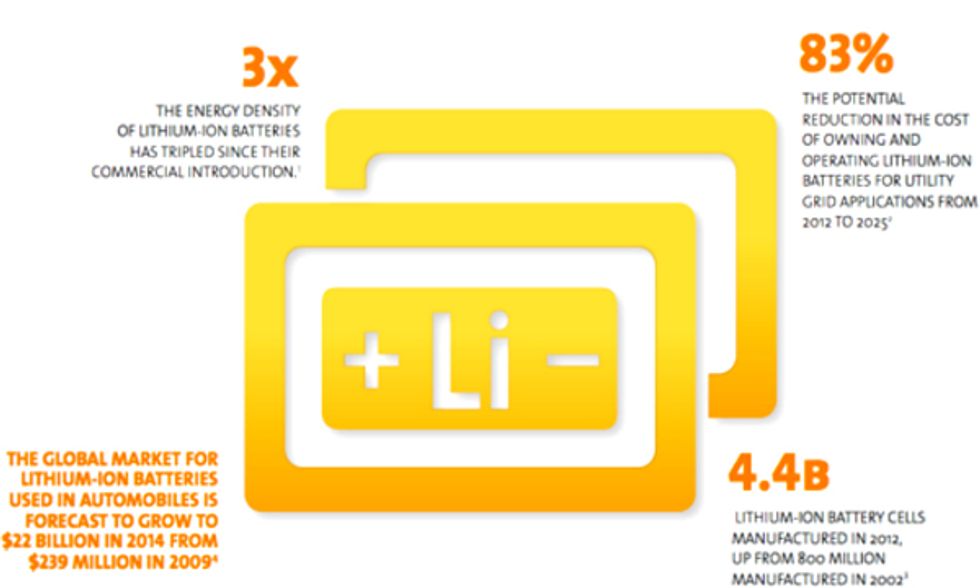 With this in mind, UL's New Science journal looks at three ways to safeguard lithium-ion batteries:
• Computational modeling of lithium-ion batteries—UL developed a unique thermal model of the common 18650 lithium-ion battery cell that enhances our ability to mathematically simulate, explore and understand the causes and severity of internal short circuits (ISCs). ISCs can result in fires or explosions, so we needed to understand the electrical, electrochemical and chemical reactions that cause heat generation within a battery. ISCs normally begin on a small scale in a localized area within a battery cell that produces localized heating. Though small, an ISC can cause safety designs outside of cells to have no effect and can bypass most of the safety devices within the cell, such as the fuse that is designed to open to vent excess voltage or heat. With new insight on the characteristics, behaviors and failure mechanisms of ISCs, UL is in a position to help manufacturers safeguard the batteries they make across the design, materials specification, manufacturing and quality assurance processes.
• Safeguarding lithium-ion battery separators—Battery separators are central to the overall performance and safety. Separators have been made thinner and lighter over time in an attempt to increase battery performance. However, this has diminished the capability of some to prevent electrode contact or shut down their device when overheating occurs. UL applied materials science to develop a testing approach that establishes a more robust evaluation of lithium-ion battery separators. These tests help ensure that lithium-ion battery design is safe for its intended use. The battery separator program is still in its early stages, but UL continues conducting and witnessing tests and publishing parameters in the UL online directory. Lithium-ion battery and separator manufacturers can submit separators to UL for safety testing and certification. There are no pass/fail criteria. Instead, UL focuses on identifying the properties of tested separators. That's how this program can help manufacturers advance the performance of lithium-ion batteries while enhancing their safety. 
• Thermal analysis of lithium-ion batteries—In addition to ISCs, unsafe heat generation can also occur when the surrounding environment overheats the battery or by overcharging or over-discharging the battery. In each of these cases, the result can be a thermal runaway, in which an initial heat event in the battery triggers additional exothermic reactions very rapidly in a chain reaction. When this happens, the battery will typically catch fire, rupture or explode. This comprehensive thermal analysis capability allows UL to identify and measure exothermic and endothermic reactions within the battery cell. UL now knows that separators made of polyethylene and polypropylene will melt at about 130 and 160 degrees Celsius, respectively. Also, lithium-ion battery electrolytes decompose under overheating conditions, causing gaseous substances that pressurize the cell. The test methodologies in the chart below allow us to better understand the potential safety risks of different materials and components in a battery, along with their complex electrochemical and functional interactions and how these are affected by heating conditions.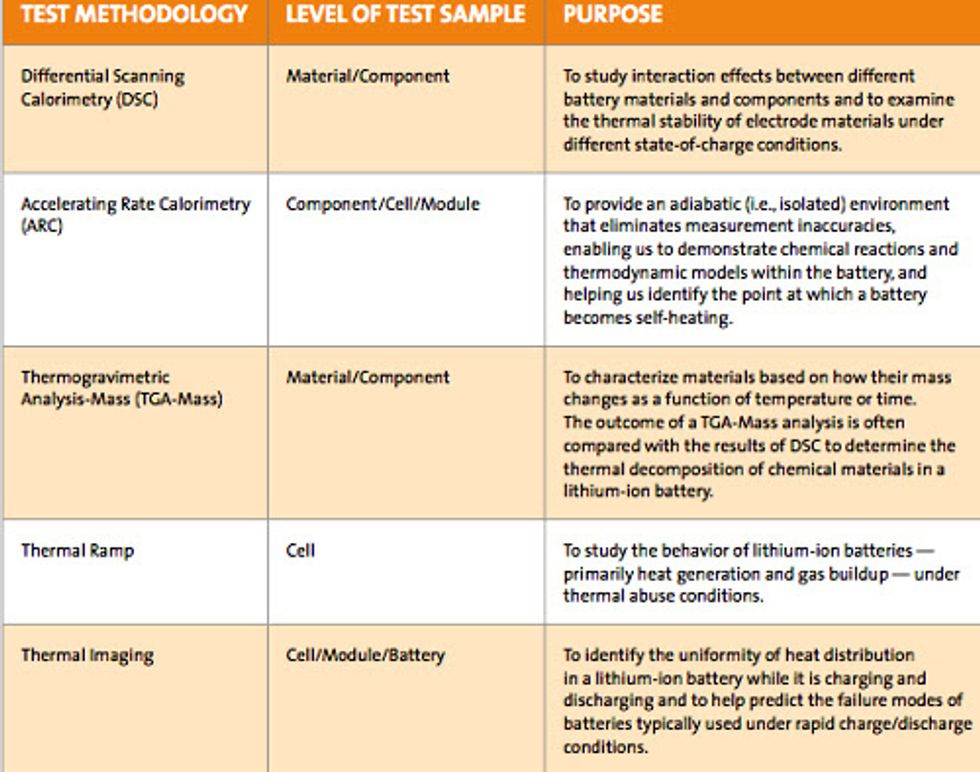 Safeguarding lithium-ion batteries is made more difficult by the complex interactions of more than 10 types of materials and components. The comprehensive set of thermal analysis tools and methods helps UL holistically examine how batteries react to heat conditions, which is vital because all lithium-ion battery safety issues involve heat generation.
The thermal analysis is especially critical today, as the industry pushes to advance lithium-ion battery performance through the use of new materials and battery designs. With thermal analysis, UL is continuing to help pinpoint safety risks, identify safe performance envelopes and develop effective risk-mitigation approaches.
——–
NEW CHALLENGES CALL FOR NEW SCIENCE

New Science is dedicated to mitigating risks and safeguarding innovation. Progress is an unstoppable, transformative force. New technologies, product advances and globalization are arriving one on top of another at a dizzying pace. Innovation makes us more efficient, more productive and more connected. But there is a cost, and that cost is risk. UL is currently focusing our New Science efforts around four important themes. These include: Fire Safety, Indoor Air Quality, Transaction Security and Sustainable Energy.
EcoWatch Daily Newsletter