UK Wind Power Exceeds Coal During Storm, Continues to Break Energy Records
As the UK cleans up after being lashed by the remnants of Hurricane Bertha, which brought summer flooding and travel disruption, it is also reaping the benefits of a boost to the country's wind industry brought by the storm, with output hitting near record highs.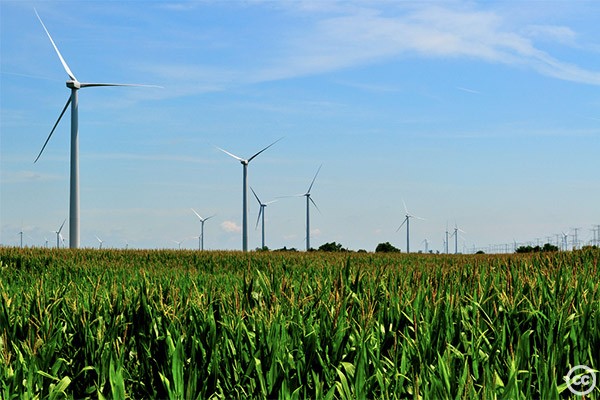 A surge in wind power say clean energy outstrip coal in the UK. Creative Commons: Tom, 2010
Wind power met almost 16 percent of the UK's power demand on Monday morning, and 13.1 percent of demand over the preceding 24 hours.
The strong performance meant wind power output exceeded coal power—which accounted for 11.3 percent, according to trade body EnergyUK.
It also took output to levels close to the record set during last December when wind energy met 10 percent of electricity demand throughout the month and peaked at 17 percent of demand.
The UK has broken a series of wind records over the past 12 months, and last week new government figures confirmed that 2013 had seen around 15 percent of electricity in the country come from renewables—7.9 percent of which was provided by onshore and offshore wind turbines.
The plentiful supply of wind energy is also helping to pick up the slack this week as French energy companies EDF was forced to shut down four nuclear reactors in the UK.
The reactors are expected to remain closed for eight weeks—after a fault was found in a boiler unit—but National Grid have said the closures should not affect the UK's energy supply.
It told the Financial Times:
Demand is low at this time of year, and a lot of wind power is being generated right now.
This is an ironic turn of events, with critics of renewables arguing that surges in output caused by weather conditions create problems as renewable energy can not provide a reliable supply.
They argue such sources of energy will also fail to deliver the needed steep emissions reductions as back-up power capacity is still needed.
But the National Grid has said it can manage high levels of variable renewables, and this week's events have shown that large reactors and generators can also suddenly go offline with no warning.
As recent government figures have show, in 2013 the load factors from onshore and offshore wind actually exceeded or equaled that of gas at nearly 28 percent.
You Might Also Like
How Doubling Renewable Energy Worldwide Could Save $740 Billion per Year
Germany's Windiest State Set to Achieve 100-Percent Renewable Energy
A coalition of conservation groups and others announced Thursday that a historic number of comments and petitions of support have been submitted to the U.S. Department of the Interior in support of Bears Ears National Monument. Despite the entirely inadequate 15-day comment period ending on May 26, more than 685,000 comments in support of Bears Ears National Monument have been collected.
Keep reading...
Show less
Rink Glacier in western Greenland, with a meltwater lake visible center. NASA/OIB
Scientists have had their eyes on Greenland as its iconic glaciers have begun disappearing due to a warming climate. But, what they didn't expect to see was a whole new type of melting.
Keep reading...
Show less
Mountain View Fire
By Lena Moffitt
An oil tanker in Mead, Colorado exploded, killing one and injuring three on Thursday. Authorities are continuing to investigate the cause of the explosion.
Keep reading...
Show less
Banner created by Alliance for Climate Education
Keep reading...
Show less
Twenty-two GOP senators sent a letter Thursday urging Donald Trump to pull out of the Paris agreement. They argued remaining in the deal could "upend" the administration's ability "to fulfill its goal of rescinding the Clean Power Plan."
Keep reading...
Show less
By Cheryl Johncox
The Federal Energy Regulatory Commission (FERC) rejected on Thursday Energy Transfer Partners' request to resume horizontal directional drilling at two sites for its Rover fracked gas pipeline. This rejection comes after numerous leaks into Ohio's wetlands, and Clean Air and Clean Water act violations. FERC has halted the process at only eight locations of the 32 where drilling is taking place under Ohio's wetlands and streams.
Keep reading...
Show less
By Nadia Prupis
A majority of people in eight countries say they are ready to change their lifestyles if it would prevent climate catastrophe, a survey on global threats released Wednesday found.
Keep reading...
Show less
May. 25, 2017 01:55PM EST
Bill Maher is sick of billionaires' obsession with Mars, more like "Mars-a-Lago," he said.
In a new animation produced by ATTN:, the popular talk show host of Real Time, discusses the perils of our planet, including how "climate change is killing us."
Keep reading...
Show less