This website uses cookies to ensure you get the best experience while browsing it. By clicking 'Got It' you're accepting these terms.
UK Wind Power Exceeds Coal During Storm, Continues to Break Energy Records
Aug. 13, 2014 01:05PM EST
As the UK cleans up after being lashed by the remnants of Hurricane Bertha, which brought summer flooding and travel disruption, it is also reaping the benefits of a boost to the country's wind industry brought by the storm, with output hitting near record highs.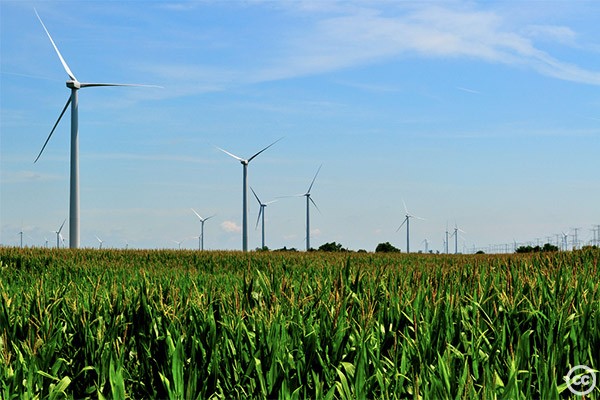 A surge in wind power say clean energy outstrip coal in the UK. Creative Commons: Tom, 2010
Wind power met almost 16 percent of the UK's power demand on Monday morning, and 13.1 percent of demand over the preceding 24 hours.
The strong performance meant wind power output exceeded coal power—which accounted for 11.3 percent, according to trade body EnergyUK.
It also took output to levels close to the record set during last December when wind energy met 10 percent of electricity demand throughout the month and peaked at 17 percent of demand.
The UK has broken a series of wind records over the past 12 months, and last week new government figures confirmed that 2013 had seen around 15 percent of electricity in the country come from renewables—7.9 percent of which was provided by onshore and offshore wind turbines.
The plentiful supply of wind energy is also helping to pick up the slack this week as French energy companies EDF was forced to shut down four nuclear reactors in the UK.
The reactors are expected to remain closed for eight weeks—after a fault was found in a boiler unit—but National Grid have said the closures should not affect the UK's energy supply.
It told the Financial Times:
Demand is low at this time of year, and a lot of wind power is being generated right now.
This is an ironic turn of events, with critics of renewables arguing that surges in output caused by weather conditions create problems as renewable energy can not provide a reliable supply.
They argue such sources of energy will also fail to deliver the needed steep emissions reductions as back-up power capacity is still needed.
But the National Grid has said it can manage high levels of variable renewables, and this week's events have shown that large reactors and generators can also suddenly go offline with no warning.
As recent government figures have show, in 2013 the load factors from onshore and offshore wind actually exceeded or equaled that of gas at nearly 28 percent.
You Might Also Like
How Doubling Renewable Energy Worldwide Could Save $740 Billion per Year
Germany's Windiest State Set to Achieve 100-Percent Renewable Energy
PeopleImages / E+ / Getty Images
By Daniel Ross
Hurricane Florence, which battered the U.S. East Coast last September, left a trail of ruin and destruction estimated to cost between $17 billion and $22 billion. Some of the damage was all too visible—smashed homes and livelihoods. But other damage was less so, like the long-term environmental impacts in North Carolina from hog waste that spilled out over large open-air lagoons saturated in the rains.
Hog waste can contain potentially dangerous pathogens, pharmaceuticals and chemicals. According to the state's Department of Environmental Quality, as of early October nearly 100 such lagoons were damaged, breached or were very close to being so, the effluent from which can seep into waterways and drinking water supplies.
This picture taken on May 21, 2018 shows discarded climbing equipment and rubbish scattered around Camp 4 of Mount Everest. Decades of commercial mountaineering have turned Mount Everest into the world's highest rubbish dump as an increasing number of big-spending climbers pay little attention to the ugly footprint they leave behind. DOMA SHERPA / AFP / Getty Images
China has closed its Everest base camp to tourists because of a buildup of trash on the world's tallest mountain.
Researchers tested the eggs of Arctic northern fulmers like these in Nunavut, Canada.
Fiona Paton / Flickr
By Madison Dapcevich
Plastics have been recorded in every corner of the world, from the remote icy waters of Antarctica to the bellies of deep-sea fishes. Now, preliminary findings presented at this year's American Association for the Advancement of Science (AAAS) annual meeting in Washington, DC suggest that bird eggs from the high Arctic—one of the most remote wildernesses on the planet—show evidence of contamination from chemicals used in plastics.

A small Australian rat that lived on a 12 acre island in the Great Barrier Reef has become the first mammal to go extinct primarily because of human-caused climate change, the Australian Government confirmed Monday.
The Bramble Cay melomys was first declared extinct after a 2014 search on Bramble Cay, its native island in the Torres Strait, between Queensland, Australia and Papua New Guinea, according to a 2016 report by the University of Queensland and the Queensland government.