This website uses cookies to ensure you get the best experience while browsing it. By clicking 'Got It' you're accepting these terms.
UK Wind Power Beats Coal and Nukes
Sep. 02, 2014 03:59PM EST
Wind energy continues to set new records in the UK.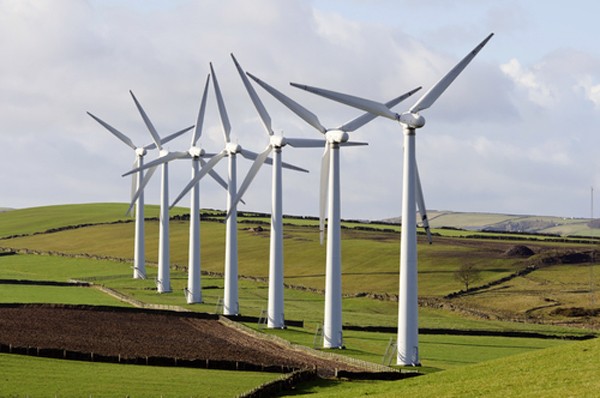 Photo credit: Shutterstock
The UK enjoyed a groundbreaking month in August, blowing past coal-fired energy generation on five separate days, according to Renewable UK, a trade group that promotes renewable-friendly policies in the UK. That's a first. The group reported that wind overtook coal in providing energy to the grid on Aug. 3, 9, 11, 12 and 17 and generated more energy than nuclear power on Aug. 29.
On Aug 11., wind set a record, providing 21 percent of UK electricity, breaking a record of 20 percent set last December. Although some of that surge was attributable to the aftermath of Hurricane Bertha, it broke that record on Aug. 17 when wind provided 22 percent of the country's electricity needs, demonstrating that wind is an energy sector that's getting stronger.
"Wind energy is taking its place as the UK's new powerhouse, overtaking coal and nuclear as one of the most important resources we have to keep Britain's lights on," said RenewableUK's director of external affairs Jennifer Webber. "It continues to surpass its own records, and these figures prove that can happen at any time of year. As we approach autumn and winter, we can expect wind to maintain this strong performance and provide electricity when demand is especially high."
Renewable UK also reported that overall, wind provided 10 percent of the country's energy in August, not far behind the record of 13 percent set this past December.
YOU MIGHT ALSO LIKE
UK Wind Power Exceeds Coal During Storm, Continues to Break Energy Records
Wind Energy Blows Away Records Throughout Europe
Pixabay
By John R. Platt
The world needs to change the way it eats, not just as individuals but as a society.
The Russian military is taking measures to protect the residents of a remote Arctic settlement from a mass of polar bears, German press agency DPA reported.
The move comes after regional authorities declared a state of emergency over the weekend after sightings of more than 50 bears in the town of Belushya Guba since December.
This year's letter from Bill and Melinda Gates focused on nine things that surprised them. For the Microsoft-cofounder, one thing he was surprised to learn was the massive amount of new buildings the planet should expect in the coming decades due to urban population growth.
"The number of buildings in the world is going to double by 2060. It's like we're going to build a new New York City every month for the next 40 years," he said.
Over the past few years, it seems vegan cooking has gone from 'brown rice and tofu' to a true art form. These amazing cooks show off the creations on Instagram—and we can't get enough.