This website uses cookies to ensure you get the best experience while browsing it. By clicking 'Got It' you're accepting these terms.
UK Whales and Dolphins at Risk of Extinction Due to High Levels of PCBs
Jan. 17, 2016 10:28AM EST
European killer whales and bottlenose and striped dolphins suffer from the highest levels of now-banned industrial chemicals ever recorded, according to a study released Thursday
The contamination has harmed their ability to successfully bear young, scientists report. As a result some European resident whale and dolphin populations have vanished and others are likely to go extinct—including a pod of killer whales off the coast of the UK that has dwindled to just eight individuals and has not given birth to a calf since 1990.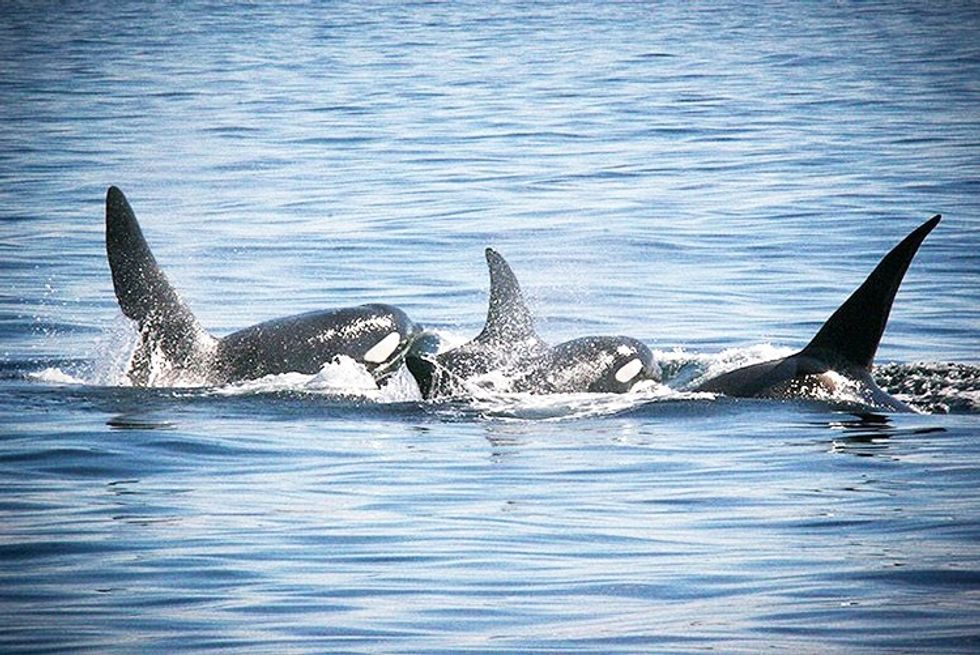 In the study, published in the journal Scientific Reports, researchers compiled data on concentrations of polychlorinated biphenyls (PCBs) in tissue samples from 1,081 marine mammals, including killer whales, harbor porpoises and striped and bottlenose dolphins. The samples came from animals in the UK, Ireland, Spain, France and elsewhere.
They found that even though PCBs have been banned in the UK and the European Union since the 1980s, bottlenose and striped dolphins and killer whales carried amounts of the chemicals in their bodies that far surpassed the levels known to cause health problems such as reproductive failure.
While the level of PCBs in marine mammals in the U.S. has continued to decline since they were banned in the 1980s, contamination remains level among those in the waters of industrialized Europe. Scientists are not sure why, Paul Jepson of the Zoological Society of London, the study's lead author, said during a meeting with reporters.
"The answer to that is neither easy nor straightforward," he said. "But mitigation measures should really involve dealing with historic and current industrial uses in old equipment—transformers and things, in electrical equipment—PCBs leaking out of landfill into rivers, PCBs in marine sediments, which are often dredged to keep shipping lanes open, which makes them more bioavailable to get into the marine food chains."
PCBs are manufactured chemicals that were widely used in inks, flame-retardants, electrical equipment and other products and machinery during much of the 20th century. Health and environmental concerns led the U.S., the UK and the European Union to phase out PCBs during the 1980s, but they remain persistent in the environment.
"One of the things that is particular about them is they dissolve in fat tissue," Jepson said. "Animals will ingest them in their diets and then the PCBs will pass through the gut into the blood stream and then eventually settle out in the fat tissue, in the blubber."
As a result, predators high on the food chain, such as marine mammals, are at risk of consuming concentrated amounts of PCBs with their prey and then storing them in their own bodies, a process called bioaccumulation.
When female dolphins and whales nurse their offspring, they pass much of the contamination along with the fat in their milk, Jepson adds, "at a time when the new calf is very vulnerable."
The UK's killer whales, which are known to consume a lot of seals, showed PCB levels in excess of 250 milligrams per kilo of fat, Jepson said—while killer whales off the Iceland and Norwegian coasts, which consume mostly herring, showed only 25 milligrams per kilo.
Some marine mammal populations off coasts of Spain, Portugal and France are also failing to reproduce and at risk of extinction because of PCB contamination, he said, adding that about 1.1 million tons of PCB-contaminated materials in the European Union still await proper disposal.
"Despite regulations and mitigation measures to reduce PCB pollution," Jepson said, "the levels are so high they will have toxic effects."
This article was reposted with permission from our media associate TakePart.
YOU MIGHT ALSO LIKE
David Bowie's Song 'Heroes' an Anthem for Dolphin and Whale Activists Worldwide
Human Emissions Will Delay Next Ice Age by 50,000 Years, Study Says
Huge Victory for Elephants: Hong Kong Bans Ivory Trade
Breathtaking Images Illuminate Pope Francis' Climate Message on the Vatican
EcoWatch Daily Newsletter
Mapping Urban Heat through Portland State University /
video
Concrete and asphalt absorb the sun's energy. So when a heat wave strikes, city neighborhoods with few trees and lots of black pavement can get hotter than other areas — a lot hotter.
The Rio San Antonio, in the headwaters basin of the Rio Grande in New Mexico, will lose federal protections under a new rule. Bob Wick / BLM California
By Tara Lohan
The Santa Fe River starts high in the forests of New Mexico's Sangre de Cristo mountains and flows 46 miles to the Rio Grande. Along the way it plays important roles for wildlife, irrigation, recreation and other cultural uses, and provides 40 percent of the water supply for the city of Santa Fe's 85,000 residents.
Climate activists protest Chase Bank's continued funding of the fossil fuel industry on May 16, 2019 by setting up a tripod-blockade in midtown Manhattan, clogging traffic for over an hour. Michael Nigro / Pacific Press / LightRocket / Getty Images
By Julia Conley
Climate campaigners on Friday expressed hope that policymakers who are stalling on taking decisive climate action would reconsider their stance in light of new warnings from an unlikely source: two economists at J.P. Morgan Chase.
Protesters holding signs in solidarity with the Wet'suwet'en Nation outside the Canadian Consulate in NYC. The Indigenous Peoples Day NYC Committee (IPDNYC), a coalition of 13 Indigenous Peoples and indigenous-led organizations gathered outside the Canadian Consulate and Permanent Mission to the UN to support the Wet'suwet'en Nation in their opposition to a Coastal GasLink pipeline scheduled to enter their traditional territory in British Columbia, Canada. Erik McGregor / LightRocket / Getty Images
Tensions are continuing to rise in Canada over a controversial pipeline project as protesters enter their 12th day blockading railways, demonstrating on streets and highways, and paralyzing the nation's rail system