UK to Shut Down All Coal Power Plants by 2025, But Will Remain Fossil Fuel Dependent
The world's wealthiest nations appear to be slowly acknowledging the destruction that decades of coal burning has wrought on the environment, though campaigners are warning that pledges to curb subsidies and close power plants still fall substantially short of the "radical shift" necessary to keep global warming beneath the stated goal of 2°C.
UK Energy Secretary Amber Rudd on Wednesday announced that her country would close all coal-fired power plants by 2025, making it first major global economy to commit to such a plan.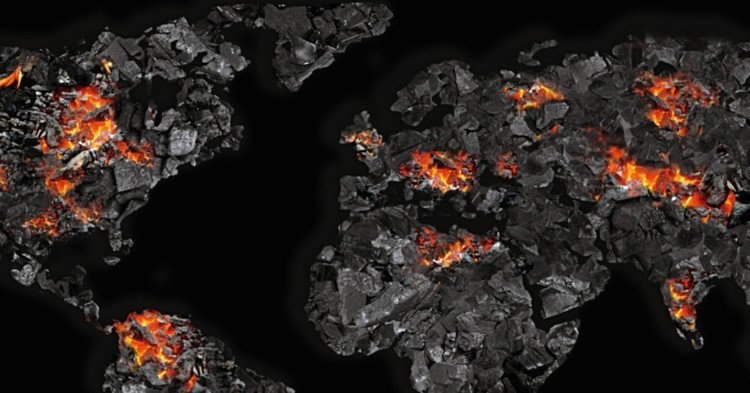 That came on the heels of an announcement Tuesday that the 34 member nations of the Organization for Economic Cooperation and Development (OECD) agreed to cut back on subsidies to build coal power plants overseas, but not eliminate the financing completely. The OECD claims the move represents a "major step" ahead of the COP21 climate talks "towards aligning export credit policies with climate change objectives."
However, while both developments were seen as significant milestones in the movement to end coal, environmentalists say that neither goes far enough to tackle the polluting legacy and future of coal power. For example, the UK plan calls for an increase in nuclear power and plants fueled by fracked gas, rather than renewable alternatives.
"We welcome that UK wants to close all coal-fired power plants by 2025," Dipti Bhatnagar, climate justice & energy co-coordinator for Friends of the Earth (FOE) International, told Common Dreams. "But the UK needs to do much, much, much more. They have huge responsibility for climate change, and they need to end all fossil fuels completely. They cannot move to fracking, nor nuclear. They need to completely transform their economy away from dirty energy."
Similarly, because the OECD agreement only slashes some of the group's credit financing for coal power plants and ignores altogether subsidies for mining, transport, and related coal infrastructure, "it won't do what is needed to solve the climate crisis," FOE stated.
"With so many loopholes, this agreement has more holes than a sieve," said FOE U.S. international policy analyst Kate DeAngelis of the OECD plan.
A visual analysis of the global use and impact of coal power published Wednesday reveals that western governments, which by and large grew their wealth through decades of coal-fired industry, continue to subsidize coal power both at home and in developing nations, despite it being one of the biggest sources of greenhouse gas emissions.
Coal Atlas 2015, by FOE International along with the Heinrich Böll Foundation, a Germany-based think tank which focuses on peace and climate issues, argues that because of this historic "emissions debt," western nations have a "specific responsibility to accelerate the transition from its current energy-mix into an emissions-free one."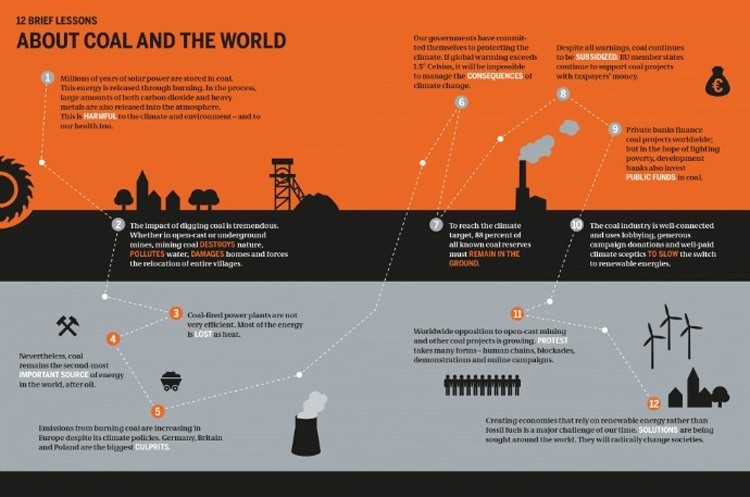 Lucy Cadena, climate justice and energy coordinator for FOE International, explains: "Europe has grown wealthy whilst burning coal for over 150 years—due to the 'lag' effect, it is these emissions that have caused the 1ºC increase in temperature we are experiencing in 2015."
Barbara Unmüßig and Ralf Fücks, presidents of the Heinrich Böll Foundation, further note that the EU's financing of international coal projects has been calamitous for both the environment and local populations, and must be ended completely.
"Worldwide, the EU is subsidizing its coal industries investments, generating countless environmental and social conflicts," Unmüßig and Fücks state. "One thing's for certain: The European Union must give a very clear signal to phase out fossil fuels, and first and foremost coal, if it wants to lead the global transition into an emission-free world and have its specific weight in advocating for any possible climate agreement at the COP21 in Paris."
Through this lens, campaigners say, these latest developments fall substantially short of the "radical shift" needed.
The silver lining, FOE U.S. policy program senior manager Doug Norlen told Common Dreams, is that the moves show there exists "a recognition that financing for coal must be curbed."
YOU MIGHT ALSO LIKE
Tim DeChristopher: Don't Back Down in Paris
3 Key Ingredients for the COP21 Paris Climate Agreement
10 Photos Show the Reality of a Warming Planet
By Jason Mark
Sequoiadendron giganteum. That's the scientific name for the giant sequoia: the mammoth trees found in California's Sierra Nevada that are the largest organisms on Earth, and among the longest-lived. Biologists estimate that about half of all sequoias live in Giant Sequoia National Monument, a 328,000-acre preserve in the Southern Sierra Nevada established by President Clinton in 2000.
Now that national monument is in jeopardy.
Keep reading...
Show less
By Andy Rowell
Donald Trump this week is launching an "energy week," pushing the argument that the U.S. will become a net exporter of oil and gas.
The president and his cronies are talking about a new era of "U.S. energy dominance," which could stretch for decades to come. However, no one believes the president anymore.
Keep reading...
Show less
Jun. 26, 2017 01:48PM EST
www.elysee.fr
By Andy Rowell
There is a growing feeling within European capitals that a quiet, but deeply positive, revolution is happening under Emmanuel Macron in France.
Macron's opinion poll rating is high, especially boosted in how the young French president has reacted to Donald Trump on the international stage.
Keep reading...
Show less
Jun. 26, 2017 12:32PM EST
www.facebook.com
Keep reading...
Show less
Keep reading...
Show less
www.youtube.com
According to Bloomberg, "SeaWorld Entertainment Inc. received a subpoena earlier this month from regulators investigating disclosures and public statements by executives, including comments about the Blackfish documentary that caused a public backlash against the confinement of orcas.
Keep reading...
Show less
By Mary Mazzoni
In 2013, shoppers were reacquainted with the tragic story of their clothing when a massive factory collapse claimed the lives of more than 1,100 Bangladeshi garment workers.
The nonprofit Fashion Revolution, formed in response to that disaster, continues to track the apparel industry's progress on environmental stewardship and human rights. But four years later, big brands are still not doing enough to disclose their efforts to customers, the organization concluded in a recent report.
Keep reading...
Show less
Jun. 26, 2017 01:18PM EST
Hawaii Renewable Energy Alliance
The latest issue of the U.S. Energy Information's "Electric Power Monthly" (with data through April 30) reveals that—for the first time since the beginning of the nuclear era—renewable energy sources (i.e., biomass, geothermal, hydropower, solar—inc. small-scale PV, wind) are now providing a greater share of the nation's electrical generation than nuclear power.
Keep reading...
Show less
www.youtube.com
Check out this great 360° virtual reality video by NowThis on the world's largest indoor vertical farm, AeroFarms. Located in Newark, New Jersey, AeroFarms grows more than 2 million pounds of greens a year without sunlight, soil or pesticides.
As reported by EcoWatch in July 2105, the $30 million, 70,000-square-foot AeroFarms headquarters dwarfs Japan's (already impressive) 25,000-square-foot vertical indoor farm, which had been the world's largest until now.