This website uses cookies to ensure you get the best experience while browsing it. By clicking 'Got It' you're accepting these terms.
UK Fracking Activists 'Reclaim the Power'
Aug. 18, 2014 10:01AM EST
Fracking
Early this morning, campaigners from the Reclaim the Power camp at Blackpool unleashed a series of coordinated direct actions against fracking targets around the United Kingdom. Targets range from government departments to universities building new fracking research facilities and a fracking site in East Yorkshire.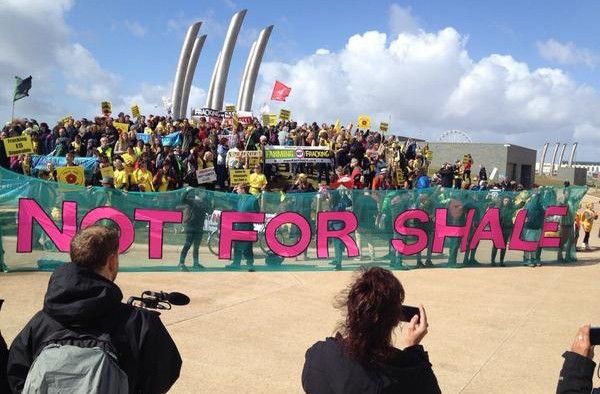 Protestors occupied the Department of Environment Food and Rural Affairs (DEFRA) in London, following the release of a government report last week containing 63 redactions on the potential impacts of shale gas exploration on rural communities. Three activists superglued themselves to the doors of DEFRA's main entrance and deployed reinforced arm tubes to prevent access. Another activist climbed the building and unfurled a banner reading: "WHAT'S TO HIDE DEFRA?—DON'T FRACK WITH OUR FUTURE."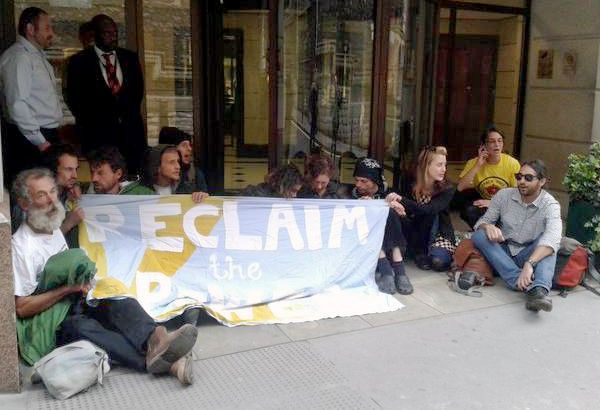 Some of the activists wore black tape across their mouths, highlighting the vital information which was blacked out in the report. Deleted sections include analysis around falling house prices and failing rural services.  The chapter examining the effect of drilling on house prices had three sections cut. Only three paragraphs survive in the conclusion. A health policy report was likely redacted also, along with estimates suggesting the industry may not be commercially viable.
At 6 a.m., a group of students, graduates and local residents shut down the construction of Swansea Bay campus at Swansea University. The student protesters were angered by tens of millions of public money being funneled into research on fracking via Swansea University's new Energy Safety Research Institute and its main partner BP.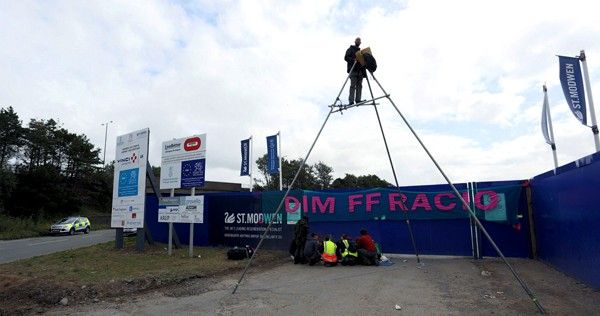 "We are here today to stand with communities across Wales and the UK who are resisting their local areas becoming fracking sites," said local Swansea resident Jac Bastian. "Not only is it dangerous and unnecessary but people across the UK don't want it. If we are going to avoid dangerous climate change we need to leave unconventional gas in the ground."
The protest was linked to Fossil Free campaign calling on UK universities to divest from fossil fuels companies and sever research partnerships that lead to further fossil fuel extraction.
Elsewhere around the UK, a group of campaigners occupied and shut down a new fracking site at Crawberry Hill, East Yorkshire. This protest follows a number of safety breaches committed by Rathlin Energy at nearby West Newton drilling site.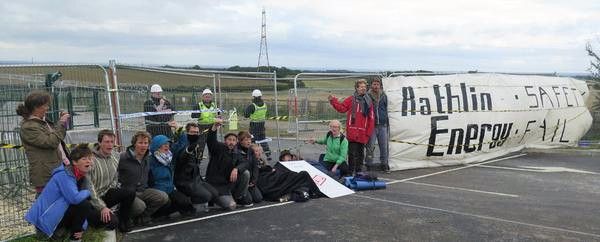 "Rathlin Energy is recklessly putting profit before peoples' health, as shown by recent events in West Newton," said local resident, Pippa Hockey. "The local community here are determined to do everything in our power to prevent dangerous mistakes being made again."
Less than a week ago, the Health and Safety Executive (HSE) were alerted by Hull and East Riding Frack Off to a major operational failures and reported the use of specialist Well Intervention equipment at West Newton. The HSE admitted they didn't have the resources to investigate the incident despite Rathlin disclosing pressure issues with the well.
Occupation, shutdowns, sit-ins and lock-ons were also staged at other sites, including the headquarters iGas in London and the Blackpool offices of Cuadrilla, who own most of the fracking wells across the country.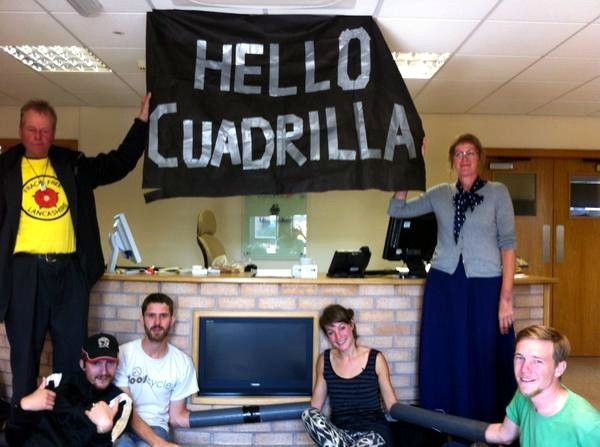 The day of action was part of the Reclaim the Power camp in Blackpool where protestors have joined local residents resisting fracking by Cuadrilla. The camp runs from Aug. 14 to Aug. 20t with more protests expected throughout the week.
YOU ALSO MIGHT LIKE
Fracking Waste Disposal Fuels Opposition in U.S. and Abroad
New Jersey Governor Vetoes Fracking Waste Ban Despite Bipartisan Support
EcoWatch Daily Newsletter
Fabian Krause / EyeEm / Getty Images
Water protectors of all persuasions gathered in talking circles at Borderland Ranch in Pe'Sla, the heart of the sacred Black Hills, during the first Sovereign Sisters Gathering. At the center are Cheryl Angel in red and white and on her left, Lyla June. Tracy Barnett
By Tracy L. Barnett
Sources reviewed this article for accuracy.
For Sicangu Lakota water protector Cheryl Angel, Standing Rock helped her define what she stands against: an economy rooted in extraction of resources and exploitation of people and planet. It wasn't until she'd had some distance that the vision of what she stands for came into focus.
Hedges, 2019 © Hugh Hayden. All photos courtesy of Lisson Gallery
By Patrick Rogers
"I'm really into trees," said the sculptor Hugh Hayden. "I'm drawn to plants."
BruceBlock / iStock / Getty Images
Thanks to their high concentration of powerful plant compounds, foods with a natural purple hue offer a wide array of health benefits.
Environmental Investigation Agency
Last week, the Peruvian Palm Oil Producers' Association (JUNPALMA) promised to enter into an agreement for sustainable and deforestation-free palm oil production. The promise was secured by the U.S. based National Wildlife Federation (NWF) in collaboration with the local government, growers and the independent conservation organization Sociedad Peruana de Ecodesarrollo.
Pixabay
Leaked documents show that Jair Bolsonaro's government intends to use the Brazilian president's hate speech to isolate minorities living in the Amazon region. The PowerPoint slides, which democraciaAbierta has seen, also reveal plans to implement predatory projects that could have a devastating environmental impact.
XL CATLIN SEAVIEW SURVEY / THE OCEAN AGENCY
Hope may be on the horizon for the world's depleted coral reefs thanks to scientists who successfully reproduced endangered corals in a laboratory setting for the first time, according to Reuters.