When it comes to climate change and clean energy, America is on the brink of something huge.
Nationally we are seeing clean energy starting to compete head-to-head with fossil fuels—and win. In the first half of 2015, renewables account for more than two-thirds of new electricity generation across the U.S. On a level playing field, these renewable resources are already in many cases the cheapest electricity options for new installations.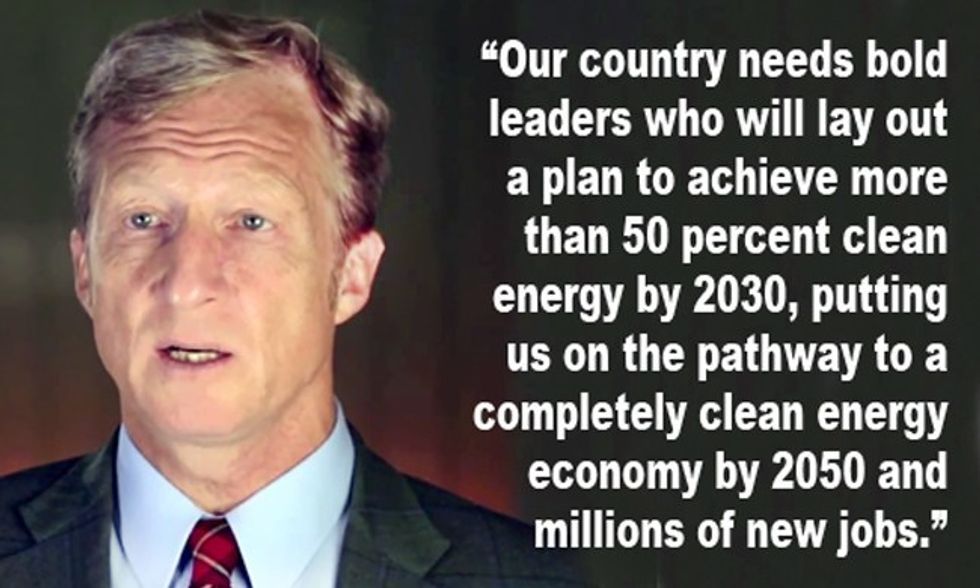 This is fantastic news for consumers, but even better news for American jobs. In 2014, the solar industry was the top job creator in the whole energy sector. Over its lifetime, solar creates more than eight times the jobs per megawatt-hour than natural gas or coal. And accelerating the shift to clean energy would lower electricity bills and add millions more good paying jobs right here in the U.S.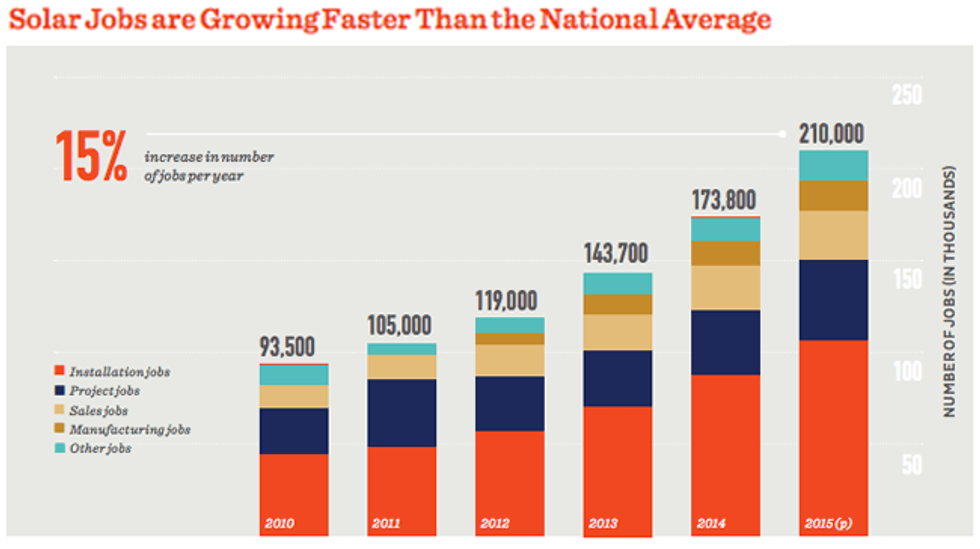 The clean energy revolution is finally happening but in order to lead—or even be competitive—we need leaders who are willing to keep pushing the envelope and accelerate the transition to a clean energy economy.
That is why we're calling on candidates and elected officials to demonstrate bold leadership and lay out a clear and concrete plan to achieve at least 50 percent clean or carbon-free energy by 2030. Reaching this goal would more than triple renewable energy in our country—putting us on the pathway to a 100 percent clean energy economy by 2050 and millions of new jobs.
This goal, which should serve as the minimum starting point for candidates and elected officials truly committed to accelerating America's transition to a clean energy economy, will give our businesses the tools they need to do what they do best—innovate, create, and lead the world. More importantly, it will show the American people that our leaders are getting serious about climate change and finally standing up for our kids.
Whether or not candidates make this commitment will be a critical factor for Americans who are deciding what candidates to support at polls. In fact, a recent NextGen Climate poll found that 69 percent of voters in eight battleground states favored powering America with more than 50 percent clean energy by 2030, and with a completely clean energy economy by 2050.
The American public are clamoring for a better future for our kids. American business is ready to lead the way. The jobs are there for the taking. And I expect serious candidates will read the writing on the wall and embrace this tremendous opportunity to put our country on a sustainable path that will promote prosperity for every American.
Smart people across the political spectrum have been considering this question for years, and I'm confident that our leaders will step up to the plate with bold, thoughtful, and concrete plans to turn the global clean energy opportunity into a story of American success.
I can't wait to hear them.
YOU MIGHT ALSO LIKE
Coal Is No Longer King in America, Says EIA Report
Does Elon Musk's Tesla Model S 'Signal the Beginning of the End for Oil?'
Renewable Energy Accounts for 70% of New U.S. Generating Capacity in First Half of 2015
EcoWatch Daily Newsletter
First of all, this is President Obama's decision, and the State Department's Final Environmental Impact Statement (FEIS) is just an input. So we don't have an answer yet, and the fight is far from over. I remain hopeful that the President will, in fact, apply the test for Keystone he established in his speech at Georgetown University: that the project cannot be approved if it increases the amount of carbon pollution being put into our air, which it does. I trust the President is aware of the opportunity for America to show leadership on this critical issue, and that he will be mindful of the importance of doing right by our children by tackling climate change head on.
The FEIS is based on the flawed premise that Canadian tar sands oil will be developed no matter what—a tired talking point pushed by TransCanada and the oil industry. This is no surprise given that the contractor hired to evaluate the environmental risks of the project has direct ties to TransCanada and oil lobbying groups. But the truth is that Keystone XL is key to unlocking the Canadian tar sands—and all of the carbon pollution that comes with it. By expanding capacity and reducing costs, Keystone XL would spur investment in the tar sands and enable the oil industry to ramp up production at an irreversible rate, with potentially devastating impacts on the global climate. In June, the President drew a line in the sand when he said the pipeline would only be approved if "the project does not significantly exacerbate the problem of carbon pollution." Keystone XL fails the President's climate test.
The pipeline also poses enormous economic and environmental risks to America's heartland, threatening our farms, towns and drinking water. And what do the American people get in return? Higher gas prices in the Midwest, only 35 permanent jobs and none of the profits. If Keystone XL is approved, the real winners will be the oil industry and foreign investors like China who stand to profit from more production of this dirty oil.
As I said, our efforts to defeat the Keystone XL pipeline will continue. I hope President Obama will take a hard look at the facts before he makes a decision on this enormously risky project. In his State of the Union address this week, the President pledged to "act with more urgency" to combat the threat of climate change. His first step should be to reject the Keystone XL pipeline.
Visit EcoWatch's KEYSTONE XLand CLIMATE CHANGE pages for more related news on this topic.

For years, TransCanada has been selling the Keystone XL pipeline to Americans with all of the enthusiasm of a used car salesman—and using all of the same tricks. However, one myth is more egregious than all the rest: this pipeline will enhance America's energy independence.
Apparently, Big Oil lobbyists and politicians take Americans for a bunch of suckers.
Here's the truth: Keystone XL won't make America energy independent. It will threaten our land and livelihoods to pump Canadian tar sands' heavy crude through America and out to foreign countries, like China.
So who will benefit from Keystone XL? Companies backed by the Chinese government have recently become some of the biggest players in Canadian tar sands development, investing nearly $30 billion over the past few years. China now holds 100 percent of Nexen, a tar sands and shale gas company, and also has major stakes in McKay River, Dover, Long Lake and other Canadian tar sands projects. And the Keystone XL pipeline would give them easier access to Canada's energy resources, providing more power for China's economy and more carbon pollution for the world.
And what do the American people get out of the deal? Higher gas prices in the Midwest and only 35 permanent jobs. Not to mention the risks to our farms, towns and drinking water.
There has been too little focus on the real winners of the Keystone XL pipeline: foreign countries like China. That's why we engaged our online community to run a national television ad, "Suckers," during President Obama's State of the Union address.
We need to ask elected officials supporting Keystone XL whether they're willing to put their constituents and our environment at risk so that foreign oil tycoons get a better return on their tar sands investments. Keystone XL backers will keep trying to sell us a sucker's deal; it's up to us to say no.
Visit EcoWatch's KEYSTONE XL and TAR SANDS pages for more related news on this topic.