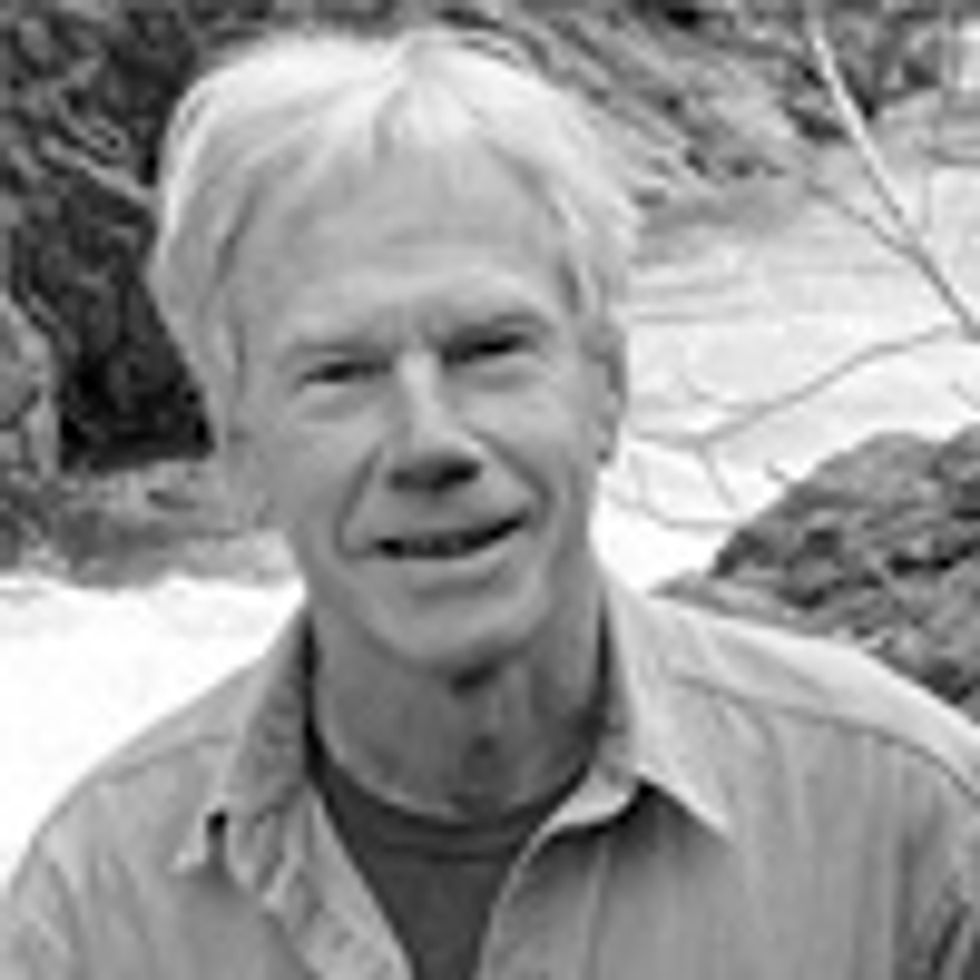 The most shocking fact about earthquake and tsunami risks on the coast of Oregon is their inevitability. We buy fire insurance—spending good money though our house is unlikely to burn. Meanwhile, the geologic record indicates beyond scientific doubt that a major tremor and Fukushima-style tidal wave is due. And it's going to be the big one. The really big one—many times greater than the infamous 1906 San Francisco disaster. All credible science indicates that a major event approaching or exceeding magnitude 9 at Coos Bay, on the coast of Oregon, has a return cycle of 243 years. The last one was 315 years ago. We're not just due, we're overdue.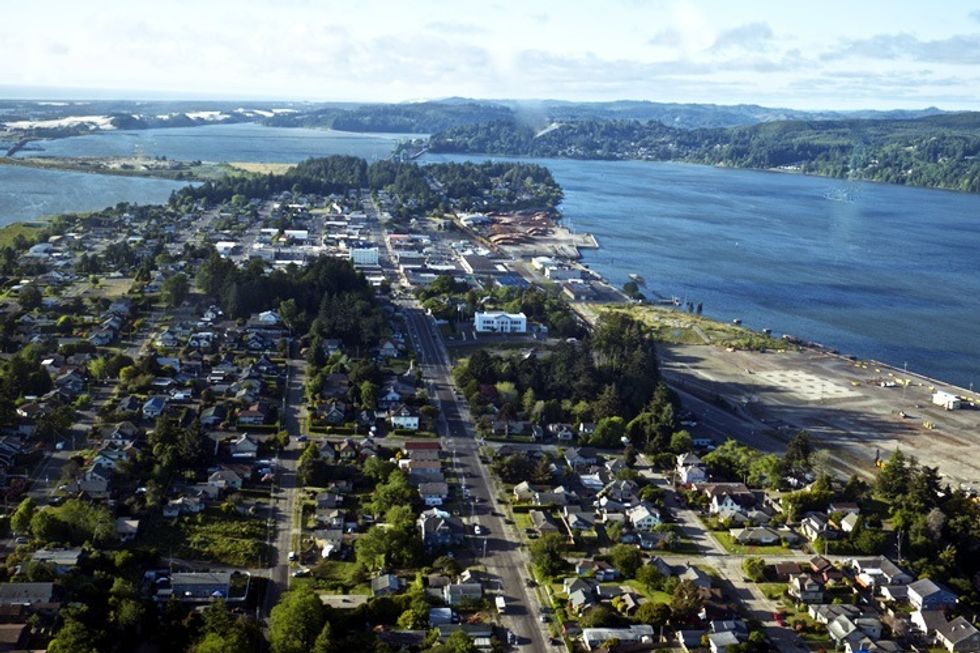 North Bend and Coos Bay, Oregon, with Jordan Cove in the background. Photo credit: Tim Palmer
For a chilling account of our seismic fate, read the article that many Northwesterners are talking about: the July 20 New Yorker, "The Really Big One."
As an Oregonian who lives in the danger zone, I have to say that denial is our most common modus operandi. We hope it won't happen. But taking a personal risk, with knowledge of the consequences, is one thing and taking a public gamble by forcing the entire community and region to be at risk is quite another.
That's what's happening at Jordan Cove just north of Coos Bay. Three years ago the State Department of Geology and Mineral Industries provided maps to the county that clearly define the area of the LNG proposal as a "hazard" zone. Yet planning for the facility proceeds on a path greased by the county and the Federal Energy Regulatory Commission. The inevitable earthquake and tsunami will shatter and pound at full force directly on the LNG site with its tanks, tankers and pipelines loaded with one of the most explosive and flammable substances known.
According to the Federal Energy Regulatory Commission's Draft Environmental Impact Statement, nearly 17,000 people live or work in the project's hazardous "zones of concern." Picturing the outcome of a tidal wave at Jordan Cove doesn't require much imagination; just look to Fukushima in 2011.
We all make personal decisions to live in areas of known danger and—at least until it happens—we think the risk is worth it. But the LNG facility puts many thousands of people at far greater risk. Why would this be worth the cost?
After the short-term building boom, project boosters claim that 146 LNG jobs will result. Even if that number is accurate, it's only one-third the number that work at Coos Bay's Mill Casino, posing no danger to those around them.
The other reason for Jordan Cove's risk is the export of natural gas. Export. We might have all been persuaded by the drive for "energy independence" that has justified fossil fuel development for 40 years across America. But now, at Jordan Cove, our own resources will be depleted in order to fuel China's rise in the world economy. And in the process, we march down the road of global warming by enabling the fracking of gas across the West and the burning of more fossil fuel for decades to come.
After the inevitable disaster, everyone will say that we should have known better, that the officials on our watch shirked their responsibility, that the risks we all shouldered to make the gas industry richer were not worth the cost.
Goal 7 of the Oregon state land-use law requires "prohibiting the siting of ... hazardous facilities ... in identified hazard areas, where risk to public safety cannot be mitigated." Yet one of the most hazardous facilities possible is being planned for the most hazardous landscape in America.
The hazard maps are unambiguous. After several years of LNG preparations, Coos County finally adopted the maps on July 30, but has delayed their effective date for a year. Meanwhile the Goal 7 directive remains unaddressed. Consequences will ripple or explode out to the region, the state and the nation.
Some risks are necessary and worth the cost. This one is not.
Tim Palmer lives on the Oregon coast and is the author of 24 books about the American landscape.
YOU MIGHT ALSO LIKE
How Worried Should We Be About Nuclear Fallout From Fukushima?
President Obama, Your Climate Legacy Lies with Keeping Fossil Fuels in the Ground
EcoWatch Daily Newsletter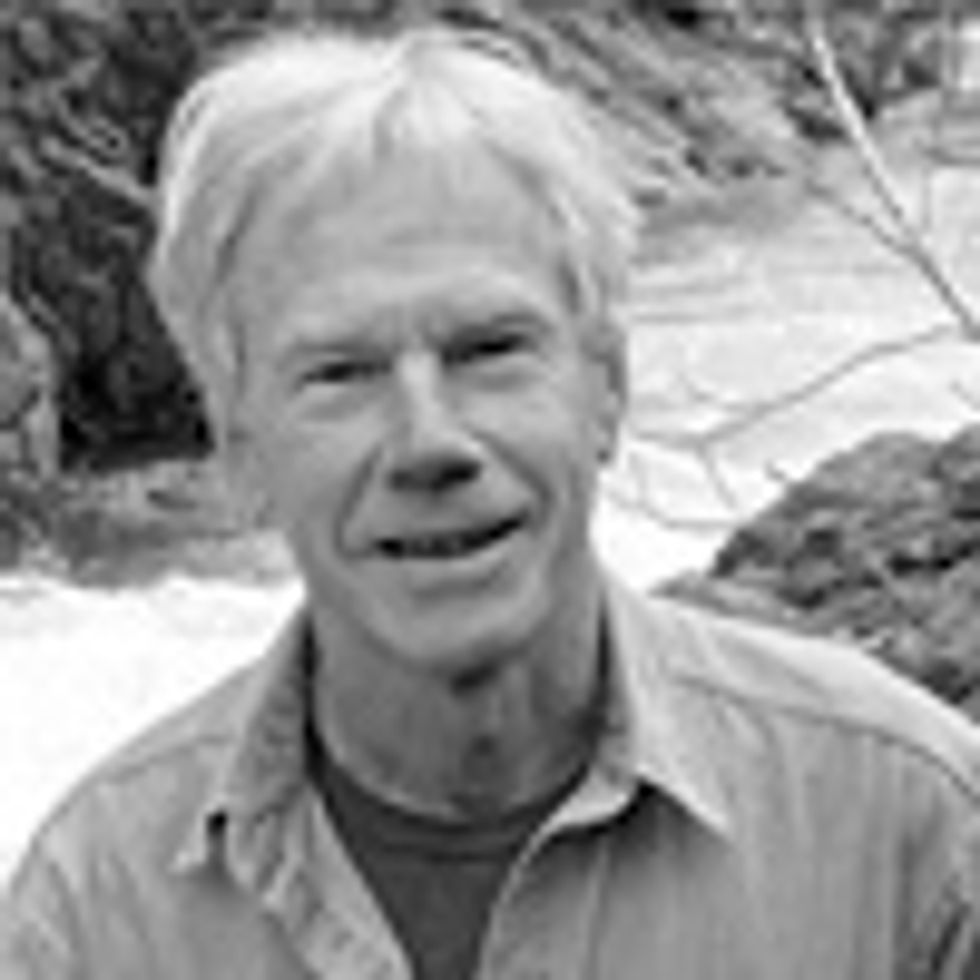 A quiet cove at the edge of the Pacific Ocean is heir apparent to the raging debate over the Keystone XL pipeline. With a massive natural gas terminal and its own power plant, the pipeline that's proposed to end at Coos Bay is slated as one of the next lavish investments in our nation's continuing commitment to fossil fuels that propel the climate crisis.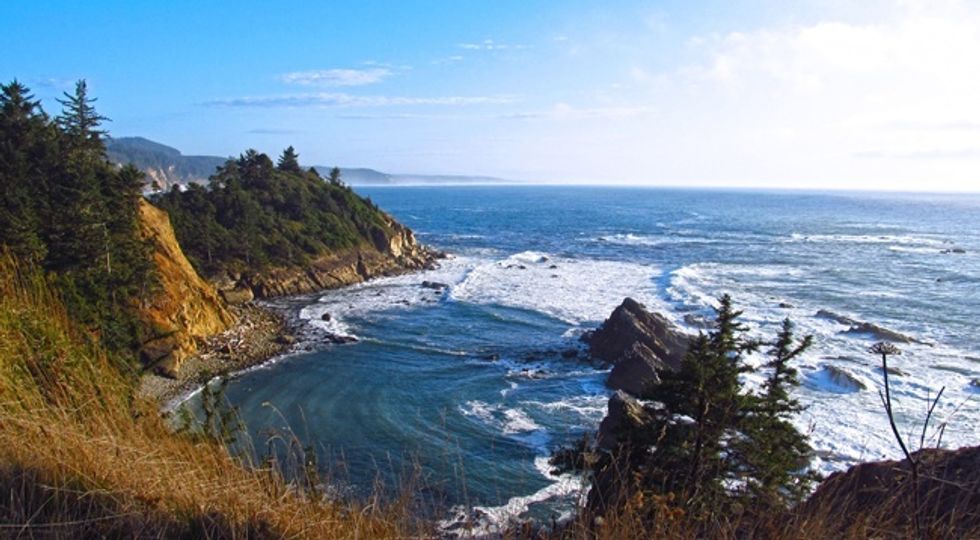 Forget the compelling mantra of "energy independence." That goal has driven the engine of mining, drilling and pumping across the coal, oil and gas fields of America ever since the Arab oil embargo of 1973. Who would disagree that we should be less-dependent on foreign oil? It drains our balance of payments, precipitates wars, and feeds the specter of terrorism. For energy independence, we sacrificed American landscapes, waterways, and communities from permafrost at Prudhoe Bay to BP blowouts on the Gulf Coast, not to mention the scourge of Appalachian mountaintop removal and the fracking of gas in pockmarked well-fields poisoning groundwater from Colorado to Pennsylvania.
But now, in a move that could define the phrase "bait-and-switch," the mantra is "export" by corporations that will profit more by selling home-grown fuel abroad than by selling it here.
For export at Jordan Cove we would slice a pipeline swath through whole mountain ranges and enclaves of ancient forests for 230 miles from the West's interior drylands to the Pacific. Crossings will put 400 streams at risk including Oregonians' cherished waters of the Klamath, Umpqua, Coquille and Rogue Rivers—all vital to endangered salmon and steelhead trout.
Coos Bay fingers through more acreage than any other West Coast estuary between the Columbia River and San Francisco. Water here pulses with Pacific tides that nourish commercial and sport fisheries renowned for generations, but 5.6 million cubic yards would be dredged from those rich waters and fertile wetlands for the berth of one gas-tanker alone.
Federal approval of this corporate project would prescribe the condemnation of private land in ranches, woodlands, and neighborhoods. Nearly 700 private parcels—not to mention the human lives and legacies attached to them—would be sliced into pieces by the pipeline route. Corporate powers would condemn this property in a way that's now criticized for even the most legitimate of public needs—let alone for the private profits of Jordan Cove's chief investor in Alberta, Canada. All this would be sacrificed for export of gas from a thousand countrysides disabled by fracking across the interior of America where toxic well-water might be expected for decades if this pipeline is built.
It's a lot to give up so that the industrial-military engine of China can thrive.
For this plan—incidentally at ground-zero of the West Coast's tsunami zone and at a seismic hotspot where earthquakes exceeding any yet recorded in America are predicted—the Federal Energy Regulatory Commission speciously gave a green light in November 2014 by ruling that "some limited adverse environmental impact...would be reduced to less-than-significant levels." Not to mention the possibility of accidents. And regarding terrorism, Chairman Lord Levene of Loyd's of London—the giant British insurer that covers natural gas facilities—said that an attack on an LNG tanker "would have the force of a small nuclear explosion."
Millions of Americans and the core of our nation's leadership—minus those members of Congress who are bankrolled by the fossil fuel industries—got the message that Keystone XL promised only more of the same in fossil fuel dependence while ignoring the fact that renewable energy has become economic. Jordan Cove and its pipeline deserve the same veto—literal and symbolic—by a nation that must change its course if we are to face a challenging future with hope for the generations to come.
Tim Palmer is the author of 24 books including Field Guide to Oregon Riversand Pacific High: Adventures in the Coast Ranges from Baja to Alaska.
Bill Bradbury is the former Oregon Secretary of State and former President of the Oregon Senate.
YOU MIGHT ALSO LIKE
New Map Shows Koch's Connection to Keystone
This Is What Epic Drought Looks Like: Lake Mead Hits Historic Low
Must-See: Obama's Key and Peele Skit at White House Correspondents' Dinner
Elenathewise / iStock / Getty Images

Embracing solar power means reducing both your reliance on traditional utility companies and your environmental footprint, but the high upfront cost of solar panels can be a big deterrent for some homeowners.
If you're considering solar, you may have questions like: How much does it cost to install a solar energy system? What are some of the factors that can impact pricing? What else should home- and business owners know about going solar? In this article, we'll touch on each of these important topics, with the goal of helping you make a fully informed, financially responsible decision about solar energy.
Each product featured here has been independently selected by the writer. If you make a purchase using the links included, we may earn commission.

How Much Do Solar Panels Cost to Install?
To begin with, let's take a look at the basic price range for solar panel installation. According to the most recent U.S. Solar Market Insight report, in the first quarter of 2021, the national average price of a residential solar system was $2.94 per watt, which would mean a 5 kWh system would cost $14,700 and a 10 kWh system would cost $29,400.
The exact price you'll pay for solar panels will depend on a number of factors, including your geographic location, the size of your home and more.
Now, you might rightly wonder: What exactly are you paying for? The solar panels themselves usually make up just about a quarter of the total cost. Remaining expenses include labor, maintenance and additional parts and components (such as inverters).

What Factors Determine Solar Pricing?
As mentioned, there are a few key things that can lead to variation in solar system installation costs. Analyzing these can help you determine whether solar panels are worth it for your home. Let's take a look at them in greater detail.
Your Electrical Needs
The solar panels themselves will be rated for a particular wattage, which reflects the amount of energy they can absorb for storage and ultimately for power generation. You will actually pay according to wattage, which means that the greater your household energy needs, the more you'll have to spend to get the correct number of solar panels.
So, how do you determine how much energy you need for your home? The best way to figure this out is through a consultation with a solar installer. (We recommend shopping smart by requesting free consultations with two or three top solar companies in your area.)
Your installer will evaluate your home energy needs based on total square footage, the number of people who live in your home, the number of appliances and power-draining devices that you have connected and more. It can then recommend the ideal solar panel system size to accommodate your energy usage.
Type of Panels and Other Components
Variation in manufacturing can also affect the cost of solar panels. There are three basic types of solar panels, two of which are commonly used residentially: monocrystalline and polycrystalline panels. Of these two, monocrystalline options tend to be more energy-efficient and thus may provide you with greater savings in the long run. They are also a bit pricier on the front end. With that said, homeowners with a smaller roof surface area may benefit from getting the most efficient solar panels, even if the initial cost is a bit steeper.
Other components you'll need to purchase include inverters, wiring, charge controllers, mounts and more. The quality of these materials can affect your total solar system cost. For example, if you spring for the best solar batteries, they may add a few thousand dollars to your investment.
Geographic Location
Another factor that can have a big impact on solar pricing? Your geographic area. Solar installation tends to be most cost-effective in parts of the country that get a lot of sun exposure, and thus a lot of photovoltaic light. This basically means that solar panels can operate more efficiently, and in many cases means that fewer total panels are needed. Those who live in states like California, Florida and Arizona — or really any areas of the Sun Belt or Southwest — will likely get the most out of their home solar power systems.
Tax Incentives
Both state and federal governments have established incentive programs to encourage homeowners to buy solar panels. There is currently a 26% federal solar tax credit, called an Investment Tax Credit (ITC), available for homeowners who install residential solar panels between 2020 and 2022. It is scheduled to reduce to 22% in 2023 and may not be extended thereafter.
Local incentives vary by state, but most of the best solar panel installers will help you identify and apply for these programs so you don't miss out on savings.
Additional Factors
There are plenty of other factors that can impact solar panel installation costs. Different vendors are going to offer different levels of customization, expertise and consumer protections (including guarantees and warranties). The bottom line? It is wise to shop around a bit, determine the average cost of solar panels in your area and evaluate the value of services offered by a few solar installation companies.

Solar Panel Price Vs. Return on Investment
Clearly, your upfront solar panel installation cost may be a little steep. Now, let's look at the flipside: How much money will you actually save? And will your energy savings be enough to offset the initial cost of your solar energy system?
It is not unreasonable to think that you can cut your monthly utility bills by as much as 75% or more by switching to solar energy. Of course, the specific dollar amount will depend on where you live, the size of your home and the number of people in your household.
One way to look at it: The average household energy bill is somewhere between $100 and $200 monthly. It would probably take about 15 years for your energy savings to cancel out the cost of solar panel installation. In other words, within a decade and a half or so, your solar system might pay for itself. Factor in savings from tax rebates and other incentives, and most solar systems pay for themselves in closer to seven or eight years.
Note that most solar energy companies offer free solar calculators, which help you arrive at a ballpark for monthly energy savings. While these calculators are imprecise, they can certainly give you a general sense of the financial benefits you will experience when you convert to solar energy.
Free Quote: See How Much You Can Save on Solar Panels
Fill out this 30-second form to get a quote from one of the best solar energy companies in your area. You could save up to $2,500 each year on your electric bills and receive tax rebates.
Frequently Asked Questions About the Cost of Solar Panels

As you continue to weigh the pros and cons of solar energy, it's natural to have a few questions. The best way to resolve these is really to set up a solar consultation with a local expert, but in the meantime, here are a few general answers to some of the most common solar inquiries.
How much will it cost to maintain my solar energy system?
In general, solar systems are designed to run smoothly for decades without requiring any maintenance or upkeep. As such, you should not really need to factor maintenance into the equation for the first 20 years or so after you install your system. (And most solar companies will offer you warranties and guarantees to give peace of mind on this front.)
How will solar energy impact my property values?
Many homeowners want to know how going solar will impact the value of their homes. Going solar increases property values. In fact, the U.S. Department of Energy has reported buyers are willing to pay an average premium of about $15,000 for a home with a solar panel system. With that said, you are only going to see your property values go up if you own your solar system outright, as opposed to leasing it.
How can I finance the cost of solar panels?
Different solar installers may offer different financing plans, allowing consumers some flexibility. With that said, there are three basic options for paying for your solar energy system:
Purchase your solar energy system outright (that is, pay in cash).
Take out a solar loan to purchase the system, then pay it back with interest.
Lease your system; you will pay less month-to-month but won't actually own the system yourself.
Which is better, buying or leasing my solar system?
It all depends on your motivation for going solar. If you want to maximize long-term savings and increase the value of your home, then purchasing your solar system is usually best. However, if you just want a low-maintenance way to reduce monthly energy costs and practice environmental stewardship, then leasing might be a better option. Also note that leasing can be a good option for those who do not plan on being in their home for exceptionally long.
How can I be sure my roof will accommodate a solar system?
If your roof faces south, has ample space and has little to no shade cover, it should work just fine. Even roofs that are not optimal can still be utilized with a few tweaks and adjustments. Your solar energy consultant will advise you on whether your home is a good fit for solar energy.
How long will my solar energy system last?
Solar systems are designed to be exceptionally durable. With just the most basic upkeep, most solar energy systems should continue to work and produce power for anywhere from 25 to 35 years.

Make the Best Choice About Solar Energy
Solar energy is not right for every homeowner, nor for every home. With that said, many homeowners will find that the initial cost of solar panels is more than offset by the long-term, recurring energy savings. Make sure you factor in cost, energy needs, tax incentives, home value and more as you seek to make a fully informed decision about whether to embrace solar power.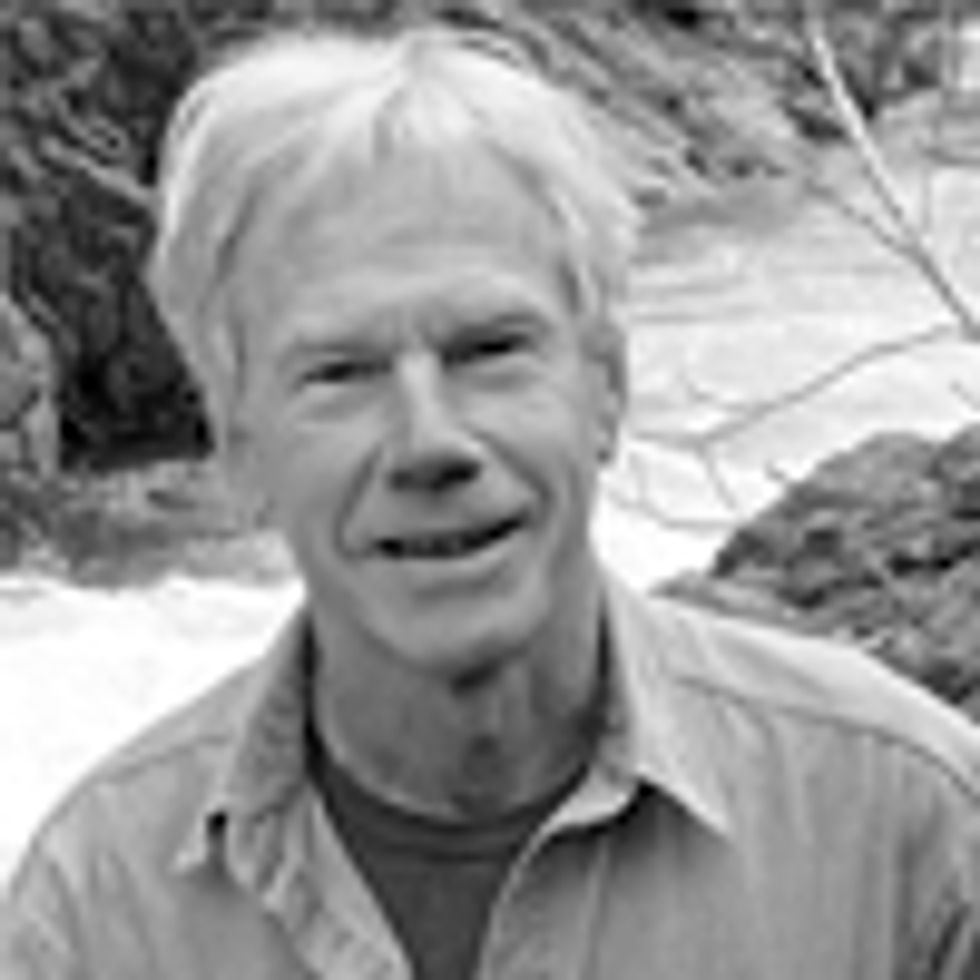 Now that streams here in Oregon are rising with runoff from autumn storms, I'm reminded that when it rains it pours. Oregon's last major flood was in 1997. We're due. And in every region of the country, high water inevitably reoccurs over and over again.
More important, the floods are going to get worse. Ironically, both droughts and floods will become more extreme according to the models of climate change.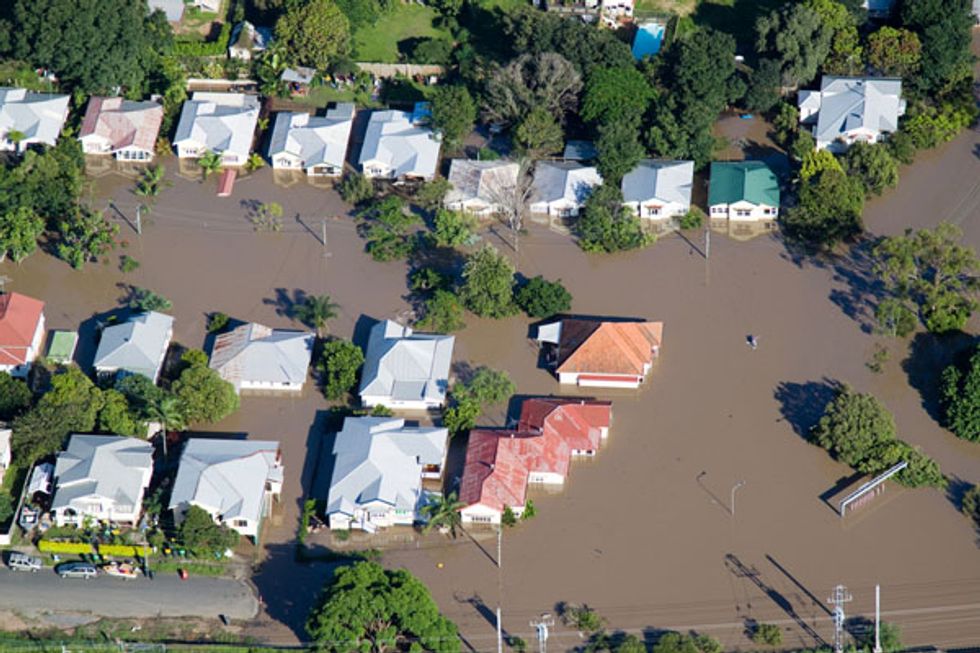 Photo credit: Shutterstock
First, let's look at the bright side. Biologists tell us that floods are fundamentally good for rivers, even though the initial results might look a little rough. The scouring actions of floods create deep pools that every angler knows are essential as cold-water refuges for fish. Floods rearrange cobbles into riffles needed for aeration of water, create habitat for invertebrates that become fish-feed, and accumulate gravel essential for spawning fish—salmon, for example. Floods recharge groundwater that we depend upon later in the year, and they nourish riverfront forests—best habitat of all for wildlife. The rub is not that rivers flood, but that we've built houses and businesses directly in the way.
Even after a century of aggressive efforts to "control" floods with dams and levees costing taxpayers dearly, America suffers increasing flood damages averaging $8 billion per year according to the National Weather Service. One reason is that we keep adding more development on the floodplains.
To address the long-standing problem, and to replace disaster relief, Congress in 1968 enacted a National Flood Insurance Program with this logic: the Federal Emergency Management Agency (FEMA) would subsidize otherwise unaffordable flood insurance for people who are already located on flood-prone land, but only if their local governments acted to eliminate flood damage incurred by future development. In other words, to accommodate mistakes of the past but not of the future. Zoning is the key: areas expected to flood at least once in 100 years have been designated as floodplain (courts have consistently upheld open-space zoning for floodplains since the 1920s). 
Under the Program, the amount of damage should have shrunk by attrition. However, owing to influence by the building industries, the FEMA-approved flood zones have not halted floodplain development. Rather, they've allowed for "flood proofing" by adding fill to artificially raise the level of the land or by elevating structures on pilings.
FEMA's approach hasn't worked. Earthen fill that's trucked-in to raise the level of floodplains pushes the water elsewhere—onto neighbors' properties—like a rock dropped into a bucket of water that's already full.  Structural reinforcements have proven no match for riverbank erosion or channel migration, which has occurred ever since rivers began to run. Furthermore, errors of mapping and the increasing intensity of storms have delivered floods far exceeding those expected on the agency's maps, which continue to allow vulnerable investments.
As a result, new development that was supposed to be risk-free continues to sap insurance subsidies and also, disaster relief funds have been doled out at $6 billion even in years without budget-busting events such as Hurricane Sandy. What was supposed to be a catalyst for ushering development to safe havens has become a subsidy for even more development squarely in the path of damage.
There's plenty of room for construction elsewhere; only 5 percent of America's landscape is flood-prone. But because of development built in harm's way, the Flood Insurance Program runs at a whopping $24 billion deficit, somehow tolerated in an age when conservative taxpayers rail against programs as essential as education and health care. Why are floodplain developers given a pass that pushes such a sensible program toward bankruptcy?
This topic is timely because the National Oceanic and Atmospheric Administration's Fisheries department is considering a new rule directed at the FEMA program. Floodplains in Oregon and California, for example, would be mapped more accurately. Development in acutely hazardous areas would be stopped. Though universally needed, these sensible steps would apply only on the agency's home turf: streams where endangered or threatened species of fish and wildlife still exist, including coastal waterways in the Northwest that are vital for coho salmon.
This modest proposal deserves support. Beyond that, the Flood Insurance Program cries for overhaul.
The alternative is greater flood damage, skyrocketing private and public costs, and unnecessary human suffering. And all the while, we taxpayers are underwriting the destruction of our rivers' precious natural qualities.
It's time to quit making the same mistakes over and over again.
YOU MIGHT ALSO LIKE
Jon Stewart: Honestly Governor Christie, 'Let the [Pregnant] Pigs Turn Around'
McDonald's Palm Oil Policy: Not 'Lovin' It'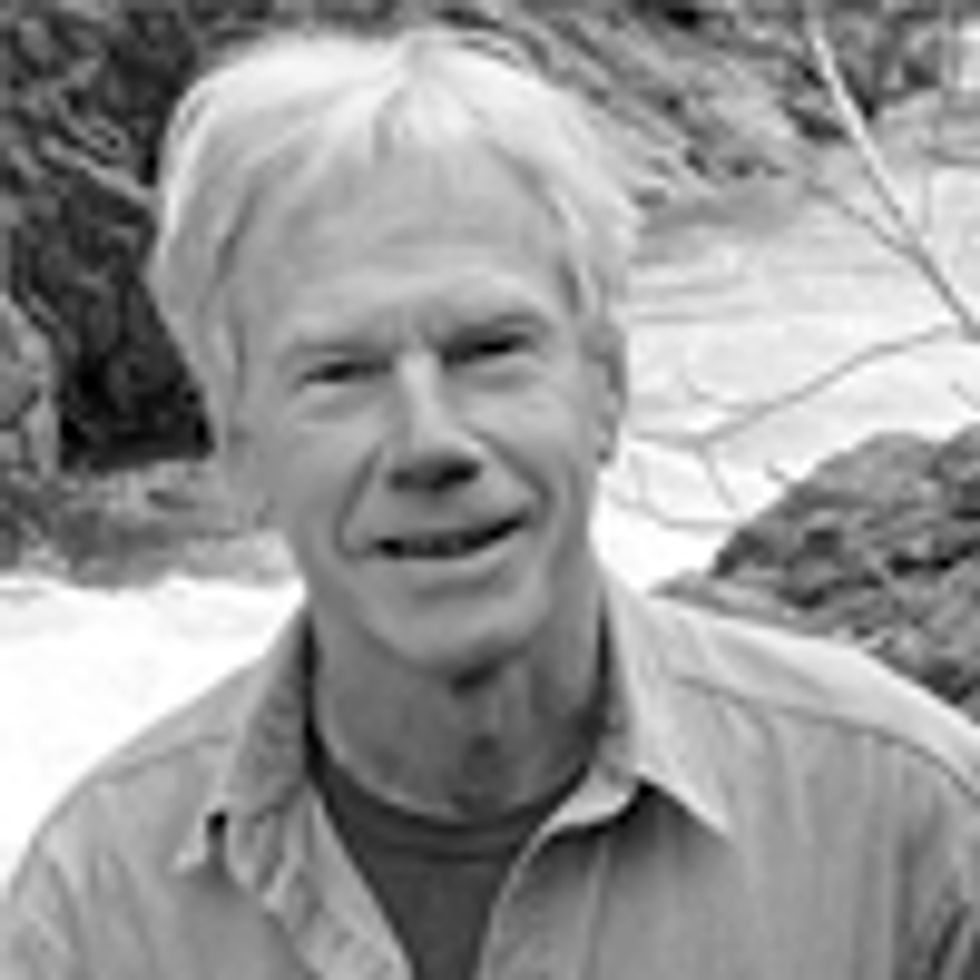 Imagine having transportation being governed by laws passed before cars were invented. Or communications dictated by edicts predating telephones. Or public lands managed by rules passed when national forests didn't even exist.
Written when sourdoughs were swinging pickaxes to chip away at their elusive fortunes, the Mining Law of 1872 remains in effect, though equipment six-stories tall can now remove entire mountaintops in a matter of days. With full protection of the law, foreign interests claim public land belonging to all Americans and preempt it for their own profits. Mining companies have bought hundreds of thousands of acres of public land for prices frozen during Ulysses S. Grant's presidency at less than $5 per acre.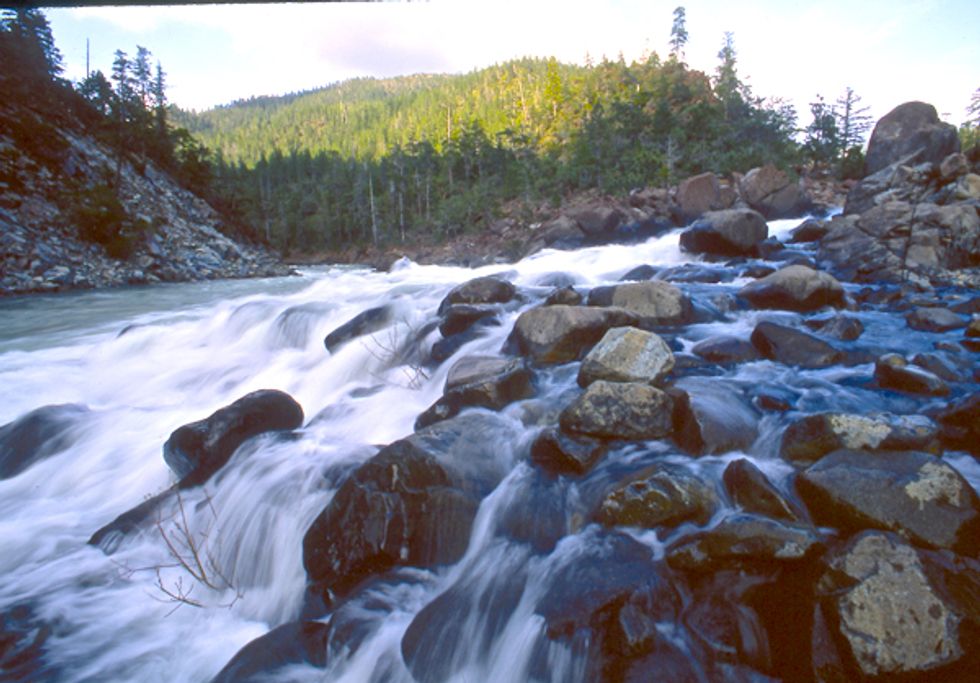 Revenues enriching the extraction companies total in the hundreds of billions, but not a dime in royalties have been paid for these minerals taken from National Forest or Bureau of Land Management property. Safeguards to protect everyone's water, air and vistas are totally absent from the Mining Law. It enables faceless corporations to deplete our land and pollute our streams and then retreat to their nether land of offshore unaccountability when the bills come due. Declaring bankruptcy is easy and common once the profitable mining is done.
Just because a law is old doesn't mean it's bad. But here we're not talking about the Constitution or the Bill of Rights. Rather, the mining directive was steeped in corruption when it passed, and it has only become more toxic with the passage of time, with the growth of technology, and with the greed of globalism.
This statute's "rationale"—to use the term loosely—was based on the "need" to open the West to settlement. Since then, the crossroads of Los Angeles, Seattle, and Portland have become the cities we know. When the law was passed, wagon travel on the Oregon Trail was the primary means of crossing the country. But the Mining Law remains, just as potent as ever in its destructive power.
According to the U.S. Environmental Protection Agency, mining under this rubric now pollutes 40 percent of the headwaters of western waterways with toxic chemicals that ruin our urban and farm water supplies, fisheries, recreation sites and backyards. To clean up the mess, taxpayers would have to shell out $50 billion.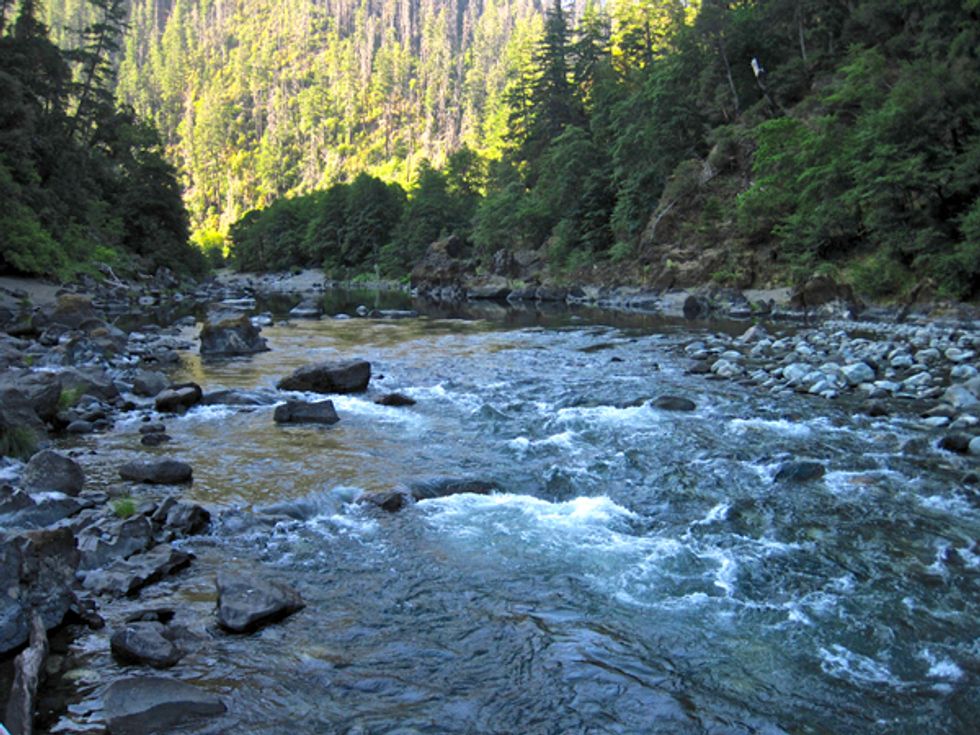 To be clear, gravel mining, coal mining and drilling for oil and gas are covered by updated laws. But those who excavate open-pits for copper or decapitate entire mountaintops for a bit of nickel or other "hard rock" minerals get a free ride on taxpayers' backs. Proposals for mines of these types now typically come from foreign corporations.
Reform of the Mining Law is urgent throughout the West. Even in Oregon—one of the less-mined states—lands and waters have endured wreckage at sites such as the Formosa Mine—easily seen on Google Earth near Riddle, south of Roseburg—with its lead, zinc, cadmium and other poisons leaking into Umpqua River tributaries. Here the public costs of cleanup are estimated at $20 million. A Canadian corporation declared bankruptcy and abandoned that mine in 1993, now a Superfund toxic waste site.
This legacy is repeated dozens and hundreds of sites across the west. And perhaps more importantly, threats loom for uncontrolled new mines. Proposals menace iconic streams such as the Illinois and Rogue of Oregon and the Smith of California. Stripping for nickel at those sites would pollute some of our finest salmon and steelhead waters—resources that communities and whole regions depend upon. This archaic law binds us to the same mistakes tomorrow that we've been making for 142 years.
Congressman Peter DeFazio of Oregon has introduced legislation to reform this relic of a long-gone era. Do we really have to live under a law based on a misguided choice in 1872? Let's get over it.
Tim Palmer is the author of Field Guide to Oregon Rivers, Rivers of America, Rivers of California and other books.
YOU MIGHT ALSO LIKE
'Most Endangered' River in the Nation
America's Beloved River Up for Grabs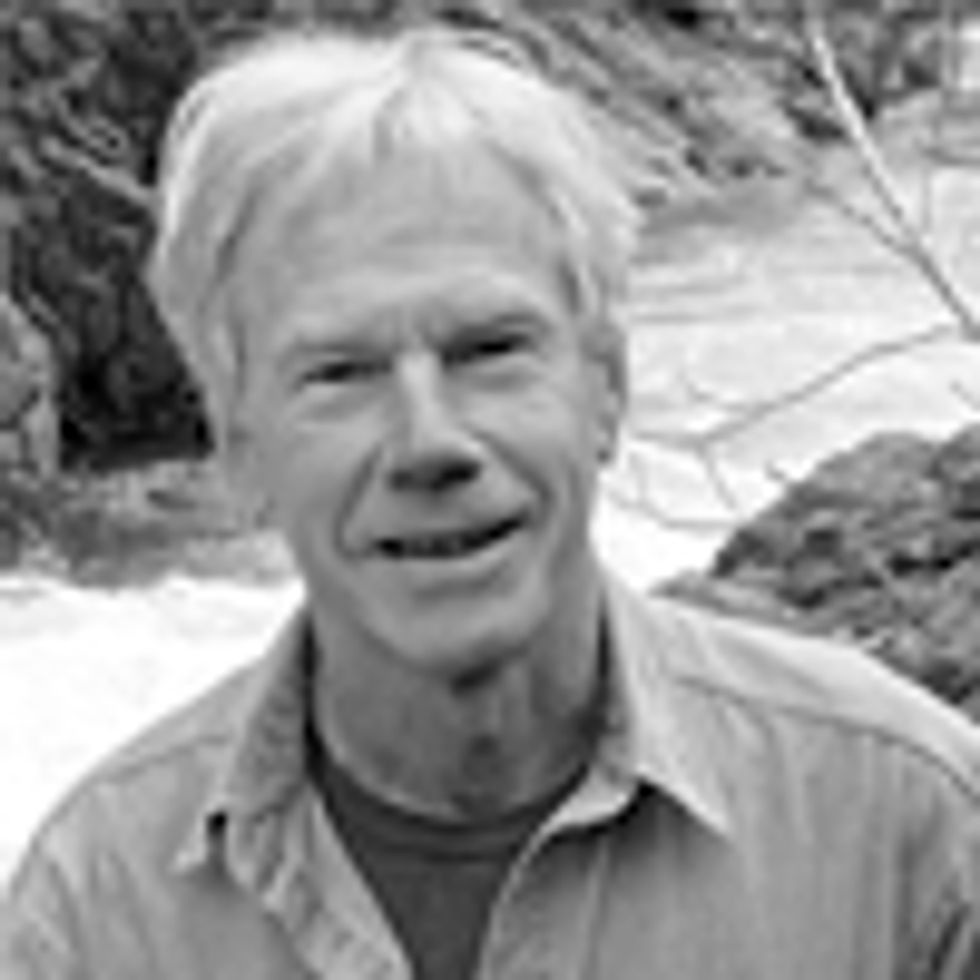 On Sept. 3, America's Wilderness Act turned 50. For half a century the idea has endured, and thrived, that some selected places—owned by all Americans as public land—are best left alone. That doesn't mean we don't use, enjoy or benefit from them. They are open to hikers, campers, hunters, anglers, horseback riders and others who leave their motorized equipment—including bulldozers, strip-mine drag-lines and chainsaws—at the gate.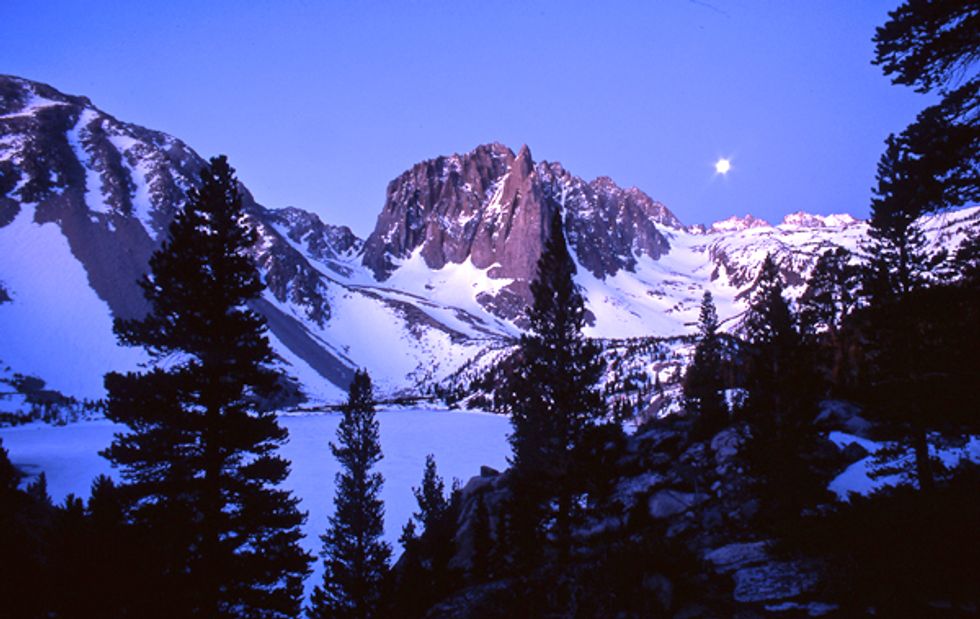 Throughout the West, designated Wilderness protects water supplies used by the majority of cities, homes, farms and ranches—85 percent by some estimates. These remote wild places remain essential wildlife habitat for big game, for plants and animals going extinct elsewhere but serving as cogs in the greater wheels of life, and for salmon that spawn in headwaters whose undisturbed quality underpins whole industries of sport and commercial fishing.
In southern Oregon, where I live, the Kalmiopsis Wilderness was among the first in America, designated with the original passage of that Act in 1964. Nearly 77,000 acres were included with recognition by the Forest Service, local people and Congress that this stunningly rugged terrain was one of a kind. Named for a rare but elegantly flowering shrub, Kalmiopsis leachiana, the remote uplift of once-undersea lava had been mostly bypassed by roads, settlers and loggers. While Oregon's greater coastal mountains have been 98 percent clearcut, and while 400,000 miles of roads crisscross National Forests nationwide, the Kalmiopsis remains a rare refuge of wildland—scarce and irreplaceable.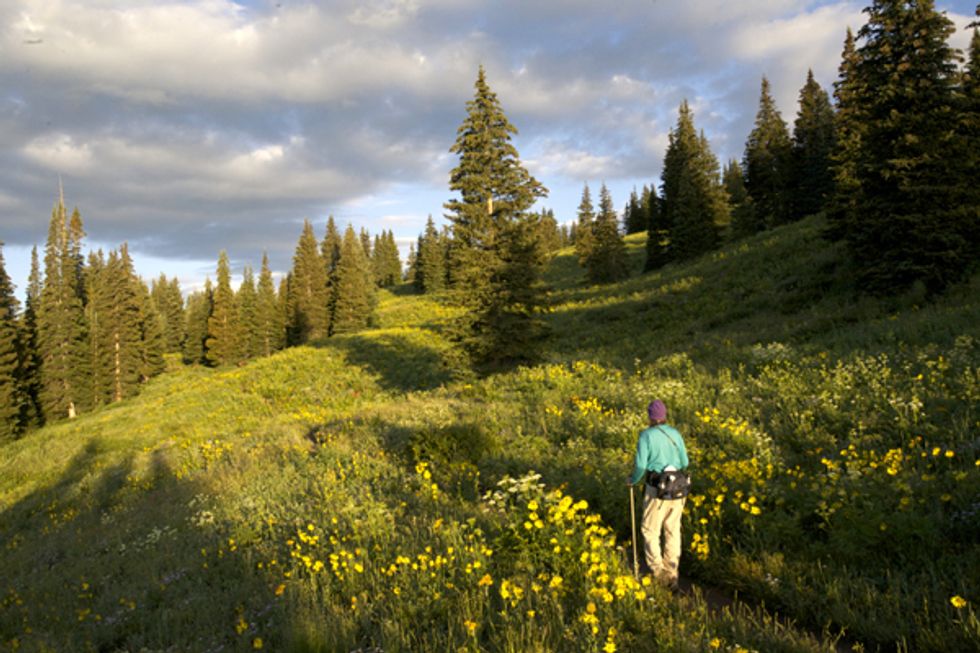 This wilderness nurtures plantlife found nowhere else on earth. It's part of the world's most varied conifer forest, designated by the World Conservation Union as one of only seven Areas of Global Botanical Significance in North America. Perhaps most important, Kalmiopsis supplies headwaters to three rivers that run to the core of what makes our region special: the Chetco in its secret plunge across big mountains to the Coast, the Illinois coursing its canyon corridor and feeding requisite cold water and wild salmon to the legendary fishery of the Rogue, and the North Fork Smith—the most pristine river in all of California and vital to that state's greatest salmon stronghold. Recognizing all that, Congress added another 102,000 acres to Kalmiopsis in 1978. But that was only half of what was proposed, and not enough to protect our rivers and fish.
Edging the designated Wilderness are equally steep mountainsides, equally sculpted canyons and equally transparent streams—just as wild but outside the boundaries of protection. These havens are vulnerable to the kinds of strip mines we see proposed today at the Illinois' headwaters of Rough and Ready Creek, and for the source of the celebrated Smith. For a window to alternative possibilities for these places, just look at the Mount Polley Mine disaster in British Columbia, a Niagara of toxic mud on Aug. 4 turning 6-foot-wide Hazeltine Creek into a 160-foot-wide "wasteland." No need to go to Canada; check out the hazardous waste of the "Formosa" mine, just north of the currently threatened areas in Oregon. Lessons of the past say that our rivers will remain in jeopardy if a greater Kalmiopsis lacks permanent protection.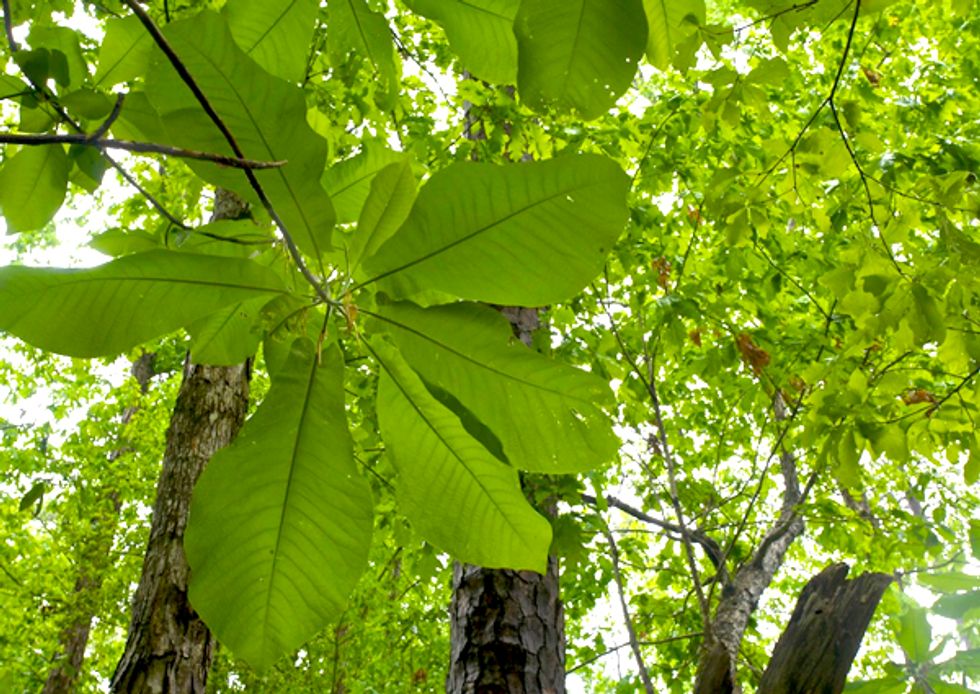 Other wilderness areas across the country are in the same vulnerable boat. The acreage protected reflects what was politically feasible at the time—not what was needed for wildlife, rivers, ecosystem services, or in some cases even a good long backpacking trip.
Some will say that enough is enough, but consider the numbers. Only 2.7 percent of the lower 48 states are protected as Wilderness. Even in Oregon—where half the land is in federal ownership—only 4 percent of the total acreage is safeguarded. Three or four acres out of a hundred is not much as a reservoir of nature, a guarantee of clean water, a refuge for wildlife, and an escape for people who want to leave the drone, hassle and crowds of our civilization behind, perhaps just for a day.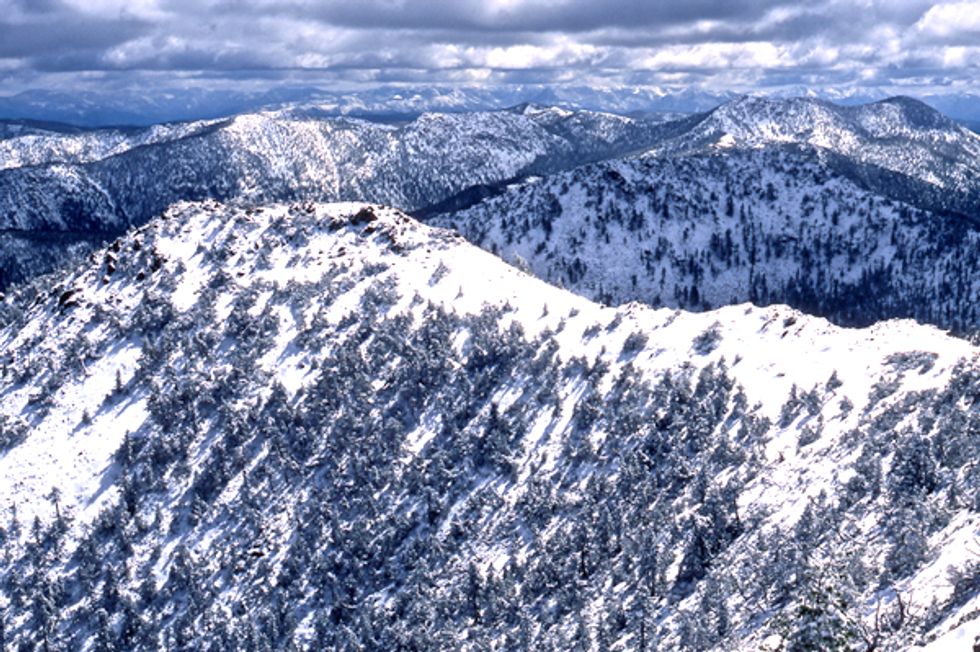 The nature of the Kalmiopsis Wilderness is among the qualities that make southern Oregon a place that people enjoy, love, and depend upon, and this relationship is true of Wilderness areas nationwide. Our children deserve the same prize that we've inherited from those who had foresight before us. Fifty years have proven that a little bit of wilderness is good for us. A little bit more would be better yet.
Tim Palmer is the author of "Trees and Forests of America, "The Heart of America: our landscape, our future," "Rivers of America," and other books.
YOU MIGHT ALSO LIKE
'Most Endangered' River in the Nation
A Last Look at California's Glaciers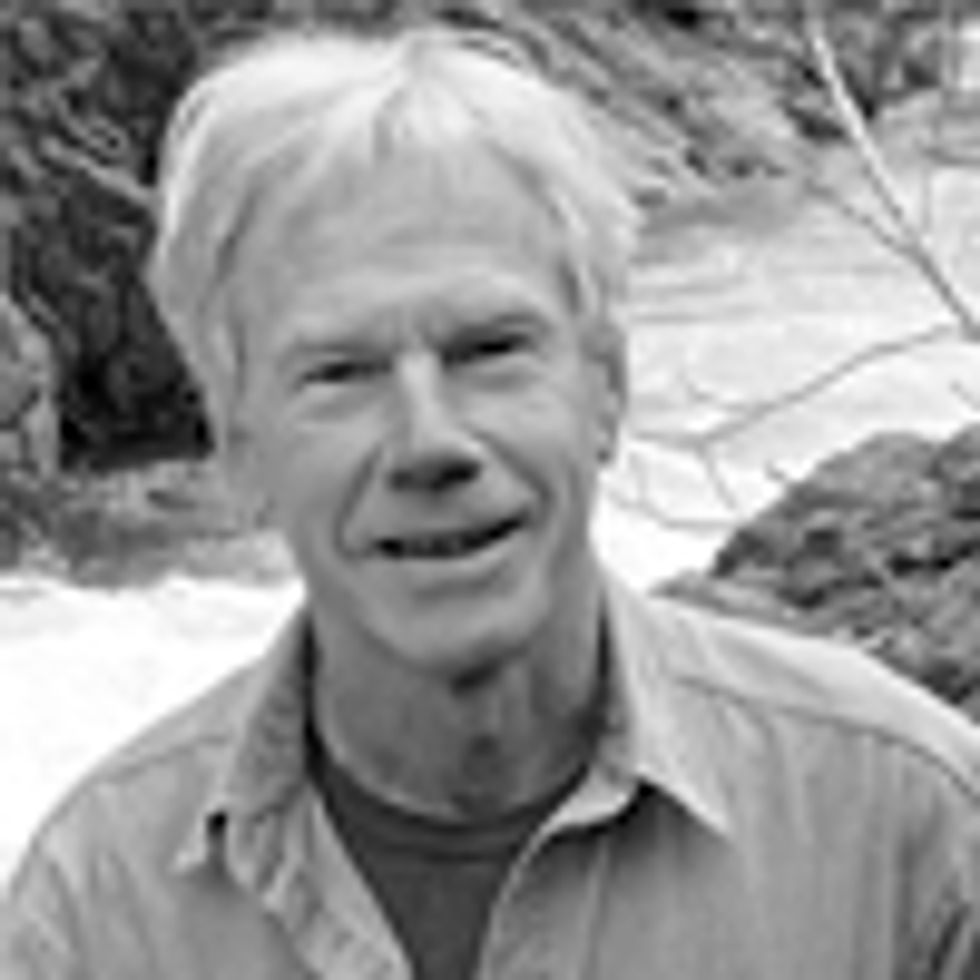 Spanning nearly half a century of American history, the Wild and Scenic Rivers system has been backed by eight presidents and by congresses in virtually every session. The preamble of this bi-partisan legislation states that "certain selected rivers ... shall be preserved in free-flowing condition." Stressing the need for balance, this product of statesmanship recognized "that the established national policy of dam and other construction ... needs to be complemented by a policy that would preserve other selected rivers or sections thereof in their free-flowing condition."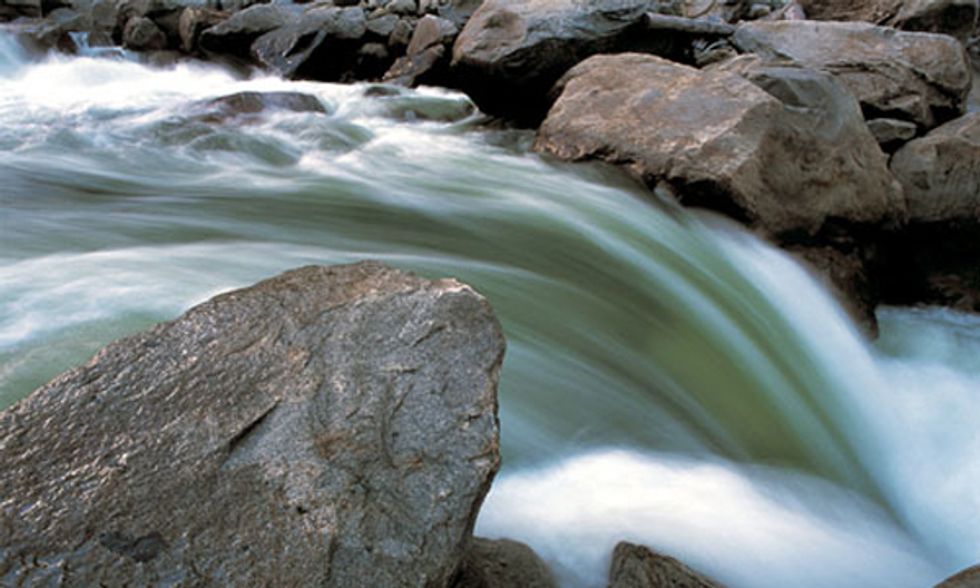 For decades California has been a leader in the illustrious journey that followed this policy directive. The Middle Fork Feather was among the first National Wild and Scenic Rivers, safeguarded while Ronald Reagan was governor. Gov. Jerry Brown engaged the Carter administration to secure protection of multiple North Coast rivers slated for damming. President George W. Bush designated two California rivers in 2006. President Obama added 10 more.
Highlighting this remarkable network as the most iconic river of the Golden State, the Merced tumbles out of Yosemite Valley and into the Sierra foothills—its protection the result of a popular groundswell and decisive congressional agreements in both 1987 and 1992.
Escaping the rancor that typifies political debates today, this system of protected waterways has never faced a serious effort to undermine its meaning or effectiveness. Until now.
At the behest of the Merced Irrigation District, a bill to delete the lower end of the Merced passed the House last spring. It would break a long tradition of good faith built around a program as significant as our National Parks. It would be like slicing off the end of Yosemite for a shopping mall because a developer suddenly says he's interested.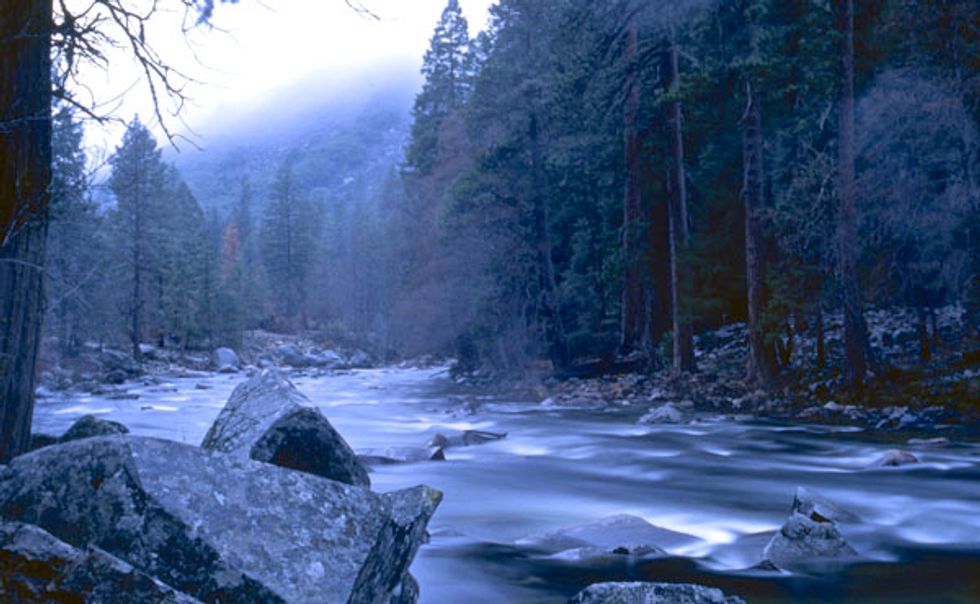 An extreme irony here is that the encroachment not far below Yosemite would gain a mere 12,000 acre-feet of water for an irrigation agency that already delivers 500,000 (even more is diverted by others). Improved efficiency can supply multiples of what a sacrificed Merced would yield. Here, the balance championed in the Wild and Scenic Rivers Act has been struck: four dams already block the flow. Of the Merced's 145 miles, only 60 are protected. Now we find that even they are imperiled.
While the threatened mileage is not great, the compromises have been made, and if a river as beloved as the Merced is up for grabs, what's next? America's magnificent system of protected rivers—which accounts for less than one-quarter of one percent of the rivers and streams of the nation—is today on the chopping-block for a pittance of water.
Through the past two decades the Merced and all the National Wild and Scenic Rivers have survived unscathed through a political era when even the Clean Water Act was besieged. Today, those who challenge this river's protection would become the first to undermine the national promise that a select few of our very finest rivers will always flow free. It's ironic that this regression would be suffered by the river of Yosemite.
Tim Palmer is the author of Field Guide to California Rivers, Rivers of California, Endangered Rivers and the Conservation Movement, and other books.
YOU MIGHT ALSO LIKE
'Most Endangered' River in the Nation
A Last Look at California's Glaciers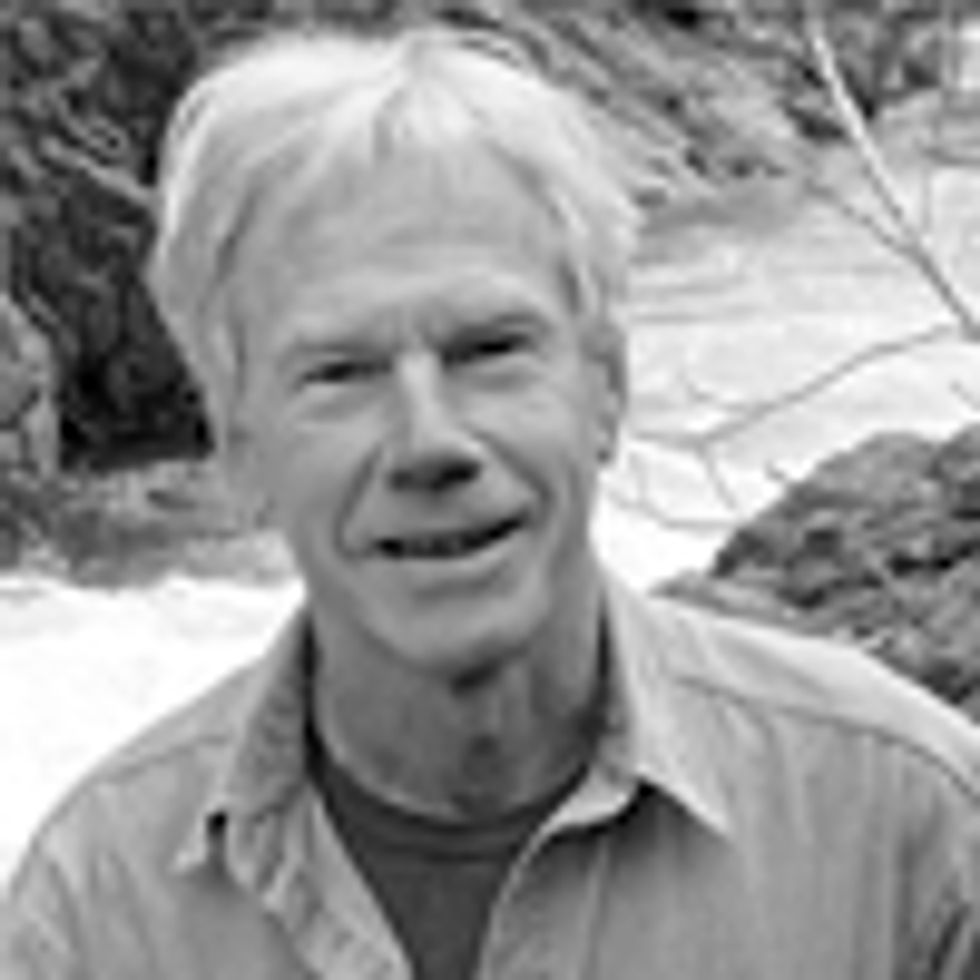 In 1877 Chief Joseph and his Nez Perce Tribe of women, children and warriors were pursued for 1,500 miles across the Northern Rockies as they struggled to reach refuge in Canada. These Native Americans posed no real threat to white settlers, but the pursuit of them was regarded as a path to "progress"—twisted as the concept might have been at the time. After evading, outrunning and outfighting the heavily fortified U. S Army, the Indians were halted just 40 miles short of their safety. The Nez Perce's resistance caught the attention of the public, with many people rooting for the underdogs. Among all the conflicts with Indians, the drama of the Nez Perce has captured the sympathy of Americans perhaps more than any other event.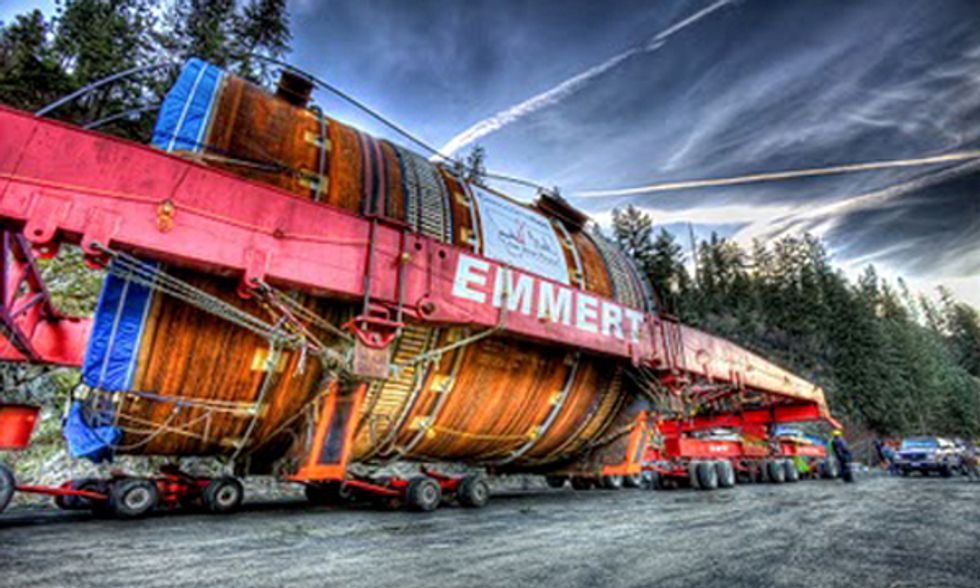 Now the Nez Perce have again risen to fight along the Idaho-to-Canada route, this time allied with a feisty band of river conservationists bearing the name of Idaho Rivers United.
In order to extract and export oil from the seeping black tar sands of Alberta, energy corporations insisted on shipping "mega-loads" of equipment, some measuring 30 feet wide, three stories high and a football-field in length, consuming two full lanes of highway from Lewiston, Idaho to Canada. Hundreds of loads were expected. The scenic route includes passage along the exquisitely transparent, fish-filled Lochsa River. Idaho's Department of Transportation granted permission to commandeer the highway, but overlooked two significant details: the Indians' treaty rights, along with a Congressional mandate that the U.S Forest Service protect one of America's premier National Wild and Scenic Rivers. The Lochsa ranks among the prestigious twelve streams that were initially designated in this National-Park-like system, which has grown to include our most iconic rivers—the Salmon, Rogue and Allagash among others.
The largest available semi-trucks simultaneously pull and push the rolling industrial behemoths like over-stressed railroad trains and block all traffic in their path. The Indians and river aficionados maintain that the loads infringe on the dedicated values of the Wild and Scenic River and also those of the Reservation. The groups cite public nuisance and safety hazards.
In February 2013, a federal judge ruled that the Forest Service—resisting involvement in the issue—had authority to regulate the mega-loads. After road-blocking protests and the arrest of 28 Indians, further shipments were halted by a court order in autumn 2013, effective until the Forest Service fully considers the problem and its consequences to the scenic corridor that the agency is obligated to protect. For now the loads have stopped rolling, but the long-term outlook for this premier Northwestern river corridor will remain uncertain until further protective measures are taken.
While final evidence will be clear only after Forest Service study is completed, Idaho Rivers United maintains that the Wild and Scenic legislative mandate to "preserve" the river and its "immediate environments ... for the benefit of present and future generations" is incompatible with mega-load intrusions. Nor is this industrialization what the Nez Perce had in mind along their preciously small remnant of original homeland that the Government finally agreed was theirs. Broadening this perspective, American Rivers in April announced that the Lochsa ranked among the top ten "most endangered" rivers in the nation.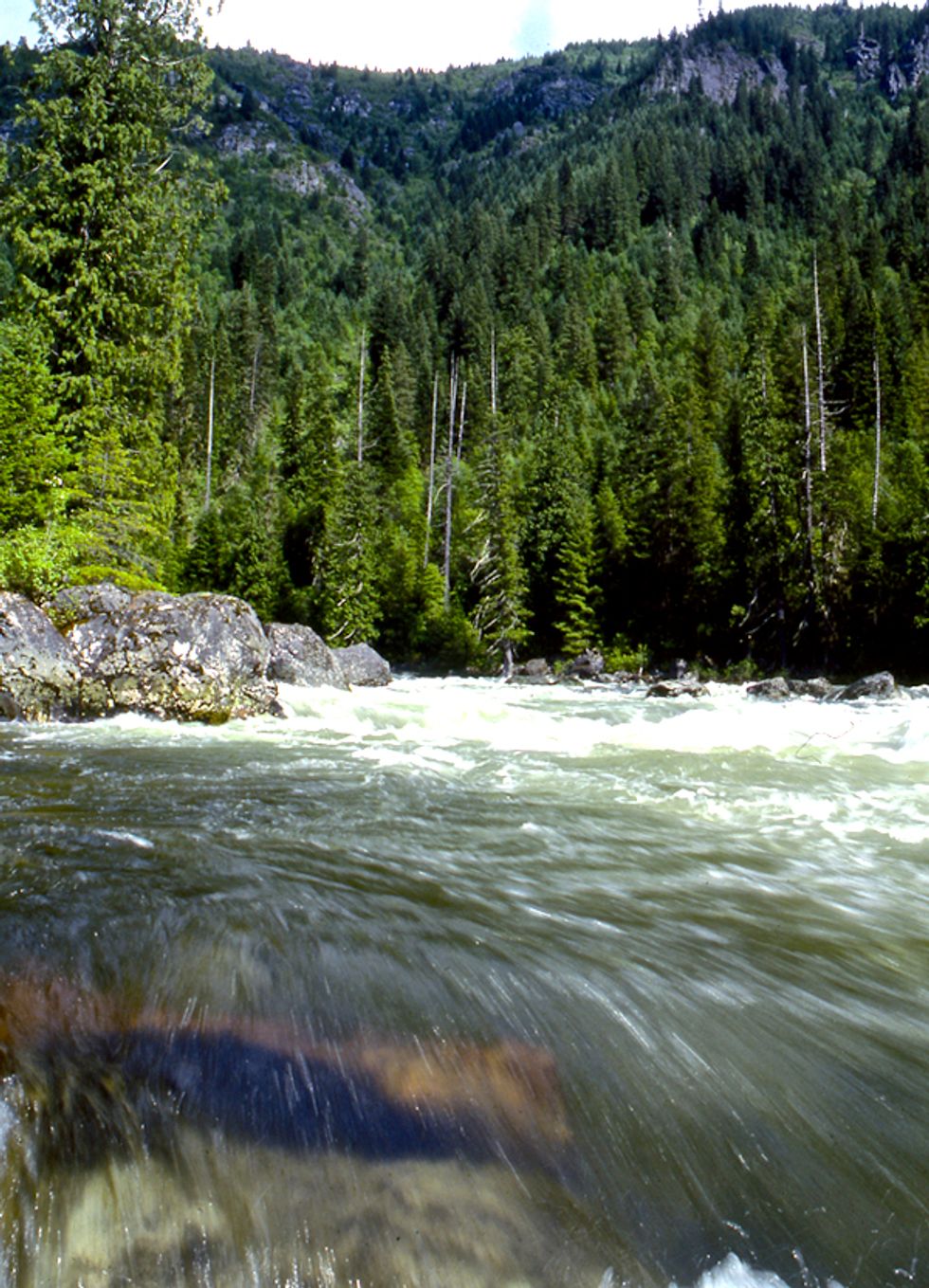 The Indians and river guardians have a case. The judge agreed. And even more poignant, their modern story of defense in this sublimely beautiful corridor of conifers and cascading whitewater speaks to a larger crisis we all face in America. Hundreds of miles from the oilfields and the hotly contested pipelines, the march of energy development plods forward. The oil will be burned thousands of miles away to advance consumers' convenience, corporate profits, and the climate crisis that the world's scientists—along with everybody bearing a conscience for the fate of future generations—say we deny at our peril. Here along a brilliant river, in the heart of a cherished homeland, the march of the mega-loads will tell us who, in fact, is dictating the fate of America.
The Nez Perce were confronted by artillery 137 years ago when they simply sought refuge across the border. But now it is they and their river-loving allies who have road-blocked this route to Canada. The tables, for awhile, seem to have turned, giving all of us the opportunity to question what "progress" means in our own day, and to consider where we are bound, the paths we're taking to get there, and the prices we're willing to pay to burn more oil.
Tim Palmer is the author of The Wild and Scenic Rivers of America, and also The Snake River: Window to the West, Rivers of America, and 20 other books. His work can be seen at www.timpalmer.org. For more on the mega-load issue, see www.idahorivers.org. 
YOU ALSO MIGHT LIKE
'Most Endangered' River in the Nation
California Drought Proves Laws of Nature Are Absolute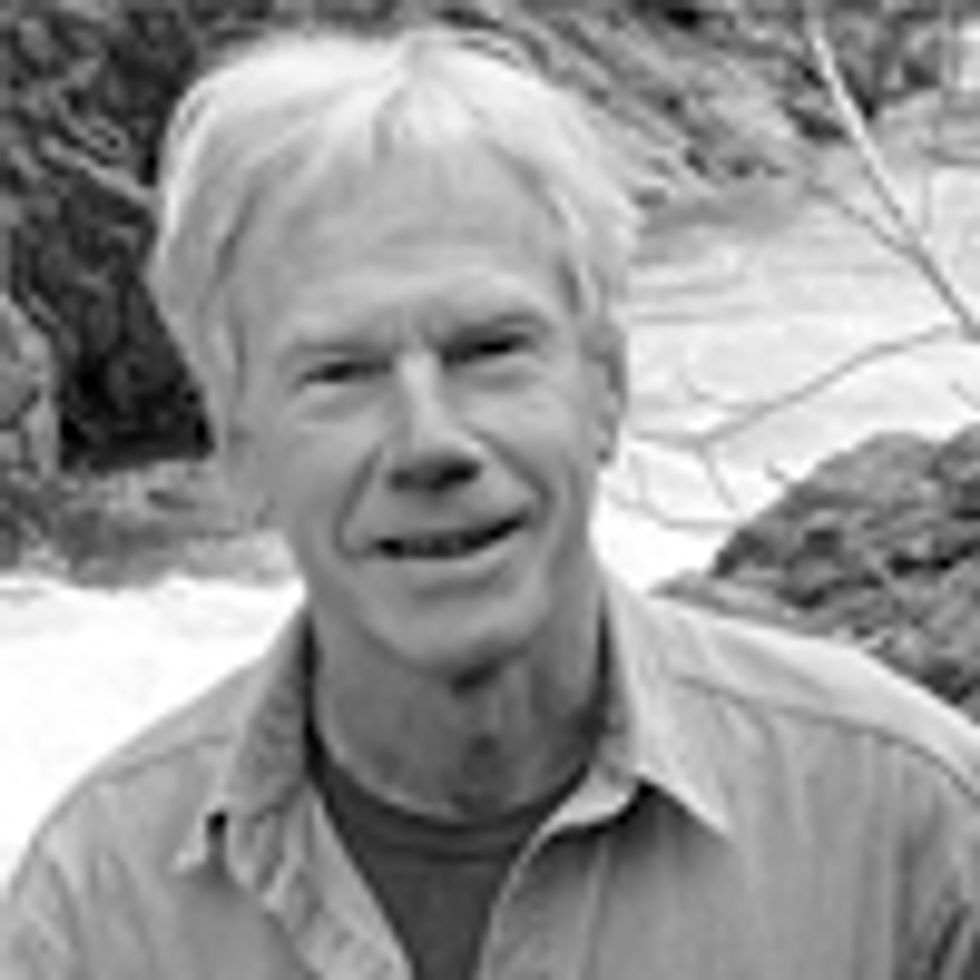 The organization American Rivers has distinguished the San Joaquin River of California with the dubious title of "most endangered" river in the nation. Since 2009 the stream has been celebrated as a path-breaking example of restoration—status that could now be threatened.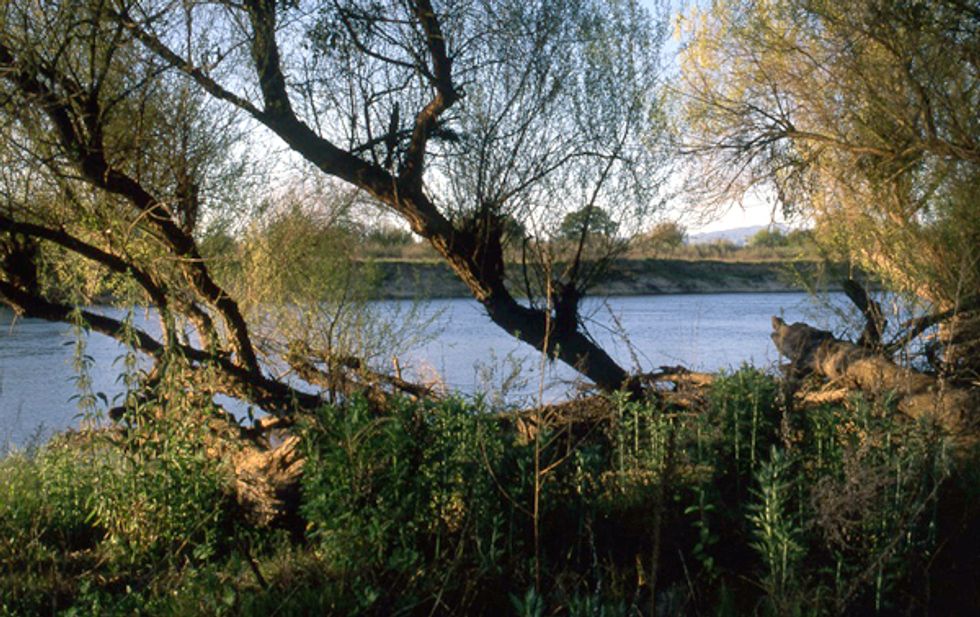 This artery of California's Central Valley and important supplier of water to southern California begins in high Sierra wonderlands south of Yosemite National Park and in the breathtaking Evolution Valley of Kings Canyon National Park. Below the stunning park-protected headwaters and wilderness areas, the river and its tributaries are dammed 30 times. The San Joaquin is repeatedly impounded for hydropower as it plunges toward grassy foothills, diverted for irrigation in the Central Valley, finally ending in the Delta as a conduit of agricultural runoff and the second-longest river system in California.
The San Joaquin can claim to be the hardest working river in America; not only did diversions completely dry up a 63-mile middle reach for fifty years, but then the lower river's polluted return-flows are pumped back upstream to be used yet again. The Water Education Foundation called this the "most impaired major river in the state." A legendary migration of half a million salmon—nourishing Indians, sport anglers, wildlife and a robust commercial fishery at sea—was reduced from one of the most prolific anadromous runs in America to virtually nothing. But in 1988, the river's prospects began to change.
When the federal Bureau of Reclamation acted to extend the San Joaquin's overdrawn plight by rubber-stamping another 40-year extension of irrigation supply contracts, the Natural Resources Defense Council and other conservation groups appealed, and prevailed in court. With hard-earned consensus of all major parties in 2006, a legal agreement set new rules, contracts and appropriations to serve irrigation needs but also to re-nourish nominal flows in the desiccated reaches, to upgrade water quality, and to restore self-sustaining runs of salmon. With great fanfare, initial flows freshening the San Joaquin's long-parched mid-section bubbled northward in 2009. Salmon—eager to return home for spawning even after the species' half-century of absence—migrated upriver once again in 2012 and 2013. Restoration flows were recaptured downstream for farmers. Fishing derbies, salmon festivals and summer camps sprang to life in communities along the way as the newly formulated San Joaquin gained stature as America's preeminent river to be reborn.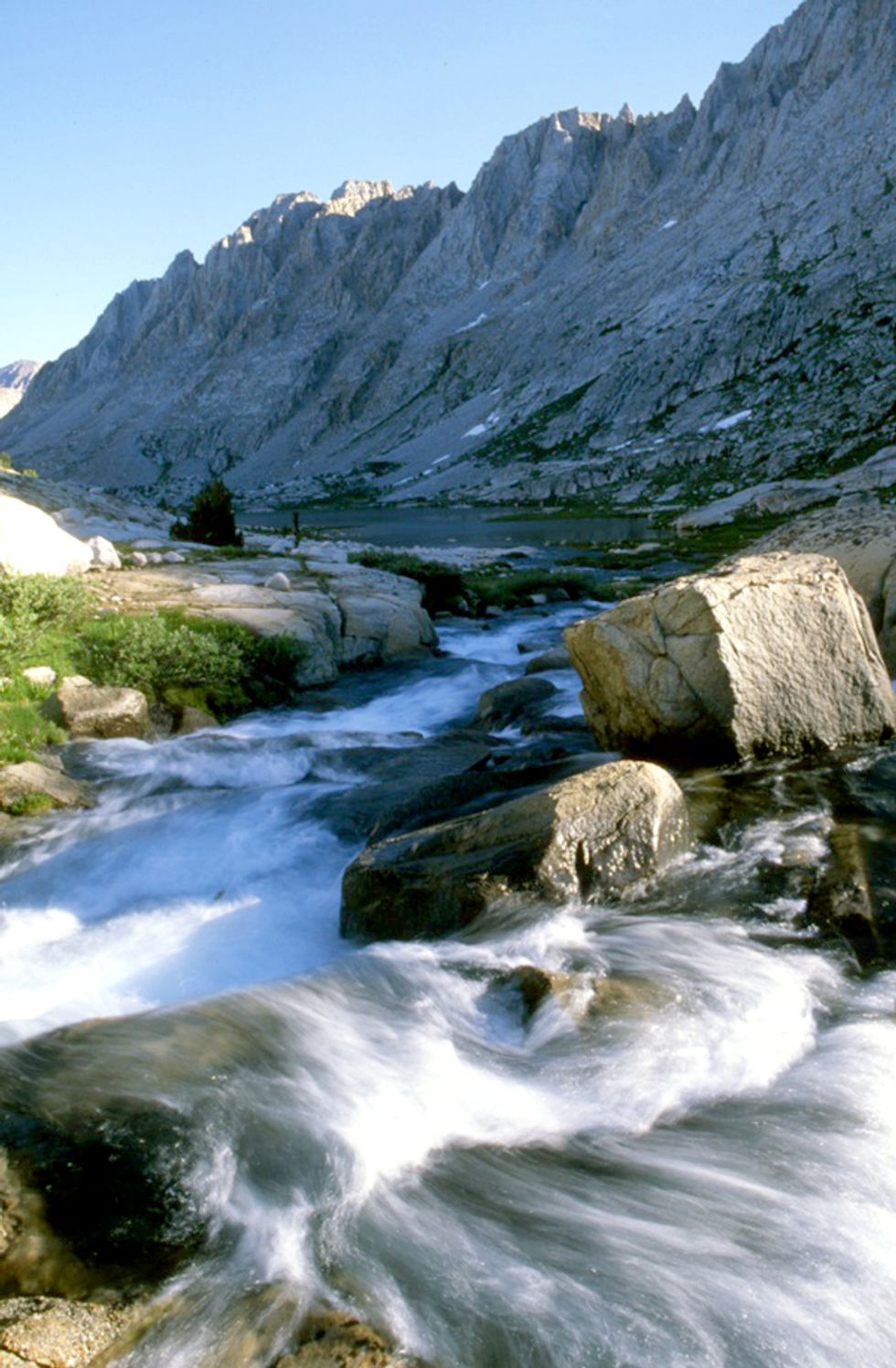 A panic-stricken response to the drought could put these gains in jeopardy. Earlier this year a bill passed the House of Representatives to undercut the San Joaquin's negotiated settlement of two decades in the making. The Senate will not likely approve this edict, but the future of the restored lifeline remains vulnerable and depends on continuing support for the fish and wildlife gains of recent years.
Architects of the restoration accord anticipated the stress of this year's drought, and specified that flows would not be released to the dewatered section in years of lowest runoff, such as 2014. Restoration biologists have trapped the progeny of 360 adult salmon that made it up the river to spawn this year and trucked them around the dried-up reach—a backup plan recognizing that compromises are necessary. Even this year, at the height of California's worst drought, the restoration program is working. People from all sides have negotiated a truce that's effective and promising.
If there's hope that a nugget of California's original wealth can be restored while sustaining modern day demands, that hope lies along the San Joaquin. The restoration started here is a promising historic achievement with a legacy that belongs to everyone. It should not be sacrificed to the cynical belief that a river is wasted if it serves some small remnant of native life, which once thrived to the benefit of all.
Tim Palmer is the author of Rivers of California as well as Field Guide to California Rivers, California Glaciers, and other books.
You Might Also Like
California Drought Threatens Salmon as River Water Levels Drop
Dams Cause Climate Change, They Are Not Clean Energy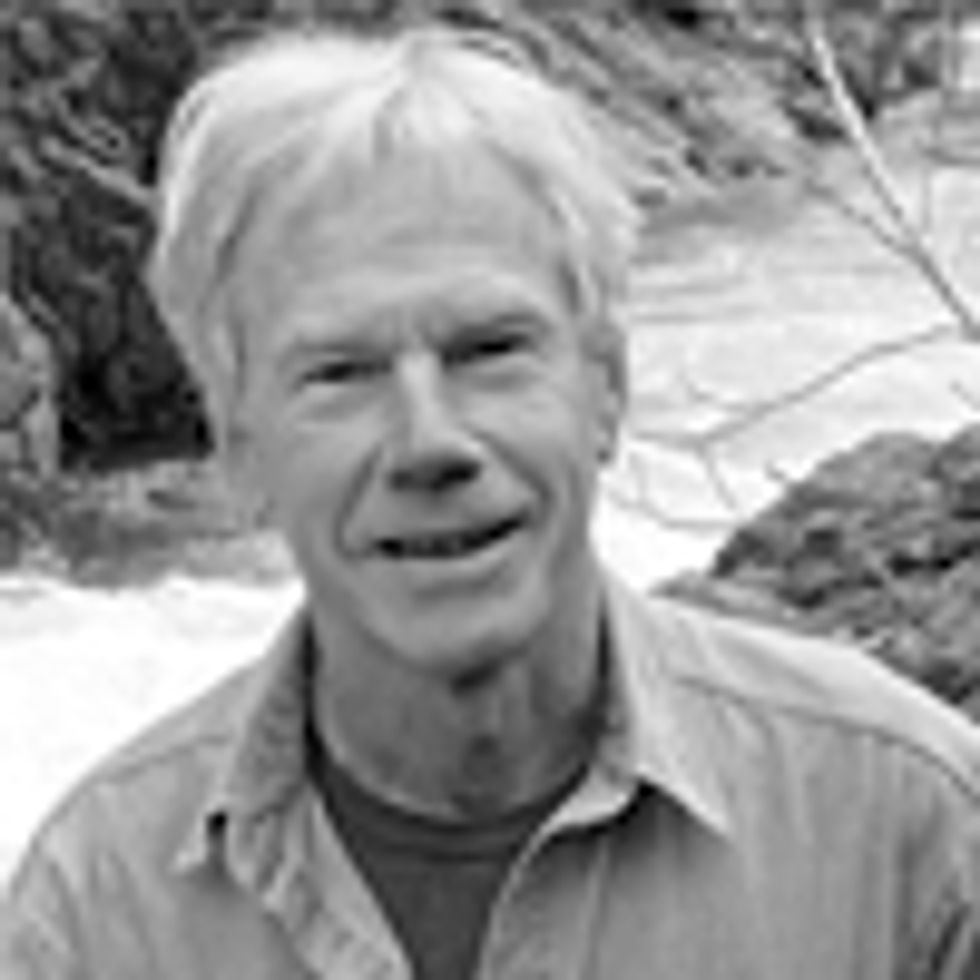 One peril of being human is that we often respond poorly to crises. I'm sure we all have examples—personal to global—where the heat of the moment pushed us in the wrong direction. Because we now face one of the worst droughts in California history, the stage is set to flirt with error on a scale as colossal as the crisis itself.
The House of Representatives, for example, passed H.R. 3964 in February to indiscriminately move additional northern California water southward, to abandon restoration of the beleaguered San Joaquin River and to hang our imperiled salmon out to dry.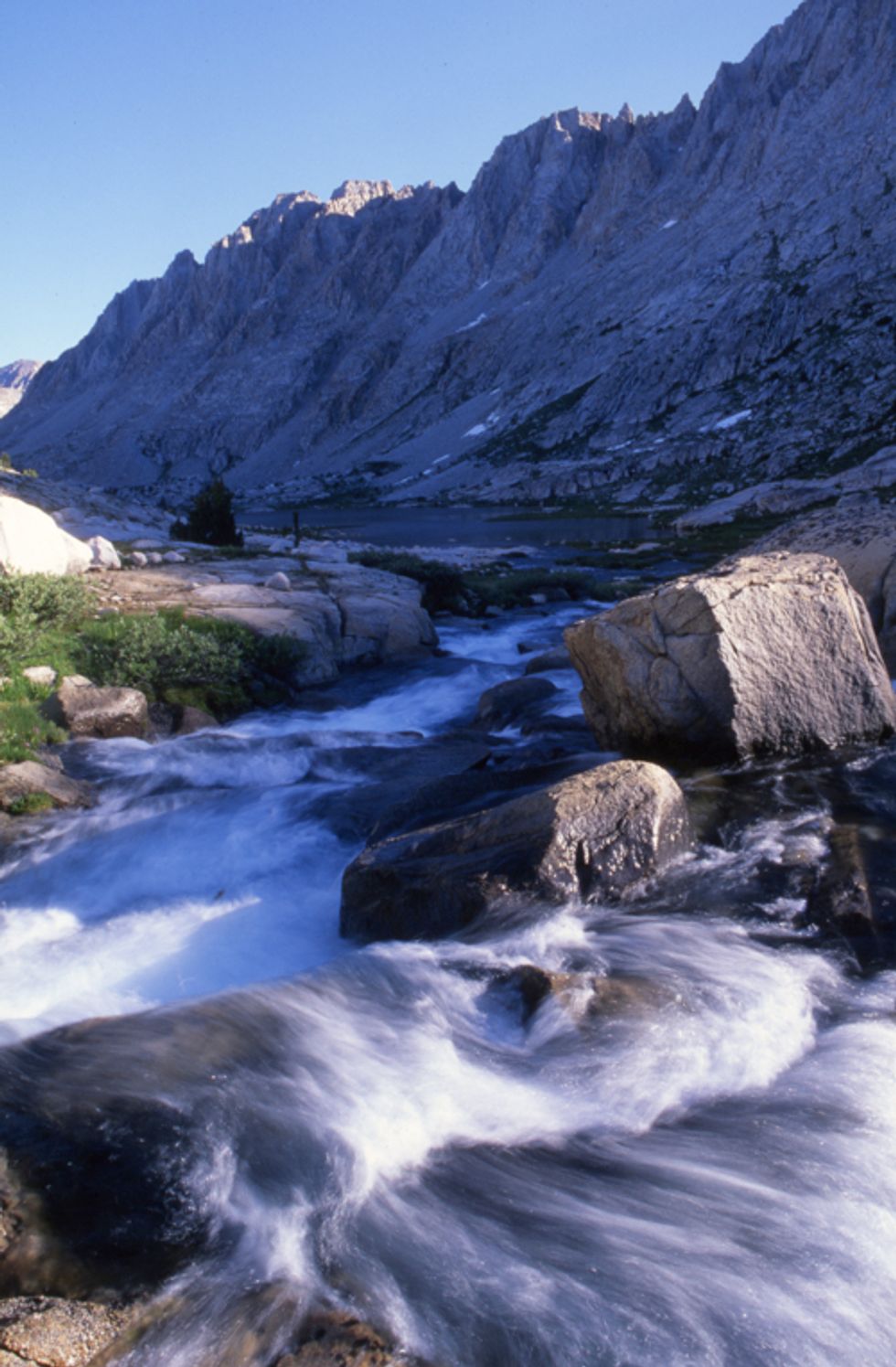 San Joaquin headwaters. Photo credit: Tim Palmer
For the first time ever, National Wild and Scenic River designation would be rescinded—the Merced below Yosemite our unlikely victim. None of this would ease the drought or solve the problems we face, as noted by Gov. Brown (D), who called the bill "unwelcome and divisive." Far more important than this retrograde edict, likely to be blocked in the Senate, the drought portends a future of chronic and crippling crises unless Californians embark on some reflection, initiative and change. Real change.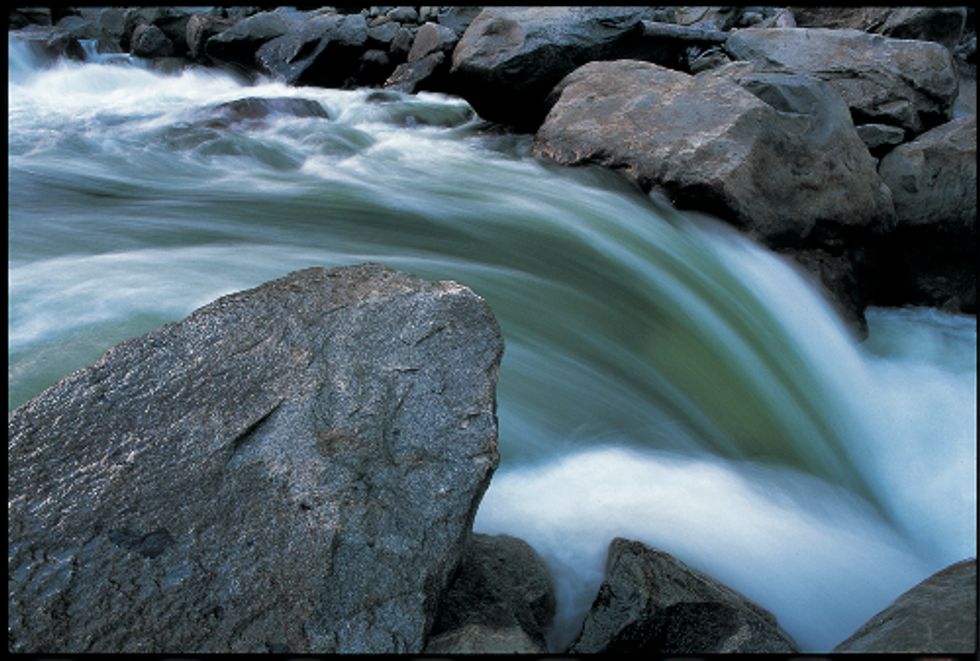 Merced River below Yosemite National Park. Photo Credit: Tim Palmer
Projections for global warming mean that 2014 could become a typical year in the decades ahead. The Scripps Institution forecast that Sierra snowpack may shrink by 80 percent this century. The Department of Water Resources reported that spring runoff will likely decrease by 52 percent, with farm deliveries curtailed 25 percent—optimistic figures at this point. The old-days of wide-open spigots are gone, and driving our salmon to extinction for a few emergency soakings of subsidized Central Valley croplands will not bring the old times back.
While we have no choice but to wait for the rain whenever it comes, the way we respond to this crisis is up to us. If we invested further in water efficiency, total demands could be cut by 20 percent, according to the Pacific Institute. Statewide, eight out of 10 gallons are used for irrigation, and the potential for savings in the farm sector are enormous. Drip irrigation, for example, is far more efficient than flooding or sprinkling, and vast acreage has been converted to drip methods in the past 20 years. More can be done if economic incentives would lead farmers to give up tenaciously held water rights from a time of great surplus instead of today's great scarcity.
Urban water supply improvements have made it possible for southern California to add millions of people without increasing water use. More can be done to stretch domestic supplies statewide (many consumers in Sacramento, for example, are not even metered). Efficiency gains will be mandatory to simply keep pace with population growth, which is slated to again double in the next 50 years or so, posing ominous requirements that will intensify after all the feasible water-saving measures are taken. Water's long-term availability raises questions about the sustainability of growth itself, and the current crisis is not a bad time to begin asking how we expect to accommodate ever-rising demands.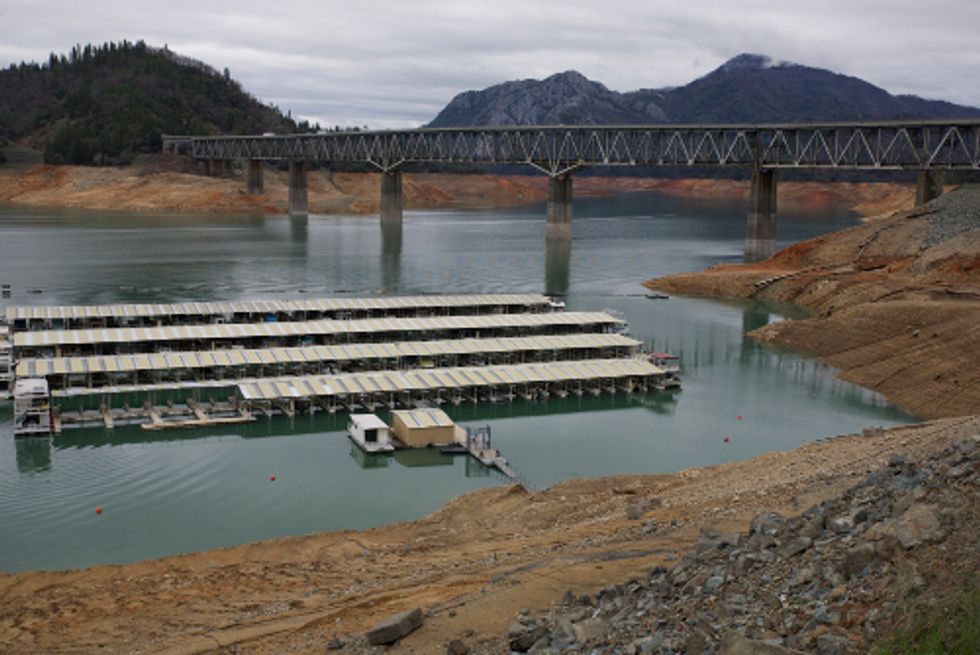 Shasta Reservoir. Photo credit: Tim Palmer
If we used the money that some are eager to lavish on uneconomic new dams and, instead, invested in efficiency, we could shift away from crisis and toward smart management. The saved water would allow California to cope with the reductions mandated by a harsher climate, and perhaps to buy some time to question unlimited growth and the cultural, economic and demographic challenges it forces upon us.
Our response to the drought highlights an unfortunate axiom of the human condition: as a society, we regard the laws of nature as optional when in fact they are absolute. Meanwhile, we regard our own customs and laws as immutable when in fact we can change them whenever we collectively decide to do so. In our minds we have perfectly reversed the way nature and culture actually function.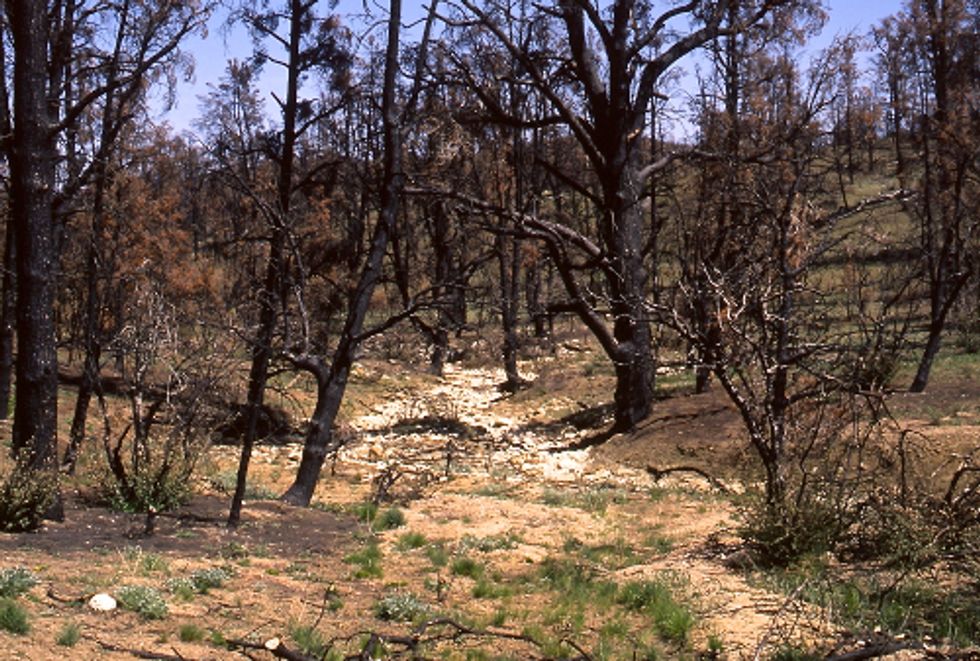 Piru Creek basin, drought, fire. Photo credit: Tim Palmer
We can't control the drought. But we can respond with foresight to the crises it delivers.  
Tim Palmer is the author of Rivers of America, Field Guide to California Rivers and The Wild and Scenic Rivers of America.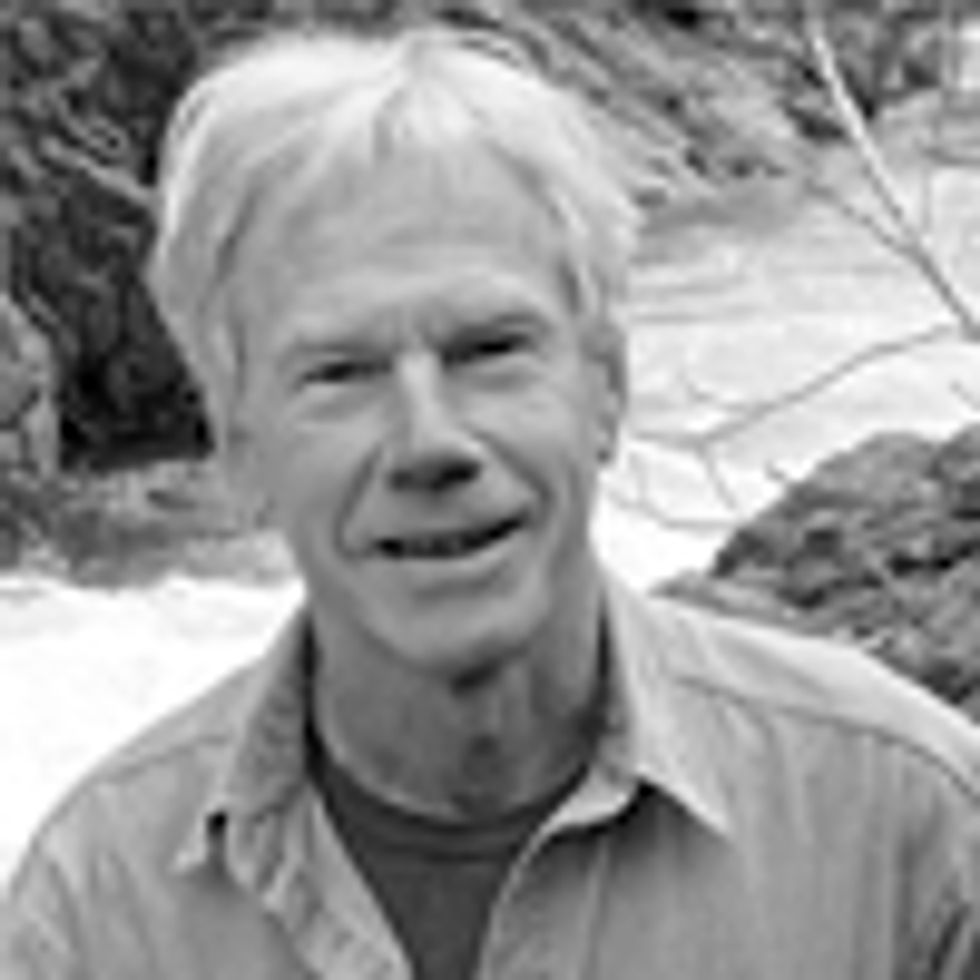 Hidden from the usual tourist circuit, two streams of southwestern Oregon tumble down from the Siskiyou Mountains through wild canyons embossed with pines and boulder fields. These unprotected waters are now threatened by nickel mines.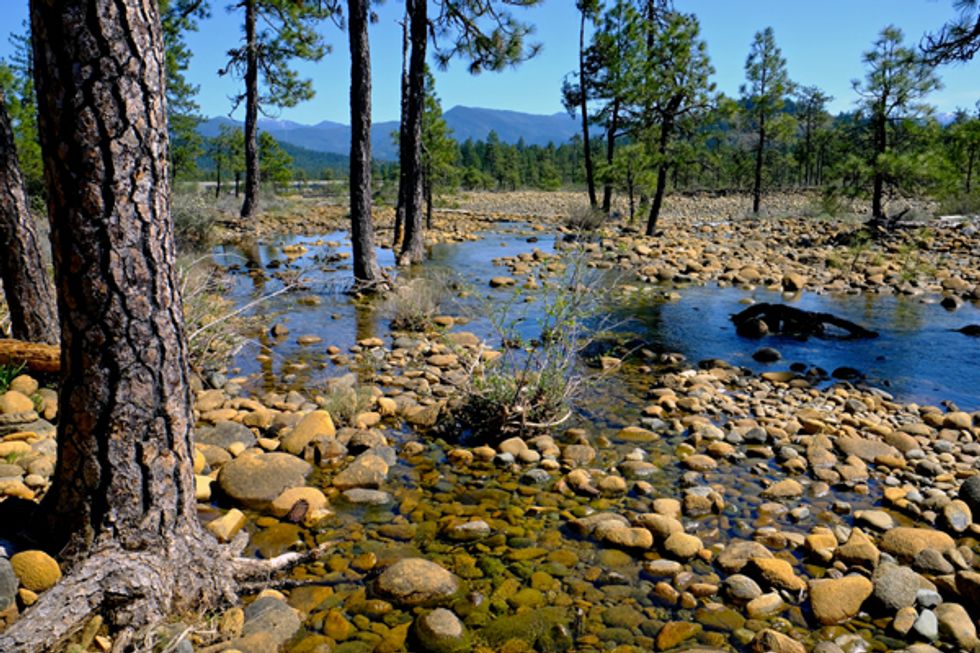 They go by the hardscrabble names of Baldface and Rough and Ready, and while they lack the pizzazz of tourist marketing, they excel with native grace, and their flush of crystalline water nourishes some of the finest runs of salmon downstream—vital for sport and commercial fishing. Elegant in snowstorms, brilliant with springtime blooms, these enclaves abound with botanical curiosities such as bug-eating plants. Vegetation found nowhere else worldwide thrives in ancient red soil; botanists worldwide come just to see it.
Baldface flows into the North Fork Smith, which crosses the border to become a gem of California, breathtakingly beautiful through the heart of redwood country. Flowing off the other side of the mountains, Rough and Ready joins the Illinois—a renowned branch of the legendary Rogue and its principal nursery of imperiled coho salmon.
While the Rogue, Illinois, and Smith have enjoyed decades-long protection and thrive as designated National Wild and Scenic Rivers, our two remarkable tributaries have just kept flowing in a way that one might imagine lasting forever. But that vision of prosperity is in jeopardy.
Exploration for open-pit nickel mines is proposed for both these basins; plans are pending at the U.S. Forest Service. On Google Earth, see the abandoned nickel mine at Riddle, south of Roseburg, to realize what awaits our slice of Siskiyou paradise.
Pollution could quickly infect the Rogue and Smith. The Appalachia-style strip mining is permitted under the Mining Law of 1872—a relic of Ulysses Grant's presidency that allows miners to dig wherever they want on our public lands, exempt even from royalty payments and buffered from anti-pollution rules. 
The infamous law was passed when miners were American sourdoughs swinging pickaxes, but those days are over; today's applicant at Baldface is a multinational corporation in Great Britain.
A century of work by dedicated local people and extending the whole way up to Congress has protected the Rogue and Smith, but all that could now fall victim to the price that Chinese nickel buyers are willing to pay to a corporate giant on the other side of the Atlantic.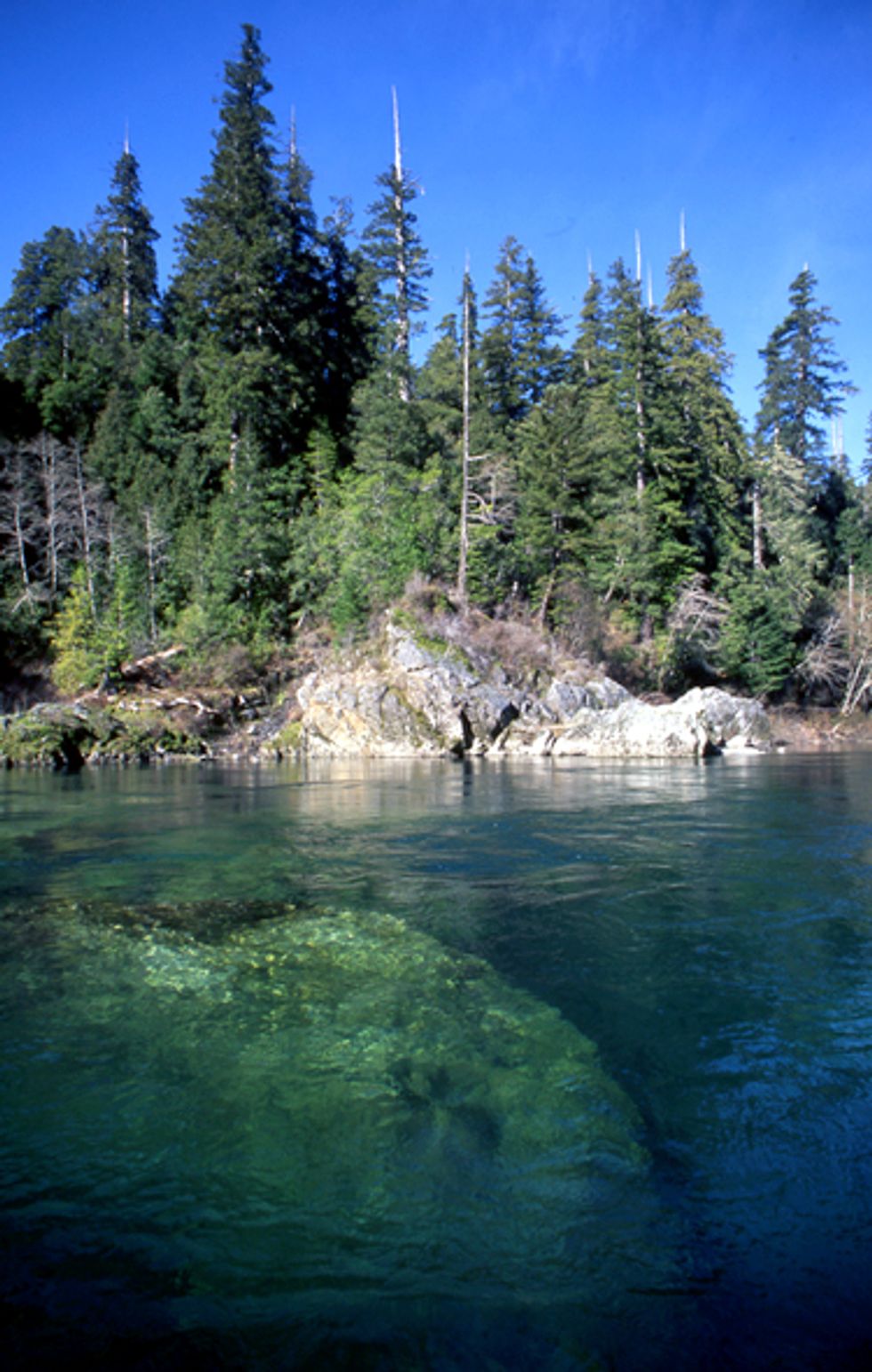 This cherished region of Oregon and California does not have to be an impoverished and polluted resource colony of other nations. Congress can withdraw the area from mining claims, and our elected officials can pass legislation to protect these streams' fisheries and botanical treasures. This would honor the decades-long work and investments that Oregonians, Californians and taxpayers nationwide have made in safeguarding the Rogue and Smith for the health of an economy that's based on fish, recreation and thriving stable communities but not the boom, bust and permanent damage of strip mining.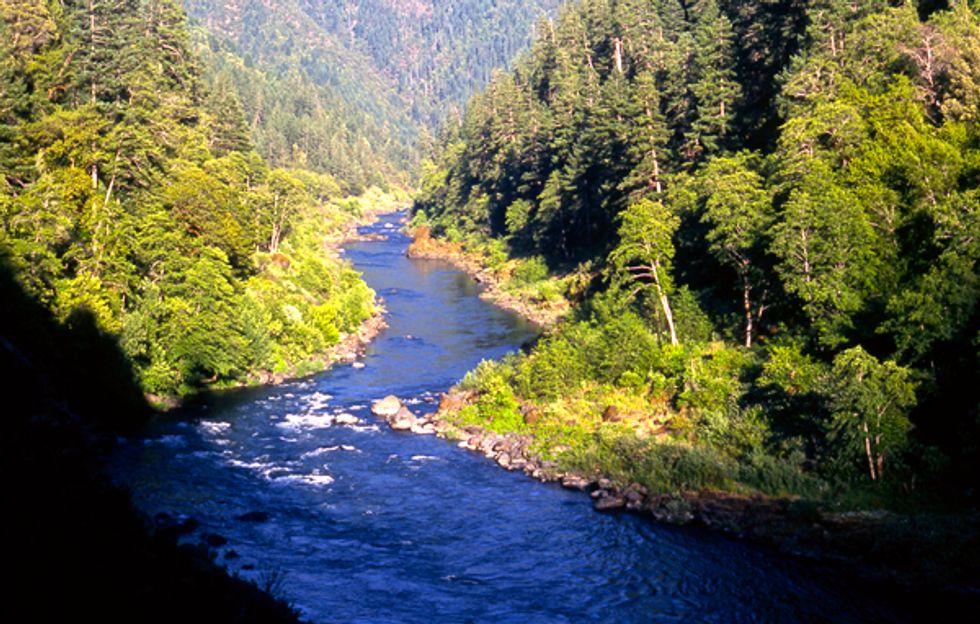 The Forest Service has found both streams eligible for Wild and Scenic status. Oregon Senators Wyden (D-OR) and Merkley (D-OR) and Rep. DeFazio (D-OR) have indicated support for these waters. That initiative deserves immediate action with a bill to protect two irreplaceable gems of redwood country and the Pacific Northwest.
Tim Palmer is the author of Rivers of America, Field Guide to California Rivers, and The Wild and Scenic Rivers of America.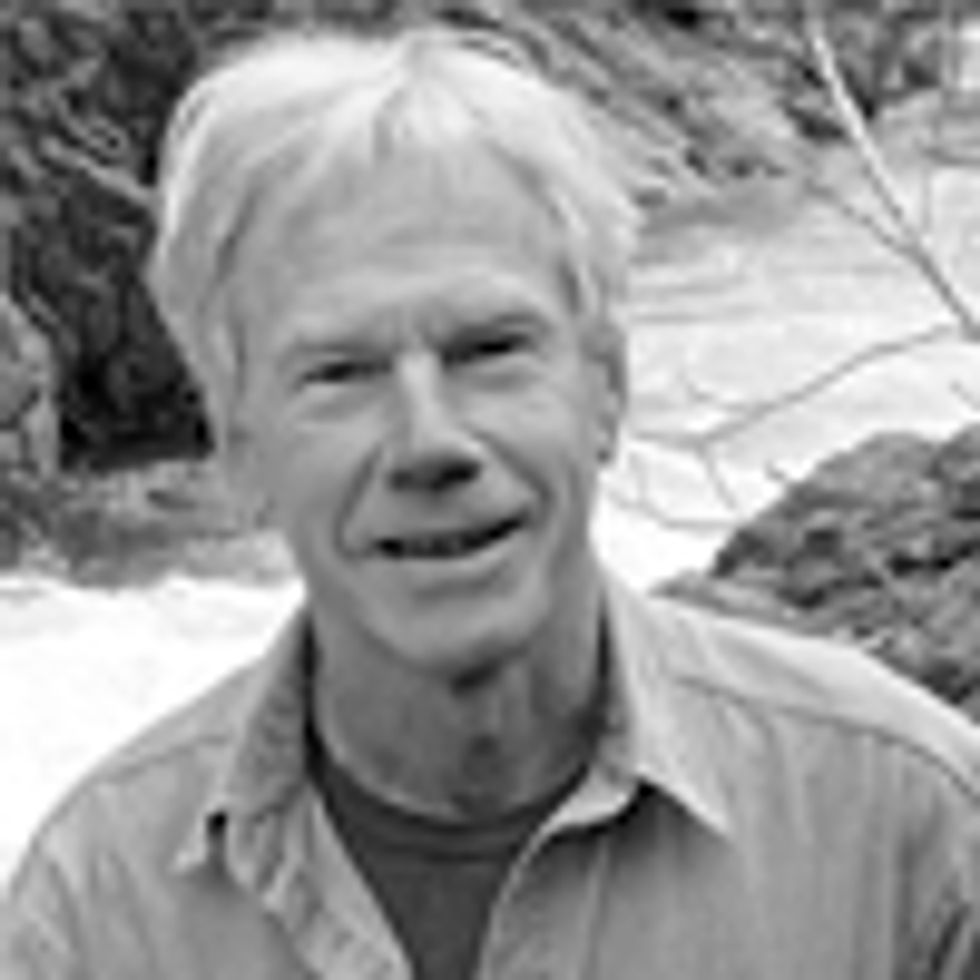 William Penn named our state Sylvania for its unbroken woodlands. Every Pennsylvanian learns this as a kid. But just seven percent of our terrain of 29 million acres exists as state forests or parks—a remnant of nature where the forests were intended to stay, and where public, rather than private use, was to prevail. At least that was the idea at their founding, and in careful management up until recent years. 
Growing up near Pittsburgh, I found welcome refuge in the state forests and parks. The land around me had otherwise been built up, plowed over, or blasted out for strip mines. Over time, I discovered that many other Pennsylvanians found this refuge as well; we said we were "going to the mountains," but we really meant that we were going to the state forests or parks­—public land owned by us all. A highlight of these trips was Cook Forest, where I soon realized that the big trees covered only a few dozen acres spared from a once-seamless expanse of cathedral groves that had systematically been clearcut across Pennsylvania's 300-mile length. Considering Cook Forest's popularity, drawing people from three states just to see a few acres of big trees, it seemed unconscionable that so little had been set aside. How could our forefathers have been so short-sighted?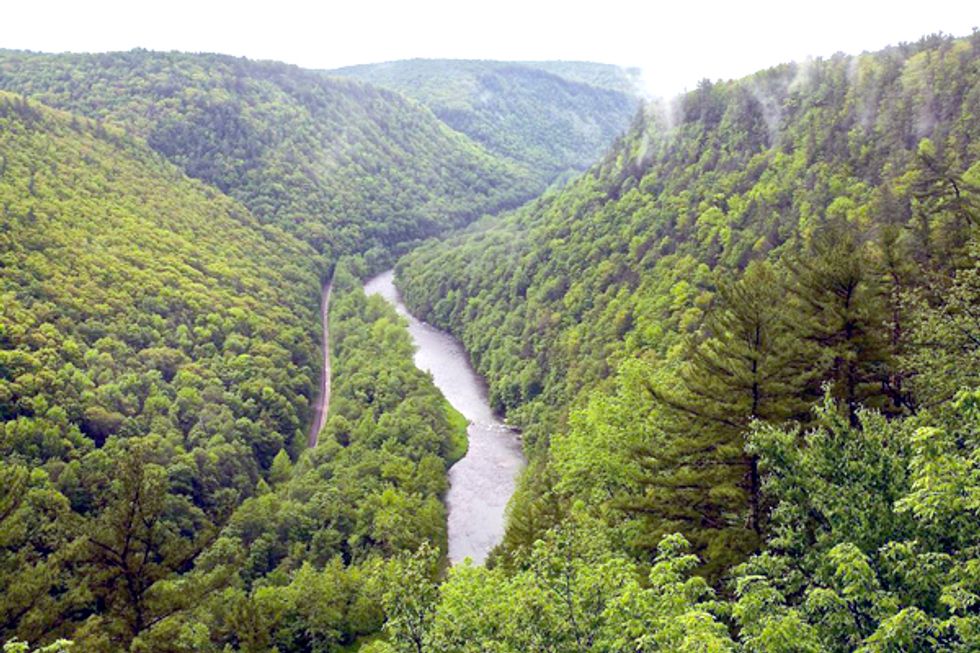 Then the era of strip mining was upon us, and after the invoices piled up for hundreds of millions of taxpayer dollars to pay for the problems and pollution that poorly regulated mining had created, it seemed inconceivable that we could have allowed so much to be ruined in a brief cycle of boom and bust. We learned that it was manifestly more difficult to fix a landscape once it had been broken than it was to care for it properly in the first place. And we learned to be more careful about the rapid liquidation of natural wealth. Or did we?
Much of the state is underlain by Marcellus shale—heavily tapped today for natural gas through hydraulic fracturing, or "fracking"—the pressure-pumping of water, a stew of chemicals and sand into deep underground cavities to fracture rock strata. This allows gas supplies—along with the toxic water that's pumped in—to be extracted.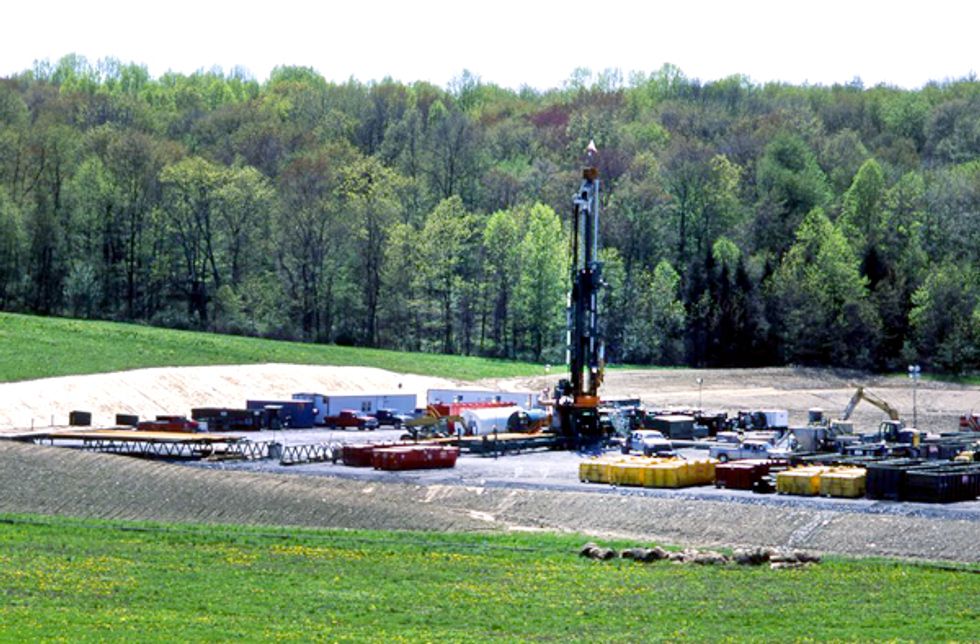 The process has been criticized for its contamination of drinking-water wells, 24-7 noise, thousands of miles of new roads scraped out of our forests and fields, caravans of trucks in what had been Penn's Wood's most remote enclaves, and dependence on "water buffaloes." These bulky front-yard tanks filled by trucks are now used to replace once-pristine well-water, which had been the health and pride of rural residents. Now they drink out of a plastic tank, like so many cattle stranded in a hot pasture. Lease agreements with the gas industry often bar the people affected by this plight from complaining.
In a shocking affront to public respect and disclosure, the industry refuses to tell even our state regulatory agencies the names of the chemicals that can become unwelcome cocktails in the water that people drink. All this has become business-as-usual across much of the Commonwealth's 93 percent that's mostly private land.
But what about the other seven percent—my cherished refuge of old?
Far from the sanctuary or common-wealth that one might expect, our state forests have 962 permitted wells with projections of another 3,000 by 2040. The Department of Conservation and Natural Resources leased 74,000 acres of state forests to the gas industry in 2008, then recommended a halt to the practice, but the Governor ordered that another 80,000 acres be leased. The total state forest area potentially subject to gas development is nearly 700,000 acres—a third of the total. 
Furthermore, roads to the wells, and the water withdrawn from streams, plus the pollution that escapes, all affect vast areas beyond what's immediately under lease. "Fragmentation" of wildlife habitat and open space results from chopping previously protected acreage into isolated pieces—as if you dissected all the rooms of your house and moved each to a separate outdoor shed and still tried to call it a "house." Furthermore, income from the gas leases was intended, by law, to go to the Department of Conservation and Natural Resources, but that money has been hijacked for the general fund, leaving our dedicated public land stewards handicapped to deal with the inevitable problems that result. 
Seeking to fix what it can of this badly broken system, the Pennsylvania Environmental Defense Foundation has filed suit against the governor. The non-profit group claims violations of Article 1, Section 27 of the State Constitution. With great fanfare, in 1971 this edict guaranteed that "The people have a right to clean air, pure water, and to the preservation of the natural, scenic, historic and esthetic values of the environment... As trustee of these resources, the Commonwealth shall conserve and maintain them for the benefit of all the people." The governor is responsible to uphold those rights. 
It will be difficult to undo the damage of the past, but the foundation reasonably argues that the expansion of poorly regulated public land leasing should be stopped, and that revenues should be returned to the agency that's stuck with the problems now being created.
Have we learned anything from the cutting of virtually all of Penn's Woods? From the unreclaimed strip mines that marred our mountains and required us all to pay the price? The record of fracking, so far, says that we haven't. But the slow wheels of justice will tell if the Constitution requires otherwise. 
If Pennsylvanians have a birthright to the Sylvania that our benevolent founder so perceptively named, then our state forests should not just be drilling pads for the fracking of our future. 
Tim Palmer is the author of Rivers of Pennsylvania and Youghiogheny: Appalachian River, plus twenty other books. He grew up in western Pennsylvania and worked for ten years as a land use planner in Lycoming County, where fracking is now widespread.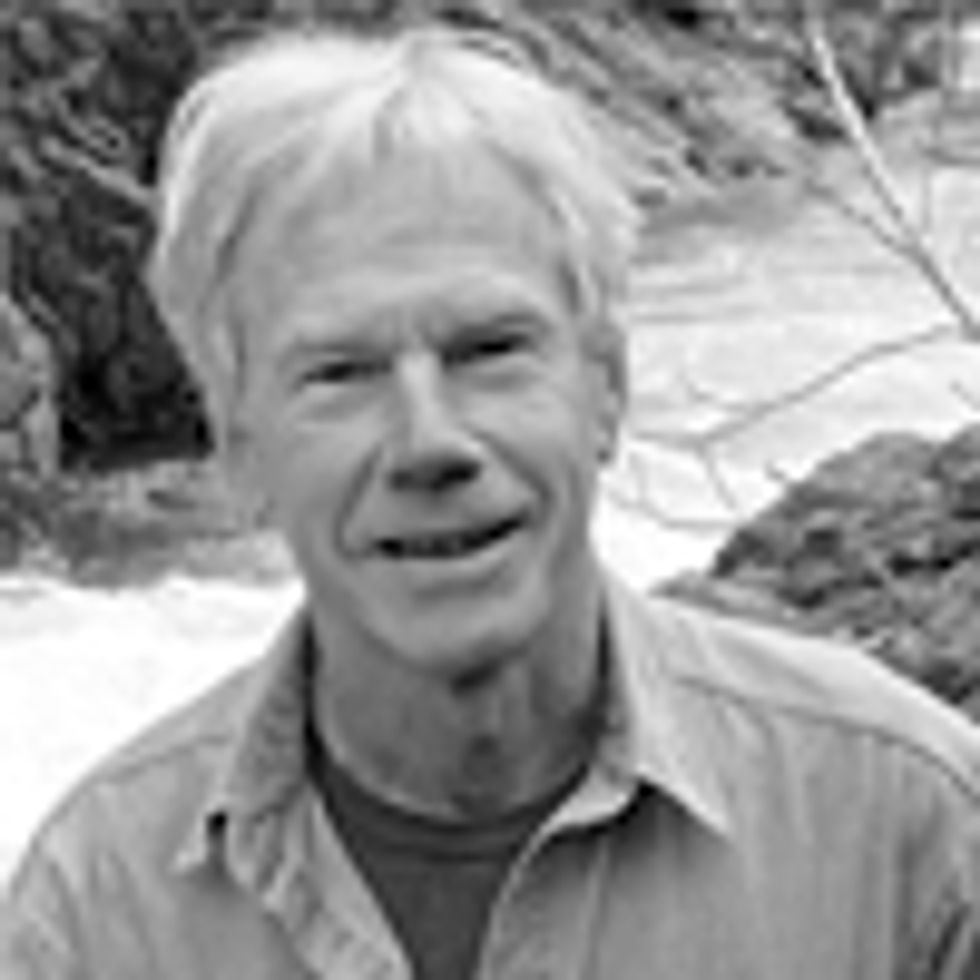 Beyond the world we know, in the shaded recesses of our highest mountains, lies another California. It's a world of rock and ice, of brilliant light, of fearsome snowstorms that over time have formed a stunning collection of magnificent glaciers.
[slideshow_deploy id='346881']
Many people don't realize that glaciers even exist in California. In fact, we have about 130.
Most cling to steep slopes of the Sierra Nevada, but they're disappearing at a rapid rate. Geologist Greg Stock of Yosemite National Park reports that even Lyell Glacier—second-largest in the Sierra—no longer has the mass required for it to creep downhill, which is one condition that defines a glacier.
With a strange but passionate marriage of gusto and sadness, I recently spent a full spring, summer and fall photographing these glaciers. It was one of the most remarkable years of my life. Climbing to mountain heights brought astonishing scenes as the sun edged over the horizon and bathed the ice in morning's golden glow. At campsites I was enchanted by glacier-fed streams that nourished rivers below, including the Tuolumne, later tapped by San Francisco through the Hetch Hetchy system, and the Owens, bound for Los Angeles. The glacial runoff continued long after other waterways had withered in summer's drought.
It was a privilege to see such beauty. It was tragic to know I would not see it again.
Among all the changes wrought by global warming—heat waves, raging floods, rising seas, menacing droughts—the melting of the glaciers is the most immediately visible for anyone who ventures high enough to see them.
One might reason that California's glaciers are already small and of little consequence, but the same forces that are melting them are also reducing the mountains' entire snowpack, which will diminish this century by 30 to 70 percent, according to scientists at Scripps Institution of Oceanography. That snowpack accounts for 60 percent of the water used in California.
How does one respond to such fatal news? New dams are not the answer because we've already built on all the dam sites that made economic and engineering sense, and further ponding of water increases evaporative loss.
Rather, water delivery systems need to be made more efficient to cope with shortages and to leave adequate nourishment in rivers for the greater community of life, including commercial fisheries at sea. Floodplains need to be safeguarded as open space to accommodate higher floods and to recharge groundwater. Certainly we need to reduce the source of the problem—burning fossil fuel—and the state Legislature has taken steps to bring our discharge of global-warming gases down to 1990 levels. But even if those contested efforts succeed, they're not enough. Reductions at the essential scale can hardly be imagined as long as our population is slated to double within a half-century or less. If we can't do the job now, how will we do it then? Our commitment to endless growth needs to be challenged, or the problems stemming from unlimited needs will be unlimited as well.
Take one last, sweet look at these glacial gems of California. It's too late to stop their melting. But perhaps their loss can help inspire us to turn the tide of destructive change and protect the workings of the natural world upon which we all depend.
Tim Palmer's most recent books include his photo collection, California Glaciers (Heyday, 2012) and Field Guide to California Rivers (University of California Press, 2012).