This website uses cookies to ensure you get the best experience while browsing it. By clicking 'Got It' you're accepting these terms.


The best of EcoWatch, right in your inbox. Sign up for our email newsletter!

O_Lypa / iStock / Getty Images Plus
U.S. Department of Agriculture inspectors documented 60 percent fewer violations at facilities that use animals in 2018 compared to 2017. The drop, reported by the Washington Post this week and also documented by our researchers here at the Humane Society of the United States, is the latest sign that the federal agency is pulling back from its job of enforcing the Animal Welfare Act, which protects animals used by puppy mills, zoos and research labs, among others.
Allen J. Schaben / Los Angeles Times / Getty Images
Brazil, one of the world's largest economies and the fifth largest nation by population, has become an important focus for animal advocates over the last several decades. The result has been a growing awareness of animal issues and noteworthy progress in regard to animal welfare.
EcoWatch Daily Newsletter
A fin whale surfacing in Greenland. Aqqa Rosing-Asvid / CC BY 2.0
By Kitty Block
Iceland seems to be the most confused of nations when it comes to whales. On the one hand it attracts international tourists from all over the world to go out and see whales as part of their encounters with Iceland's many natural wonders. On the other hand it kills whales for profit, with some portion of the kill even being fed to some of the same tourists in restaurants and cafes.
iStock
By Kitty Block
There's great news for animals in the final 2018 budget bill that President Trump signed into law last week. The bottom line is this: the budget bill includes language to restrict funds from being used to harm horses and to address a purge of key animal enforcement records, it increases federal resources to enforce significant animal protection laws, and it omits riders that would have been devastating for wildlife.
Gucci fur loafers. REX Shutterstock
The Humane Society of the United States (HSUS) and LAV, along with the Fur Free Alliance (FFA), are pleased that the leading global fashion house Gucci has announced it will no longer use animal fur, beginning with its spring summer 2018 collection. Gucci's President and CEO Marco Bizzarri announced the fur-free policy on Oct. 11 during the 2017 Kering Talk at The London College of Fashion.
Gucci's commitment follows a long-standing relationship with the HSUS and LAV—members of the international Fur Free Alliance, a coalition of more than 40 animal protection organizations working together to end the fur trade.
Kathy Milani / The Humane Society of the United States
Our nation's management of wild horses has been a long-running debacle of poor execution layered over questionable intentions and flagging resolve. Those problems have been compounded by violence toward horses by ranchers and other private resource users. The latest incident involves an attack on a number of wild horses living on a ranch overseen by the philanthropist and wild horse advocate Madeleine Pickens.
A volunteer advisory board has recommended that the Bureau of Land Management consider euthanizing all 45,000 unadopted wild horses in holding facilities.Galen Clarke / The Humane Society of the United States
Since 1971, the Bureau of Land Management (BLM) has had the task of managing wild horses, who are now classed, for administrative purposes, into 179 Herd Management Areas in 10 western states. The bureau's primary strategy over the past 20 years has largely consisted of rounding up and removing the animals from our public lands, ostensibly in an effort to protect the range from overgrazing.
The original plan was to adopt out horses to private parties—which has been fraught with its own set of problems—but the removals have happened at a volume that not even a spirited adoption program can offset. This has resulted in approximately 45,000 wild horses and burros being maintained in government-financed holding facilities throughout the U.S.

Because the captive horse management has cannibalized so much of the funding, the BLM has scarce funds for protecting horses remaining on the range, including fertility control programs that offer the only real hope of humane population management.
Last week, in an attempt to solve this financial crisis—a self-inflicted wound created by serial round-ups—a volunteer body called the National Wild Horse and Burro Advisory Board (the majority of whose members' main focus is not and has never been, the humane treatment of wild horses) made a recommendation that the BLM consider euthanizing all unadopted horses in holding facilities. That's a prescription for mass slaughter on an almost unimaginable scale and it would perhaps make the U.S. the biggest horse killing enterprise in the world.
While the advisory board has no legal authority to mandate action on the agency's part, the agency will consider this recommendation, a sort of "Final Solution" cooked up by public-lands ranchers and their allies.
In 2015, the Department of Interior's Office of the Inspector General released a long-awaited investigative report, which found that the BLM had sold thousands of wild horses to a livestock hauler named Tom Davis who subsequently sold these horses to kill buyers. Though they are not being sold directly by the agency, wild horses are still going to slaughter by a variety of circuitous pathways. Sources at the Sugarcreek, Ohio, livestock auction last week documented BLM freeze-branded horses, in very poor condition, being sold to kill buyers.
Our nation's wild horses deserve better than this sort of mismanagement and abuse, and an attitude that they are throwaway objects. A sensible program must be grounded on controlling the population on the range through fertility control, obviating the need for dangerous round-ups that betray the national interest in protecting horses, and ending wasteful spending that ultimately solves no problems and just builds a massive captive wild horse program.
This headlong and heedless advisory committee recommendation should be summarily rejected. But it's so outrageous and overreaching that it may be just the kick in the pants that Congress and the agency need to overhaul the entire broken and battered program.
In a dramatic shift that signals an eventual end to the practice of keeping captive orcas for public exhibition, SeaWorld announced it would cease all of its orca breeding programs for the company's nearly 30 whales. This action will make the current group the last generation of SeaWorld's orcas. The Humane Society of the United States (HSUS), which worked with SeaWorld on these new policies, praised its reforms as a major step forward toward a humane economy in which corporations respond and adapt to public concerns over animal welfare.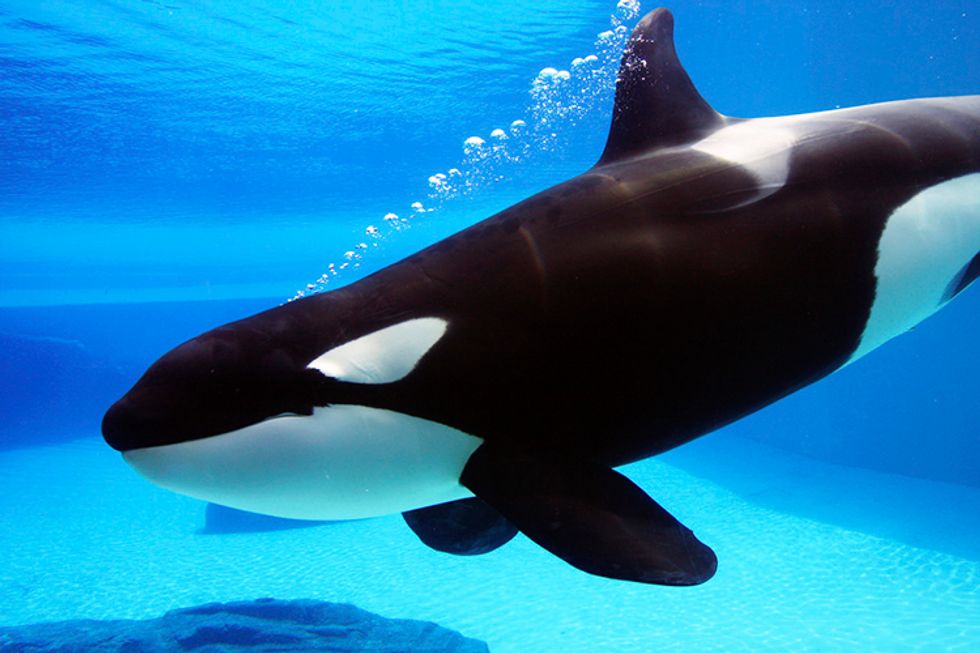 "These two organizations have been long-time adversaries, but we're excited now to see the company transforming its operations for the better on animal welfare," Wayne Pacelle, president and CEO of the HSUS, said. "Today's announcement signals that the era of captive display of orcas will end and that SeaWorld will redouble its work around rescue and rehabilitation of marine mammals in crisis and partner with us to tackle global threats to marine creatures."
The HSUS has long been critical of keeping orcas and dolphins in captivity and has clashed with SeaWorld for more than two decades. Of SeaWorld's orcas, 23 were born in captivity. SeaWorld ended live capture of orcas and other marine mammals from the wild years ago and reaffirmed that commitment today.
"SeaWorld takes seriously its responsibility to preserve marine wildlife. As one of the largest rescue organizations in the world, we will increase our focus on rescue operations—so that the thousands of stranded marine mammals like dolphins and sea lions that cannot be released back to the wild will have a place to go," Joel Manby, president and CEO of SeaWorld, said.
"Together with HSUS and with our 20 million guests and 20,000 employees we can build an army of advocates to protect animals and wild places."
SeaWorld has weathered strong currents of public criticism since the release of the 2013 documentary Blackfish and today's announcement comes in the wake of increasing pressure and calls on the company to end captive orca performance at its parks.
"This is a first, massive step forward toward a more humane future for SeaWorld," Dr. Naomi Rose, marine mammal scientist at the Animal Welfare Institute and formerly with the HSUS, said. "I welcome these commitments from Joel Manby. He has given SeaWorld a new lease on life."
"This is a defining moment. The fact that SeaWorld is doing away with orca breeding marks truly meaningful change," Gabriela Cowperthwaite, director of Blackfish, said.
The announcement with SeaWorld exemplifies the HSUS's approach to act as a catalyst and contributor to the adoption of more humane practices by the corporate sector.
Through collaboration or confrontation or sometimes a combination of the two, the HSUS has worked in recent years to secure substantial animal welfare commitments from companies working within food and agriculture, cosmetics and chemical manufacturing, fashion, the pet industry, animals in entertainment and other sectors. In addition to its new policies for orcas, SeaWorld has committed to:
Maximizing its focus on rescue and rehabilitation of marine animals in distress and highlighting the plight of unreleasable animals to foster a stronger bond between humans and animals and to educate people about ongoing threats to them.
Participating in advocacy campaigns to end the commercial slaughter of marine mammals. Specifically, SeaWorld plans to advocate for an end to commercial whaling and sealing and to fight shark finning throughout the world. We expect the company will weigh in on a range of other issues that adversely affect the lives of marine creatures.
Revamping its food policies by changing its procurement practices to source only sustainably raised seafood, crate-free pork and cage-free eggs and to offer more vegan and vegetarian options at all of its restaurants and other food service operations, which serve more than 20 million people annually.
Protecting coral reefs and reducing the commercial collection of wild-caught ornamental fish.
It was almost exactly a year ago that Ringling Bros. pledged it would phase out its use of elephants in traveling acts—a game-changing announcement for the use of wild animals in circuses. Today's announcement by SeaWorld is also tremendously significant and marks a turning point in the movement to phase out the use of orca for captive display.
YOU MIGHT ALSO LIKE
WARNING … This Video Will Break Your Heart: 150 Wild Buffalo Captured at Yellowstone
Rescued Chimp Who Lived Alone for 18 Years Won't Stop Holding Hands With New Friend
Want to Swim With Dolphins? Read This First
Love Wildlife? Check Out These 11 Stunning Photos From Yellowstone National Park