O_Lypa / iStock / Getty Images Plus
U.S. Department of Agriculture inspectors documented 60 percent fewer violations at facilities that use animals in 2018 compared to 2017. The drop, reported by the Washington Post this week and also documented by our researchers here at the Humane Society of the United States, is the latest sign that the federal agency is pulling back from its job of enforcing the Animal Welfare Act, which protects animals used by puppy mills, zoos and research labs, among others.
The Post also noted a drop in the number of "critical" or "direct" violations issued by the USDA — serious violations that would trigger faster follow-up by the agency and possible enforcement action. In 2017, inspectors recorded more than 4,000 citations, including 331 marked as critical or direct. In 2018, the number of citations fell below 1,800, including 128 that were critical or direct.
The agency now appears to be giving the facilities it inspects more leeway to cover up their deficiencies and their misdeeds. Above, a dog at a USDA-licensed puppy mill.USDA
HSUS researchers have come across instances where inspectors found animals who were clearly injured or emaciated, but did not write up a critical or direct citation or even require a puppy mill owner to take a sick dog to a veterinarian for an examination. For instance, in June last year, a USDA inspector visiting a commercial dog breeding operation in Kokomo, Indiana, came across a female boxer who was nursing a litter of puppies.

The dog's ribs, spine and hip bones were protruding, but the inspector simply allowed the breeder to talk to a veterinarian on the phone, who instructed that the dog be given a different diet. The dog was not examined by a veterinarian in person and no tests were done to check if she was sick due to a non-dietary reason, like an underlying infection or parasite — an omission that could endanger her life and the lives of her puppies.
This slackening of enforcement commitments is just the latest in a long-running and disturbing saga that has unfolded at the USDA under the current administration. The agency now appears to be turning a blind eye to most violations while giving the facilities it inspects more leeway to cover up their deficiencies and their misdeeds.
Meanwhile, the public is being largely kept in the dark about what goes on behind closed doors at such facilities. In February of 2017, the agency deleted inspection reports of thousands of these facilities that groups like ours had relied on for years to inform the American public of how businesses treat the animals in their care. We are challenging that decision with a lawsuit, but to date, the USDA continues to redact breeder names, addresses and license numbers on its public Animal Welfare Act records.
In April 2018 the USDA announced a pilot program that alerts some facilities about upcoming inspections in advance. This gives some breeders and other regulated facilities time to cover up violations or even hide or destroy sick or injured dogs.
In May 2018, a new USDA tech note explained facilities can now "self-report" to avoid having certain violations identified in their records, even some critical violations, as long as they follow certain guidelines. That same month, the USDA issued a revised Animal Welfare Inspection Guide that was missing many important elements, such as the long-standing requirement that a facility's written program of veterinary care be signed by an actual veterinarian, and requirements related to identifying suffering animals and taking sick animals to a veterinarian.
In October last year, the Post reported that the USDA issued only 39 written warnings in the first three quarters of 2018, and had settled only one civil complaint against a puppy mill operator. This was a huge drop from just two years before, when the agency issued 192 warnings and filed civil complaints against 23 licensees.
To make matters even worse, the recent government shutdown, the longest in American history, resulted in many puppy mills operating without an inspection during the early part of the year.
A USDA spokesperson admitted to the Post reporter that the agency is backpedaling on enforcement, stating that it is putting more emphasis on "working with" the regulated community instead. But this makes no sense because the USDA's own audits show that this approach has failed in the past. In reality, the lack of enforcement is likely due to the influence of vested interests, including Big Ag groups and breeder collectives, which, under the current administration, have an unprecedented amount of influence on the agency's strategy. It's the fox in the henhouse.
Ironically, the only class of dealers that the USDA is increasingly cracking down on is animal rescues, especially nonprofit pet rescue transporters that obtain minor fees for moving dogs and cats from overburdened rural shelters to shelters that have more space. In 2018, the USDA updated the interpretation of its rules to require some pet rescues to obtain a license under certain circumstances, even if payment they receive to transport pets is just compensation for vet care or gas money.
We are keeping an eye on these developments and challenging them whenever possible, but we cannot do it without your help. Please contact your U.S. Representatives and ask them to join a member sign-on letter to the Agriculture Appropriations Subcommittee that will be circulating soon. The letter will shine a spotlight on these problems at the USDA and call for tougher enforcement. Also ask your Representatives to support the Welfare of Our Friends (WOOF) Act, H.R. 1002, in Congress.
This important bill would require the USDA to ensure that pet breeders demonstrate compliance with the Animal Welfare Act before their licenses can be renewed, and it would also prevent puppy mill operators whose licenses have been suspended or revoked from opening a new license in a different name.
From Your Site Articles
Related Articles Around the Web
EcoWatch Daily Newsletter
Allen J. Schaben / Los Angeles Times / Getty Images
Brazil, one of the world's largest economies and the fifth largest nation by population, has become an important focus for animal advocates over the last several decades. The result has been a growing awareness of animal issues and noteworthy progress in regard to animal welfare.
That progress continues. Yesterday, Carrefour, Brazil's largest food retailer, announced that it will sell exclusively cage-free eggs in its stores throughout Brazil. Carrefour, which operates almost 650 stores, is the first supermarket chain in the country to make this commitment. This commitment will spare millions of egg-laying hens a life of extreme confinement in battery cages so small that the birds can barely move or stretch their wings.
Carrefour worked closely with Humane Society International over the past few years on the adoption of this new policy. Previously, we've worked with dozens of other leading food industry players in Brazil to secure their commitments to a 100 percent cage-free egg supply chain.
These industry leaders include:
In addition, multinational corporations including Barilla, Cargill, Brazil Fast Food Corporation, International Meal Company, Arcos Dorados and Burger King, have all worked with HSI to announce cage-free egg policies in Brazil.
Our success in promoting a more humane treatment of egg-laying hens grew naturally from the momentum of our global campaign against gestation crates for breeding sows. That work persuaded Brazil's four largest pork producers—JBS (the world's largest meat processing company), BRF, Aurora Alimentos and Frimesa—to phase out the use of gestation crates nationwide.
There is also more good news from Brazil.
For example, we garnered an historic victory for our meat reduction program, announcing a partnership with four cities in northeastern Brazil to transition all meals served in their public school cafeterias to 100 percent plant-based by the end of 2019. This commitment involves more than 23 million meals a year.
We successfully pushed for changes to Brazil's Corporate Sustainability Index (ISE), which from now on will take animal welfare concerns into account in assessment of the corporate performance of companies listed on the Brazilian Stock Exchange.
Finally, thanks to the work of HSI's #BeCrueltyFree campaign, seven states in Brazil (São Paulo, Mato Grosso do Sul, Paraná, Pará, Amazonas, Rio de Janeiro and Minas Gerais) have enacted laws banning animal testing for cosmetics. Rio de Janeiro´s law is the first in in the Western Hemisphere to prohibit both the testing of cosmetics products and ingredients on animals as well as the sale of cosmetics newly tested on animals.
We'll continue achieving great gains for animals in Brazil, and Humane Society International is expanding its efforts there under the leadership of HSI's country director, Carolina Maciel. Carolina and her team are working across a range of issues, including animal testing, farm animal welfare and the use of animals in entertainment. We're engaged in the fight against cruelty on multiple fronts across the globe, and for reasons of scale, scope and influence in the region, it is important for us to keep our focus and attention on Brazil.
From Your Site Articles
Related Articles Around the Web
waterlust.com / @tulasendlesssummer_sierra .
Each product featured here has been independently selected by the writer. If you make a purchase using the links included, we may earn commission.
The bright patterns and recognizable designs of Waterlust's activewear aren't just for show. In fact, they're meant to promote the conversation around sustainability and give back to the ocean science and conservation community.
Each design is paired with a research lab, nonprofit, or education organization that has high intellectual merit and the potential to move the needle in its respective field. For each product sold, Waterlust donates 10% of profits to these conservation partners.
Eye-Catching Designs Made from Recycled Plastic Bottles
waterlust.com / @abamabam
The company sells a range of eco-friendly items like leggings, rash guards, and board shorts that are made using recycled post-consumer plastic bottles. There are currently 16 causes represented by distinct marine-life patterns, from whale shark research and invasive lionfish removal to sockeye salmon monitoring and abalone restoration.

One such organization is Get Inspired, a nonprofit that specializes in ocean restoration and environmental education. Get Inspired founder, marine biologist Nancy Caruso, says supporting on-the-ground efforts is one thing that sets Waterlust apart, like their apparel line that supports Get Inspired abalone restoration programs.
"All of us [conservation partners] are doing something," Caruso said. "We're not putting up exhibits and talking about it — although that is important — we're in the field."
Waterlust not only helps its conservation partners financially so they can continue their important work. It also helps them get the word out about what they're doing, whether that's through social media spotlights, photo and video projects, or the informative note card that comes with each piece of apparel.
"They're doing their part for sure, pushing the information out across all of their channels, and I think that's what makes them so interesting," Caruso said.
And then there are the clothes, which speak for themselves.
Advocate Apparel to Start Conversations About Conservation
waterlust.com / @oceanraysphotography
Waterlust's concept of "advocate apparel" encourages people to see getting dressed every day as an opportunity to not only express their individuality and style, but also to advance the conversation around marine science. By infusing science into clothing, people can visually represent species and ecosystems in need of advocacy — something that, more often than not, leads to a teaching moment.

"When people wear Waterlust gear, it's just a matter of time before somebody asks them about the bright, funky designs," said Waterlust's CEO, Patrick Rynne. "That moment is incredibly special, because it creates an intimate opportunity for the wearer to share what they've learned with another."
The idea for the company came to Rynne when he was a Ph.D. student in marine science.
"I was surrounded by incredible people that were discovering fascinating things but noticed that often their work wasn't reaching the general public in creative and engaging ways," he said. "That seemed like a missed opportunity with big implications."
Waterlust initially focused on conventional media, like film and photography, to promote ocean science, but the team quickly realized engagement on social media didn't translate to action or even knowledge sharing offscreen.
Rynne also saw the "in one ear, out the other" issue in the classroom — if students didn't repeatedly engage with the topics they learned, they'd quickly forget them.
"We decided that if we truly wanted to achieve our goal of bringing science into people's lives and have it stick, it would need to be through a process that is frequently repeated, fun, and functional," Rynne said. "That's when we thought about clothing."
Support Marine Research and Sustainability in Style
To date, Waterlust has sold tens of thousands of pieces of apparel in over 100 countries, and the interactions its products have sparked have had clear implications for furthering science communication.
For Caruso alone, it's led to opportunities to share her abalone restoration methods with communities far and wide.
"It moves my small little world of what I'm doing here in Orange County, California, across the entire globe," she said. "That's one of the beautiful things about our partnership."
Check out all of the different eco-conscious apparel options available from Waterlust to help promote ocean conservation.
Melissa Smith is an avid writer, scuba diver, backpacker, and all-around outdoor enthusiast. She graduated from the University of Florida with degrees in journalism and sustainable studies. Before joining EcoWatch, Melissa worked as the managing editor of Scuba Diving magazine and the communications manager of The Ocean Agency, a non-profit that's featured in the Emmy award-winning documentary Chasing Coral.
A fin whale surfacing in Greenland. Aqqa Rosing-Asvid / CC BY 2.0
By Kitty Block
Iceland seems to be the most confused of nations when it comes to whales. On the one hand it attracts international tourists from all over the world to go out and see whales as part of their encounters with Iceland's many natural wonders. On the other hand it kills whales for profit, with some portion of the kill even being fed to some of the same tourists in restaurants and cafes.
The whaling company Hvalur hf, whose name means "Whale, Inc." in Icelandic, announced Tuesday it would resume its killing of endangered fin whales after a two-year hiatus. The Icelandic government will allow Hvalur to kill 161 fin whales, as well as allow it to use 20 percent of its self-allocated and unused quota from last year, which means up to 191 whales could be killed. And all of this killing will happen in defiance of the International Whaling Commission's global moratorium on commercial whaling.
Iceland's decision will rightly cause outrage all over the world, and the country's government should really know better.
Hvalur is a 70-year-old killing enterprise, owned by a wealthy citizen with outsized influence in the Land of Fire and Ice. And Hvalur is the principal reason why this otherwise ecologically responsible nation continues to support an ecologically irresponsible practice.
The fin whale, our planet's second largest animal after the blue whale, is classified as a globally endangered species. During its last hunt, in 2015, Hvalur killed 155 of them. Then the company took two years off apparently because of a declining market for whale meat in Japan. The commercial whaling industry in Iceland also hunts minke whales in defiance of the moratorium.
Iceland's greenlighting of Hvalur's actions is especially disappointing and surprising in light of the fact that the U.S. has undertaken a rigorous review process of Iceland's whaling activities and certified Iceland under the Pelly Amendment, a legal provision that includes potential economic sanctions against nations that are compromising marine conservation goals. The U.S. imposed sanctions under this process for Iceland's participation in the trade of whale meat and products.
Whales face multiple threats in today's oceans from pollution, climate change, entanglements in fish nets and ship strike. The global moratorium is needed more than ever, and it's a shame that Iceland would bow to the will of one man and one company.
Iceland returned to the International Whaling Commission in 2002 with a reservation to the commercial moratorium, a claim 19 member nations objected to at the time. Controversially, Iceland was allowed to vote on its own readmission. At the time, many IWC governments strongly objected because the country, bound by the moratorium to which it had agreed in 1982, had quit and rejoined but then opted out of the single most important conservation measure of the treaty. Countries do not normally quit simply because they don't like the conservation measures to which they have agreed. You're either in or you're out.
Iceland is one of just three nations that conduct and otherwise encourage commercial whaling in defiance of the IWC's global moratorium, with Norway and Japan being the other two. Japan's whaling fleet recently returned to port with a kill total of 333 minke whales taken in its months-long hunt in the Southern Ocean Whale Sanctuary in Antarctic waters. Shinzo Abe, Japan's prime minister, is an unabashed supporter of whaling. The leader likes to invoke cultural arguments even in defense of a rapacious whaling industry that is fundamentally commercial and not genuinely rooted in Japanese tradition.
In this respect, Iceland, Japan and Norway are in the same boat, as nations deeply unmoored from world opinion and sensitivity toward the plight of the whales as a matter of shared feeling and concern. Their continued whaling stands in the way of the urgent work of saving whales from looming threats that require the concerted energy and constructive action of a united global community.
17 Critically Endangered Right Whales Died in 2017—The Time for Systemic Change Is Now https://t.co/yPwOBNRyqD… https://t.co/BdmdpE8SBX

— EcoWatch (@EcoWatch)1514401697.0
Kitty Block is acting president and CEO of The Humane Society of the United States and president of Humane Society International.

From Your Site Articles
Related Articles Around the Web
iStock
By Kitty Block
There's great news for animals in the final 2018 budget bill that President Trump signed into law last week. The bottom line is this: the budget bill includes language to restrict funds from being used to harm horses and to address a purge of key animal enforcement records, it increases federal resources to enforce significant animal protection laws, and it omits riders that would have been devastating for wildlife.
The Humane Society Legislative Fund, the government affairs affiliate of the Humane Society of the United States, worked with animal protection champions in both chambers and with other stakeholders to secure victories on a number of fronts, including these key outcomes:
1. Maintaining the ban on horse slaughter.
The bill includes language to prohibit government spending on horse slaughter inspections, which effectively bans horse slaughter in the United States for human consumption. This language has been in place in every year's budget but one since 2005, but was rejected in the House committee last summer.
2. Preventing slaughter of wild horses and burros.
The bill includes language to prevent the Bureau of Land Management and its contractors from sending wild horses and burros to slaughter, or from killing excess healthy horses and burros. A provision allowing wild horses who are removed from public lands to be transferred to federal, state or local governments to serve as workhorses makes clear that these horses cannot be destroyed for human consumption, or euthanized except upon the recommendation of a licensed veterinarian in cases of severe injury, illness, or advanced age. The explanatory statement accompanying the bill criticizes the Department of Interior and directs it to provide, within 30 days, a comprehensive, science-based proposal that "has the goal of reducing costs while improving the health and welfare of wild horses and burros, and the range."
3. Preserving protections for carnivores on National Park Service lands in Alaska.
The omnibus bill does not authorize inhumane and scientifically unjustified trophy hunting methods on National Preserves in Alaska. This is a major victory because in February 2017 Congress enacted a rollback of a U.S. Fish and Wildlife Service rule prohibiting such practices—including luring grizzly bears with bait to shoot them at point-blank range, and killing wolf, black bear, and coyote mothers and their young at their dens—on 76 million acres of National Wildlife Refuges in Alaska, and the House Interior Appropriations bill contained a rider to undo a similar National Park Service rule barring such cruel trophy hunting methods.
4. Preserving ESA protections for Great Lakes wolves.
The omnibus omits harmful language—present in both the House and Senate Interior Appropriations bills—directing the U.S. Fish and Wildlife Service to remove Endangered Species Act protections from wolves in the western Great Lakes states (Minnesota, Wisconsin and Michigan) and Wyoming, and barring judicial review of such action.
5. Pushing USDA to fix its data purge
Following bipartisan expressions of outrage, the package directs the U.S. Department of Agriculture to restore inspection reports and enforcement records for horse shows, puppy mills, roadside zoos, laboratories and other facilities, which were purged from the agency's website in February 2017.
6. Providing needed funding
The bill boosts funds for some key animal programs, such as $2 million more for USDA enforcement of the Animal Welfare Act, $1.5 million more in grants for veterinary student loan repayment, and $5 million more to train and provide therapeutic service dogs for veterans and soldiers. It holds the line against cuts in many other important accounts affecting animals, such as the Marine Mammal Commission and development of alternatives to live animal testing.
The good news notwithstanding, the omnibus package is not a victory across the board for animals. There are harmful provisions in it, too, including one that exempts factory farms (also known as CAFOs or concentrated animal feeding operations) from reporting toxic air emissions, and another that maintains a prohibition on the Environmental Protection Agency regulating toxic lead content in ammunition and fishing tackle, which poisons and kills wildlife.
Kitty Block is the president of Humane Society International and the acting president and CEO of the Humane Society of the United States.
From Your Site Articles
Related Articles Around the Web
Gucci fur loafers. REX Shutterstock
The Humane Society of the United States (HSUS) and LAV, along with the Fur Free Alliance (FFA), are pleased that the leading global fashion house Gucci has announced it will no longer use animal fur, beginning with its spring summer 2018 collection. Gucci's President and CEO Marco Bizzarri announced the fur-free policy on Oct. 11 during the 2017 Kering Talk at The London College of Fashion.
Gucci's commitment follows a long-standing relationship with the HSUS and LAV—members of the international Fur Free Alliance, a coalition of more than 40 animal protection organizations working together to end the fur trade.
Gucci's fur-free policy includes mink, coyote, raccoon dog, fox, rabbit and karakul (otherwise known as Swakara, Persian lamb or astrakhan) and all others species specially bred or caught for fur.
The HSUS and LAV will continue to support Gucci in identifying and reducing its impact on animals and the environment.
"Gucci's decision is a game-changing moment in the fashion industry," PJ Smith, senior manager of fashion policy for the HSUS, said. "We'll look back at this moment, I predict, and see that this was the turning point when the business world turned away from fur and substituted cruelty-free garments in its place."

The company joins many other leading fashion brands and retailers in going fur-free—including Armani, HUGO BOSS, Yoox Net-a-Porter, Stella McCartney and more—and will be part of the international Fur Free Retailer Program.
"Being socially responsible is one of Gucci's core values, and we will continue to strive to do better for the environment and animals," Marco Bizzarri, Gucci's president and CEO, said. "With the help of HSUS and LAV, Gucci is excited to take this next step and hopes it will help inspire innovation and raise awareness, changing the luxury fashion industry for the better."

Kathy Milani / The Humane Society of the United States
"My family and I stand strongly against horse slaughter and against our government harming our wild horses," said actor and director Ed Harris. "I am pleading that a humane and common sense solution to the management of our wild horse population be mandated by Congress in keeping with the spirit of the Wild Free-Roaming Horses and Burros Act."
Wild Horses Under Siege on Public Lands https://t.co/5NSBGDDwBd @greenpeaceusa @Sierra_Magazine

— EcoWatch (@EcoWatch)1488841225.0
Since the implementation of the Wild and Free-Roaming Horses and Burros Act, the Bureau of Land Management (BLM) has attempted to maintain stable populations by rounding up and removing thousands of horses and burros from the wild, despite repeated directives that this was leading the program to financial instability.
The Humane Society of the United States, Humane Society Legislative Fund, Return to Freedom and the American Society for the Prevention of Cruelty to Animals have long called for the agency to cease these actions and instead redirect money spent on capturing and holding wild horses toward available solutions, including judicious use of safe, proven fertility control on the range.
The BLM did not listen, and now they want to fix their mistakes by slaughtering wild horses.
Provisions in the budget proposed by the administration would allow the BLM to kill captured wild horses or sell them without restriction—a change that would enable buyers to purchase wild horses on the cheap and haul them to Canada or Mexico for slaughter.
If Congress approves provisions in the president's budget, then tens of thousands of horses will die.
On Tuesday July 18, the House Committee on Appropriations will vote on the 2018 Interior Appropriations bill. The bill, approved by the House Interior, Environment and Related Agencies Appropriations Subcommittee, maintains protective language, but there is a chance it might be amended in full committee and removed creating a pathway to slaughter.
Wild horse supporters are raising their voices to ensure the protections remain.
Here's the letter sent to Congress from actors, singers, screenwriters and scientists urging them to oppose wild horse slaughter:
We Stand with America's Wild Horses and Burros
Our nation's iconic wild horses are fighting for their lives and we cannot stand by silently and let that happen.
We the undersigned call on Congress to oppose provisions in the president's 2018 budget that threatens the lives of tens of thousands of wild horses and burros that will be senselessly killed or easily sold to those who would profit from their slaughter.
For decades, we have had available humane solutions, which would keep wild equines on the range and save tax dollars. Sadly, agencies continue to discredit proven alternatives instead of committing to implement them.
The American people have repeatedly and resoundingly called for wild horses and burros—the descendants of the animals who helped build our country, made our own freedom possible and shaped a vital part of our cultural heritage—to live free on the range.
Two years after the passage of the "Wild Horse Annie Act," which banned the use of vehicles to hunt down wild horses sold for slaughter, the 1961 movie "The Misfits" brought the brutal practices of the mustangers onto the big screen. Marilyn Monroe cried out on behalf of audiences when she pleaded for a roped and struggling wild horse to b set free.
A decade later, in 1971, the overwhelming passage of the Wild Free-Roaming Horses and Burros Act enshrined in law the historic bond between Americans and wild horses and the policy of Congress "that wild free-roaming horses and burros shall be protected from capture, branding, harassment or death."
Yet, for all that apparent progress, the lives of tens of thousands of captive wild horses are again at risk.
As American citizens and as voters, we do not accept the use of our tax dollars, which for so many years were invested in the health and safety of the captive wild horses and burros, to now pay for the destruction of these noble animals because they have been deemed inconvenient. It is unnecessary and unconscionable.
The American people would never forgive such a betrayal.
We respectfully urge Congress to take a leadership role by opposing mass euthanasia, slaughter and unrestricted sales and, instead, work together to forge a bipartisan, well-reasoned and humane management plan worthy of these "living symbols of the historic and pioneer spirit of the West" by recognizing and prioritizing viable alternatives that do exist.
As a nation, we can and must do better.
Respectfully,
Robert Redford, Actor, Director, Advocate; Governor Bill Richardson, Politician; Wendie Malick, Actress, Advocate; Willie Nelson, Musician, Advocate; Ed Harris, Actor, Director; Amy Madigan, Actress; Lily Harris, Student; Elle Fanning, Actress; Ian Somerhalder, Actor; Carol Burnett, Actress; Ali MacGraw, Actress; Dr. Ross MacPhee Professor and Curator of Mammals, AMNH; Allen Rutberg, PhD, North Grafton, MA.; Bonnie-Jill Laflin, Fox Sports / BBC sportscaster; Priscilla Presley, Actress, Entrepreneur; Noah Wyle, Actor; Sam Elliott, Actor; Katherine Ross, Actress; Robert Gossett, Actor; Claire Forlani, Actress; Dougray Scott, Actor; Debbie Levin, CEO Environmental Media Association; Huey Lewis, Musician; Diane Warren, Songwriter; Scarlet Rivera, Musician; David Midthunder, Lakota Pipe Carrier, Actor; Amber Midthunder, Lakota Dancer, Actress; John Fusco, Writer; David Franzoni, Screenwriter, Geologist; Petrine Day Mitchum, Author, Film Historian; Robert Knott, Writer, Producer, Actor; Rex Linn, Actor; Rachael Worby, Artistic Director MUSE/IQUE; Lance Bass, Producer, Singer; Jill Rappaport, Media host, Advocate; Ed Asner, Actor; Mike Smith, Hall of Fame Jockey; Peri Gilpin, Actress; Laraine Newman, Actress, Comedian; Laura San Giacomo, Actress; Frances Fisher, Actress; Anjelica Huston, Actress; Jessika Van, Actress; Ray Abruzzo, Actor; Dan Lauria, Actor; Victory Tischler-Blue, Producer, Photographer; Tony Stromberg, Photographer; Amber Valletta, Actress; Kimberly Van Der Beek, Producer; Hart Bochner, Actor; Daryl Wein, Writer, Director; Olivia Newton John, Singer, Actress; Mickey Rourke, Actor; Jeff Franklin, Creator / Executive Producer; John Stamos, Actor; Beth Behrs, Actress; and Drew Carey, Comedian / Host
Our nation's management of wild horses has been a long-running debacle of poor execution layered over questionable intentions and flagging resolve. Those problems have been compounded by violence toward horses by ranchers and other private resource users. The latest incident involves an attack on a number of wild horses living on a ranch overseen by the philanthropist and wild horse advocate Madeleine Pickens.
A volunteer advisory board has recommended that the Bureau of Land Management consider euthanizing all 45,000 unadopted wild horses in holding facilities.Galen Clarke / The Humane Society of the United States
Since 1971, the Bureau of Land Management (BLM) has had the task of managing wild horses, who are now classed, for administrative purposes, into 179 Herd Management Areas in 10 western states. The bureau's primary strategy over the past 20 years has largely consisted of rounding up and removing the animals from our public lands, ostensibly in an effort to protect the range from overgrazing.
The original plan was to adopt out horses to private parties—which has been fraught with its own set of problems—but the removals have happened at a volume that not even a spirited adoption program can offset. This has resulted in approximately 45,000 wild horses and burros being maintained in government-financed holding facilities throughout the U.S.

Because the captive horse management has cannibalized so much of the funding, the BLM has scarce funds for protecting horses remaining on the range, including fertility control programs that offer the only real hope of humane population management.
Last week, in an attempt to solve this financial crisis—a self-inflicted wound created by serial round-ups—a volunteer body called the National Wild Horse and Burro Advisory Board (the majority of whose members' main focus is not and has never been, the humane treatment of wild horses) made a recommendation that the BLM consider euthanizing all unadopted horses in holding facilities. That's a prescription for mass slaughter on an almost unimaginable scale and it would perhaps make the U.S. the biggest horse killing enterprise in the world.
While the advisory board has no legal authority to mandate action on the agency's part, the agency will consider this recommendation, a sort of "Final Solution" cooked up by public-lands ranchers and their allies.
The Planet's Most Dangerous Predator Is Us https://t.co/KTKhEAzcda @albertarabbit @ejfoundation @OhioEnviro

— EcoWatch (@EcoWatch)1473801324.0
In 2015, the Department of Interior's Office of the Inspector General released a long-awaited investigative report, which found that the BLM had sold thousands of wild horses to a livestock hauler named Tom Davis who subsequently sold these horses to kill buyers. Though they are not being sold directly by the agency, wild horses are still going to slaughter by a variety of circuitous pathways. Sources at the Sugarcreek, Ohio, livestock auction last week documented BLM freeze-branded horses, in very poor condition, being sold to kill buyers.
Our nation's wild horses deserve better than this sort of mismanagement and abuse, and an attitude that they are throwaway objects. A sensible program must be grounded on controlling the population on the range through fertility control, obviating the need for dangerous round-ups that betray the national interest in protecting horses, and ending wasteful spending that ultimately solves no problems and just builds a massive captive wild horse program.
This headlong and heedless advisory committee recommendation should be summarily rejected. But it's so outrageous and overreaching that it may be just the kick in the pants that Congress and the agency need to overhaul the entire broken and battered program.
In a dramatic shift that signals an eventual end to the practice of keeping captive orcas for public exhibition, SeaWorld announced it would cease all of its orca breeding programs for the company's nearly 30 whales. This action will make the current group the last generation of SeaWorld's orcas. The Humane Society of the United States (HSUS), which worked with SeaWorld on these new policies, praised its reforms as a major step forward toward a humane economy in which corporations respond and adapt to public concerns over animal welfare.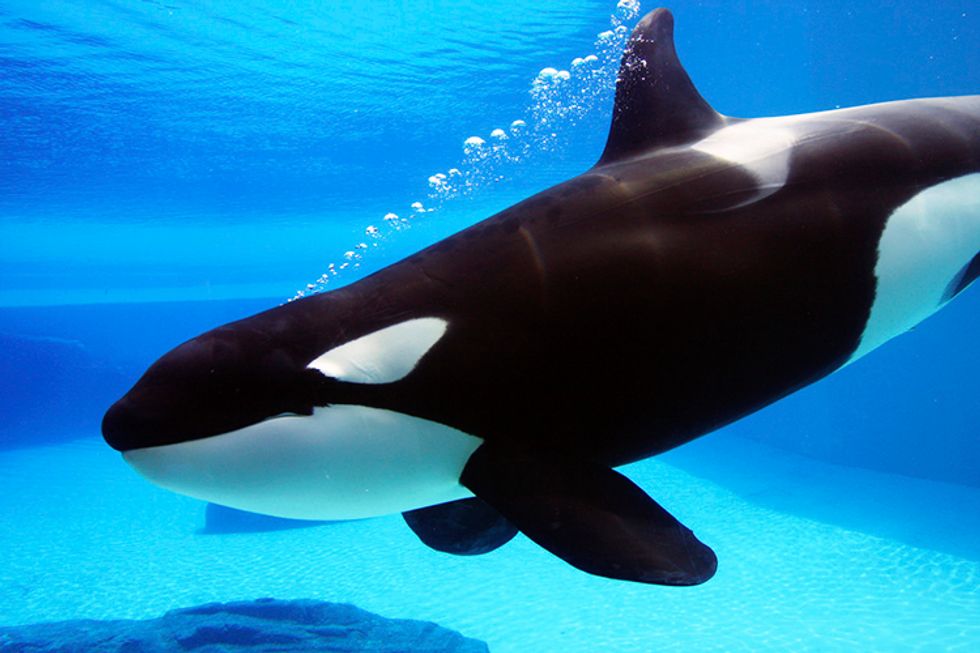 "These two organizations have been long-time adversaries, but we're excited now to see the company transforming its operations for the better on animal welfare," Wayne Pacelle, president and CEO of the HSUS, said. "Today's announcement signals that the era of captive display of orcas will end and that SeaWorld will redouble its work around rescue and rehabilitation of marine mammals in crisis and partner with us to tackle global threats to marine creatures."
The HSUS has long been critical of keeping orcas and dolphins in captivity and has clashed with SeaWorld for more than two decades. Of SeaWorld's orcas, 23 were born in captivity. SeaWorld ended live capture of orcas and other marine mammals from the wild years ago and reaffirmed that commitment today.
"SeaWorld takes seriously its responsibility to preserve marine wildlife. As one of the largest rescue organizations in the world, we will increase our focus on rescue operations—so that the thousands of stranded marine mammals like dolphins and sea lions that cannot be released back to the wild will have a place to go," Joel Manby, president and CEO of SeaWorld, said.
"Together with HSUS and with our 20 million guests and 20,000 employees we can build an army of advocates to protect animals and wild places."
SeaWorld has weathered strong currents of public criticism since the release of the 2013 documentary Blackfish and today's announcement comes in the wake of increasing pressure and calls on the company to end captive orca performance at its parks.
"This is a first, massive step forward toward a more humane future for SeaWorld," Dr. Naomi Rose, marine mammal scientist at the Animal Welfare Institute and formerly with the HSUS, said. "I welcome these commitments from Joel Manby. He has given SeaWorld a new lease on life."
"This is a defining moment. The fact that SeaWorld is doing away with orca breeding marks truly meaningful change," Gabriela Cowperthwaite, director of Blackfish, said.
The announcement with SeaWorld exemplifies the HSUS's approach to act as a catalyst and contributor to the adoption of more humane practices by the corporate sector.
Through collaboration or confrontation or sometimes a combination of the two, the HSUS has worked in recent years to secure substantial animal welfare commitments from companies working within food and agriculture, cosmetics and chemical manufacturing, fashion, the pet industry, animals in entertainment and other sectors. In addition to its new policies for orcas, SeaWorld has committed to:
Maximizing its focus on rescue and rehabilitation of marine animals in distress and highlighting the plight of unreleasable animals to foster a stronger bond between humans and animals and to educate people about ongoing threats to them.
Participating in advocacy campaigns to end the commercial slaughter of marine mammals. Specifically, SeaWorld plans to advocate for an end to commercial whaling and sealing and to fight shark finning throughout the world. We expect the company will weigh in on a range of other issues that adversely affect the lives of marine creatures.
Revamping its food policies by changing its procurement practices to source only sustainably raised seafood, crate-free pork and cage-free eggs and to offer more vegan and vegetarian options at all of its restaurants and other food service operations, which serve more than 20 million people annually.
Protecting coral reefs and reducing the commercial collection of wild-caught ornamental fish.
It was almost exactly a year ago that Ringling Bros. pledged it would phase out its use of elephants in traveling acts—a game-changing announcement for the use of wild animals in circuses. Today's announcement by SeaWorld is also tremendously significant and marks a turning point in the movement to phase out the use of orca for captive display.
YOU MIGHT ALSO LIKE
WARNING … This Video Will Break Your Heart: 150 Wild Buffalo Captured at Yellowstone
Rescued Chimp Who Lived Alone for 18 Years Won't Stop Holding Hands With New Friend
Want to Swim With Dolphins? Read This First
Love Wildlife? Check Out These 11 Stunning Photos From Yellowstone National Park