The U.S. is bracing for President-elect Donald Trump. All initial indications are that the U.S. is in for a dramatic change of leadership, more like some of the authoritarian regimes we are used to reading about in other parts of the world. Over the last decade, I have worked as an environmental and human-rights philanthropist trying to protect people and the planet, some of that inside oppressive and authoritarian regimes.
America—Don't Be Fooled, Trump's Cabinet Picks Can Be Stopped https://t.co/Qx8wjJq4b5 @OhioEnviro @ejfoundation

— EcoWatch (@EcoWatch)1482369307.0
Here's six lessons I've learned:

1. Small is better. Smaller organizations are more nimble, move more swiftly to take action, and are often more aggressive in their work and tactics. Authoritarian regimes often move swiftly and with little public process, and so the reaction from environmental and humanitarian groups needs to be similar.
2. Grassroots and local groups can be more effective. When environmental harm happens, it almost always happens on a local scale—an oil spill, a dam proposal, a timber sale, a power-plant polluter, etc. Local people are harmed, and so local groups are often the best and most effective voice that need to be supported to combat that harm.
3. Women, indigenous people, and people of color are excellent activists and spokespersons. Authoritarian oppression knows no boundaries, but it often undermines already oppressed people the worst. People who have been systemically oppressed are often grating to speak out, are excellent spokespersons, and have the most to fight for because they're poised to lose even more.
Meet 15 indigenous women on the frontline of the #NoDAPL resistance: https://t.co/UczKb5wHZj via @EcoWatch

— Climate Reality (@Climate Reality)1478323328.0
4. Structural change is needed, not just a win in the next election. Authoritarian regimes often get swept in under the guise of working-class nationalism, but when in power the same regimes often collude with multinational corporate capitalism to further undermine human and environmental rights. The fight is a battle against the regime of the day, and a war against multinational corporate capitalism over the long term.
5. Resource rights protectors need protection. Authoritarians often speak out against groups and individual people, take away groups' money, put people in jail, threaten their lives or worse. The activists and ordinary people who are defending the environment and human rights also need to be protected.
Indigenous Activist Murdered in Honduras Just Two Weeks After Berta Cáceres Was Killed https://t.co/pS3PudOJzd @EARTHWORKS @foeeurope

— EcoWatch (@EcoWatch)1458425725.0
6. It's a marathon, not a sprint. The forces that sweep authoritarian regimes into power have been working to do so for decades or longer, and so the forces that fight against that power need to be funded and prepared for a protracted response.
The U.S. may now find itself in a similar position as countries like the China, Guatemala, Honduras, India, Philippines, Russia, Venezuela and many others where authoritarians have been swept into power over the last decade. As a public citizen who wants to take action, should you join a national environmental organization or should you join a local group fighting a dam or fracking? As a donor, should you give to a big environmental group lobbying in DC or to a local minority-action group trying to force their city council to clean up their drinking water? We will definitely need mass national mobilizations and we'll also need numerous local actions.
Environmental and human-rights activists and donors in the U.S. need to brace themselves, learn from other countries and dig in.
EcoWatch Daily Newsletter
Chiradech / iStock / Getty Images
Portable generators allow you to power your devices and certain appliances, even away from home or when your primary power source is taken offline. These devices are also perfect for camping or outdoor adventures. A portable solar generator can give you the power you need with a smaller ecological footprint by using solar panels. In this article, we'll outline some of the top options available in 2021.

Our Picks for the Best Portable Solar Generators
Each product featured here has been independently selected by the writer. If you make a purchase using the links included, we may earn commission.
How We Reviewed Portable Solar Generators
A good portable generator will offer you backup power in a convenient and reliable way. We have reviewed some of the top models on the market today, and arrived at a few that we think stand out from the rest.
To rank the best solar generators, we considered the following criteria:
Size and weight. Smaller, more lightweight units offer much greater ease of use. We sought portable solar generators that aren't too challenging to lug around your home, or take with you when you go camping.
Battery storage capacity. While your generator absorbs light through a solar panel, that energy is ultimately stored in a battery. The battery storage capacity, measured in watt-hours (Wh) determines how long you can use the generator before it requires a recharge.
Inverter rating. Basically, inverter rating refers to the total number of watts that the solar generator can extract at any given time. Inverter rating, along with battery capacity, determine the wattage and power output of your generator.
Expandability. Some generators come with a predetermined number of solar panels, while some allow you to add more solar panels as needed. This is an important feature to consider when looking for generators.
Price point. Naturally, when looking for a new solar generator, staying on budget is always going to be a factor. We chose generators that are competitively priced.
The Best Portable Solar Generators
With these ranking factors in mind, here are our picks for the best portable solar generators available in 2021.
What Types of Batteries Do Solar Generators Use?

It's important to note that solar power generators may employ different kinds of batteries. The most common option is the lithium-ion battery. These tend to be more expensive than lead-acid batteries, at least on the front end. With that said, a lithium-ion battery will prove more durable, which usually makes it the smarter investment in the long run. Solar generators include charge controllers, which regulate the volts of energy coming from the solar panels to the battery to make sure the battery isn't overcharged and damaged.
The energy stored in the battery is converted from DC power into AC power using an inverter or adapter.
What Can You Power With a Portable Solar Generator?
There are different types of solar generators. A backup generator is primarily used to power your home, should your electricity go out. In this article, we focused on portable generators, which are mostly used for hiking and camping. With that said, a portable generator can also be really useful during power outages, potentially keeping your lights, electronic devices, and small devices or appliances on for several hours. Depending on the watts of power your solar system generator kit can support, you can use it to power things like phones, tablets, laptops, TVs, coffee makers, a mini-fridge, certain medical devices, and most anything you would plug into a car charger.
Some of the generators we've listed here can be charged by solar energy or via other sources, including vehicles and power outlets. These different charging solutions make a generator more versatile, though of course, solar energy is what you'll want to use if staying away from fossil fuels is your goal.
What are the Benefits of a Portable Solar Generator?
There are a number of reasons why you might consider a portable solar generator:
These units are ideally suited for camping and hiking. The ones on our list range in weight from under 10 pounds to over 50, but they are all fairly easy to cart around as needed, or to keep in your camper or RV.
Though they are not primarily intended to be emergency backup generators, they can certainly be used in that capacity. In particular, they can provide emergency power to important medical devices as well as phones and computers.
Unlike gas generators, portable solar generators offer power without making a lot of noise or creating a lot of fumes. This makes them much more appealing for campsites.
Portable solar generators are better for the environment, since they don't rely on gas or diesel fuel to run.
Using a solar generator is ultimately more cost-effective as you will never need to purchase fuel to recharge it.
Solar Power Can Take You Further
Solar power is one of the best options for dependable, renewable energy. Not only can it help power your house, but you can use these portable generators to carry that power with you, wherever you may go.
There are clearly lots of options on the market today. We hope our guide is helpful to you as you assess our own backup power needs, and as you determine which portable solar generator will give you the greatest value. Note that you can find many of these solar power options through third-party retailers like Amazon. Do your due diligence as you seek the perfect, portable solar solution for you and your family.
Josh Hurst is a journalist, critic, and essayist. He lives in Knoxville, TN, with his wife and three sons. He covers natural health, nutrition, supplements, and clean energy. His writing has appeared in Health, Shape, and Remedy Review.
Many of us who have dedicated our lives to environmental protection believe that all crimes against nature are also crimes against people. After all, nature is the life source for the human species. But unfortunately, not all members of the public agree with us.
Some people care more about saving animals, a wetland or a forest. None of these matters are of much interest to the media, government or funding organizations. However, when people are also involved and directly harmed by the crime against nature, it can help draw attention to efforts to protect the health and life of people as well as the environment.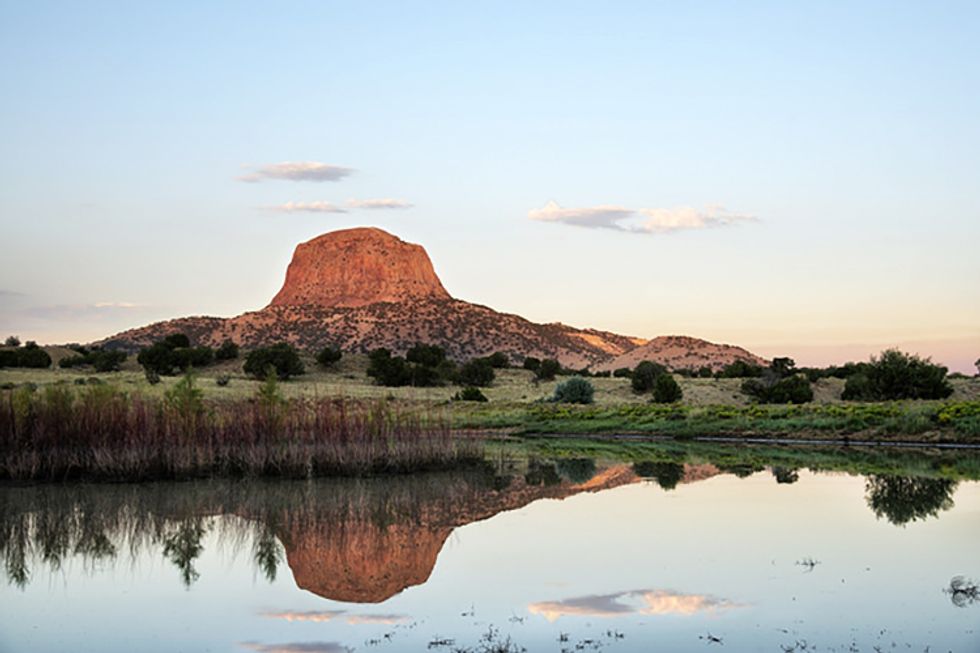 John Fowler
/
CC BY
That's one of the many reasons why I believe the environmental movement needs to focus more resources on issue of environmental justice (EJ). This is particularly true for poor communities of color: urban and rural black and Latinx people, immigrants and Native Americans.
Earlier this year, a non-profit that I sit on the board of, New Mexico Environmental Law Center (NMELC), filed an appeal to stop a proposed uranium mine on Navajo tribal lands in New Mexico. The appeal was filed on behalf of Eastern Navajo Dine Against Uranium Mining and due to the quick work of the Law Center, the State of New Mexico terminated the permit. It was wonderful, decisive victory—highlighting a small but important piece of the very large problem around the issue of environmental justice that groups like NMELC and their clients fight in the U.S. and around the planet every day.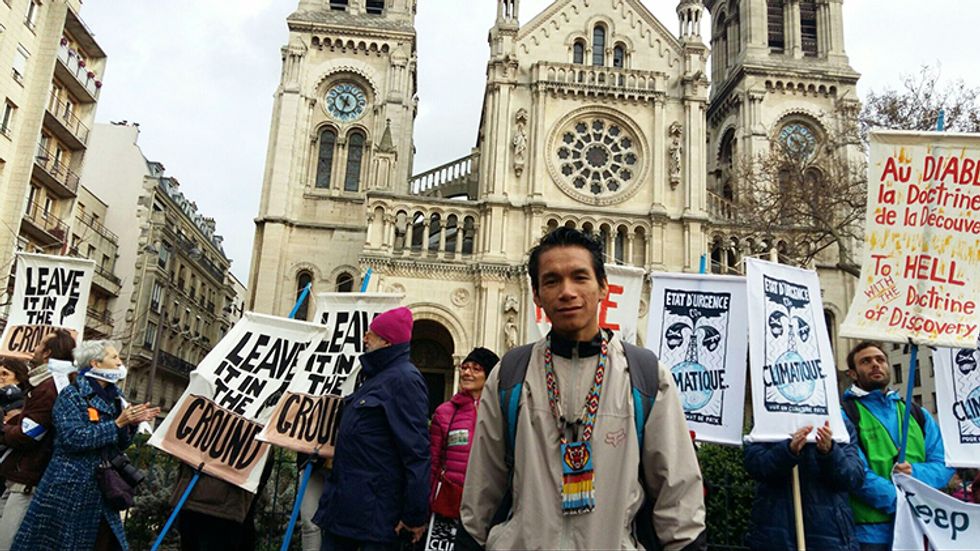 Last week, the U.S. Environmental Protection Agency (EPA) continued to come under scrutiny for its failings to address environmental justice issues. In the state of Washington, facts have emerged indicating that the EPA only follows up on 1 out of 7 environmental complaints that are lodged by minorities; in other states, the EPA's record is as bad or worse.
The Center for Public Integrity issued a research report last week, Decades of Inaction, that documents EPAs failings. At the same time, High Country News published a story highlighting EPA's environmental justice program and "EJ 2020," an effort to insure that other EPA programs pay attention to EJ issues, but which the EPA has so far struggled to implement.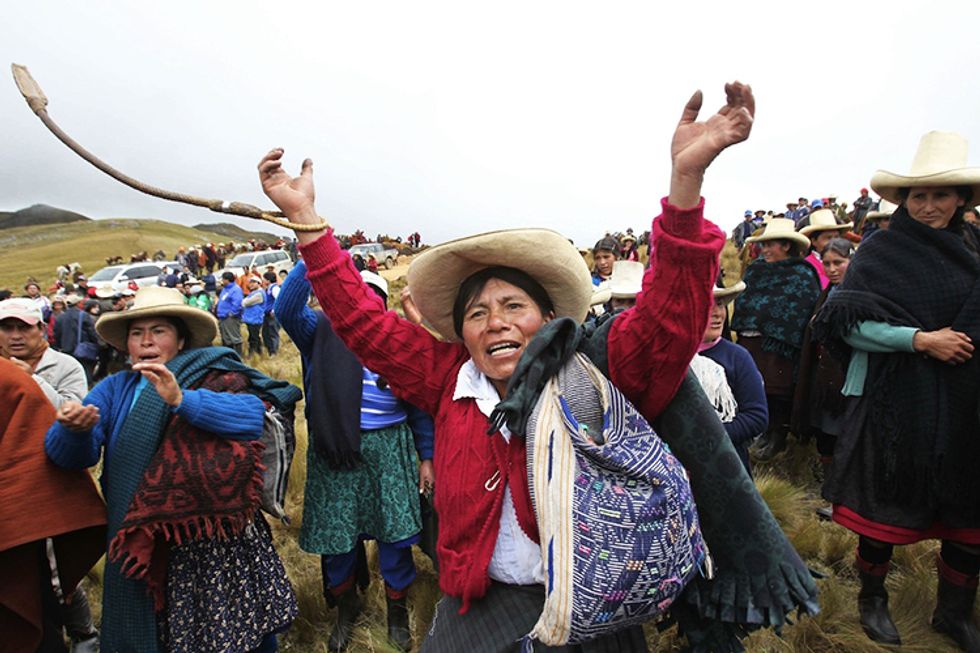 When federal, state or local governments fail to act, groups such as the New Mexico Environmental Law Center are necessary pieces of the enforcement puzzle that can step in and legally force government action. While the NMELC is one program that is addressing environmental justice problems in that state, there are less than 12 similar programs in the U.S. to fight the increasing problems and complaints.
One reason for the lack of non-profit law firms addressing environmental justice problems is the lack of funding. In fact, a 2013 report by the Environmental Grantmakers Association (EGA) indicates that less than 1 percent of the grants reported by its members are directed specifically at environmental justice problems. A broader category of EGA funding called "Health and Justice"—which includes environmental justice, toxics, environmental health and indigenous populations—received less than 5 percent of funding, according to the EGA report.
As difficult as this situation is in the U.S., it is exponentially worse in other parts of the world, especially in developing countries and in the Southern Hemisphere. The organization that I work for and direct, Global Greengrants Fund, works in space of international environmental justice by providing small grants to non-profits that are fighting against environmental and social threats and crimes. In this capacity, we are aware of or work with, most of the international non-profits and funders that are in the same space. Simply put: The environmental justice threats are enormous and the needs are dramatically unmet.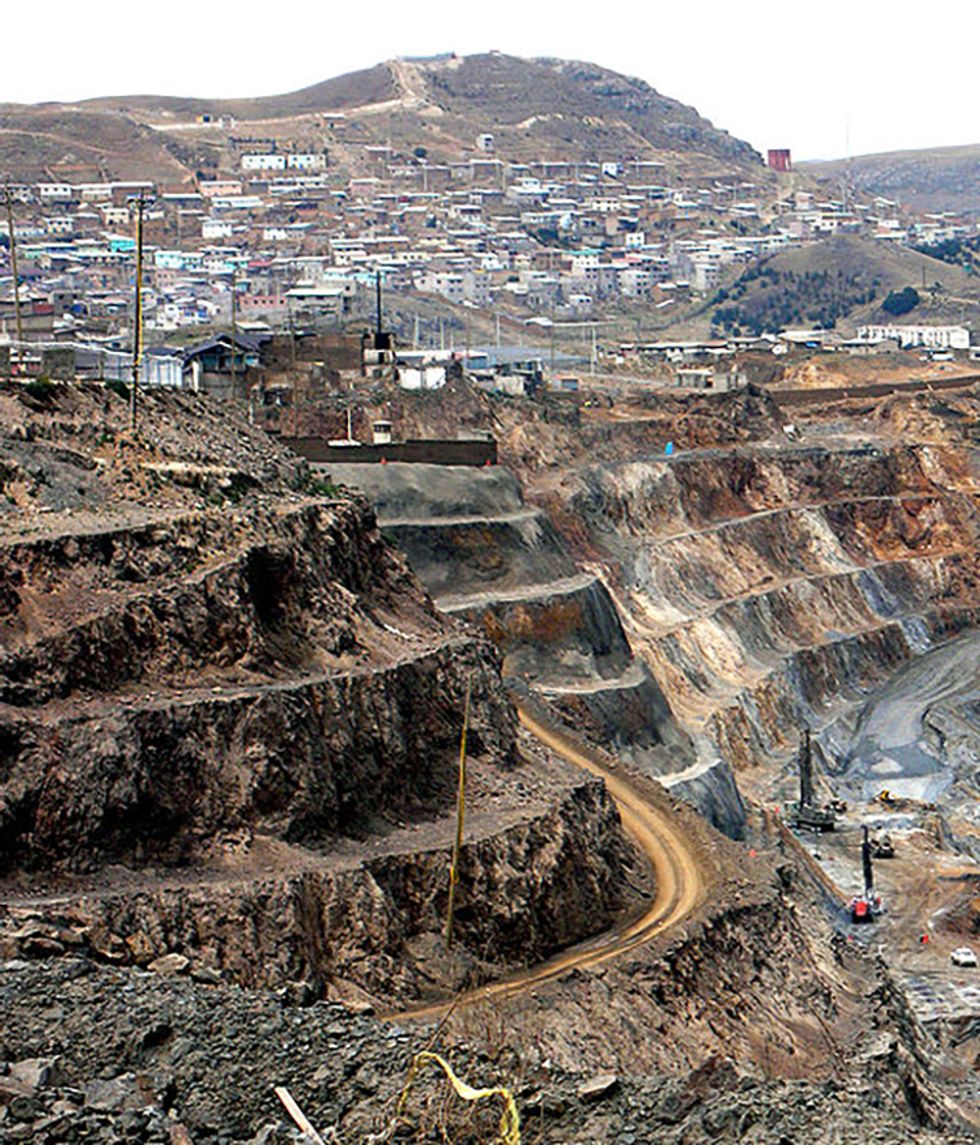 Numerous country-based and international organizations try to fill the void, but a dramatic number of threats go unaddressed and many completely undocumented. The Environmental Justice Atlas offers one small step at documenting cases, providing a pathway to report problems and map them for the public to view. In addition, thousands of staff members and volunteers of international organizations and foundations communicate continuously trying to provide support and services, but the size of the problem dwarfs the resources to address.
In the U.S. and abroad, environmental crime has a face—and that face includes people as well as fish, wetlands and forests. The proposed uranium mine in New Mexico would have been a crime against nature, but it was also a crime against the Navajo people who lived nearby and would have suffered the brunt of impacts to their air, water, health and homelands. By giving a higher priority and funding to environmental justice, we may also protect more of the non-human world as well.
Terry Odendahl, PhD, is president and CEO of Global Greengrants Fund.
YOU MIGHT ALSO LIKE
Obama Visits Yosemite, Warns of Risks From Climate Change
Help Put an End to Coal Mining on Public Lands
5 More U.S. Nukes to Close, Will Diablo Canyon Be Next?
The tragic murder of Honduran environmental activist Berta Caceres has shined a spotlight on crimes against activists around the globe. As a grassroots global philanthropy, our work at Global Greengrants Fund directly intersects with these activists and their work. We give out more than 700 small grants every year, totaling more than $8 million, almost exclusively to small groups and environmental and human rights activists. Unfortunately, our grantees are increasingly threatened for their work protecting the Earth and their homelands.
One of our grantees is the Argentinian organization "Mapuche People Winkul Newen," which is an indigenous and civil rights organization protesting against oil exploration in their native territorial homelands. In December of 2012, Relmu Namku, who is one of the Winkul Newen community leaders and activists, allegedly injured a local magistrate during a protest—the magistrate, Veronica Pelayes, was hit by a rock which allegedly broke her nose and the local police claimed that Namku threw the rock.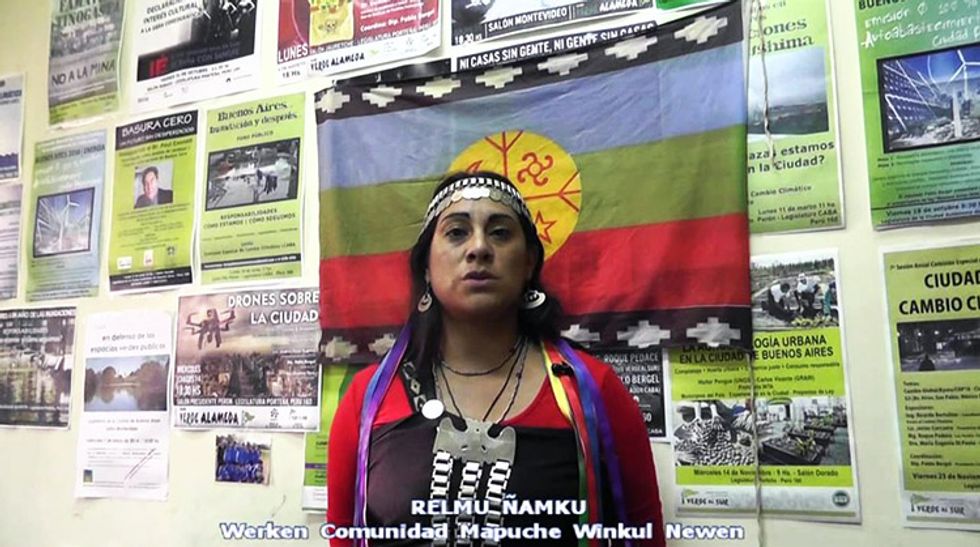 The alleged crime was vastly trumped up and called "attempted homicide" and Namku was put on trial during which the international media took note because the trial was seen to symbolize the criminalization that activists face around the globe. Namku was eventually acquitted of the charge in late 2015 and set free. After earning her freedom, Namku has become a higher-profile leader, negotiating with the new Argentinian government to protect her indigenous homelands and fight against the threat of oil drilling and other forms of occupation.
Another of our grantees was an organization of scientists, "Environmental Watch on North Caucuses" in Russia. Leaders of the organization, including Yevgeny Vitishko, were very critical of the 2014 Olympic games in Sochi which destroyed thousands of acres of pristine forest and rare salmon habitat, much of it right in the middle of Sochi National Park. At protests against the Olympics, Vitishko was arrested for swearing in public and for spray-painting a fence.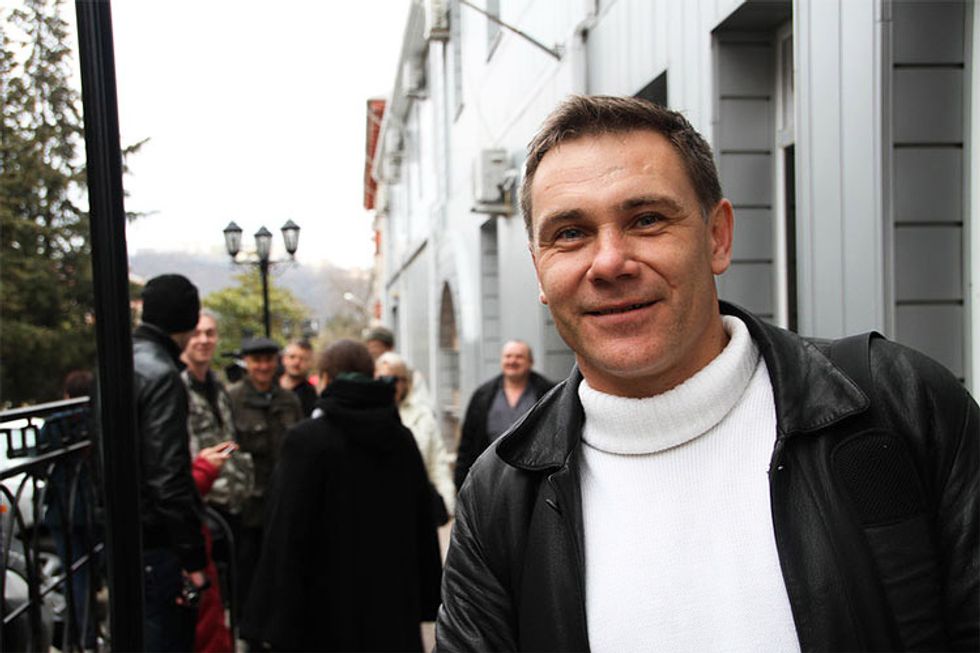 He was later sentenced to three years in a penal colony for those alleged "crimes," which most observers felt was a politically motivated and vastly trumped up punishment. Environmental Watch had created a long report critiquing the Sochi Olympics that infuriated the Kremlin and intensified the Kremlin's campaign against environmental critics during the Olympics. Vitishko ended up serving a year in prison and was released at the end of 2015. His colleague, Suren Gazaryan, won the Goldman Prize and spoke out against the Sochi Olympics and Vitishko's imprisonment at the Goldman award ceremony. As we head into the already controversial summer Olympics in Brazil, we wonder if the same attacks against activists will occur?
The Council of Indigenous and Popular Organizations of Honduras (COPINH) and its former leader Berta Caceres had received several greengrants. This tragic and now internationally known story, ends with Berta's murder two months ago. She fought successfully to stop a massive hydroelectric dam in her indigenous homelands and also won the Goldman Prize for her efforts. The success of her campaign and her international notoriety could not stop the attacks against her. Even during her Goldman award ceremony, the threats against her life were noted, as were the severe problems facing environmental and human rights activists in Honduras.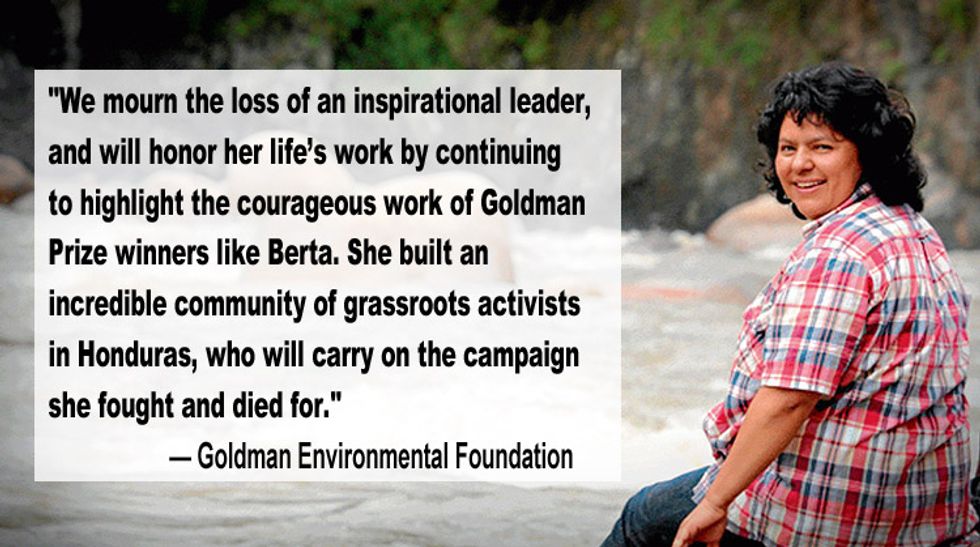 Many of our grantees have faced ridicule, harassment, intimidation and threats for their efforts to speak out to protect their human and environmental rights. In international philanthropic and NGO circles, we often call this "the closing space for civil society"—i.e., that public demonstrations and civil disobedience are increasingly being constrained and outlawed. A less sanitized term for this, that I prefer, is to call it the "criminalization of activism" such that is has now become a crime to be active in protest against authority and where the rhetoric surrounding that activism is increasingly hyperbolized and framed as "criminal" or worse.
As contests over land and resources escalate around the globe—often driven by extractive multi-national capitalism's desire for hardrock mines, hydroelectric dams, rangeland for cattle and fossil fuels—these threats seem to be intensifying as they co-mingle with the same political grip that extractive capitalism seems to have on governments and elected leaders around the world.
YOU MIGHT ALSO LIKE
Food Not Bullets: Hunger Pangs of Starving Farmers Met by a Barrage of Bullets
6 Colorado Teenagers File Appeal in Fracking and Climate Lawsuit
Mark Ruffalo: TPP Would Fuel Climate Chaos and Empower Corporate Polluters
10 Inspiring Films on Food + Farming: Who Do You Think Should Win the People's Choice Award?
Picture a 4-foot diameter pipe running into the ocean filling the offshore canyons at a rate of 160,000 tons per day. The pipe runs from an enormous gold and copper mine directly into the Indian Ocean. The pipe is filled with mine "tailings"—a toxic sludge of heavy metals, rock and coagulants mixed in with the pulverized mine wastes that spreads and covers the seabed dramatically impacting plant and animal life and polluting the surrounding water. That is the Deep Submarined Tailings Disposal (DSTP) system at Newmont Mining's Batu Hijau copper and gold mine in Indonesia.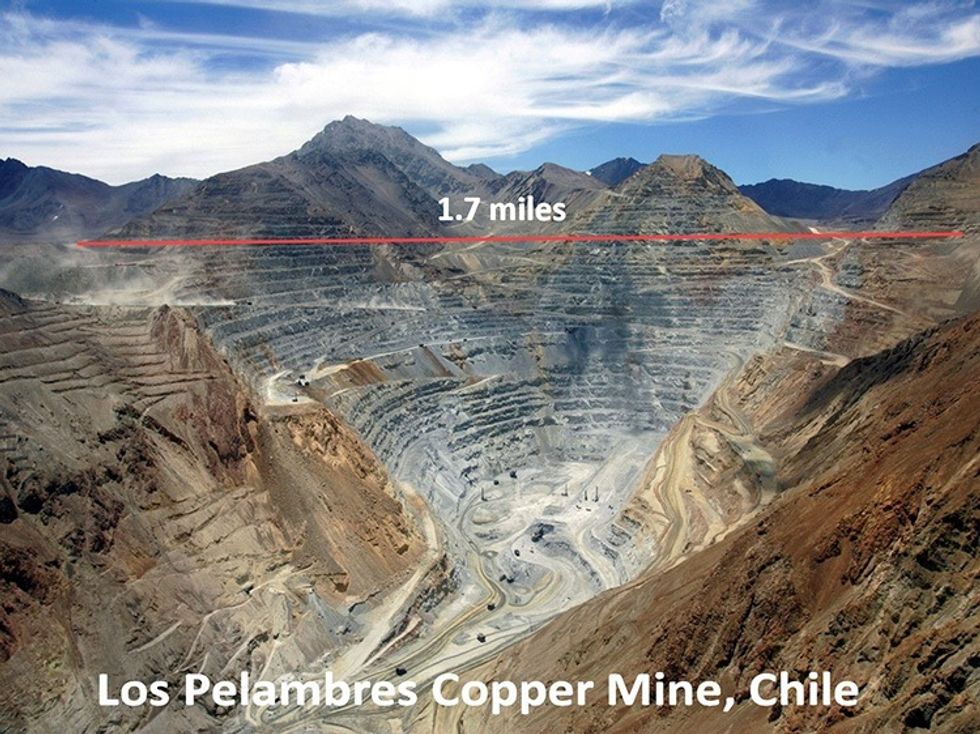 Although Batu Hijau is the biggest mine that is using DSTP, at least 16 mines in eight countries are also using DSTP, with others to follow. Indonesia, Papua New Guinea and Norway lead the way using DSTP at their mines. In Chile, mines in the mountains north and east of Santiago are proposing to run pipes 50-100 kilometers so they can dump into the canyons of the Pacific Ocean off of the Chilean coast. The enormous Los Pelambres Copper Mine in Chile proposes to use DSTP in the future, discharging its wastes directly into the ocean.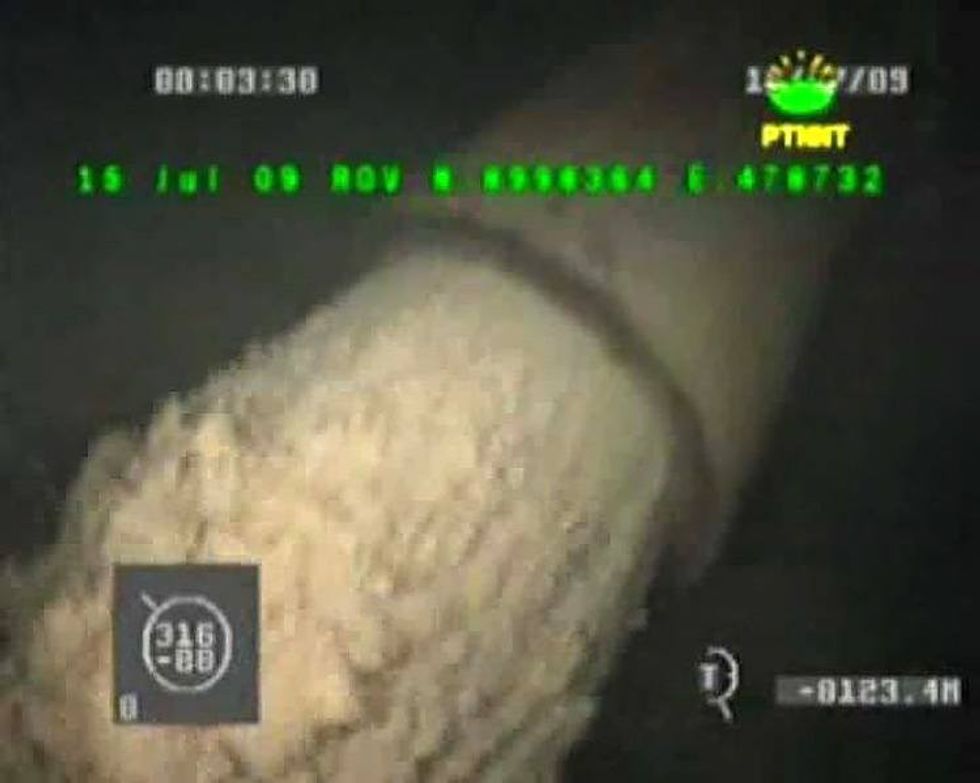 While you might think this mining disposal would be limited to the unregulated developing world, Norway actually leads with the most mines using this polluting disposal system. The mining wastes are dumped into Norway's pristine fjords, filling much of those fjords over time. One such mine has prompted a backlash by Norwegians who, working with Friends of the Earth International, have started the Save The Fjords campaign.
As stated on their website, "In April 2015, the Norwegian government gave its final permission for an open-pit mine in a mountain called Engebo. The mine will dump more than 250 million tons of chemicals and waste into the pristine Forde fjord."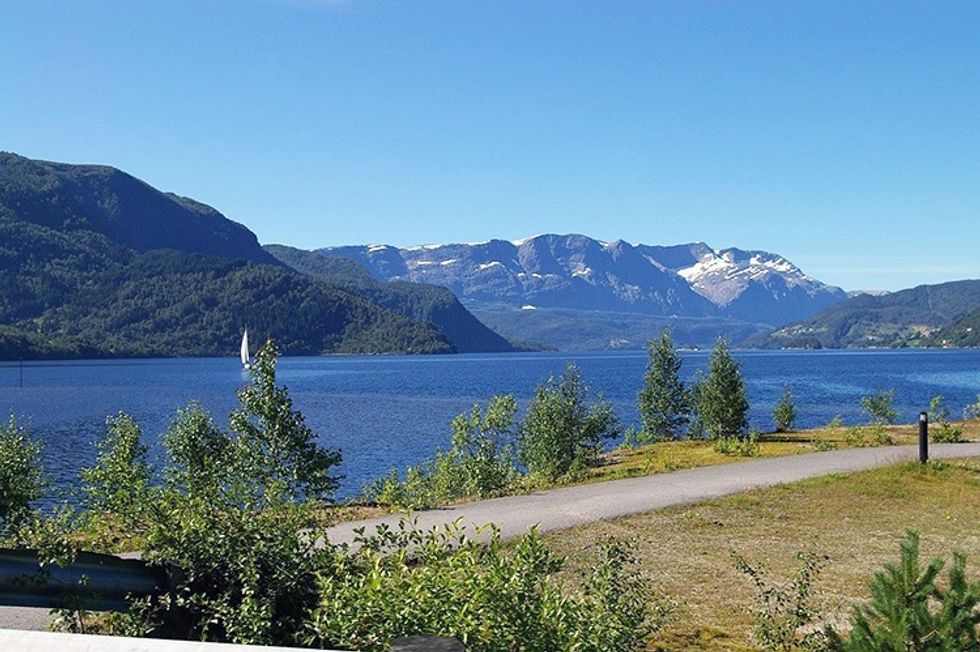 The Norwegian proposal sparked the "biggest civil disobedience actions in newer Norwegian history" where hundreds of people protested and 80 people were arrested blocking the mining action and trying to save the fjord. Through Global Greengrants Fund, a grant has been given to Friends of the Earth International to help inform Norwegians about the Engbo mine and its ocean disposal.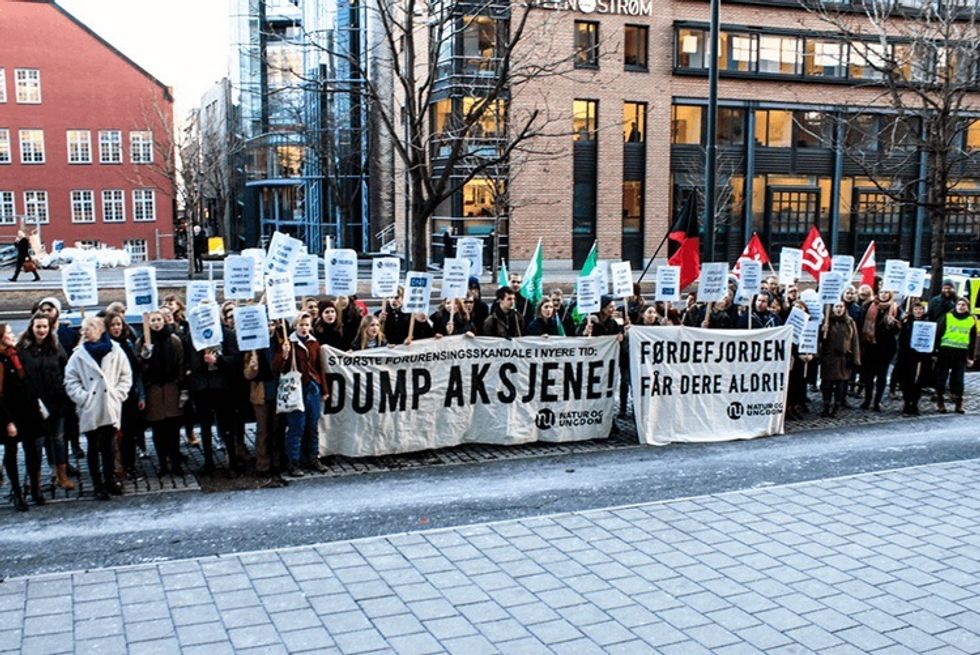 It could make sense in some cases to dispose of mining wastes in the ocean, but only if those wastes were non-reactive and only if the toxic heavy metals in the wastes are removed. In addition, if ocean disposal does take place, it should be closely monitored and regulated and it should only happen where local people are not dependent on the marine environment for food. Proposals to use DSTP along the coastline of Chile threaten the Humbolt Current System (HCS) which sustainably produces almost 20 percent of the annual harvest of fish biomass. The HCS is the most productive marine ecosystem on the planet. Just four mines would dump one million tons of mine waste into the HCS every day, one gigaton every three years.
Over the last 25 years, international regulatory bodies including the 1996 London Convention and Protocol by the International Maritime Organization and the 1992 Oslo Paris Convention have attempted to set minor regulations for DSTP, but those standards are mostly being ignored.
In the very few places where monitoring has occurred, studies have measured dramatic decreases in the amount of benthic meiofauma (animals less than I millimeter long) as well as all forms of benthic macrofauna (larger than 1 millimeter), which, along with phytoplankton, form the basis of the food chain in marine environments. Almost no research has occurred about the consequences of dumping 100's of millions of tons of mine wastes at current DSTP sites. This phenomenally destructive pollution is virtually unregulated across the planet's marine environments.
Terry Odendahl, PhD, is president and CEO of Global Greengrants Fund. Roy Young is the former executive director of Global Greengrants Fund and founder of Nature's Own. Gary Wockner, PhD, is an environmental activist, writer and consultant to Global Greengrants Fund.
YOU MIGHT ALSO LIKE
World's First and Only Sunglasses Made From 100% Reclaimed Fishing Nets
"I read the news today, oh boy." —John Lennon
Two overlapping news stories in the past few weeks must focus our attention on the need to move away from fossil fuels as quickly as possible and to transition our global economy to a more just and resilient system, especially for the world's poor and vulnerable peoples.
First, it was widely reported that 2015 was the hottest year ever recorded in human history. Specifically, the global temperature was not just higher than ever, but it rose faster than ever and the 5-year period, 2011-2015, was also the hottest 5-years ever. Climate change is real, is happening right now and seems to be accelerating in speed and intensity with every passing year.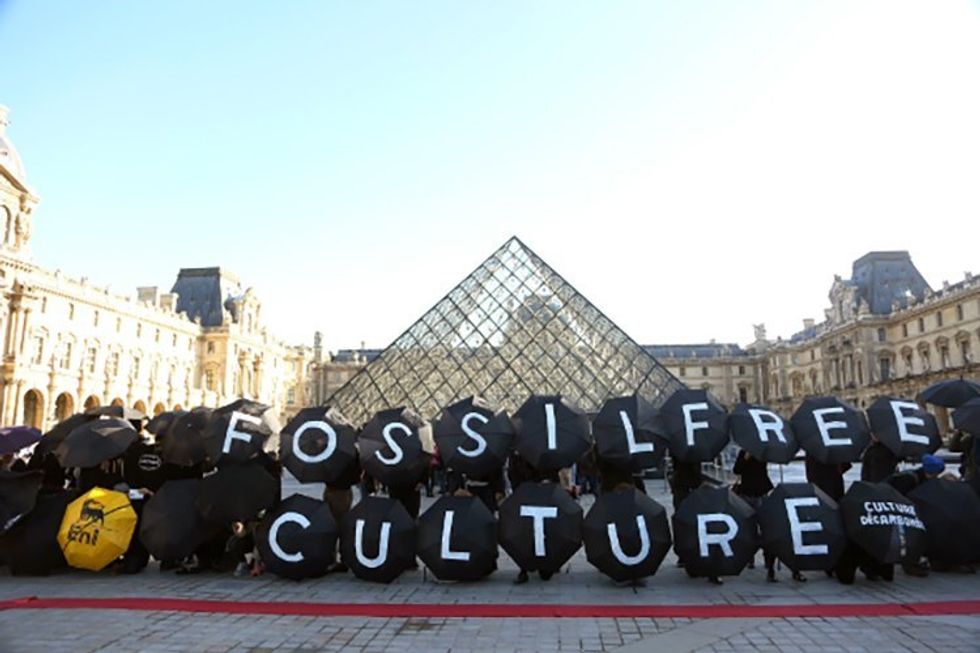 Second, global oil prices continue to collapse, now below $30/barrel. This sent world stock markets down and had a number of negative impacts on human rights issues around the world. A New York Times article last month reported the devastating impact that falling oil prices are having on poor and marginalized people in Russia. Oil is Russia's biggest export commodity, makes up more than 15 percent of the Gross Domestic Product and around 50 percent of its federal budget. As oil prices dropped, the Russian government began making cuts to social spending, focusing on cuts to the poorest people first. Retirees, teachers, factory workers—all have seen large cuts to their incomes and struggle to get by.
Near-disastrous news stories are also pouring out of other countries that export large amounts of oil. News from Nigeria, Angola, Ecuador and Brazil is describing serious economic problems, with cuts to social spending for poor people first in line to make up for government shortfalls from oil revenues. Venezuela is said to be teetering on international bankruptcy and default of its $120 billion in foreign loans due to the collapse in oil prices. The Venezuelan government is nearly in chaos as tens-of-thousands of workers have been laid off, numerous multi-million dollar infrastructure projects have been delayed—including housing for the poor—and government spending on social programs has already been cut 24 percent with bigger slashes looming.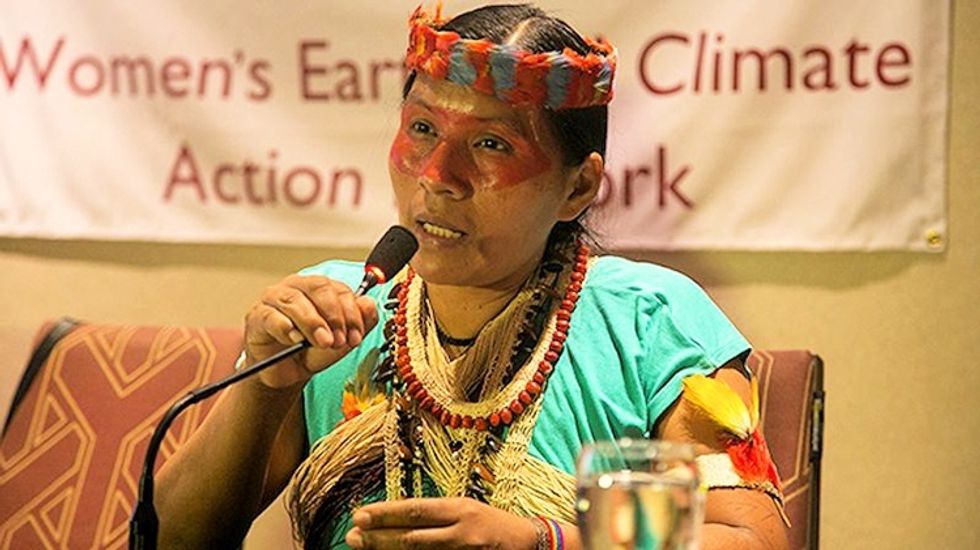 Further, in almost all of the exact same countries that are now suffering from the low oil prices, the exploration and extraction of oil has had—and continues to have—extraordinarily negative impacts on many of the same poor and indigenous people. When global oil prices were high, the march of oil companies was relentless across the rainforests of South America as well as the dry plains of Africa. And in both of those places, poor, rural and indigenous peoples' homelands were under assault by oil companies. Now that oil prices have plunged, oil drilling and production is still occurring, yet the economic system that helps support poor people is further collapsing.
Even worse, the world's indigenous, poor, rural and marginalized people have and will continue to suffer the brunt of climate change chaos as global temperatures increase. Extreme weather events such as hurricanes and flooding have wreaked havoc in the Philippines, in Haiti, as well as in New Orleans and New York over the last decade. These events can compound for the most vulnerable people—as one simple statistic among dozens that could be reported, poor women are disproportionately impacted and are 14 times more likely to die in climate change events.
Clearly, the fossil fuel economy is broken and is collapsing around us.
Paradoxically, in some cases, fossil fuel extraction and development is funded by international aid organizations in hopes of creating jobs and strengthening local economies in poorer countries. A recent analysis by Oil Change International indicated that the World Bank spent $3.4 billion (U.S.) in 2014 funding various fossil fuel development schemes around the globe.
We see this type of World Bank development as the exact opposite of the direction international aid and philanthropy should go. It is creating a vicious cycle of poverty, climate change impacts and debt and is forcing a malicious addiction to a collapsing fossil fuel economy.
At Global Greengrants Fund, we are working with coalitions of groups and philanthropists where we take a dramatically different approach to international aid and granting. We aim to fund alternative solutions that help address underlying systemic problems and create systemic change. We want to help create economies that are more local and sustainable, that do not rely on fossil fuels extraction and that move the world away from a dependence on international economic cycles such as the rise and fall of oil prices.
In addition, this year Terry Odendah began a new role serving as co-chair of the EDGE Funders Alliance which is an international coalition of philanthropists working specifically to fund efforts that change the underlying system and move global economies in a more sustainable direction. EDGE Funders, as the name suggests, fund at the "edge"—to create global social change. Here are some examples of what EDGE funders focus on and provide grants for:
We understand our work within a global context in which international policies as well as global economic interests and influences impact societies at all levels and we recognize the systemic nature of many of the economic, social and ecological challenges facing humanity.
At Greengrants, we fund mostly grassroots work in local communities around environmental and social justice, so that people who are most affected have the tools to make change and amplify their voices. Other EDGE Funders do complementary work at the various levels of systemic social change.
We make grants around sustainable economic and environmental development, rather than western-style economic growth and resource extraction.
We help people to "do something" and "take action," which can come in many forms, but here are two examples—public demonstrations against extraction and youth empowerment so that young people can speak directly to decision-makers.
We promote "movement building" domestically and globally.
We fund to promote equality and diversity.
Finally, we especially try to make grants that recognize the interconnectedness of the above items. We don't just fund labor movements or environmental organizations or women's empowerment programs, but rather try to find and fund the intersection of these activities. As just one example: By funding indigenous women to sell sustainably extracted products, we are helping to empower women, develop an alternative economy and protect the ecosystem.
Rather than promote massive development schemes that can cause havoc to cultures, economies and the environment, we support creating a transition to a new economy and ecology that focuses on what we sometimes call the "resilience solution." Resilience, in an increasingly climate-changed and unstable world, will likely come about for people, cultures and environments that are more diverse, decentralized, democratic and more efficient and egalitarian with their distribution of natural and economic resources.
Did you read the news today? Oh boy. It's time to take action to change the system. The global fossil fuel economy not only is collapsing—it must collapse—so we can build a new, just and resilient economy to replace it.
Terry Odendahl, PhD, is president and CEO of Global Greengrants Fund. Gary Wockner, PhD, is an environmental activist, writer and consultant to Global Greengrants Fund.
YOU MIGHT ALSO LIKE
This Solar Road Will Provide Power to 5 Million People
Huge Victory for Environmentalists: Offshore Fracking Moratorium Now in Effect Off California's Coast
Elon Musk vs. Warren Buffett: The Billionaire Battle Over the Future of Solar Power
U.S. Shale Gas Production Could Sharply Decline in 2016, World Bank Says
The Paris climate agreement is heartening and historic—195 countries finally concurred that we must stop warming the planet by no more than 2C by 2020 and that we should be aiming for 1.5C. Unfortunately, the actual plans submitted by each government prior to the conference would raise the world's temperature by as much as 3C.
Stated clearly: The words of the agreement say one thing, but we must monitor the actions of leaders and nations so that they actually implement the aims of the agreement. And, we cannot count on governments for all the solutions needed.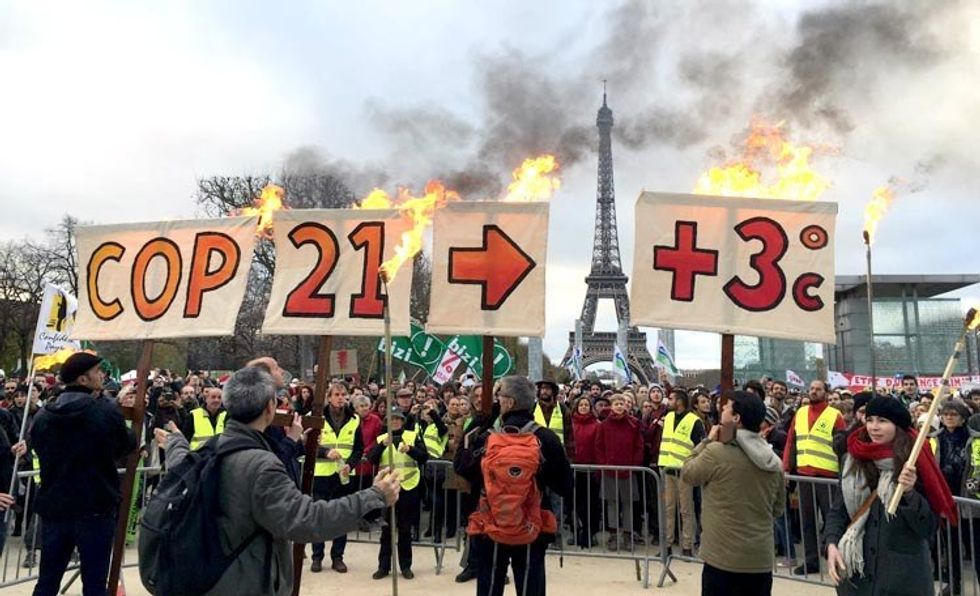 In parts of Africa the temperature is already over this limit by as much as 7 degrees. Further, for every centigrade rise in sea level, scientists predict that more than one million people will die. In my travels for Global Greengrants Fund, I have found that the best solutions are coming from the ground up, not from the top down. Communities most affected, grassroots groups and movements are adapting and showing the way for transformative system change.
That's why I participated in many events outside the COP—at the Climate Action Zone—and in the movement-based protests, both the Red Lines gathering near the Arc de Triumph on Saturday organized by the Climat21 Coalition and the Basque/French Alternatiba manifestation at the Eiffel tower later in the day. It has taken mass mobilizations over the last few years to push our elected leaders into this agreement and now it's going to take even more mass mobilizations to push them to actually meet the terms of the agreement and then farther to address issues the agreement ignored.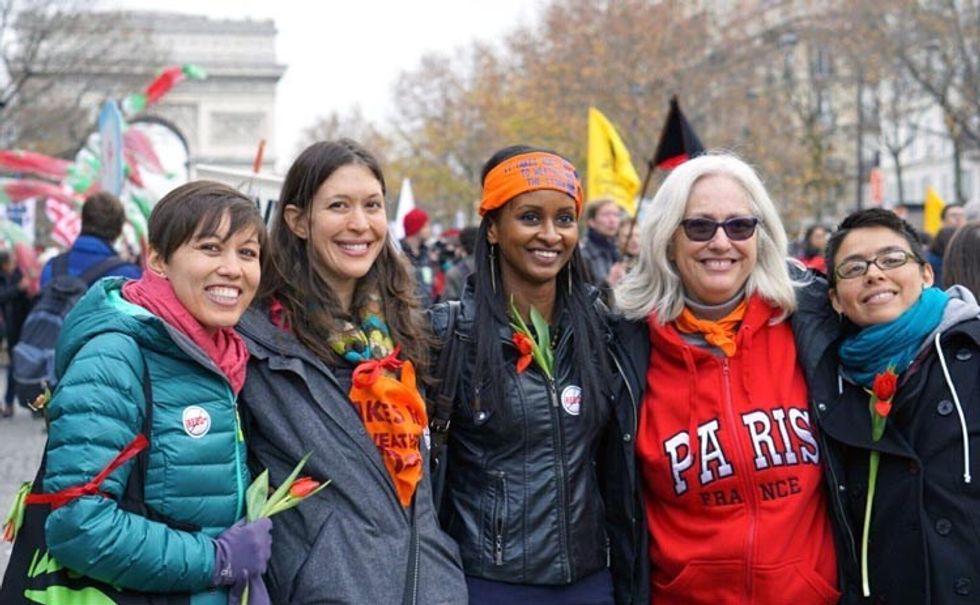 For example:
The preamble to the agreement suggests that governments "should consider their respective obligations on human rights, the right to health, the rights of indigenous peoples, local communities, migrants ... as well as gender equality, empowerment of women and intergenerational equity." But, there is nothing in the actual binding part of the agreement to ensure that any of these obligations are addressed.
There's no mention of "food security" anywhere in the preamble or the binding part of the agreement.
The agreement contains only limited acknowledgement of the responsibilities of the most highly polluting countries to those in the global south and furthest north which did not create the climate disaster.
The agreement continues to support false solutions such as carbon markets that allow polluters to pay or trade "credits" with those who are actually stewarding their farms and forests.
The agreement contains no mention of the need to stop using fossil fuels and turn to alternative energy sources. This omission is simply ridiculous greenwashing. We must immediately keep the oil in the soil and the coal in the hole or the planet will continue cooking.
A few days before the demonstrations, I attended a civil disobedience training offered by 350.org at the Climate Action Zone. Three principles agreed upon by all the groups in Climat21 were that the actions would be peaceful, there would be no property damage and police would not be provoked. Because of the state of emergency in Paris, it was illegal to gather in groups of more than two with political intent or messages. At the final hour, an accord was reached with police and the protests were allowed. Thus, my decision to get arrested, worries about not being able to return to France or even Europe, were happily moot. The march was amazing as a spirit of solidarity and continuing work to promote real solutions prevailed.
Paris was a good start, although perhaps 20 years too late. The next step will be even harder and will require even more of us stepping into the streets to push our leaders forward.
YOU MIGHT ALSO LIKE
What the Paris Climate Agreement Means for Indigenous Rights and Hydroelectric Dams
The End of Fossil Fuels is Near
Carl Pope: Paris Agreement 'Greatest Single Victory Since Emergence of Modern Environmental Movement'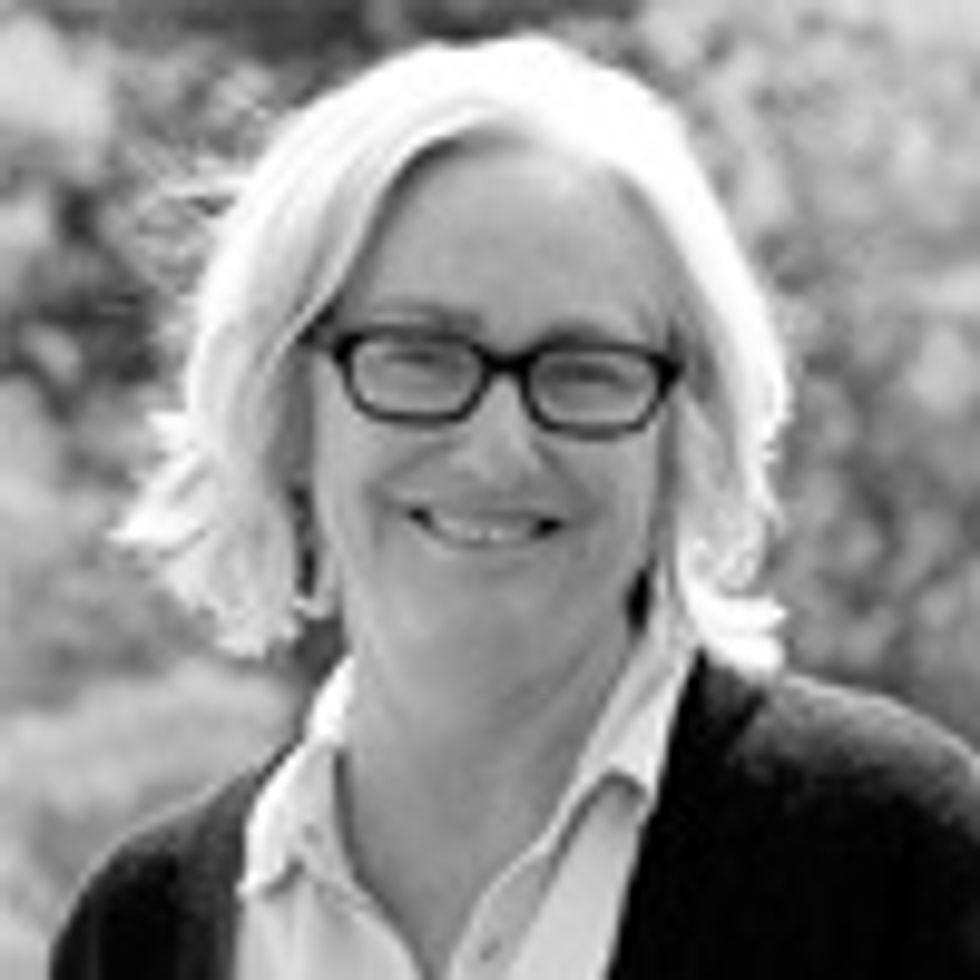 At age 13, I participated in civil rights marches and other activities. A few years later I was also active in anti-war marches and events. By the time I was 16, I helped lead a protest at my high school, which ended with a ceremonial tree-planting on the first Earth Day in 1970. I was fortunate because my family supported and encouraged my activism, as they have throughout my career.
As I look toward our planet's future, I reflect on numerous examples from our past, in which young generations not only helped lead, but also provided the main spark that forced older decision-makers to push through change. The 1960s and '70s in the U.S. are one big example. The Berliners tearing down the wall in 1989 is another. The Arab Spring in 2010/11 changed that corner of the world forever. And more recently, the rise of 350.org and its mass mobilization of young people, which included the People's Climate March in New York in 2014, is a big new force in the fight to address climate change.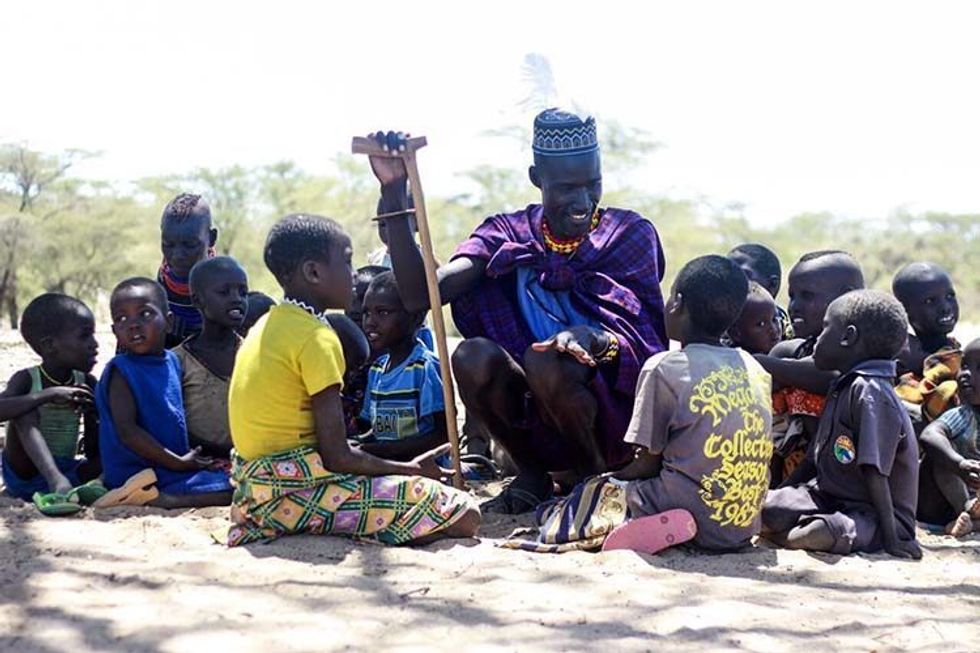 William Lopii, a herdsman and educator in Lorengelup, Kenya. Photo credit: Joe Lukhovi
It's clear that if we want change, we need to not only watch and listen to young people, but also embrace and support them to help create the change our planet needs. If the leaders at COP21 in Paris don't get this message, they are simply missing the boat.
That's why Global Greengrants Fund is partnering with 350.org to provide grants and assistance to international youth groups that are working to fight and address the impacts of climate change in their communities. In addition to Global Greengrants Fund's normal granting—which has provided $45 million to grassroots and indigenous groups in 165 countries over the last 20 years—we are now in the process of granting out $475,000 specifically to grassroots and frontline youth groups so they can mobilize the climate movement in the lead-up to Paris. This grantmaking strategy is being directed by the youth climate organizers who make up our Next Generation Climate Board and 350.org's global network of campaigners.
Young grantees are often from marginalized or indigenous communities that are already being impacted by climate change and stand to be devastated as the chaos worsens. They need to be given more opportunities to tell their stories and lead. Developing and empowering their voices isn't just a good idea—it's a necessity.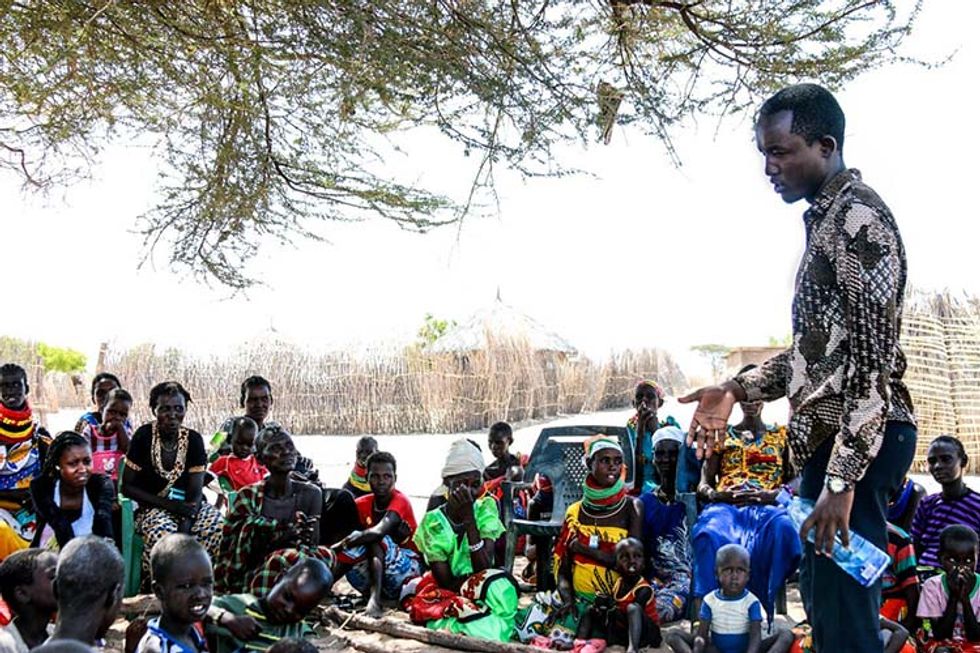 Ekai Nabenyo educates villagers about climate change, Lorengelup, Kenya. Photo credit: Joe Lukhovi
When we started searching around the world to find youth leaders and groups to fund with our grants, we were amazed at the work that was already moving forward that we were able to support. Young people from Peru to Malawi already had structures in place to address the impacts of climate change in their communities. Here's the "#YouthOnClimate" campaign that Global Greengrants and 350.org have put together:
We're making grants to groups in Africa, Asia, Latin America and beyond.
We've put together a series of videos to help amplify emblematic young voices in Kenya, the Philippines and Ecuador.
Our Call2Action focuses on mobilizing youth around COP21 to engage in civil action in their local communities.
We will have a contingent of youth voices at events in Paris for COP21.
We and others are moving "Through Paris," not "To Paris," to make sure these young people have the tools and resources needed to take the movement beyond Paris and back into their communities.
I've traveled around the world and met with dozens and dozens of local environmental groups and leaders. Young people, women, indigenous people and people from countries in the Global South hold a key to the solution of climate change. These groups bring a badly needed perspective, whether it is deep respect for the Earth, concern for the future or new ideas and tactics.
Climate change is imperiling our youth, and so we are empowering our youth to fight it.
YOU MIGHT ALSO LIKE
Frustration Builds as Progress Slows at UN Climate Talks in Bonn
'Kick Big Polluters Out' of COP21
Stern Warns Humanity Is at Climate Crossroads, Radical Action Needed in Paris
Philippines to World Leaders: Our Survival Is Not Negotiable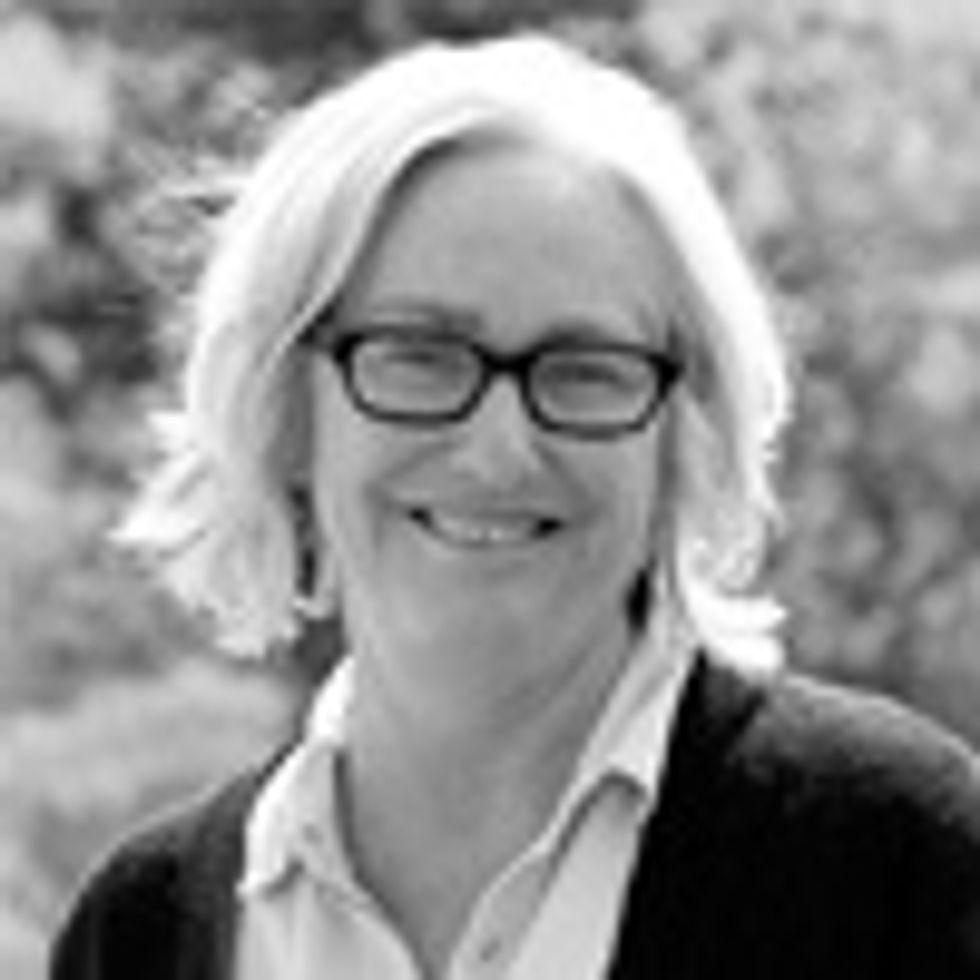 As I traveled by boat down the Xingu River to visit indigenous villages that would have been flooded by the massive Belo Monte Dam, I came to understand why the local people thought of their land as the "Center of the Earth." The massive rivers, seemingly eternal jungle and liquid blue-grey sky made me feel as if I was heading farther into the center of a lush, green ecosystem that was bigger and more encapsulating than the word "ecosystem" can describe. Though threatened by exploitation for its resources—oil, forest, water, power—from edge to edge, the Amazon feels like a center point, perhaps both of the Earth and our efforts to save it.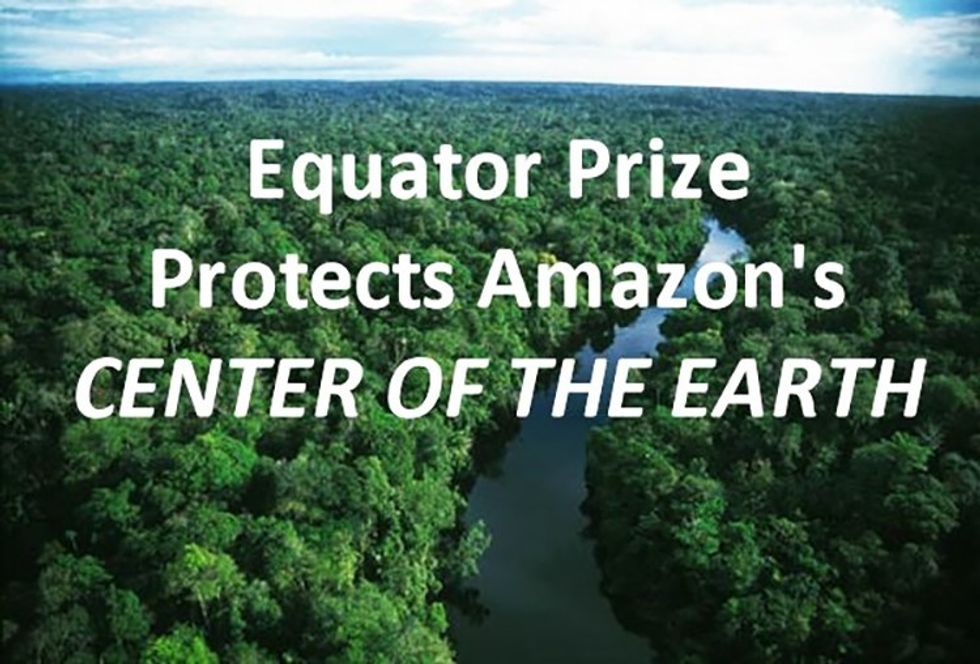 And so I was excited to see organizations that are funded by our foundation—Global Greengrants Fund—receive the 2015 "Equator Prize" from the United Nations Development Program, including one organization working along the Xingu River. The Equator Prize is given out each year as "an international award that recognizes outstanding ​local achievement in advancing sustainable development solutions for people, nature and resilient communities" in the equatorial region of the planet. This year, the initiative received a record-setting 1,461 nominations from 126 countries. The Program's Technical Advisory Committee selected 21 winners, each of whom receive $10,000 and will attend special events at COP21 in Paris.
Global Greengrants Fund plays a unique and vital role in international philanthropy. We fund small, grassroots organizations—many led by indigenous people in rural environments—that are often at the physical and cultural edge of the change that is needed to make our planet more sustainable. Six of the 2015 Equator Prize winners are current or former grantees of Global Greengrants fund, including: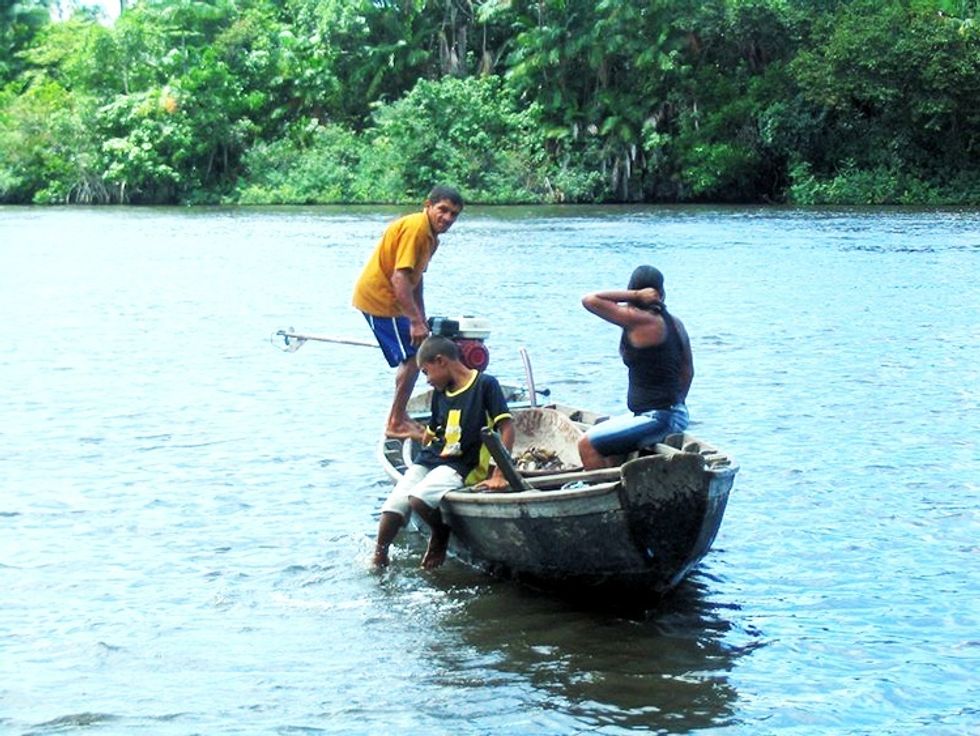 A local family that makes their living along the Xingu River. Photo credit: Terry Odendahl
The threats to our planet our so huge and numerous that the public and decision-makers find it difficult and sometimes exasperating to forge a path forward that makes an actual difference in outcomes for both the environment and the people living in it. Greengrants work to cut through that anxiety. We work to take the resources right to the people and places that are most impacted and with severe need—the Center of the Earth.
Terry Odendahl, PhD, is President and CEO of Global Greengrants Fund in Boulder, Colorado. You can reach Terry at [email protected].
YOU MIGHT ALSO LIKE
Endangered Fur Seals Dying at Alarming Rate Along California Coast
Syrian Exodus Won't Compare to Global Climate Migration
Paul Watson: If the Ocean Dies, We Die!
Watch Live Oct. 11: Vandana Shiva and Others Discuss GMOs and Food Justice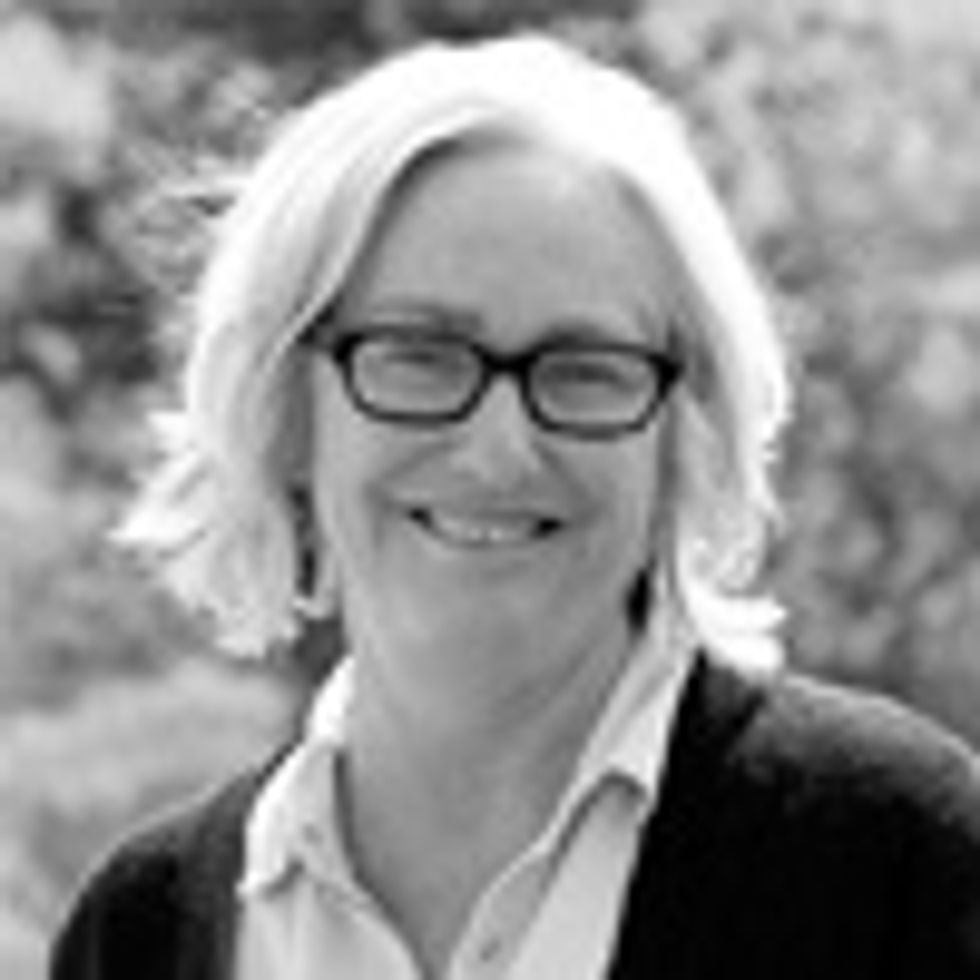 Driving home from work last week, listening to NPR, I learned that the United Nations report on the progress the world is making toward the Millennium Development Goals (MDGs) had just been released. The original MDGs were a set of eight goals crafted in 2000 to attack global poverty by 2015. Targets were established which required countries to gather consistent data on a range of issues, but are they always the right issues?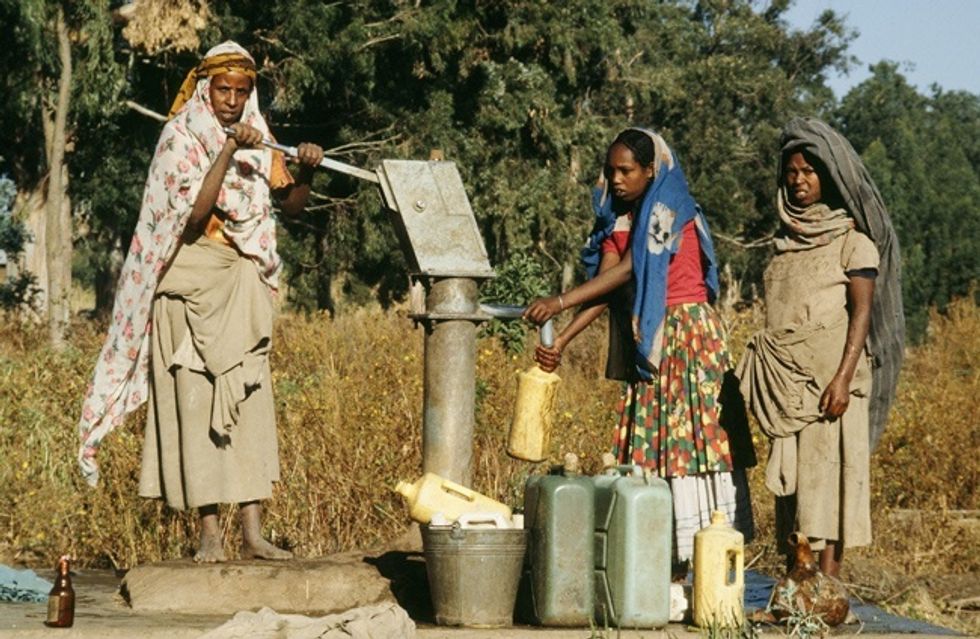 For 15 years, we have all been hearing about the MDGs, now touted by UN Secretary-General Ban Ki-Moon, as the "most successful anti-poverty movement in history."
I was shocked to learn from NPR's Nurith Aizenman that the method for establishing the goals and targets was "so casual they almost forgot something." Aizenman was interviewing Lord Mark Malloch-Brown, who explained how the goals were set: "It's brilliantly simple. It was myself with some chums in a room kind of thing." And then Malloch-Brown admits, that just before they went to press, "Oh goodness me, we've forgotten the environment goal."
The Right Honorable Lord Malloch-Brown has had a distinguished career as a journalist for The Economist, a consultant on communications and development, an employee of the World Bank, the Administrator of the UN Development Programme and other UN jobs, a UK government minister, and the Minister of State in Britain. I appreciate his honesty about the process, but wonder who his other chums might have been and if the room he mentions was smoked-filled. (I'm almost certain they didn't include those most affected by poverty in the poorest parts of the world).
Why is the environment so often an afterthought for the world's leaders, elite policy makers and the media? The New York Times, in covering the report, mentions climate change just once, in a paragraph on contentious issues to tackle in the "next set of development goals," the so-called Sustainable Development Goals.
The main problem here, is the very emphasis on "development" as the answer to the world's most pressing problems. As anthropologist Arturo Escobar has eloquently argued in Encountering Development, international development is akin to colonialism or "cultural imperialism" because poor countries have little means of declining politely.
According to Escobar, development has largely failed. Why? Because it is a problem even when it succeeds, in that it so strongly sets the terms for how people in poor countries must live, as explained in The Guardian.
I would challenge the notion that environmental concerns are necessarily compatible with development, especially for the communities and poor countries most affected. Sustainable development projects almost always discount local knowledge and often better serve the interests of elites (both within and outside the country), foreign donors, NGOs, international financial institutions, transnational corporations, and other international players.
Too often, the most important facts are buried, as I found when reading through the Report. In the overview (the only section most people will peruse) and the mere ten pages  dedicated to the environmental sustainability goal, the finding that "98 percent of ozone-depleting substances" have been "eliminated since 1990" is aptly heralded, as is the statistic that "1.9 billion people have gained access to piped drinking water." I'm not sure piped drinking water is actually an environmental issue, but won't quibble.
The fact that global carbon dioxide emissions have increased by more than 50 percent since 1990 gets four paragraphs and a chart much later in the report on page 53.
Let's deep six the really bad news.
It seems that worldwide "deforestation has slowed"… "but remains alarmingly high in many countries." The report highlights the "overexploitation of marine fisheries," a huge problem that is increasingly becoming better understood. It projects a rise in water scarcity, which currently affects 40 percent of the global population, but doesn't cite climate change as a reason for "water stress."
Booms in natural resource exploitation always lead to inequality. This is what I know: There may be less dire poverty in the world than 15 years ago, but never in history has there been such inequality (as explained in two Oxfam reports, here and here).
Worldwide, the poor, particularly those in the global south, are already suffering from the ravages of corporate exploitation and climate chaos. The top 1 percent of wealth holders may be enjoying their misbegotten gains, but they too are doomed if we don't reverse or at least slow down the course of climate change.
I suspect the MDGs are actually helping the rich to get richer at the expense of the environment.
YOU MIGHT ALSO LIKE 
Koch Brothers' Influence Preventing Chris Christie From Acting on Climate Change?
Why Would 46 Senators Support Burning Trees for Electricity When It Contributes More to Climate Change Than Coal?
Internal Documents Expose Fossil Fuel Industry's Decades of Deception on Climate Change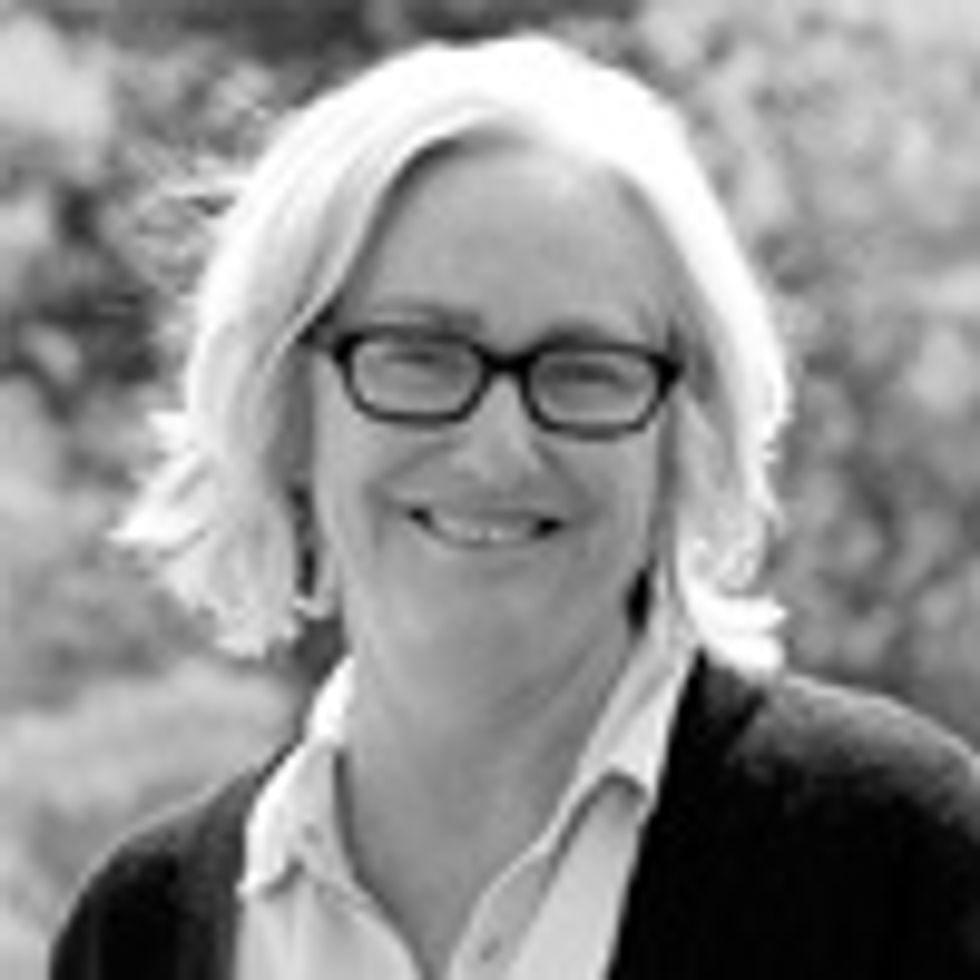 Last month, I visited the Solomon Islands to meet with Global Greengrants' Pacific Islands Advisory Board. I had naively imagined hot sun and wide beaches, with tropical forests at the shorelines. Instead, it rained torrentially for several days. This is because Cyclone Pam was forming off the coast of the Solomons and storming its way toward terrible devastation in Vanuatu.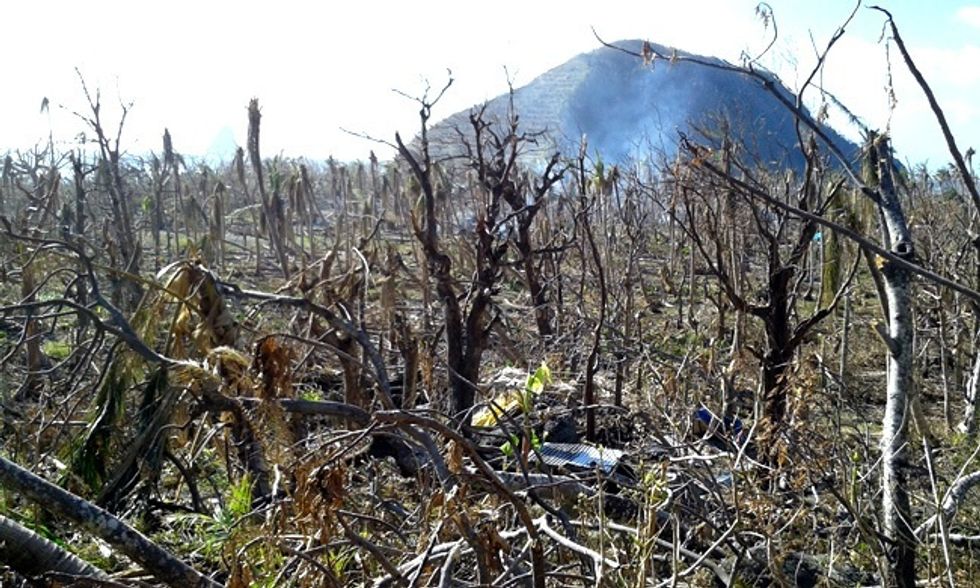 Cyclone Pam completely wiped out coconut groves like this one on Erromango island, Vanuatu. Photo: Global Greengrants
There were no beaches in Honiara, where I was staying. The shorelines are eroding away due to sea rise and storm surges. Sea level around the Solomons has been rising by 8 millimeters per year, more than twice the global average.
In Honiara, I observed waves crashing just short of a seaside restaurant and onto the floor of an open-air coffee shop and bar. An employee calmly mopped the water away, as if this would stop it from flooding again.
Global Greengrants advisor in the Solomons, Willie Atu, who works for The Nature Conservancy, says, "The Pacific Islands' small population, limited resources, remoteness and economic dependence on foreign aid increase their vulnerabilities, making them more susceptible to the onslaught of natural disasters, including that of climate change."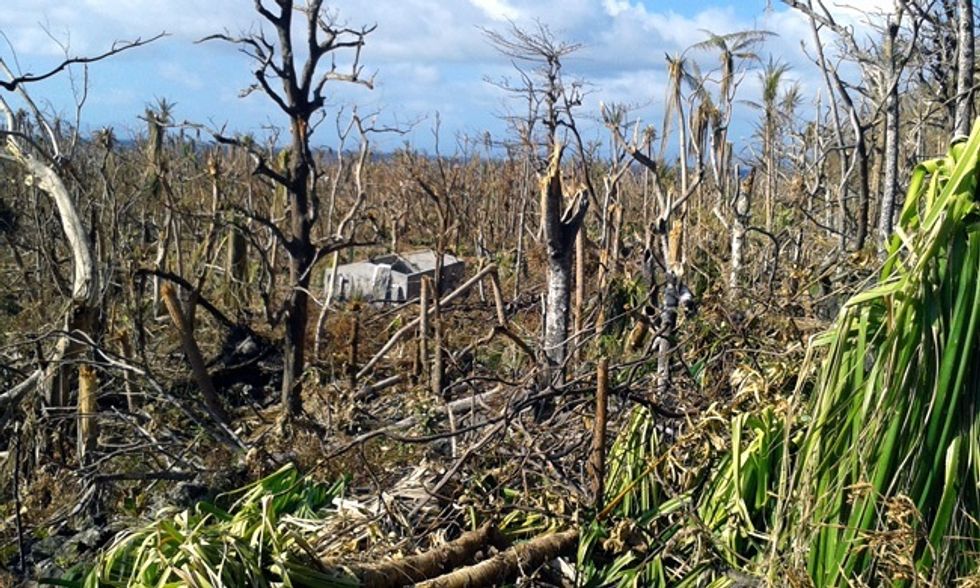 The roof of this cyclone shelter in Erromango blew off within the first few minutes of the storm. Photo: Global Greengrants
Island peoples' lives are now constantly disrupted by extreme weather and natural disasters. The frequency and occurrence of Category 4 and 5 storms in the Pacific region more than doubled since 1975. Climate change has both short-term and long-term impacts for island peoples. Not only is the frequency and intensity of cyclones—also known as hurricanes or typhoons—increasing, but so is the duration of the cyclone season. These extreme weather events, in combination with sea level rise—which is conservatively projected to upsurge from one to four feet globally by 2100—are already catastrophic for island communities.
According to Jonathan Gregory, lead author on the subject for the Intergovernmental Panel on Climate Change, "It is virtually certain that global mean sea level rise will continue for many centuries."
Island peoples know best what adaptation and mitigation techniques are most appropriate for their needs. Global Greengrants' Pacific Island Advisory Board delivers small amounts of money into the right hands at exactly the right moment. It empowers local leaders to take actions that effectively manage the unavoidable impacts of climate change.
Take a $5,000 Greengrant we made last December to Resource Management Trust Board in the Solomons. The group focuses on improving food security during the cyclone season and works with rural women to preserve nuts, fruit and root crops using traditional methods. Having access to enough local food during the monsoon season allows communities to be self-sufficient, preserve their traditional diet and save money. This can be the difference between life and death for a community dealing with devastating storms such as Cyclone Pam and Typhoon Maysack.
Four months later, Global Greengrants responded to an urgent plea to help communities in Vanuatu that were wrecked by Cyclone Pam, the strongest storm ever to hit the South Pacific. Emergency Greengrants will provide temporary shelter for 100 people on the Vanuatu island of Erromango, where many people are homeless and are still awaiting aid.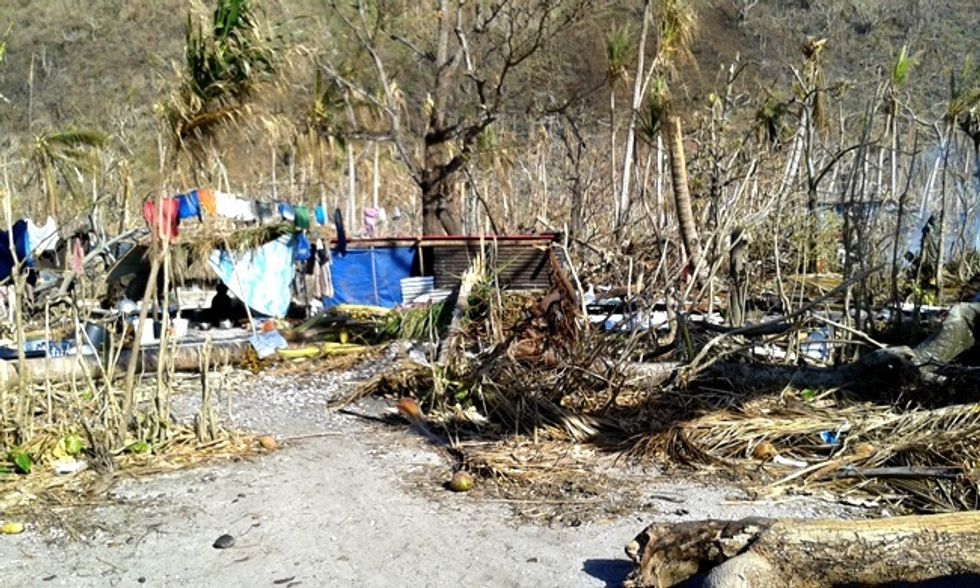 Victims of Cyclone Pam have constructed temporary shelter from any scrap materials they can find. Photo: Global Greengrants
Barely two weeks after that, we received reports from former grantees about the destruction and urgent need for support in communities in the Federated States of Micronesia, which were slammed by Typhoon Maysak.
The photographs from the area are heartbreaking. Ulithi Island lost all of its crops and most people's homes have been destroyed; people are building shacks from the very little corrugated iron they can recover. In Chuuk, over 6,760 people have been forced from their homes and 80 percent of the breadfruit, banana and taro crops were damaged. Local food production is vital to the Pacific Islands, where the majority of rural people still depend on subsistence agriculture. Without these crops, people will starve.
Global Greengrants is not an emergency and disaster relief organization. But because we can quickly deliver support to grassroots groups that international and government aid has a hard time reaching, we are being asked again and again to help. Most times, we get there well before large aid agencies arrive with supplies and relief.
I can't say this doesn't worry me. Our area of expertise is emboldening people to create change. We never intended to be a reactionary aid group. But our grantees in the Pacific, many of whom receive no other source of funding, are facing a dire future. We must acclimatize to their realities.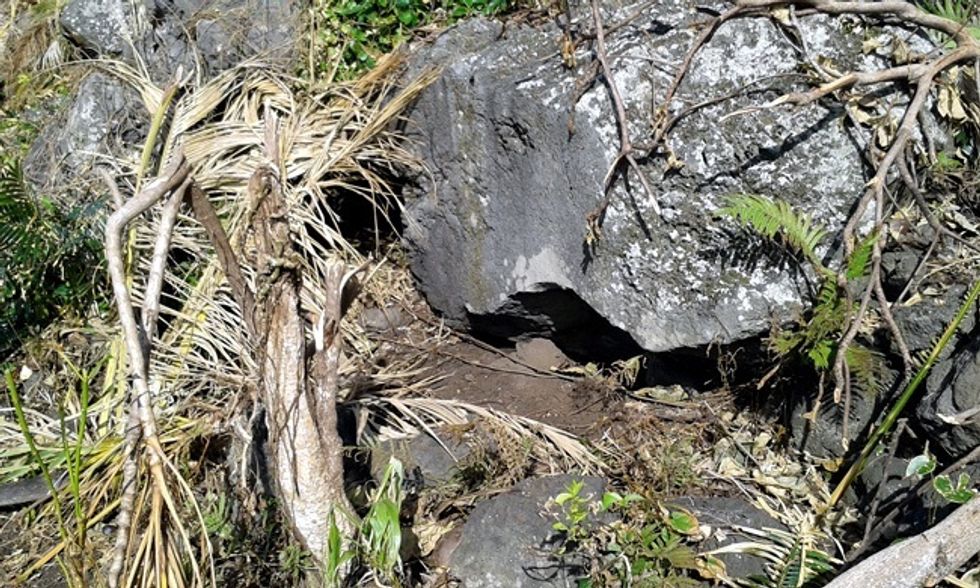 Families on Erromango lived in caves such as this one after Cyclone Pam destroyed their homes. Photo: Global Greengrants
Importantly, this means supporting Pacific communities to look ahead and manage the aftermath of climate change well before the cyclones or super storms strike. An example is the Reef Islands, in Northern Vanuatu. In January of 2014, we supported the Ngala'a Indo Project with a $5,000 Greengrant to plant mangroves and set up rainwater collection tanks. The new tanks provided more than 300 people with safe drinking water after their wells were contaminated during natural disasters.
Colonialism and globalization have all but destroyed the cultures that the famous cultural anthropologist Margaret Mead chronicled. Many tribal peoples are trying to hold on to their traditions. But mounting threats to food and water security, infrastructure, health, and safety are expected to lead to increasing human migration.
Climate change will likely lead to few or no islands left in this part of the Pacific Ocean.
My few days in the Solomons helped me see the questions more clearly: Will we in the North—the clear source of the globe's climate problems—continue to pursue dead-end policy solutions that will not turn around the climate crisis and might even perpetuate it? Or will we look to the future with clear eyes and see what must be done? Will we understand that as much as we wish climate change wasn't happening, there may simply be no way around it?
I believe mitigation has a role to play. But Pacific Islanders, and, indeed, many underserved communities around the world, face a bleak future unless we start to elevate that most reviled word, adaptation, to the international stage. If we don't start talking more about adaptation in addition to mitigation, soon we will all be focused on compensation.
YOU MIGHT ALSO LIKE
6 Year Old Gets President Obama's Attention With This Climate Change Video
Toxic Smog Puts Cancer as Leading Cause of Death in China
Climate Change to Blame for Devastating Cyclone, Says President of Vanuatu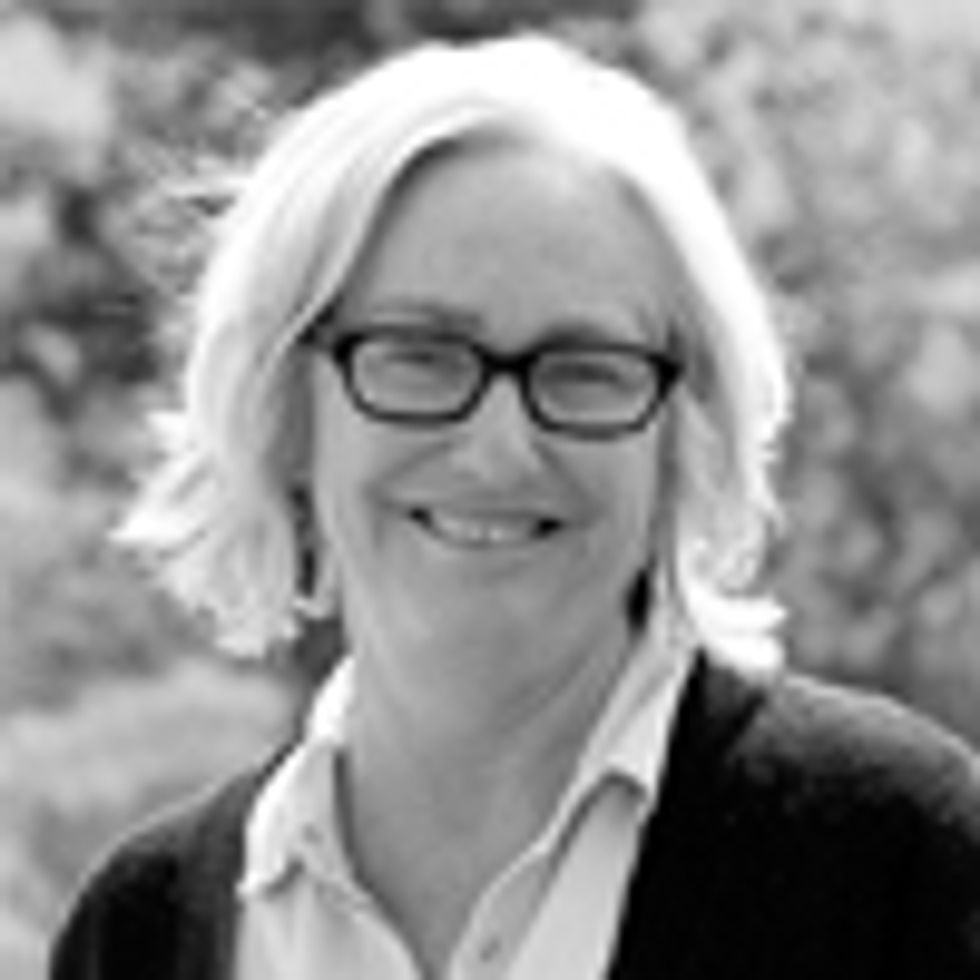 As a credentialed observer inside the COP20 in Lima last week, I was bored to tears. Endless speeches. Panel discussions in dark rooms. Men in expensive suits. My colleague Nnimmo Bassey, a leading Nigerian environmental justice activist and winner of the Right Livelihood Award, blogged, "Negotiation arenas remain places for fiddling while Rome burns."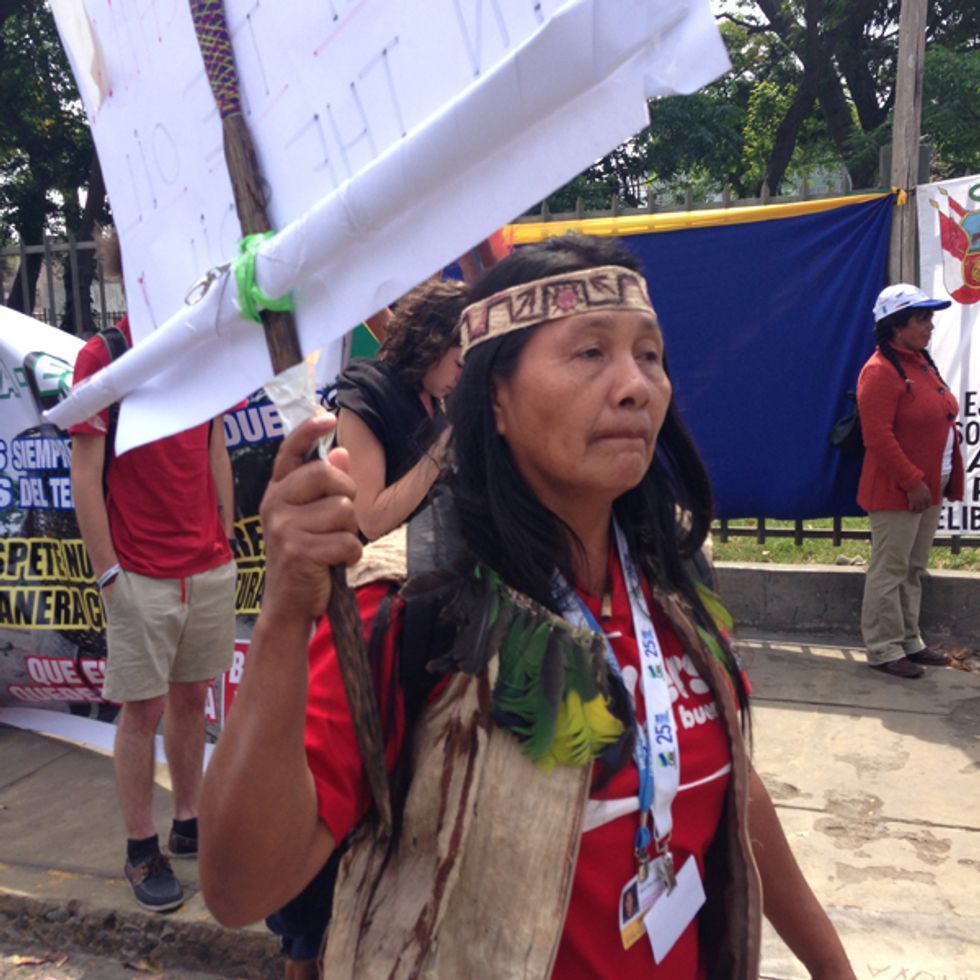 Observers watched the opening ceremony on a big screen from the back of the hall. All the speakers, including UN Secretary General Ban Ki-moon, said there was a need for transformation—for binding and universal agreements. They called for a higher level of ambition, as well as tangible progress on climate finance solutions such as the Green Climate Fund (GCF). They claimed that the delegates in Lima were more collaborative than at past COPs. The ceremony ended with a parade of dancers wearing a mix of what might have been indigenous costumes with a Hollywood flair. There was a lot of fanfare and little substance.
But outside the stuffy and nearly pointless convening, I was inspired. The voices for climate justice, especially those of indigenous peoples and grassroots women, were loud and clear.
Women are more than 50 percent of the world's population. They are the most vulnerable to climate change and they have developed some of the best grassroots responses. As I have written before, solutions that ignore or leave women out are unsustainable at best and toxic at worst.
Steps forward, steps back on gender
At the COP's Gender Day, much discussion was spent analyzing "gender responsive" approaches to climate change. Responsive means that women are not just acknowledged, but also that adaptation and mitigation strategies recognize both their needs and their ideas.
I spent hours at side meetings, inside the "Pentagonito," the local nickname for the COP venue. Most were sponsored by international NGOs trying to influence the negotiations.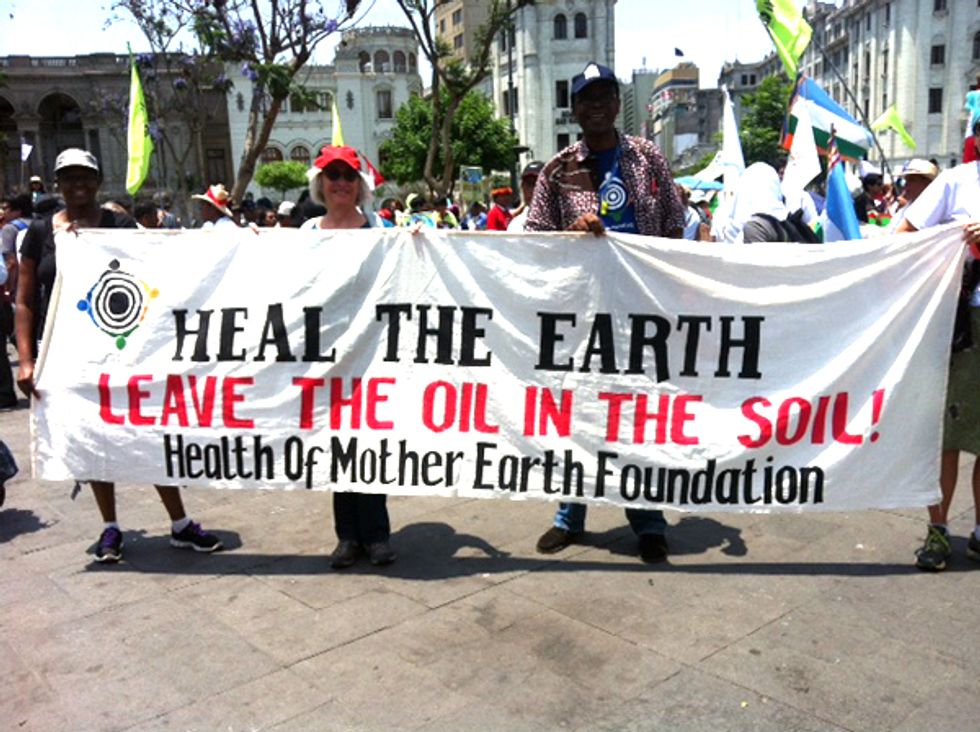 I heard about forward progress on a final binding international agreement that would be gender responsive. This was heartening because women's roles in fighting climate change are already rarely acknowledged. Yet in private conversations with two different women close to the negotiations, I learned that Saudi Arabia was blocking recognition of the rights of women and, if anything, there had been backsliding rather than progress on gender at COP20.
Would you trust Morales?
President Evo Morales of Bolivia, an Aymara indigenous person and former labor leader, delivered an inspiring speech during the opening ceremony on behalf of developing countries, which formed a coalition called the Group of 77, and China. He urged delegates to listen to indigenous peoples, and to reject capitalism, excessive industrialism, overconsumption and war.
"We need an economy for human beings and Mother Earth." I agreed with almost everything he said.
Yet Bolivians, indigenous people and women from around the world question Morales' rhetoric as compared to his actions. Just a month before, on Oct. 13, the BBC news reported that, "Natural gas and minerals accounted for 82 percent of [Bolivia's] export revenues." If Morales believes so strongly in indigenous rights and our environment, why are Bolivia's economy and those throughout the Andes so tied to natural resource extraction, especially nationalized oil?
Hard-boiled pledges
My first COP was in 2010 in Cancun, Mexico. There, I made my way through massive police barricades, standing with activists on the outskirts of official negotiations. Country representatives and civil society groups held countless parties at high priced resort hotels, which left me feeling disgusted. At least the Cancun COP had two outcomes: an agreement that future global warming should not exceed two degrees, and the creation of the GCF, formed to move money from developed to developing countries—those hardest hit by climate chaos, yet having done little to cause it.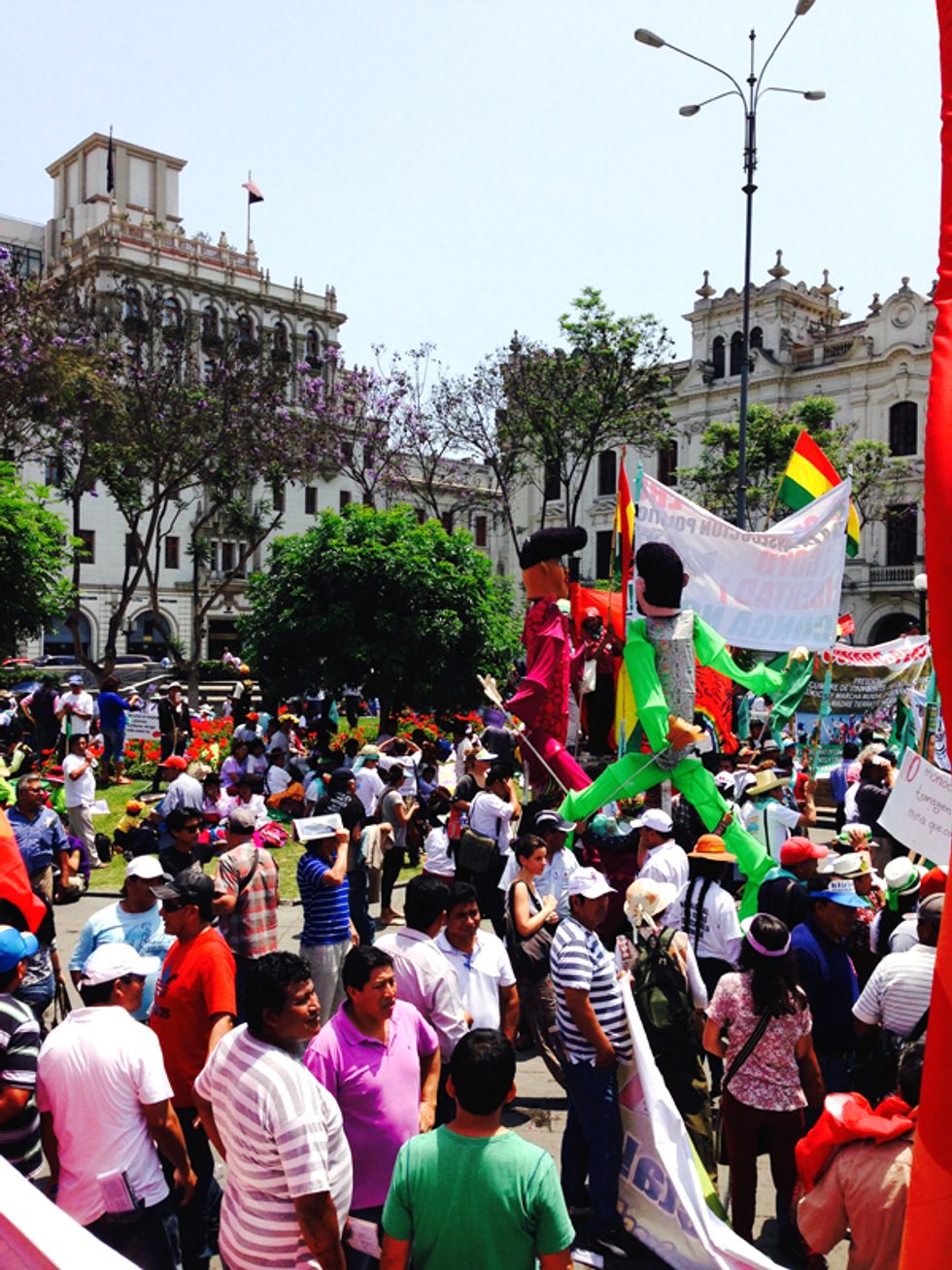 Four years on, scientific reports show that many parts of the world have exceeded the two-degree tipping point. The GCF is still working on its business plan and has funded nothing.
With conditional pledges from northern countries, most recently China and the U.S., resources are starting to funnel into the GCF, but there is still a drastic need to reach the $10-15 billion goal. This is daunting considering the timing and how long it has taken countries to respond and contribute. The GCF desperately needs to devise a grassroots grant-making mechanism with funding targeted to indigenous communities and a gender component.
Is anyone listening?
Except for Morales and Mary Robinson, indigenous people and women have been notably missing in official COP negotiations and Green Climate Fund decision-making.
Thousands marched in the streets of Lima and attended the alternative People's Summit, Rights of Nature International Tribunal and other gatherings outside the "Pentagonito."
I found the Ecuadorian women leaders particularly impressive: Nina and Patricia Gualinga from the Sarayaku community, which has kept big oil out of its territory. Gloria Ushigua, an Ashinwaka from the Sapara Women's group, who had organized a march of women from the Amazon to the capital city of Quito to oppose oil exploitation in indigenous territories. She was inspiring, but told us officials in Quito were unresponsive.
Who is listening to them?
No one had high hopes that things would get done inside the official COP this year. Secretary General Ban Ki-moon "hailed delegates for paving way to 'meaningful' climate agreement." But delegates have fiddled with the same 20 documents for more than 20 years. Everyone is talking about the road to Paris next year.
Yes, let's wait another year to address climate change in any meaningful way. Why should it be any different?
YOU MIGHT ALSO LIKE
Women's Rights and Climate Change: What's the Connection?
6 Must-See Videos From Lima Climate Talks
World's Best Climate Films Featured to Coincide With Lima Climate Talks