Ted Glick
From Jan. 28 to Feb. 7 my wife and I were in Vieques, Puerto Rico, helping as best we could with recovery from Hurricane Maria, which hit on Sept. 20, 2017 almost five months ago. Help is very much still needed.
I don't think I realized how much that is true until I got home to New Jersey and experienced all of the things I didn't experience during those 10 days:
the lights and everything electrical turning on or being on all day and night whenever I need it;
a hot, not cold, water shower;
not worrying about hitting something or falling when I had to get up and go to the bathroom or move around at night;
not hearing (or smelling) loud gas generators behind the house where I was staying and several other places in the neighborhood as day turned into night;
not having to do extra-special filtering of the tap water because of concerns about its quality;
reliably accessing my cell phone apps, telephone and the internet whenever I want to.
These were the main differences.
I was staying at Casa de Kathy in Esperanza, the second largest town in Vieques. The only street in Esperanza that fully had electrical power when we were there was the Malecon, the downtown street next to the water where bars, restaurants and hotels are, and they didn't get that power until the fifth day we were there. What electrical power there was elsewhere in town came from gas-powered generators bought by residents who could afford them.
Ted Glick
There was concern about the tap water. Neither the EPA nor anyone else had done tests to determine how safe it is to drink.

There were still piles of debris and branches that had been blown down by the storm, as well as collections of stoves and refrigerators disabled by it.
Ted Glick
Despite all of these serious problems, the sense I had was that people in general were pulling together, some more than others, to climb out of the hole the hurricane put them in. They were doing so even though there was a lot of criticism of FEMA for its slowness and for it denying aid to a number of people whose homes had been damaged.

I was glad to learn that the use of solar energy, in different forms, is growing, from small solar lights, which are popular, to solar panels on roofs to provide an alternative to an unreliable electric grid.
One of the big takeaways for me was the reinforcement of something I have known intellectually for years, that extreme weather events, like the climate changing which makes them worse and more frequent, hurts low-income people the most. Middle- and upper-class people who have access to financial and other resources had found ways to lessen their suffering or discomfort, like through personal generators. But those without those resources were in a different situation. I heard of at least one family that was sleeping in a tent in their living room because there had been serious damage to their roof that they had not yet been able to afford getting fixed.

Unfortunately, it's not just recovery from the big storm that is a big problem. The pro-statehood Governor of Puerto Rico, Ricardo Rossello, announced just before we got there that he wanted to privatize the electrical system, currently publicly owned, which would certainly lead to higher electrical rates for many struggling Puerto Rican consumers as the corporate buyer looks to make its profits.
Then there is the relatively large Puerto Rican debt (though hugely smaller than the U.S. debt) of $73 billion. There have been calls for that debt to be forgiven, for obvious reasons. Lin-Manual Miranda, for example, creator and star of the Broadway hit Hamilton, called for that in a December opinion piece in the Washington Post. He wrote:
"Puerto Rico's creditors should do the right thing and walk away. It is the only way forward. Anything short of full debt forgiveness would be a brutal form of economic punishment to a people already suffering."
But to add insult to injury, the Republican tax bill passed at the end of 2017, unless challenged and changed, will make things even worse.
A Dec. 20 Washington Post story reported that the Puerto Rican Governor "is calling on lawmakers to rewrite a key part of the tax bill that he says might cause the island's hefty manufacturing sector to contract, jeopardizing hundreds of thousands of jobs. [It] includes a new 12.5 percent tax on profits derived from intellectual property held by foreign companies—a move designed to compel those companies to move back to the U.S. The new tax "is a big hit, and Puerto Rico both fiscally and economically is downtrodden, and this is the last thing they need," said Federico de Jesus, a former Puerto Rico government official who has been tracking congressional relief efforts for the island."
U.S. citizens have a special responsibility to help Puerto Rico, which has been a colony of the U.S. since 1898. It is our humanitarian and moral responsibility, and it is our duty as citizens of the nation which has the power to help Puerto Rico either move forward or backwards after Maria. We must do what we can as far as practical hurricane recovery support but also support groups calling for a cancellation of the debt, changes to the Republican tax bill and reform of the electric power system, not its privatization.
Ted Glick is a former activist with the Puerto Rico Solidarity Committee in the 1970's. He was a supporter of the historic civil disobedience campaign in Vieques in the early 2000's which led to the removal of the U.S. Navy. He has been a progressive activist and organizer since 1968. Past writings and other information can be found here, and he can be followed on Twitter.
From Your Site Articles
Related Articles Around the Web
EcoWatch Daily Newsletter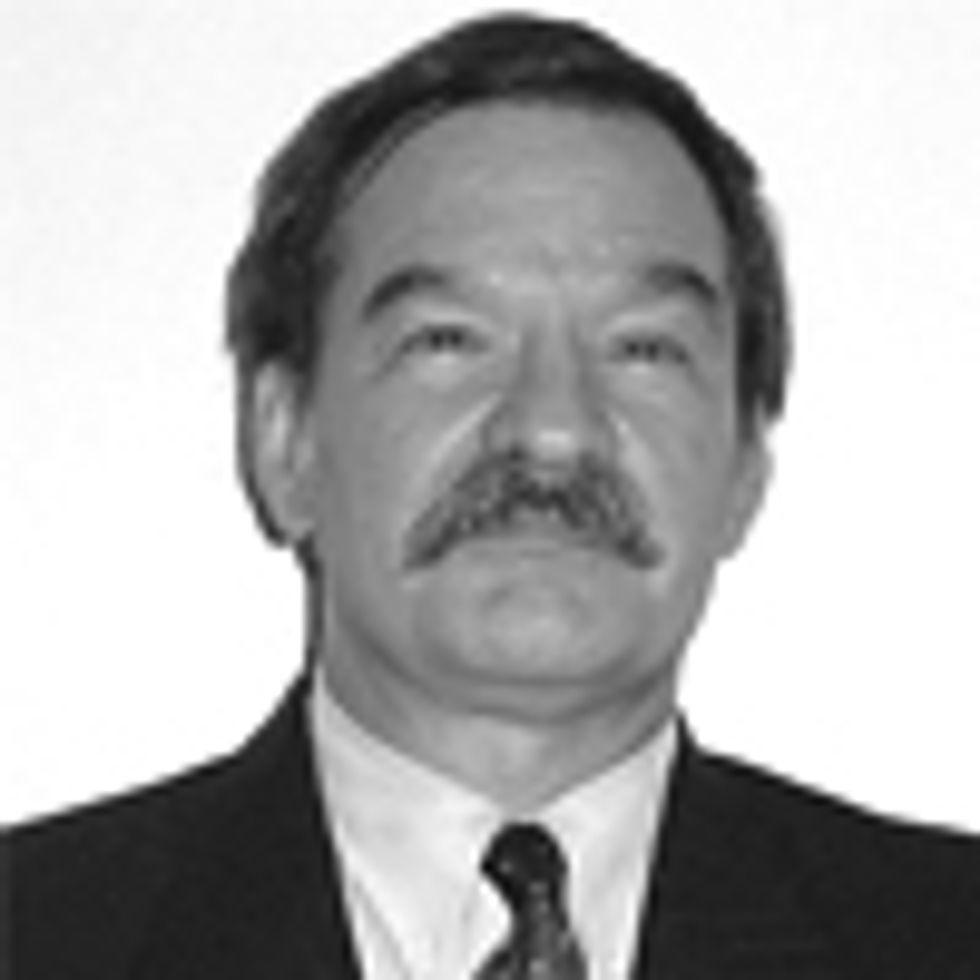 Since April 2014, 10 fracking infrastructure projects have been canceled or delayed.
Here's the list:
April 2014: The Bluegrass Pipeline in Kentucky was stopped by a court decision upholding landowners' rights against the use of eminent domain to take their land for private profit.
November 2015: The Port Ambrose liquified natural gas (LNG) project was vetoed by New York Governor Andrew Cuomo. The project was proposed by Liberty Natural Gas off the shores of New York and New Jersey.
March 2016: The Jordan Cove LNG export terminal and 223-mile Pacific Connector pipeline in Oregon were rejected by the Federal Energy Regulatory Commission (FERC), signifying FERC's first gas infrastructure rejection in 30 years.
March 2016: The Republican-dominated Georgia legislature voted overwhelming for a one-year moratorium on any new gas pipelines, setting back efforts to build the Palmetto Pipeline.
March 2016: FERC announced a seven month delay on making a decision about the Penn East pipeline in Pennsylvania and New Jersey and a 10 month delay for the Atlantic Sunrise pipeline in Pennsylvania and Maryland.
April 2016: The Oregon LNG company announced that it's ending its years-long effort to build an export terminal and pipeline.
April 2016:  Kinder Morgan announced it is suspending its efforts to build the Northeast Energy Direct pipeline, which would have run from Pennsylvania through New York into Massachusetts and New Hampshire.
April 2016: Dominion Resources announces that the start time for beginning construction on the Atlantic Coast pipeline, going from West Virginia through Virginia into North Carolina, is being moved back from this fall to summer 2017.
April 2016: New York Governor Andrew Cuomo announced that the New York Department of Environmental Conservation rejected the application of the Constitution Pipeline company for a water quality permit, a permit it must have in order to begin construction.
"We are actually experiencing the clean energy revolution, it's really happening right now," I said to my wife when I heard the news about the Constitution Pipeline.
It's very significant that the movement against fracking and fracking infrastructure projects is winning these victories, but it does not mean we can take a break. As of March 24, FERC's lists 58 interstate gas pipelines on their website.
We need to gain strength from these victories and, with the wind shifting from a headwind to being more at our back, step up our pressure on FERC, and the gas and pipeline industry. Join Beyond Extreme Energy from May 15 to May 22 in Washington, DC for the Rubber Stamp Rebellion.
Ted Glick is a co-founder of Beyond Extreme Energy and a climate activist since 2003. Past writings and other information can be found here, and you can follow him on Twitter.
YOU MIGHT ALSO LIKE
Viral Video of River Catching on Fire Prompts Call for Ban on Fracking
Is Fracking Causing the Epidemic of Horse Birth Defects at Breeding Farm?
Gov. Cuomo Rejects the Constitution Pipeline, Huge Win for the Anti-Fracking Movement
12 Arrested in Earth Day-Themed Protest Against Gas Storage in Seneca Lake's Salt Caverns
Elenathewise / iStock / Getty Images

Embracing solar power means reducing both your reliance on traditional utility companies and your environmental footprint, but the high upfront cost of solar panels can be a big deterrent for some homeowners.
If you're considering solar, you may have questions like: How much does it cost to install a solar energy system? What are some of the factors that can impact pricing? What else should home- and business owners know about going solar? In this article, we'll touch on each of these important topics, with the goal of helping you make a fully informed, financially responsible decision about solar energy.
Each product featured here has been independently selected by the writer. If you make a purchase using the links included, we may earn commission.

How Much Do Solar Panels Cost to Install?
To begin with, let's take a look at the basic price range for solar panel installation. According to the most recent U.S. Solar Market Insight report, in the first quarter of 2021, the national average price of a residential solar system was $2.94 per watt, which would mean a 5 kWh system would cost $14,700 and a 10 kWh system would cost $29,400.
The exact price you'll pay for solar panels will depend on a number of factors, including your geographic location, the size of your home and more.
Now, you might rightly wonder: What exactly are you paying for? The solar panels themselves usually make up just about a quarter of the total cost. Remaining expenses include labor, maintenance and additional parts and components (such as inverters).

What Factors Determine Solar Pricing?
As mentioned, there are a few key things that can lead to variation in solar system installation costs. Analyzing these can help you determine whether solar panels are worth it for your home. Let's take a look at them in greater detail.
Your Electrical Needs
The solar panels themselves will be rated for a particular wattage, which reflects the amount of energy they can absorb for storage and ultimately for power generation. You will actually pay according to wattage, which means that the greater your household energy needs, the more you'll have to spend to get the correct number of solar panels.
So, how do you determine how much energy you need for your home? The best way to figure this out is through a consultation with a solar installer. (We recommend shopping smart by requesting free consultations with two or three top solar companies in your area.)
Your installer will evaluate your home energy needs based on total square footage, the number of people who live in your home, the number of appliances and power-draining devices that you have connected and more. It can then recommend the ideal solar panel system size to accommodate your energy usage.
Type of Panels and Other Components
Variation in manufacturing can also affect the cost of solar panels. There are three basic types of solar panels, two of which are commonly used residentially: monocrystalline and polycrystalline panels. Of these two, monocrystalline options tend to be more energy-efficient and thus may provide you with greater savings in the long run. They are also a bit pricier on the front end. With that said, homeowners with a smaller roof surface area may benefit from getting the most efficient solar panels, even if the initial cost is a bit steeper.
Other components you'll need to purchase include inverters, wiring, charge controllers, mounts and more. The quality of these materials can affect your total solar system cost. For example, if you spring for the best solar batteries, they may add a few thousand dollars to your investment.
Geographic Location
Another factor that can have a big impact on solar pricing? Your geographic area. Solar installation tends to be most cost-effective in parts of the country that get a lot of sun exposure, and thus a lot of photovoltaic light. This basically means that solar panels can operate more efficiently, and in many cases means that fewer total panels are needed. Those who live in states like California, Florida and Arizona — or really any areas of the Sun Belt or Southwest — will likely get the most out of their home solar power systems.
Tax Incentives
Both state and federal governments have established incentive programs to encourage homeowners to buy solar panels. There is currently a 26% federal solar tax credit, called an Investment Tax Credit (ITC), available for homeowners who install residential solar panels between 2020 and 2022. It is scheduled to reduce to 22% in 2023 and may not be extended thereafter.
Local incentives vary by state, but most of the best solar panel installers will help you identify and apply for these programs so you don't miss out on savings.
Additional Factors
There are plenty of other factors that can impact solar panel installation costs. Different vendors are going to offer different levels of customization, expertise and consumer protections (including guarantees and warranties). The bottom line? It is wise to shop around a bit, determine the average cost of solar panels in your area and evaluate the value of services offered by a few solar installation companies.

Solar Panel Price Vs. Return on Investment
Clearly, your upfront solar panel installation cost may be a little steep. Now, let's look at the flipside: How much money will you actually save? And will your energy savings be enough to offset the initial cost of your solar energy system?
It is not unreasonable to think that you can cut your monthly utility bills by as much as 75% or more by switching to solar energy. Of course, the specific dollar amount will depend on where you live, the size of your home and the number of people in your household.
One way to look at it: The average household energy bill is somewhere between $100 and $200 monthly. It would probably take about 15 years for your energy savings to cancel out the cost of solar panel installation. In other words, within a decade and a half or so, your solar system might pay for itself. Factor in savings from tax rebates and other incentives, and most solar systems pay for themselves in closer to seven or eight years.
Note that most solar energy companies offer free solar calculators, which help you arrive at a ballpark for monthly energy savings. While these calculators are imprecise, they can certainly give you a general sense of the financial benefits you will experience when you convert to solar energy.
Free Quote: See How Much You Can Save on Solar Panels
Fill out this 30-second form to get a quote from one of the best solar energy companies in your area. You could save up to $2,500 each year on your electric bills and receive tax rebates.
Frequently Asked Questions About the Cost of Solar Panels

As you continue to weigh the pros and cons of solar energy, it's natural to have a few questions. The best way to resolve these is really to set up a solar consultation with a local expert, but in the meantime, here are a few general answers to some of the most common solar inquiries.
How much will it cost to maintain my solar energy system?
In general, solar systems are designed to run smoothly for decades without requiring any maintenance or upkeep. As such, you should not really need to factor maintenance into the equation for the first 20 years or so after you install your system. (And most solar companies will offer you warranties and guarantees to give peace of mind on this front.)
How will solar energy impact my property values?
Many homeowners want to know how going solar will impact the value of their homes. Going solar increases property values. In fact, the U.S. Department of Energy has reported buyers are willing to pay an average premium of about $15,000 for a home with a solar panel system. With that said, you are only going to see your property values go up if you own your solar system outright, as opposed to leasing it.
How can I finance the cost of solar panels?
Different solar installers may offer different financing plans, allowing consumers some flexibility. With that said, there are three basic options for paying for your solar energy system:
Purchase your solar energy system outright (that is, pay in cash).
Take out a solar loan to purchase the system, then pay it back with interest.
Lease your system; you will pay less month-to-month but won't actually own the system yourself.
Which is better, buying or leasing my solar system?
It all depends on your motivation for going solar. If you want to maximize long-term savings and increase the value of your home, then purchasing your solar system is usually best. However, if you just want a low-maintenance way to reduce monthly energy costs and practice environmental stewardship, then leasing might be a better option. Also note that leasing can be a good option for those who do not plan on being in their home for exceptionally long.
How can I be sure my roof will accommodate a solar system?
If your roof faces south, has ample space and has little to no shade cover, it should work just fine. Even roofs that are not optimal can still be utilized with a few tweaks and adjustments. Your solar energy consultant will advise you on whether your home is a good fit for solar energy.
How long will my solar energy system last?
Solar systems are designed to be exceptionally durable. With just the most basic upkeep, most solar energy systems should continue to work and produce power for anywhere from 25 to 35 years.

Make the Best Choice About Solar Energy
Solar energy is not right for every homeowner, nor for every home. With that said, many homeowners will find that the initial cost of solar panels is more than offset by the long-term, recurring energy savings. Make sure you factor in cost, energy needs, tax incentives, home value and more as you seek to make a fully informed decision about whether to embrace solar power.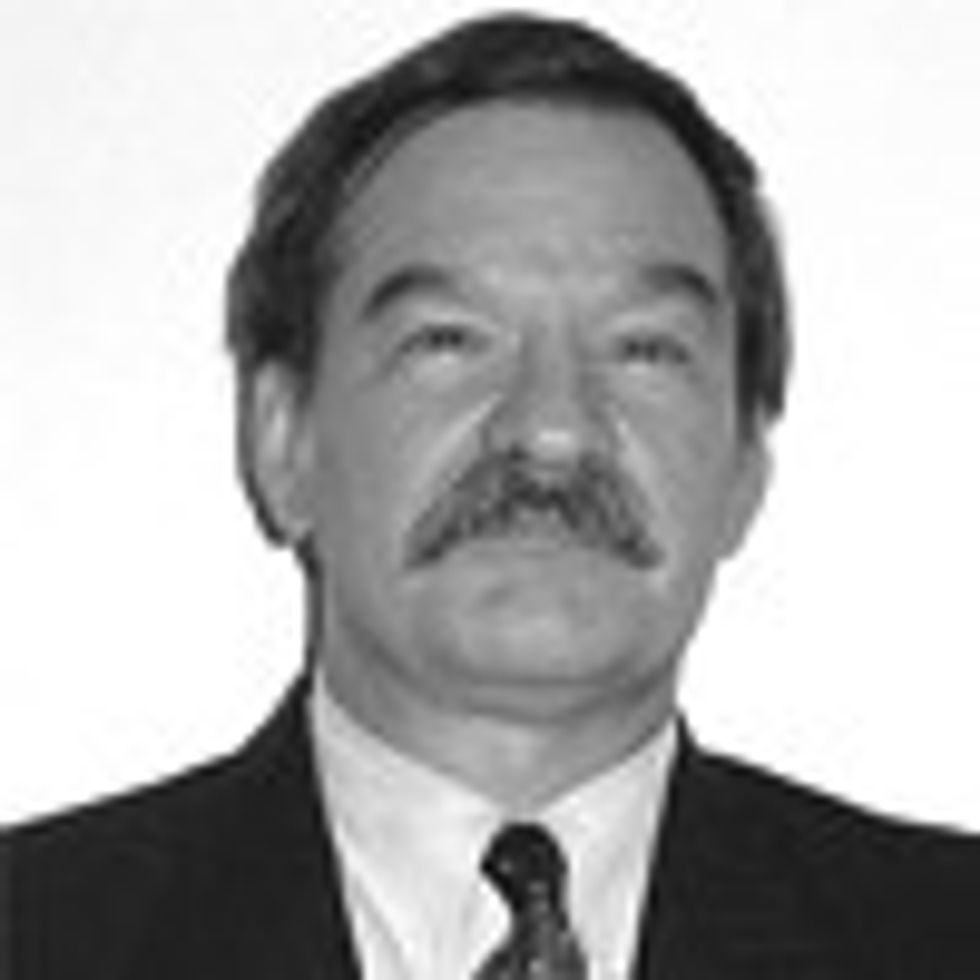 Over a seven day period last week there was a flurry of step-it-up activity on the East Coast in opposition to the planned expansion of fracking and fracking infrastructure.
It began with a three-day walk over the Martin Luther King, Jr. weekend in sub-freezing, wintry weather in rural western Massachusetts against Kinder Morgan's proposed Northeast Energy Direct pipeline. Upwards of 200 people took part in the walk, with an average of about 80 people walking 11-12 miles each day. The spirit and energy of the group was powerful.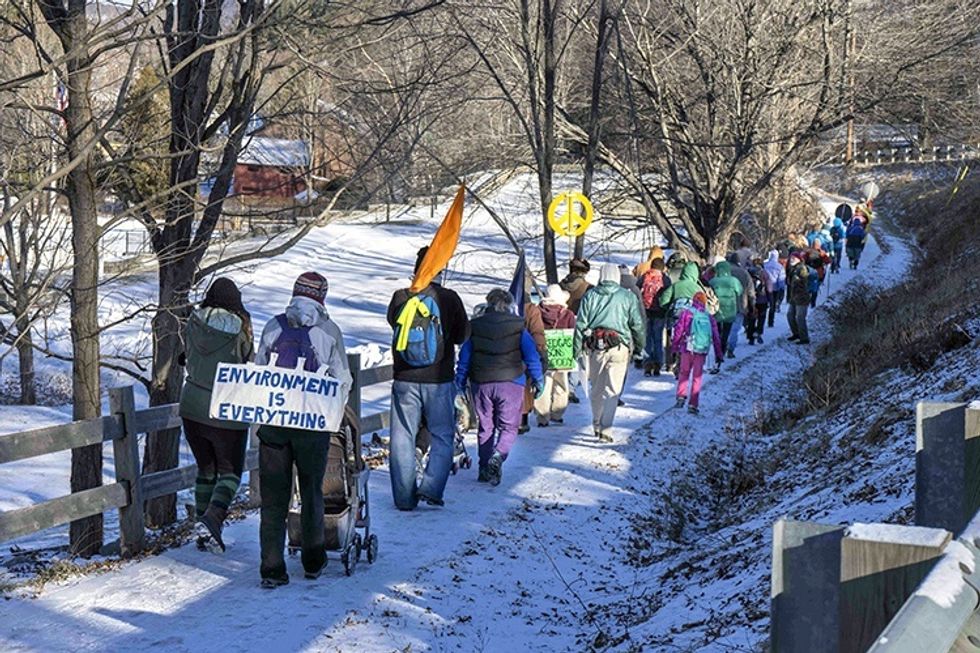 It continued on Wednesday in Harrisburg, Pennsylvania with a successful disruption of the last meeting of Gov. Tom Wolf's gas-industry-stacked pipeline infrastructure commission. The commission was set up to sell the plan to build even more gas pipelines and expand fracking in the state.
And it ended on Thursday in Washington, DC with the 15th consecutive Beyond Extreme Energy disruption of the monthly Federal Energy Regulatory Commission (FERC) Commissioners' meeting. This action was followed by one right near the White House at a Bank of America branch. Bank of America is a major funder of the being-built Cove Point, Maryland Liquified Natural Gas export terminal.
Also this past week, on Monday, seven people were arrested at the latest blockade organized by We Are Seneca Lake in Ithaca, New York at the Crestwood gas storage facility; many hundreds have been arrested over the last year and a half in a campaign that shows no signs of letting up.
The movement against FERC and the expansion of fracked gas pipelines, compressor stations and storage and export terminals has made great strides over the past year and this past week's actions are an indication of what will be happening this year.
FERC's outrageous behavior—it has rejected only one proposed interstate gas pipeline in the last 10 years, according to former FERC employee and attorney Carolyn Elefant—and the broad and growing movement against it are prompting senators, congresspeople, Bernie Sanders and Hillary Clinton to speak out and take action:
• Bernie Sanders has come out against the Northeast Energy Direct pipeline.
• Hillary Clinton, at a town hall meeting in Keene, New Hampshire last October, said, "If we're going to have a national commitment to do something about climate change, FERC needs to be part of that commitment. It's not just the U.S. Environmental Protection Agency (EPA) that needs to be focused on combating climate change, every part of the federal government needs to be focused."
• Congressman Matt Cartwright (D-Pa.) wrote about FERC in September to the Department of Energy Inspector General, leading to an audit of the FERC permitting process, currently underway.
• In late November five Congresspeople from New England wrote to FERC calling upon them to review all proposed energy projects across the region in tandem to determine how New England's energy markets will best be served and to prevent any potential overbuild.
• In late October four members of the Georgia Congressional delegation "sent a letter to FERC asking the commission to change the route of a 516-mile natural gas pipeline slated to run through impoverished communities in Georgia." (Politico's Morning Energy,  Oct. 27, 2015)
• On Nov. 18, 2015 Massachusetts Attorney General Maura Healey published a study which concluded that there is no need for increased gas capacity to meet the state's electric reliability needs for at least 15 years to come.
• Also in Massachusetts, State Senate President Stanley Rosenberg wrote to FERC Chairman Norman Bay, writing that federal regulators "should consider the interest of the Massachusetts citizens in establishing an energy sector based substantially on reduced emissions and clean and renewable energy as an initial test for determining whether any proposed project is in the public interest."
• And then there is President Obama, a big booster of fracking throughout his Presidency, not mentioning fracking or natural gas or all-of-the-above during his final State of the Union speech. When added to other developments over the past year, it is clear that the White House is at least having doubts about its strong support for fracking all these past years, a process which needs to deepen and accelerate this year.
There is more:
• On Jan. 14 a letter signed by 165 organizations was sent to Senators Sanders and Elizabeth Warren asking them, in their role as members of the Senate Committee on Energy and Natural Resources, to formally request a U.S. Government Accountability Office investigation of FERC. The groups said that "the request for an investigation notes that FERC is entirely funded by the industry it regulates, resulting in a demonstrable bias in favor of the energy industry's agenda over community and environmental concerns."
• At an early December Congressional hearing, "FERC Commissioner Tony Clark told members of Congress that ... a recent increase in opposition to infrastructure projects under review by the Federal Energy Regulatory Commission threatens to further impede this development.
"FERC Chairman Norman Bay, fielding a question from an Energy and Power Subcommittee member, noted the increase in opposition to infrastructure projects, including protesters attempts to disrupt recent FERC meetings.
"'I think at FERC we have clearly seen increased opposition to infrastructure. One of the things that has happened at FERC over the last, at this point it's probably been 15 months or so, is that our open meetings have been interrupted by protesters who will suddenly stand up during our meeting and try to interfere with our meeting, so we are clearly seeing that," Bay said. "Even in the field when we're holding scoping hearings, it is not uncommon for the staff who do those hearings to report back that there seems to be a great deal of opposition in many communities to the construction of more infrastructure."
• There are the beginnings of signs that all of this pressure may be causing small cracks in FERC's rigid unwillingness to serve the public interest rather than the interests of the gas industry.
One example is something which happened in October. In an unprecedented move for FERC, they suggested that two proposed pipelines in a similar area in the northeast should combine together. As one long-time FERC observer wrote in an email, "Something seems to be happening behind the scenes because it was FERC which first raised the issue of combining them."
• And just a few days ago as this is written, the EPA called upon FERC to "require applicants seeking approval under the Natural Gas Act to provide more information on a project's indirect impacts, including potential increases in gas production and greenhouse gas (GHG) emissions. The EPA submitted comments on FERC's Draft Guidance Manual for Environmental Report Preparation for Applications Filed Under the Natural Gas Act. FERC released a revised version of its guidance manual, which had not been updated since 2002, last month ... The recommendation echoes calls from environmentalists for FERC to review cumulative regional impacts of the multiple transmission projects that have been proposed in response to the rapid growth of production from unconventional shale development."
There is a growing wing of the climate movement that has been working over the last several years to prevent a build-out of fracked gas infrastructure, allied with widespread community opposition in localities where this infrastructure is proposed. Fracked gas pipelines, like all fossil fuel pipelines, are not popular. They lead to landowners being forced to deal with certain negative impacts if a pipeline would end up going through their land. They bring the threat of leakage of poisonous chemicals or explosions, particularly where compressor stations are built. Construction brings community and environmental disruption. That is why elected officials are speaking out, because they are hearing from voters who don't like what the gas industry wants to force upon them.
The fracked gas industry, just like the coal, tar sands and fracked oil industries, is in deep debt and serious trouble. Part of this is due to wind and solar growing quickly as a percentage of new installed energy sources. It is also due to a huge drop in oil and gas prices, something which shows no sign of a rebound anytime soon. This is huge; it makes a rapid shift from fossil fuels to renewables and efficiency much more possible than it looked just a year ago. When all of the negatives about fracked gas lead to a realization on an even bigger scale that it is in no way a hopeful "bridge fuel" but a dangerous "bridge to climate catastrophe," we can finally get very serious about that critically-needed shift right now.
With an infusion of energy, resources and people it is realistic, based upon all that exists at present and the way things are moving, to see some very real victories this year in the battle against FERC and new fracking infrastructure. It's time for the climate movement to focus on FERC.
Ted Glick is a co-founder and one of the leaders of Beyond Extreme Energy. He has been a climate activist since 2003 and a progressive organizer since 1968. Past writings and other information can be found here and he can be followed on Twitter.
YOU MIGHT ALSO LIKE 
6 Ways to Kick Fossil Fuel Money Out of Politics
Armed Ships Embark on Secretive Plutonium Mission From Japan to the U.S.
Find Out How Close Your City Is to Going 100% Clean Energy
Bill McKibben: How to Stop the Fossil Fuel Industry From Wrecking Our World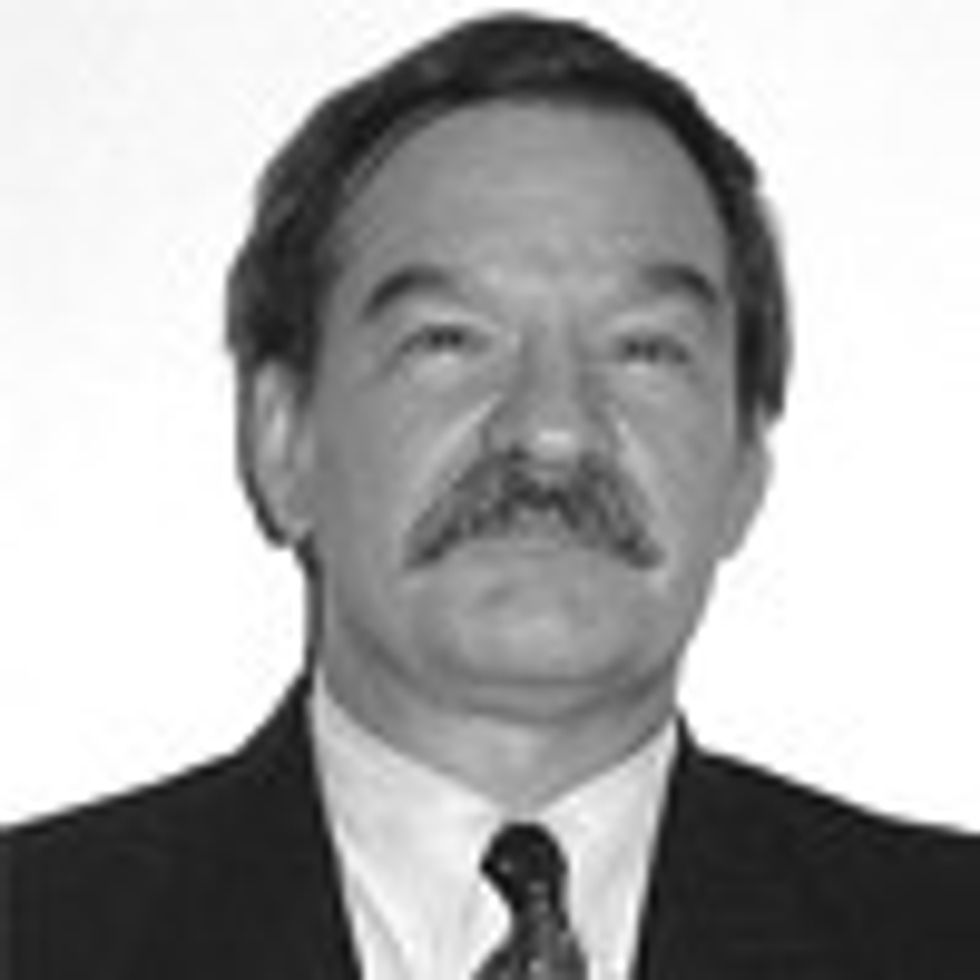 "The gift of the Earth with its fruits belongs to everyone." — Pope Francis, Laudato Si', paragraph 71.
There were many kind people, including some Federal Energy Regulatory Commission (FERC) employees, who thanked me or had supportive things to say during the 18 days that I fasted on water only in front of FERC with 11 other sisters and brothers from Sept. 8 - 25. But there are three people whose words I doubt I'll ever forget.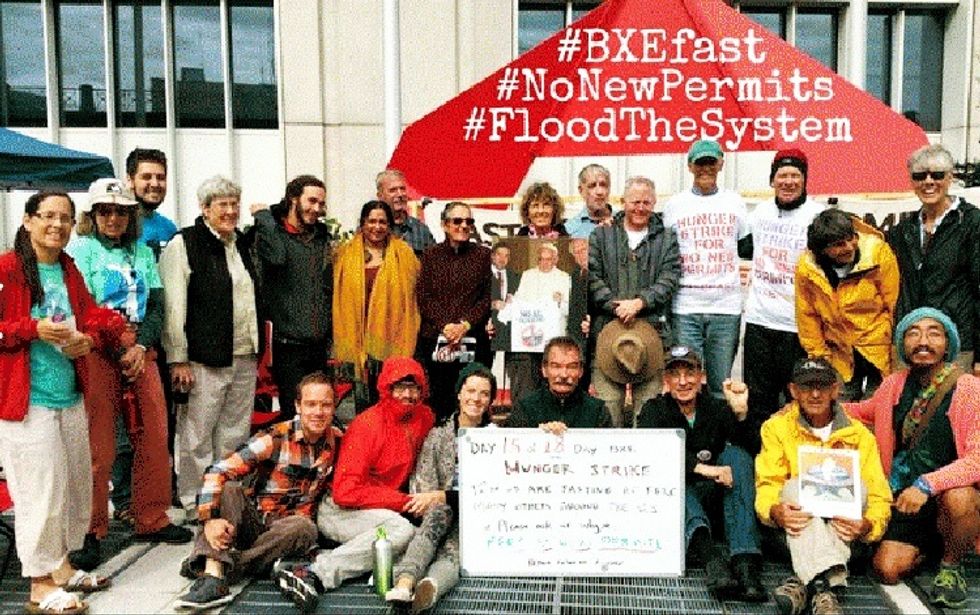 In Washington, DC, 12 people that fasted and other supporters set up camp in front of FERC on the sidewalk every work day from 7 a.m. to 6 p.m.
There was the young black woman whose job was to staff a small booth by the entrance to an underground parking lot just across from the main employee entrance to FERC. She was friendly and over the three weeks that I stood across from her during the work week, holding signs and distributing leaflets to FERC employees going into or leaving work, we often exchanged small talk and smiles. About a week before it ended she commended us on our courage. Then, on the 15th day, she told me, "Some women came by yesterday, asking me, 'What are they doing here?' and I told them, 'They are taking action for all of us.' Some of us have jobs and have to pay bills and can't do what you're doing, but I think what you are doing is important."
Then there was the Homeland Security Federal Protective Services policeman, a tall, tough-looking, white guy, who came by to talk to me on day 18, asking how I was doing, clearly impacted by our willingness to suffer for what we believed in. After a couple of minutes he said, "I've seen lots of groups demonstrating on issues, but yours is the most persistent one I've ever seen."
But the most profound interaction I had was with a woman who might not have known I was fasting. She was an old white woman, on crutches, looking like she was homeless, a beggar on the DC Metro subway. I had seen her earlier in the 18-day ordeal; she had come up to me asking for money. On day 16, the day the Pope was in town meeting with President Obama, on my way home from FERC in the evening to the church where we stayed every night, I saw her again. We were both standing on the Metro platform and I had a mounted, blown-up picture of the Pope holding a sign which said, "No al Fracking."
She came over to me, our eyes connected and she said, to paraphrase, "You know, I know all about Jesus Christ and everything, but I just want to say that if it's not about unity, it doesn't mean crap." I had listened carefully and what she said rang true, was genuine and deep, and I responded, "Yes, you're right. That is absolutely true."
The Beyond Extreme Energy-organized "Fast for No New Permits" was not explicitly about "unity." It was the latest in a now-over-a-year campaign focused on what we call "the most dangerous federal agency most people have never heard of." We are doing everything we can think of to throw a nonviolent wrench into the gears of the FERC machinery. This semi-independent agency has just kept grinding out permit after permit for the expansion of fracked gas infrastructure, with virtually no rejections of gas industry proposals, from what we're able to tell, for many, many years.
The idea of doing a serious fast emerged a few months ago as some of us realized that the Pope was going to be in DC in late September, the Pope who has been outspoken about the need for action on the climate crisis and who, yes, had no problem being photographed a couple years ago with that "No al Fracking" sign.
And so on Sept. 8, the day after Labor Day, 12 of us, from ages 19 to 72, began a diet that consisted of water, salt and potassium. Ten of us continued on that diet until the 25th, the day after the Pope's speech to the U.S. Congress. One faster had to end it around day 10 because of serious physical difficulties he was encountering; the other did so after about 14 days because of her need to build back some strength before joining a 900-mile walk from Rome to Paris beginning next week in connection with the early December UN Climate Conference.
There were at least 100 other people who fasted around the country, including several who fasted for 18 days also, as I understand it, in Oak Flat, Arizona, protesting federal plans to take land in Tonto National Forest sacred to local Apache nations and give it to multinational copper companies to mine.
In DC we 12 fasters and other supporters set up camp in front of FERC on the sidewalk every work day from 7 a.m. to 6 p.m. We passed out many thousands of leaflets and had hundreds of conversations with FERC employees and people passing by. Dutch TV came by and did interviews, as did a dozen or more other press outlets. We found a great deal of support and almost no overt hostility. One of the more interesting conversations we had was with Norman Bay, chair of FERC. I was able to talk with for a few minutes when he was spotted coming out of the FERC building while most of us on this very hot, sunny day were across the street in the shade of a 30-foot high stone wall. Little of direct substance came out of that discussion, though you never know.
On the 17th day, the day the Pope spoke to Congress, we had a breakthrough with the Washington Post when a reporter interviewed me on the mall and posted a blog about it that morning. The next day that blog post became a substantial part of a good and prominent article in the first section of the paper, taking up 2/3rds of a page and with a big picture. It was helpful to see that Post article reporting that our fast was "to protest what he said was the Federal Energy Regulatory Commission's support for the use of fossil fuels and pipelines."
I would expect lots of FERC employees, including Commissioners, as well as DC judges who will be hearing appeals of FERC's rubber-stamping ways, see that article and smile.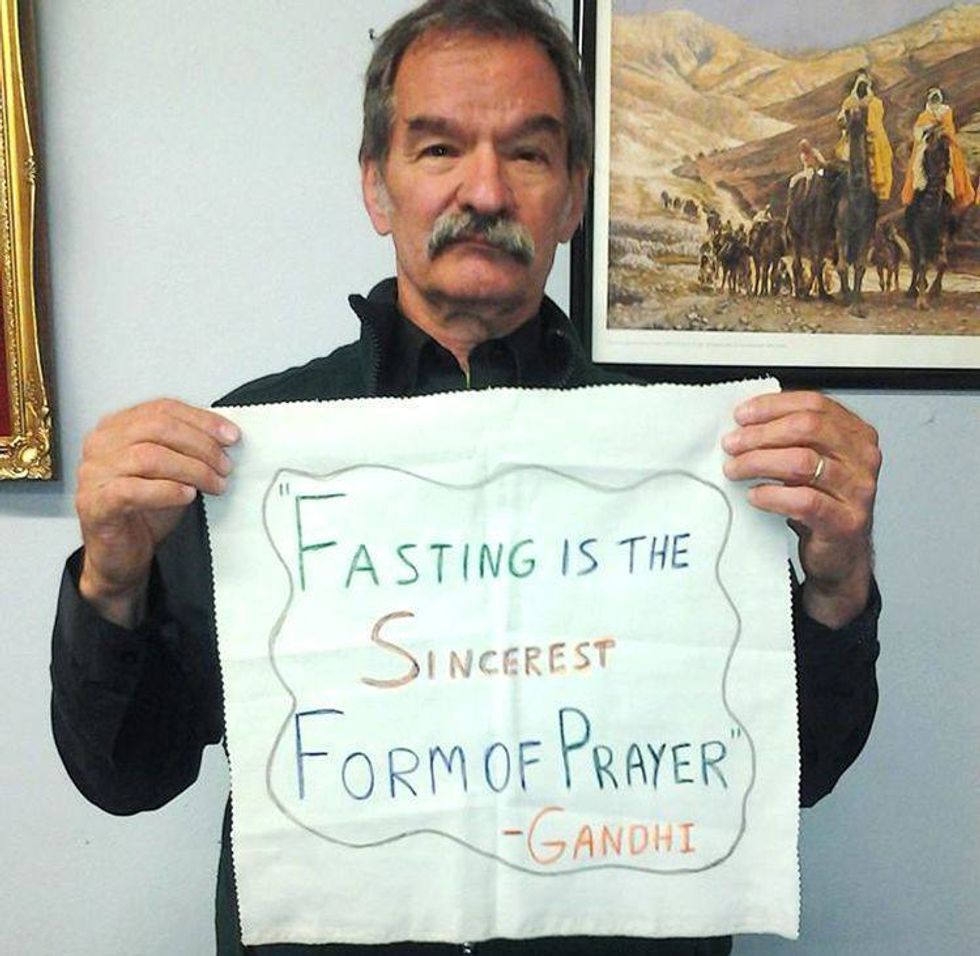 There is no question this was an effective action. But it was more than that. In significant part because it was a fast—what Gandhi called "the most sincere form of prayer"—and connected to the visit of the people's Pope, it was also, indeed, about unity, about what the wise, old, beggar woman on the Metro platform had said to me on day 16.
Yes, "the gift of the earth with its fruits belongs to everyone." And yes, "a true ecological approach always becomes a social approach, it musts integrate questions of justice in debates on the environment, so as to hear both the cry of the Earth and the cry of the poor." (paragraph 49).
And more directly, to amplify the wise woman, "Everything is connected. Concern for the environment thus needs to be joined to a sincere love for our fellow human beings and an unwavering commitment to resolving the problems of society." (paragraph 91).
I lost 30 pounds over those 18 days. It is good to be eating again, slowly returning to normal eating habits. It is good to have energy to work, feel my strength beginning to return, to taste the delicious flavors of fruits and vegetables, the only things I am eating these first two days of my back-to-normal-eating, nine-day plan. It is good to be home after three weeks away. And it is good to know that the memories of those 18 days and the wonderful community of sister and brother fasters and supporters will be with me always, nourishing my commitment to keep taking action for a stable climate and a transformed world until the day I die.
Ted Glick is the National Campaign Coordinator of the Chesapeake Climate Action Network. Past writings and other information can be found at tedglick.com and he can be followed on Twitter.
YOU MIGHT ALSO LIKE
Shell Abandons Arctic Drilling Following 'Disappointing' Results
Faith Leaders Speak Out Against Fracking Amid Pope Francis' Visit to U.S.
Colorado Supreme Court to Make Historic Ruling on Fracking Bans
Hillary Clinton Breaks Keystone XL Silence, Announces Her Opposition to the Pipeline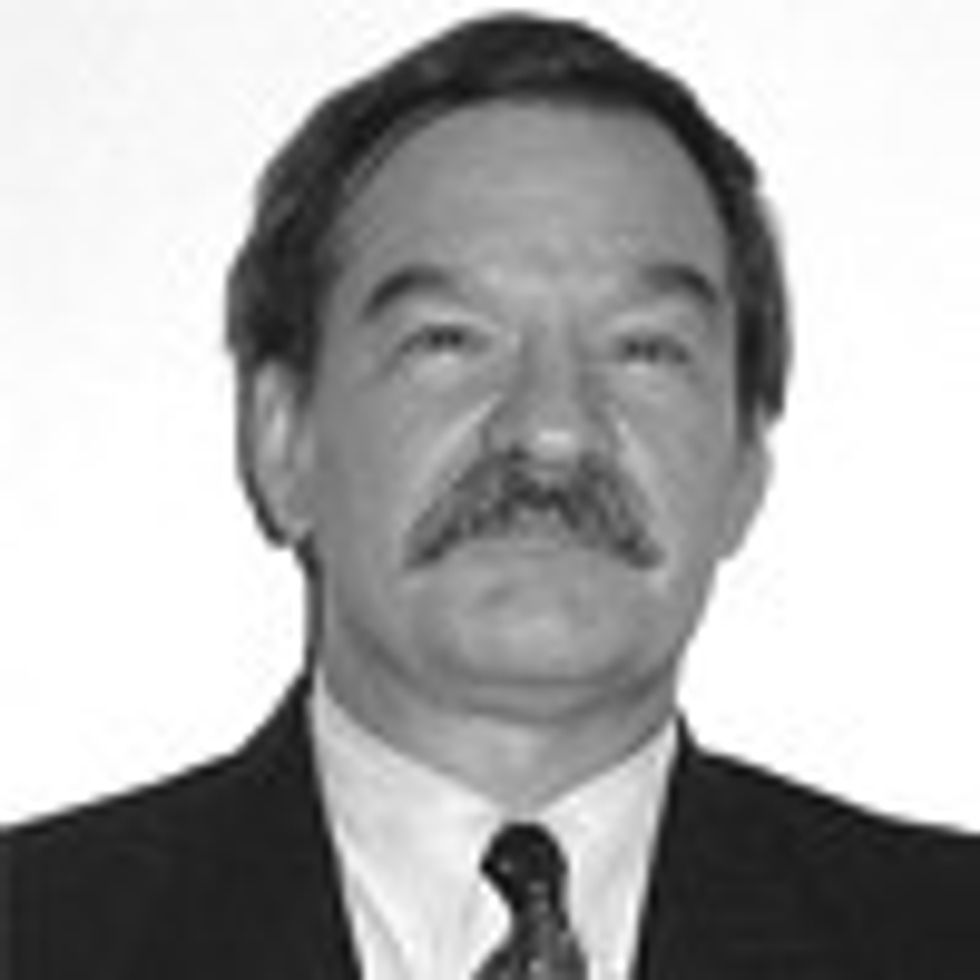 Twelve members of Beyond Extreme Energy (BXE), ages 19 to 72—from California, Virginia, DC, New York, New Jersey, Connecticut, Nebraska, Michigan and North Carolina—are in the beginning days of a planned 18-day, water-only "Fast for No New Permits" for fossil fuel infrastructure in front of the Federal Energy Regulatory Commission (FERC), a virtual rubber-stamp agency for the fracked gas industry.
Each weekday until Sept. 25 we will be on the sidewalk in front of FERC from 7 a.m. to 6 p.m., leafletting FERC employees—over a thousand of them—as they arrive for or leave from work. We're also passing out leaflets to thousands of others who work or live in the area who walk by.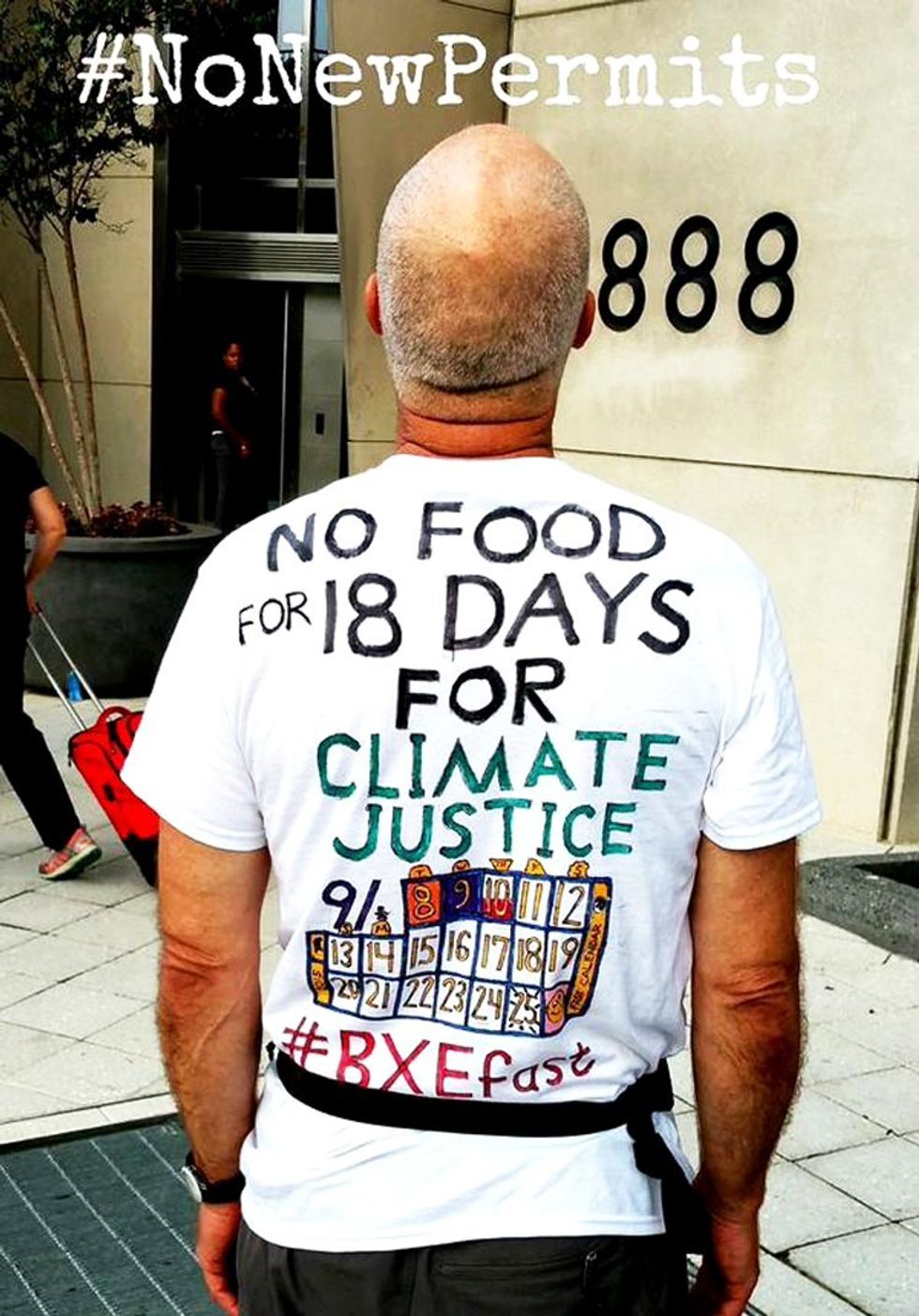 Day three of the No New Permits BXE fast opposing fossil fuel infrastructure. Photo Credit: Beyond Extreme Energy
It's not a very aesthetic area, mostly high-rise office buildings and condominiums. There are some colorful begonias around the FERC building and about 15 young trees growing across the street just three blocks north of Union Station. Also across the street is a 30-foot high stone wall on top of which the red line trains of the DC Metro subway system come by loudly every 10 minutes or so, interrupting any and all street conversations.
For the 12 of us, joined by supporters and people fasting for shorter periods of time, this will be our "home" until Sep. 25, the day after Pope Francis speaks to a joint session of Congress. For some who have slept and will be sleeping here overnight, it's a 24-hour "home."
The first two days have actually been pretty brutal because of the high humidity and temperatures in the low- to mid-90's. The heat index where we are could well have been more than 100 degrees because of all the concrete around us.
Every morning and late afternoon we check in with each other to see how we are doing and to finalize plans for the day. This morning one of the older fasters reported that he had almost fainted when he stood up too quickly; as I've learned from past fasts, it's essential during an action like this to move deliberately and consciously, very aware of how your body is dealing with the lack of food.
Why are we putting ourselves through this?
One reason is the upcoming Sept. 22 - Sept. 27 visit of Pope Francis to the mid-Atlantic region of the U.S. BXE is very supportive of his repeated calls for action on climate, environmental and social justice. Some of us have been reading the Pope's historic encyclical, "Laudato Si', On Care for Our Common Home," on the FERC sidewalk. We see our fast and a series of other activities in DC leading up to and after the Pope's speech before Congress on Sept. 24 as part of the process of forging a stronger and deeper climate justice movement, one capable of meeting the urgent challenges of this do-or-die decade.
We are fasting because the movement which we are representing has tried every other means available to get FERC to stop being a rubber-stamp agency for fracked gas infrastructure (pipelines, compressor stations, storage and export terminals). Fasts and hunger strikes are usually undertaken when the oppressors have refused to be moved and more serious tactics must be utilized.
We are calling upon FERC to put renewables first. It must break its alliance with the fossil fuel industry and issue "No New Permits" for fossil fuel infrastructure until it has prioritized wind, solar and renewable energy.
What do we hope to accomplish? We hope our message will reach FERC employees, as well as the general public and Pope Francis. We are openly calling for whistleblowers. We want to strengthen the movement fighting FERC's corrupt ways and the overall movement for climate justice and positive social change.
BXE during this fast is also working to make connections between issues. Struggles for justice are related. For example, we support the Black Lives Matter movement and on one of the days of our fast we will be doing public education in front of FERC about the importance of their efforts.
How can you be supportive of this Fast for No New Permits?
1. Join us at our fast in Washington, DC or where you live, for anywhere from one day to a couple of weeks. More information, including on how to sign up can be found here.
2. Come to DC for the actions happening Sept. 22 - Sept. 25. The big one is the morning of Sept. 24 on the national mall, between 3rd and 7th Street and near the U.S. Capitol. There will be speakers and music before and after the Pope's 9:30 a.m. address to Congress; the Pope's speech will be broadcast to everyone on the mall and his office has announced that he will come out to address the crowd after he speaks inside.
On Sept. 25 at Noon in front of FERC, we will end our fast. Plans are still developing, but we intend to make an effort to deliver five copies of the Pope's encyclical to the five FERC commissioners. We will walk in a serious procession around the FERC building. We will hear from fasters about what this 18 days without food has meant to them.
3. Participate in the "No New Permits Solidarity Fasting Quilt" project. We are putting together a quilt with stories of local struggles against FERC or for justice, as well as drawings and words from people who are fasting about why they are doing so. Squares will be 12 inches on each side, with an additional inch on each side for when they are all put together to make a beautiful mosaic of our movement. Any color fabric can be used. They should be sent no later than Sept. 16 to CCAN, 6930 Carroll Ave., Suite 720, Takoma Park, Maryland. 20912, Att: Quilt project.
4. And finally, you can call FERC at 1-888-715-9918 to demand that they stop being a rubber stamp for the fossil fuel industry, prioritize renewables and issue no new permits for fossil fuel infrastructure until these changes are made.
Let's rise up now in defense of and in care of our common home!
Ted Glick is the National Campaign Coordinator of the Chesapeake Climate Action Network. Past writings and other information can be found at http://tedglick.com and he can be followed on twitter at http://twitter.com/jtglick.
YOU MIGHT ALSO LIKE
Koch Brothers: Apocalyptical Forces of Ignorance and Greed, Says RFK Jr.
28 Arrested Saying: 'Pope Francis, We Hear You'
One of the World's Largest Universities Divests From Coal and Oil Sands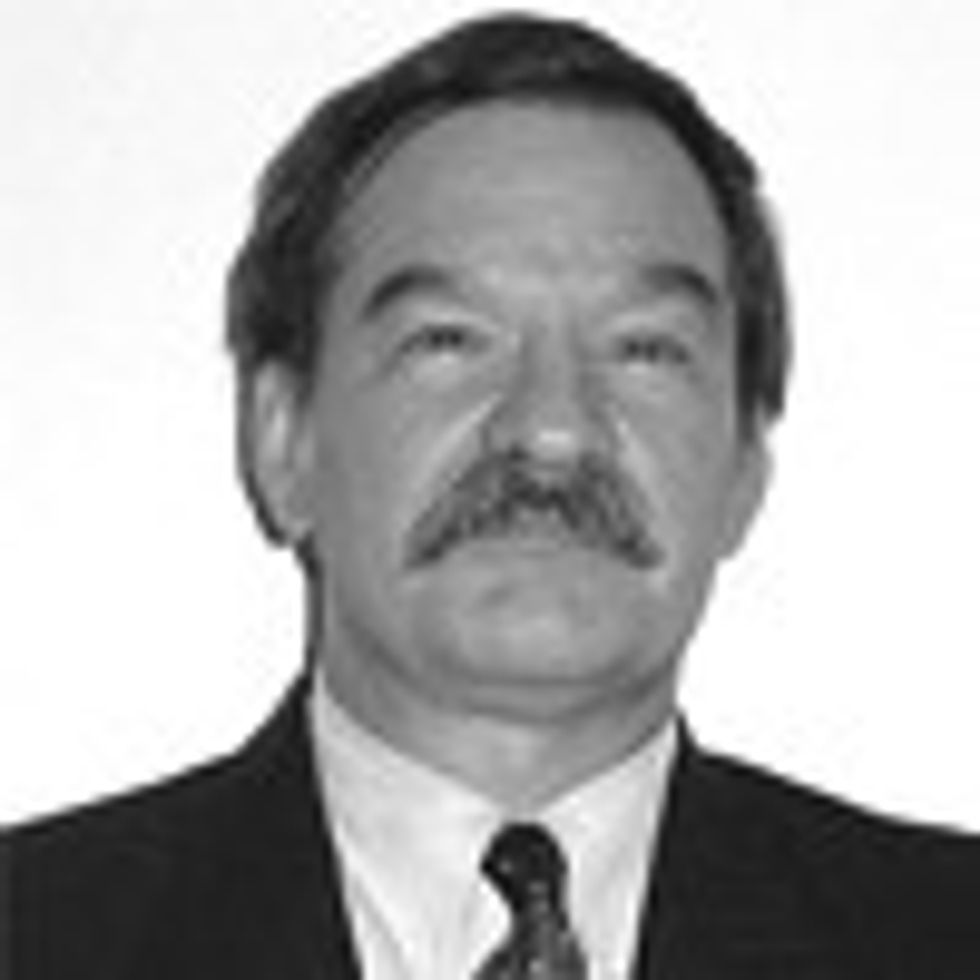 Laudato Si' came out at the beginning of this summer. This papal encyclical by Pope Francis, all 157 pages of it, addresses the climate crisis but so much more. It addresses it in the context of the overall environmental crisis as well as the crisis of economic inequality and poverty worldwide.
To Pope Francis, "We are faced not with two separate crises, one environmental and the other social, but rather with one complex crisis, which is both social and environmental. Strategies for a solution demand an integrated approach to combating poverty, restoring dignity to the excluded and at the same time protecting nature." (page 94)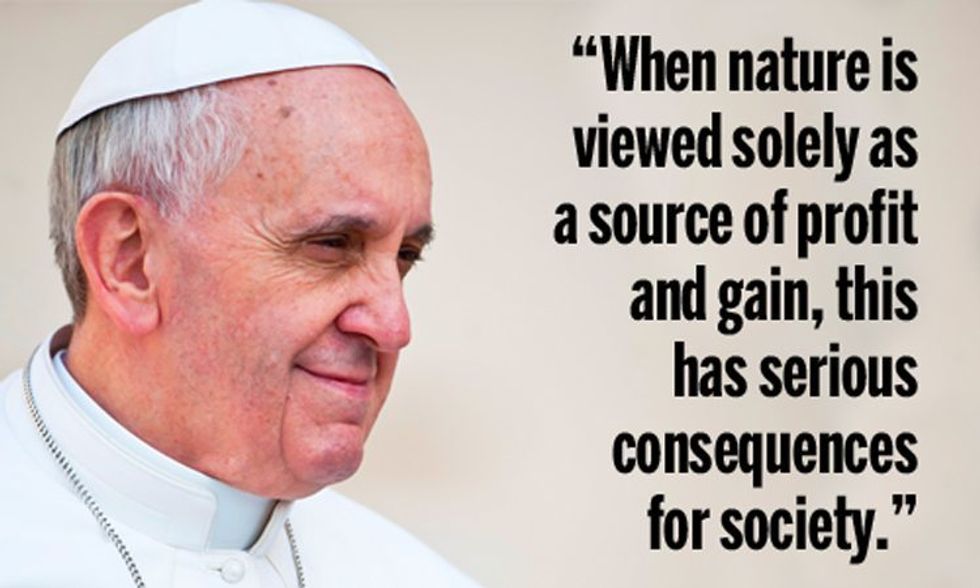 "Yet all is not lost. Human beings, while capable of the worst, are also capable of rising above themselves, choosing again what is good and making a new start, despite their mental and social conditioning. No system can completely suppress our openness to what is good, true and beautiful. I appeal to everyone throughout the world not to forget this dignity which is ours. No one has the right to take it from us." (pages 134-135)
I have heard this book described as reflecting an anti-capitalist analysis, but that word is found nowhere in its pages. Pope Francis does, however, make clear what he sees as the root of the "complex crisis" we are faced with. He describes it in these ways, among others, throughout the book:
"current models of production and consumption" (page 23)

"business interests and consumerism" (page 27)

"huge global economic interests" (page 29)

"present model of distribution, where a minority believes that is has the right to consume in a way which can never be universalized" (page 35)

"new power structures based on the techno-economic paradigm" (page 38)

"whatever is fragile, like the environment, is defenseless before the interests of a deified market, which becomes the only rule" (page 40)

"powerful financial interests" (page 40)

"When nature is viewed solely as a source of profit and gain, this has serious consequences for society." (page 57)

"The principle of the subordination of private property to the universal destination of goods and thus the right of everyone to their use, is a golden rule of social conduct and 'the first principle of the whole ethical and social order.'" (page 64)

"The technocratic paradigm also tends to dominate economic and political life. The economy accepts every advance in technology with a view to profit, without concern for its potentially negative impact on human beings." (page 74)

"The culture of consumerism, which prioritizes short-term gain and private interest, can make it easy to rubber-stamp authorizations or to conceal information." (page 122)

"Where profits alone count, there can be no thinking about the rhythms of nature, its phases of decay and regeneration or the complexity of ecosystems which may be gravely upset by human intervention." (page 125)
For me, I find this kind of specificity about how the dominant system in the world operates refreshing and helpful.
The people's Pope puts forward a wide range of ideas and proposals for how to effect the kind of fundamental social and economic transformation needed. Most of the ideas are not new. Here is an example of the kind of mix he sees as absolutely necessary:
"A global consensus is essential for confronting the deeper problems, which cannot be resolved by unilateral actions on the part of individual countries. Such a consensus could lead, for example, to planning a sustainable and diversified agriculture, developing renewable and less polluting forms of energy, encouraging a more efficient use of energy, promoting a better management of marine and forest resources and ensuring universal access to drinking water." (page 110)
What I found of singular and great importance in Laudato Si' is how the Pope personalizes the solution to our multiple, complex crises. He definitely doesn't see the solution coming about via new technology or some new ideology or even an updated Catholicism, though, as the Pope, he certainly sees the importance of active Catholic participation in the process of change and renewal. Instead, he says, speaking of our individual responsibilities, that "our goal is not to amass information or satisfy curiosity, but rather to become painfully aware, to dare to turn what is happening to the world into our own personal suffering and thus to discover what each of us can do about it." (page 18)
He calls for "a bold cultural revolution ... we need to slow down and look at reality in a different way, to appropriate the positive and sustainable progress which has been made, but also to recover the values and the great goals swept away by our unrestrained delusions of grandeur." (page 78)
"Men and women are still capable of intervening positively. For all our limitations, gestures of generosity, solidarity and care cannot but well up within us, since we were made for love." (page 41)
"Concern for the environment thus needs to be joined to a sincere love for our fellow human beings and an unwavering commitment to resolving the problems of society." (page 63)
"It is no longer enough, then, simply to state that we should be concerned for future generations. We need to see that what is at stake is our own dignity. Leaving an inhabitable planet to future generations is, first and foremost, up to us. The issue is one which dramatically affects us, for it has to do with the ultimate meaning of our earthly sojourn." (page 107)
"If we can overcome individualism, we will truly be able to develop a different lifestyle and bring about significant changes in society." (page 136)
Just in time, from out of the Global South and an institution with many serious internal challenges, a new Pope has emerged to help lead that institution and the world away from the brink. Thank God.
Ted Glick will join with others in an 18-day, water-only fast in front of FERC starting on Sept. 8, continuing until the day after Pope Francis speaks to the U.S. Congress. Past writings and other information can be found here and he can be followed on Twitter.
YOU MIGHT ALSO LIKE
Reverend Yearwood: In Remembrance of Katrina, Why We Must Fight for Climate Justice
Call for a Future Powered by 100% Renewables Gains Momentum as UN Climate Talks Resume in Bonn
Despite Pope's Call to Climate Action, Churches Still Hold Millions in Fossil Fuels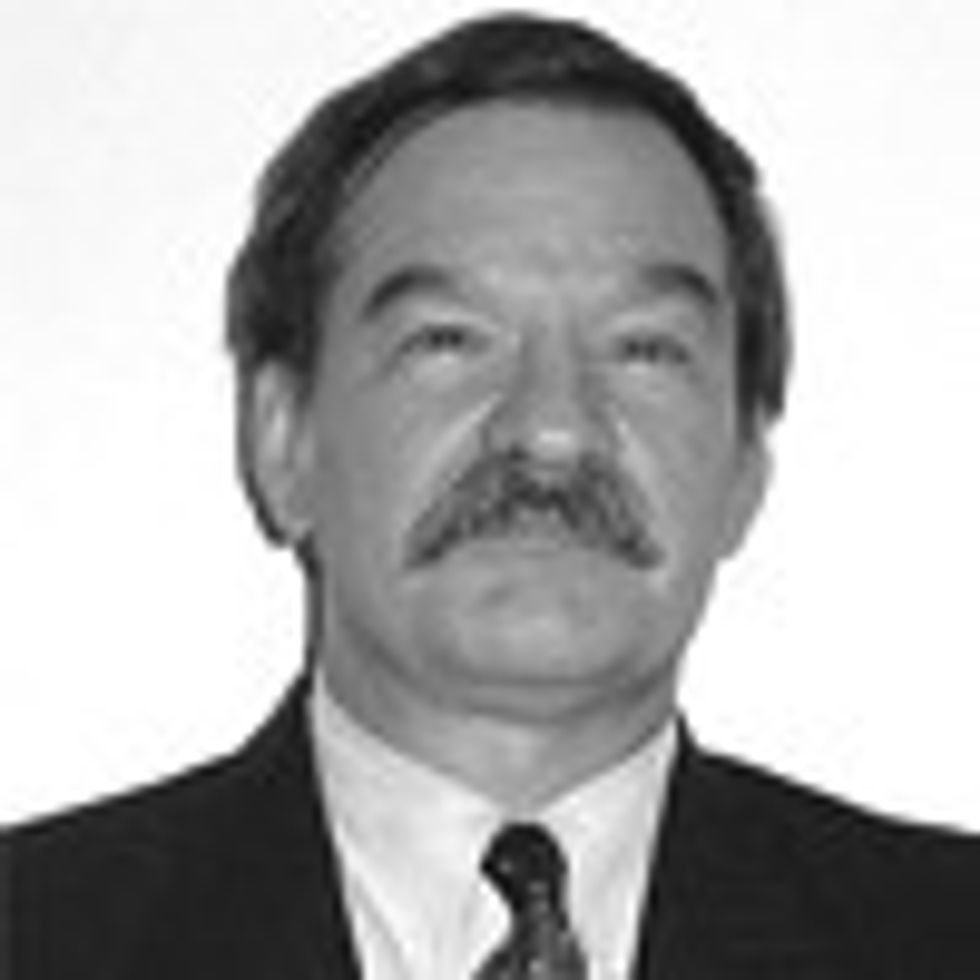 What is the relationship between organizing to slow, stop and reverse the climate crisis, a very big job with a very close deadline and organizing to bring together a unified movement against our oppressive system that links people concerned about climate, racial justice, women's and LGBT rights, labor rights, peace, social and economic justice, equality and more?
This is the third column I have written on this subject. My first one, last November, was in the form of an Open Letter to Naomi Klein in connection with how she addressed this issue in her wonderful book, "This Changes Everything." The second was written in mid-June, with a main focus on the importance of the Bernie Sanders presidential campaign and what this amazing development might teach us about this question.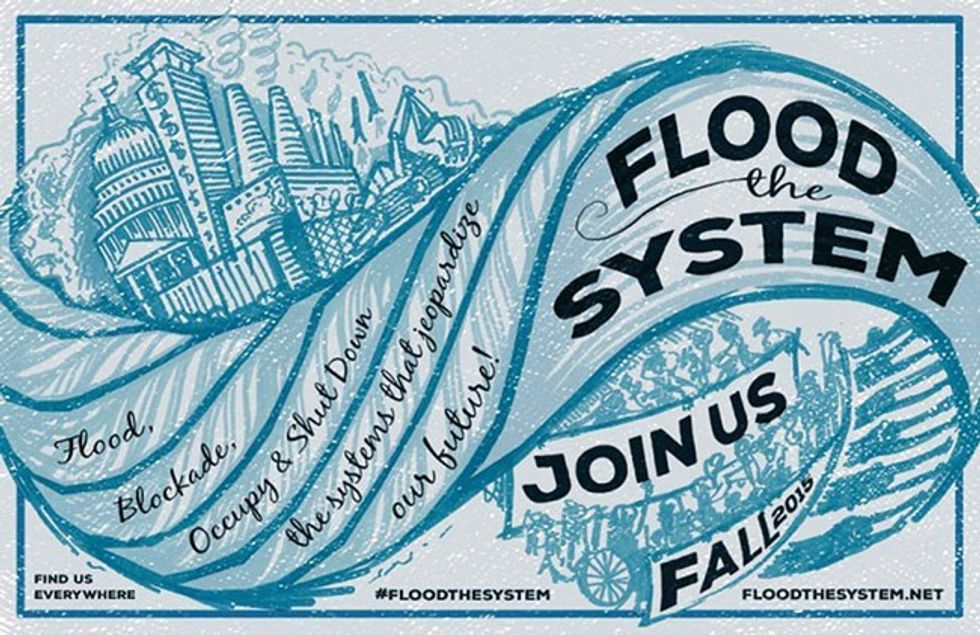 This third column is the result of having read, "FLOOD the System: a VISION for movement momentum," put together by Rising Tide North America (RTNA) to promote anti-system activities this fall leading up to the United Nations Climate Conference in Paris. I'm a member of one organization and one beginning-network that are supportive of the Flood the System general idea and that are connected with it. Because of that, I finally made the time to read FLOOD the System yesterday.
There's a lot of good stuff in the 80-page booklet, including some creative original graphics. I'd encourage others to check it out by clicking here.
However, I came away from reading it feeling that the position it takes on the climate organizing/anti-system organizing question is one I disagree with. Two pages toward the beginning crystallized it for me.
On page 12, in a "History of FLOOD the System" section, RTNA explains that this new initiative emerged after the People's Climate March and Flood Wall Street action in New York City in September 2014. These were very big actions: hundreds of thousands in the march and thousands engaging in civil disobedience on Wall Street the next day. Afterwards, "as we talked to various groups, the consistent piece of feedback was the need for Flood the System to be much broader than just about escalation within the climate movement, a need for an escalation framework that addressed deep root causes and could connect with and be owned by members of the migrant justice, racial justice, gender justice, labor and other powerful and growing movements in the U.S. and Canada. The climate movement has a history of seeing the climate crisis as a giant umbrella issue under which many other issues could fit. Flood the System is attempting to break this pattern."
What this mean in practice, as projected on page 13, is this: "In November, right before the opening of the international summit to pave the way for capitalism in the coming decades [the Paris United Nations Climate Conference], we will engage in actions targeting the institutions that threaten our collective survival. Banks, immigration detention centers, rail and pipelines, extraction sites, police stations, government buildings will be overwhelmed as we expose the root causes of injustice in all its forms."
My Perspective:
First, RTNA is to be commended for its efforts to advance the movement, as far as its politics, its willingness to take stronger action and its breadth. This is not easy work and it is to their credit that they are continuing to work to make these actions in the fall as successful as possible. What they are trying to do is no small thing.
However, it seems as if RTNA's position on the climate crisis and what to do about it is something like, "the only solution is revolution," that climate/climate justice activists should put all of our eggs in that one basket.
I don't see it that way. I think there are two distinct, though interrelated, tasks for those of us who
1. Understand how close to climate tipping points we are, close to developments that will make it extremely unlikely that we can prevent full-on, world-wide catastrophe.
2.  And who, also believe that the root cause of the climate crisis, as Pope Francis himself has said, is a system based on greed, domination, inequality and injustice.
One task is to build a climate/climate justice movement, a climate movement increasingly putting justice issues at the center of its work but which has as its focus day-after-day campaigning to weaken the power of the fossil fuel industry, to advance renewables and efficiency, especially locally-based rooftop solar and other locally-based renewables, to fight deforestation, etc. And the Paris conference is one short-term front of that movement. I believe that we should support efforts that are being made to push that conference to go as far as it can go, understanding that, the world's governments being what they are and the influence of the fossil fuel corporatists over so many of them being what it is, it is very unlikely, impossible really, that the world's ecosystem and all of its life forms will get in Paris what we need. We must be prepared to use whatever comes out of Paris to keep building the climate movement and the overall international people's movement. No false illusions.
The other task is to link growing numbers of climate activists and organizations with "members of the migrant justice, racial justice, gender justice, labor and other powerful and growing movements," building a multi-issue, intersectional, transformational mass movement for power to the people and not the "billionaire class," as Bernie Sanders calls it.
What is so positive and exciting about this historic moment, 2015, the time we are living in, is that both of these movements are growing and there is interaction among them, not so much in an organizational sense but in a cultural/social sense, in the interpersonal connections that exist and will continue to grow and deepen. Building and strengthening these connections is strategic work right now.
But we need to be clear that both are needed. There must be a movement which has as its primary task work to prevent worldwide climate catastrophe. And there must be a movement of movements that makes the links and connections and builds consciously toward a world where love, justice and equality are truly the underlying operating principles of people's lives and society's institutions.
Ted Glick has been an activist, organizer and revolutionary since 1968. Past writings and other information can be found at http://tedglick.com, and he can be followed on Twitter at http://twitter.com/jtglick.
YOU MIGHT ALSO LIKE
Bernie Sanders Draws 28,000 in Portland, Largest Turnout for Any Presidential Candidate This Year
Fox News Asks Sen. Graham: How Can Republicans 'Trust' You After Working on Climate Bill?
Obama's Clean Power Plan Tips the Scales Toward Successful Paris Climate Talks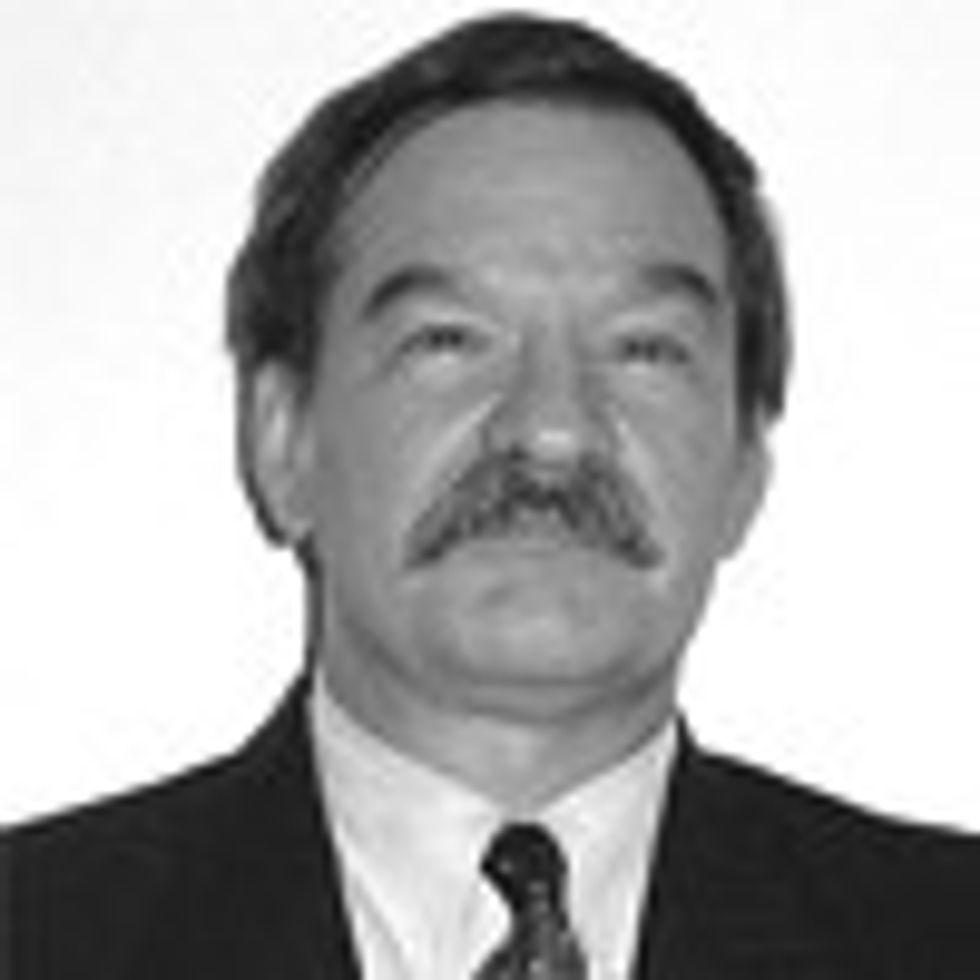 Just in time, hopefully, the leader the world needs on the climate crisis has stepped forward: Pope Francis.
What other person known worldwide, with an international following and with the power—spiritually and politically—to have an impact is doing what the Pope has done so far, since he was named Pope in the spring of 2013? Two months ago he released Laudato Si, a Papal encyclical which has many important and strong things to say about the climate crisis, linked to other important statements about the broader environmental crisis, poverty, economic inequality and injustice, consumerism and more. He has followed up with well-publicized meetings on these topics at the Vatican.
"I have great hopes in the Paris summit." - Pope Francis on the #RoadToParis http://t.co/wlzWynkHul #ClimateHope pic.twitter.com/8WbYB1YZfv

— Climate Reality (@ClimateReality) July 24, 2015
This encyclical follows a number of statements Pope Francis has made about the climate crisis since taking office.
And in two months, he will be in the U.S. speaking before the U.S. Congress on Sept. 24 and the United Nations General Assembly on Sept. 25.
All of this activity is taking place now as an effort on the Pope's part to influence what comes out of the United Nations Climate Conference in Paris at the end of the year. He is trying to shake up governments around the world who give lip service to the need for action on climate and who, in some cases, have moved to shift their economies away from fossil fuels and onto the renewables and efficiency path. However, taken collectively, not enough is being done, especially by the industrialized countries most responsible for the crisis, no question about it. The coal, oil and gas industries continue to exert significant influence over government policy in the U.S., Canada, Australia and elsewhere.
Given the power and influence of the U.S. over what is going to happen in Paris and on the climate crisis generally, it is very strategic for the Pope to be coming here just two months before that conference begins.
Is there much happening on the part of the climate movement to welcome and support the Pope when he arrives? Yes and no.
Forty groups so far, a number of them faith-based, have joined together to organize a "Moral March for Climate Justice" on the morning of Sept. 24 at the Lincoln Memorial, at the time the Pope is speaking to Congress. As that organizing proceeds and as the day gets closer, additional groups, including some large organizations with resources and memberships, are expressing interest. That is hopeful, since a number of "likely suspects" within the climate and climate justice movements have yet to indicate their appreciation of the historic and immediate potential of the Pope's visit.
Two organizations, the Franciscan Action Network and Beyond Extreme Energy, have initiated calls for multi-day fasts in the days leading up to the Pope's visit and they are working together to multiply their overall impact.
Beyond Extreme Energy's (BXE) water-only fast will take place from Sept. 8 to Sept. 25 on the sidewalk outside the headquarters of the Federal Energy Regulatory Commission (FERC), as well as in other localities where people individually or in groups decide to take part. For more than a year, a campaign. has been underway to expose and bring pressure on FERC because of its role as a corrupt, rubber-stamp agency, virtually always saying yes to proposals from the natural gas industry to expand its infrastructure and, now, to export fracked gas around the world. For BXE, the fast, happening leading up to and during the time that the Pope is here, is a way to appeal to FERC employees and the general public to draw inspiration from the Pope to speak up and take action, as well as to support the frontline struggles against fracked gas infrastructure around the country.
The Franciscan Action Network fast will be connected with a global fast already underway through the #FastForClimate campaign and will involve a water-only fast as well as a fast from gratuitous carbon-emitting activities. It will be held at McPherson Square in downtown DC and will go from Sept. 15 to Sept. 23. Among the fasters will be Filipino Yeb Sano, who fasted for two weeks during the UN Climate Conference two years ago. The announced target of the fast are faith-rooted lawmakers who can connect with the spiritual underpinnings of the climate movement, as well as a global audience willing to fast in solidarity with those most impacted by the climate crisis.
An initiative is also being taken by progressive Rabbis and other Jewish climate activists to hold a Yom Kippur service at 6:30 p.m. on Sept. 22 at the Lincoln Memorial. They will re-gather on the morning of Sept. 23 and at 7:30 p.m. will be joined by the Franciscans, BXE fasters and others for an interfaith prayer vigil.
It is encouraging to see faith-based groups joining with some climate and environmental and other groups in this still-unfolding and developing, multi-day initiative centered in Washington, DC. There is still time for many more groups to join in to make September in DC and elsewhere an inspiring and spiritually deepening experience, a big step forward for our threatened ecosystem and all of its life forms around the world.
YOU MIGHT ALSO LIKE
Vandana Shiva: 'We Must End Monsanto's Colonization, It's Enslavement of Farmers'
With Pope Francis at the Helm, World's Mayors Pledge to Fight Climate Change
13 Arrested Blockading Crestwood Gate With Giant Replica of Pope Francis' Encyclical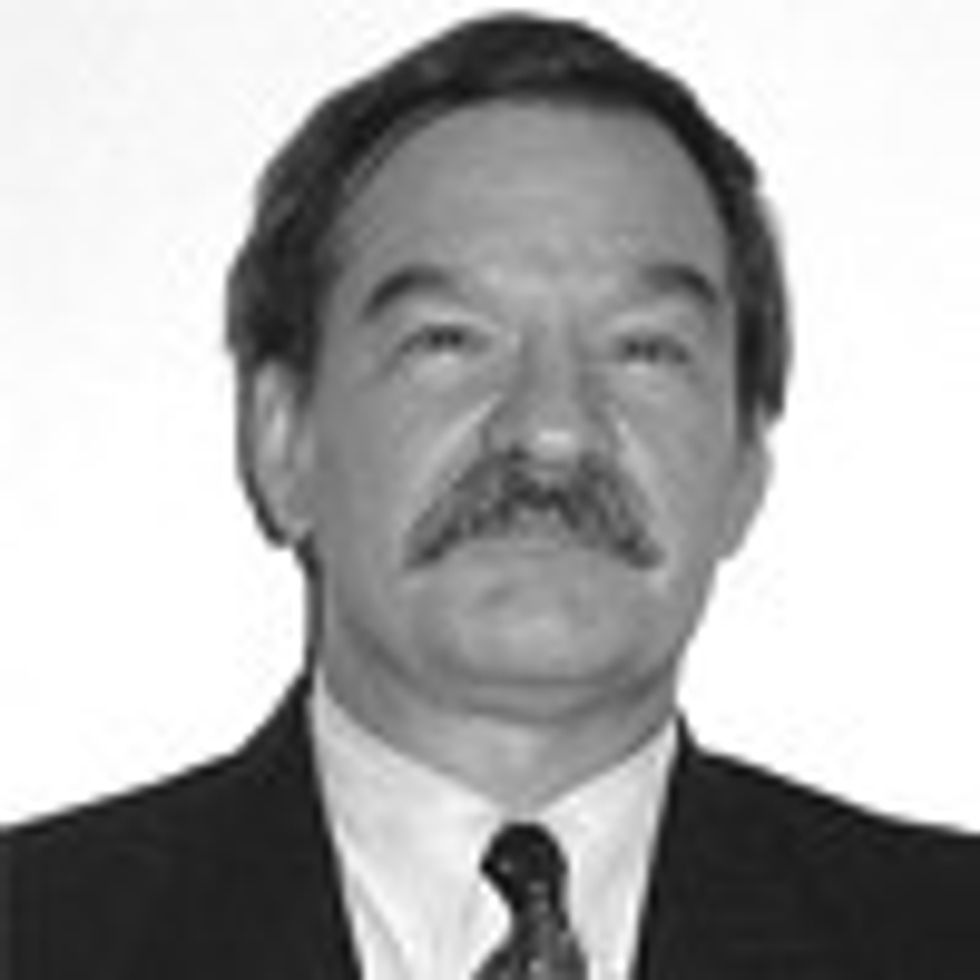 About 7 months ago I wrote An Open Letter to Naomi Klein, a column raising questions about how Naomi, in her excellent book "This Changes Everything," took the position that what is most significant about the deepening climate crisis is that it "could form the basis of a powerful mass movement ... to protect humanity from the ravages of both a savagely unjust economic system and a destabilized climate system. I have written this book because I came to the conclusion that climate action could provide just such a rare catalyst."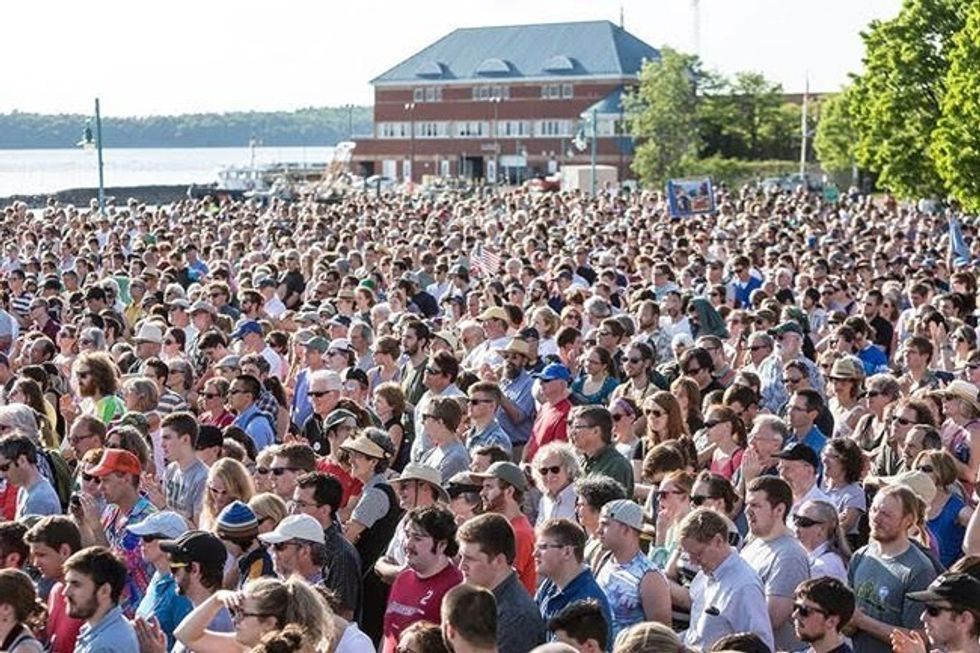 Elsewhere she wrote, "climate change can be a People's Shock, a blow from below. It can disperse power into the hands of the many rather than consolidating it in the hands of the few."
I didn't and still don't disagree with the need to build a mass movement to fundamentally transform that "unjust economic system," not at all. I've been part of those and related efforts—like anti-racism and anti-war—for decades and continue to be part of them. The concern I have is that we, humanity, have a very real time limit when it comes to slowing, stopping and reversing the climate crisis. There are climate tipping points which, if passed, will make it extremely difficult, if not impossible, to stop an escalating series of environmental, social and economic breakdowns worldwide, no matter what kind of economic system we have, capitalist, socialist or something else.
I've been thinking again about these questions as a result of a couple of recent developments. One is the very hopeful and positive development of the Bernie Sanders' campaign for president, which is effectively linking issues of economic injustice, illegitimate ultra-rich-guy power and the climate crisis. The other was an article, "Want to fix the climate? First, we have to change everything," published in early April on Grist.
The Grist article was about the launch of The Next System, a project endorsed by a pretty broad cross-section of people "that seeks to disrupt or replace our traditional institutions for creating progressive change." Gar Alperowitz is the leader of this effort. In the article he is interviewed, and a couple of the things he said caught my attention. One was where he talked about how we had to think in terms of "three or four decades" as far as making institutional change. When asked this question in response to that position—"Of course, with climate change, there are many who will contest that we don't have decades to build the next system"—his response was:
What happens when they push that argument is people think that it's not going to happen. The trends are going to continue to get worse before they get better and there's going to be a lot of loss. As a realist, we're going to see a lot of damage and destruction, and we've got to build whatever we can—a combination of adaptation and command-and-control. The conversation's changed. It used to be, "It's got to be done now and if not, then the world will explode." Now, it's more, "You know we're not going to get it done tomorrow, so we have to do the best we can, otherwise it's going to get worse."
Alperowitz's position is different than Klein's. Klein appreciates the immediacy of the climate crisis in a way that he does not. Throughout her book she talks about us having "years," "a few years," not Gar's "decades." Yet their positions are similar in that both see the need for fundamental transformation of the economic system as either a prerequisite for stabilizing the climate or something which must go hand in hand with that process.
The Bernie Sanders for President campaign has brought a whole new lens on these issues. The campaign has taken off since Bernie announced a month or so ago. Hundreds of thousands of people have contributed. Thousands of people are coming out to some of his events in Iowa, and he's had a strong showing other states as well. He is coming up in the polls as Hillary Clinton goes down. And this is happening because he is effectively and consistently making the connections between key issues.
The Bernie for President campaign is a mass people's movement for fundamental change of the political and economic system and for strong action to be taken now to get off fossil fuels and onto the jobs-creating, efficiency and renewables path.
It seems to me that the successes so far of the Sanders campaign strengthen Klein's position. Sanders' success is a concrete manifestation of her view that the struggles for economic and climate justice must be and can be linked. I wonder if she sees the Sanders campaign that way.
I know that some activists who see themselves as more radical than Bernie—and who indeed are—or who don't believe in electoral politics may have difficulty appreciating the importance of what is happening with his campaign. It has immense potential to shake things up in the most positive of ways and to create openings for the progressive movement that would not exist without it. I hope some people will re-think their positions.
This doesn't mean that constructive criticism of Bernie's campaign is uncalled for. Just recently the United Electrical Workers Union, which has worked closely with Sanders for years, came out with a statement supporting him but also urging him to be more outspoken on issues of war and peace. The issues section of his website lists only three issues: income and wealth inequality, getting big money out of politics, and climate change and environment. Clearly, this needs to be filled out in a whole range of issue areas.
What about the Sanders campaign and the climate movement?
I think it is strategic for climate activists to support or become involved with the Sanders campaign, but I don't believe that everyone should drop what they're doing to become active in it. There are lots and lots of specific struggles and campaigns underway that need continuing focus and work—no Keystone XL pipeline, no Shell drilling in the Arctic, stop fracking and FERC's rubberstamping of fracking infrastructure, stop mountaintop removal, no offshore drilling along the Atlantic coast, for state support of renewables targets, for a price on carbon, no TPP or Fast Track, etc. These campaigns must continue to be built. After all, Bernie Sanders is certainly a long shot as far as winning the presidency, and even if his odds improve, which I think is likely, the need is great for a focused climate movement that is independent and able to bring pressure on whomever is in a position of power.
Our situation is critical. Most climate scientists think we still have time to reverse this insane path toward societal and ecological devastation, but the window is closing. It is difficult to see how we can avoid full-on climate catastrophe if major steps are not taken this decade to undercut the power of the fossil fuel industry so that rapid progress can be made toward an energy efficient and renewable energy-based economic system.
Is this possible? I think it is, given the growth, breadth and deep roots that the climate movement has built in the last decade or so. The turnout of hundreds of thousands of people for the People's Climate March last September in NYC, with hundreds of companion actions worldwide, is the clearest indicator of this fact. The Sanders campaign is tapping into that movement and helping to propel it forward.
It's a good time to be alive and active; the movements are rising.
YOU MIGHT ALSO LIKE
Hillary Clinton: Climate Change Is 'One of the Defining Threats of Our Time'
Pope Francis's Encyclical Could Have Bigger Impact Than the Paris Climate Talks, Says NASA Scientist
House Kills TPP Fast-Track, Huge Blow to Corporate-Friendly Trade Agenda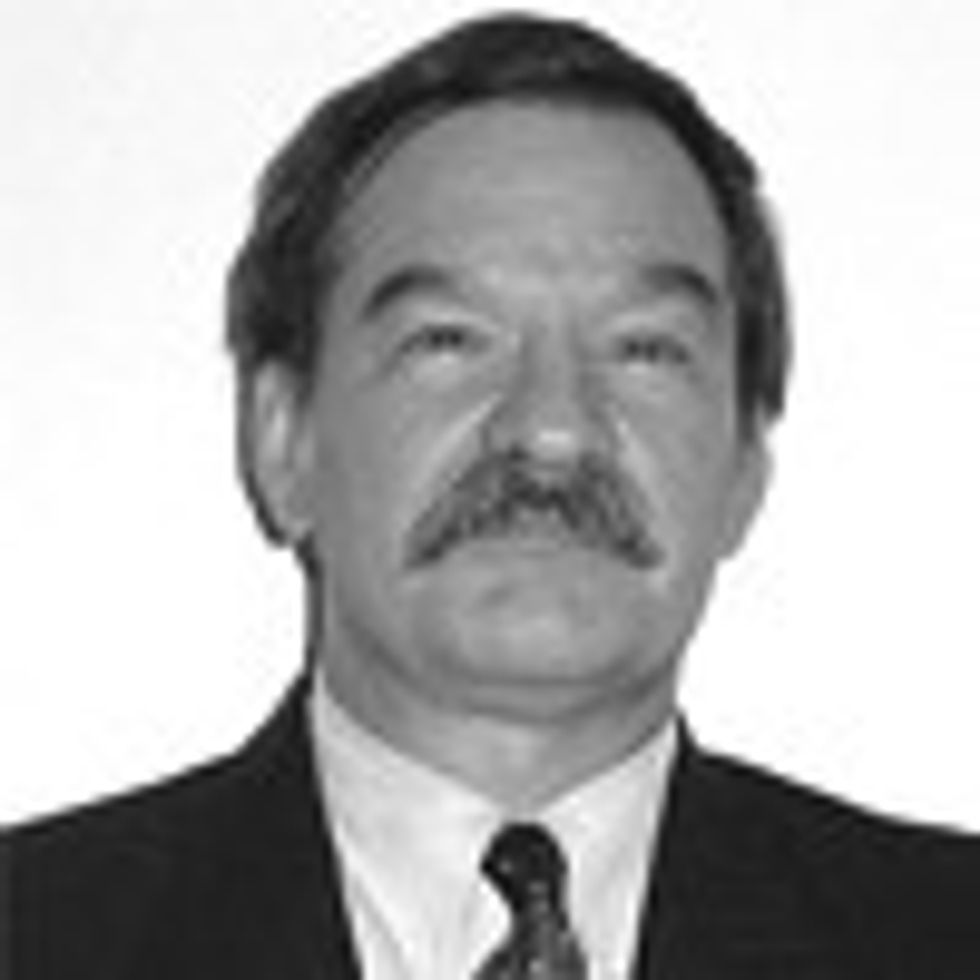 "Stop the #FERCus" was the theme of the 10 days of action in Washington, DC and Calvert County, Maryland, which ended yesterday, and that was the main focus, no doubt about it, but it was about so much more. These 10 days of action and organizing were all about building community—a community taking action and interacting with one another and with others in a way which builds people power.
Fight against #fracking rolls on at Stop the #FERCus , sit-in continues overnight. Much gratitude to all @BXEAction pic.twitter.com/19I01h6EoR

— Bill McKibben (@billmckibben) May 28, 2015
45 years ago when I was young and new to progressive activism, "building power" wasn't a phrase I remember hearing. "Taking power" was, however. For many of us, the realities of systemic oppressive power we experienced through our involvement in the civil rights, black liberation, anti-war, women's, gay/lesbian rights or other movements of that time led us to see the need to take power away from the rich white men who were pulling the strings behind the scenes if we were to have any chance of building a truly democratic and just society.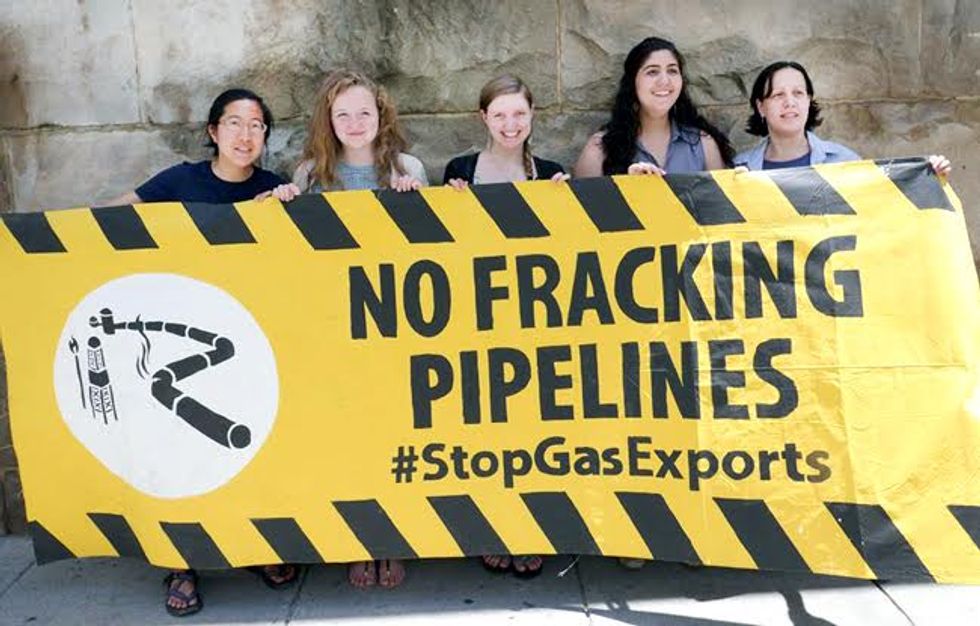 I continue to believe that. The power and wealth of those rich white men has only gotten worse over all those years, as have obscene inequality and the climate and broader environmental crises. But the experiences of May 21-30 have made me see more clearly why "building power through building community for power" is a much sounder way to frame a key aspect of the historic task before us.
Thanks to @BXEAction for supporting @DCDivest this morning. Stop the #FERCus Friday morning: http://t.co/5lc3wsagM7 pic.twitter.com/csv1su6RZV

— DC Divest (@DCDivest) May 28, 2015
What took place over these 10 days to prompt these reflections? From May 21-29 Beyond Extreme Energy (BXE) took action in Washington, DC focused on FERC, the Federal Energy Regulatory Commission, the most powerful federal agency most people have never heard of. And on May 30th Calvert Citizens for a Healthy Community, We Are Cove Point and other groups organized a spirited and strong six-mile march of close to 200 people through Calvert County in opposition to the building of a massive and dangerous gas export terminal at Cove Point.
Calvert County March to #SaveCovePoint #nolngexports #fracking @nolngexports @wercovepoint @ccan @jlstewct pic.twitter.com/1pLE0HUrYI — BeyondExtremeEnergy (@BXEAction) May 30, 2015
BXE is a new, growing national network of 70 organizations focused on fighting extreme energy extraction in general and, right now, the "gas rush" expansion of fracking infrastructure which FERC is actively enabling. FERC is a rubber stamp for the gas industry as it moves to expand fracking and to build export terminals to ship that fracked gas around the world. Here are some of the highlights of our 10 days (for more info go here):
Demonstrating in the rain on Capitol Hill and at the Department of Energy against proposed Fast Track trade legislation

Loudly sitting in inside the lobby of the Department of the Interior to protest its decision allowing Shell to start drilling in the Arctic

Creating "The United States of Fracking," a 50-foot long, colorful, emotionally moving banner with 16 panels depicting what the fracking gas rush is doing to us, illustrated by Seth Tobocman

Participating in a well-received anti-oppression training led by long-time progressive leader George Friday

Blocking heavily traveled North Capitol Street right behind the FERC building and just a handful of blocks away from the U.S. Capitol building. This was done via the raising up of a 20-foot high tripod for over an hour on the first workday after the Memorial Day weekend

Occupying (FERCupying) the sidewalk in front of FERC for almost 72 straight hours, leading to many positive and supportive discussions with people passing by

Witness Wednesday: a two-hour silent vigil of 75 people in the hot sun on the FERC sidewalk led by Rabbi Mordechai Liebling, followed by an inspiring interfaith program of speakers with lots of wonderful music led by Unitarian minister and singer Fred Small

Deploying to great effect the FERC-GAS-GO-ROUND, a carousel creation of movement artist extraordinaire Kim Fraczak depicting the revolving door between FERC leaders and employees and the oil and gas industry they are supposed to be regulating

Impacting, or inspiring, a huge percentage of FERC employees, perhaps as many as 90 percent on at least one day, to not report for work on the days we took action, or at least until we left

Briefly flooding the lobby of the building where Spectra Energy has its DC office, the building lobby and the office of the American Natural Gas Alliance, and the lobby of fracking-ad-carrying National Public Radio

Hearing supportive horn-honking and words of support from dozens and dozens of cars passing us during our Calvert County walk while experiencing just a very few hostile comments or gestures
These were the main actions which took place over these 10 days. It was possible to do them all because of the kind of personally supportive and participatory and love-filled culture which undergirded decision-making. This culture affected how we dealt with differences or conflicts and how we interacted with others on the street, including the Federal Protective Services police.
How did this gas get passed? Good question. Stop the #FERCus #SaveCovePoint pic.twitter.com/HkkMGDapFU — Chesapeake Climate (@CCAN) May 30, 2015
One of the concepts George Friday spoke about in her anti-oppression training was the concept of "the strategic use of privilege." As far as our interactions with the police, this concept is relevant. The vast majority of participants in Stop the #FERCus were of European descent. This influenced how the police reacted to us, although it wasn't just the white skin of most of us. It was also our level of organization, our nonviolent discipline (which, from all I saw and heard, was 100 percent effective) and our willingness to talk in a respectful if upfront way with the police when we needed to. It is no small thing that we were able to manifest this positive culture throughout 10 very intense and often stressful days of pretty kick-ass actions. They're connected; without that culture of support and love, we would not have maintained the unity and organic discipline which we did.
The united states of #fracking. Stop the #FERCus #Communicide #banfrackingnow @FANG_Together @SEED_Action @mazafratz pic.twitter.com/pugHX4N9v1 — BeyondExtremeEnergy (@BXEAction) May 26, 2015
And so we built community to build people's power, and we showed that power. FERC employees who couldn't get in the building or who stayed away felt it. So did the Federal Protective Services police who couldn't help but smile when they saw the FERC-GAS-GO-ROUND and heard the new verses to "pop goes the weasel" with the final line being, "FERC is the weasel." So did NPR management whose response to our loud flooding of their lobby was to send police to threaten us with immediate arrest if we didn't immediately leave. So did the employees at the American Natural Gas Alliance who moved away from their desks and left a lone guy to keep saying, "you have to leave," in response to our statements and our chants. Then there is the unknown person who was supportive of what we were doing who ended up by accident in the elevator with our ANGA "delegation" who used his electronic key to allow our delegation to get into ANGA's 8th floor office.
Beyond Extreme Energy is feeling its power right now, and as we said loudly to anybody inside the FERC building who was there on our last day, "we'll be back." In our final debrief Friday on the sidewalk across from FERC, a number of ideas about what we should be doing going forward were put forward. We will be reaching out to frontline groups, BXE endorsers and other allies as we figure out next steps. We will be considering how we might relate to several initiatives that have been undertaken for actions in late summer and fall in the lead-up to the UN Climate Conference in Paris in December. We welcome input and look forward to figuring out together our next steps to Stop the #FERCus and build a strong climate justice movement. Si, se puede!
YOU MIGHT ALSO LIKE
12 Must-See Food Films That Will Inspire You to Take Action
Ted Cruz Continues to 'Coddle' His Fossil Fuel Funders in Wake of Deadly Texas Floods
Neil Young Blasts Starbucks for Supporting Monsanto and GMOs in Rock Anthem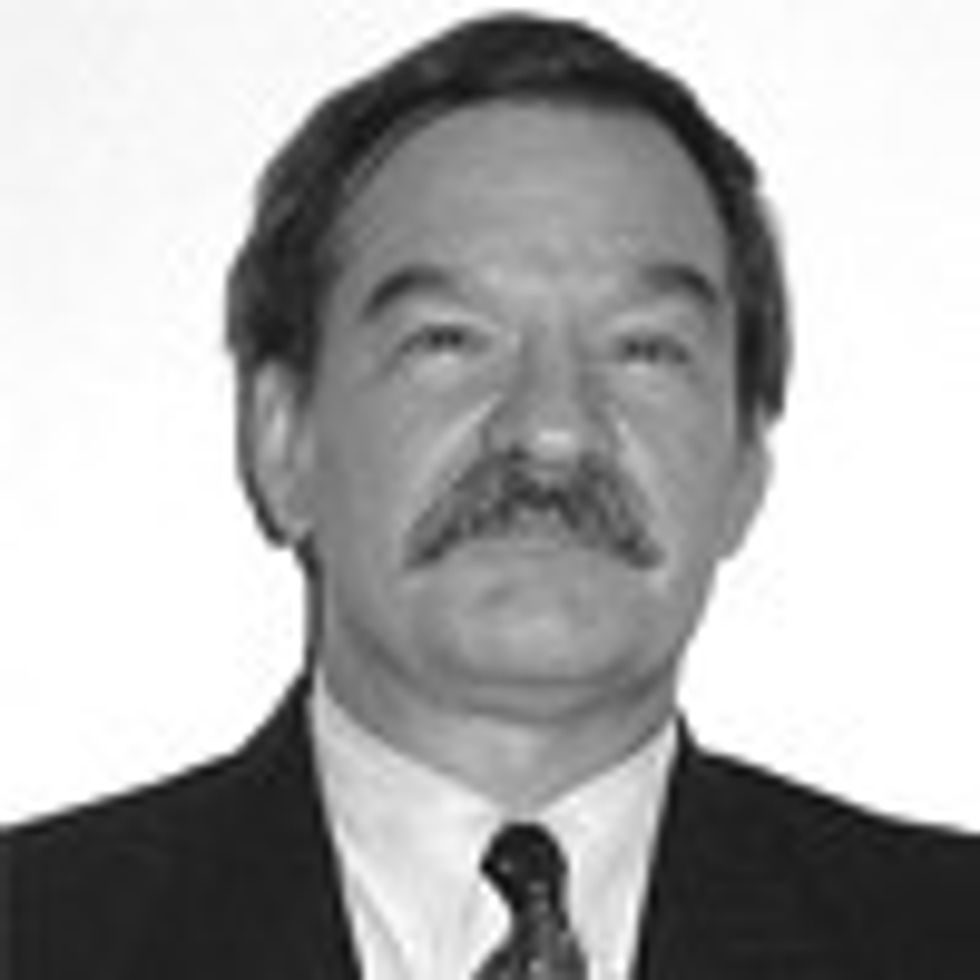 "If someone is upset with fracking, they should probably talk to the states." —Norman Bay, Chairman of the Federal Energy Regulatory Commission (FERC), May 14, 2015
Why protest? Why demonstrate? Why nonviolent direct action? Part of the reason is to put pressure on those in power to smoke them out, to get them to say things publicly they might otherwise not say, to expose the truth about how and why things are working the way they are.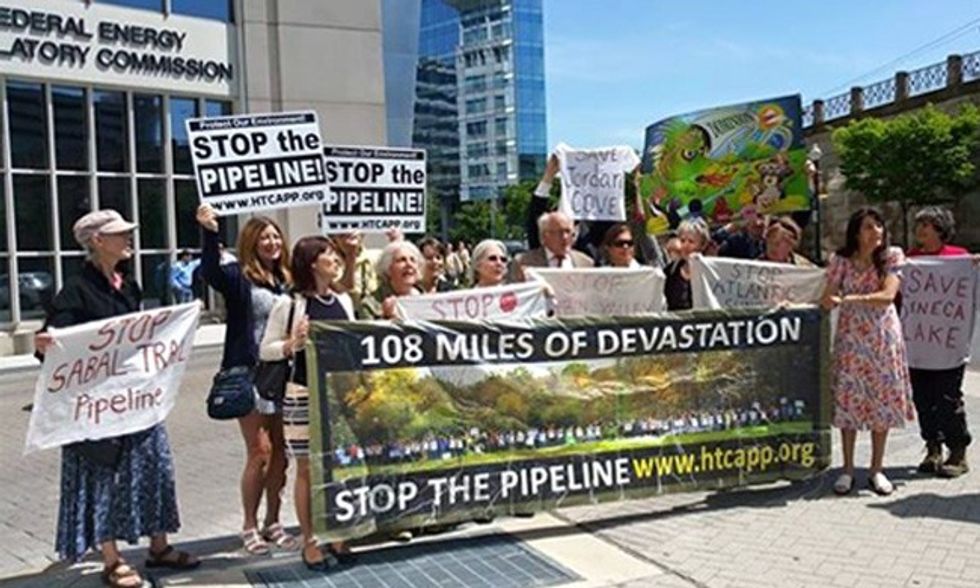 FERC has more to do with fracking than any other federal agency, and much more than any one state. They approve interstate pipelines to carry fracked gas, compressor stations to push the gas along, storage terminals to store it and, for the last two years, export terminals to ship it around the world. Without this infrastructure, fracking wouldn't be happening.
Norman Bay is not stupid. He knows this. And yet, because FERC has been a target of nonviolent direct action for more than 10 months, organized by Beyond Extreme Energy (BXE), and because BXE is planning a return to FERC from May 21-29, he has been thrown off, saying and doing things that have not been helpful to resolve "the situation" they are now in.
Bay made this ridiculous statement on the day that FERC had its monthly public meeting. But it was not held on the regular third Thursday of the month that it has been held for years and years. Bay and his fellow FERC Commissioners canceled it because of a disingenuous concern, they said, for "the safety of FERC staff and the public" in the face of BXE's publicly-announced plans to take nonviolent action at FERC on that day.
To add insult to injury, on May 14, the day that this meeting was rescheduled, dozens of members of the public were kept from the room where the "public" meeting was held, six were detained by Federal Protective Services police and three were arrested.
I was contacted by a reporter after this action, wanting to know why BXE was engaged in this campaign, where it came from. I proceeded to explain to him that it had emerged out of years of experience by lots of grassroots people trying to get a fair hearing from FERC concerning pipelines, compressors and storage and export terminals being proposed for their communities. These are people who played by FERC's rules, going to the one public meeting attended by FERC staff to learn about the proposed project, becoming an official "intervenor," presenting well-researched arguments against proposed infrastructure projects, filing large numbers of comments with FERC, appealing a FERC decision within the FERC administrative process and the results were always the same: FERC approval of what the gas industry wanted.
Many of us who had never heard of FERC, now understand that it is a rubber stamp for the fossil fuel industry.
A month ago a story, Employees negotiate for industry jobs under agency's eye, published by E&E's Greenwire and written by Hannah Northey and Kevin Bogardus, reported on the corrupt, internal FERC culture which explains FERC's rubber-stamping ways:
"Employees at the Federal Energy Regulatory Commission have deep ties to the industry they regulate, according to agency documents detailing their job negotiations and stock holdings.
"Ethics records throughout 2014 show agency staff seeking employment with grid operators, law firms and utilities that the agency has jurisdiction over and often meets with as it sets new orders and rules. In addition, FERC employees have held stock in or remain part of pension plans from companies that can be affected by the agency's work. Greenwire obtained the 88 ethics documents under the Freedom of Information Act.
"The disclosures reflect how FERC, which oversees the interstate transmission of electricity and permitting of gas infrastructure, is regulating an industry that many of its staffers are well-suited for and often courted to work in."
This corruption, this washing of hands of any responsibility for the massive harms of fracking and its threat to the climate, is why hundreds of people are planning to participate over the course of BXE's May 21-29 Stop the #FERCus actions. FERC is rattled. It's time to ratchet up the pressure.
YOU MIGHT ALSO LIKE
Koch Brothers Claim Another State in War on Renewables
Victory! University of Washington Divests from Coal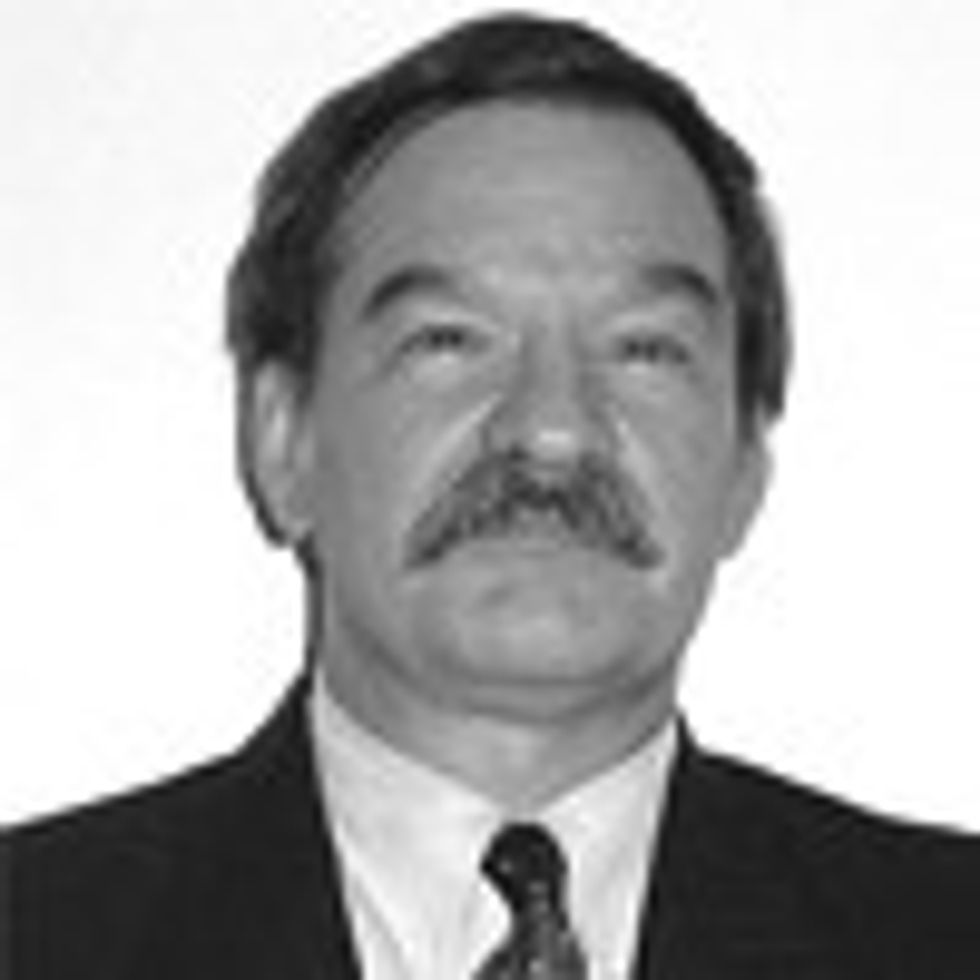 From the time I walked yesterday into the FERC building—that's the Federal Energy Regulatory Commission, the most powerful and dangerous federal agency most people have never heard of—things felt and looked different.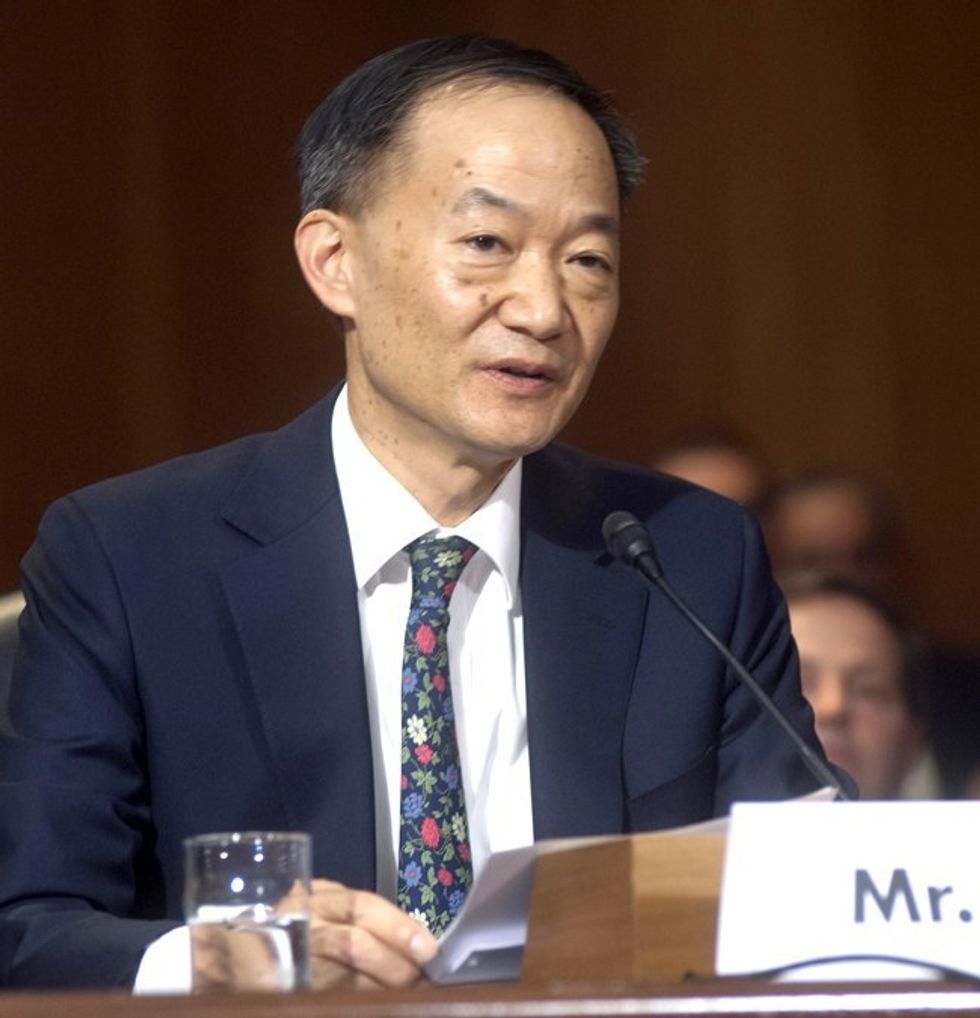 Unlike most of the other FERC commissioners, Norman Bay does not have an extensive background of work with or for the fossil fuel industry. Photo credit: Flickr
First were the cops. There are always FERC security personnel at the front entrance, but it seemed like there were twice as many yesterday as I'd ever seen before in past visits. In addition, and ominously, there were also a couple of Department of Homeland Security/Federal Protective Services police prominently stationed where they could not be missed.
Then there was the atmosphere in the auditorium where the five FERC commissioners were soon going to be having their monthly meeting. There was a noticeable tenseness, a lot less smiles, more uptight FERC staff faces than I've seen before, and this was about my seventh time at one of these monthly meetings.
Of course, it is true that last month during the March meeting Beyond Extreme Energy did what has never before been done inside FERC: a loud and boisterous, though nonviolent, sit-in. I suppose they had reason to be uptight wondering what we were going to do yesterday.
Yesterday was day one of Norman Bay's tenure as Chair of FERC. It was also the sixth straight monthly meeting where Beyond Extreme Energy has had a visible presence, calling them out for their rubber-stamping of permits for the gas industry to expand its fracking infrastructure—pipelines, compressor stations, storage terminal and export terminals. Our activities since last summer, combined with the growing and inspiring resistance in frontline communities to this tsunami of infrastructure expansion, led then-Chair Cheryl LaFleur in late January to publicly call attention to the "situation" that FERC now has.
Bay has an interesting background. Unlike most of the other FERC commissioners, he does not have an extensive background of work with or for the fossil fuel industry. Prior to coming to FERC in 2009 he was a federal prosecutor in U.S. Attorneys' offices in DC and New Mexico and a professor of law at the University of New Mexico Law School. Since 2009 he has been the director of enforcement at FERC, and his record seems somewhat hopeful.
U.S. Senator Diane Feinstein said of Bay's work that "(his) market oversight unit at FERC has taken significant actions to crack down on the type of Wall Street energy speculation and market abuse that led to the energy crisis and allowed traders to rob American consumers and darken cities. He has used authority that I worked to pass in 2005—prohibiting fraud and manipulation in electricity and natural gas markets—in order to catch major financial institutions manipulating California's electricity markets."
And in explaining his opposition last summer to Bay being named as FERC chair, Republican Senate leader Mitch McConnell said, "There are factors that lead us to believe that Mr. Bay would reliably serve as a rubber stamp for this administration's extreme anti-coal agenda."
When Norman Bay began speaking to open the meeting yesterday, Beyond Extreme Energy activists, one by one, six of us, spoke up from where we were sitting throughout the room. Using Bay's own words from a statement released the day before, we called for him to support "the public interest," not the interests of the fossil fuel industry. We also called for FERC to stop threatening the futures of young children, to stop its rubber stamping ways and for Bay to lead efforts to transform this industry-cozy, industry-financed agency.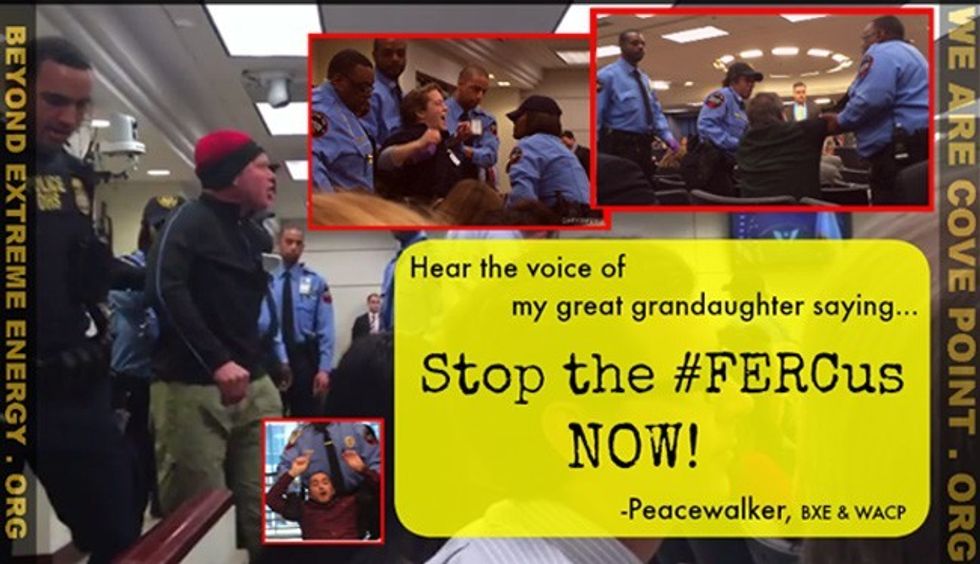 Six Beyond Extreme Energy activists were arrested after speaking out at the FERC meeting yesterday. Photo credit: Beyond Extreme Energy
As we each did so, Bay stopped speaking and let the ample security in the room move into the rows where we were sitting and drag us out of our seats and out of the building. None of us were seriously injured, but some of us were handled by Federal Protective Service police in a pretty tough way.
Next up for the movement to stop and transform FERC: the Beyond Extreme Energy FERCus, beginning on May 21st, the date of FERC's next monthly meeting, followed by stepping-it-up nonviolent but strong actions at their front doors every day they are open from then until May 29th. Let's do it!
Watch the video of the six activists calling on FERC to support the public interest:
YOU MIGHT ALSO LIKE
Maryland Passes 2.5 Year Fracking Ban
We Will Not Be Silent: Beyond Extreme Energy Continues Actions Against FERC