This website uses cookies to ensure you get the best experience while browsing it. By clicking 'Got It' you're accepting these terms.
By Tierney Smith
The Great Barrier Reef is under siege from climate change and coal, with scientists confirming that 93 percent of the world heritage area is now suffering from severe coral bleaching.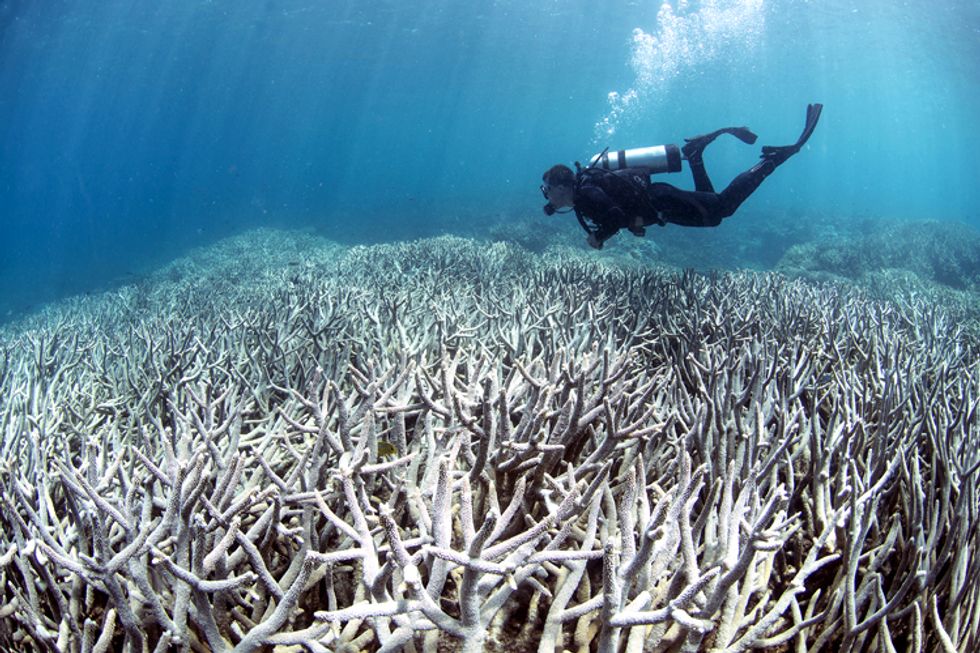 Photo credit: XL Catlin Seaview Survey
The unprecedented event, caused by climate change warming the ocean, is being called "an environmental assault on the largest coral ecosystem on Earth." Only around 50 percent of the impacted corals are expected to survive, and in some areas, only a mere 10 percent may recover.
So heavy is the toll, 56 scientists have once again called on the Australian government to phase out coal, and are taking ever greater message to their warnings are heard. The expansion of Australian coal is already having dire impacts on the Reef, and will continue to drive the climate impacts that are killing Australia's famous heritage site.
Yet despite the government's willingness to pick up the phone about the parlous state of the reef, they seem unwilling to acknowledge that it's way past time Australia ditched coal.
Key Points:
This vital ecosystem can be saved, but it will take extraordinary effort. The Great Barrier Reef is one of the world's most diverse ocean habitats, it generates more than $5 billion in tourism revenues and employs nearly 70,000 people. Despite this, the Australian government has recently approved a massive new coal mine in Queensland that will threaten the reef and see the country's emissions skyrocket. Only an end to coal expansion and exports will allow Australia to adequately protect the Reef.
Governments must favor coral over fossil fuels. The world is in the midst of a global coral bleaching event on scale with the worst ever bleaching on record and scientists warn dire predictions made on coral decline could now be realized. As leaders look to re-affirm their commitment to tackling climate change, they can show they are serious about protecting this vital marine ecosystem by urgently moving towards a fossil free and 100 percent renewable future.
YOU MIGHT ALSO LIKE
Largest Coral Atoll in the World Lost 80 Percent of Its Coral to Bleaching
Sardine Fishing Banned in Pacific Northwest as Stocks Hit Historic Low
Bill Nye vs. Sarah Palin on Climate Change: Who Do You Believe?
Scientists Start to Look at Ground Beneath Their Feet for Solution to Climate Change
The city of Copenhagen is set to become the latest recruit to the unstoppable divestment movement, with its plan to sell off the coal, oil and gas assets of its 6.9 billion Krone (€1.29 bn) investment fund.
EcoWatch Daily Newsletter
While investors and global leaders crunch numbers this week to stabilize the global economy, experts are offering hard-hitting numbers linking renewables to a prosperous future.
Just a few days ahead of the World Economic Forum in Davos, Switzerland, the International Renewable Energy Agency revealed that if the world doubled its current market share of renewable energy to 36 percent by 2030, global GDP could experience a boost of up to 1.1 percent.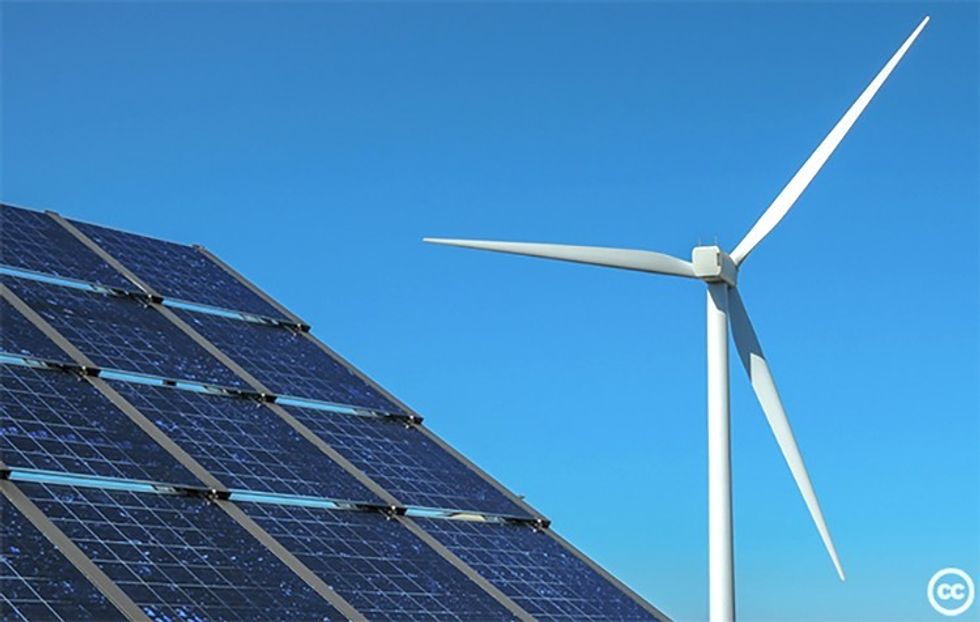 This figure would represent the equivalent of $1.3 trillion in growth—more than the combined economies of Chile, South Africa and Switzerland—and would put the "Paris climate goals within reach."
The findings come as new figures show renewables investments hit a new high last year with China and the U.S. topping the table.
Yet other regions are falling behind and could risk missing out: former clean energy leader Europe saw renewable investment fall to an eight-year low; and Australia is still turning a blind eye to the millions of potential jobs created and hundreds of billions of fossil fuel import dollars saved through renewables.
Despite efforts to stagnate the ongoing transition towards a renewables-only future, upcoming Davos meetings could act as a turning point for world leaders, setting apart those who are ahead of the curve and those who aren't.
Key Points
Fossils are falling, but not fast enough. During last month's Paris climate meetings, world leaders agreed to widen the way for a clean, safe future. While the momentum encapsulated in the Paris Agreement is in the process of "implementation and action," replacing fossil fuels with renewables swiftly will allow the world to benefit from an energy transformation that protects millions of lives, creates new jobs, saves billions of dollars and tackles energy poverty.
YOU MIGHT ALSO LIKE
62 Richest People on Earth Own the Same Wealth as Half the World's Population
12 Experts Comment: What Oil Below $30 Means for Efforts to Tackle Climate Change
Half of U.S. Fracking Industry Could Go Bankrupt as Oil Prices Continue to Fall
Renewables Saw More Money Invested and More Capacity Added in 2015 Than Ever Before