By Tierney Smith
The Great Barrier Reef is under siege from climate change and coal, with scientists confirming that 93 percent of the world heritage area is now suffering from severe coral bleaching.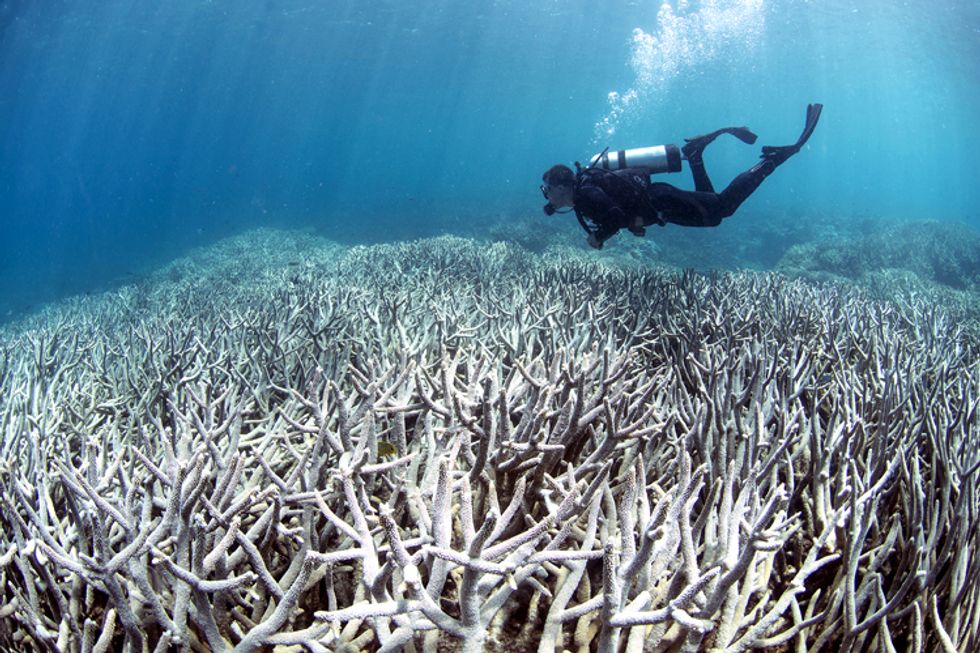 Photo credit: XL Catlin Seaview Survey
The unprecedented event, caused by climate change warming the ocean, is being called "an environmental assault on the largest coral ecosystem on Earth." Only around 50 percent of the impacted corals are expected to survive, and in some areas, only a mere 10 percent may recover.
So heavy is the toll, 56 scientists have once again called on the Australian government to phase out coal, and are taking ever greater message to their warnings are heard. The expansion of Australian coal is already having dire impacts on the Reef, and will continue to drive the climate impacts that are killing Australia's famous heritage site.
I showed the results of aerial surveys of #bleaching on the #GreatBarrierReef to my students, And then we wept. https://t.co/bry5cMmzdn

— Terry Hughes (@Terry Hughes) 1461095312.0
Yet despite the government's willingness to pick up the phone about the parlous state of the reef, they seem unwilling to acknowledge that it's way past time Australia ditched coal.
Key Points:
This vital ecosystem can be saved, but it will take extraordinary effort. The Great Barrier Reef is one of the world's most diverse ocean habitats, it generates more than $5 billion in tourism revenues and employs nearly 70,000 people. Despite this, the Australian government has recently approved a massive new coal mine in Queensland that will threaten the reef and see the country's emissions skyrocket. Only an end to coal expansion and exports will allow Australia to adequately protect the Reef.
Governments must favor coral over fossil fuels. The world is in the midst of a global coral bleaching event on scale with the worst ever bleaching on record and scientists warn dire predictions made on coral decline could now be realized. As leaders look to re-affirm their commitment to tackling climate change, they can show they are serious about protecting this vital marine ecosystem by urgently moving towards a fossil free and 100 percent renewable future.
YOU MIGHT ALSO LIKE
Largest Coral Atoll in the World Lost 80 Percent of Its Coral to Bleaching
Sardine Fishing Banned in Pacific Northwest as Stocks Hit Historic Low
Bill Nye vs. Sarah Palin on Climate Change: Who Do You Believe?
Scientists Start to Look at Ground Beneath Their Feet for Solution to Climate Change
EcoWatch Daily Newsletter
The city of Copenhagen is set to become the latest recruit to the unstoppable divestment movement, with its plan to sell off the coal, oil and gas assets of its 6.9 billion Krone (€1.29 bn) investment fund.
The Danish capital will join a movement worth more than $3.4 trillion worldwide, following Norway's capital Oslo and non-European cities such as Newcastle, Australia, as well as more than 500 institutions, universities, banks, companies and thousands of people, who have already pulled their money out of dirty energy.
With fossil fuels recognized as high-risk, volatile, toxic investments, the Paris Agreement signaling global recognition of the inevitable transition to clean energy and renewables booming and boosting economies worldwide worldwide, Copenhagen may be the latest ambassador for the divestment movement, but it will not be the last.
Key Points
The divestment movement is growing across the world. What started with a few U.S. universities has grown to become the fastest growing divestment movement in history, representing $3.4 trillion in assets. Yet the fossil fuel sector is still being funnelled vast amounts of public money. The faster governments move to end their association with fossil fuels and phase out subsidies, the sooner the final nail will be in the coffin of polluting and harmful coal, oil and gas.
Divesting from fossil fuels makes economic sense and is a "moral imperative." Experts like the Bank of England's Mark Carney have warned of the risks of tying money up in coal, oil and gas, and the G20's Financial Stability Board is putting together a new global task force to track climate-related financial risk. Finances aside, keeping polluting, harmful fossil fuel behemoths afloat is simply not compatible with a safe, healthy future.
To reap the rewards of renewables, ambitious and steady EU policy is crucial. As investors flee fossil fuels, renewables are booming in much of the world: at the Paris climate summit major projects were announced from India's "solar alliance" to Africa's plan to reach 300GW of renewables by 2030. Europe, the former clean energy front-runner, risks missing out on huge investments unless it ensures it has stable and ambitious climate and energy policies.
YOU MIGHT ALSO LIKE
World's First Solar-Powered Jacket Keeps You Warm All Winter Long
How Much Energy Does It Take to Power Your Everyday Life?
The Rooftop Solar Wars Continue
This Tesla-Loving Superstar Is Helping Power Africa With Solar
We narrow down the best installers in the Empire State.
Reviews
When you think of New York, it's doubtful you'd picture solar panels lining the tops of urban buildings, but the Empire State is actually a top state for solar energy in the U.S. If you're thinking about going solar, the best first step to make is to find the best solar companies in New York and compare quotes.
It may surprise you to learn that the state of New York actually has more solar companies than Texas, the number two state for solar. Progressive leadership has laid the foundation for a market very encouraging of solar's growth, and a large number of top solar companies are looking to capitalize on it.
For most home or business owners considering solar power, the choice of which company to choose often comes down to costs. To start getting quotes from the best solar companies in New York, you can use this tool or fill out the form below.
Our Picks for Top New York Solar Installers
SunPower
SUNation Solar Systems
EmPower Solar
Tesla
Kasselman Solar
Momentum Solar
Harvest Power Solar
Brooklyn SolarWorks
SunCommon
Plug PV
Comparing the 10 Best Solar Companies in New York
How We Chose the Best Solar Companies in New York
We researched the product portfolios, solar services, financing options, customer feedback and industry reputations of every major New York solar installer. Using this methodology, we rated and ranked each company to narrow down and rank our picks for the top solar companies in New York.
Choosing the Best Solar Installer for Your Home
Everyone's needs are different when it comes to solar, so what may be the best solar company for your neighbor might not be right for you. Give these factors some thought and place more emphasis on what will meet your home's needs when choosing the best company for your installation:
Services Offered
To start, due to the unique range of needs of home and business owners in New York, a variety of solar installers focus on different services. For instance, Brooklyn SolarWorks focuses more exclusively on downtown roofs, which are typically flat and have needs different than a larger home in Long Island. Think about what makes your home or business unique — and find a company that prioritizes those needs. Other things to consider might be whether you need electrical upgrades, EV chargers or backup power.
Installation Process
Before you sign any paperwork, make sure you're confident in knowing how the installation process will look. How long before the installation day will happen? How many days will it take? What is my utility company's net metering policy? Permitting and interconnection can vary from city to city, so it's best to be sure you're familiar with the process.
Solar Pricing and Financing
Solar energy systems are a great investment — one that takes planning and time to mature. Think about whether you might need special financing options if your budget is tight. Any of the best solar companies in New York should be able to assist you in applying for the federal solar tax credit, but specific financing options and flexibility will vary from provider to provider.
Industry Affiliations
We generally recommend hiring a company that maintains industry credentials, such as membership in the Solar Energy Industries Association (SEIA), a B Corp certification or affiliation with other professional associations. Memberships and certifications are a great indicator of the company's professionalism, workmanship, reputation and reliability.
Types of Panels
Some types of solar panels are better than others, and each company will offer a slightly different product portfolio. Small homes in more dense cities will likely need high-efficiency solar panels, while homes with more space might opt for a sleek design. It can't hurt to ask what brands of panels your company has available, and why they might recommend each. Certifications from some of the best solar panel brands like Panasonic, LG or SunPower might also be a good indicator of legitimacy.
Incentives, Rebates and Tax Credits
New York State has a variety of solar incentives that can vary by city, county and utility. Though effective, these incentives can be complex, and finding a solar installer that knows the ins and outs of local policy may provide the best overall value in the long run. It's best to think locally here. Does the company you're looking at have plenty of experience in your community? This will be important.
Warranty
Finally, we recommend finding an installer that offers a good warranty. Solar panels are incredibly tough, but things happen. The best warranties will last 25 years and cover the equipment, workmanship and performance of your installation.
Cost of Solar in New York
As of 2022, our market research and data from top brands show the average cost of solar panels in New York is around $2.95 per watt. This means a 5-kW system would cost around $10,927 after the federal solar tax credit is applied. Keep in mind that a 5-kW system is about the minimum size for most homes.
New York State also offers a variety of solar incentives to help offset the cost of your system. These incentives have spurred the growth of solar in New York to new highs in 2021, pushing to over $7 billion of total investment. Under the right circumstances, New York's solar incentives are capable of offsetting nearly half of the aggregate system installation costs.
| | |
| --- | --- |
| New York Solar Incentive | Incentive Description |
| NY-Sun Megawatt Block Incentive | This statewide incentive provides direct financial incentives for solar installations on a per-watt basis, meaning the larger your installation, the more financial support you'll receive. |
| Solar Energy System Equipment Credit | New York residents are entitled to claim a tax credit equal to 25% of your qualified solar energy system equipment expenditure (limited to $5,000). |
| Sales Tax Exemption | New York residents don't have to pay the state's 4% sales tax on qualified solar equipment. |
| Net Metering | Standard net metering is available to most New York residents through 2022. Throughout 2022, New York will begin enrolling its solar customers in a net metering alternative aimed at easing utility costs. |
How to Find the Best Solar Installer in New York
Sorting through the large number of New York solar installers can seem challenging, but this actually presents a great opportunity for New York home and business owners. Unlike a number of other states, solar customers are far more likely to find a company that tailors to their local needs.
The large number of solar companies in New York also gives solar customers the opportunity to shop competing offers against each other, sometimes securing thousands of dollars during the process. Remember, these companies are competing for you.
To start getting free quotes from the best solar companies in New York, use this tool or fill out the form below.
Best Solar Companies New York: FAQs
Who is the most reputable solar company in New York?
The most reputable solar company in New York will depend heavily on your individual needs. New York may be the toughest state to answer this question in due to the wide variety of unique needs stemming from metropolitan, suburban and rural areas of the state.
Is solar in New York worth it?
As long as you have the right roof, solar in New York is typically well worth it. Rather than the sunshine being the main factor behind solar's value, in New York, solar incentives are what make the switch worth it. Between the Megawatt Block incentive, federal tax credit and solar energy system equipment credit, New York homeowners can offset nearly 50% of their project costs.
How do I find a reputable solar company in New York?
One of the best ways to find a reputable solar company in New York is to compare free quotes from a number of installers. When comparing these quotes, or getting on-site consultations, you can find the best offer for your needs. Refer to our guide on finding local solar installers near you to learn more about reading and interpreting solar proposals.
Karsten Neumeister is a writer and renewable energy specialist with a background in writing and the humanities. Before joining EcoWatch, Karsten worked in the energy sector of New Orleans, focusing on renewable energy policy and technology. A lover of music and the outdoors, Karsten might be found rock climbing, canoeing or writing songs when away from the workplace.
While investors and global leaders crunch numbers this week to stabilize the global economy, experts are offering hard-hitting numbers linking renewables to a prosperous future.
Just a few days ahead of the World Economic Forum in Davos, Switzerland, the International Renewable Energy Agency revealed that if the world doubled its current market share of renewable energy to 36 percent by 2030, global GDP could experience a boost of up to 1.1 percent.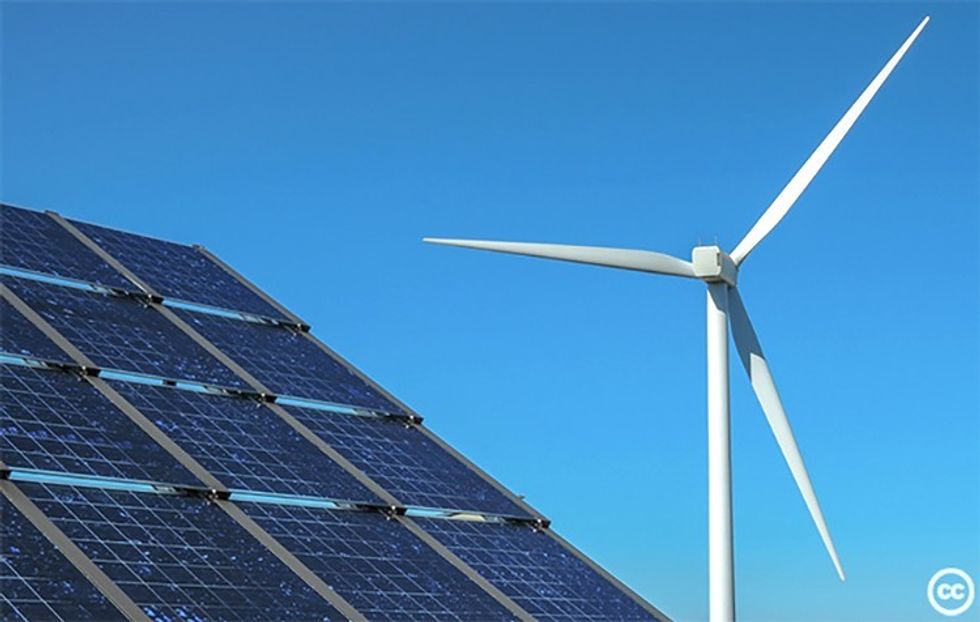 This figure would represent the equivalent of $1.3 trillion in growth—more than the combined economies of Chile, South Africa and Switzerland—and would put the "Paris climate goals within reach."
The findings come as new figures show renewables investments hit a new high last year with China and the U.S. topping the table.
Yet other regions are falling behind and could risk missing out: former clean energy leader Europe saw renewable investment fall to an eight-year low; and Australia is still turning a blind eye to the millions of potential jobs created and hundreds of billions of fossil fuel import dollars saved through renewables.
Despite efforts to stagnate the ongoing transition towards a renewables-only future, upcoming Davos meetings could act as a turning point for world leaders, setting apart those who are ahead of the curve and those who aren't.
Key Points
Fossils are falling, but not fast enough. During last month's Paris climate meetings, world leaders agreed to widen the way for a clean, safe future. While the momentum encapsulated in the Paris Agreement is in the process of "implementation and action," replacing fossil fuels with renewables swiftly will allow the world to benefit from an energy transformation that protects millions of lives, creates new jobs, saves billions of dollars and tackles energy poverty.
YOU MIGHT ALSO LIKE
62 Richest People on Earth Own the Same Wealth as Half the World's Population
12 Experts Comment: What Oil Below $30 Means for Efforts to Tackle Climate Change
Half of U.S. Fracking Industry Could Go Bankrupt as Oil Prices Continue to Fall
Renewables Saw More Money Invested and More Capacity Added in 2015 Than Ever Before