The world's cities are growing rapidly and in 2050 two thirds of the global population is expected to reside in urban areas, compared to 50 percent today. That puts pressure on infrastructure, energy supply and housing capabilities in a global climate that is poised to become hotter and less predictable. The challenges become even more complex considering that climate change does not affect urban dwellers equally, with low-income households and poor neighborhoods being particularly vulnerable.
Just out today: #Cities100 showcases 100 leading #ClimateAction solutions in 60+ #cities. Check it out→… https://t.co/BoVUsYHN1G

— Sustainia (@Sustainia)1479217905.0
Yet, some cities are using climate action as an opportunity to simultaneously address systemic social challenges. Seoul, the capital of South Korea and Tshwane, in South Africa, are just two cities with solutions featured in this sector which readily demonstrate how climate action and social development can go hand in hand.
Seoul's Energy Welfare Public-Private Partnership Program, for example, seeks to provide cheaper and more reliable power to low-income households, while creating jobs for disadvantaged job seekers. The program trains and employs socially vulnerable workers as energy consultants who assess energy performance and potential savings in poor communities. The program is partly funded by peak hour energy savings from municipal buildings.
The Tshwane Food and Energy Centre provides cooperative farming opportunities and self-sustaining renewable energy generation to an underprivileged community. The 25 cooperative farms allow small-scale farmers to ensure their own food security, earn income from food sales and produce on-site clean energy.
Now in its second year, Cities100 is produced in partnership between Sustainia, C40 and Realdania. It features 100 city solutions, ranging from solid waste management to transportation, that show how cities are blazing a path towards climate adaptation and mitigation.
"Faced with climate change, making our cities fit for the future is not just a matter of survival, but also presents us with an important opportunity to address social inequality," Mark Watts, executive director of C40, said. "I am inspired to see so many cities taking strong and urgent action."

The publication comes during COP22, when government officials are gathered in Marrakech to put into force the Paris agreement—the most extensive and ambitious agreement on climate action the world has ever seen. Cities will undoubtedly have a huge role in keeping temperatures from rising. Morten Nielsen, managing director for Sustainia, commented, "As we enter into the climate negotiations at COP22, the solutions presented in Cities100 show that climate action is already happening, often in nimble and collaborative ways that do not rely on the will of national governments. By addressing climate action in tandem with social equity, it's clear that cities have a major role to play in shaping global sustainable development."
Jesper Nygaard, CEO of Realdania, is confident that cities are up for the challenge, he said, "Cities and local governments are at the forefront of climate change. This year's Cities100 clearly shows that mayors will not sit idly by when they are faced with climate change, rising inequality and slowing economic growth. I am impressed at the scale of action and it fills me with optimism when I see holistic action provide multiple benefits to citizens, cities and climate.
EcoWatch Daily Newsletter
Sustainia and the UN Global Compact announced Monday a unique global partnership that is committed to building the world's biggest interactive platform for sustainable solutions. The Global Solutions Platform aims to inspire global companies to develop new products, business models and partnerships that can help reach the UN Sustainable Development Goals.
Sustainable solutions can be found in every corner of the globe. From solar-powered water purification to sneakers made from plastic waste, they all make our world a cleaner, greener and fairer place. Unfortunately, they are fragmented and often poorly understood.

In response to this challenge, UN Global Compact and Sustainia have announced a new strategic partnership which is committed to creating the world's biggest virtual showroom, putting sustainable solutions just one click away.
The Global Solutions Platform is designed to be the go-to place for business leaders seeking connections and inspiration, for investors seeking new opportunities and for authorities in need of credible private partners. The full platform will launch in early 2017.
"The Global Solutions Platform will be a global focal point for product and business model innovation. It empowers business leaders and entrepreneurs to take leadership in this new landscape which demands solutions to global challenges," Erik Rasmussen, CEO of Sustainia, said Monday.
Sustainia brings more than five years of experience in the solutions sector to this new partnership. Since 2012, the company has worked extensively to identify the most promising sustainable solutions and global trends, presented each year in its flagship publication, the Sustainia100. These are solutions that turn food shortages into effective agriculture, unemployment into targeted education programs and digital jobs, and polluted cities into sun-powered, green metropolises. In five years, more than 4,500 solutions have come onto Sustainia's radar and these solutions will provide the initial foundation for the ambitious new platform.
100 Solutions to the World's Most Pressing Challenges https://t.co/uWNArM6K7H @Sustainia @richardbranson @Schwarzenegger @sierraclub @NRDC

— EcoWatch (@EcoWatch)1465308491.0
Support from leaders worldwide

According to a 2016 UN Global Compact-Accenture study, 87 percent of global CEOs believe that the UN Sustainable Development Goals represent an essential opportunity to rethink approaches to sustainability. A further 49 percent of CEOs claim that sustainability issues are already part of board-level discussions and express the need for integrating sustainability into their strategic planning. Therefore, the new platform will bridge growing awareness of the UN Sustainable Development Goals with the practical solutions business leaders need in order to implement their sustainability plans.
The announcement was made at the UN Global Compact Private Sector Forum, an annual event attended by senior business leaders in order to further business action on sustainable development. The full platform will be rolled out in the spring and will be supported by a global solutions campaign that will give business leaders an opportunity to submit their sustainable solutions for inclusion.
What are the best solar installers in the Garden State?
Reviews
nattrass / E+ / Getty Images
New Jersey may not jump off the page as a top state for solar energy, but its attractive solar-related financial incentives have prompted over $10 billion in solar investments statewide. If you're a homeowner looking to take advantage of the many benefits of solar in the Garden State, read on to see our top 10 picks for the best solar companies in New Jersey.
Our Top Picks for New Jersey Solar Installers
SunPower
Green Power Energy
New Jersey Solar Power
Solar Energy World
Impact Solar, LLC
Green Sun Energy Services
Trinity Solar
PlugPV
Cape Fear Solar Systems
Solar Me
For many residents of New Jersey, the cost of solar is the biggest factor in choosing an installer. We recommend shopping around to get multiple quotes and comparing them to find the best installer for your home. To get started with free, no-pressure quotes from pre-screened solar panel companies in your area, fill out the form below.
10 Best Solar Companies in New Jersey
In a state with such effective solar incentives, it's important to choose a solar provider that knows the ins and outs of local energy policies. This way, you can make sure you get the most value out of your investment in solar. With this in mind, here are our choices for the best solar companies in New Jersey:
Choosing the Best Solar Installer for Your Home

Now that you have an idea of some of the best solar New Jersey solar installers, you may be wondering how to narrow down which one is right for you. Here are some key considerations to keep in mind when picking a solar energy company:
Services Offered
Of course, all solar companies can install solar panels on your roof. However, beyond this, there are a number of services you may be interested in. For example, do you want home energy monitoring, backup battery services, included routine maintenance or an EV charger installed with your panels? Some companies offer these services, and others do not.
Installation Process
Ask about the solar installation process during your initial consultation with a company. Be sure to get details about things like customization, whether a company uses subcontractors or in-house technicians and whether the company will be filing permits on your behalf. The answers you receive can help you gauge how knowledgeable and helpful your installer will be throughout the process.
Service Areas
With its effective incentive programs, New Jersey has become one of the best states for solar energy. As a result, many small local companies are breaking into the industry. One easy way to find the best solar installer near you is to use a zip code-specific quote tool, which will only show you results from your area.
Solar Costs and Financing
Cost, for many homeowners, is a deciding factor in the decision to hire one solar installer over another. We recommend comparing free quotes from a few companies and looking out for any available discounts. By getting multiple quotes, you may be able to save thousands of dollars on your installation — especially if the company you really want to work with has a price-match guarantee.
Another thing to consider is whether the company has the financing options you need, such as in-house solar loans or a solar leasing or power purchase agreement (PPA) program.
Solar Industry Affiliations
When choosing the best solar installer near you, look for certifications that show trustworthiness and a reputable status within the industry. For example, employing NABCEP-certified technicians or holding membership in the Solar Energy Industries Association (SEIA) are good signs of a reliable company.
Types of Panels
In your search for the best solar company, it helps to familiarize yourself with the different types of panels and products you want. If you have a smaller roof, finding a company with high-efficiency panels may be a good idea. If you have a specific solar panel or energy storage system in mind, you'll also want to ensure you pick a company that's certified to install that brand.
Solar Incentives and Rebates
Make sure to ask your solar provider about any and all solar rebates, tax credits and incentives available in your area. Any of the best solar providers will offer assistance in applying for the federal solar tax credit and net metering, but some may have more expertise in how to take full advantage of solar rebates, tax credits or other incentives available in your area.
Warranty
Solar panels have an average lifespan of about 25, and it's important that your installer ensures your system will continue to work efficiently through the years. Many solar providers offer a 25-year technology and workmanship warranty, but some warranties can be shorter. Ask about this on the front end so you're not stuck with defective panels down the road.
Cost of Solar in New Jersey
Based on market research and data from top solar panel brands, we found the average current cost of solar in New Jersey to be around $2.77 per watt. Using this average, we can calculate that after applying the federal solar tax credit, a 5-kW solar panel system would cost around $10,249 and a 10-kW system would cost around $20,498.
Any of the best solar companies in New Jersey will be able to advise you on incentives and solar tax exemptions to reduce your overall project costs. However, it's a good idea to be familiar with these on your own, too. Here's a rundown of New Jersey solar incentives:

New Jersey Solar Incentive
New Jersey Solar Incentive Overview
Net Metering
New Jersey offers a robust net metering program that gives solar panel owners credits for the unused electricity generated by their panels. These credits can be used to pay for energy you pull from the grid at night.
Solar Sales
Tax Exemption
New Jersey residents do not have to pay the state's 6.625% sales tax on solar panels or other eligible solar equipment.
Solar Property
Tax Exemption
Installing solar panels boosts your property value in New Jersey, but the state doesn't require you to pay any additional taxes that would typically come with home add-ons.
Transition Renewable Energy Certificates (TRECs)
TRECs allow homeowners to receive cash payments or utility bill credits for all renewable energy their panels generate.
Final Thoughts
If you're a New Jersey homeowner interested in solar, you're in luck. New Jersey has served as a model for most other states in its use of effective incentives to foster the growth of clean energy. But with solar's popularity in the state, it can be tough to sift through growing lists of providers looking to capitalize on the solar industry's growth.
This is why we recommend you get quotes from several competing New Jersey solar companies. Not only can you see what costs and benefits each will offer in its proposals, but you can ensure you receive the maximum value for your purchase. Solar is a significant investment, but one of the best you can make.
To start getting free quotes from the best solar companies in New Jersey, fill out the 30-second form below.
Karsten Neumeister is a writer and renewable energy specialist with a background in writing and the humanities. Before joining EcoWatch, Karsten worked in the energy sector of New Orleans, focusing on renewable energy policy and technology. A lover of music and the outdoors, Karsten might be found rock climbing, canoeing or writing songs when away from the workplace.
The 2016 Sustainia100 is out today and this year's solutions provide a glimpse into a global business landscape that is seizing a world of opportunities that arise from the UN's newly adopted Sustainable Development Goals (SDGs).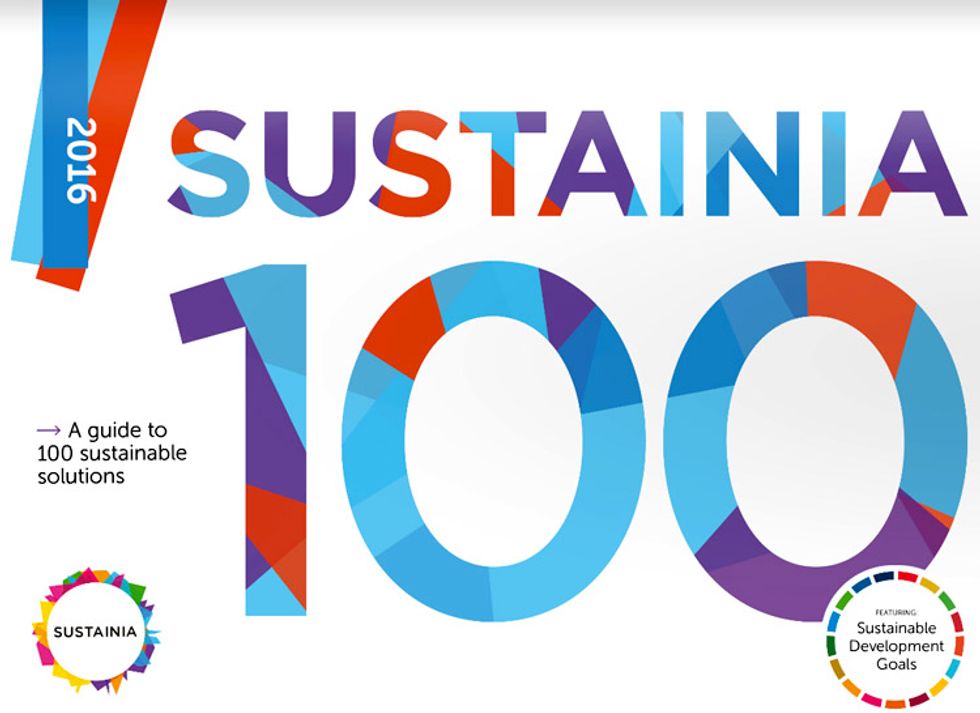 Get ready for an inspirational round-the-world trip to the 100 most innovative, available, scalable and sustainable solutions to the world's most pressing challenges. From health solutions that tackle climate change to renewable energy products that alleviate gender inequality, this year's Sustainia100 sets out the most outstanding solutions which respond to the interconnected global challenges addressed through the Sustainable Development Goals.
According to our findings, this is the year of "systemic opportunity" with more businesses around the world acknowledging the business case for solving global risks.
"The term 'systemic' often brings to mind intractable problems, such as systemic poverty or systemic corruption. The global goals give us focus and pace, so we think it's time to reclaim the word and talk about systemic opportunity, instead. The Sustainia100 shows us that the most compelling and successful solutions tackle multiple challenges and global goals, in one go," Morten Nielsen, managing director of Sustainia, explained.
The Sustainia100 is the fifth of its kind, behind which sits a database of more than 4,500 solutions from all over the world. This year's edition features solutions deployed in 188 countries and more than half come from the SME sector.
In her foreword to the Sustainia100, Lise Kingo, the executive director of United Nations Global Compact, reflects on the pace and direction set by the Sustainable Development Goals:
"The Sustainia100 offers us 100 reasons to be hopeful and inspired as we embark on this 15 year journey. The innovative thinking needed to accomplish the SDGs by 2030 already exists today. Now our task is to spread the word about these transformative solutions in order to help them scale and inspire new actors to take part in forging the path to a more sustainable future."
Since 2012, the Sustainia100 has tracked the rise of the circular economy, big data, leapfrog technologies, climate resilience and community action as some of the most defining trends within sustainable action. In 2016, the publication highlights four new trends that stem from the solutions identified.
Morten Nielsen continued: "The trends we've noted point to this new era of systemic opportunity. You can readily see this in the way that cities are becoming health facilitators or the disruption of the time-old electric grid, as just two great examples of big shifts in opportunity-spotting. It's exciting to see global markets respond favorably to this new landscape of sustainable action."
Here are the 100 solutions:
YOU MIGHT ALSO LIKE
Cleveland Soon to Be Home to the Nation's First Offshore Wind Farm in Fresh Water
The Book the Fracking Industry Doesn't Want You to Read
New Solar Loan Program Now Available in 14 States
Dubai to Build World's Largest Concentrated Solar Power Plant
More than a thousand experts, NGOs, opinion makers, media and politicians gather Thursday for the Copenhagen Fashion Summit—the world's largest event on sustainability in fashion. Jonas Eder-Hansen is development director at the Danish Fashion Institute and organizer of the summit. We asked him some questions about the big event and the state and future of sustainability in fashion.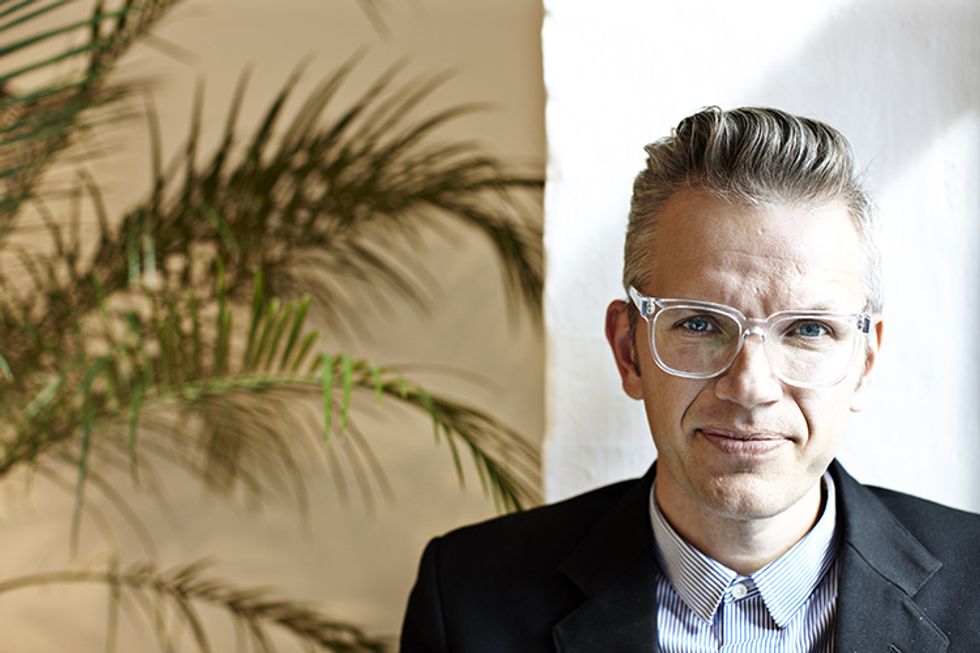 Q. This is the fourth Copenhagen Fashion Summit. What is special about this one?
Jonas Eder-Hansen: We have come a very long way! We have a lot more decision-makers among the participants now and they come from very different positions in fashion companies, representing everything from design and material sourcing to sales and marketing. International participants are up from around 40 percent in 2014 to more than 60 percent this time. In short, I think the summit finally has been able to attract more from the "mainstream" fashion community, not just the sustainability experts.
Q. This year's theme at the Copenhagen Fashion Summit is "responsible innovation." What does that concept mean to you?
Jonas Eder-Hansen: We work in one of the world's largest industries but also one of the most resource-intensive. As an industry we have to develop new business models and solutions that can solve the massive challenges we face. The world needs innovators who can lead the push towards a more sustainable economy. The fashion industry has the potential to be one such innovator, working proactively to address critical environmental, social and ethical challenges on a global scale.
Q. Many fast fashion representatives are attending the summit such as H&M, Adidas and Diesel. How can these big companies become more sustainable when their business models depend on people buying more clothes more frequently?
Jonas Eder-Hansen: The large brands and retailers are built on a linear economy in which we extract, process, consume and dispose. This is the foundation of modern society not just the fashion industry. It cannot change overnight, but the fashion industry is definitely moving towards a more circular economy. H&M's vision, for example, is 100 percent circularity. In 2015, some 1.3 million of its clothing were made with closed loop material—more than 300 percent compared to 2014. A company like H&M is well aware of the challenges and are committed to use its size and scale to become fully circular.
Q. So is the fashion industry, in general, ready to take a leap into a circular economy?
Jonas Eder-Hansen: We have to! According to studies from Ellen MacArthur Foundation there even is a major business opportunity here. Many brands and retailers are testing various take-back models and investing in recycling technologies, while governments and local authorities are piloting voluntary extended producer responsibility schemes. We are still far from a perfect solution, but the right actors are giving it so much attention that I really think we can succeed.
Q. One of the most inspirational speeches from last summit was Vanessa Friedman's presentation of the idea "sustainable wardrobe" in which we carefully select clothes that will stay with us for a long time. What are your thoughts on this? Is a sustainable wardrobe irreconcilable with the prosperity of the fashion industry?
Jonas Eder-Hansen: Not at all—I think there are a lot of companies already focused on craftsmanship, quality and sustainability who at the same time sell their products at a premium and have a very healthy revenue model. Yet, much more can be done from the industry to engage in a dialogue with consumers about the wear and care of their garments. This could lead to increased customer loyalty and brand building for companies. From a consumer perspective, we have probably become a bit too lazy to think about how we care for our clothes in a smarter way, such as washing in cold water, line drying instead of tumble drying etc. I think consumers could learn more about "wardrobe stewardship" to make their garments last longer.
Q. The Danish minister for foreign affairs is on the guest list for the summit along with other political figures. What role do politicians play in making the fashion industry more sustainable?
Jonas Eder-Hansen: There is so much governments can do. A few examples include: 1. integration of sustainable fashion curriculum into primary, secondary, university and vocational education and research, 2. standardization of product transparency disclosures and driving of consolidation of ecolabel(s) for fashion products and 3. exploration and testing of economic incentives (such as tariffs, deposits, etc.) to internalize social and environmental costs of consumption and production.
Q. What do you want people to take home with them after the summit?
Jonas Eder-Hansen: That we are on the right track towards a more sustainable fashion industry and that Copenhagen is the central place to discuss ambitions and visions for how we get there quicker.
Copenhagen Fashion Summit takes place May 12 at the Copenhagen Concert Hall with speakers such as H&M's Head of Sustainability Anna Gedda, founder & creative director at Eco Age Ltd. Livia Firth and EU commissioner for industry, Elzbieta Bienkowska. Learn more on copenhagenfashionsummit.com and follow the event on the summit's Facebook page.
Check out Sustainia's fashion series on Facebook and Twitter and discover some of the most groundbreaking sustainable fashion solutions in our Solutions100 publications.
YOU MIGHT ALSO LIKE
3 Reasons You Should Skip Fabric Softeners and Dryer Sheets
Will America's Love for Cheap Clothing Doom the Sustainable Fashion Movement?
Go From Bike to eBike in Under a Minute With the GeoOrbital
World's First and Only Sunglasses Made From 100% Reclaimed Fishing Nets
Sustainia and a worldwide alliance of companies and organizations have kick-started the Sustainia100 campaign, calling out across the world to help find the most inspiring solutions that are making our planet cleaner, greener and fairer for everyone.
Now in its fifth year, the Sustainia100 campaign has become a leading benchmark for sustainable action and a practical guide for the world's decision makers, investors and influencers. By identifying the top 100 from thousands of submissions, Sustainia will pinpoint the solutions which are readily available, making an impact and have the potential for scale.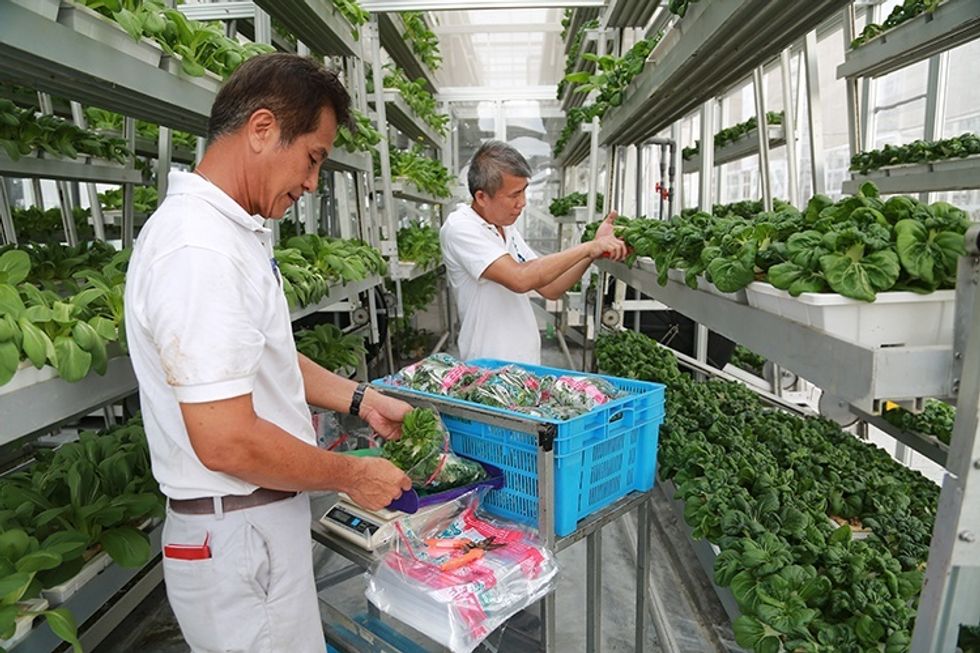 Previous years have highlighted innovations that readily demonstrate how hyper-local solutions can be readily adapted to resolve global concerns, such as unpatented solar powered hearing aids developed in Brazil, to bamboo bikes from Ghana. Last year's solutions alone were deployed in 151 counties in total, creating value for people, planet and profit.
"For the past four years, the Sustainia100 has tracked major global trends and paradigm shifts, all through the lens of practical, innovative solutions," Erik Rasmussen, founder of Sustainia, said. "It's emphatically clear to me that a sustainable future is within our grasp. The Sustainable Development Goals set in motion a new and critical timeline, which means we have just 15 years to get it right. We have no time to wait; the world needs your solutions, now."
The submissions window is open until March 2, after which the final 100 solutions will be presented in the Sustainia100 publication, published in summer 2016 and shared with a global network of thinkers, doers, movers and shakers. Anyone can submit a solution, whether they are directly involved or not, simply provided it meets the submissions criteria.
From Fish-Skin Leather to Closed-Loop Baby Wear, Consumers Are Choosing Sustainability
Last year's Sustainia100 2015 publication revealed that sustainable products and services were increasingly becoming the consumer preference, moving from the outside alternative to the affordable and convenient choice. From closed loop baby wear, to 3D printing plastic banks and fish-skin leather, the solutions from last year truly stretched our imaginations towards what is achievable.
Sustainability is something which exists in every part of our lives, which is why the submissions process is open across 10 major sectors, from the traditional to the contemporary. They encompass: buildings, food, fashion, transportation, IT, energy, cities, education, health and resources.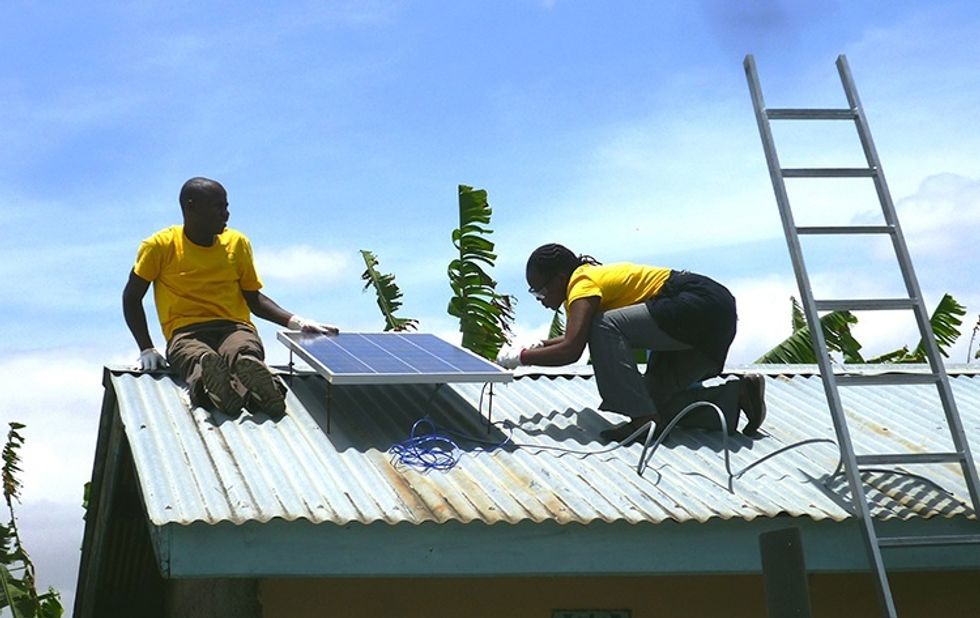 The Sustainia100 advisory board will help vet the submissions in order to highlight the top 100 and includes major global charities and research organizations such as World Wide Fund, Ellen MacArthur Foundation, United Nations World Food Program and Yale University. Later this year, the Sustainia award committee—which is chaired by former governor Arnold Schwarzenegger—will select the single most inspiring solution from the 100 included in the final report.
Inclusion in the Sustainia100 puts you at the center of the global Sustainia network that reaches out to all corners of the world. Your solution can help us reach our sustainable future.
Submit your own solution or tip us off about the ones you've seen in action.
Follow the campaign on @Sustainia and #100solutions
Want to Submit a Solution?
Solutions can be submitted here.
To be selected for the Sustainia100, a solution must excel on the following criteria: be ready and available, have a positive environmental impact, be financially viable, have the ability to improve quality of life and have scalability potential.
YOU MIGHT ALSO LIKE
IRENA: Doubling Today's Share of Renewables Would Boost Global GDP by $1.3 Trillion
Elephant Grass and Prairie Switchgrass: Second Generation Biofuels to Power American Cars
Elon Musk's Tesla Launches All-Vegan Car
Germany's Superhighway for Bikes Could Take 50,000 Cars Off the Road Every Day