I used to believe in trade agreements. That was before the wages of most Americans stagnated and a relative few at the top captured just about all the economic gains.
The old-style trade agreements of the 1960s and 1970s increased worldwide demand for products made by American workers and thereby helped push up American wages.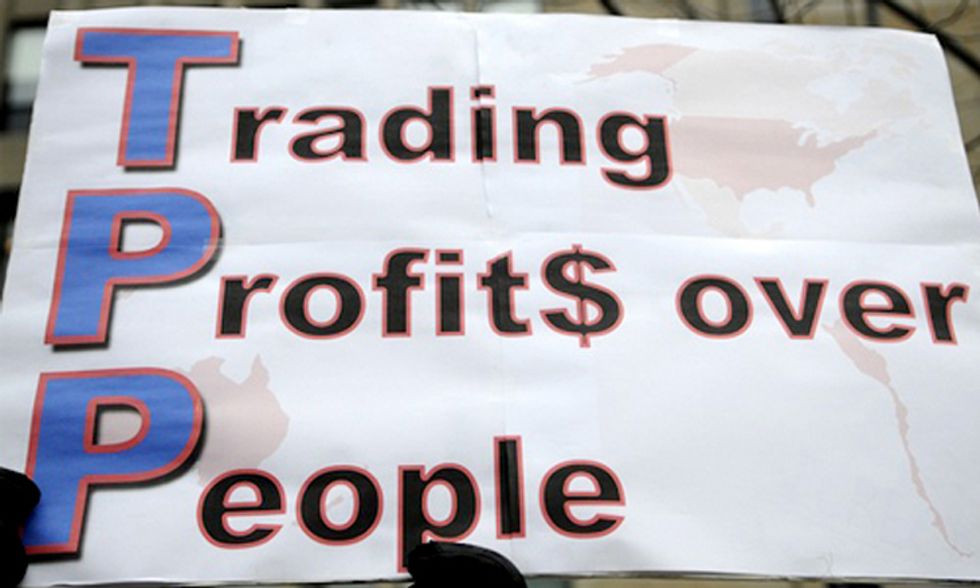 The new-style agreements increase worldwide demand for products made by American corporations all over the world, enhancing corporate and financial profits but keeping American wages down.
The fact is, recent trade deals are less about trade and more about global investment.
Big American corporations no longer make many products in the U.S. for export abroad. Most of what they sell abroad they make abroad.
The biggest things they "export" are ideas, designs, franchises, brands, engineering solutions, instructions and software, coming from a relatively small group of managers, designers and researchers in the U.S.
The Apple iPhone is assembled in China from components made in Japan, Singapore and a half-dozen other locales. The only things coming from the U.S. are designs and instructions from a handful of engineers and managers in California.
Apple even stows most of its profits outside the U.S. so it doesn't have to pay American taxes on them.
Recent "trade" deals have been wins for big corporations and Wall Street, along with their executives and major shareholders, because they get better direct access to foreign markets and billions of consumers.
They also get better protection for their intellectual property—patents, trademarks and copyrights—and for their overseas factories, equipment and financial assets.
That's why big corporations and Wall Street are so enthusiastic about the Trans Pacific Partnership (TPP)—the giant deal among countries responsible for 40 percent of the global economy.
That deal would give giant corporations even more patent protection overseas. And it would allow them to challenge any nation's health, safety and environmental laws that stand in the way of their profits—including our own.
But recent trade deals haven't been wins for most Americans.
By making it easier for American corporations to make things abroad, the deals have reduced the bargaining power of American workers to get better wages here.
The Trans Pacific Trade Partnership's investor protections will make it safer for firms to relocate abroad—the Cato Institute describes such protections as "lowering the risk premium" on offshoring—thereby further reducing corporate incentives to make and do things in the U.S., using and upgrading the skills of Americans.
Proponents say giant deals like the TPP are good for the growth of the U.S. economy. But that argument begs the question of whose growth they're talking about.
Almost all the growth goes to the richest one percent. The rest of us can buy some products cheaper than before, but most of those gains would are offset by wage losses.
In theory, the winners could fully compensate the losers and still come out ahead. But the winners don't compensate the losers.
For example, it's ironic that the administration is teaming up with congressional Republicans to enact the TPP, when congressional Republicans have done just about everything they can to keep down the wages of most Americans.
They've refused to raise the minimum wage (whose inflation-adjusted value is now almost 25 percent lower than it was in 1968), expand unemployment benefits, invest in job training, enlarge the Earned Income Tax Credit, improve the nation's infrastructure or expand access to public higher education.
They've embraced budget austerity that has slowed job and wage growth. And they've continued to push "trickle-down" economics—keeping tax rates low for America's richest, protecting their tax loopholes and fighting off any attempt to raise taxes on wealthy inheritances to their level before 2000.
I've seen first-hand how effective Wall Street and big corporations are at wielding influence—using lobbyists, campaign donations and subtle promises of future jobs to get the global deals they want.
Global deals like the TPP will boost the profits of Wall Street and big corporations and make the richest one percent even richer. But they'll contribute to the steady shrinkage of the American middle class.
YOU MIGHT ALSO LIKE
Big Food Found Guilty in Multimillion Dollar Cover Up in GMO Labeling Fight
Palm Oil Scorecard: Find Out Which Brands Are (and aren't) Helping Save Indonesia's Rainforests
Science and Politics Clash as Humanity Nears Climate Change Tipping Point
EcoWatch Daily Newsletter
Five reasons Ted Cruz is even more dangerous than Donald Trump:
1. He's more fanatical. Trump is a bully and bigot but doesn't hew to any sharp ideological line. Cruz is a fierce ideologue: He denies the existence of man-made climate change, rejects same-sex marriage, wants to abolish the Internal Revenue Service, believes the 2nd amendment guarantees everyone a right to guns, doesn't believe in a constitutional divide between church and state, favors the death penalty, opposes international agreements, embraces a confrontational foreign policy, rejects immigration reform, demands the repeal of "every blessed word of Obamacare" and takes a strict "originalist" view of the meaning of the Constitution.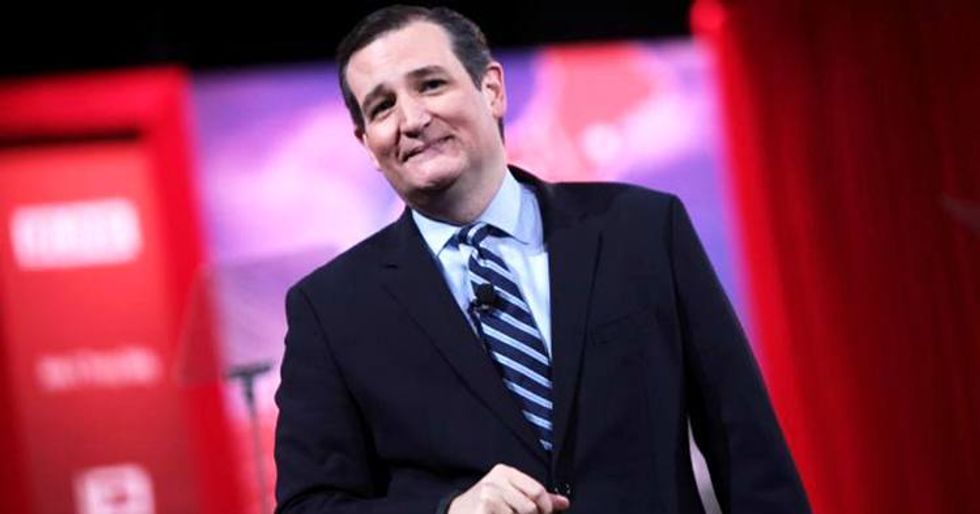 2. Cruz is a true believer. Trump has no firm principles except making money, getting attention and gaining power. But Cruz really does detest the federal government and has spent much of his life embracing radical right economic and political views. When Cruz said "we are facing what I consider to be the epic battle of our generation," he wasn't referring to jihadist terrorism but to Obamacare.
3. He's Smarter. Trump is no slouch but he hasn't given any indication of a sharp mind. Cruz is razer-sharp: It's not just his degrees from Princeton and Harvard Law, along with an impressive record at Harvard or even his winning arguments before the Supreme Court. For his entire adult life he's been a fierce debater with a intensely-logical debater's mind.
4. He's more disciplined and strategic. Trump is all over the place, often winging it, saying whatever pops into his mind. Cruz hews to a clear script and a carefully crafted strategy. He plays the long game (as he's shown in Iowa). Cruz's legal career entailed a sustained use of the courts to achieve conservative ends and he plots his moves carefully.
5. Cruz is a loner who's willing to destroy institutions. Trump has spent his career using the federal government and making friends with big shots. Not Cruz. Most of his Republican colleagues in the Senate detest him. And Cruz is eager to destroy: He has repeatedly crossed to the other side of the Capitol and led House Republicans toward fiscal cliffs. In the Fall of 2013, Cruz's strident opposition to Obamacare—including a 21-hour talking marathon—led in a significant way to the shutdown of the federal government.
Both men would be disasters for America, but Cruz would be the larger disaster.
What do you think? Comment below.
YOU MIGHT ALSO LIKE
Snow-Deprived Ski Industry Wants to Know What Ted Cruz Plans to Do About Climate Change
Bringing your own reusable grocery bags when you go shopping is one of the easiest ways to cut down on your plastic consumption — according to the UN Environment Program, up to 5 trillion single-use plastic bags are used globally each year.
The most sustainable option is to use a bag you already have, whether it's an old tote or a laundry basket (
thank TikTok for that idea
). You can also
make your own
reusable grocery bags out of T-shirts. But if you'd rather purchase designated reusable grocery bags, here are our recommendations.
<div class="redactor-editor" dir="ltr" placeholder="Start writing..." spellcheck="false"><p><em>Each product featured here has been independently selected by the writer. If you make a purchase using the links included, we may earn commission.</em></p></div>