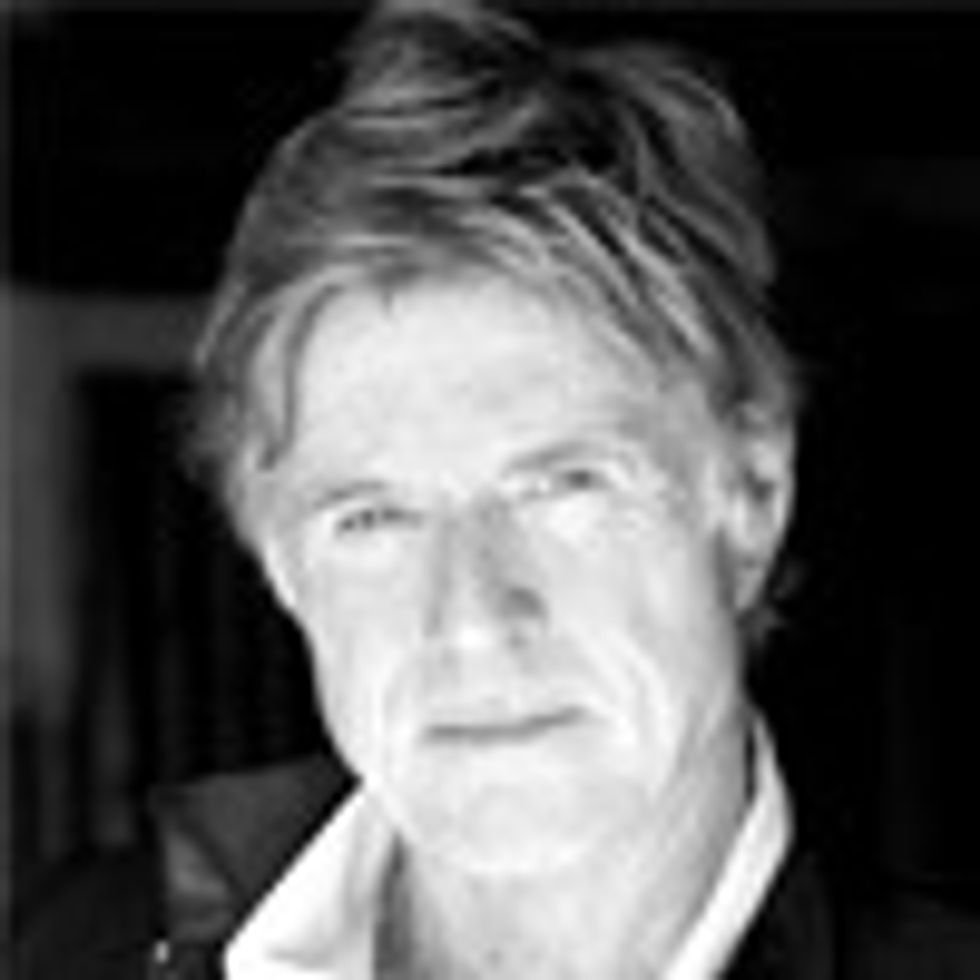 Pope Francis' address to Congress will go down in history as a day when the needle finally moved on climate change. The pontiff's timely message of more dialogue and less discord, respect for life in all of its stages, and a call to protect our common home was irrepressible and impossible to ignore. Sometimes you need a friend to tell you the truth. It took someone from outside the U.S. to come and remind us who we are—nd who we are supposed to be.
The choice has never been clearer. If we carry on polluting our planet with dirty energy, our children will pay the greatest price. Filthy air is already killing hundreds of thousands every year. Flooding, drought, wildfires and hurricanes—all you have to do is open your eyes to see the damage being done, and it's going to get worse.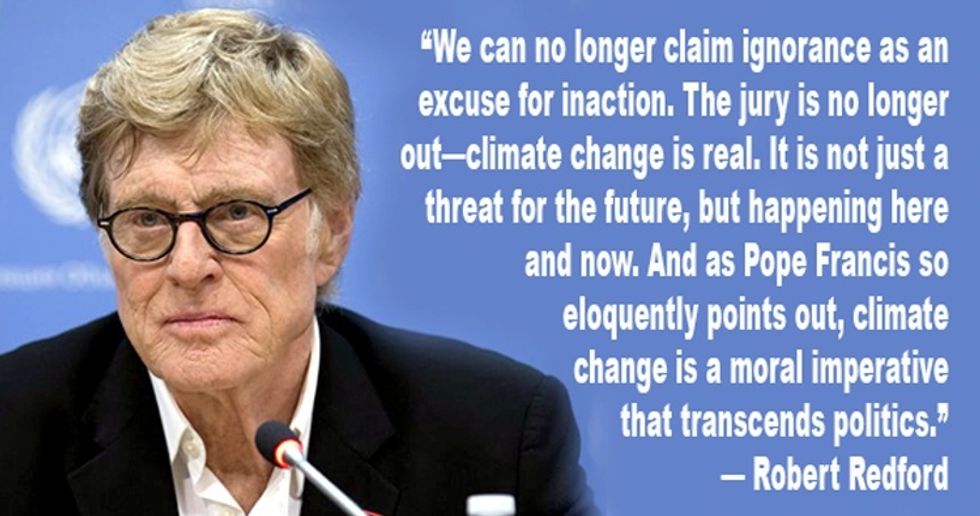 We can no longer claim ignorance as an excuse for inaction. The jury is no longer out—climate change is real. It is not just a threat for the future, but happening here and now. And as Pope Francis so eloquently points out, climate change is a moral imperative that transcends politics.
My sense of urgency is growing, but so is hope for the future. The clean energy revolution is taking off, creating a healthier future for all our families. California is on the front line of drought and wildfires, but it's also taking the lead in the race toward 100 percent renewable energy. The mayors of San Francisco, San Diego and San Jose are well on the way to this goal, and Los Angeles could soon join them. Some of the world's largest companies—Google, Apple and Facebook among them—are all committed to going 100 percent clean, investing billions every year to make this future a reality.
Fifty-five countries around the world already get most of their power from renewables. Villages across India and Africa are being lit up by clean energy. The business case is as strong as the moral argument, with the pope himself saying that fossil fuels need to be replaced "without delay." But while the dirty establishment still sings its siren song, bold leadership is needed to seize these opportunities.
This is the call of our generation. The Global Goals—signed at the United Nations last week – are a new universal declaration of rights for a world freed from the ravages of poverty, inequality and climate change. For the first time ever, they commit to the goal of "affordable, reliable, sustainable and modern energy for all."
Next in December, world leaders will meet in Paris to hash out a global treaty to prevent runaway climate change. More than fifty countries that are together responsible for the majority of global emissions have already submitted plans, and consensus is building around a goal to mark the beginning of the end of the fossil fuel era.
Citizens must make our voices heard—without public pressure, politicians can fall short. The Global Goals campaign is working to tell everyone about this vision of a new development path, and to help the world's seven billion people to hold our leaders accountable.
Decades ago, I made a commitment to myself to raise whatever small voice I had to make a change. Today we can join our voices around the world like never before and set the agenda for presidents and prime ministers.
But the most important action starts close to home. Most of us today live in cities, which account for more than 70 percent of global CO2 emissions, and are found mostly in vulnerable and coastal areas. Cities like Los Angeles, Paris and London can lead the way on climate change, and cities like Sydney, Stockholm and Bogota are already on the road to 100 percent clean energy.
Groups such as the Compact of Mayors are doing impressive work on everything from electric buses to eco-roofs and LED streetlights, reaping savings for their budgets and their inhabitants.
So here's my ask of you. Please join me by using your own voice. Search out the Global Goals and share them with your friends and leaders. Support the transition to clean energy in your own community. Help move the needle and hold your leaders—from mayors to ministers—accountable. This is our only planet, our only source of life. If we join together, we can become who we are truly supposed to be.
Robert Redford is an actor, director and trustee of the Natural Resources Defense Council (NRDC). This article originally appeared on MSNBC.
YOU MIGHT ALSO LIKE
146 Countries Covering Almost 87% of Global Emissions Submit Climate Plans Ahead of Paris
Al Gore Blasts GOP Climate Deniers, Thom Hartmann Says Throw Them in Jail
Yeb Saño Embarks on 930-Mile Walk From Rome to Paris Demanding World Leaders Take Climate Action
It's Official: Republicans Want Climate Action and Support Accelerating Renewable Energy
EcoWatch Daily Newsletter
The new Republican majority in Congress wants to force approval of the Keystone XL pipeline for dirty tar sands oil. President Obama announced he will veto bills that bypass the official review of Keystone XL.
There are plenty of reasons to block these bills and this pipeline.
Keystone XL would carry the dirtiest oil on the planet from Canada through the American heartland. The vast majority of it would be shipped overseas, while people here at home cope with the threat of contaminated water and difficult-to-clean-up oil spills.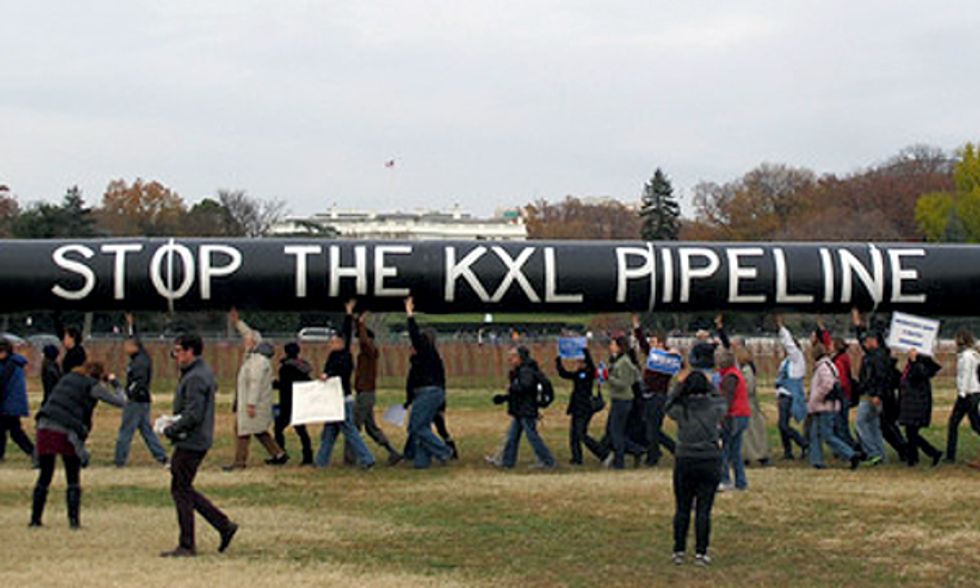 Polluters are fighting hard to get Keystone approved. The oil and gas industry pumped $53.1 million into last year's congressional campaigns—87 percent of which went to Republican candidates. Senate Majority Leader Mitch McConnell raked in $608,000 from the industry for his 2014 campaign, and now he is putting Keystone XL at the heart of his big polluter agenda.
But this isn't just a battle over industry influence. This is a choice about the kind of nation we want to live in.
Do we want to live in a country where expert reviews don't matter and industry profits trump our families' health? Do we want to lock ourselves into a fuel that generates 17 percent more climate change pollution than crude oil and makes our children more vulnerable to extreme weather?
Or do we want something better?
America can power our economy and keep our air and water safe at the same time. The dramatic expansion in clean energy confirms it—wind and solar power accounted for 44 percent of all new US electricity generating capacity installed between 2012 and 2013.
We can put people to work tapping energy resources that never run out and don't contribute to climate change. More than 3.4 million Americans already have jobs in the sustainable economy.
And we can place public health and well-being above a handful of polluters.
Our neighbors to the north know what's at risk here. Oil companies are gunning for a U.S. port because Canadian citizens have refused to let more tar sands oil pipelines endanger their communities. Here is why Americans should not accept what Canadians have already rejected:
It will provide just 35 permanent jobs. Pipeline backers mislead the public with inflated job numbers. The truth is, according to the State Department, the pipeline will create 35 permanents jobs and 1,950 construction jobs for two years. We can create more—and less dangerous—jobs by investing in clean energy.
It threatens the American breadbasket. Keystone would run within a mile of more than 3,000 drinking and irrigation wells in three states. Major blowouts in Michigan and Arkansas confirmed that tar sands oil is harder to clean out of water, backyards, and neighborhoods than conventional crude.
Tar sands extraction devastates the environment. The process entails clear cutting, strip mining, and generating enormous amounts of waste. Toxins sit in open lagoons that leak nearly 3 million gallons into the watershed every day, contributing to elevated cancer risk among nearby First Nation villages.
Canadian tar sands oil intensifies climate change. Tar sands oil is the most carbon intensive fuel on the market. All told, the additional carbon pollution from this project would be as much as putting up to 5.7 million additional cars on the road, the State Department's analysis found.
This pipeline is a stone dead loser for our country, and I welcome President Obama's decision to veto reckless bills and put climate change considerations at the heart of his final assessment of the project.
YOU MIGHT ALSO LIKE
Tell President Obama: Veto Keystone XL Pipeline Bill
Nebraska Supreme Court Clears Way For Keystone XL Pipeline
Elenathewise / iStock / Getty Images

Embracing solar power means reducing both your reliance on traditional utility companies and your environmental footprint, but the high upfront cost of solar panels can be a big deterrent for some homeowners.
If you're considering solar, you may have questions like: How much does it cost to install a solar energy system? What are some of the factors that can impact pricing? What else should home- and business owners know about going solar? In this article, we'll touch on each of these important topics, with the goal of helping you make a fully informed, financially responsible decision about solar energy.
Each product featured here has been independently selected by the writer. If you make a purchase using the links included, we may earn commission.

How Much Do Solar Panels Cost to Install?
To begin with, let's take a look at the basic price range for solar panel installation. According to the most recent U.S. Solar Market Insight report, in the first quarter of 2021, the national average price of a residential solar system was $2.94 per watt, which would mean a 5 kWh system would cost $14,700 and a 10 kWh system would cost $29,400.
The exact price you'll pay for solar panels will depend on a number of factors, including your geographic location, the size of your home and more.
Now, you might rightly wonder: What exactly are you paying for? The solar panels themselves usually make up just about a quarter of the total cost. Remaining expenses include labor, maintenance and additional parts and components (such as inverters).

What Factors Determine Solar Pricing?
As mentioned, there are a few key things that can lead to variation in solar system installation costs. Analyzing these can help you determine whether solar panels are worth it for your home. Let's take a look at them in greater detail.
Your Electrical Needs
The solar panels themselves will be rated for a particular wattage, which reflects the amount of energy they can absorb for storage and ultimately for power generation. You will actually pay according to wattage, which means that the greater your household energy needs, the more you'll have to spend to get the correct number of solar panels.
So, how do you determine how much energy you need for your home? The best way to figure this out is through a consultation with a solar installer. (We recommend shopping smart by requesting free consultations with two or three top solar companies in your area.)
Your installer will evaluate your home energy needs based on total square footage, the number of people who live in your home, the number of appliances and power-draining devices that you have connected and more. It can then recommend the ideal solar panel system size to accommodate your energy usage.
Type of Panels and Other Components
Variation in manufacturing can also affect the cost of solar panels. There are three basic types of solar panels, two of which are commonly used residentially: monocrystalline and polycrystalline panels. Of these two, monocrystalline options tend to be more energy-efficient and thus may provide you with greater savings in the long run. They are also a bit pricier on the front end. With that said, homeowners with a smaller roof surface area may benefit from getting the most efficient solar panels, even if the initial cost is a bit steeper.
Other components you'll need to purchase include inverters, wiring, charge controllers, mounts and more. The quality of these materials can affect your total solar system cost. For example, if you spring for the best solar batteries, they may add a few thousand dollars to your investment.
Geographic Location
Another factor that can have a big impact on solar pricing? Your geographic area. Solar installation tends to be most cost-effective in parts of the country that get a lot of sun exposure, and thus a lot of photovoltaic light. This basically means that solar panels can operate more efficiently, and in many cases means that fewer total panels are needed. Those who live in states like California, Florida and Arizona — or really any areas of the Sun Belt or Southwest — will likely get the most out of their home solar power systems.
Tax Incentives
Both state and federal governments have established incentive programs to encourage homeowners to buy solar panels. There is currently a 26% federal solar tax credit, called an Investment Tax Credit (ITC), available for homeowners who install residential solar panels between 2020 and 2022. It is scheduled to reduce to 22% in 2023 and may not be extended thereafter.
Local incentives vary by state, but most of the best solar panel installers will help you identify and apply for these programs so you don't miss out on savings.
Additional Factors
There are plenty of other factors that can impact solar panel installation costs. Different vendors are going to offer different levels of customization, expertise and consumer protections (including guarantees and warranties). The bottom line? It is wise to shop around a bit, determine the average cost of solar panels in your area and evaluate the value of services offered by a few solar installation companies.

Solar Panel Price Vs. Return on Investment
Clearly, your upfront solar panel installation cost may be a little steep. Now, let's look at the flipside: How much money will you actually save? And will your energy savings be enough to offset the initial cost of your solar energy system?
It is not unreasonable to think that you can cut your monthly utility bills by as much as 75% or more by switching to solar energy. Of course, the specific dollar amount will depend on where you live, the size of your home and the number of people in your household.
One way to look at it: The average household energy bill is somewhere between $100 and $200 monthly. It would probably take about 15 years for your energy savings to cancel out the cost of solar panel installation. In other words, within a decade and a half or so, your solar system might pay for itself. Factor in savings from tax rebates and other incentives, and most solar systems pay for themselves in closer to seven or eight years.
Note that most solar energy companies offer free solar calculators, which help you arrive at a ballpark for monthly energy savings. While these calculators are imprecise, they can certainly give you a general sense of the financial benefits you will experience when you convert to solar energy.
Free Quote: See How Much You Can Save on Solar Panels
Fill out this 30-second form to get a quote from one of the best solar energy companies in your area. You could save up to $2,500 each year on your electric bills and receive tax rebates.
Frequently Asked Questions About the Cost of Solar Panels

As you continue to weigh the pros and cons of solar energy, it's natural to have a few questions. The best way to resolve these is really to set up a solar consultation with a local expert, but in the meantime, here are a few general answers to some of the most common solar inquiries.
How much will it cost to maintain my solar energy system?
In general, solar systems are designed to run smoothly for decades without requiring any maintenance or upkeep. As such, you should not really need to factor maintenance into the equation for the first 20 years or so after you install your system. (And most solar companies will offer you warranties and guarantees to give peace of mind on this front.)
How will solar energy impact my property values?
Many homeowners want to know how going solar will impact the value of their homes. Going solar increases property values. In fact, the U.S. Department of Energy has reported buyers are willing to pay an average premium of about $15,000 for a home with a solar panel system. With that said, you are only going to see your property values go up if you own your solar system outright, as opposed to leasing it.
How can I finance the cost of solar panels?
Different solar installers may offer different financing plans, allowing consumers some flexibility. With that said, there are three basic options for paying for your solar energy system:
Purchase your solar energy system outright (that is, pay in cash).
Take out a solar loan to purchase the system, then pay it back with interest.
Lease your system; you will pay less month-to-month but won't actually own the system yourself.
Which is better, buying or leasing my solar system?
It all depends on your motivation for going solar. If you want to maximize long-term savings and increase the value of your home, then purchasing your solar system is usually best. However, if you just want a low-maintenance way to reduce monthly energy costs and practice environmental stewardship, then leasing might be a better option. Also note that leasing can be a good option for those who do not plan on being in their home for exceptionally long.
How can I be sure my roof will accommodate a solar system?
If your roof faces south, has ample space and has little to no shade cover, it should work just fine. Even roofs that are not optimal can still be utilized with a few tweaks and adjustments. Your solar energy consultant will advise you on whether your home is a good fit for solar energy.
How long will my solar energy system last?
Solar systems are designed to be exceptionally durable. With just the most basic upkeep, most solar energy systems should continue to work and produce power for anywhere from 25 to 35 years.

Make the Best Choice About Solar Energy
Solar energy is not right for every homeowner, nor for every home. With that said, many homeowners will find that the initial cost of solar panels is more than offset by the long-term, recurring energy savings. Make sure you factor in cost, energy needs, tax incentives, home value and more as you seek to make a fully informed decision about whether to embrace solar power.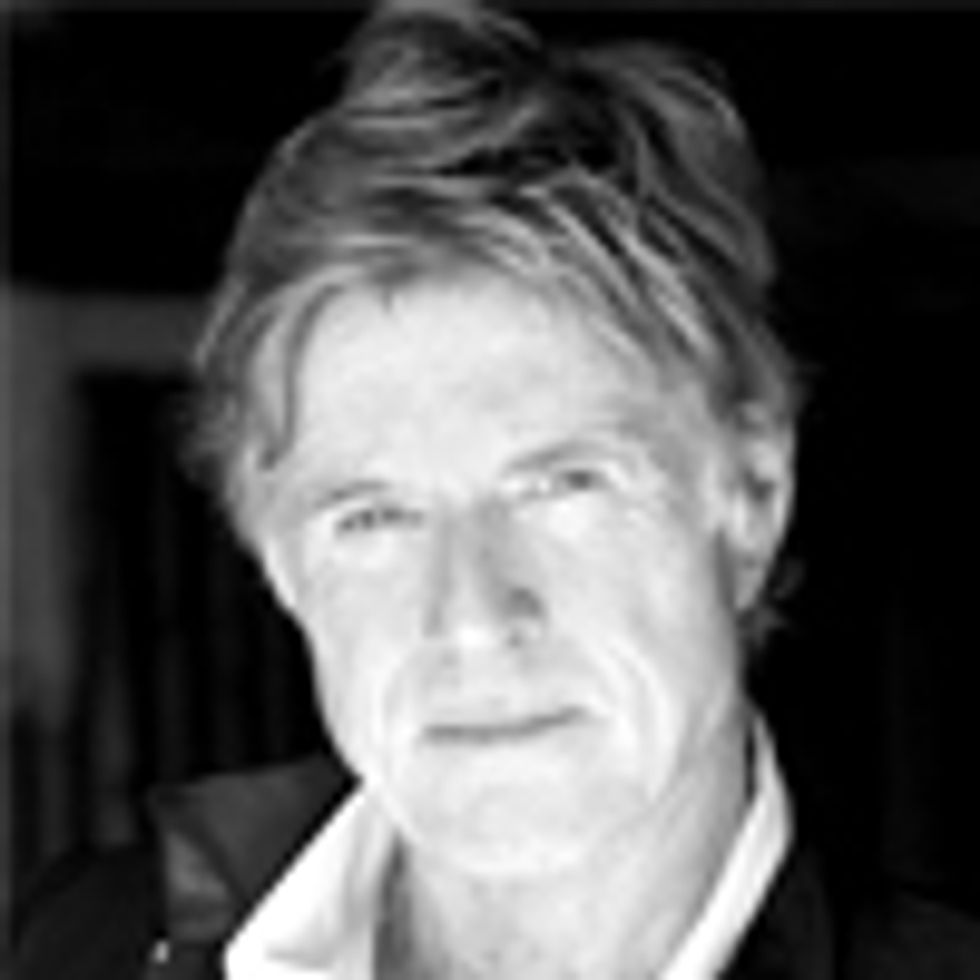 On Friday we learned that a lot of Republican U.S. senators and a smattering of Democrats are once again trying to make an end run around a legitimate process to assess the impacts of the Keystone XL tar sands pipeline, in favor of moving legislation authorizing its immediate construction.
While the political process in Washington, D.C. has come to give a lot of us pause, the good news is, it only furthers the resolve of tens of thousands of Americans to work harder to make their voices heard.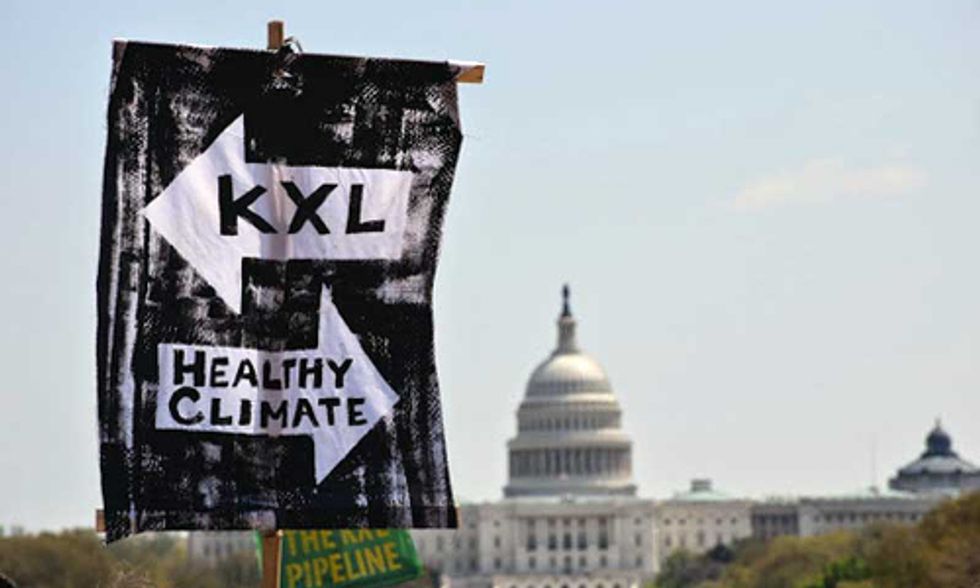 Reject + Protect. Photo credit: 350.org
Recently we saw on the National Mall thousands of Americans—including Nebraskan landowners standing shoulder-to-shoulder with Native chiefs—calling on the president to reject the Keystone XL tar sands pipeline and protect our land, water, public health and climate.
So it is particularly painful to see some members of Congress once again trying to circumvent a legitimate process to push approval of Keystone XL—a pipeline that would take some of the world's dirtiest oil from Canada, through the heart of America, to the Gulf Coast and then off to overseas markets.
It doesn't matter that this pipeline will create almost no permanent jobs and only several thousand construction jobs, or that last year the Wall Street Journal reported that we, the U.S., is about to become the largest producer of oil and gas on the planet, overtaking Russia. It doesn't matter to these U.S. senators that our dependency on foreign oil has declined sharply.
This Senate amendment coming to a vote, sponsored by Sen. Hoeven (R-ND) and Sen. Landrieu (D-LA), would strip the president of his authority to decide whether or not the Keystone XL tar sands pipeline should go forward. Just like in 2012, a blatant political play is pushing the Senate to trump a democratic process in Nebraska that has yet to determine a route through that state.
You might wonder why after all this time we don't have a legitimate route through Nebraska. It is because the tar sands industry thought they were above the law. Turns out that was not the case. A Nebraska district judge found that the route was put in place through an unconstitutional process and it is back to the drawing board for Keystone XL.
It makes sense that the State Department decided to put the Keystone XL decision on hold until we have a route through Nebraska.
But it is no surprise that Keystone XL's supporters in the Senate are trying to push through an approval. It is Big Oil versus the Nebraska farmer and the industry can't believe that it is not getting its way after spending tens of millions of dollars in political donations in an effort to have things go their way.
Instead, the courts and the administration are listening to the ranchers and farmers who have been tending their land for generations. People like Randy Thompson who have built alliances across political lines to say no to a dirty tar sands pipeline crossing their ranch lands. They know a tar sands spill into the Ogallala Aquifer would ruin their lands and their livelihoods and poison their families.
These landowners have legitimate concerns that deserve to be heard. The Keystone XL pipeline would take tar sands through some of the most sensitive regions of the Ogallala Aquifer. And we've learned that tar sands crude is particularly damaging when it spills. After nearly four years and a billion dollars in clean up costs, large portions of the Kalamazoo River in Michigan is still contaminated by submerged tar sands.
Are these voices really so unimportant that we are willing to let a Canadian tar sands pipeline company and their allies in Congress ride roughshod over them? Absolutely not. The landowner and Native voices are at the heart of this fight against dirty energy.
We can do better by our farmers and communities by demanding clean power and rejecting dirty energy projects such as the Keystone XL tar sands pipeline.
——–
YOU ALSO MIGHT LIKE
56 Senators Try to Force Keystone XL Pipeline Past President Obama and the Public
Carbon Tracker Reports Keystone XL Will 'Significantly Exacerbate' Climate
Cowboys and Indians Launch 5-Day Keystone XL Protest on National Mall
——–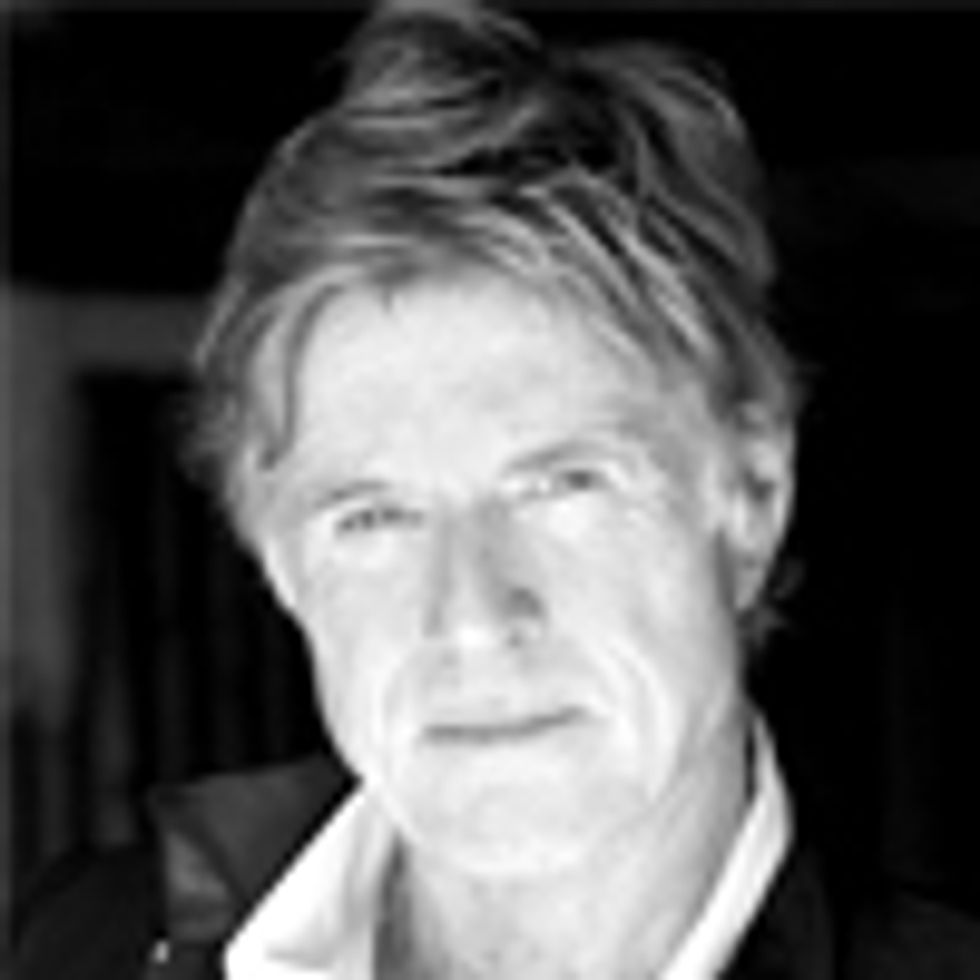 Four years ago this week, BP's Deepwater Horizon drill platform exploded. Eleven workers died that day. Their bodies were never found. Over the next 87 days, 210 million gallons of oil gushed into the Gulf of Mexico. It fouled fishing grounds, ravaged the coastline, and shut down tourism. The world got an ugly look at some of the terrible hidden costs of fossil fuels. Spill-related health problems plague the people and the wildlife of the Gulf to this very day.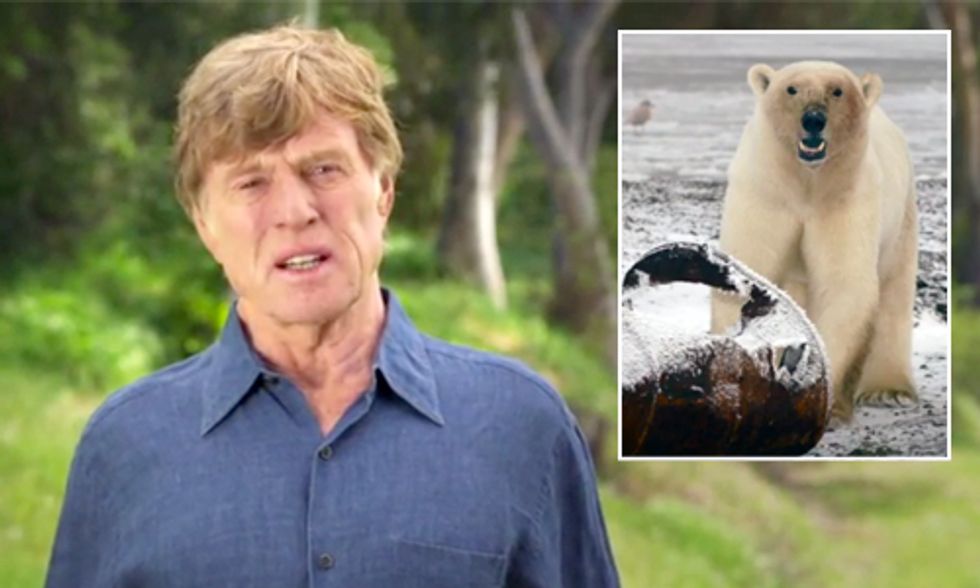 I'm calling on all Americans to stand up to Big Oil by asking President Obama to ban oil drilling in the Arctic and lead the way to a future powered by 100 percent clean energy.
I personally hoped that we, as a nation, would quickly learn from this tragedy and move swiftly to prevent a repeat disaster in our most vulnerable coastal environments. So it boggles the mind that Shell Oil is still determined to drill in one of the most fragile and remote ecosystems on Earth: the Arctic Ocean—the last bastion of America's polar bears, endangered bowhead whales and other rare wildlife. For Native Alaskans who live along the coast, this ocean has been the source of their food security and a way of life since time immemorial.
It's sheer madness to drill in the Arctic—in treacherous conditions of gale-force winds, 20-foot seas, sub-zero temperatures, shifting currents—and for eight months of the year—solid pack ice. If the oil industry was utterly unprepared for a blowout in the balmy Gulf of Mexico, how in the world can we trust them in a treacherous environment like the Arctic? Nobody knows how to clean up oil there, even during the open water season. And once the ice and long Arctic night close in, there'd be zero hope of plugging a blow-out or containing a spill.
Those harsh conditions also guarantee human and mechanical error. During a disastrous 2012 attempt at Arctic drilling, Shell Oil experienced fires, leaks, slipped anchors, emergency gear that was "crushed like a beer car," and a 30-mile iceberg that sent its ships fleeing.
A just-released Coast Guard report says Shell's reckless and failed attempt to tow its Arctic Ocean drill rig in 2012 was riddled with poor planning and judgment—and involved numerous potential violations of the law.
Then, a couple of months ago, the Arctic caught a huge break. A federal appeals court ruled that in 2008, when the government approved drilling there, it wildly underestimated the risks of spills and other hazards. That has stopped all drill efforts for now. And it's created a golden opportunity for President Obama to chart a new course by putting the Arctic completely off-limits to Shell and every other oil company—for good.
It also sets the President up to lead the fight against climate change. Left to their own devices, oil companies will drill and unleash every last bit of carbon-polluting crude they can get their hands on. Just two weeks ago ExxonMobil said it "takes the risk of climate change seriously," but that they'd go right on digging and burning all their oil reserves.
To be blunt, that is crazy talk. There's a clear scientific consensus that pumping that much carbon into the atmosphere will change life on Earth as we know it.
That's why I made this video, calling on all Americans to stand up to Big Oil by asking President Obama to ban oil drilling in the Arctic and lead the way to a future powered by 100 percent clean energy. Please make your own voice heard at DemandCleanPower. But don't delay. In a court filing last week, Shell indicated it's counting the days till it can get back into the Arctic. We have to make sure that never happens.
——–
YOU ALSO MIGHT LIKE
ExxonMobil Ignores IPCC Warning, Vows to Burn All Oil Reserves
4 Sources of Carbon Pollution That Would Dramatically Alter World's Climate
20 Cities Shining Brightest With Solar Energy
——–
The more people learn about the Keystone XL tar sands pipeline, the less they like it. Despite what we might be hearing in industry spin, the environmental report released by the State Department Friday confirms that tar sands crude means a dirtier, more dangerous future for our children all so that the oil industry can reach the higher prices of overseas markets. That's right, overseas markets, which is where the majority of this processed oil will end up. This dirty energy project is all risk and no reward for the American people.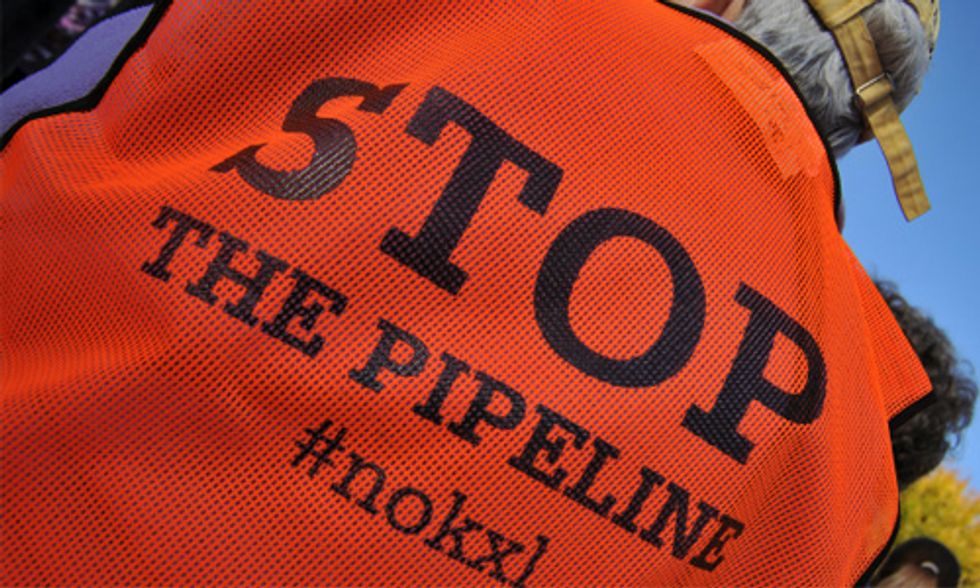 You'll remember that the president said he won't green-light a project that raises the dangers of climate change. The State Department report makes it clear that this is exactly what Keystone XL would do. Bottom line: the tar sands pipeline fails the president's climate test. It's a bad idea. It needs to be denied.
When it comes to climate change, we know we have to do things differently. As the president said in his State of the Union address, we have to "act with more urgency—because a changing climate is already harming western communities struggling with drought, and coastal cities dealing with floods." Climate change hits us at home: hurting our health and our children. How does this translate into everyday decisions? We need to stop approving dirty energy projects that will only drive us further into the climate danger zone.
The President has the chance to get it right on Keystone XL. Whereas past State Department reports didn't even bother to look at the climate pollution from tar sands, claiming that they'd be developed with or without Keystone XL, this report is different. In this report, the State Department acknowledged that Keystone XL will drive tar sands expansion and climate change if we see low oil prices and other pipeline and rail projects don't move ahead.
But that is already the reality today with fierce opposition to tar sands pipelines and a glut in the current tar sands market. We've certainly seen plenty of honest comments from industry saying that if they don't get added pipeline capacity from Keystone XL now, they will scale back plans. That means those carbon emissions would be scaled back too.
So even though the State Department continues to downplay clear evidence that the Keystone XL pipeline would lead to tar sands expansion and significantly worsen carbon pollution and the very real harm to our health, it has, for the first time, acknowledged that the proposed project could accelerate climate change.
In any case, this report is not a decision. Next up is the national interest determination process. And here the evidence already shows that Keystone XL isn't a plan to help the country. It's about big profits for Big Oil.
Keystone XL would pipe some of the world's dirtiest oil through the American breadbasket to be refined on the Gulf and shipped overseas. That puts our farmers and ranchers at needless risk while not serving our energy or economic interests. I wouldn't call that national interest.
Here's what the State Department report confirms: the tar sands pipeline is a bad idea. It fails the President's climate test. It puts our farmers and ranchers at risk. It needs to be denied.
And we need to move, as a country, toward cleaner, safer, renewable sources of power and fuel.
[blackoutgallery id="319926"]
Visit EcoWatch's KEYSTONE XLand CLIMATE CHANGE pages for more related news on this topic.

In recent weeks, we've been calling on President Obama to show the "courage of his convictions" when it comes to fighting climate change. In his speech last week, he agreed to take some essential steps in saving our planet, most notably cutting carbon pollution from power plants.

This is the right thing for our country. This is the way that America shows its leadership. And in taking these important steps toward a national plan for climate action, the President is showing his leadership.
Power plants are the largest source of carbon pollution in the U.S., and right now, those plants can spew an unlimited amount of carbon into our air and account for about 40 percent of our carbon footprint. When America's new climate plan takes on power plants, it will strike a blow against the climate chaos that threatens us all.
With the Clean Air Act, we can limit this source of climate pollution. In fact, under a plan the Natural Resources Defense Council (NRDC) has proposed, the Environmental Protection Agency (EPA) could develop safeguards under which each state would have its own carbon reduction target, tailored to its specific energy mix. We can even take on carbon pollution from power plants in a way that is affordable for utilities and actually means a cost savings of up to $700 a year for consumers on their electric bills. That's real money for our families.
Without question, we're facing a climate crisis. And it is taxpayers who are bearing the high costs. Just last year, taxpayers spent nearly $100 billion on crop losses, wildfires and disaster relief from Hurricane Sandy. Our coastal communities are under siege. The Great Plains are suffering drought for the third year in a row. Our people are hurting—and they're demanding action.
That's why the second significant pronouncement of the President is also critical. Simply put, President Obama gave a climate test to the proposed Keystone XL pipeline that would bring the climate destroying tar sands from Canada to the Gulf Coast across our waters and farms.
The President said he is not going to approve the Keystone XL pipeline if it harms the climate because doing so would not serve the national interest. I applaud him on this and I know tens of thousands of other do as well. We know that we cannot fully address climate change while facilitating expansion of the tar sands. That's why the Keystone XL tar sands pipeline is a bad idea. This pipeline will drive expansion of tar sands and its climate pollution. It's not in our national interest and could never pass a climate test. It needs to be denied. Our climate, our waters and our communities depend on it.
The need to keep moving forward with climate action on all fronts is imperative. Which is why it is incumbent upon us, in the months to come, to communicate with both the President and the American public about some of the more misguided parts of the plan. Specifically those that continue to support substantial expansion of the use of fossil fuels through natural gas fracking in the U.S. and building overseas markets for it, as well as pursuing "clean coal" technology.
The President is doing what's right for the country by limiting carbon pollution from power plants and establishing a national plan for climate action. And I hope he maintains the courage of his convictions next, by denying the Keystone XL tar sands pipeline, and continuing to fully engage in this multifaceted and most profound challenge of our times.
Visit EcoWatch's CLIMATE CHANGE page for more related news on this topic.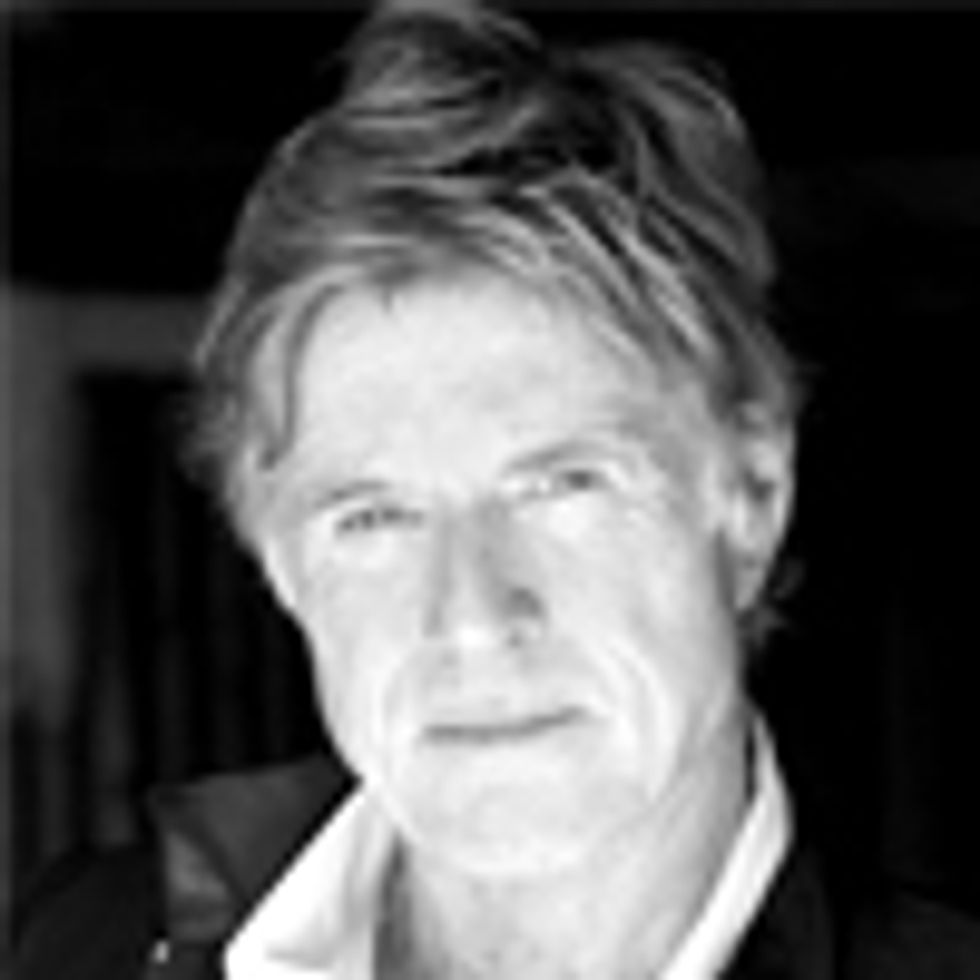 When I see raw tar sands coursing through people's yards and across wetlands, it makes me sick. My thoughts are with the people in Arkansas who are dealing with this river of toxic mess. And my thoughts instantly move ahead to what could happen to farms, families, homes and wild areas across our country if we support expansion of tar sands with permits for pipelines such as Keystone XL. The answer seems clear, especially when we look at the graphic video footage from Arkansas: tar sands expansion rewards the oil industry while putting us all at risk of oil spills and climate change. That's a raw deal by any calculation.
Let's recap what happened in Arkansas and why it is such a timely reminder that tar sands expansion and tar sands pipelines hurt us. On March 29, Exxon's Pegasus tar sands pipeline ruptured, flooding a suburban community outside of Little Rock, Arkansas with hundreds of thousands of gallons of tar sands crude. This toxic river of heavy tar sands bitumen and volatile petrochemical diluents is not a mix that anyone would want flowing in front of their houses.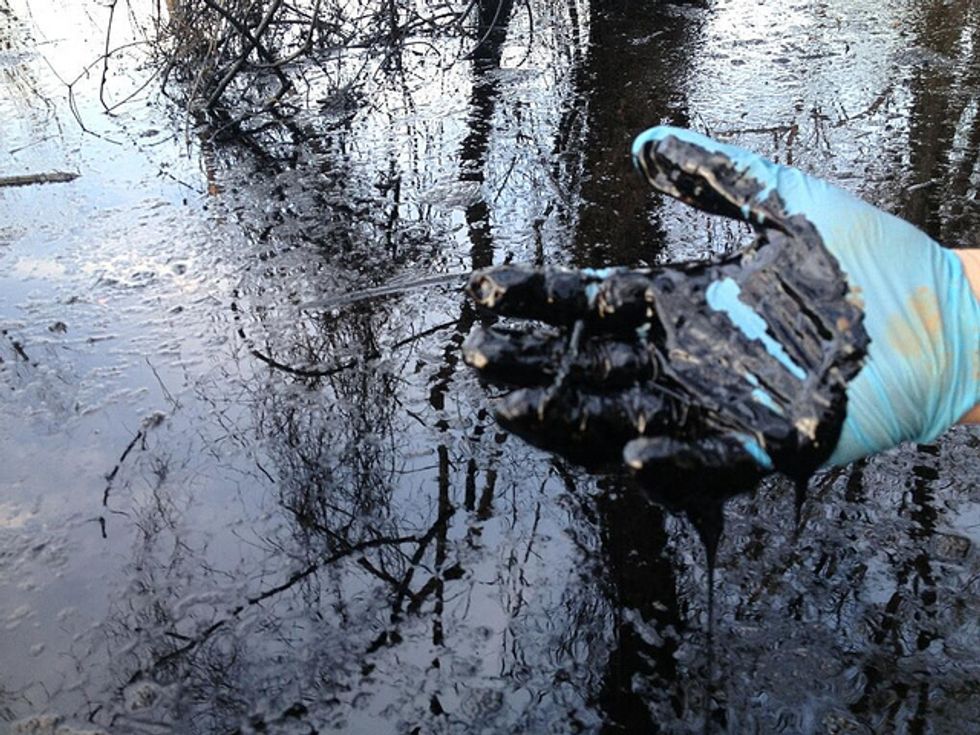 So when it comes to the proposed Keystone XL pipeline that would take Canadian tar sands crude across America's breadbasket to the Gulf Coast where much of it would be exported overseas, the Pegasus rupture in Arkansas is another red flag. We've had a lot of these red flags lately that show us what a raw deal tar sands is and we ignore them at our peril.
We've seen the devastation of one of the last great places on earth in the devastation to Canada's Boreal forest. And we've seen the homes and health of First Nations communities who live near the tar sands. We've seen how the energy intensive tar sands production has meant a rapid increase in climate pollution in Canada. We've seen the worsening effects of climate change in droughts, floods and violent storms. We've seen tar sands oil polluting our rivers and communities in the 2010 Michigan spill and in over a dozen spills from the first so-called "state-of-the-art" Keystone pipeline. And we hear the fears from residents of refinery communities of what the additional pollution from tar sands refining will mean for their health. Looking at all this, it is clear that the Arkansas tar sands spill is the latest drumbeat in a series of reminders that tar sands crude is different and dangerous.
Keystone XL would bring nearly ten times as much tar sands crude as the Pegasus pipeline through American communities and waters. It is not in our nation's best interest to pipe tar sands across our fields and aquifers so that the oil industry can reach the higher prices of overseas markets. How many red flags do we need before we realize that the solution is to stop tar sands expansion and say no to tar sands pipelines? I think we've seen enough.
With only several weeks left in the public comment period for the Keystone XL tar sands pipeline, let's tell our leaders that we don't want more tar sands in America's pipelines, backyards and rivers. Let's tell them that we have better energy choices. Let's send a clear message to deny the Keystone XL tar sands pipeline at www.stoptar.org.
Visit EcoWatch's KEYSTONE XL page for more related news on this topic.
——-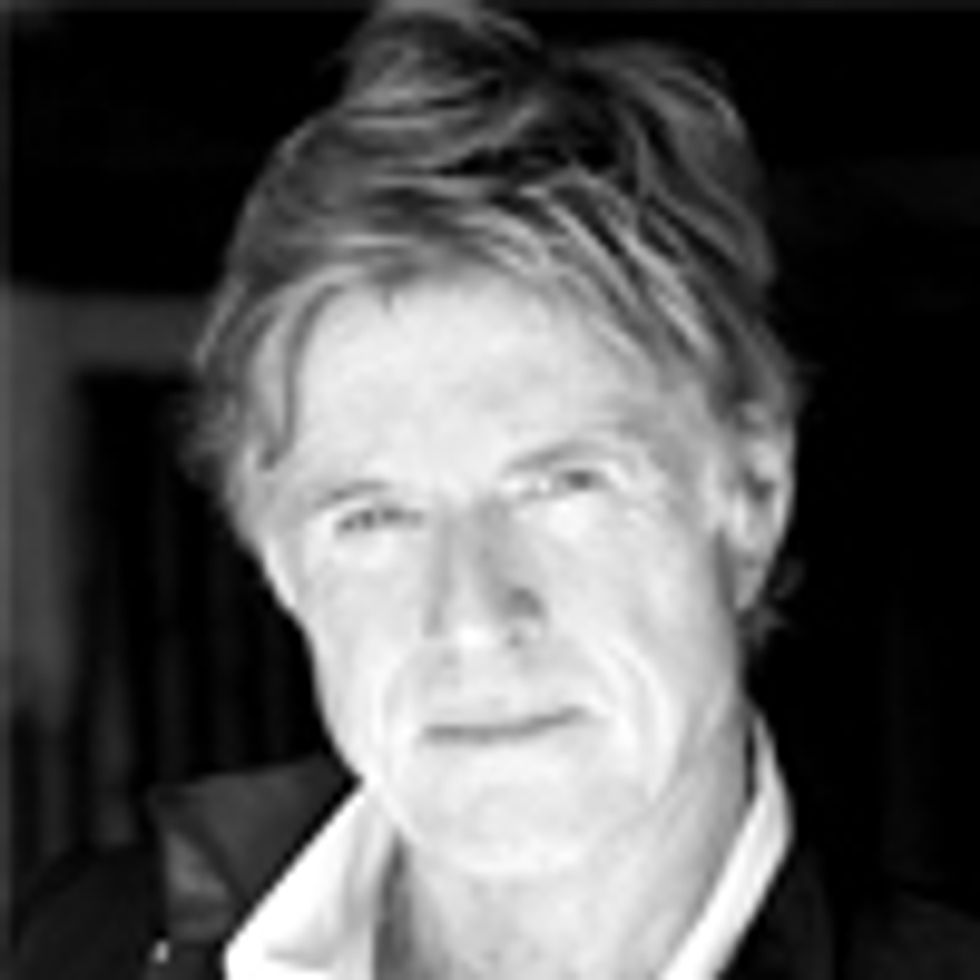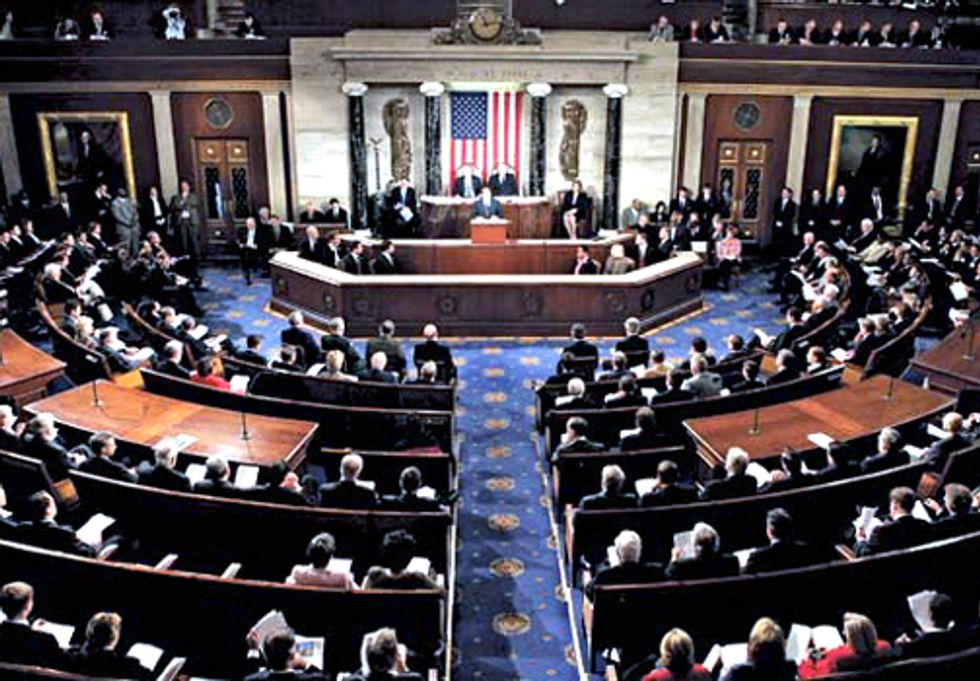 Rumor has it the U.S. Senate will consider a budget bill provision to approve the Keystone XL tar sands pipeline. Here's what they need to share with their constituents:
1) It's great for Big Oil. Bad for America. And really bad for climate change, producing three times more global warming pollution than conventional crude production, and using vast amounts of energy and water, causing significant pollution to both air and water.
2) Canadian citizens are against tar sands pipelines too, fighting the Gateway Pipeline to their west coast—and through British Columbia's Great Bear Rainforest—and the Trailbreaker pipeline to carry tar sands to east to Maine.
3) It's dangerous and dirty—it's dirty tar that's diluted with chemicals and then pushed through the pipeline at high pressure, which creates very high temperatures. It's more corrosive to the pipeline than oil, so it eats away at the pipelines, which then rupture and blow.
4) The first Keystone pipeline, already operating in America, has spilled 14 times and had to be shut down twice due to safety concerns, and another one of its pipelines exploded.
5) Tar sands spill are difficult to impossible to clean up. After more than two year and nearly a billion dollars in clean up costs, the U.S. Environmental Protection Agency found that nearly 40 miles of the Kalamazoo River is still contaminated by submerged tars sands.
6) Pretty much all the oil goes to foreign countries after America takes all the risks. This will not solve our energy challenges, it will not improve our national security and it is not an American jobs program. (Thirty-five permanent jobs and 3,500 construction jobs over two years).
Those of us against this thing believe this is a bad deal for America and it'll make climate change considerably worse, faster. It will be the third new tar sands dedicated pipeline, which will lock us into a dependence on this destructive, dirty source for years to come.
We are not irrational extremists. We are people who believe that a clean and sustainable future is possible. We believe in American ingenuity when it comes to clean energy technologies. America has shown time and time again—remember the American Space Program—that with proper investment, we can meet any challenge in front of us. Tell President Obama to reject the Keystone XL Tar Sands Pipeline.
And call your U.S. Senator today. Tell them this pipeline is bad for America.
Visit EcoWatch's KEYSTONE XL page for more related news on this topic.
——–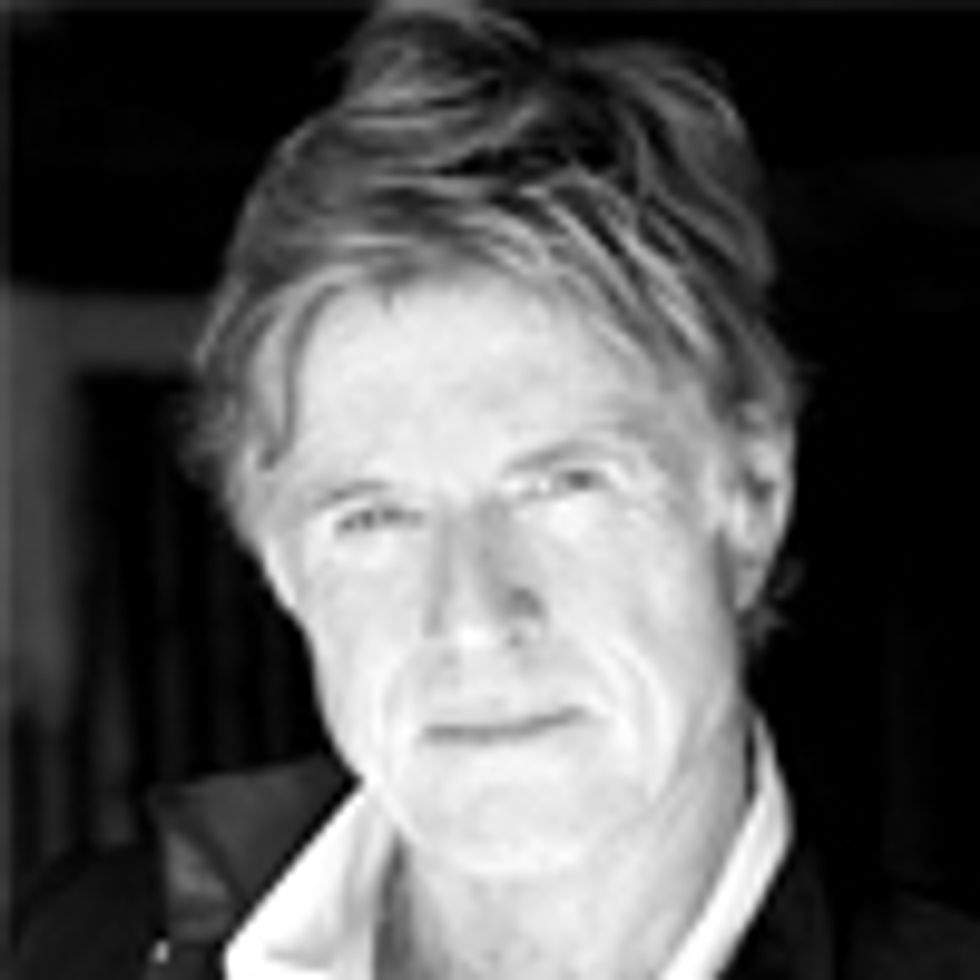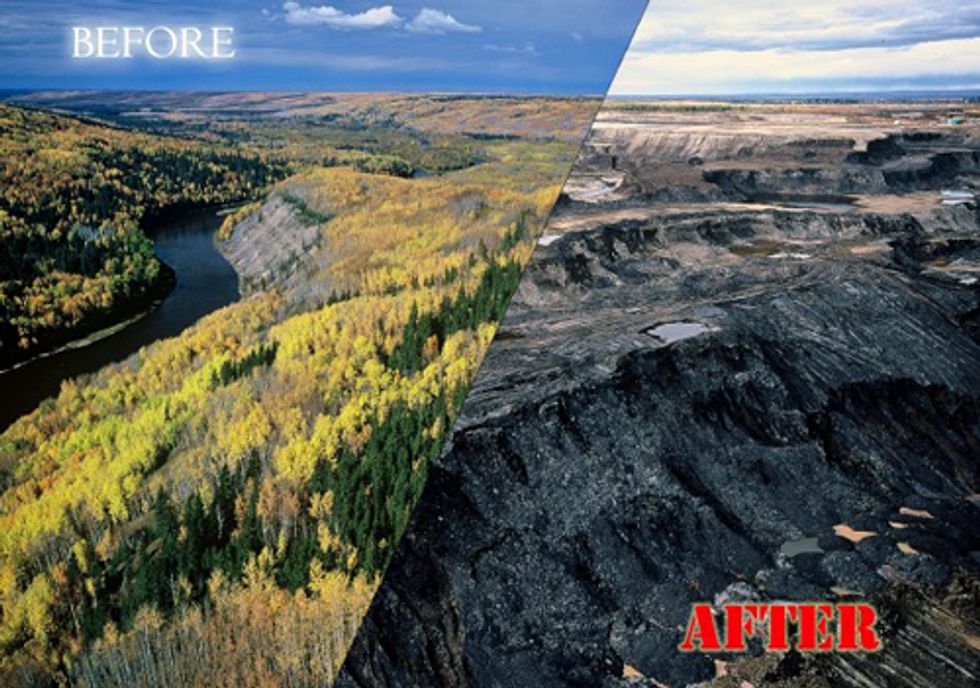 Mr. Secretary, I am disappointed. I thought that we all understood that to fight climate change, we have to be able to say "no" to dirty energy projects. Our friends around the world are looking to us for climate leadership and it starts with drawing the line at tar sands expansion. It also means that we need to give health and environment a fair shake in the environmental review of a dirty energy project such as the Keystone XL tar sands pipeline. Yet the draft environmental review prepared by the State Department for Keystone XL misses what folks in industry themselves are saying: the Keystone XL project is necessary for expansion of tar sands. We know this means that Keystone XL will make climate change worse.
Once again, the State Department acknowledges that tar sands are dirtier than conventional oil and will make climate change worse. So how, can it then not tell us about what this means for our climate? Somehow, the State Department claims that tar sands will be developed anyway so it doesn't need to look at the harm done by expansion. This just doesn't make sense. Our friends in British Columbia are saying no to tar sands pipelines to the west coast. Our friends in eastern Canada and New England are saying no to tar sands pipelines to the east coast. Rail is a pretty expensive alternative. What is left? Keystone XL's path to the Gulf Coast.
But don't just listen to me. Let's look at what some of the industry's own experts are saying.
Global energy consultant Wood McKenzie found that "a lack of visibility on available transportation capacity and, in turn, the prices that may ultimately be achieved could impact oil sands projects' commercial viability." To me that means that without ways to get tar sands to the coast for export, the price of this very expensive to extract oil is going down making it a risky investment.
TD Economics, a major Canadian Bank, talks about pipeline capacity constraints as "a serious challenge to long term growth" of the tar sands.
And most clearly from an economist: "Unless we get increased [market] access, like with Keystone XL, we're going to be stuck."
The point is that the tar sands industry's expansion plans are not possible without the proposed Keystone XL pipeline project and delay in deciding the fate of Keystone XL has already affected expansion. This amounts to real climate pollution that affects real people here at home and around the world.
Luckily, this is just a draft environmental review. Now is the time for the public to make itself heard. And Mr. Secretary, I'd ask that you listen closely to people's concerns about what expanded tar sands would mean for our future. This is not a future we want. It is time to take a hard stance on Keystone XL. We need a clear evaluation of the damage to our health and environment that will result from this dirty energy project. And then we need to reject the Keystone XL tar sands pipeline.
Visit EcoWatch's CLIMATE CHANGE and  KEYSTONE XL pages for more related news on this topic.
——–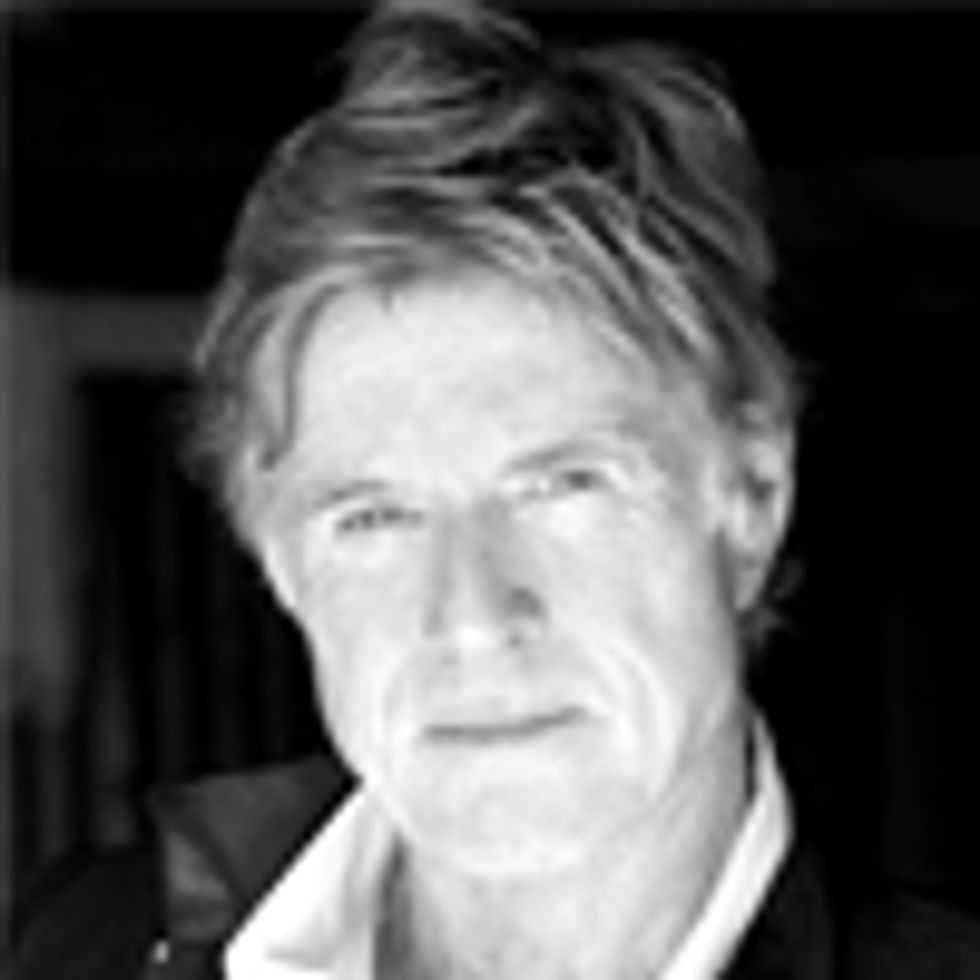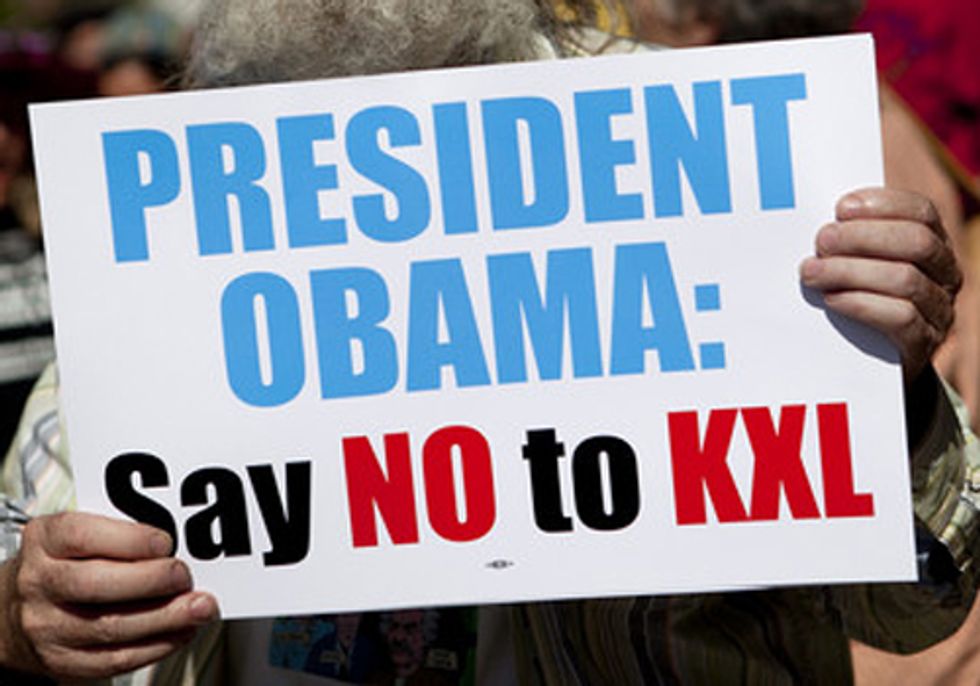 The wake up call that Hurricane Sandy gave us was but one of many just in the last year. We can see that climate change is happening all around the country after the wildfires, droughts, floods and violent storms of 2012. So when President Obama said it was time to deal with global warming in his victory speech, that made perfect sense.
Why then would one of the first decisions after the election be to ignore the climate impacts of one of the dirtiest energy projects out there? That doesn't make any sense.
The Keystone XL tar sands pipeline is winding its way through a State Department environmental review process. The State Department messed up last time around. They didn't include climate and a lot of other concerns that people along the pipeline path have. After the President rejected this pipeline earlier this year and TransCanada reapplied for a presidential permit for the northern section, the State Department got another chance to get it right.
It begs the question then, why does it look like they are going to get it wrong?
The Keystone XL tar sands pipeline is a disaster in the making. It will cause expansion of the expensive and dirty tar sands oil excavation up in Canada's Boreal forest. It threatens our own farms, and waters throughout our heartland. And it is going to make climate change worse as more tarry gunk is dug up, turned into gasoline and diesel and burned in cars and trucks.
All of this is for a pipeline that is meant to export tar sand oil overseas from America's Gulf Coast. Our heartland, aquifers and climate are meant to sustain us. Instead the Keystone XL tar sands pipeline means that we take all the risks—from pipeline leaks and blows to the aftermath of toxic pools of wastewater—and Big Oil reaps all the benefits. Canadians know better—they haven't let new tar sands pipeline be built yet to either of their own coasts. In fact, the proposed Northern Gateway tar sands pipeline to the west coast is considered dead by many.
It only makes sense to get the environmental review right. And that means taking a hard look at the climate impacts.
This is a time for climate leadership. So, instead of a shoddy Keystone XL environmental review, the first major climate action for this Administration's second term should be to set limits on climate change pollution from power plants. That is the kind of action that makes sense.
And then it will make sense to reject this dirty energy project. With extreme weather taking its toll on communities all over America, we can't afford another major dirty energy project such as the Keystone XL tar sands pipeline.
Visit EcoWatch's KEYSTONE XL and PIPELINES pages for more related news on this topic.
--------
Click here to tell Congress to Expedite Renewable Energy.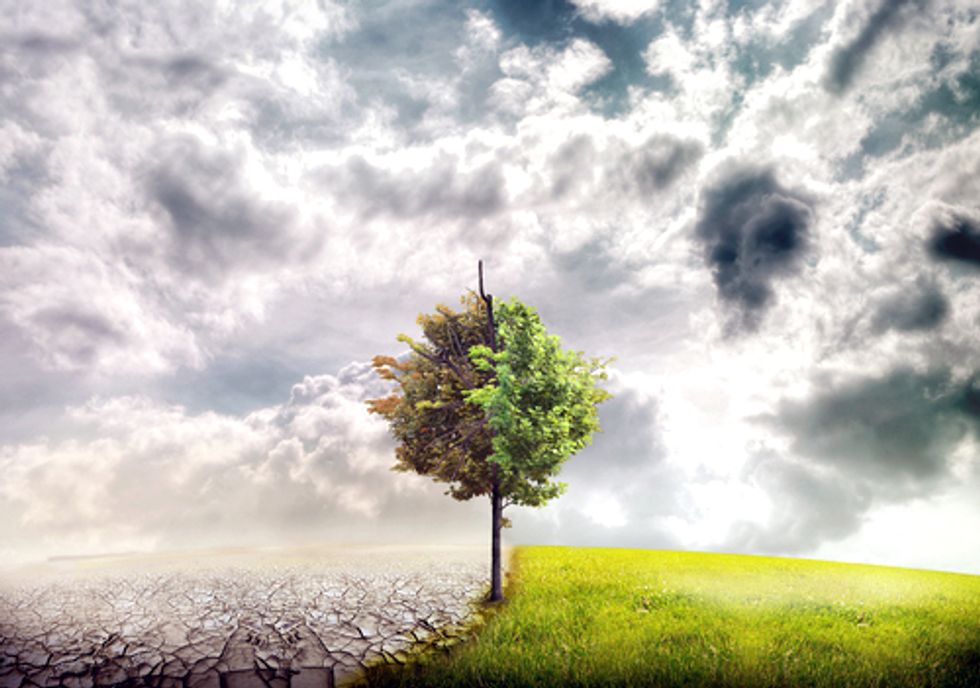 Photo courtesy of Shutterstock
I'm so struck with America's human spirit as Hurricane Sandy has left a trail of destruction in its wake, destroying homes and businesses and turning the lives of so many upside down. And yet people remain unbowed—New Yorkers and New Jerseyans, first responders, hospital workers, National Guard and countless others—are pulling together, as they always do, in the face of tragedy. And this would be the case whether or not a Presidential election were running in the background.
But elections are, indeed, running in the background of this human consequence and the inspiration we are seeing from countless citizens is exactly the kind of determination and collective responsibility we're going to need to fight climate change—the force that super-charged this "superstorm." It will take resourcefulness and grit to reduce the carbon pollution that's fueling these storms, but Hurricane Sandy proves once again we have it.
The question is: Will we use it?
Many lawmakers and fossil fuel companies don't want us to unleash America's ingenuity on the problem of climate change. Oil, gas and coal companies have spent more than $150 million on campaign ads in this election, and their talking points are echoed on the campaign trail.
Nearly every contender for the GOP's presidential nomination denied climate change and called for more dirty fuels. Mitt Romney—who supported climate action when he was governor of Massachusetts—has joined the crowd. At the Republican National Convention, he mocked President Obama's promise to slow the rise of the oceans and heal the planet.
Romney's comment drew laughs in the conventional hall. But there was nothing funny about being in New York or New Jersey when Hurricane Sandy's storm surge breeched seawalls and swamped entire neighborhoods. This is what I find so troubling about climate deniers. By ignoring the scientific facts, they dishonor the human suffering brought on by climate change.
So far, more than 90 people died in this storm. Eight million people were without power. Thousands lost their homes. Hurricanes have always been a part of life on the Atlantic Coast, but climate change is pumping storms with more moisture and increasing their destructive power. It is turning 100-year-storms into frighteningly routine events. And unless we reduce global warming pollution, more families will experience the anguish and fear of living through powerful storms.
The true measure of climate change isn't taken in Congress or in pseudo-scientists' debates. It is taken in the communities torn apart by extreme weather. New Yorkers who saw the waters rise this week—and the Midwestern farmers who watched their crops die and Colorado residents who looked on as their houses burned this summer—remind us that climate change is about people, and our connection to nature's rule, not the weather.
Fortunately more leaders are recognizing the threat climate change poses to our towns and cities. New York Governor Andrew Cuomo made the connection clear from the start this week. "I think part of learning from [Hurricane Sandy] is the recognition that climate change is a reality. Extreme weather is a reality. It is a reality that we are vulnerable." Cuomo and other officials are discussing measures to protect their communities from future storm surges and floods.
These are important steps, but we must also attack the problem at its source: carbon pollution. We know how to power our economy with clean, renewable energy that doesn't run out and doesn't pollute. President Obama has presided over the largest increase in renewable energy in our nation's history. He has also issued new fuel economy standards that will cut carbon emissions from new cars in half and save drivers $1.7 trillion at the pump.
On Thursday, New York Mayor Bloomberg endorsed Obama, citing Hurricane Sandy, climate change, and the need for presidential leadership. Governor Romney, meanwhile, opposes those standards and wants to end wind incentives. If he becomes president, no doubt we can expect a surge in fossil fuels pollution and more climate paralysis.
We will continue to have hurricanes and floods no matter who gets elected on Tuesday. But I hope that we are maybe seeing the fierce partisanship around the mother of all environmental issues—climate change—thawing as Republicans and Democrats face the wrath of nature arm in arm, with the exception of course, of Mitt Romney—who continues to deny there is a problem and backs it up with anything he feels will play well for him.
I put my faith in young people to be a driving force in answering this challenge and maybe demanding that the childishness around climate change in Washington stop, immediately. They know their generation will pay the price if America doesn't start confronting climate change now.
Visit EcoWatch's CLIMATE CHANGE page for more related news on this topic.
--------
This post originally appeared in Huffington Post.