Three hydro-fracking derricks sitting on a plain in Wyoming. Jens Lambert / Shutterstock.com
The Energy Information Administration (EIA) of the U.S. Department of Energy has just released its Annual Energy Outlook (AEO) 2018, with forecasts for American oil, gas and other forms of energy production through mid-century. As usual, energy journalists and policy makers will probably take the document as gospel.
That's despite the fact that past AEO reports have regularly delivered forecasts that were seriously flawed, as the EIA itself has acknowledged. Further, there are analysts inside and outside the oil and gas industry who crunch the same data the EIA does, but arrive at very different conclusions.
The last few EIA reports have displayed stunning optimism regarding future U.S. shale gas and tight oil production, helping stoke the notion of U.S. "energy dominance." No one doubts that fracking has unleashed a gusher of North American oil and gas on world markets in the past decade. But where we go from here is both crucial and controversial.
The most comprehensive critiques of past AEO forecasts have come from earth scientist David Hughes, a Fellow of Post Carbon Institute (note: I, too, am a Post Carbon Institute Fellow). Since 2013, Hughes and PCI have produced annual studies questioning EIA forecasts, based on an analysis of comprehensive play-level well production data. Their latest report, a critical look at AEO2017, is just out.
"Shale Reality Check: Drilling Into the U.S. Government's Rosy Projections for Shale Gas & Tight Oil Production Through 2050" explores four big questions crucial to the realization of the EIA's forecasts:
1. How much of the industry's recent per-well drilling productivity improvement is a result of better technology, and how much is due to high-grading the best-quality parts of individual plays? Over the past few years, industry has shown the ability to extract increased amounts of oil and/or gas from each well. This has been achieved in part by drilling longer horizontal laterals, tripling the amount of water and proppant (usually sand) used per unit of well length, and increasing the number of fracking stages. It is also in part a result of "high-grading," or focusing drilling on the best-quality parts of each play (termed "sweet spots" or "core areas"). The decline in average well productivity observed in parts of some plays, despite the application of enhanced technology, suggests that sweet spots there are becoming saturated with wells. When this happens, drillers must either move to lower-quality rock outside of sweet spots, or drill wells too close together, which results in well interference or "frac hits" and reduced well production.
2. Can technological advancement in the industry continue to raise productivity indefinitely? If, as the EIA suggests, improved technology will continue to increase well production, then perhaps per-well productivity can continue to grow for some time. However, based on the analysis of recent data, Hughes questions this (as does a team of MIT researchers). Well productivity is already declining in some plays, despite the application of enhanced technology, indicating that technology and high-grading have reached limits. Given uniform reservoir quality, improved technology allows the resource to be extracted more quickly with fewer wells, but it does not necessarily increase the overall amount of resource that can be recovered.
3. What will be the ultimate cumulative production from all U.S. tight oil and shale gas wells? Taking the above points into account, Hughes concludes from a detailed analysis of production data that the EIA is making extremely optimistic assumptions about ultimate production and long-term production rates in most shale plays.
Production over the long term is likely to be fraction of what the EIA is forecasting.

4. What about profitability? So far, overall, the industry has lost money on tight oil production, and shale gas has done little better. That's even with most recent drilling being focused in core areas. The industry and its investors assume that if productivity continues to increase, and oil prices rise, profitability will eventually materialize. But what levels of oil and gas prices would be required to profitably extract fuels in the large non-core areas that the EIA assumes will eventually be tapped after "sweet spots" are drilled and exhausted? The AEO offers little in the way of realistic analysis on this point.
Let's approach this subject another way. If you were an EIA analyst and you wanted to produce the most optimistic estimate possible of future U.S. oil and gas production, how might you go about it? You might do the following:
Mischaracterize the source of recent productivity improvements (assume it's mostly technology, not high-grading);
Extrapolate recent well productivity improvements far into the future, even though evidence suggests this is unwise;
Assume that large areas that are not currently being drilled will be highly productive; and
Ignore price and profitability.
Check, check, check and check.
Hughes figures, using EIA assumptions, that meeting the agency's projections for shale gas and tight oil through 2050 for the 88 percent of production that would come from major plays would require drilling and fracking over 1 million wells at a cost of $5.7 trillion (the remaining 12 percent would require .68 million wells at a cost of $4.1 trillion). The EIA's own estimate for all oil and gas (conventional, shale and offshore) is 1.3 million wells at a cost of $7.7 trillion. It would also consume countless billions of gallons of water and millions of tons of sand and chemicals. One might question the plausibility of this scale of expenditure of capital and physical resources. But even if the project were practically feasible, would it represent the best use of money in securing our energy future? And would the inevitable near- and long-term health and environmental impacts be somehow justified?

The EIA seems to assume that its audience consists of potential investors in struggling tight oil and shale gas companies, and that it speaks on behalf of those companies. That's not the proper role of a government agency. Taxpayers who fund AEO reports deserve realistic estimates of future production, costs of production and prices needed for profitable production. Otherwise, the agency's pronouncements will continue to resemble those of the Wizard of Oz: Be amazed! Be awed! But pay no attention to the man behind the curtain.
From Your Site Articles
Related Articles Around the Web
EcoWatch Daily Newsletter
Our core ecological problem is not climate change. It is overshoot, of which global warming is a symptom. Overshoot is a systemic issue. Over the past century-and-a-half, enormous amounts of cheap energy from fossil fuels enabled the rapid growth of resource extraction, manufacturing and consumption; and these in turn led to population increase, pollution and loss of natural habitat and hence biodiversity.
The human system expanded dramatically, overshooting Earth's long-term carrying capacity for humans while upsetting the ecological systems we depend on for our survival. Until we understand and address this systemic imbalance, symptomatic treatment (doing what we can to reverse pollution dilemmas like climate change, trying to save threatened species and hoping to feed a burgeoning population with genetically modified crops) will constitute an endlessly frustrating round of stopgap measures that are ultimately destined to fail.
The ecology movement in the 1970s benefitted from a strong infusion of systems thinking, which was in vogue at the time (ecology—the study of the relationships between organisms and their environments—is an inherently systemic discipline, as opposed to studies like chemistry that focus on reducing complex phenomena to their components). As a result, many of the best environmental writers of the era framed the modern human predicament in terms that revealed the deep linkages between environmental symptoms and the way human society operates. Limits to Growth (1972), an outgrowth of the systems research of Jay Forrester, investigated the interactions between population growth, industrial production, food production, resource depletion and pollution. Overshoot (1982), by William Catton, named our systemic problem and described its origins and development in a style any literate person could appreciate. Many more excellent books from the era could be cited.
However, in recent decades, as climate change has come to dominate environmental concerns, there has been a significant shift in the discussion. Today, most environmental reporting is focused laser-like on climate change, and systemic links between it and other worsening ecological dilemmas (such as overpopulation, species extinctions, water and air pollution, and loss of topsoil and fresh water) are seldom highlighted. It's not that climate change isn't a big deal. As a symptom, it's a real doozy. There's never been anything quite like it, and climate scientists and climate-response advocacy groups are right to ring the loudest of alarm bells. But our failure to see climate change in context may be our undoing.
Why have environmental writers and advocacy organizations succumbed to tunnel vision? Perhaps it's simply that they assume systems thinking is beyond the capacity of policy makers. It's true: If climate scientists were to approach world leaders with the message, "We have to change everything, including our entire economic system—and fast," they might be shown the door rather rudely. A more acceptable message is, "We have identified a serious pollution problem, for which there are technical solutions." Perhaps many of the scientists who did recognize the systemic nature of our ecological crisis concluded that if we can successfully address this one make-or-break environmental crisis, we'll be able to buy time to deal with others waiting in the wings (overpopulation, species extinctions, resource depletion and on and on).
If climate change can be framed as an isolated problem for which there is a technological solution, the minds of economists and policy makers can continue to graze in familiar pastures. Technology—in this case, solar, wind and nuclear power generators, as well as batteries, electric cars, heat pumps and, if all else fails, solar radiation management via atmospheric aerosols—centers our thinking on subjects like financial investment and industrial production. Discussion participants don't have to develop the ability to think systemically, nor do they need to understand the Earth system and how human systems fit into it. All they need trouble themselves with is the prospect of shifting some investments, setting tasks for engineers and managing the resulting industrial-economic transformation so as to ensure that new jobs in green industries compensate for jobs lost in coal mines.
The strategy of buying time with a techno-fix presumes either that we will be able to institute systemic change at some unspecified point in the future even though we can't do it just now (a weak argument on its face), or that climate change and all of our other symptomatic crises will in fact be amenable to technological fixes. The latter thought-path is again a comfortable one for managers and investors. After all, everybody loves technology. It already does nearly everything for us. During the last century it solved a host of problems: it cured diseases, expanded food production, sped up transportation and provided us with information and entertainment in quantities and varieties no one could previously have imagined. Why shouldn't it be able to solve climate change and all the rest of our problems?
Of course, ignoring the systemic nature of our dilemma just means that as soon as we get one symptom corralled, another is likely to break loose. But, crucially, is climate change, taken as an isolated problem, fully treatable with technology? Color me doubtful. I say this having spent many months poring over the relevant data with David Fridley of the energy analysis program at Lawrence Berkeley National Laboratory. Our resulting book, Our Renewable Future, concluded that nuclear power is too expensive and risky; meanwhile, solar and wind power both suffer from intermittency, which (once these sources begin to provide a large percentage of total electrical power) will require a combination of three strategies on a grand scale: energy storage, redundant production capacity and demand adaptation. At the same time, we in industrial nations will have to adapt most of our current energy usage (which occurs in industrial processes, building heating and transportation) to electricity. Altogether, the energy transition promises to be an enormous undertaking, unprecedented in its requirements for investment and substitution. When David and I stepped back to assess the enormity of the task, we could see no way to maintain current quantities of global energy production during the transition, much less to increase energy supplies so as to power ongoing economic growth. The biggest transitional hurdle is scale: the world uses an enormous amount of energy currently; only if that quantity can be reduced significantly, especially in industrial nations, could we imagine a credible pathway toward a post-carbon future.
Downsizing the world's energy supplies would, effectively, also downsize industrial processes of resource extraction, manufacturing, transportation, and waste management. That's a systemic intervention, of exactly the kind called for by the ecologists of the 1970s who coined the mantra, "Reduce, reuse and recycle." It gets to the heart of the overshoot dilemma—as does population stabilization and reduction, another necessary strategy. But it's also a notion to which technocrats, industrialists, and investors are virulently allergic.
The ecological argument is, at its core, a moral one—as I explain in more detail in a just-released manifesto replete with sidebars and graphics ("There's No App for That: Technology and Morality in the Age of Climate Change, Overpopulation, and Biodiversity Loss"). Any systems thinker who understands overshoot and prescribes powerdown as a treatment is effectively engaging in an intervention with an addictive behavior. Society is addicted to growth, and that's having terrible consequences for the planet and, increasingly, for us as well. We have to change our collective and individual behavior and give up something we depend on—power over our environment. We must restrain ourselves, like an alcoholic foreswearing booze. That requires honesty and soul-searching.
In its early years the environmental movement made that moral argument, and it worked up to a point. Concern over rapid population growth led to family planning efforts around the world. Concern over biodiversity declines led to habitat protection. Concern over air and water pollution led to a slew of regulations. These efforts weren't sufficient, but they showed that framing our systemic problem in moral terms could get at least some traction.
Why didn't the environmental movement fully succeed? Some theorists now calling themselves "bright greens" or "eco-modernists" have abandoned the moral fight altogether. Their justification for doing so is that people want a vision of the future that's cheery and that doesn't require sacrifice. Now, they say, only a technological fix offers any hope. The essential point of this essay (and my manifesto) is simply that, even if the moral argument fails, a techno-fix won't work either. A gargantuan investment in technology (whether next-generation nuclear power or solar radiation geo-engineering) is being billed as our last hope. But in reality it's no hope at all.
The reason for the failure thus far of the environmental movement wasn't that it appealed to humanity's moral sentiments—that was in fact the movement's great strength. The effort fell short because it wasn't able to alter industrial society's central organizing principle, which is also its fatal flaw: its dogged pursuit of growth at all cost. Now we're at the point where we must finally either succeed in overcoming growthism or face the failure not just of the environmental movement, but of civilization itself.
The good news is that systemic change is fractal in nature: it implies, indeed it requires, action at every level of society. We can start with our own individual choices and behavior; we can work within our communities. We needn't wait for a cathartic global or national sea change. And even if our efforts cannot "save" consumerist industrial civilization, they could still succeed in planting the seeds of a regenerative human culture worthy of survival.
There's more good news: Once we humans choose to restrain our numbers and our rates of consumption, technology can assist our efforts. Machines can help us monitor our progress, and there are relatively simple technologies that can help deliver needed services with less energy usage and environmental damage. Some ways of deploying technology could even help us clean up the atmosphere and restore ecosystems.
But machines can't make the key choices that will set us on a sustainable path. Systemic change driven by moral awakening: it's not just our last hope; it's the only real hope we've ever had.
Chiradech / iStock / Getty Images
Portable generators allow you to power your devices and certain appliances, even away from home or when your primary power source is taken offline. These devices are also perfect for camping or outdoor adventures. A portable solar generator can give you the power you need with a smaller ecological footprint by using solar panels. In this article, we'll outline some of the top options available in 2021.

Our Picks for the Best Portable Solar Generators
Each product featured here has been independently selected by the writer. If you make a purchase using the links included, we may earn commission.
How We Reviewed Portable Solar Generators
A good portable generator will offer you backup power in a convenient and reliable way. We have reviewed some of the top models on the market today, and arrived at a few that we think stand out from the rest.
To rank the best solar generators, we considered the following criteria:
Size and weight. Smaller, more lightweight units offer much greater ease of use. We sought portable solar generators that aren't too challenging to lug around your home, or take with you when you go camping.
Battery storage capacity. While your generator absorbs light through a solar panel, that energy is ultimately stored in a battery. The battery storage capacity, measured in watt-hours (Wh) determines how long you can use the generator before it requires a recharge.
Inverter rating. Basically, inverter rating refers to the total number of watts that the solar generator can extract at any given time. Inverter rating, along with battery capacity, determine the wattage and power output of your generator.
Expandability. Some generators come with a predetermined number of solar panels, while some allow you to add more solar panels as needed. This is an important feature to consider when looking for generators.
Price point. Naturally, when looking for a new solar generator, staying on budget is always going to be a factor. We chose generators that are competitively priced.
The Best Portable Solar Generators
With these ranking factors in mind, here are our picks for the best portable solar generators available in 2021.
What Types of Batteries Do Solar Generators Use?

It's important to note that solar power generators may employ different kinds of batteries. The most common option is the lithium-ion battery. These tend to be more expensive than lead-acid batteries, at least on the front end. With that said, a lithium-ion battery will prove more durable, which usually makes it the smarter investment in the long run. Solar generators include charge controllers, which regulate the volts of energy coming from the solar panels to the battery to make sure the battery isn't overcharged and damaged.
The energy stored in the battery is converted from DC power into AC power using an inverter or adapter.
What Can You Power With a Portable Solar Generator?
There are different types of solar generators. A backup generator is primarily used to power your home, should your electricity go out. In this article, we focused on portable generators, which are mostly used for hiking and camping. With that said, a portable generator can also be really useful during power outages, potentially keeping your lights, electronic devices, and small devices or appliances on for several hours. Depending on the watts of power your solar system generator kit can support, you can use it to power things like phones, tablets, laptops, TVs, coffee makers, a mini-fridge, certain medical devices, and most anything you would plug into a car charger.
Some of the generators we've listed here can be charged by solar energy or via other sources, including vehicles and power outlets. These different charging solutions make a generator more versatile, though of course, solar energy is what you'll want to use if staying away from fossil fuels is your goal.
What are the Benefits of a Portable Solar Generator?
There are a number of reasons why you might consider a portable solar generator:
These units are ideally suited for camping and hiking. The ones on our list range in weight from under 10 pounds to over 50, but they are all fairly easy to cart around as needed, or to keep in your camper or RV.
Though they are not primarily intended to be emergency backup generators, they can certainly be used in that capacity. In particular, they can provide emergency power to important medical devices as well as phones and computers.
Unlike gas generators, portable solar generators offer power without making a lot of noise or creating a lot of fumes. This makes them much more appealing for campsites.
Portable solar generators are better for the environment, since they don't rely on gas or diesel fuel to run.
Using a solar generator is ultimately more cost-effective as you will never need to purchase fuel to recharge it.
Solar Power Can Take You Further
Solar power is one of the best options for dependable, renewable energy. Not only can it help power your house, but you can use these portable generators to carry that power with you, wherever you may go.
There are clearly lots of options on the market today. We hope our guide is helpful to you as you assess our own backup power needs, and as you determine which portable solar generator will give you the greatest value. Note that you can find many of these solar power options through third-party retailers like Amazon. Do your due diligence as you seek the perfect, portable solar solution for you and your family.
Josh Hurst is a journalist, critic, and essayist. He lives in Knoxville, TN, with his wife and three sons. He covers natural health, nutrition, supplements, and clean energy. His writing has appeared in Health, Shape, and Remedy Review.
Not since the Civil War has an American presidential Inauguration Day been so fraught with fear and dread (on Feb. 23, 1861, Abraham Lincoln traveled to his inauguration under military guard, arriving in Washington, DC, in disguise). The incoming president is the most unpopular of any to assume office since modern polling began. In a single news cycle this past week he managed to alienate allies throughout an entire continent (Europe) during a brief break in a string of petulant tweets intended to persuade his own nation that Saturday Night Live is "not funny ... really bad television!"
Day One Agenda for #Trump Administration: Energy Deregulation https://t.co/fOLWjA5snd @ClimateNexus @350 @billmckibben @RobertKennedyJr @ewg

— EcoWatch (@EcoWatch)1484922963.0
Much has been made of the new president's personality and psyche—his narcissism, his germophobia, his irritability, his minimal sleeping habits and his reported inability to laugh (though he does smile). In my view, the most revealing personal characteristic of president #45 may be his complete disconnection from the natural world. Here is an individual who grew up in a city, who sees land only in terms of profit potential, who proudly covers the tortured ground with high-rise buildings, who lives in a penthouse and who walks outdoors only on golf courses. One could make some similar comments about many of his recent predecessors (certainly not Teddy Roosevelt), but in this instance the tendency reaches an extreme.
How can a person so isolated from natural phenomena hope to understand the vulnerability of our planet's climate, water, air and innumerable species to the actions of people (one hastens to add—people much like himself)? How can he appreciate that civilization itself is an organism with a constant need for "food" (not just grain and meat, but energy, minerals and water as well), that is organized by way of hierarchically ordered and interlinked cycles and that is subject to natural limits and ultimately to death?

One could argue that all hubris is tied to human beings' illusion of dominance over nature. Our long withdrawal from wildness surely started with language, which gave us the ability to name and categorize and thus to psychically control and distance ourselves from what we named; it erupted into alienation with the advent of agriculture, cities and most recently fossil fuels. But we never stopped depending on the fabric of life in which we have always been entwined. Even as we unravel the ecosphere's delicate fibers, we draw upon eons of accumulated soil nutrients and minerals, fresh water and biodiversity.
Life implies death—one's own mortality above all. Everything has limits. Wisdom resides in the understanding that we are subject to forces we cannot control and that we must respect and accommodate ourselves to those forces. If we want to have language, farming, cities and energy, then we must make a deliberate cultural effort to maintain an attitude of individual and collective humility. In practical terms, that means keeping the size of our global population low enough so that it can be supported long-term without eroding natural systems, managing consumption so that resources are not depleted and non-biodegradable wastes do not accumulate and maintaining checks on wealth inequality.
How many Earths does it take? Productive global hectares (gha) per capita required for the current world population. Global Footprint Network
Obviously, we haven't been doing these things very well, especially in recent decades. The power of fossil fuels fed our collective megalomania. Like people in previous civilizations, we went out on a limb—but modern energy and technology enabled us to go much further than any humans had before. Still, as all civilizations do, ours has reached the point of diminishing returns, of over-reach. Before us lies the senescence and death of a way of living and of seeing the world. Perhaps the new president's qualities of character are emblematic of these final stages of cultural disintegration.

In the days to come, there will be plenty of opportunities for resistance, protest and, one hopes, celebration. Inauguration Day 2017 is a turning point; for me, it seems a perfect occasion for a walk in the woods.
I spent the last year working with co-author David Fridley and Post Carbon Institute staff on a just-published book, Our Renewable Future. The process was a pleasure: everyone involved (including the twenty or so experts we interviewed or consulted) was delightful to work with and I personally learned an enormous amount along the way. But we also encountered a prickly challenge in striking a tone that would inform but not alienate the book's potential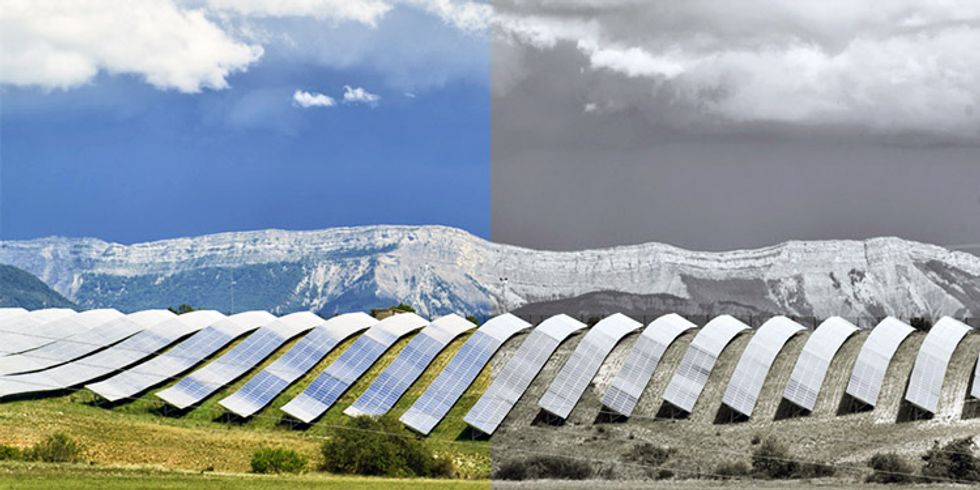 As just about everyone knows, there are gaping chasms separating the worldviews of fossil fuel promoters, nuclear power advocates and renewable energy supporters. But crucially, even among those who disdain fossils and nukes, there is a seemingly unbridgeable gulf between those who say that solar and wind power have unstoppable momentum and will eventually bring with them lower energy prices and millions of jobs and those who say these intermittent energy sources are inherently incapable of sustaining modern industrial societies and can make headway only with massive government subsidies.
We didn't set out to support or undermine either of the latter two messages. Instead, we wanted to see for ourselves what renewable energy sources are capable of doing and how the transition toward them is going. We did start with two assumptions of our own (based on prior research and analysis), about which we are perfectly frank: one way or another fossil fuels are on their way out and nuclear power is not a realistic substitute. That leaves renewable solar and wind, for better or worse, as society's primary future energy sources.
In our work on this project, we used only the best publicly available data and we explored as much of the relevant peer-reviewed literature as we could identify. But that required sorting and evaluation: Which data are important? And which studies are more credible and useful? Some researchers claim that solar PV electricity has an energy return on the energy invested in producing it (EROEI) of about 20:1, roughly on par with electricity from some fossil sources, while others peg that return figure at less than 3:1. This wide divergence in results of course has enormous implications for the ultimate economic viability of solar technology. Some studies say a full transition to renewable energy will be cheap and easy, while others say it will be extremely difficult or practically impossible. We tried to get at the assumptions that give rise to these competing claims, assertions and findings, and that lead either to renewables euphoria or gloom. We wanted to judge for ourselves whether those assumptions are realistic.
That's not the same as simply seeking a middle ground between optimism and pessimism. Renewable energy is a complicated subject and a fact-based, robust assessment of it should be honest and informative; its aim should be to start new and deeper conversations, not merely to shout down either criticism or boosterism.
Unfortunately, the debate is already quite polarized and politicized. As a result, realism and nuance may not have much of a constituency.
This is especially the case because our ultimate conclusion was that, while renewable energy can indeed power industrial societies, there is probably no credible future scenario in which humanity will maintain current levels of energy use (on either a per capita or total basis). Therefore current levels of resource extraction, industrial production and consumption are unlikely to be sustained—much less can they perpetually grow. Further, getting to an optimal all-renewable energy future will require hard work, investment, adaptation and innovation on a nearly unprecedented scale. We will be changing more than our energy sources; we'll be transforming both the ways we use energy and the amounts we use. Our ultimate success will depend on our ability to dramatically reduce energy demand in industrialized nations, shorten supply chains, electrify as much usage as possible and adapt to economic stasis at a lower overall level of energy and materials throughput. Absent widespread informed popular support, the political roadblocks to such a project will be overwhelming.
That's not what most people want to hear. And therefore, frankly, we need some help getting this analysis out to the sorts of people who might benefit from it. Post Carbon Institute's communications and media outreach capabilities are limited. Meanwhile the need for the energy transition is urgent and the longer it is delayed, the less desirable the outcome will be. It is no exaggeration to say that the transition from climate-damaging and depleting fossil fuels to renewable energy sources is the central cause of our times. And it will demand action from each and every one of us.
You can help by visiting the Our Renewable Future website, familiarizing yourself with the issue, sharing your thoughts and spreading the word with friends, family, colleagues and allies.
YOU MIGHT ALSO LIKE
Uncovered Documents Reveal MSNBC Show Worked to Promote Fracking
Noam Chomsky: The Doomsday Clock Is Nearing Midnight
Apple Is Generating So Much Renewable Energy It Plans to Start Selling It
If our transition to renewable energy is successful, we will achieve savings in the ongoing energy expenditures needed for economic production. We will be rewarded with a quality of life that is acceptable—and, perhaps, preferable to our current one (even though, for most Americans, material consumption will be scaled back from its current unsustainable level). We will have a much more stable climate than would otherwise be the case. And we will see greatly reduced health and environmental impacts from energy production activities.
But the transition will entail costs—not just money and regulation, but also changes in our behavior and expectations. It will probably take at least three or four decades and will fundamentally change the way we live.
Nobody knows how to accomplish the transition in detail, because this has never been done before. Most previous energy transitions were driven by opportunity, not policy. And they were usually additive, with new energy resources piling onto old ones (we still use firewood, even though we've added coal, hydro, oil, natural gas and nuclear to the mix).
Since the renewable energy revolution will require trading our currently dominant energy sources (fossil fuels) for alternative ones (mostly wind, solar, hydro, geothermal and biomass) that have different characteristics, there are likely to be some hefty challenges along the way.
Therefore, it makes sense to start with the low-hanging fruit and with a plan in place, then revise our plan frequently as we gain practical experience. Several organizations have already formulated plans for transitioning to 100 percent renewable energy. David Fridley, staff scientist of the energy analysis program at the Lawrence Berkeley National Laboratory and I have been working for the past few months to analyze and assess those plans and have a book in the works titled Our Renewable Future. Here's a very short summary, tailored mostly to the U.S., of what we've found.
Level One: The Easy Stuff
Nearly everyone agrees that the easiest way to kick-start the transition would be to replace coal with solar and wind power for electricity generation. That would require building lots of panels and turbines while regulating coal out of existence. Distributed generation and storage (rooftop solar panels with home- or business-scale battery packs) will help. Replacing natural gas will be harder, because gas-fired "peaking" plants are often used to buffer the intermittency of industrial-scale wind and solar inputs to the grid (see Level Two).
Electricity accounts for less than a quarter of all final energy used in the U.S. What about the rest of the energy we depend on? Since solar and wind produce electricity, it makes sense to electrify as much of our energy usage as we can. For example, we could heat and cool most buildings with electric air-source heat pumps, replacing natural gas- or oil-fueled furnaces. We could also begin switching out all our gas cooking stoves for electric stoves.
Transportation represents a large swath of energy consumption and personal automobiles account for most of that. We could reduce oil consumption substantially if we all drove electric cars (replacing 250 million gasoline-fueled automobiles will take time and money, but will eventually result in energy and financial savings). Promoting walking, bicycling and public transit will take much less time and investment.
Buildings will require substantial retrofitting for energy efficiency (this will again take time and investment, but will offer still more opportunities for savings). Building codes should be strengthened to require net-zero-energy or near-net-zero-energy performance for new construction. More energy-efficient appliances will also help.
The food system is a big energy consumer, with fossil fuels used in the manufacture of fertilizers, food processing and transportation. We could reduce a lot of that fuel consumption by increasing the market share of organic local foods. While we're at it, we could begin sequestering enormous amounts of atmospheric carbon in topsoil by promoting farming practices that build soil rather than deplete it—as is being done, for example, in the Marin Carbon Project.
If we got a good start in all these areas, we could achieve at least a 40 percent reduction in carbon emissions in 10 to 20 years.
Level Two: The Harder Stuff
Solar and wind technologies have a drawback: They provide energy intermittently. When they become dominant in our overall energy mix, we will have to accommodate that intermittency in various ways. We'll need substantial amounts of grid-level energy storage as well as a major grid overhaul to get the electricity sector close to 100 percent renewables (replacing natural gas in electricity generation). We'll also need to start timing our energy usage to coincide with the availability of sunlight and wind energy. That in itself will present both technological and behavioral hurdles.
After we switch to electric cars, the rest of the transport sector will require longer-term and sometimes more expensive substitutions. We could reduce our need for cars (which require a lot of energy for their manufacture and decommissioning) by increasing the density of our cities and suburbs and reorienting them to public transit, bicycling and walking. We could electrify all motorized human transport by building more electrified public transit and intercity passenger rail lines. Heavy trucks could run on fuel cells, but it would be better to minimize trucking by expanding freight rail. Transport by ship could employ sails to increase fuel efficiency (this is already being done on a tiny scale by the MS Beluga Skysails, a commercial container cargo ship partially powered by a 1,700-square-foot, computer-controlled kite), but relocalization or deglobalization of manufacturing would be a necessary co-strategy to reduce the need for shipping.
Much of the manufacturing sector already runs on electricity, but there are exceptions—and some of these will offer significant challenges. Many raw materials for manufacturing processes either are fossil fuels (feedstocks for plastics and other petrochemical-based materials) or require fossil fuels for mining or transformation (e.g., most metals). Considerable effort will be needed to replace fossil-fuel-based industrial materials and to recycle non-renewable materials more completely, significantly reducing the need for mining.
If we did all these things, while also building far, far more solar panels and wind turbines, we could achieve roughly an 80 percent reduction in emissions compared to our current level.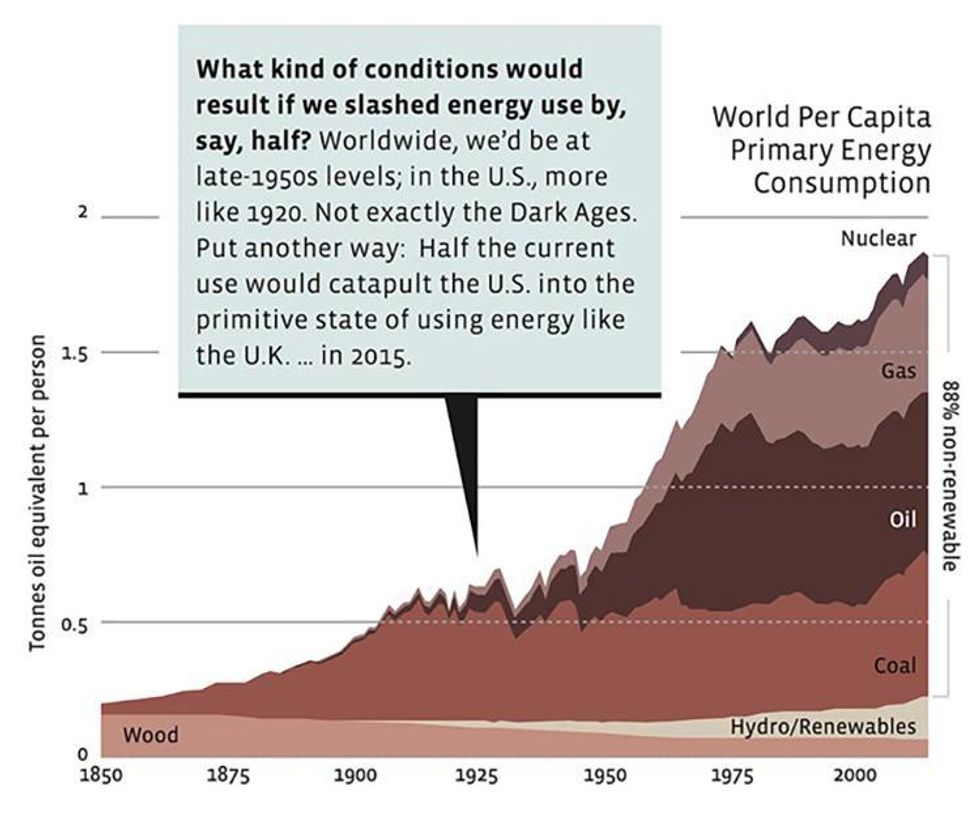 Level Three: The Really Hard Stuff
Doing away with the last 20 percent of our current fossil-fuel consumption is going to take still more time, research and investment—as well as much more behavioral adaptation.
Just one example: We currently use enormous amounts of concrete for all kinds of construction. The crucial ingredient in concrete is cement. Cement-making requires high heat, which could theoretically be supplied by sunlight, electricity or hydrogen—but that will entail a nearly complete redesign of the process.
While with Level One we began a shift in food systems by promoting local organic food, driving carbon emissions down further will require finishing that job by making all food production organic and requiring all agriculture to build topsoil rather than deplete it. Eliminating all fossil fuels in food systems will also entail a substantial redesign of those systems to minimize processing, packaging and transport.
The communications sector—which uses mining and high-heat processes for the production of phones, computers, servers, wires, photo-optic cables, cell towers and more—presents some really knotty problems. The only good long-term solution in this sector is to make devices that are built to last a very long time and then to repair them and fully recycle and remanufacture them when absolutely needed. The Internet could be maintained via the kinds of low-tech, asynchronous networks now being pioneered in poor nations, using relatively little power. An example might be the AirJaldi networks in India, which provide Internet access to about 20,000 remote users in six states, using mostly solar power.
Back in the transport sector: We've already made shipping more efficient with sails, but doing away with petroleum altogether will require costly substitutes (fuel cells or biofuels). One way or another, global trade will have to shrink.
There is no good drop-in substitute for aviation fuels; we may have to write off aviation as anything but a specialty transport mode. Planes running on hydrogen or biofuels are an expensive possibility, as are dirigibles filled with (non-renewable) helium, any of which could help us maintain vestiges of air travel. Paving and repairing roads without oil-based asphalt is possible, but will require an almost complete redesign of processes and equipment.
Great attention will have to be given to the interdependent linkages and supply chains connecting various sectors (communications, mining and transport knit together most of what we do in industrial societies). Some links in supply chains will be hard to substitute and chains can be brittle: A problem with even one link can imperil the entire chain.
The good news is that if we do all these things, we can get beyond zero carbon emissions; that is, with sequestration of carbon in soils and forests, we could actually reduce atmospheric carbon with each passing year.
Doing Our Level Best
This plan features "levels;" the more obvious word choice would have been "stages." The latter implies a sequence—starting with Stage One, ending with Stage Three—yet accomplishing the energy transition quickly will require accelerating research and development to address many Level Two and Three issues at the same time we're moving rapidly forward on Level One tasks. For planning purposes, it's useful to know what can be done relatively quickly and cheaply and what will take long, expensive, sustained effort.
How much energy will be available to us at the end of the transition? It's hard to say, as there are many variables, including rates of investment and the capabilities of renewable energy technology without fossil fuels to back them up and to power their manufacture, at least in the early stages. This "how much" question reflects the understandable concern to maintain current levels of comfort and convenience as we switch energy sources. But in this regard, it is good to keep ecological footprint analysis in mind.
According to the Global Footprint Network's Living Planet Report 2014, the amount of productive land and sea available to each person on Earth in order to live in a way that's ecologically sustainable is 1.7 global hectares. The current per capita ecological footprint in the U.S. is 6.8 global hectares. Asking whether renewable energy could enable Americans to maintain their current lifestyle is therefore equivalent to asking whether renewable energy can keep us living unsustainably. The clear answer is: only temporarily, if at all. So why bother trying? We should aim for a sustainable level of energy and material consumption, which on average is significantly lower than at present.
One way or another, the energy transition will represent an enormous societal shift. During past shifts, there were winners and losers. In the current instance, if we don't pay great attention to equity issues, it is entirely possible that only the rich will have access to renewable energy and therefore, ultimately, to any substantial amounts of energy at all.
The collective weight of these challenges and opportunities suggests that a truly all-renewable economy may be very different from the American economy we know today. The renewable economy will likely be slower and more local; it will probably be a conserver economy rather than a consumer economy. It will also likely feature far less economic inequality. Economic growth may reverse itself as per capita consumption shrinks; if we are to avert a financial crash and perhaps a revolution as well, we may need a different economic organizing principle. In her recent book on climate change, This Changes Everything, Naomi Klein asks whether capitalism can be preserved in the era of climate change. While it probably can (capitalism needs profit more than growth), that may not be a good idea because, in the absence of overall growth, profits for some will have to come at a cost to everyone else.
This short article only addresses the energy transition in the U.S.; other nations will face different challenges and opportunities. Poor nations will have to find ways to provide all their energy from renewable sources while advancing in terms of the U.N. Human Development Index. Nations especially vulnerable to sea level rise may have other immediate priorities to deal with. And nations with low populations but very large solar or wind resources may find themselves in an advantageous position if they are able to obtain foreign investment capital without too many strings attached.
The most important thing to understand about the energy transition is that it's not optional. Delay would be fatal. It's time to make a plan—however sketchy, however challenging—and run with it, revising it as we go.
Here's The Script, in four despicable acts:
Act 1. Fracking boom goes bust as production from shale gas and tight oil wells stalls out and lurches into decline.
Act 2. Oil and gas industry loudly blames anti-fracking environmentalists and restrictive regulations.
Act 3. Congress rolls back environmental laws.
Act 4. Loosened regulations do little to boost actual oil and gas production, which continues to tank, but the industry wins the right to exploit marginal resources a little more cheaply than would otherwise have been the case.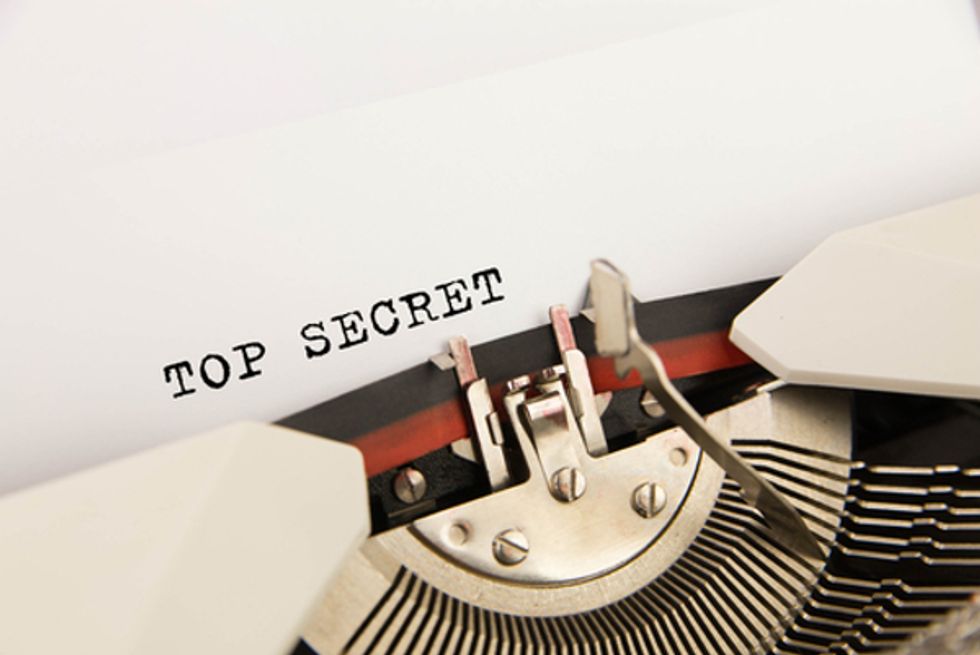 Photo courtesy of Shutterstock
You can bet The Script is being written in operational detail right now at corporate headquarters in Oklahoma City and Houston, and in the offices of PR firms in New York and Boston. Each of its elements has the inevitability of events in a Shakespearean tragedy.
It's fairly clear that the fracking bubble will burst soon—almost certainly within the decade. Our
ongoing analysis at Post Carbon Institute
documents the high per-well decline rates (a typical well's production drops 70 percent during the first year), the high variability of production potential within geological formations being tapped and the dwindling number of remaining drilling sites in the few "sweet spots" that offer vaguely profitable drilling potential. Meanwhile, as the
Energy Information Administration (EIA) has recently documented
, the balance sheets of fracking companies are loaded with debt while surprisingly short on profits from sales of product—with real profits coming mostly from sales of assets (drilling leases).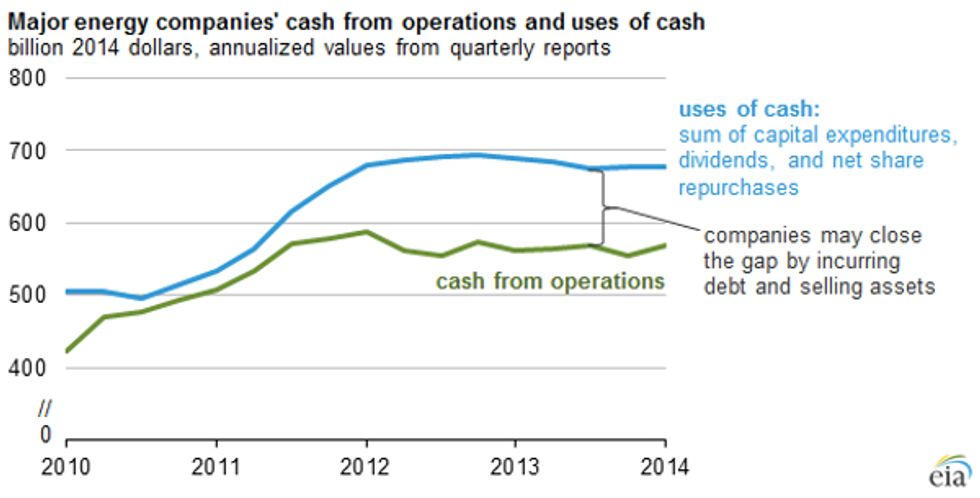 Step 1. Borrow money and use it to lease thousands of acres for drilling.
Step 2. Borrow more money and drill as many wells as you can, as quickly as you can.
Step 3. Tell everyone within shouting distance that this is just the beginning of a production boom that will continue for the remainder of our lives and the lives of our children and that everyone who invests will get rich.
Step 4. Sell drilling leases to other (gullible) companies at a profit, raise funds through Initial Public Offerings or bond sales, and use the proceeds to hide financial losses from your drilling and production operations.
No, this is all business. Environmentalists will merely be handy scapegoats. Blaming environmentalists for the bursting of the fracking bubble will divert public attention from the industry's own bad business practices. But even more usefully, telling receptive members of Congress that falling oil and gas production rates are due to anti-fracking, fear-mongering, business-hating enviros will set the stage for new and powerful calls to roll back local, state and national regulations. Congress's likely response: "Poor you! What can we do to help? How about some further exemptions to the Clean Air and Clean Water acts? Maybe a preemption of local fracking ordinances with a new industry-friendly national rule? Would you care for some drilling leases on millions of acres of federal land as an appetizer, while you're waiting? They're on the house."
One way or another, the current fracking bubble is likely to constitute the last gasp of production growth for U.S. oil and gas. The Script can't solve all the industry's problems. But it might yield a few consolation prizes.
What could keep The Script from succeeding? The industry's PR offensive will be much less effective if mainstream media prominently and repeatedly publish good analyses of what's going on in the geology of the fracking fields and the balance sheets of the drilling companies; and if public officials understand and talk about the real reasons for the coming stall and drop in U.S. oil and gas production.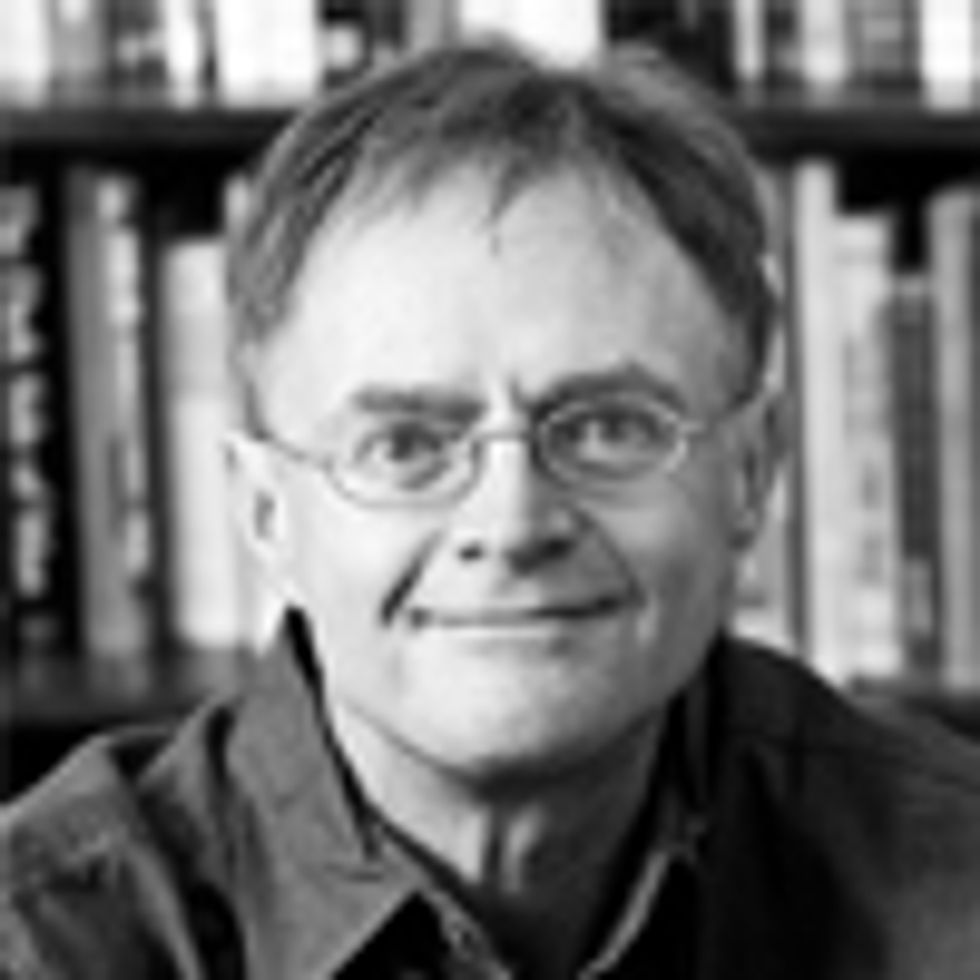 The New York Times reports that "The United States and Europe kicked off a joint effort on Tuesday intended to curb Russia's long-term ability to develop new oil resources." The new sanctions would deny Russia access to western technology needed to access polar oil and deepwater oil, as well as tight oil produced by hydrofracturing and horizontal drilling.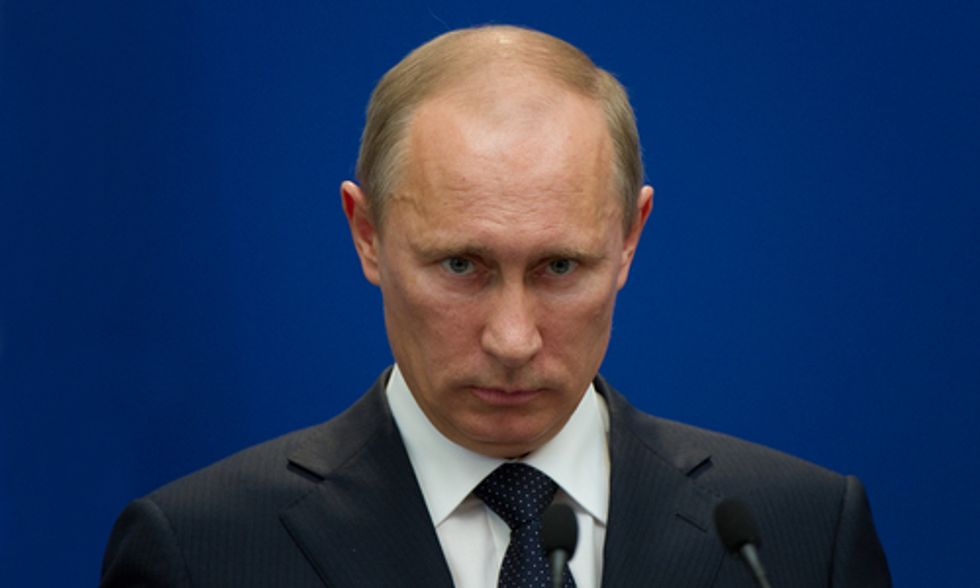 Evidently the purpose of the sanctions is merely to punish Vladimir Putin for resisting Western attempts to surround his nation with NATO bases and missiles. Frederic Legrand / Shutterstock.com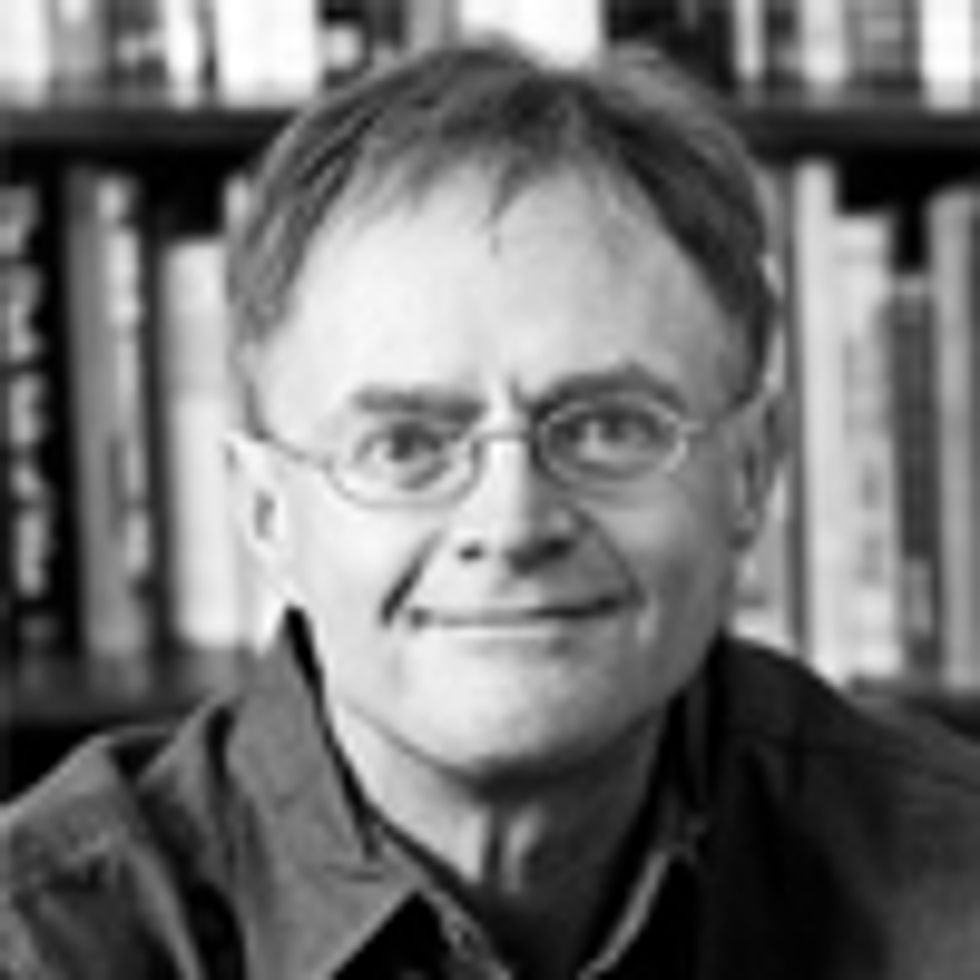 Two roads diverged in a wood, and I—
I took the one less traveled by,
And that has made all the difference.
–Robert Frost
Our contemporary world is host to two coexisting but fundamentally different—and, in at least one crucial respect, contradictory—realities. One of these might be termed Political Reality, though it extends far beyond formal politics and pervades conventional economic thinking. It is the bounded universe of what is acceptable in public economic-social-political discourse. The other is Physical Reality: i.e., what exists in terms of energy and materials, and what is possible given the laws of thermodynamics.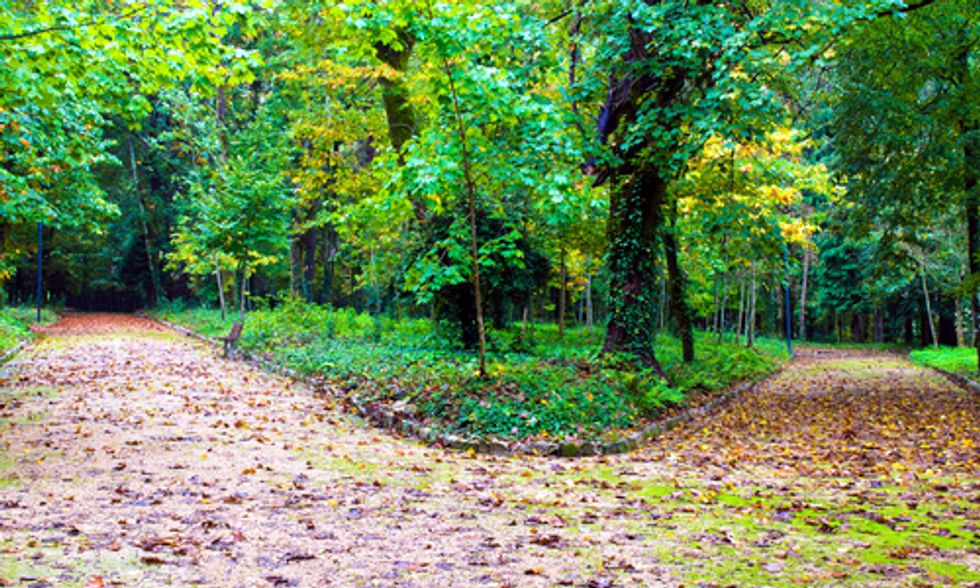 Photo courtesy of Shutterstock
For decades these two realities have developed along separate lines. They overlap from time to time: politicians and economists use data tied to measurable physical parameters, while physical scientists often frame their research and findings in socially meaningful ways. But in intent and effect, they diverge to an ever-greater extent.
The issue at which they differ to the point of outright contradiction is economic growth. And climate change forces the question.
*          *          *
The voice of political reality tells us that economic growth is necessary. We need it for job creation; we need it to enable poor people to become wealthier, to maintain technological progress, to provide returns on investments and to increase tax revenues so as to make essential government services available. Growth is even required to address environmental problems: after all, we need ever more money to fund disaster relief and renewable energy transition efforts. Only by growing the economy now can we become wealthy enough to afford to fix the problems created by past growth. Meanwhile population growth must continue because it is an essential component of GDP growth.
Within the realm of political reality, anybody who questions the importance of growth is not to be taken seriously. Such a person is obviously not a humanitarian, nor a responsible participant in mainstream political and economic discussions.
It wasn't always this way: as I've explained in my book The End of Growth, and in a brief essay on the history of consumerism, economies tended to grow slowly or not at all prior to the fossil-fueled industrial revolution. Cheap, concentrated energy enabled industrial expansion and overproduction, which in turn laid the groundwork for consumerism, globalization and financialization. Economies and governments came to expect high rates of growth, and to rely on them to fulfill increasingly extravagant promises.
The result has been—I'm choosing my words carefully—the gradual accretion of a set of widely shared assumptions that constitute a bounded ideational realm with rigidly consistent internal rules. Deviate from these rules, and there are predictable consequences. When any public person (writer, economist, scientist, whatever) demonstrates a disconnection from political reality by questioning the desirability or possibility of continued growth, the minders of the mainstream media turn their attention elsewhere.
How different physical reality is. Simple arithmetic shows that growth in population and consumption cannot continue indefinitely. In his book The No-Growth Imperative, Gabor Zovanyi offers an illustration: "If our species had started with just two people at the time of the earliest agricultural practices some 10,000 years ago, and increased by 1 percent per year, today humanity would be a solid ball of flesh many thousand light years in diameter, and expanding with a radial velocity that, neglecting relativity, would be many times faster than the speed of light." Today's global population growth rate of 1.1 percent per year is obviously unsustainable over any significant time frame. Growth in consumption levels faces similar practical limits.
Of course, long before we become a solid ball of flesh expanding at light speed while consuming galaxies of raw materials at a gulp, we will arrive at a point where the costs of further growth outweigh any real benefits. Those costs are likely to make themselves known in the forms of rising commodities prices, pollution dilemmas, biodiversity loss, crashing economies, declining real standards of living and rising levels of conflict as nations and social factions fight over scraps.
Plenty of intelligent people whose first allegiance is to physical reality believe we are near or at that point now.
*          *          *
Some on both sides of the reality divide offer to compromise. If you're an environmentalist and want to be taken seriously by politicians and economists, you propose ways to expand the economy with more environmentally responsible practices under the banner of "green growth." If you're an economist, politician, government bureaucrat or business executive and you want to be taken seriously by environmentalists, you propose ways to solve environmental problems without sacrificing growth, such as by creating limited pollution regulations, promoting "green" products or subsidizing renewable energy. Such projects and proposals help address some of the metastasizing crises resulting from humanity's still-expanding population and rates of consumption, but so far they haven't succeeded in changing worrisome consequence trends (warming climate, declining ore grades, depleting fossil fuels, disappearing biodiversity) or resolving the fundamental contradiction between the two realities.
Meanwhile many intellectuals mired in political realism reinforce the divide by arguing that physical limits are unimportant or nonexistent due to the promise of future (theoretical) technologies, resource substitution, efficiency, "dematerialization" or "ephemeralization." The late economist Julian Simon made a career of this, and his most famous follower, Bjørn Lomborg, proudly maintains the tradition. Physical realists refute such arguments as quickly as they are made, but that news doesn't travel far in the world of political realism. 
And so the disconnect continues and worsens.
Climate change has the potential to force the issue. To be sure, political realists work overtime to assure one and all that the world can reduce carbon emissions at a minimal cost, or even at a profit. (A recent example: The IPCC has released a report saying that the world can manage the climate crisis at a cost of "an annualized reduction of consumption growth by 0.04 to 0.14 … percentage points over the century.") But they do this by deliberately underestimating costs, ignoring differences in energy quality and overestimating the potential of alternatives to replace oil in the crucial transport and agriculture sectors. (The IPCC report just referenced does all these things.)
Climatologist Kevin Anderson of University of East Anglia's Tyndall Centre concludes that, if we are to reduce carbon emissions as significantly and as quickly as needed, the economy will have to contract. Anderson estimates that industrial nations must cut emissions by 10 percent per year to avert catastrophe, and figures that such rapid reduction would be, in his words, "incompatible with economic growth." Significantly, George Monbiot—a prominent voice in the world of climate change journalism—has adopted essentially the same view.
Given the dire planetary outcomes now looming, policy makers are increasingly committing themselves to doing something serious about climate change. If they do, the irresistible force and the immovable object will meet head-on. If they don't, it will be because world leaders value political realism more highly than physical survival.
*          *          *
How to reconcile these two realities? This is one of the central problems of our time—and one of the least discussed.
Clearly, we've got to get past predictable cynical responses, with physical realists shouting "You're driving us toward planetary catastrophe!" while political realists respond with, "You want to take us back to the Dark Ages!" That standoff accomplishes little.
Does this mean we should split the difference? In a word, No. In the contest between physical and political realities, it is political reality that must yield. Attempts to meet somewhere in the middle amount simply to reducing delusional thinking from absurd, world-annihilating levels to pathetic, self-immobilizing levels.
Our only hope of minimizing human suffering and wholesale ecosystem mayhem this century lies in coming to grips with the very limits that political realists spend their time seeking to hide and ignore. Their successful efforts at managing the public's perceptions and beliefs have imperiled everything worth caring about. Soon the misled mass of humanity will be grappling with consequences of attitudes and actions that were insane from the get-go, yet cheered, rationalized and normalized by nearly every respected public figure. Delusional expectations are about to crash upon the shoals of hard truth.
As we know from history, whole societies can descend into systemically delusional thinking. In the U.S., with belief in climate change having become a matter of political affiliation, and with business pages of newspapers hailing each shred of ersatz evidence of economic "recovery" (i.e., return to GDP growth), we appear already to be far along that path.
Essayist John Michael Greer argues that the lunacy of managerial elites is a symptom invariably seen when civilizations approach collapse; he believes our society is in the early stages of one of history's periodic, predictable and inevitable phases of decline, and there's essentially nothing we can do to stop the process.
I think he's right, in that economic contraction is now inevitable. This is true whether or not governments and central banks are able to blow yet another bubble (perhaps one even beyond the current stock market / real estate / fracking bubble that's set to burst the moment interest rates increase). What really matters is how contraction proceeds.
There are good arguments to be made that it's too late to change population-consumption-pollution trends now converging, and that the best course of action for those of us awake and aware of physical reality is to adapt intelligently to the phases of collapse as they occur, while building resilience in our lives and communities so as to weather coming storms (literal and metaphorical) as successfully as possible. An equally good case holds that we should continue to do everything we can to counter those trends, so that whatever future unfolds is more survivable, and so that less damage is done to the ecological web on whose integrity the lives of future generations will depend. In my opinion, both are correct.
What's needed is a contraction pathway that minimizes human suffering, averts the worst environmental impacts and yields the best ultimate outcome of sustainable and thriving human cultures situated in functioning, restabilizing ecosystems.
*          *          *
Put off, for the moment, objections that "it's too late" or "we don't have the capacity." What would be a strategy for reorienting society toward physical reality without incurring a collective psychological breakdown, so that the optimal contraction pathway can be realized?
At this late date, the following recommendations may constitute merely a speculative wish list. But just in case there is someone awake to physical reality at the Gates Foundation (which owns the only private philanthropic pile of money big enough to accomplish much of this), here are some ideas that could help avert the worst of the worst.
Start by putting effort into building a stronger consensus for action among those in the "physical reality" camp. Then pursue strategic alliances. There is a spectrum among those wedded to political reality, with denial of climate change and biological evolution at one end. Open a wider dialogue with those at the more physically realistic end of that spectrum, calmly insisting on the primacy of limits to growth while seeking common ground. Then help these reasonable folks work from the inside to transform political reality until it more closely resembles physical reality.
Dedicate major funding to a public education program in critical thinking. An Inconvenient Truth and Cosmos were helpful first volleys, but what is needed is something on a far larger scale; maintained over several years; encompassing classroom materials as well as television, YouTube and social media; and addressing the population-consumption growth dilemma as well as numeracy, ecological literacy and climate change.
Fund major culturally informed and targeted family planning campaigns throughout the world, with a special emphasis on nations with high birth rates.
There are already several movements aiding individuals and communities to adapt to a post-growth, post-carbon economic regime: localism, Transition Towns, the organics movement, Slow Food and Money, the voluntary simplicity movement and more. These need far greater support.
Such movements tend to soft-peddle critiques of our society's overarching systemic problem—the growth imperative built into our financial system, our economic system and (some would argue) even our monetary system—simply because the issue is too big for local organizations to effectively address. The emerging discourse on alternative economics, including the economics of happiness and alternative economic indicators as well as the degrowth and post-growth movements, begin to fill that gap. This discourse also needs major support and elaboration, with the goal of utterly transforming both the discipline of economics (e.g., economics textbooks and classes must begin teaching ecological, steady-state economics) and the economy itself.
At the same time, think tanks should be funded to craft and promote policies that help households and institutions adapt to a contracting economy. These might include, for example, quota rationing of energy and informal training in home-scale arts of production and repair as well as supporting local distributed renewable energy; investment in public transit, electrified transportation and nonmotorized transportation; import substitution; and relocalization of appropriate industries.
Within a contracting economy, income and wealth inequality becomes a critical political and social issue. Unless policies dictate otherwise, those with prior economic advantage tend to aggressively aggregate an ever-larger share of overall societal wealth and income, while those at the bottom of the heap descend into absolute misery. Solutions would begin with taxing financial transactions, inherited wealth, high incomes and luxury goods, with the revenues spent on building renewable energy infrastructure, redesigning food and transport systems to dramatically reduce oil dependence and helping poor folk adapt and get by. These policies must be promoted on a national and global scale with major funding and the enlisted expertise of messaging professionals.
Now for those objections—"It's too late," "We haven't the capacity." They are persuasive. The fulfillment of the above wish list (it could be lengthened considerably) is indeed a far longshot. But even minor progress along any of these lines could help change the trajectory of collapse and our chances for a desirable outcome.
If the problem of political realists is self-delusion, the predicament of many physical realists is a sense of defeat and dread. So for the sake of the latter I will conclude with a little pep talk (directed as much to myself as to readers). Too much is at stake to retire in cynical self-assurance that we are right, they are wrong; we are weak, they are strong. Yes, horrible consequences from past growth are inevitable; today's physical reality is a given. However, tomorrow's reality is still, at least to some degree, up to us.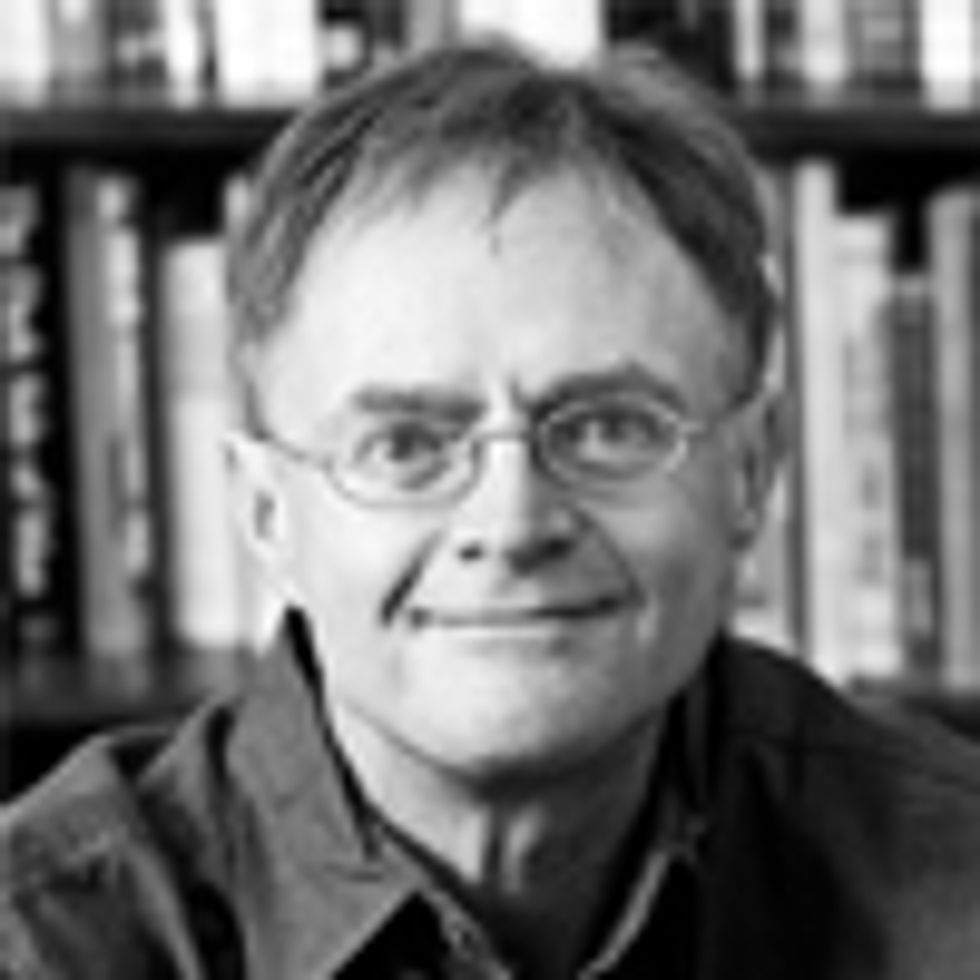 History is often made by strong personalities wielding bold new political, economic or religious doctrines. Yet any serious effort to understand how and why societies change requires examination not just of leaders and ideas, but also of environmental circumstances. The ecological context (climate, weather and the presence or absence of water, good soil and other resources) may either present or foreclose opportunities for those wanting to shake up the social world. This suggests that if you want to change society—or are interested in aiding or evaluating the efforts of others to do so—some understanding of exactly how environmental circumstances affect such efforts could be extremely helpful.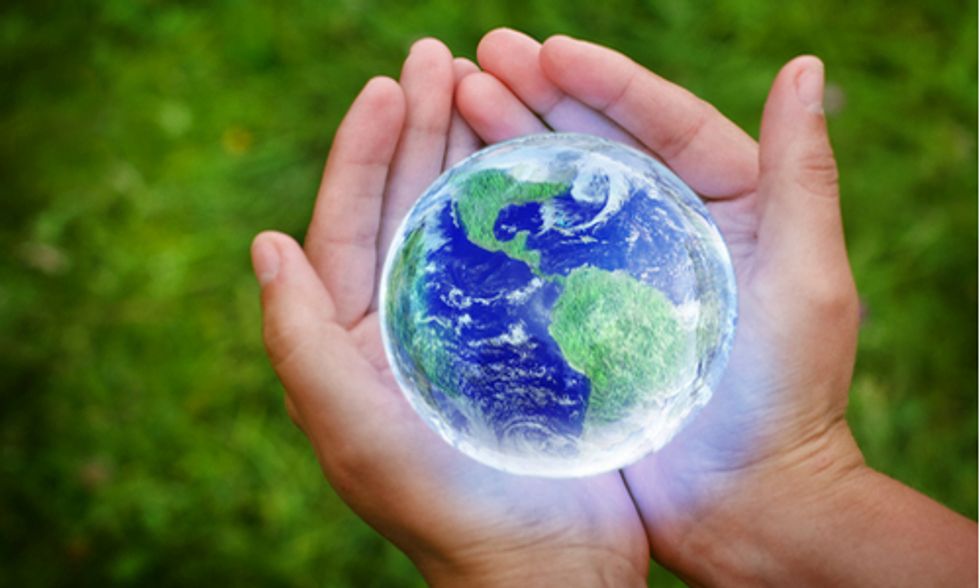 Photo courtesy of Shutterstock
Perhaps the most important key to grasping the relationship between the environment and processes of societal change was articulated by American anthropologist Marvin Harris (1927-2001). From the very beginning of efforts to systematically study human societies in the eighteenth and nineteenth centuries, it had been clear that there were strong correlations between how societies obtain their food (whether by hunting and gathering, horticulture, agriculture, animal herding, or fishing), and their social structures and beliefs about the world. Hunter-gatherers typically live in small peripatetic bands, have an egalitarian social structure, and regard the natural world as full of supernatural powers and personalities that can be contacted or influenced by shamans. Farmers, on the other hand, stay in one place and produce seasonal surpluses that often end up subsidizing the formation of towns as well as classes of full-time specialists in various activities (metal-working, statecraft, soldiery, banking, record-keeping and so on); agricultural societies also tend to develop formalized religions presided over by a full-time, hierarchical priestly class. These systemic distinctions and similarities have held true on different continents and throughout centuries. Harris showed how shifts from one kind of food system to another were driven by environmental opportunity and necessity, and he refined his insights into an anthropological research strategy. [1]
Marvin Harris's magnum opus was the rather difficult book Cultural Materialism: The Struggle for a Science of Culture (1979). While he was perfectly capable of writing for the general public—others of his titles, like Cows, Pigs, Wars and Witches (1974), and Cannibals and Kings (1977) were best-sellers—in Cultural Materialism, Harris was writing for fellow anthropologists. The book is full of technical jargon, and its author argues each point meticulously, presenting a surfeit of evidence. However, the kernel of Harris's theoretical contribution can be summarized rather briefly.
All human societies consist of three interrelated spheres: first, the infrastructure,which comprises a society's relations to its environment, including its modes of production and reproduction—think of this primarily as its ways of getting food, energy, and materials; second, the structure, which comprises a society's economic, political, and social relations; and third, the superstructure, which consists of a society's symbolic and ideational aspects, including its religions, arts, rituals, sports and games and science. Inevitably, these three spheres overlap, but they are also distinct, and it is literally impossible to find a human society that does not feature all three in some permutation.
For social change advocates, it's what comes next that should agitate the neurons. Harris's "cultural materialism" [2] argues for the principle of what he calls "probabilistic infrastructural determinism." That is to say, the structure and superstructure of societies are always contested to one degree or another. Battles over distribution of wealth and over ideas are perennial, and they can have important consequences: life in the former East Germany was very different from life in West Germany, even though both were industrial nations operating under (what started out to be) nearly identical ecological conditions. However, truly radical societal change tends to be associated with shifts of infrastructure. When the basic relationship between a society and its ecosystem alters, people must reconfigure their political systems, economies and ideology accordingly, even if they were perfectly happy with the previous state of affairs.
Societies change their infrastructure out of necessity (for example, due to depletion of resources) or opportunity (usually the increased availability of resources, made available perhaps by migration to new territory or by the adoption of a new technology). The Agricultural Revolution 10,000 years ago represented a massive infrastructural shift, and the fossil-fueled Industrial Revolution 200 years ago had even greater and far more rapid impact. In both cases, population levels grew, political and economic relations evolved, and ideas about the world mutated profoundly.
Explaining the former example in a bit more detail may help illustrate the concept. Harris was an early adopter of the now-common view of the Agricultural Revolution as an adaptive response to environmental shifts at the end of the Pleistocene, a period of dramatic climate change. Glaciers were receding and species (especially big herbivorous prey animals such as mammoths and mastodons) faced extinction, with human predation hurrying that extinction process along. "In all centers of early agricultural activity," writes Harris, "the end of the Pleistocene saw a notable broadening of the subsistence base to include more small mammals, reptiles, birds, mollusks and insects. Such 'broad spectrum' systems were a symptom of hard times. As the labor costs of the hunter-gatherer subsistence systems rose, and as the benefits fell, alternative sedentary modes of production became more attractive."
Lifestyles based on cultivation took root and spread, and with them (eventually) came villages and chiefdoms. In certain places, the latter in turn mutated to produce the most radical social invention of all, the state.
The paleotechnic infrastructures most amendable to intensification, redistribution, and the expansion of managerial functions were those based on the grain and ruminant complexes of the Near and Middle East, southern Europe, northern China, and northern India. Unfortunately these were precisely the first systems to cross the threshold into statehood, and they therefore have never been directly observed by historians or ethnologists. Nonetheless, from the archaeological evidence of storehouses, monumental architecture, temples, high mounds and tells, defensive moats, walls, towers and the growth of irrigation systems, it is clear that managerial activities similar to those observed among surviving pre-state chiefdoms underwent rapid expansion in these critical regions immediately prior to the appearance of the state. Furthermore, there is abundant evidence from Roman encounters with "barbarians" in northern Europe, from Hebraic and Indian scriptures, and from Norse, Germanic and Celtic sagas that intensifier-redistributor-warriors and their priestly retainers constituted the nuclei of the first ruling classes in the Old World.
While I have omitted most of Harris's detailed explanation, nevertheless we have here, in essence, an ecological explanation for the origin of civilization. What's more, Harris is not merely proposing an entertaining "just-so" story, but a scientific hypothesis that is testable within the limits of available evidence.
Cultural materialism is capable of illuminating not just grand societal shifts, such as the origin of agriculture or the state, but the deeper functions of cultural institutions and practices of many sorts. Harris's excellent textbook Cultural Anthropology (2000, 2007), co-authored with Orna Johnson,includes chapters with titles such as "Reproduction," "Economic Organization," "Domestic Life," and "Class and Caste"; each features illustrative sidebars showing how a relevant cultural practice (peacemaking among the Mehinacu of central Brazil, polyandry among the Nyimba of Nepal) is adaptive to environmental necessity. Throughout this and all his books, indeed throughout his entire career, Harris aimed to show that probabilistic infrastructural determinism is the only sound basis for a true "science of culture" that is capable of producing testable hypotheses to explain why societies evolve the way they do.
****
Why is this important now? For the simple reason that our own society is on the cusp of an enormous infrastructural transformation. Which is remarkable, because we're still reeling from the previous one, which began just a couple of centuries ago. The fossil-fueled Industrial Revolution entailed a shift from reliance on mostly renewable energy sources—firewood, field crops, some water power, wind for sails and animal muscle for traction—to cheaper, more controllable, more energy dense, and (in the case of oil) more portable non-renewable sources.
Oil has given us the ability to dramatically increase the rate at which we extract and transform Earth's bounty (via mining machinery, tractors and powered fishing boats), as well as the ability to transport people and materials at high speed and at little cost. It and the other fossil fuels have also served as feedstocks for greatly expanded chemicals and pharmaceuticals industries, and have enabled a dramatic intensification of agricultural production while reducing the need for field labor. The results of fossil-fueling our infrastructure have included rapid population growth, the ballooning of the middle class, unprecedented levels of urbanization and the construction of a consumer economy. While elements of the Scientific Revolution were in place a couple of centuries prior to our adoption of fossil fuels, cheap fossil energy supplied a means of vastly expanding scientific research and applying it to the development of a broad range of technologies that are themselves directly or indirectly fossil-fueled. With heightened mobility, immigration increased greatly, and the democratic multi-ethnic nation state became the era's emblematic political institution. As economies expanded almost continually due to the abundant availability of high-quality energy, neoliberal economic theory emerged as the world's primary ideology of societal management. It soon evolved to incorporate several unchallenged though logically unsupportable notions, including the belief that economies can grow forever and the assumption that the entire natural world is merely a subset of the human economy.
Now, however, our still-new infrastructural regime based on fossil fuels is already showing signs of winding down. There are two main reasons. One is climate change: carbon dioxide, produced in the burning of fossil fuels, is creating a greenhouse effect that is warming the planet. The consequences will be somewhere between severe and cataclysmic. If we continue burning fossil fuels, we're more likely to see a cataclysmic result, which could make continuation of industrial agriculture, and perhaps civilization itself, problematic. We do have the option to dramatically curtail fossil fuel consumption in order to avert catastrophic climate change. Either way, however, our current infrastructure will be a casualty.
The second big reason our fossil fuel-based infrastructure is endangered has to do with depletion. We're not running out of coal, oil, or natural gas in the absolute sense, but we have extracted these non-renewable resources using the best-first, or low-hanging fruit, principle. With oil, the most strategically important of the fossil fuels (because of its centrality to transportation systems), we have already reached the point of diminishing returns. Compared to a decade ago, the global petroleum industry has more than doubled its rate of investment in exploration and production, while actual rates of global crude oil production have flat-lined. Costs of production are rising, and drillers are targeting geological formations that were formerly considered too problematic to bother with. With oil, the fate of the world's economy appears to hang on the outcome of a race between technology and depletion: while industry spokespeople and media pundits tend to cheer new technology such as hydraulic fracturing, persistently high oil prices and soaring production costs suggest that depletion is in fact pulling ahead. Similar diminishing-returns limits with coal and natural gas production will likely be encountered within the next decade, both in the U.S. and the world as a whole.
At a bare minimum, climate change and fossil fuel depletion will force society to change to different energy sources, giving up reliance on energy-dense and controllable coal, oil and gas in favor of more diffuse and intermittent renewable sources like wind and solar. This in itself is likely to have enormous societal implications. While electric passenger cars running on power supplied by wind turbines and solar panels are feasible, electric airliners, container ships and 18-wheel trucks are not. Distributed electricity generation from renewables, together with a decline in global shipping and air transport, may favor less globalized and more localized patterns of economic and political organization.
However, we must also consider the strong likelihood that our looming, inevitable shift away from fossil fuels will entail a substantial reduction in the amount of useful energy available to society. Wind and sunlight are abundant and free, but the technology used to capture energy from these ambient sources is made from nonrenewable minerals and metals. The mining, manufacturing and transport activities necessary for the production and installation of wind turbines and solar panels currently require oil. It may theoretically be possible to replace oil with electricity from renewables in at least some of these processes, but for the foreseeable future wind and solar technologies can best be thought of as fossil fuel extenders.
Nuclear power, with its unbreakable reliance on mining and transport, is likewise a fossil fuel extender—but a far more dangerous one, given unsolved problems with accidents, nuclear proliferation, and waste storage. When the construction and decommissioning of power plants, and the mining and processing of uranium are all taken into account, nuclear power also offers a relatively low energy return on the energy invested (EROEI) in producing it.
Relatively low energy returns-on-investment from both nuclear and renewable energy sources may themselves result in societal change. The EROEI of fossil fuels was extremely high in comparison with that of energy sources previously available. This was a major factor in reducing the need for agricultural field labor, which in turn drove urbanization and the growth of the middle class. Some renewable sources of energy offer a better EROEI than firewood or agricultural crops, but none can compare with coal, oil and gas in their heyday. This suggests that the social consequences of the end of cheap fossil energy may include a partial re-ruralization of society and a shrinking of the middle class (the latter process is already beginning in the U.S.).
With less useful energy available, the global economy will fail to grow, and will likely enter a sustained period of contraction. Increased energy efficiency may cushion the impact but cannot avert it. With economies no longer growing, our current globally dominant neoliberal political-economic ideology may increasingly be called into question and eventually overthrown.
While energy is key to society's infrastructure, other factors require consideration as well. Fossil fuels are depleting, but so are a host of additional important resources, including metals, minerals, topsoil and water. So far, we have made up for depletion in these cases by investing more energy in mining lower grade ores, by replacing soil nutrients with commercial fertilizers (many made from fossil fuels), and by transporting water, food and other goods from places of local abundance to regions in which those materials are scarce. This strategy has increased the human carrying capacity of our planet, but it is a strategy that may not work much longer as energy itself becomes scarcer.
Further alterations in the links between the environment and society will arise from climate change. Even assuming that nations undertake dramatic reductions in carbon emissions soon, cumulative past emissions virtually guarantee continued and increasing impacts that will include rising sea levels and worsening droughts and floods. By mid-century, hundreds of millions of climate refugees may be in search of secure habitat.
There are optimistic ways of viewing the future, based on assumptions that fossil fuels are in fact abundant and will last another century or more, that new nuclear power technologies will be more viable than current ones, that renewable energy sources can be scaled up quickly, and that likely impacts of climate change have been overestimated. Even if one or more of these assumptions turns out to be correct, however, the evidence of declining returns on energy and financial investments in oil extraction cannot be disregarded. An infrastructure shift is underway.
Considering oil's role in industrial agriculture, this shift will undoubtedly and profoundly impact our food system—and food (which is our most basic energy source, from a biological perspective) is at the core of every society's infrastructure. Whether or not optimistic assumptions are valid, we probably face an infrastructural transformation at least as significant as the Industrial Revolution.
But the error bars on energy supplies and climate sensitivity include more pessimistic possibilities. Once useful fossil energy supply rates begin to falter, this could trigger an unwinding of the global financial system as well as international conflict. It is also possible that the relationship between carbon emissions and atmospheric temperatures is non-linear, with Earth's climate system subject to self-reinforcing feedbacks that could result in a massive die-off of species, our own included.
Choose your assumptions—optimistic, pessimistic, or somewhere in between. In any case, this is a big deal.
****
We are living at a historic moment when the structure of society (economic and political systems) and its superstructure (ideologies) are about to be challenged perhaps as never before. When infrastructure changes, what seemingly was solid melts into air, paradigms fall, and institutions crumble, until a new societal regime emerges. Think of a caterpillar pupating, its organ systems evidently being reduced to undifferentiated protoplasm before reorganizing themselves into the features of a butterfly. What a perfect opportunity for an idealist intent on changing the world!
Indeed, fault lines are already appearing throughout society. From a cultural materialist point of view, the most important of these relate to how the inevitable infrastructure change will occur. Proponents of distributed renewable energy sources are the underdogs, and the defenders of centralized, fossil energy systems the incumbents in deepening disputes over subsidies and other elements of government energy policy. Meanwhile, grassroots opposition to extreme fossil fuel extraction methods is springing up everywhere that companies are fracking for oil and gas, drilling in deepwater, mining tar sands, or blasting mountaintops to mine coal. Opposition to an oil pipeline is fueling one of the hottest political fires in Washington D.C. And concern about climate change has acquired an intergenerational dimension, as young people across America sue state governments and federal agencies for failing to develop climate action plans. Young people, after all, are the ones who will most forcibly face the consequences of climate change, and their attitude toward older generations may not be forgiving.
We are also seeing increasing conflict over the structure of society—its systems of economic distribution and political decision-making. As economic growth grinds to a halt, the world's wealthy investor class is seeking to guarantee its solvency and maintain its profits by shifting costs onto the general public via bailouts, austerity measures and quantitative easing (which lowers interest rates, flushing money out of savings accounts and into the stock market). Jobs downsize and wages fall, but the number of billionaires billows. However, rising economic inequality has its own political costs, as documented in Amazon's recent best-selling book, a 700-page tome called Capital in the Twenty-First Century, which unfortunately fails to grasp the infrastructural shift that is upon us or its implications for economy and society. Polls show rising dissatisfaction with political leaders and parties throughout the West. But in most countries there is no organized opposition group poised to take advantage of this widespread discontent. Instead, political and economic institutions are themselves losing legitimacy.
Infrastructural tremors are also reverberating throughout international geopolitics. The world's dominant superpower, which attained its status during the twentieth century at least partly because it was the home of the global oil industry, is now quickly losing diplomatic clout and military "credibility" as the result of a series of disastrous miscalculations and blunders, including its invasions and occupations of Afghanistan and Iraq. Coal-fueled China is just now becoming world's largest economy, though it and other second-tier nations (UK, Germany, Russia) are themselves beset with intractable and growing economic contradictions, pollution dilemmas or resource limits.
Society's superstructure is also subject to deepening rupture, with neoliberalism coming under increasing criticism, especially since 2008. However, there is a more subtle and pervasive (and therefore potentially even more potent) superstructure to modern society, one largely taken for granted and seldom named or discussed, and it is likewise under assault. Essayist John Michael Greer calls this "the civil religion of progress." As Greer has written, the idea of progress has quietly become the central article of faith of the modern industrial world, more universally held than the doctrine of any organized religion. The notion that "history has a direction, and it has to make cumulative progress in that direction" has been common to both capitalist and communist societies during the past century. But what will happen to that "religious" conviction as the economy shrinks, technology fails, population declines and inventors fail to come up with ways of managing society's multiplying crises? More to the point, how will billions of fragile human psyches adjust to seeing their most cherished creed battered repeatedly upon the shoals of reality? And what new faith will replace it? Greer suggests that it will be one that re-connects humanity with nature, though its exact form is yet to reveal itself.
All of these trends are in their very earliest phases. As infrastructure actually shifts—as fuels deplete, as weather extremes worsen—tiny cracks in the edifice of business-as-usual will become unbridgeable chasms.
* * *
Here's my last big take-away message for would-be social changers: only ideas, demonstration projects and policy proposals that fit our emerging infrastructure will have genuine usefulness or staying power. How can you know if your idea fits the emerging infrastructure? There's no hard and fast rule, but your idea stands a good chance if it assumes we are moving toward a societal regime with less energy and less transport (and that is therefore more localized); if it can work in a world where climate is changing and weather conditions are extreme and unpredictable; if it provides a way to sequester carbon rather than releasing more into the atmosphere; and if it helps people meet their basic needs during hard times.
It's fairly easy to identify elements of our society's existing structure and superstructure that won't work with the infrastructure toward which we appear to be headed. Consumerism and corporatism are two big ones; these were twentieth century adaptations to cheap, abundant energy. They justifiably have been the objects of a great deal of activist opposition in recent decades. There were reforms or alternatives to consumerism and corporatism that could have worked within our industrial infrastructure regime (or that did work in some places, not others): European-style industrial socialism is the primary example, though that might be thought of as a magnetic hub for a host of idealistic proposals championed by thousands, maybe even millions of would-be world-changers. But industrial socialism is arguably just as thoroughly dependent on fossil-fueled infrastructure as corporatism and consumerism. To the extent that it is, activists who are married to an industrial-socialist vision of an ideal world may be wasting many of their efforts needlessly.
Historic examples offer useful ways of grounding social proposals. In the current context, it is important to remember that almost all of human history took place in a pre-industrial, "pre-progress" context, so it should be fairly easy to differentiate desirable from undesirable societal adaptations to analogous challenges in past eras. For example, anarchist philosopher and evolutionary biologist Peter Kropotkin, in his book Mutual Aid, praised medieval European cities as sites of autonomy and creativity—though the period during which they flourished is often thought of as a "dark age."
There are plenty of activist projects underway now that appear thoroughly aligned with the post-fossil fuel infrastructure toward which we are headed, including Permaculture cooperatives, ecovillages, local food campaigns, and Transition Initiatives. Relevant new economic trends include the collaborative economy, the sharing economy, collaborative consumption, distributed production, P2P finance and the open source and open knowledge movements. While some of the latter merely constitute new business models that appear to spring from web-based technologies and social media, their attractiveness may partly derive from a broadly shared cultural sense that the centralized systems of production and consumption characteristic of the twentieth century are simply no longer viable, and must give way to more horizontal, distributed networks. The list of existing ideas and projects that could help society adapt in a post-fossil fuel era is long. Plenty of people have sensed the direction of global change and come to their own sensible conclusions about what to do, without any awareness of Harris's cultural materialism. But such awareness could help at the margins by reducing wasted effort.
Do you want to change the world? More power to you. Start by identifying your core values—fairness, peace, stability, beauty, resilience, whatever. That's up to you. Figure out what ideas, projects, proposals or policies further those values, but also fit with the infrastructure that's almost certainly headed our way. Then get to work. There's plenty to do, and lots at stake.
[1] The simple observation that human culture is adaptive to environmental conditions is revelatory: Jared Diamond (author of Guns, Germs and Steel) has based a career on it, though he consistently fails to credit Harris—who was earlier and more thorough. Harris himself was careful to cite predecessors upon whose work he was building, including Karl Marx.
[2] The term materialism is loaded with connotations that distract from the issues at hand. In Marvin Harris's usage, the word refers merely to a way of thinking that assumes material effects are due to material causes. When I was teaching a college program on sustainability, I suggested to my students that they think of probabilistic infrastructural determinism as "cultural ecology." I knew this was somewhat inaccurate, as cultural ecology is a school of anthropological thought closely related to, but distinct from, cultural materialism. However, many students simply couldn't get past the word materialism: for them, this was an irremediably distasteful term associated both with the negation of spirituality and with the American mania for buying and consuming corporate products.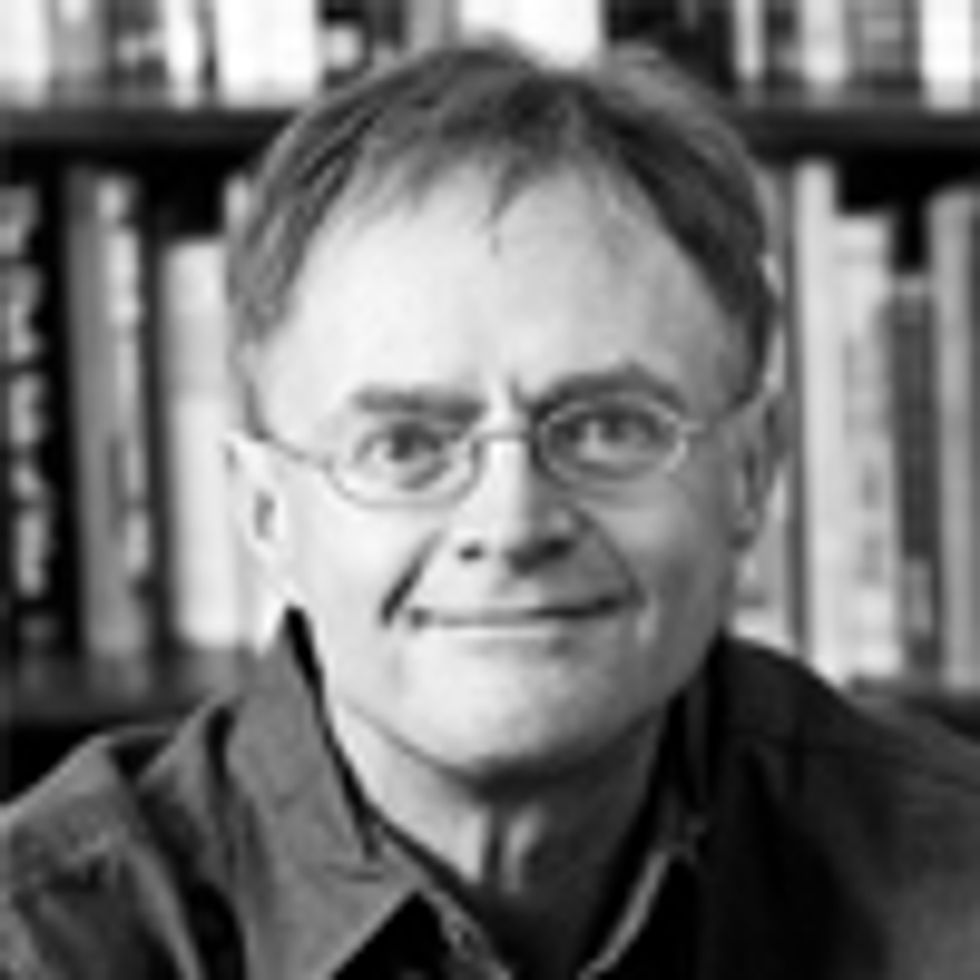 The International Energy Agency (IEA) has just released a new special report called World Energy Investment Outlook that should send policy makers screaming and running for the exits—if they are willing to read between the lines and view the report in the context of current financial and geopolitical trends. This is how the press agency UPI begins its summary: 
It will require $48 trillion in investments through 2035 to meet the world's growing energy needs, the International Energy Agency said Tuesday from Paris. IEA Executive Director Maria van der Hoeven said in a statement the reliability and sustainability of future energy supplies depends on a high level of investment. "But this won't materialize unless there are credible policy frameworks in place as well as stable access to long-term sources of finance," she said. "Neither of these conditions should be taken for granted."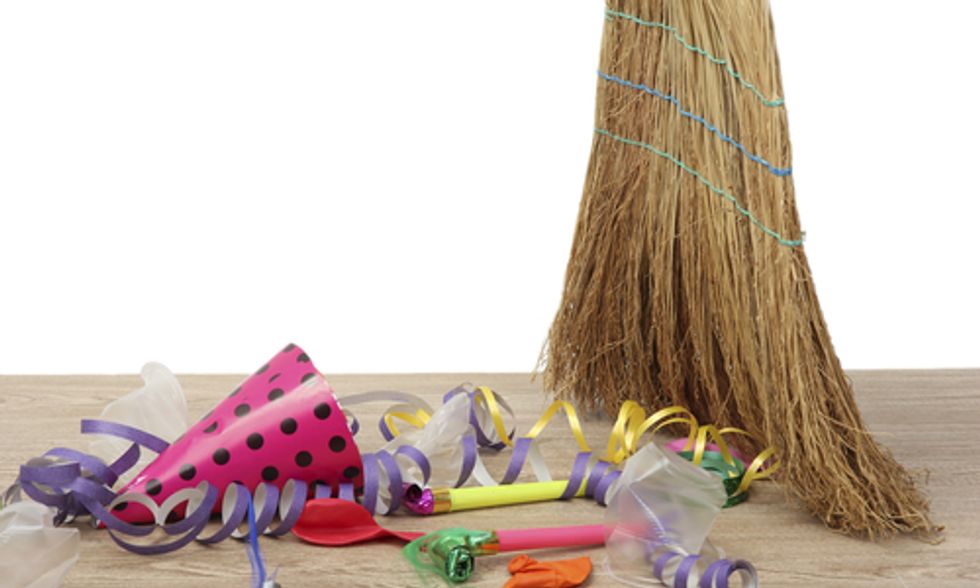 Photo courtesy of Shutterstock

Here's a bit of context missing from the IEA report: the oil industry is actually cutting back on upstream investment. Why? Global oil prices—which, at the current $90 to $110 per barrel range, are at historically high levels—are nevertheless too low to justify tackling ever-more challenging geology. The industry needs an oil price of at least $120 per barrel to fund exploration in the Arctic and in some ultra-deepwater plays. And let us not forget: current interest rates are ultra-low (thanks to the Federal Reserve's quantitative easing), so marshalling investment capital should be about as easy now as it is ever likely to get. If QE ends and if interest rates rise, the ability of industry and governments to dramatically increase investment in future energy production capacity will wane.
Other items from the report should be equally capable of inducing policy maker freak-out:
The shale bubble's-a-poppin'.
In 2012,
the IEA forecast
that oil extraction rates from U.S.
shale formations
(primarily the Bakken in North Dakota and the Eagle Ford in Texas) would continue growing for many years, with America overtaking Saudi Arabia in rate of oil production by 2020 and becoming a net oil exporter by 2030. In its new report, the IEA says
U.S. tight oil production will start to decline around 2020
. One might almost think the IEA folks have been reading
Post Carbon Institute
's analysis of tight oil and shale gas
prospects
! This is a welcome dose of realism, though the IEA is probably still erring on the side of optimism: our own reading of the data suggests the decline will start sooner and will probably be steep.
Help us, OPEC—you're our only hope!
Here's how the
Wall Street Journal
frames its story about the report: "A top energy watchdog said the
world will need more Middle Eastern oil
in the next decade, as the current U.S. boom wanes. But the International Energy Agency warned that Persian Gulf producers may still fail to fill the gap, risking higher oil prices." Let's see, how is OPEC doing these days? Iraq, Syria and Libya are in turmoil. Iran is languishing under U.S. trade sanctions.
OPEC's petroleum reserves are still ludicrously over-stated
. And while the Saudis have made up for declines in old oilfields by bringing new ones on line, they've
run out of new fields to develop
. So it looks as if that risk of higher oil prices is quite a strong one.
A "what-me-worry?" price forecast.
Despite all these dire developments, the IEA offers no change from its 2013 oil price forecast (that is, a gradual increase in world petroleum prices to $128 per barrel by 2035). The new report says the oil industry will need to increase its upstream investment over the forecast period by $2 trillion above the IEA's previous investment forecast. From where is the oil industry supposed to derive that $2 trillion if not from significantly higher prices—higher over the short run, perhaps, than the IEA's long-range 2035 forecast price of $128 per barrel, and ascending higher still? This price forecast is obviously unreliable, but that's nothing new.
The IEA has been issuing wildly inaccurate price forecasts for the past decade
. In fact, if the massive increase in energy investment advised by the IEA is to occur, both electricity and oil are about to become significantly less affordable. For a global economy tightly tied to consumer behavior and markets, and one that is already stagnant or contracting, energy constraints mean one thing and one thing only: hard times.
What about renewables?
The IEA forecasts that only 15 percent of the needed $48 trillion will go to
renewable energy
. All the rest is required just to patch up our current oil-coal-gas energy system so that it doesn't run into the ditch for lack of fuel. But how much investment would be required if
climate change
were to be seriously addressed? Most estimates look only at electricity (that is, they gloss over the pivotal and problematic transportation sector) and ignore the question of energy returned on energy invested. Even when we artificially simplify the problem this way, $7.2 trillion spread out over 20 years simply doesn't cut it. One researcher estimates that
investments will have to ramp up to $1.5 to $2.5 trillion per year
.
In effect, the IEA is telling us that we don't have what it takes to sustain our current energy regime, and we're not likely to invest enough to switch to a different one.
If you look at the trends cited and ignore misleading explicit price forecasts, the IEA's implicit message is clear: continued oil price stability looks problematic. And with fossil fuel prices high and volatile, governments will likely find it even more difficult to devote increasingly scarce investment capital toward the development of renewable energy capacity. 
As you read this report, imagine yourself in the shoes of a high-level policy maker. Wouldn't you want to start thinking about early retirement?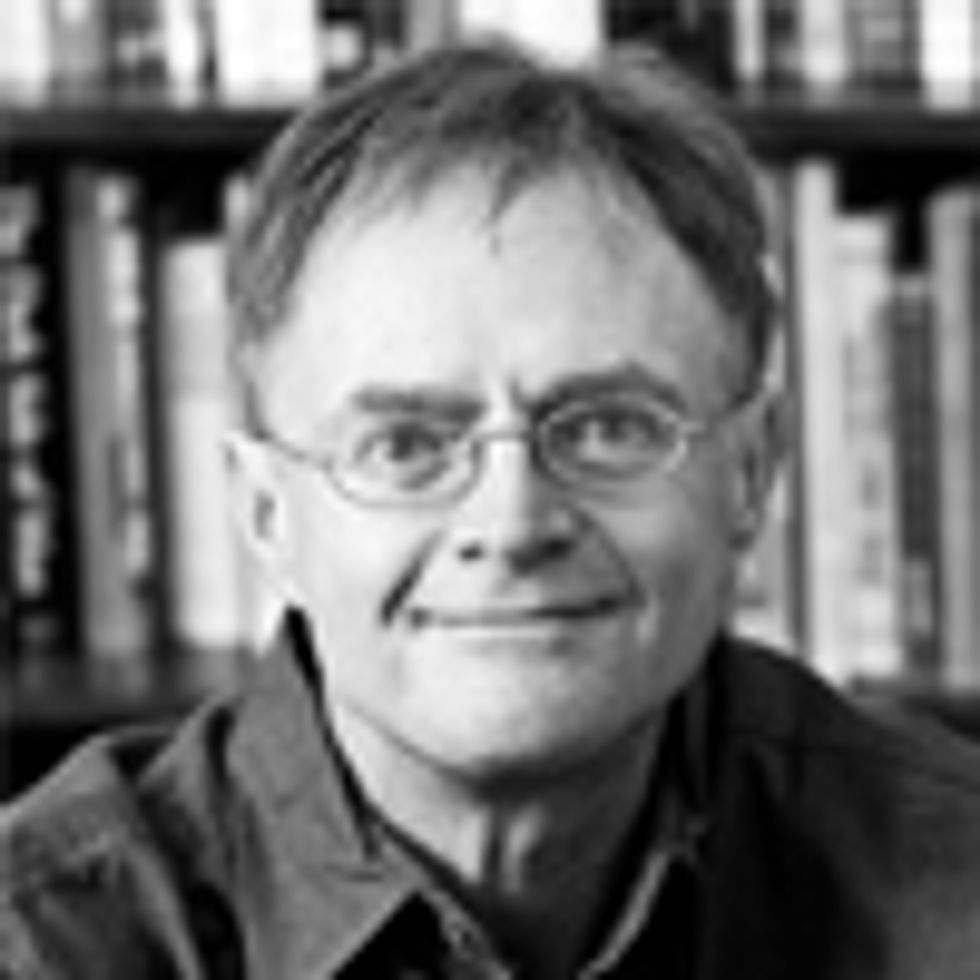 Evolution can be ruthless at eliminating the unfit. "Red in tooth and claw," as Tennyson memorably described it, Nature routinely sacrifices billions of individual organisms and sometimes entire species in the course of its adaptive progression.
We humans have been able to blunt Nature's fangs. We take care of individuals who would not be able to survive on their own—the elderly, the sick, the wounded—and we've been doing so for a long time, perhaps tens of thousands of years. In recent decades more and more of us have leapt aboard the raft of societally ensured survival—though in ways that often have little to do with compassion: today even most hale and hearty individuals would be hard pressed to stay alive for more than a few days or weeks if cut adrift from supermarkets, ATMs and the rest of the infrastructure of modern industrialism.
This strategy of expanding our collective fitness has (at least temporarily) paid off: the consequent reduction in our death rate has resulted in a 700 percent expansion of human population in just the past two centuries, and a current population growth rate of about 80 million per year (births in excess of deaths). Humans are everywhere taking carrying capacity away from most other organisms, except ones that directly serve us such as maize and cattle. We have become expert at cooperatively avoiding nature's culling, and thus at partially (and, again, temporarily) defeating natural selection—at least, in the way it applies to other species.
Some argue that "natural selection" is at work within human society whenever clever and hard-working folks get ahead while lazy dullards lag behind. The philosophy of Social Darwinism holds that this kind of competitive selection improves the species. But critics point out that individual success within society can be maladaptive for society as a whole because if wealth becomes too unequally distributed, social stability is threatened. Such concerns have led most nations to artificially limit competitive selection at the societal level: in the U.S., these limits take the forms of the progressive income tax, Social Security, food stamps, disability payments, Medicaid and Aid for Dependent Children, among others. Even most self-described "conservatives" who think that government shouldn't prevent society's winners from taking all still think it's good for churches to give to the needy.
While the last few decades of rapid economic growth and material abundance—enabled by cheap fossil energy—led to a dramatic expansion of social safety nets in industrialized countries, they also featured the emergence of an ostensibly benign global imperial system led by the U.S., whose fearsome military machine kept a lid on international conflict and whose universally accepted currency helped maintain relative international economic stability (in ways that served U.S. interests, of course). Globally, deaths from war have declined, as has mortality linked to dire poverty.
So far, so good (more or less).
Unfortunately, however, many key components of our successful collective efforts to beat The Reaper are essentially unsustainable. We have reduced mortality not just with antibiotics (to which microbes eventually develop immunity), but also with an economic strategy of drawing down renewable resources at rates exceeding those of natural replenishment, and of liquidating non-renewable resources as quickly as possible. By borrowing simultaneously from the past (when fossil fuels were produced) and the future (when our grandchildren will have to clean up our mess, pay our debt and do without the resources we squander), we are effectively engaging in population overshoot. Every population ecologist knows that when a species temporarily overshoots its environment's long-term carrying capacity, a die-off will follow.
And so, as the world economy stops growing and starts contracting during the next few years, the results will likely include a global increase in human mortality.
Resilience theorists would say we're entering the "release" phase of the adaptive cycle that characterizes all systemic development, a phase described as "a rapid, chaotic period during which capitals (natural, human, social, built and financial) tend to be lost and novelty can succeed." This is a notion to which we'll return repeatedly throughout this essay, and it's a useful way of conceptualizing an experience that, for those undergoing it, will probably feel a lot less like "release" than "pure hell." Among the possible outcomes: Government-funded safety nets become unaffordable and are abandoned. Public infrastructure decays. Economic systems, transport systems, political systems, health care systems and food systems become inoperable to varying degrees and in a variety of ways. Global military hegemony becomes more difficult to maintain for a range of reasons (including political dysfunction and economic decline at the imperial core, scarcity of transport fuel and the proliferation of cheap but highly destabilizing new weapons) and international conflict becomes more likely. Any of those outcomes increases our individual vulnerability. Everyone on the raft is imperiled, especially those who are poor, old, sick or disabled.
We could redesign our economic, political, transport, health care and food systems to be less brittle. But suggestions along those lines have been on the table for years and have been largely rejected because they don't serve the interests of powerful groups that benefit from the status quo. Meanwhile the American populace seems incapable of raising an alarm or responding to it, consisting as it does of a large under-class that is over-fed but under-nourished, over-entertained but misinformed, over-indebted and under-skilled; and a much smaller over-class that lives primarily by financial predation and is happy to tune out any evidence of the dire impacts of its activities.
A thoroughly unsentimental reader of the portents might regard an increase in the human death rate as an inevitable and potentially beneficial culling of the species. The unfit will be pruned away, the fit will survive and humanity will be the better for it. Eventually. In theory.
Or maybe the rich and ruthless will survive and everyone else will either perish or submit to slavery.
The greatest danger is that, if social support systems utterly fail, "overshoot" could turn to "undershoot": that is, population levels could overcorrect to the point that there are fewer survivors than could have been maintained if adaptation had been undertaken proactively—perhaps far fewer than the population just prior to the Industrial Revolution. And for those who did manage to struggle on, levels of culture and technology might plummet to a depth far below what could have been preserved had action been taken.
We have a population bottleneck, as William Catton calls it, ahead of us no matter what we do at this point. Even if a spectacular new energy source were to appear tomorrow, it would do little more than buy us a bit of time. However, we still get to choose how to pass through that bottleneck. We can exert some influence on factors that will determine how many of us get through, and in what condition.
Cooperative or Competitive Adaptation
A worst-case scenario is likely to be averted only by an effective, cooperative effort to adapt to scarcity and to recover from crises.
Fortunately there are perfectly good reasons for assuming that collaborative action along these lines will in fact emerge. We are a supremely cooperative species, and even our earliest ancestors were dedicated communitarians. Other species, though often squabbling over food and potential mates, likewise engage in sharing and cooperative behavior. Members of one species sometimes even cooperate with or offer help to members of different species. Indeed, as evolutionary theorist Peter Kropotkin pointed out in his landmark 1902 book Mutual Aid, evolution is driven by cooperation as well as by competition.
More directly to the point: hard times can bring out the worst in people, but also the best. Rebecca Solnit argues in A Paradise Built in Hell (see this review in the New York Times) that people tend to cooperate, share and help out at least as much during periods of crisis as during times of plenty. A critic might suggest that Solnit stretches this argument too far, and that collapsing societies often feature soaring rates of crime and violence (see, for example, Argentina circa 2000); nevertheless, she supports her thesis with compelling examples.
Assuming we fail to prevent crisis but merely respond to it, we might nevertheless anticipate a range of possible futures, depending on whether we set ourselves up to compete or cooperate. At one end of the competitive-cooperative scenarios spectrum, the rich few become feudal lords while everybody else languishes in direst poverty. At the other end of that spectrum, communities of free individuals cohere to produce necessities and maximize their chances for collective prosperity. Back at the "competitive" end of the scale, there is hoarding of food and widespread famine, while at the "cooperative" extreme community permaculture gardens spring up everywhere. With more competition, people perish for lack of basic survival skills; with more collaboration, people share skills and care for those with disabilities of one kind or another. Competitive efforts by investors to maintain their advantages could lead to a general collapse of trust in financial institutions, culminating in the cessation of trade at almost every level; but with enough cooperation, people could create a non-growth-based monetary system that acts as a public utility, leading to a new communitarian economics.
It's a Set-Up
In the real world, humans are both competitive and cooperative—always have been, always will be. But circumstances, conditioning and brain chemistry can tend to make us more competitive or more collaborative. As we pass through the population-resource-economy bottleneck in the decades ahead, competitive and cooperative behaviors will in turn come to the fore in various times and places. My initial point in all of this is that, even in the absence of effective action to avert economic and environmental crises, we still have the capacity to set ourselves up to be either more competitive or more cooperative in times of scarcity and crisis. With the right social structures and the right conditioning, whole societies can become either more cutthroat or more amiable. By building community organizations now, we are improving our survival prospects later.
But I'd go further. Here's a preliminary hypothesis for which I'm starting to collect both confirming and dis-confirming evidence: We're likely to see the worst of ruthless competition in the early stage of the release phase, when power holders try to keep together what wants to fall apart and reorganize. The effort to hang on to what we have in the face of uncertainty and fear may bring out the competitive nature in many of us, but once we're in the midst of actual crisis we may be more likely to band together.
Among elites—who have enormous amounts of wealth, power and privilege at stake—the former tendency has carried the day. And since elites largely shape the rules, regulations and information flows within society as a whole, this means we're all caught up in a hyper-competitive and fearful moment as we wait for the penny to drop. Elites can deliberately nurture an "us-versus-them" mentality (via jingoistic patriotism, wedge issues and racial resentments) to keep ordinary people from cooperating more to further their common interests. Revolution, after all, is in many respects a cooperative undertaking, and in order to forestall it rulers sometimes harness the cooperative spirit of the masses in going to war against a common foreign enemy.
The over-competitiveness of this pre-release-phase is playing out most prominently and fatefully in debates over "austerity," as nations bail out investment banks while leaving most citizens to languish under lay-offs, pension cuts, and wage cuts. It seems that no measure aimed to prevent defaults and losses to investors is too draconian. But in many historic instances (Russia, Iceland, Argentina) it was only after a massive financial default occurred—that is, once release ran its course—that nations could fundamentally revamp their monetary and banking systems, making recovery possible. That makes "release" sound a bit like a long-overdue vacation. It's important to emphasize, however, that what we face now is not just a collapse and reorganization of a national financial sector, but a crucial turning from the overall expansionary trajectory of civilization itself.
Our collective passage through and reorganization after the release phase of this pivotal adaptive cycle can be thought of as an evolutionary event. And, as noted above, evolution is driven by cooperation as much as by competition. Indeed, cooperation is the source of most of our species' extraordinary accomplishments so far. Language—which gives us the ability to coordinate our behavior across space and time—has made us by far the most successful large animal species on the planet. Our societal evolution from hunting-and-gathering bands to agrarian civilizations to industrial globalism required ever-higher levels of cooperative behavior: as one small example, think for a moment about the stunningly rich collaborative action required to build and inhabit a skyscraper. As we adapt and evolve further in the decades and centuries ahead, we will do so by finding even more effective ways to cooperate.
Ironically, however, during the past few millennia, and especially during the most recent century, social complexity has permitted greater concentrations of wealth, thus more economic inequality, and hence (at least potentially) more competition for control over heaps of agglomerated wealth. As Ivan Illich pointed out in his 1974 classic Energy and Equity, there has been a general correlation between the amount of energy flowing through a society and the degree of inequality within that society. And so, as we have tapped fossil fuels to permit by far the highest energy flow rates ever sustained by any human civilization, a few individuals have accumulated the biggest pots of wealth the world has ever seen. Perhaps it should come as no surprise that it is precisely during this recent, aberrant, high-energy historic interval that Social Darwinism and neoliberal economics have arisen, with the latter coming to dominate economic and social policy worldwide.
The Leap
With release will come the opportunity for a collaborative evolutionary surge. Recall that in the release phase of the adaptive cycle there is expanded opportunity for novelty to succeed. Most people these days tend to think of novelty in purely technological terms, and it's true that email and Twitter can speed social change—for example, by helping organize an instant political rally. But spending hours each day alone in front of a screen does not necessarily lead to collaborative behavior, and it's just possible that we may not be able to count on our hand-held devices continuing to function in the context of global economic crisis, trade disruptions and resource shortages. Therefore perhaps it will be in our interactions within flesh-and-blood communities that our most decisive further innovations will arise.
The details are impossible to predict, but the general outline of our needed cooperative evolutionary leap is clear: we must develop a heightened collective ability to conserve natural resources while minimizing our human impacts on environmental systems. In some respects this might turn out to be little more than an updating of traditional societies' methods of managing common grazing or hunting lands. But today the stakes are far higher: the commons must extend to include to all renewable and non-renewable resources, and "management" must bring extraction and harvest levels within the long-term ability of natural systems to recover and regenerate.
At the same time, with energy flows declining due to the depletion of fossil fuels, current levels of economic inequality will become unsupportable. Adaptation will require us to find ways of leveling the playing field peaceably.
Laying the groundwork for reorganization (following the release phase) will require building resilience into all our social structures and infrastructures. In the decades ahead, we must develop low-resource, low-energy ways of meeting human needs while nurturing an internalized imperative to keep population levels within ecosystems' long-term carrying capacity.
There are those who say that we humans are too selfish and individualistic to make this kind of evolutionary leap, and that even if it were possible there's simply too little time. If they're right, then this may be the end of the line: we might soon wind up in the "unfit" bin of evolutionary history. But given our spectacular history of cooperative achievement so far, and given our ability to transform our collective behavior rapidly via language (aided, for the time being, with instantaneous communications technology), it stands to reason that our species has at least a fair chance of making the cut.
To be sure, evolution will be driven by crisis. We will adapt by necessity. In this release phase there will be vast potential for violence. Remember, release is the phase of the cycle in which capital is destroyed—and currently there are towering piles of human, built and financial capital waiting to topple. We have been set up to compete for shards and scraps. It's no wonder that so many who sense the precariousness of our current situation have opted to become preppers and survivalists. But things will go a lot better for us if, rather than stocking up on guns and canned goods, we spend our time getting to know our neighbors, learning how to facilitate effective meetings or helping design resilient local food systems. Survival will depend on finding cooperative paths in which sacrifice is shared, the best of our collective achievements are preserved, and compassion is nurtured.
Darwin tells us we must evolve or die, and current circumstances bring that choice into stark relief. A lot of people evidently think that fitness and selfishness are the same. But we've gotten ourselves into our current fix not because we're too good at cooperating to achieve collective fitness, but rather because, in our success, we failed to take account of the finite and fragile nature of the natural systems that support us. It's true that individual initiative is important and that group-think can be stultifying. Yet it is our abilities to innovate socially and to cooperate in order to increase our collective fitness that have gotten us this far, and that will determine whether we survive, and under what conditions, as we adapt to scarcity and re-integrate ourselves within ecosystems in the decades ahead.