EcoWatch Daily Newsletter
Is Sunrun the best option for solar panels on your home?
Reviews
Eloi_Omella / E+ / Getty Images
If you're considering a solar panel installation, chances are you've come across the name Sunrun. A lot of literature exists on this leading residential solar panel installer, but research can be overwhelming, so we're breaking down everything you need to know in this Sunrun solar review.
As one of the nation's top solar companies, Sunrun focuses on installing custom-designed solar arrays and backup battery systems, and installations are performed quickly and easily by the provider's massive fleet of technicians. Sunrun also offers a solar leasing program that's popular among customers.
Sunrun Fast Facts
Year Started

2007
Service Areas
22 states and territories, including AZ, CA, CO, CT, FL, HI, IL, MD, MA, NV, NH, NJ, NM, NY, PA, RI, SC, TX, VT, WI, Puerto Rico and Washington D.C.
Service Types
Solar panel and backup battery installations
Types of Panels
High-efficiency monocrystalline panels from top solar suppliers like LONGi and Costco
Backup Battery Options
Brightbox Home Battery storage, which uses lithium-ion batteries like the Tesla Powerwall and the LG Chem
Certifications
Solar Energy Industries Association
Better Business Bureau
(BBB) Rating
B+ with accreditation
Read on to learn more about the provider, or to see if Sunrun is available in your area and get a free quote, fill out the 30-second form below.
Sunrun Overview
Founded in 2007, Sunrun's mission is to create a world run by solar energy. Since 2007, Sunrun has expanded at an impressive rate, now offering services in over 20 states as well as Puerto Rico and Washington D.C.
Sunrun designs solar panel layouts custom to a roof's shape via satellite imagery, giving homeowners more control over the appearance and efficiency of their systems. The company's integrated home solar battery storage service, Brightbox, sets it apart from the many other providers that have yet to deploy storage options that bring a number of key benefits to solar customers.
Sunrun also provides a wide variety of solar financing options for its customers. Catering to a large client base has allowed for Sunrun's massive growth, but it's also presented challenges that have soured the company's reputation online. The BBB gives Sunrun a rating of a B+, which is lower than the average solar provider.
Sunrun Solar Services and Installation
Sunrun is a comprehensive solar installer, providing design and installation of custom solar solutions complete with backup battery storage, home energy monitoring and energy control during outages. These tools can help homeowners manage, store and monitor their home's energy use for additional savings on their electric bills.
The types of panels and inverters Sunrun offers come from brand names like SolarEdge, LONGi and Costco. They are ideal for the quick and easy installations that Sunrun prides itself on. An average customer could expect the installation process to look like this:
Receive a free quote by providing preliminary information such as your address, monthly energy costs and credit score.
If interested after receiving the quote, a Sunrun sales rep will provide a detailed proposal including your custom system design, appearance and estimated energy savings over the course of the system's lifetime. The proposal should include any local and state solar incentives, so be sure to make note that any are included.
Once you've decided on the custom system that fits your needs, you will need to complete paperwork and obtain permits and approvals. Sunrun will handle the permits and approvals from your presiding city or county, but you should expect this process to take a few weeks.
During the permitting process, Sunrun will also check for net metering programs through your utility company and will enroll you if eligible.
Once all permits and approvals are gathered, Sunrun will install your system. With Sunrun's resources, this will likely be the easiest part of the entire process.
Finally, you'll need to pass inspection and turn on the system. Once the system is installed, both the city and your electric company will most likely require inspections. Sunrun will handle the logistics of both. Once these pass, a customer will be able to turn the system on.
Solar Panel Warranty
All Sunrun installations, whether leases or purchases, are covered by the Sunrun Guarantee. This 10-year comprehensive warranty includes free equipment replacement and system repairs, covers all parts and labor costs and guarantees that roof penetrations are watertight.
Sunrun advertises free maintenance, repairs and insurance on its products, but it should be noted that those services are only available to customers leasing panels through Sunrun. Any customers who have purchased panels from Sunrun will be held to the product warranty of the panels they purchase (typically between 12-25 years). As such, all warranty claims will be handled through the panel manufacturer rather than Sunrun.
Sunrun Costs and Financing
The cost of a solar system from a particular provider is difficult to estimate, as pricing can vary widely depending on your state, your roof and your home's energy needs. As Sunrun has been an industry leader for some time, most other solar providers actually offer installations at a slightly lower cost to give them a competitive edge. This is just another reason we encourage our readers to get quotes from competing solar companies.
Much of Sunrun's expansion can also be credited to its utilization of solar leases, which allow homeowners to rent solar equipment from Sunrun at a monthly cost. Though leasing panels provides immediate energy savings with a low upfront cost, purchasing panels provides the greatest value long-term. Keep in mind that leases will not be eligible for the solar tax credit.
Solar Financing Options
Sunrun offers four different solar plans for its customers.
Monthly lease: This option requires the least money down but also provides the least overall value. Sunrun retains ownership of the panels and you make monthly payments to purchase the energy they generate. The monthly payments are guaranteed to be less than what your utility payment would be, but the savings are not as great as they would be if you purchased the panels.
Full lease: In a full lease, the customer pays Sunrun an upfront fee to rent the panels for around 25 years (the term of the lease can vary). Sunrun retains ownership of the solar equipment. This saves a customer more money than a monthly lease, but it's still significantly less than if a customer purchased panels.
Monthly loan: Customers can receive a solar loan from a third party to fund the purchase of solar equipment. These loans require monthly payments and typically have a payback period of between five and 10 years. In a monthly loan, a customer still owns the system outright, which adds to their property value, allows them to claim the solar tax credit and provides greater long-term energy savings than a lease. However, they will pay interest on the loan, making the system more expensive.
Full purchase: A full purchase is the most recommended method of investing in solar energy. When customers purchase panels, they buy the system designed by Sunrun outright. Immediately, the solar panels add property value and the homeowner is eligible for the solar tax credit. Over time, homeowners will see a larger return on investment when paying in cash.
Sunrun Solar Reviews
Sunrun's size is both its biggest strength and its biggest weakness, and most customer reviews reflect just that. Positive Sunrun solar reviews praise the company's speed and ease of installation, yet a high employee turnover rate, communication troubles and growing pains have plagued a number of customers who feel their needs were not met.
Positive Sunrun Reviews
The size and resources of Sunrun make its business model reliant on high volumes of installed solar panels. Positive reviews usually reflect a quick and easy installation with immediate energy savings and little to no maintenance or further customer support needed. Most frequently, these positive reviews come from customers who opted for a solar lease rather than ownership.
Here are a couple of examples:
"I originally had my Solar installed by another company that was eventually purchased by Sunrun. The service with Sunrun has been far better than the service with the previous company."
— Brian Schopf via Trustpilot
"We have had our Sunrun system in place for over a year now. No problems at all. They were very courteous and responsive during the installation process."
— Peter W via BBB
Negative Sunrun Reviews
Most of Sunrun's negative reviews stem from a lack of attention to a customer's needs. Sunrun is one of the nation's largest solar providers, which presents challenges for customers troubleshooting issues with their system's performance.
Solar panel issues can be difficult to troubleshoot, and the size of Sunrun's client base can make the company's customer service department more difficult to get in touch with than a smaller solar provider.
This Sunrun review reflects the overall sentiment from dissatisfied customers:
"Worst company ever for follow-up once you have a problem… I have been waiting for a new inverter [for] seven months. No one bothers to tell you what they are going to do, or what they have done once they finally get to your house for a repair. No written report to update you. I have lost money this year because my system is either not running or is underperforming."
— Linda T via BBB
Final Thoughts on Sunrun Solar
Sunrun's mission, size and breadth of services make it one of the most well-known solar providers in the country today. However, its B+ BBB rating and poor reputation for customer service may make some buyers wary. An average customer experience with Sunrun will depend greatly on the quality of the sales representative assigned to your area, and many homeowners have run into bad experiences.
| Sunrun Pros | Sunrun Cons |
| --- | --- |
| Expansive service area | Expensive labor |
| Backup battery services | Frequent customer service issues |
| Free maintenance on leases | |
| Flexible financing and lease options | |
Sunrun is a good and practical choice for customers looking to quickly and simply save money on their energy bills through a solar lease. However, for homeowners looking for attentive customer service both before and after installation, we advise you to shop around. You can start getting free quotes from a number of solar installers near you below.
Solar Energy Provider Comparison
To put this Sunrun review in perspective, let's compare the company to a few other national providers. Sunrun typically ranks highly in services offered, service areas and flexible payment options. Where Sunrun unsurprisingly falters is in its reputation for customer service and BBB rating.
| | Sunrun | Blue Raven Solar | SunPower |
| --- | --- | --- | --- |
| Year Started | 2007 | 2014 | 1985 |
| Services Offered | Solar panel installation, battery installation, monitoring, maintenance | Solar panel installation, monitoring, maintenance | Solar panel installation, battery installation, monitoring |
| Service Areas | AZ, CA, CO, CT, FL, HI, IL, MD, MA, NV, NH, NJ, NM, NY, PA, RI, SC, TX, VT, WI, Puerto Rico and Washington D.C. | CO, FL, GA, ID, IL, IN, KS, KY, MO, NC, NV, OH, OR, SC, TX, UT, VA | All 50 States |
| BBB Rating | B+ | A+ | A+ |
| Payment Options | Cash, loan, lease, PPA | Cash, in-house financing plans | Cash, loan, lease |
Frequently Asked Questions
Is Sunrun a legit company?
Sunrun is a legitimate solar installer leading the industry in quantity of installs and breadth of products offered. Hundreds of thousands of homes across the country have installed solar power with Sunrun. Though Sunrun is legitimate, there is a concerning amount of bad reviews regarding Sunrun's customer experience. Often, unconcerned sales staff can make customers feel their business was not taken seriously.
Is Sunrun solar a good deal?
As is the case with most solar providers, getting a good deal is dependent on many factors. Sunrun is certainly capable of providing customers with a solar energy system that saves them money, but a better deal might be found by a different solar provider, especially if you are looking to purchase panels rather than lease from Sunrun.
Is Sunrun owned by Tesla?
Sunrun is not owned by Tesla. In fact, Sunrun is one of Tesla's biggest rival companies in the solar industry. Unlike Sunrun, Tesla solar offerings focus more on products and less on installation services, so the companies are distinctly different.
Which is better, SunPower or Sunrun?
Which company is better will depend on what the customer is looking for. If you're looking for customer service, a high BBB rating and to purchase high-quality panels, we'd likely recommend SunPower over Sunrun. If you're a customer looking for a quick and easy solar panel lease to save a small but guaranteed rate on your energy bill each month, Sunrun may be the better choice.
Where is Sunrun available?
Sunrun is available in 22 states and territories, including Arizona, California, Colorado, Connecticut, Florida, Hawaii, Illinois, Maryland, Massachusetts, Nevada, New Hampshire, New Jersey, New Mexico, New York, Pennsylvania, Rhode Island, South Carolina, Texas, Vermont, Wisconsin, Washington D.C. and Puerto Rico.
This year the Golden State will be hosting the Golden Anniversary of what many consider the greatest spectacle in all of professional sports and this year the game will be powered in part by golden rays of sunshine.
The Solar Energy Industries Association (SEIA) is counting down to the kick off between the Denver Broncos and the Carolina Panthers, not just because we love the game, the multi-million dollar advertisements and the A-list halftime entertainment, but also because solar energy—our MVP—will be playing a starring role.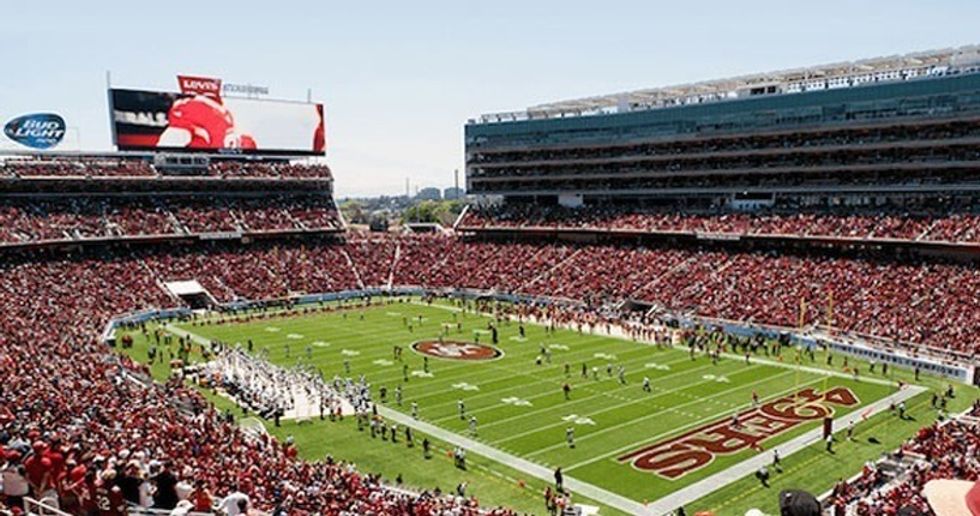 This year's big game will be played at Levi's Stadium in Santa Clara, California. Home to the San Francisco 49ers, Levi's Stadium is the first professional football stadium in the National Football League (NFL) to open with LEED Gold certification. The Leadership in Energy & Environmental Design certification program recognizes best-in-class building strategies and practices. LEED certified buildings save money and resources and have positives impact on the health of occupants, while promoting renewable, clean energy.
Solar was a key strategy in the 49ers' sustainability playbook. The solar at the stadium through NRG's installations produces 375 kilowatts (kW) of peak power from more than 1,150 solar panels. In fact, the system can generate enough power in a year to meet electricity demand during every 49ers' home game. The first area of the NRG solar installation is the three NRG Bridges that lead fans into Levi's from the Red Parking Lot. The second is the NRG Solar Terrace which overlooks the football field and Silicon Valley from the top of the stadium.
"NRG was a true partner with us in building this stadium," Ethan Casson, 49ers chief revenue officer, said. "We could not have achieved LEED Gold certification without them."
San Jose-based SunPower built all of the solar photovoltaic (PV) panels for Levi's—544 on the stadium roof and another 642 on the NRG Energy Bridges, footbridges for fans that connect a main parking area to the stadium. In addition to producing power, the solar panels act as a shade canopy for the bridges and terrace.
"This year's big game is making environmental history as fans root for their favorite team, playing in the NFL's first LEED Gold certified stadium featuring SunPower high efficiency solar panels," Tom Werner, SunPower president and CEO, said. "At SunPower, we're proud to support our progressive commercial business partners that are making wise economic and environmental investments with solar."
In 2015, nearly a third of the NFL teams played or trained at stadiums with on-site solar assets. That's 8,000 solar PV panels, generating more than 10 million kilowatt-hours per year.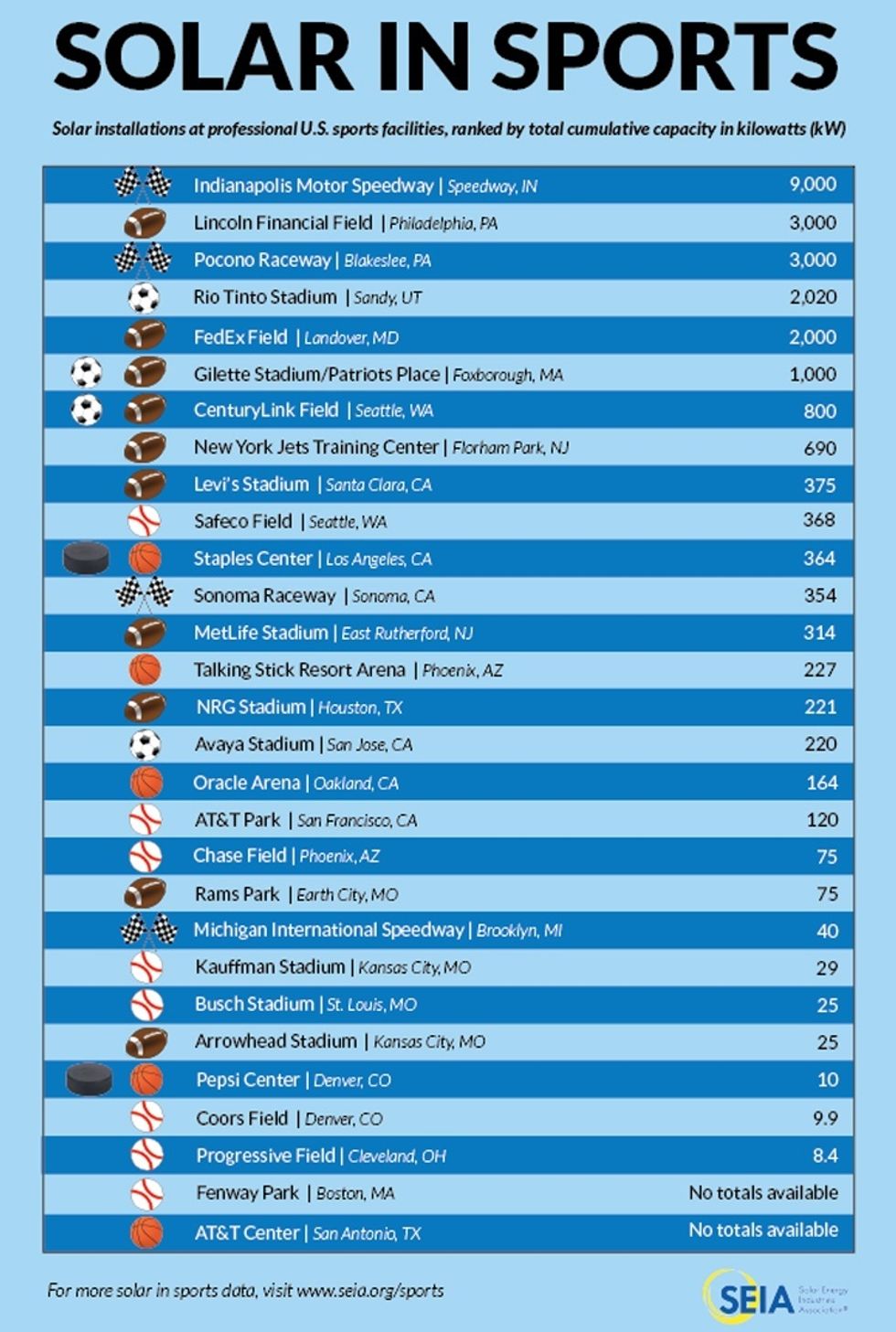 And there is more to come, with a new system under contract with the Baltimore Ravens and one in planning for the Atlanta Falcons. That's not to mention the nearly 1 million solar systems that are installed on homes and businesses across the country.
"It's a movement across the country—become more sustainable," Al Guido, 49ers chief operating officer, said. "And stadiums have to do their part. But we wanted to be functionally green, not just green for green's sake."
Hosting the game in the state-of-the-art Levi's Stadium is a major play for solar energy and part of a strong sustainability statement.
As NFL teams look for ways to keep their hometown fans cheering, investing in money-saving, 21st century technology like solar is a touchdown in everyone's playbook.

YOU MIGHT ALSO LIKE
This School District Could Save Millions by Switching to 100% Solar
Watch Colbert Explain Why the Broncos Should Draft Hillary Clinton for the Super Bowl
This Kid Warrior Is Assembling a Teen Army to the Save the Planet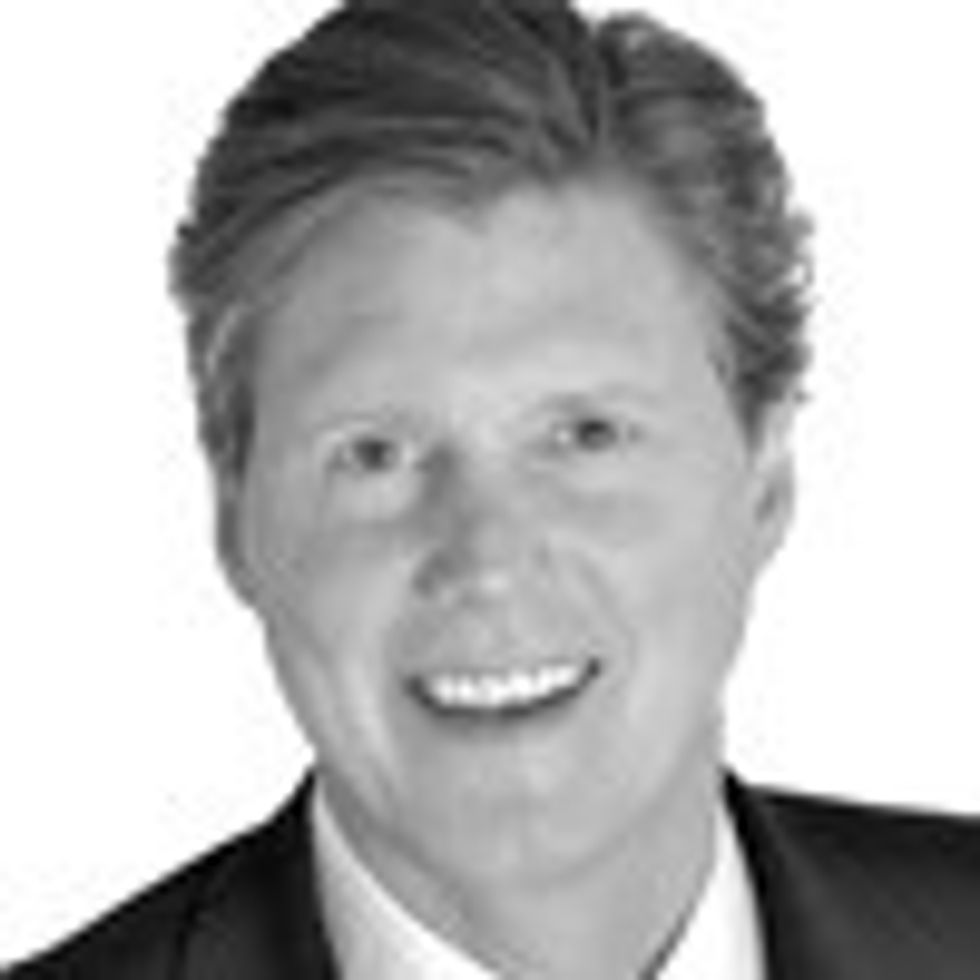 America's biggest brands are choosing solar, not only for the environmental benefits but also for the boost it can bring to their bottom lines.
The report revealed that the amount of solar installed by America's top companies has nearly tripled since the first edition was released.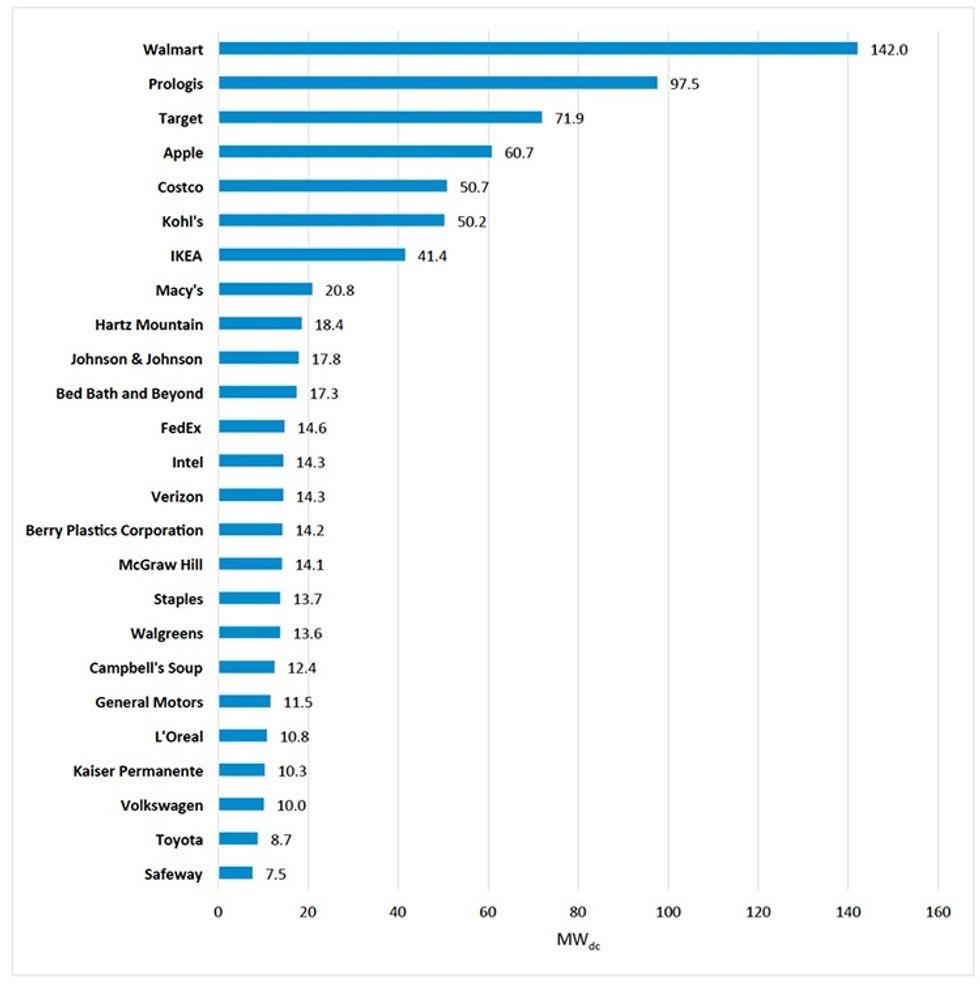 The top 25 companies in SEIA's Solar Means Business Report installed more than 1,278 individual systems this year. Photo Credit: SEIA
Walmart is once again America's commercial solar leader for the third year in a row with nearly 142 megawatts (MW) installed at 348 installations across its locations.
1. #ActOnClimate
The release of SEIA's new rankings of the top corporate solar users in America coincides with commitments made by Walmart and 80 other U.S. companies to the American Business Act on Climate Pledge.
By signing the pledge, these companies provided new and ongoing plans for reducing, avoiding and mitigating greenhouse gas (GHG) levels in their operations. The pledge was also a showing of strong support to leaders from around the world who are meeting in Paris this week to solidify broader commitments from countries that are working to address climate change.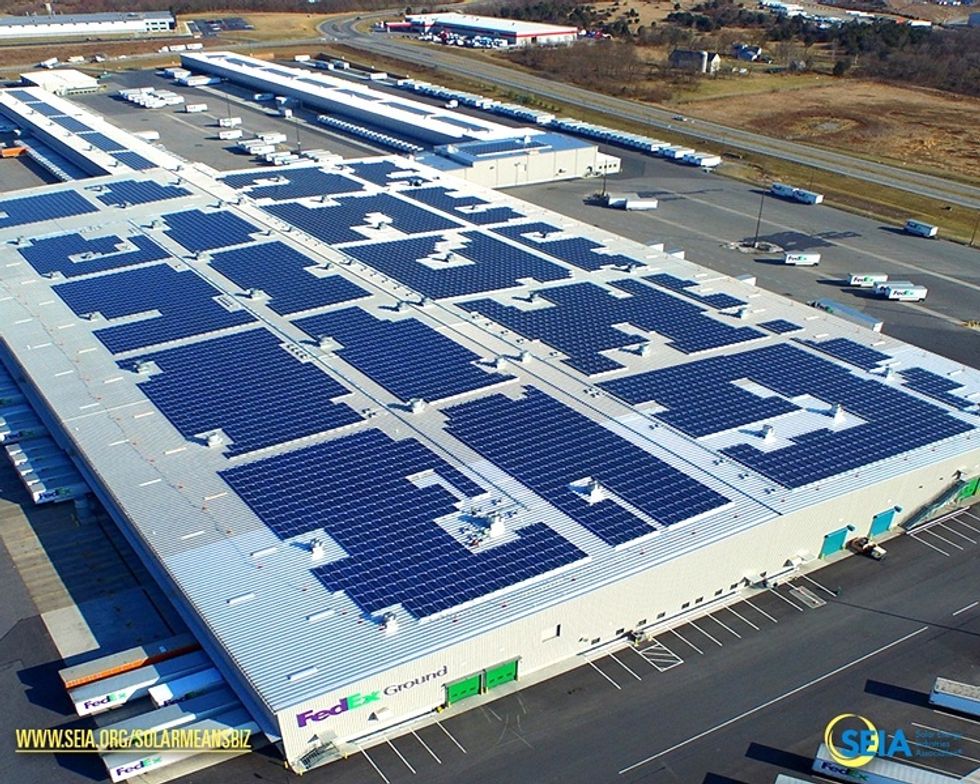 These companies are influential and successful brands that have operations in all 50 states, employ more than nine million people, represent more than $3 trillion in annual revenue and have a combined market capitalization of more than $5 trillion.
Deploying more clean energy is a significant way these companies are reducing their emissions and building more sustainable businesses.
In 2014, 26 percent of Walmart's electricity was generated from renewable sources. In fact, Walmart pledged to double the number of on-site solar energy projects at its U.S. stores, Sam's Clubs and distribution centers by 2020, compared with its 2013 baseline.
2. #SolarMeansBiz
Choosing to go solar is a surefire way for companies to take action on climate, but it's also a smart business decision.
For commercial users, average electricity rates have increased more than 20 percent in 10 years, moving from eight cents per kilowatt-hour (kWh) to more than 10 cents per kWh.
This report shows that companies are taking advantage of this cost savings by increasingly adopting solar or adding to their existing systems to power their operations.
While the report does not provide a complete dataset of corporate solar systems in the U.S., the companies sampled installed 1,686 systems totaling 907 MW, generating enough electricity to power more than 158,000 homes.
This represents a 59 percent increase over the findings of last year's report.
Commercial solar prices are the lowest they have ever been and are continuing to fall, making solar a cost-effective decision that pays in both dividends for the environment and the bottom line.
YOU MIGHT ALSO LIKE
Art Installation Lights Up Eiffel Tower on Eve of Paris Climate Talks
Brad Pitt's Nonprofit Delivers LEED Platinum Homes to Fort Peck Reservation
100% Renewable-Powered World 'Technically Feasible and Economically Viable' by 2030
Morocco's Giant Solar Plant to Bring Energy to 1 Million People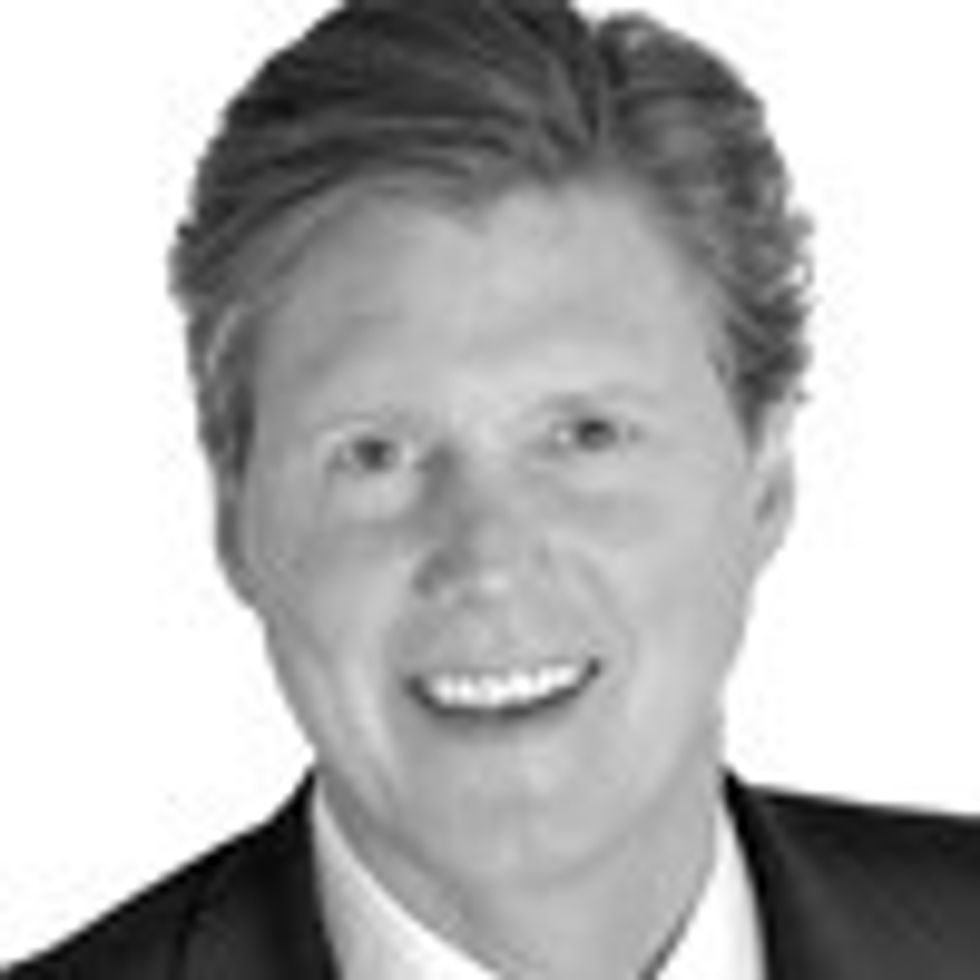 Only exceeded by China, the U.S. is the world's largest producer of greenhouse gases, with the largest source of emissions coming from electricity generation. America is changing its course and the U.S. solar energy industry is leading the way on this new road; a path to a clean energy future.
Yesterday, the U.S. Environmental Protection Agency (EPA) released the Clean Power Plan, which sets the first ever federal limits on carbon pollution from existing power plants. This is a historic step in America's clean energy future and a strong show of confidence in the capability of the country's newest energy vehicles: renewables.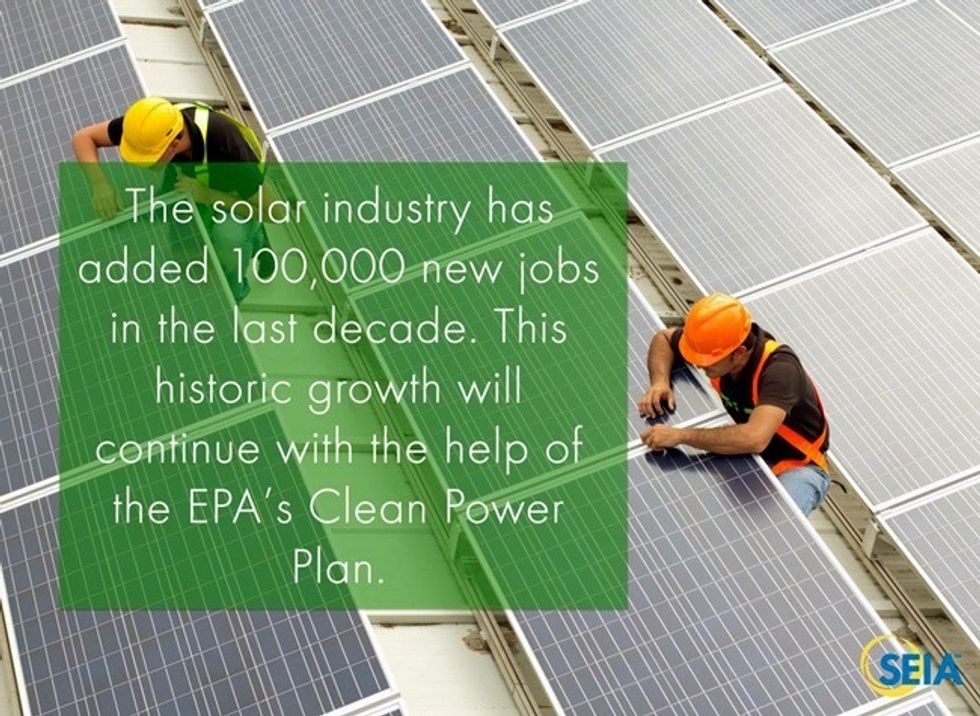 This strong action on climate change, however, is not a "leap of faith" for the solar industry. Solar energy is no longer a niche technology or a futuristic energy source. Thanks to improved technology and cascading prices, solar is already powering American homes and businesses today.
Communities, homeowners, businesses and utilities have made solar one of America's fastest-growing energy sources with more than 20 gigawatts of total installed capacity. Smart policies like the Clean Power Plan will help the country to continue replacing its aging and dirty energy engine with even more 21st Century technologies.
To ensure solar's full potential was realized in the policy, SEIA spent the past several years meeting with the White House and EPA officials to educate them about the current state of the solar market and the solar industry's growth potential. Additionally, SEIA submitted robust comments, providing the EPA with the most up-to-date solar cost and deployment data for all market segments.
In just the first three months of 2015, residential solar system installations showed tremendous growth—the best quarter for the segment ever. The top U.S. commercial solar users also have more than 569 megawatts of solar power at 1,110 different facilities.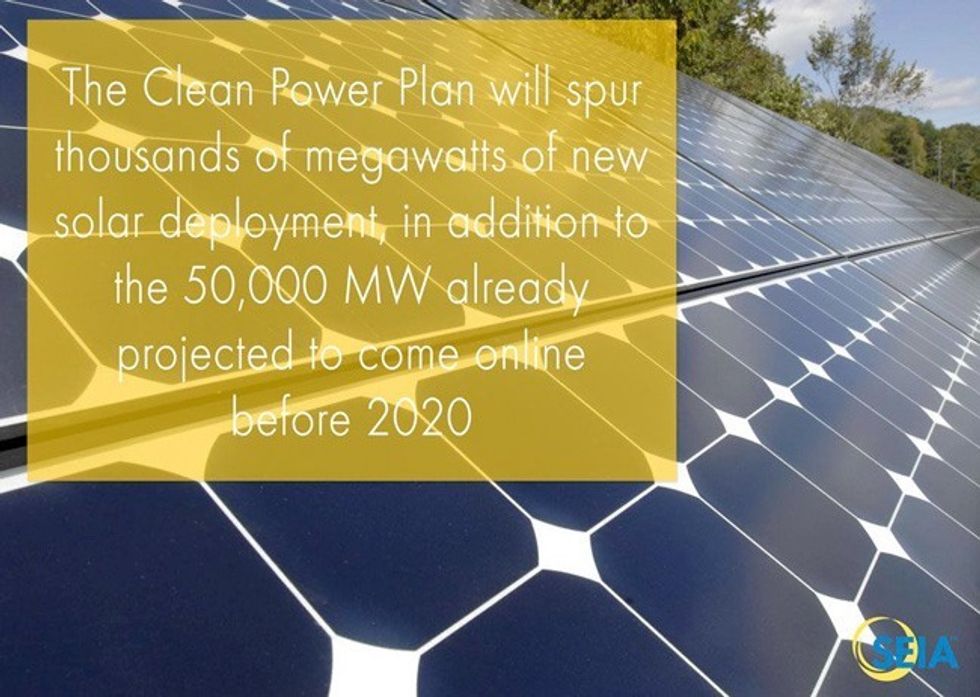 As solar prices continue to fall, more and more Americans are turning to solar to cut costs and avoid carbon emissions. Solar in the utility-scale pipeline has also reached unprecedented levels, with the segment totaling 63 percent of all solar capacity in 2014.
As part of a balanced energy portfolio, energy providers are using solar to improve grid reliability and provide significant relief to existing energy infrastructure by reducing transmission losses and relieving grid congestion. The speed of solar deployment, along with the modularity of solar, is also helping energy providers meet incremental generation needs. For instance, concentrating solar power (CSP) plants, combined with thermal energy storage, can produce electricity when needed, long after the sun goes down.
By the end of 2016, there will be enough solar energy in the U.S. to power 8 million homes, offsetting nearly 45 million metric tons of carbon emissions. At this pace, a whopping 50,000 more megawatts of solar power is projected to come on-line before 2020.
The Clean Power Plan will only make solar's growth more rapid, as all 50 states seek clean, affordable, reliable and carbon-free solutions under the plan's emissions targets.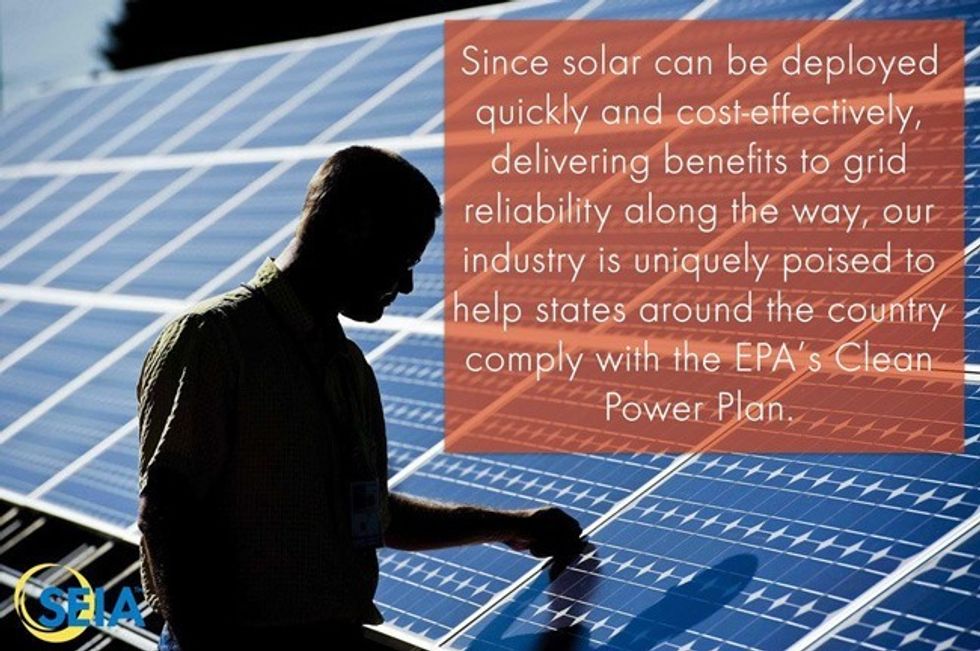 The solar industry is confident that there is potential for more of America's power grid to fuel up with more solar. SEIA spoke, and the EPA clearly listened. Thanks to efforts of SEIA and its member companies, the Clean Power Plan includes:
carbon reduction goals for states that are 9 percent tougher than originally proposed;
all solar technologies as compliance options for states;
30 percent more renewables as compliance options than originally proposed;
a renewable energy incentive program that will spur early investment in solar energy; and
more flexibility to help states implement solar energy policies to meet their emissions goals.
Solar energy is available within every geographic region of the U.S., making it the most sensible compliance option under the Clean Power Plan. In fact, the industry is already seeing a broad spectrum of adopters across the country, with 25 states installing more than 10 megawatts and 20 states installing more than 100 megawatts of solar capacity just last year.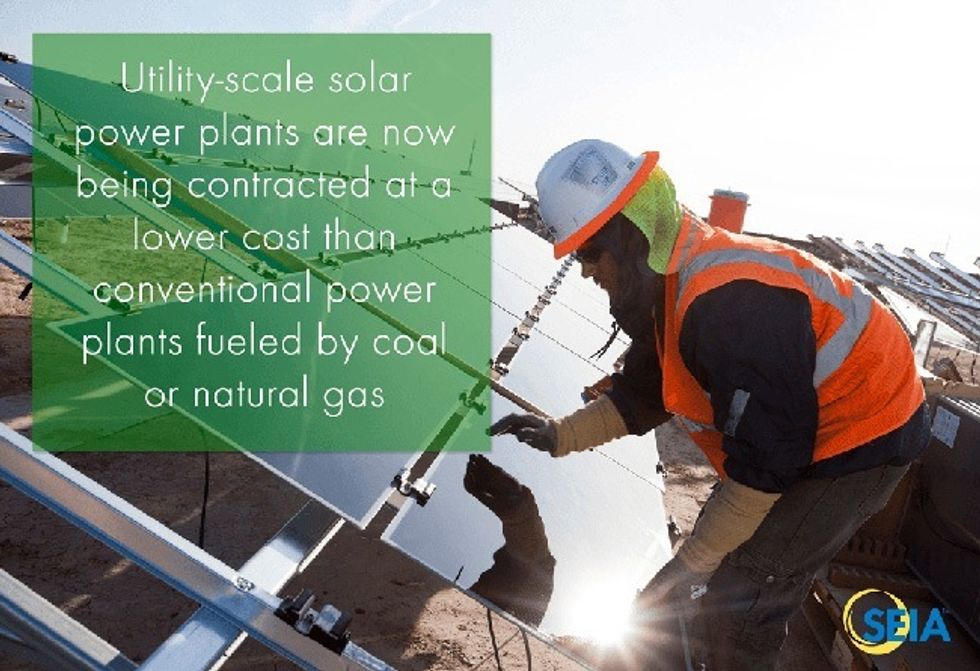 States that choose to go solar are not only standing up to the challenge of curbing carbon emissions while keeping pace with America's growing energy demand, but they are also choosing to invest in job growth.
The solar industry has added 100,000 new jobs in the last decade. Today, the U.S. solar industry employs nearly 174,000 Americans—more than tech giants Apple, Google, Facebook and Twitter combined—and pumps nearly $18 billion a year into the economy.
The Clean Power Plan presents a tremendous opportunity for renewable energy development, and solar is poised to be the No. 1 solution as America cleans up its power grid.
YOU MIGHT ALSO LIKE
Solar Now Cheaper Than Fossil Fuels for Many Small Businesses
Solarizing Greece Is a Way Out of Its Financial Crisis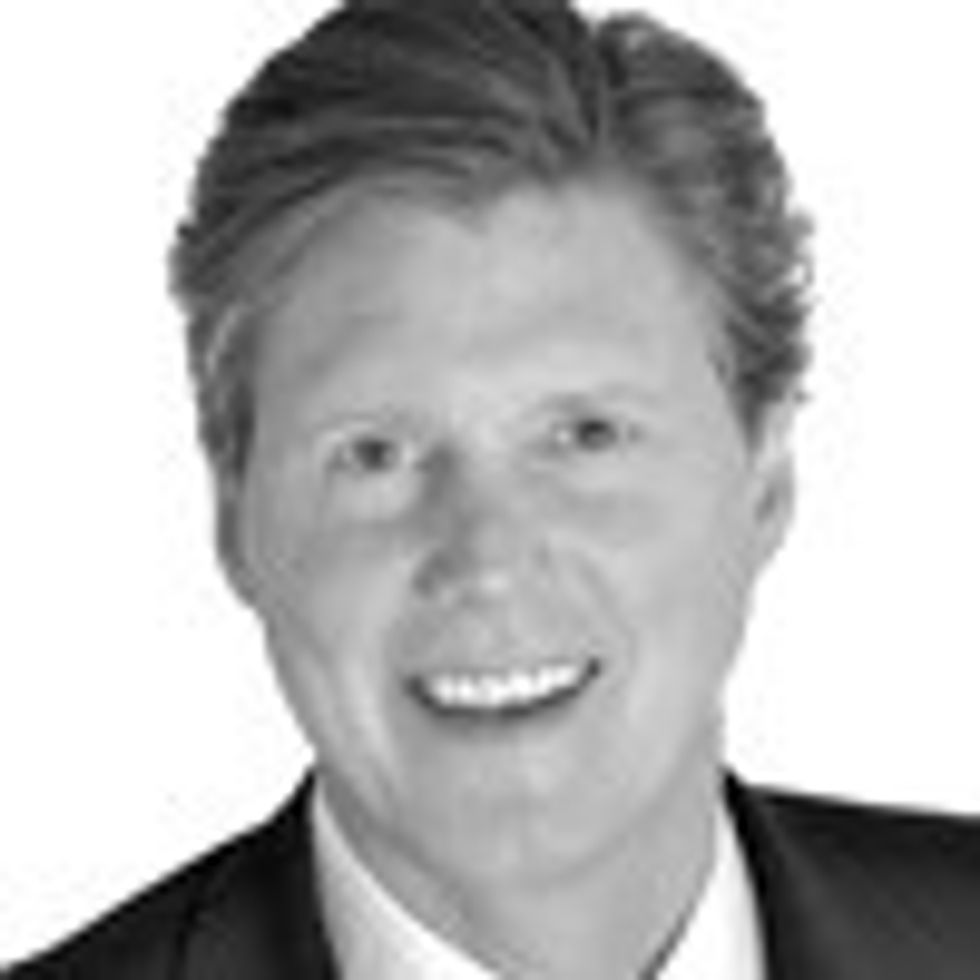 With a majority of Americans considering solar power to be their number one energy choice, it's no wonder more households than ever before are going solar.
Today, GTM Research and the Solar Energy Industries Association (SEIA) released the latest edition of the U.S. Solar Market Insight Report, which revealed the first three months of 2015 as the best quarter for residential solar system installations—ever.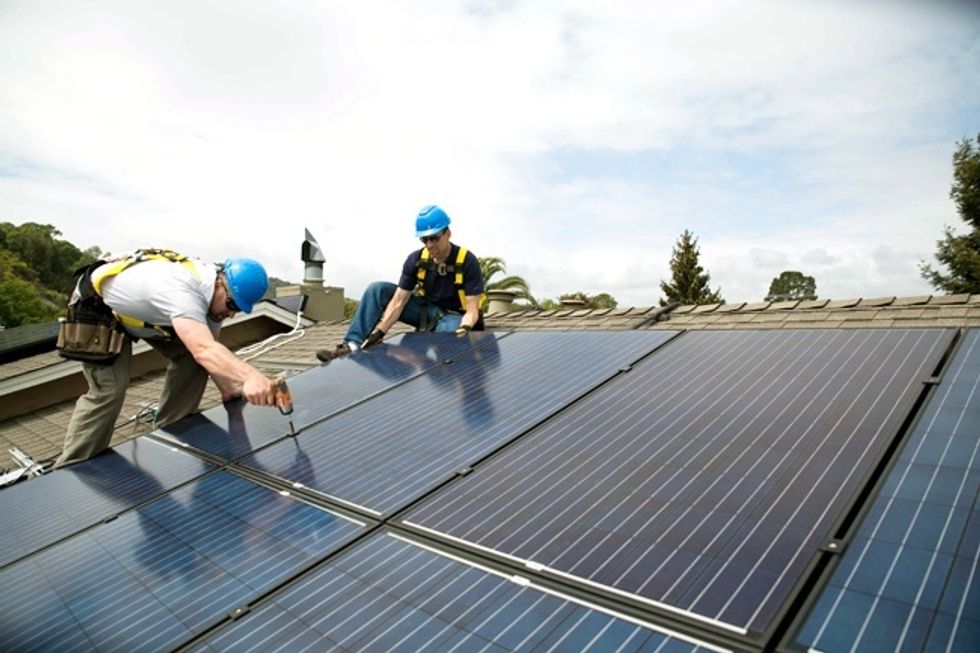 In fact, solar represented a whopping 51 percent of all new electric generating capacity brought on-line in the first quarter (Q1) of 2015, outpacing even natural gas.
The U.S. installed 1,306 megawatts (MW) of solar photovoltaics (PV) in Q1 2015, marking the sixth consecutive quarter in which the U.S. added more than one gigawatt (GW) of PV installations.
Residential solar led the way, growing by 76 percent over the first quarter of 2014, with 437 megawatts (MW) of residential PV installations. That's an 11 percent jump over last quarter, the market segment's previous high-water mark.
But the other solar market segments showed strength, too. In fact, the industry as a whole is on track for another record year in 2015, with 66,440 total individual solar systems coming on-line this quarter. That means nearly 700,000 systems are now generating solar power in the U.S.
The non-residential segment installed 225 MW in the first quarter of the year, with five of the six largest non-residential state markets growing over Q1 2014.
Continuing to carry the largest share of the market, the utility segment installed 644 MW which represents 49 percent of new PV capacity brought on-line in Q1 2015. Despite this being the smallest quarter for the segment since 2013, utility PV installations have now surpassed 500 MW for eight consecutive quarters. What's more, the report notes that there are now 25 project developers with projects in development of 100 MW or more.
Here are some other key findings from the report:
The U.S. installed 1,306 MW of solar PV in Q1 2015, marking the sixth consecutive quarter in which the U.S. added more than 1 GW of PV installations.

The residential and utility PV market segments each added more capacity than the natural gas industry brought on-line in Q1 2015.

Collectively, more than 51 percent of all new electric generating capacity in the U.S. came from solar in Q1 2015.

66,440 individual solar systems came online in Q1 2015, bringing the total to nearly 700,000 nationwide.

The average cost for a residential solar system is now $3.48/watt, 10 percent lower than this time last year.

More than one-third of all community solar installations have come on-line since 2014.

More than 5 GW of centralized PV has now been procured by utilities based on solar's economic competitiveness with fossil-fuel alternatives.

Through Q1 2015, nearly one-fourth of cumulative residential solar installations have now come on-line without any state incentive.

PV installations are forecast to reach 7.9 GW in 2015, up 27 percent over 2014. Growth will occur in all segments, but will be most rapid in the residential market.

2014 was the largest year ever for concentrating solar power, with 767 MW brought on-line. The next notable CSP project slated for completion is SolarReserve's 110 MW Crescent Dunes, which entered the commissioning phase in 2014 and is expected to become fully operational before the end of 2015.
Today's report proves just how effective establishing and maintaining forward-looking public policies, like the solar Investment Tax Credit (ITC), are to the industry.
The ITC has helped solar to become the fastest-growing renewable energy source in America. Why? Simply put, the ITC provides important market certainty, encouraging companies to make long-term investments that drive competition and technological innovation, while lowering costs to consumers.
But the best is yet to come. By the end of 2016, the U.S. will be generating enough clean solar energy to power 8 million homes, helping to offset 45 million metric tons of damaging carbon emissions—the equivalent of removing 10 million cars off our roads and highways.
No matter how you look at it, that's a win all the way around!
YOU MIGHT ALSO LIKE
Watch Live Cam of 14,000 Walruses Chillin' on Alaskan Beach
Take a Tour of the World's Most Sustainable Office Building
World Leaders Urged to Kick Coal Habit to Save Lives, Money and the Planet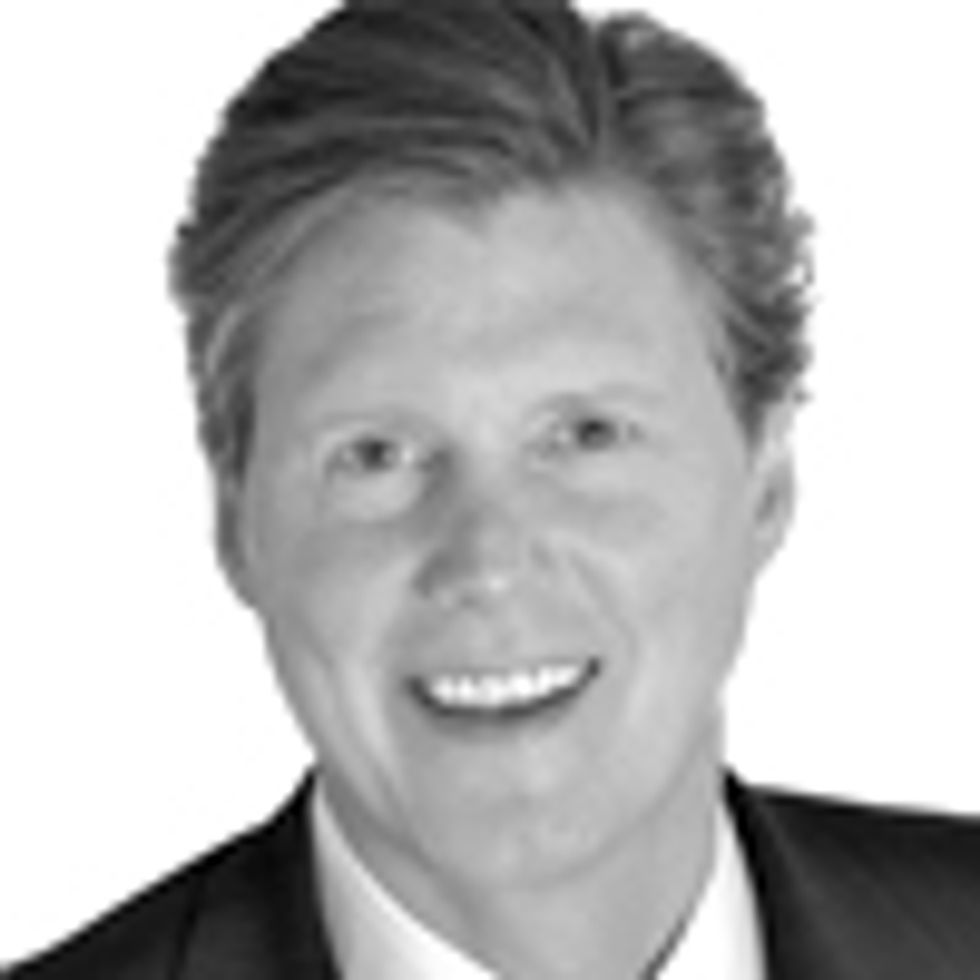 Today, there are nearly 17,000 veterans of the U.S. Armed Forces who are working in the solar energy industry. Well, that number is about to grow substantially.
In a decision that's certain to help to speed up America's transition to a clean energy future, President Obama announced today that the Department of Energy (DOE) will launch a new initiative to train 75,000 Americans—including military veterans—to enter the solar workforce by 2020. The President made the announcement at Hill Air Force Base in Utah as part of a roundtable discussion on clean energy technology and workforce training with Sen. Orin Hatch, Congressman Rob Bishop and Salt Lake City Mayor Ralph Becker.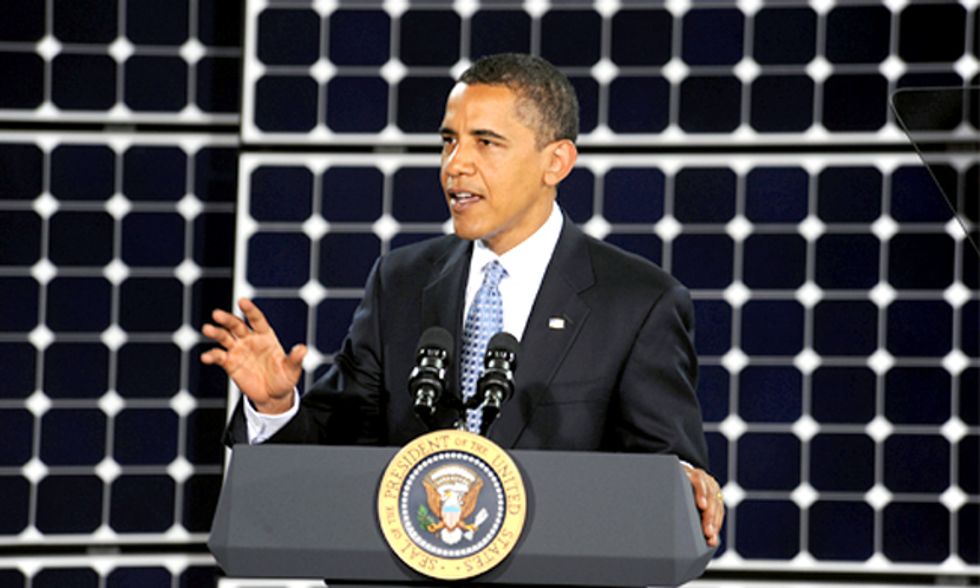 This new initiative will provide a big boost to the U.S. economy, while also helping to maintain solar energy's explosive jobs growth. I'll make this promise: With stable public policies in place, we will not only meet the President's goal of adding 75,000 new solar jobs in America by 2020, but we will blow past it!
Today, the solar industry already employs 174,000 workers nationwide—more than tech giants Apple, Google, Facebook and Twitter combined—and pumps nearly $18 billion a year into our economy. This remarkable growth is due, in large part, to smart and effective public policies, such as the solar Investment Tax Credit (ITC), Net Energy Metering (NEM) and Renewable Portfolio Standards (RPS). By any measurement, these policies are paying huge dividends for both our economy and environment.
According to The Solar Foundation's 2014 National Jobs Census, the solar industry in America is becoming increasingly diverse, with minorities, women and veterans representing a growing percentage of the workforce. Over the past five years alone, the industry has added more than 80,000 new employees—an increase of 86 percent.
Also, as part of today's announcement, the White House will work to make G.I. Bill funding available to support solar workforce training. Dating back to 1944, the G.I. Bill has been widely hailed by historians as one of America's most successful economic and political programs.
With approximately 200,000 U.S. servicemen and women leaving the military each year, much more needs to be done to help them find civilian jobs and meaningful workforce training. As an industry, we are uniquely positioned to help. Record-breaking growth in solar energy installations nationwide requires a growing and skilled solar workforce. We applaud the President and his administration for undertaking this new initiative, and we're prepared, and excited, to do our part to help. We look forward to more and more of our military veterans becoming solar veterans, too!
The White House's new workforce training initiative closely tracks U.S. public opinion. A new Gallup Poll shows that 91 percent of Americans want to see more emphasis, or the same emphasis as today, on producing solar energy. Compared to oil, natural gas, coal, nuclear and other renewables, solar was the only energy source to show an increase in public favorability when compared to results of a similar nationwide poll taken by Gallup in 2013.
Today, there are 20 gigawatts (GW) of installed solar capacity in the U.S.—enough to power more than 4 million homes—with another 20 GW projected to come online by the end of 2016. What's spurring this rapid growth? For one thing, solar energy is now more affordable than ever. According to SEIA/GTM Research, national blended average system prices have dropped 53 percent since 2010.
The solar industry is also helping to fight climate change. Last year, solar helped to offset 22.3 million metric tons of harmful carbon emissions, the equivalent of removing 4.7 million cars off America's highways and roads, or not using 2.5 billion gallons of gasoline.
Every 2.5 minutes of every single day, the U.S. solar industry is helping to fight climate change by flipping the switch on another completed solar project. We're proud that solar accounted for one-third of all new electric generation capacity last year in the U.S. And, frankly, we're just scratching the surface of our industry's enormous potential. As the old saying goes, the sky's the limit.
YOU MIGHT ALSO LIKE
Find Out Which City Just Committed to Going 100% Renewable
4 States Where Solar is Under Attack by Koch-Funded Front Groups
Top 10 Cities Embracing Solar Energy—Did Your City Make the List?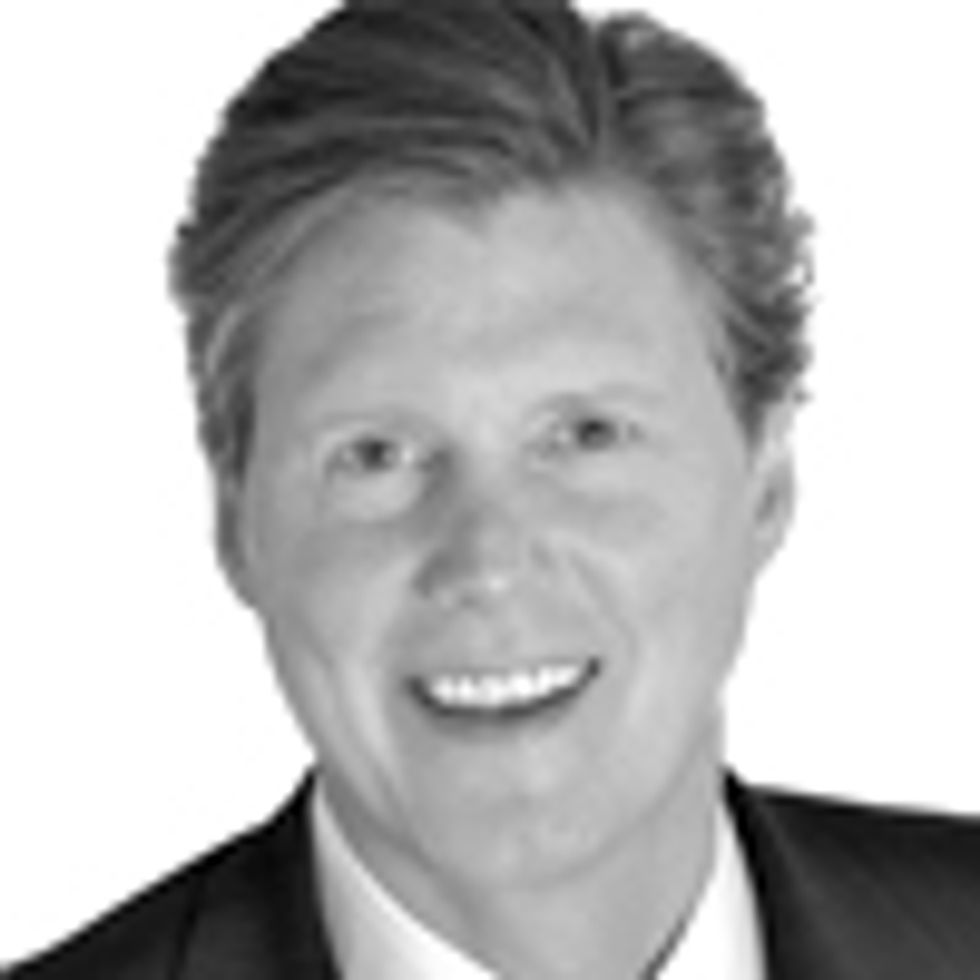 Today's new economy is driven by industries that are characterized by cutting-edge technology and high growth. Sound familiar? Well, it should.
Remarkably, America's solar energy industry, which continues to grow at a very brisk pace, now has more employees than tech giants Apple, Google, Facebook and Twitter combined. And to top it all off, 2014 turned out to be another record-shattering year!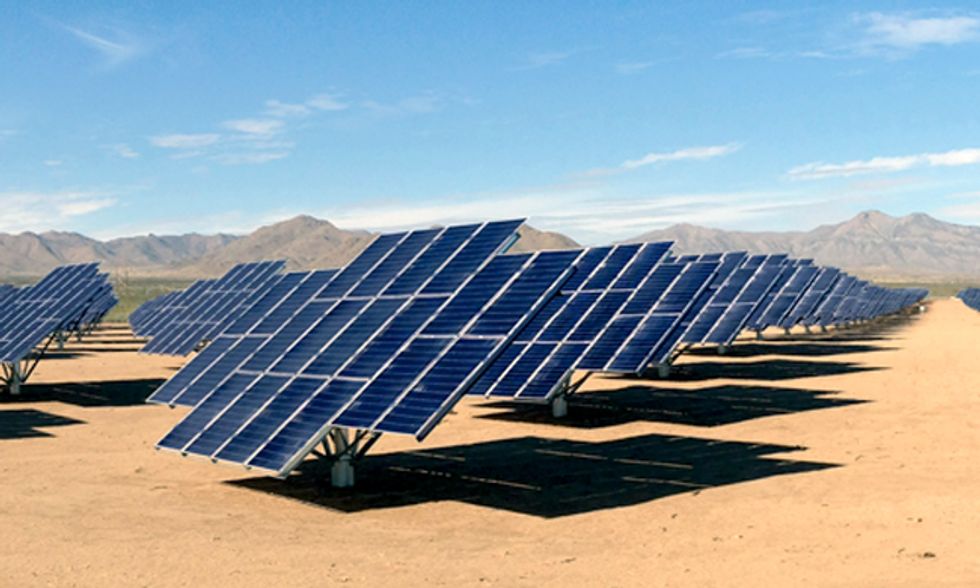 GTM Research and the Solar Energy Industries Association (SEIA) have just released the U.S. Solar Market Insight 2014 Year in Review report, the definitive source of installation data, forecasting and policy analysis for the U.S. solar market. Newly installed solar photovoltaic (PV) capacity for the year reached a record 6,201 megawatts (MW), growing 30 percent over 2013's total. An additional 767 MW of concentrating solar power (CSP) came on-line in the same period.
Solar accounted for one-third of our nation's new generating capacity in 2014, beating out both wind energy and coal for the second year in a row. Only natural gas constituted a greater share of new generating capacity.
Without question, the solar Investment Tax Credit (ITC) has helped to fuel our industry's tremendous growth. Since the ITC was passed in 2006, more than 150,000 solar jobs have been created in America, and $66 billion has been invested in solar installations nationwide. We now have 20 gigawatts (GW) of installed solar capacity—enough to power 4 million U.S. homes—and we're helping to reduce harmful carbon emissions by 20 million metric tons a year. By any measurement, the ITC has been a huge success for both our economy and environment.
In 2014, for the first time in history, each of the three major U.S. market segments—utility, commercial and residential—installed more than 1 gigawatt (GW) of PV.
The U.S. utility-scale segment broke the GW mark in 2011 and has since grown by nearly 1 GW annually. In 2014, 3.9 GW of utility-scale PV projects came on-line with another 14 GW of projects under contract.
The commercial segment in the U.S. also installed more than 1 GW in 2011 but has not shared the same success as the utility-scale segment. In 2014, the commercial segment installed just over 1 GW, down 6 percent from 2013. The report notes, "Many factors have contributed to this trend, ranging from tight economics to difficulty financing small commercial installations." But GTM Research expects 2015 to be a bounce-back year for the commercial segment, highlighted by a resurgence in California.
The U.S. residential segment's 1.2 GW in 2014 marks its first time surpassing 1 GW. Residential continues to be the fastest-growing market segment in the U.S., with 2014 marking three consecutive years of greater than 50 percent annual growth.
Here are some additional key findings:
More than one-third of all cumulative operating PV capacity in the U.S. came on line in 2014.

By the end of 2014, 20 states eclipsed the 100 MW mark for cumulative operating solar PV installations, and California alone is home to 8.7 GW.

Growth remains driven primarily by the utility solar PV market, which installed 1.5 GW in Q4 2014, the largest quarterly total ever for any market segment.

PV installations are forecast to reach 8.1 GW in 2015, up 59 percent over 2014.

2014 was the largest year ever for concentrating solar power, with 767 MW brought on line. Notable project completions include the 392 MW Ivanpah project. Genesis Solar project's second phase of 125 MW and Abengoa's Mojave Solar (250 MW), which achieved commercial operation in December 2014.

All solar projects completed in 2014 represent $17.8 billion in investment ($13.4 billion in PV and $4.4 billion in CSP).

As of the end of 2014, cumulative operating PV in the U.S. totaled 18.3 GW and cumulative operating CSP totaled 1.7 GW.
What's spurring this rapid growth? For one thing, solar energy is now more affordable than ever. According to SEIA/GTM Research, national blended average system prices have dropped 53 percent since 2010.
Simply put, when looking at America's energy future, solar can be a real game changer, providing more and more homes, businesses, schools and government entities across the U.S. with clean, reliable and affordable electricity, while also helping states to meet proposed new obligations under Section 111(d) of the Clean Air Act. That's a win-win in anyone's book!
YOU MIGHT ALSO LIKE
Oil Can't Compete With Renewables, Says National Bank of Abu Dhabi
Google Invests $300 Million in SolarCity to Make Going Solar Easier
Solar-Powered Plane Takes Off for Historic Round-the-World Trip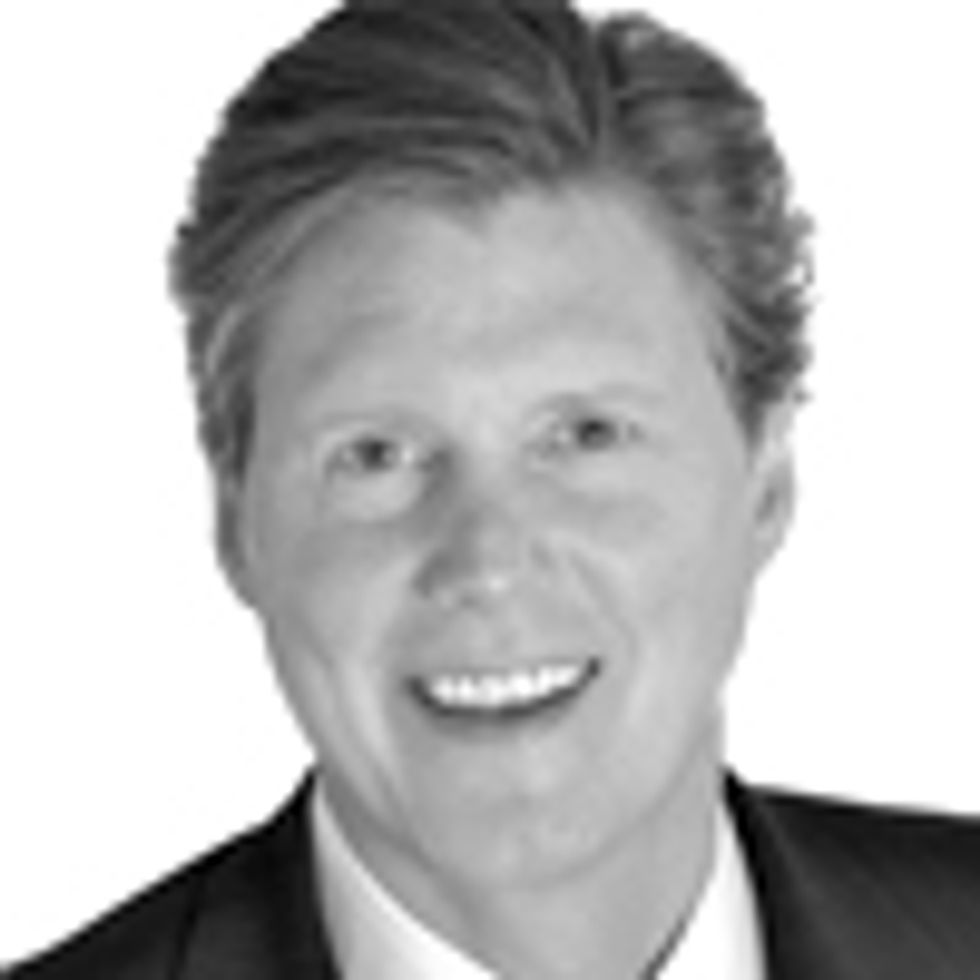 When it comes to clean energy and sustainability, solar looks to be a shoo-in one day for the "green" Hall of Fame. Today, more and more sports teams, sports leagues and sports organizations are embracing the advantages of solar energy.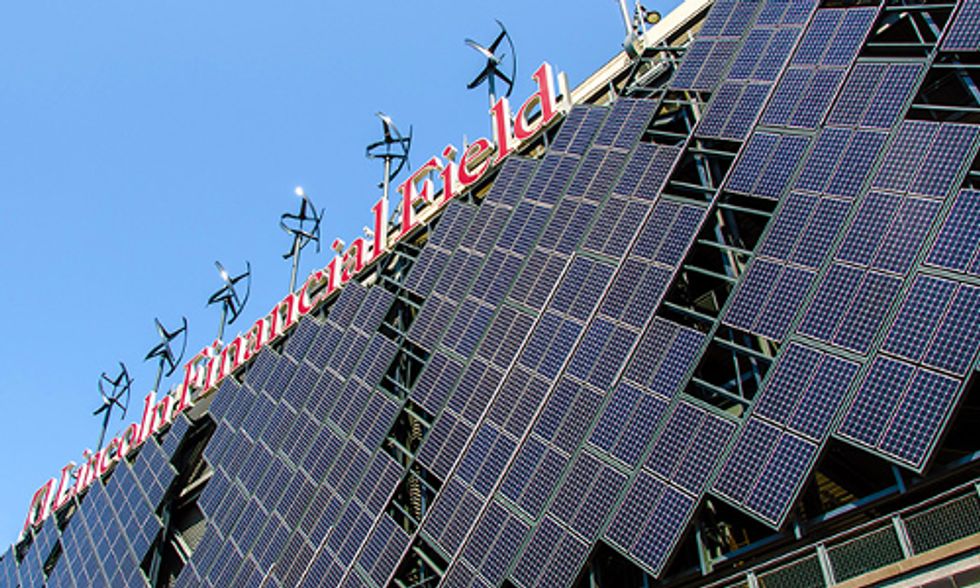 At Lincoln Financial Field, the Philadelphia Eagles have 2,500 solar panels installed. Photo credit: NRG Solar
On Monday, the National Hockey League (NHL) released a new sustainability report, saying, in part, "We believe it's important to invest in clean, renewable energy sources, such as wind, solar and hydro in North America. Supporting clean energy will help achieve long-term benefits for our business, such as price stability."
 
The report went on to add: "In addition to pursuing reduction measures, five NHL arenas now supply a portion of their power needs for the facility by using on-site solar power or lower-emission energy sources, such as biogas-fueled fuel cell technology."
 
One good example of this growing trend are the Stanley Cup champions, the Los Angeles Kings, who play at the world-famous, multi-purpose Staples Center in downtown Los Angeles. Far away from the view of fans, the Staples Center has 1,727 solar panels on its rooftop. Today, this state-of-the-art, 364-kilowatt photovoltaic (PV) system provides up to 20 percent of the facility's energy needs on a non-game day and a portion of the power it needs when the puck is dropped for the opening faceoff.
 
Clearly, solar has become a fan favorite. From San Jose to Winnipeg and Tampa Bay to Montreal, communities that embrace professional hockey are embracing solar energy, too. We commend the NHL and Commissioner Gary Bettman for their ongoing commitment to renewable energy and a cleaner environment. They recognize, like so many others, that clean, affordable and reliable solar energy creates thousands of new jobs on both sides of the U.S.-Canadian border, pumps billions of dollars into our respective countries' economies and helps to significantly reduce pollution. We're proud to share our "green team" colors with the NHL and look forward to being part of a winning "power play" that benefits both of our great nations as well as the environment.
 
But hockey isn't alone in the solar spotlight. Earlier this month, the Indianapolis Motor Speedway (IMS)–home to the greatest racecar event in the world, the Indy 500–installed the largest solar-powered system of any sporting facility in the world. That's right–the world! IMS boasts a 9.6 megawatt (MW) PV system, employing 39,312 solar modules, bringing new meaning to that famous Brickyard saying: "Start your engines." Clearly, solar is off and running at the Indy 500, lapping all other forms of renewable energy.
 
Major League Baseball and the National Football League have "drafted" solar systems, too. At Lincoln Financial Field, the Philadelphia Eagles have 2,500 solar panels installed; the San Francisco Giants have 590 solar panels at AT&T Park; the Boston Red Sox are currently heating nearly half of their hot water with solar thermal panels; and the St. Louis Cardinals are producing 32,000 kilowatt hours (kWh) of solar energy per year at Busch Stadium.
 
Today, solar is the fastest-growing source of renewable energy in America. But guess what? You can also make a persuasive case that we are actually #1 overall. According to a recently-released report by the Federal Energy Regulatory Commission (FERC) natural gas and solar ran 1-2 in new capacity installed in the first half of 2014, with 1,555 MW of natural gas coming online and 1,131 MW of solar. But if you add in the 457 MW of distributed generation solar added (and in the first quarter of this year alone!)–something FERC fails to take into account–solar topped all other forms of energy with at least 1,588 MW of new installed capacity.
 
So quietly, without anyone really noticing, solar is now leading the energy Super Bowl at halftime. How will the rest of the year turn out? Let's just say that I like our chances a lot, and I'm betting on the home team!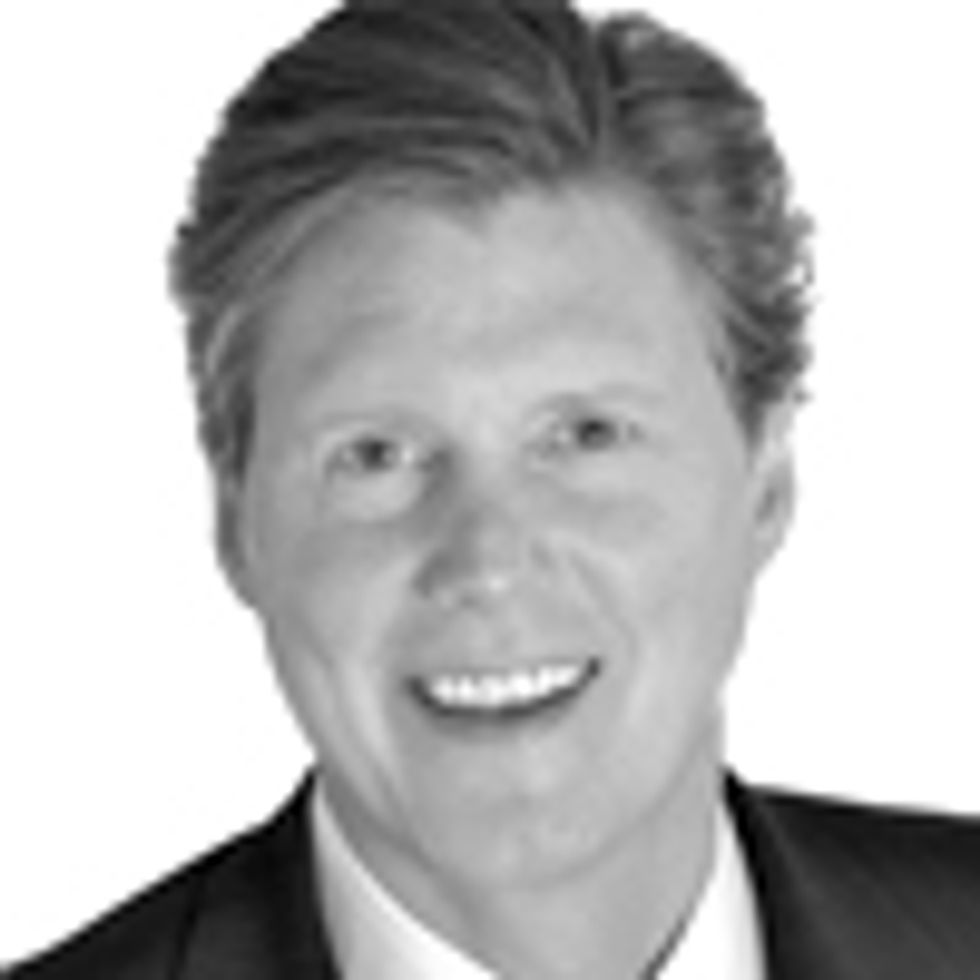 Monday, I was asked to take part in an online discussion on Capitol Hill as to whether Congress should extend renewable energy tax credits.
Well, in some ways, this discussion is putting the cart before the horse.
Most importantly, are incentives for renewable energy sources achieving their goals? In the case of solar, the answer is a resounding yes. Today, America's solar energy industry is helping to create thousands of new jobs, save U.S. consumers money, boost our economy and reduce pollution nationwide. That's the very definition of an effective public policy.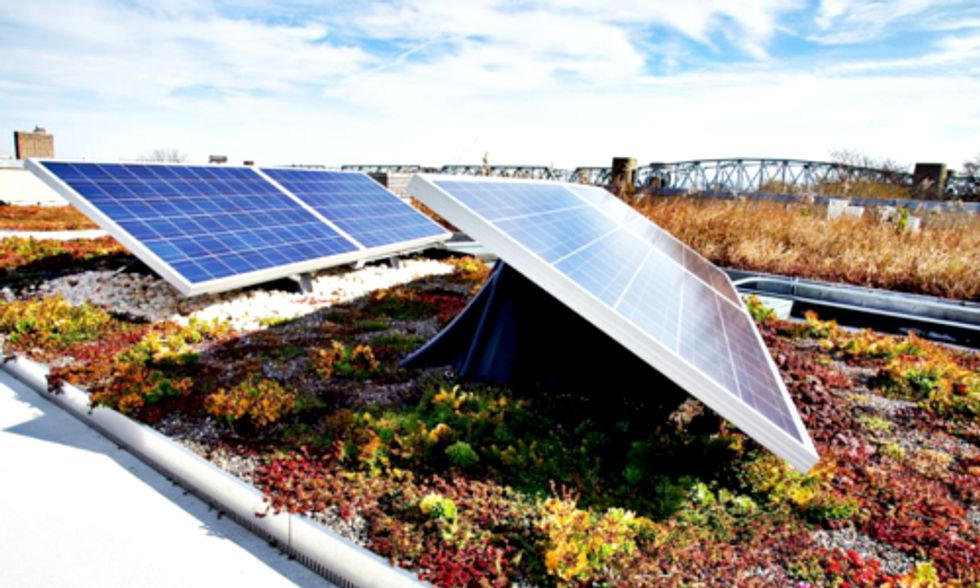 In 2006, prior to the enactment of the solar Investment Tax Credit (ITC), there were less than 600 megawatts (MW) of grid-connected solar in the U.S. By the end of this year, we expect to be closing in on 13,000 MW—enough to effectively power more than 2 million American homes including the White House!
Thanks to smart public policies, like the solar ITC and 1603 Treasury program, solar has made extraordinary progress in a very short period of time—and yet we still only represent about 1 percent of the total electric generating capacity of the U.S. Is solar is more competitive today? Absolutely. But the playing field isn't level yet. The oil and gas industry, for example, has enjoyed incentives embedded in the U.S. Tax Code for nearly 100 years. You can't catch up to that overnight.
But clearly, solar is trending in the right direction. According to a new report by GTM Research and the Solar Energy Industries Association (SEIA), the U.S. installed 930 MW of solar in Q3 2013—up 20 percent over the second quarter of 2013 and 35 percent over quarter three 2012. This represents the second largest quarter in the history of the U.S. solar market and the largest quarter ever for residential PV installations.
Even more importantly, 2013 is likely to be the first time in more than a decade that the U.S. installs more solar capacity than world leader Germany. When all of the numbers are finally in, 2013 will go down as a record-shattering year for the U.S. solar industry. We've now joined Germany, China and Japan as worldwide leaders when it comes to the installation of new solar capacity.
According to yet another new report, FERC's Energy Infrastructure Update, a whopping 99.3 percent of all new electric generation placed in service during the month of October came from renewables—with solar leading the way by a country mile. Twelve new solar units accounted for 504 MW or 72.1 percent of all new capacity in October. 
Since the solar ITC went into effect, we've gone from being an "upstart industry"—one that our critics predicted would fail miserably—to one of the fastest-growing industries in the U.S.—today employing 120,000 Americans at more than 6,000 companies from coast to coast and pumping billions of dollars into the U.S. economy. 
But this debate shouldn't be simply about economics. It should also be about preserving our environment and giving future generations of Americans a fair shot at prosperity. Today, the debate continues over how long oil, natural gas and coal reserves will last before being completely depleted. 100 years? 200 years? Maybe 300 years at most?
Then remember this: the life expectancy of the sun is about 5 billion years—give or take a millennia.
Which do you think is a better long-term investment?
Visit EcoWatch's RENEWABLES page for more related news on this topic.